Recently, iMocha raised $14 Million USD in Series A investment round. That meant a lot of things: we're headed in the right direction, we are product-fit, and most importantly, an additional responsibility of investor's trust and client's raised expectations, which iMocha has always valued and respected.
In August of 2020, when we did our seed round, we resolved to 'rise above the noise' (not just in the cliched sense), and I believe we have successfully achieved that. And here is why I think so:
We have not only improved our AI-EnglishPro, our Business English Proficiency Evaluation Assessment, but also are now offering AI-based Writing & Speaking evaluations that helps our customers augment their Technical/Domain based Assessments with an auto-evaluated Writing/Speaking section.
iMocha platform is highly popular for Campus Drives and now we support more than 5000 attempts at any given point of time and further plan to take this concurrency to 10000+ through continuous improvements on the Infrastructure side.
We now support around 26 programming languages in which our customers can evaluate their candidates, some of the recent additions being Kotlin, TypeScript, Objective C, Bash, and MySQL.
We now have Integrations with additional Applicant Tracking Systems like Lever, Workday , further helping Recruiters to use iMocha platform through their ATS.
Making Recruiters and Hiring Manager's lives easy is our motto, hence we came up with a concept of Job Role Tests, which are Ready-To-Use Tests for the most popular Job Roles in various Industries.
Microsites was a new value addition and many customers like TCS, BracBank, Hexaware are conducting Hiring Contests or Drives using these microsites.
We gave additional power to the Hiring Managers who can now make their decisions based on a candidate's code quality rather than only by the Test cases that code is able to go through successfully.
The Account Admins can now check how the Recruiters are performing with the help of Advanced Analytics e.g. Candidate Response Score, Assessment Quality Score etc. added in 2021.
For our clients to be able to purchase iMocha subscriptions through their existing Azure Subscription, we now support Microsoft Transactable offer.
We were always strong on Coding Assessments, but in 2021 we closed a missing gap by introducing Simulators and Project Based Assessments that can be used to check real-life skills, which the candidates/learners will use on the job, some of the important ones being the HTML/CSS/JS and ReactJS and AWS Lambda Project Based Assessments.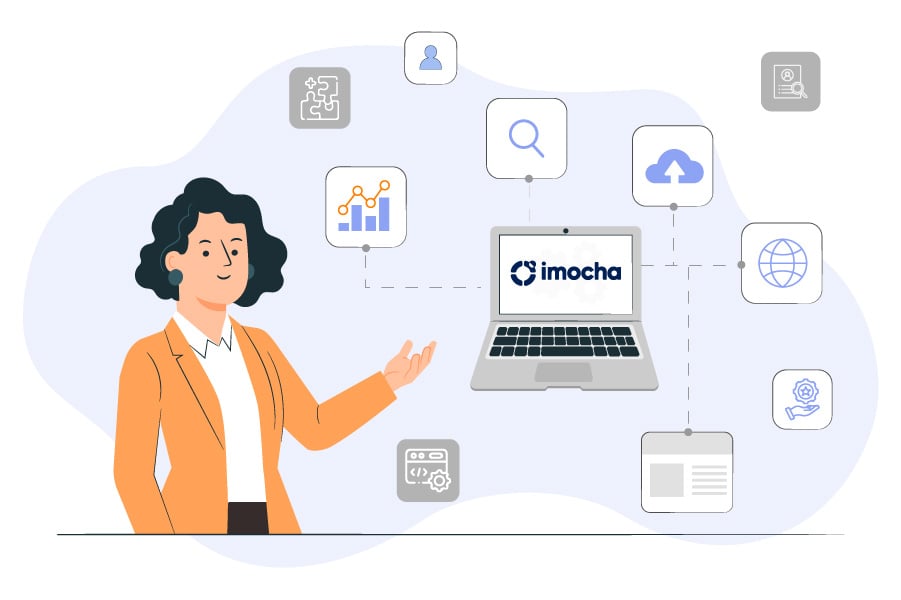 The list above will not be complete unless we mention our investment in Patents and Learnings. We received two patents recently from the India Patent Office and one from the US office, and not to mention are waiting for another one from the US office. In addition to that, 10 of our Engineering team members are now certified and we are now Microsoft Gold Partners, the prerequisite of this partnership being 4 certified members in the team.
So now the question arises, what are iMocha's engineering team's plans with this Series round?
There would be 3 focus areas, increasing the breadth of skill offering, making the platform ready for more and larger global enterprises, and increasing the spread in the HR-Tech ecosystem.

Aligning with these focus areas, the engineering team would be making a significant spend on R&D using new-edge technologies to bring additional project-based assessments and simulators. The funding would be used to hire Data Scientists, AI/ML Engineers, and other experts and on Cloud Infrastructure to support the experimentations and proof-of-concepts. We plan to have a Startup within the Startup to achieve this, and we will continue to invest in Training, Certifications and Patent filings.
Larger enterprises do not only come with more complex functional needs , but more of the requirements are also around Product Security, Integrations with various ATSs , LMSs, Collaborative Tools, Single Sign On support, Analytics, etc.
As a result, we would be focusing on making the platform fully Enterprise Ready with plans to add one-click integrations with additional popular Applicant Tracking Systems and Learning Management Systems.
Further, we also plan to offer our iMocha Upskilling solution on Microsoft Teams with an integration with Viva Learning. We will support SSO with popular Identity Management systems like Azure AAD and Okta.
In addition, iMocha will be making our Proctoring Suite fool-proof by investing in AI/ML based solutions. On the Analytics front, we plan to bring Skills Benchmarking and Predictive Analytics as a Value addition to the Product.
To increase the spread in the HR Tech ecosystem, we are planning to segregate our current product offering into two distinct use cases: Recruitment and L&D (Upskilling) so that we can have dedicated teams on both use cases. This would mean Analytics, Business flows, Reports, etc. curated for personas in these two areas. This would enable us to offer a complete Talent Analytics offering to our clients.
The 'i' in iMocha stands for Innovation, which, for us, is continuous, unique, and compelling to our consumers, and we'll ensure our engineering team stays true on that path.
And lastly, a big shout out to Eight Roads Ventures, Upekkha, and Better Capital for their trust and support!