Employee engagement is crucial in improving a company's performance and growth. A recent Gallup survey found that 51% of employees are disengaged at work. In addition, the same report states that 13% of the workforce is actively disengaged.
Several factors cause employee disengagement. In his book, The Three Signs of Miserable Jobs, Patrick Lencioni identifies three factors that kill employee engagement at work:
An absence of recognition at work

Uncertainty about the role's relevance

Immeasurability of performance
Thus, from an employee engagement perspective, working on these aspects and other components we will discuss later on can significantly improve engagement.
Here is a quick preview of how we will approach this topic. Our first step will be to explain what employee engagement is and what its benefits are. Next, we will discuss how to increase employee engagement at work.
So, let's kickstart the discussion without wasting any more time.
What is employee engagement?
In his best-selling book Employee Engagement 2.0, Kevin Kruse defines employee engagement as employees' emotional commitment to their organization and its goals. Engaged employees are likelier to contribute discretionary organizational support and be highly productive. While employee engagement is crucial to increasing business ROI, many employers need a better understanding.
There is a common misconception that it refers to employee satisfaction. In reality, employee satisfaction is a highly transactional metric. Employee engagement, on the other hand, is transformational and leads to autonomy, growth, and impact. Others blend it with employee experience and organizational culture. The reality is that corporate culture is a result of employee experience, and employee engagement is a result of employee experience. Despite their differences, all of these concepts are closely related.
When your employees are engaged, they thrive and are enthusiastic about what they do. Physically, they will be more energetic and emotional and commit firmly. They're not only motivated by paychecks but by other factors as well.
Your role as an HR professional is fundamental for building employee engagement. We will discuss how to increase employee engagement at work in some time.
Wondering how to create an engaged workforce? Try iMocha's Learning and Development solutions to enhance their career growth!
Benefits of improving employee engagement in the workplace
Improving employee engagement has several benefits for your organization. They go beyond employee satisfaction, employee experience, and strengthening organizational culture. So, why don't we have a look at them in detail?
Gartner has repeatedly cited research that shows employee engagement improves business performance, revenue growth, and customer satisfaction.

It helps increase the stock price of publicly listed companies.

A Gallup study found that engaged employees reduce turnover by 24%, resulting in higher employee retention. A program such as this can reduce absenteeism by 41% and safety concerns by 70%.

Employee engagement can pave the way for improved customer loyalty and company quality via products and brand engagement.

Employee engagement ensures full employee involvement at work.
How to improve employee engagement in the workplace?
As discussed above, increasing employee engagement has several benefits. Let's discuss different ways to increase employee engagement in the workplace now. Remember, however, that every organization is different, and there is no one-size-fits-all method for enhancing employee engagement.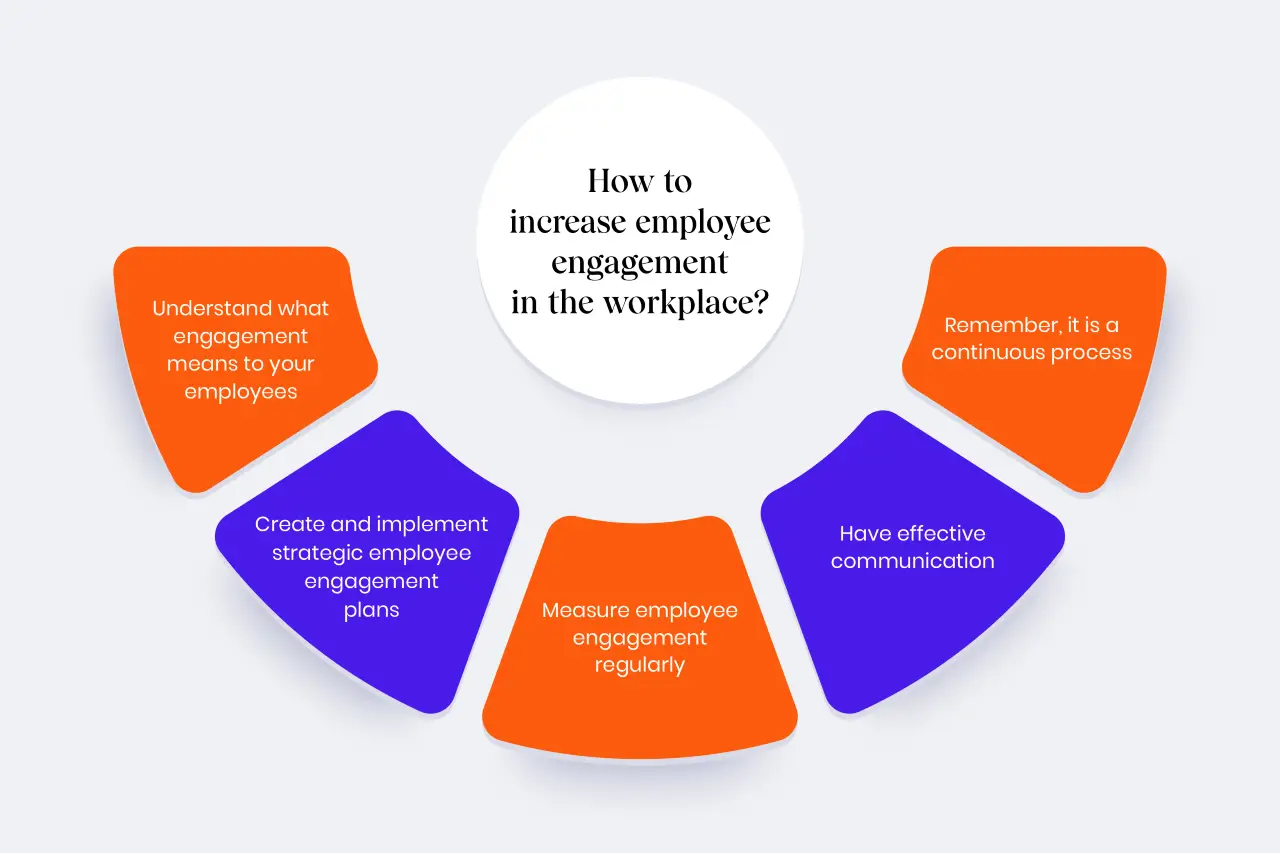 Understand what engagement means to your employees
You must understand what engagement means to your employees and how they can be more engaged at work as you build an engaged workforce. HR professionals can do this by asking their team and employees different questions. You can establish a strategic plan for forming an engaged workforce through this process. Some questions to consider are:
How well do your employees understand their role's purpose?

Are they equipped with the right tools?

Are your employees recognized in your organization?

Does the company give them a sense of belonging?

Do they align with the company's goals?

What opportunities do your employees have for growth?

Motivating or inspiring your employees: How do you do it?
When you understand these factors, you can gain clarity on what employee engagement means to your employees. Setting up definitive goals will make your employee engagement plan more effective.
For example, burnout and stress from high job demands would affect employee engagement. Hiring new employees, increasing deadlines, and improving job resources like training, L&D, flexibility, etc., can help resolve this issue.
Create and implement a strategic employee engagement plan
With the help of a strategic employee engagement plan, you can identify how to build employee engagement in your organization. It can help you determine the best way to build employee engagement in your organization.
Consider your organization's business goals and your employees' pain points while developing such a plan. With this information, you can create an engagement strategy that improves employee retention, builds a high-performance work environment, and, most importantly, enhances ROI.
Let's look at a few things you should consider when creating an employee engagement plan.
Establish clarity on your organization's vision and goals, brand values, and employees' priorities.

Create and improve employee engagement plans based on employee surveys. By conducting these surveys, you can gain insight into employee analytics, which can help you create action plans.

Compile and prioritize the topics mentioned in your employee surveys, including health coverage, learning, development opportunities, flexibility, and more.

Identify and develop strategic solutions to the issues faced by your employees. Focus groups can help you find clarity and formulate solutions.

Form these strategies in collaboration with business leaders.

Create SMART goals linked to your business plans and your employees' career goals.

Do you know what's common between Hexaware, Capgemini, and Cyient? They all use iMocha's L&D solutions to create effective learning programs and engage their workforce.
Measure employee engagement regularly
Before we proceed, let's clarify some facts. In a recent report by TinyPulse, only 21% of companies conduct engagement surveys, and among them, only 25% take action based on the results. HR professionals should therefore understand that conducting surveys is only one popular way to measure and understand employee engagement.
Focus groups are another way to accomplish this. Employees can speak freely about their professional journeys by practicing active listening, sharing feedback, and asking questions about engagement. Ensure that these are safe and positive spaces, focusing on open communication. Employee engagement can also be assessed through exit interviews, stay interviews, and other one-on-one conversations.
When conducting engagement surveys, here are a few things to consider.
Your employees might be reluctant to provide honest reviews, fearing scrutiny. For this reason, conducting confidential and anonymous surveys is essential to gain a direct and positive response from them. Third-party organizations can even help you with this.

Provide a few critical questions in the surveys to enable a quality metric.

Measure and evaluate the data obtained against the expectations you have set beforehand. In addition to conducting these surveys and interpreting data, you must also set up employee engagement metrics, such as employee turnover, absenteeism, wellness days, and customer reviews.
To determine employee engagement, ensure you perform the same analysis every week, month, quarterly, or annually. Use this data to assess your organization's benchmarks and revive your employee engagement plans.
Communicate effectively
In any organization, communication is crucial for employee engagement. Various forms of communication can be used, such as communicating the need for employee surveys and presenting survey results correctly.
Be transparent when communicating, and remember to mention why building engagement is essential. In addition to survey results, speak to your employees about the specific action plans and steps needed to increase employee engagement and build a future-ready workforce. Further, it is imperative that you communicate the goals necessary to improve productivity and profitability effectively with your employees.
Remember, it is a continuous process
In closing, here is one thing you must remember: building employee engagement is a continuous process. It isn't a one-time thing. Ensure you continue to practice and enhance your employee engagement plan whenever you conduct employee surveys or re/strategize it.
Your organization must prioritize employee engagement by providing feedback sessions with open communication, training programs, learning opportunities, and recognizing and rewarding employees. These processes can be optimized and streamlined with technology, especially AI-based tools.
Final thoughts
Following these tips will help your organization improve employee engagement and reap the benefits of having a highly engaged workforce. This approach can enhance your employees and your organization's productivity and performance.
Develop your employees' career, improve their engagement and satisfaction to stay ahead of your competition with iMocha!