Today, we are thrilled to announce our iconic 1-Click integration with leading applicant tracking system, Jobvite. Our customers using both iMocha and Jobvite now no longer have to toggle between the two to send assessment invites or review scores. Everything can be done right from Jobvite's platform – this means a leaner hiring process, saving time, and eliminating manual processes.
Traditionally, recruiters are used to switching between various platforms to find the right candidates. On top of that, if you have to switch between your ATS and skills assessment partner, this simply means adding more steps to what is already a lengthy process. With this 1-Click integration, we provide our customers the opportunity to source, assess and hire top candidates within a single repository. This eases the recruitment process for recruiters and hiring managers.
If you are a Jobvite customer and looking for the perfect skills assessment partner, you've got yourself one! And we have some pretty solid reasons to back our claim too.
1-Click integration
What this integration brings to the table is a unique DIY integration process. And DIY here means zero coding. Yep, you heard that right – Zero. We have put together a process wherein all you have to do is just enter the API key and API secret key, that's it. No elaborate coding, no dependency on the technical team.
1500+ skills assessments
You get access to 1500+ skills assessments with latest skills being added every week. We have ready-to-use skills assessments not only for technical roles but other competencies like finance, marketing, sales, content, and many more. That practically covers the length and breadth of all industry verticals.
In-depth skills assessment report
Our skills assessment report is more than just a grading system. It gives a low down on what are the skills strength and skills gap of the candidate. This makes it super easy for the recruiters and the hiring managers to filter the best candidates and interview them.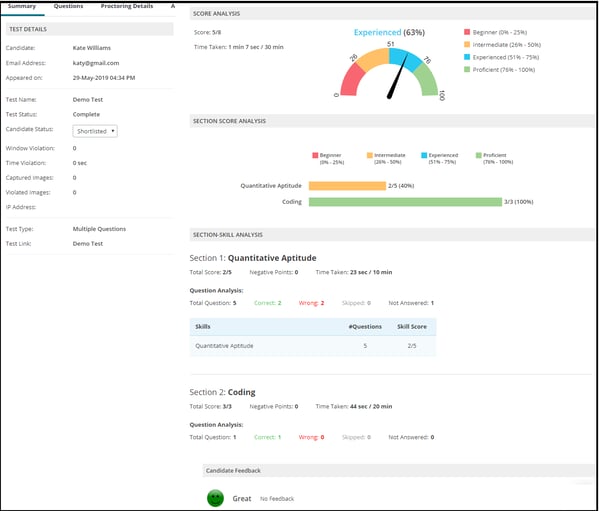 White labeling
We know the efforts that an organization invests in creating a brand. From the email configuration, logo, test environment url, and more, we provide a host of white labeling options.
Candidate experience
Right from the email invite templates to the assessment platform UX, everything is designed keeping in mind the comfort of the candidates. The assessment platform is super easy to use with detailed instructions to educate the candidates.
Dedicated customer success manager and support
Our customers are assigned a dedicated success manager to walk through the entire process and provide periodic actionable reports. In addition, we provide 24x7 support through chat, mail, and phone.
With all these in place, you will be able to ace your recruiting game. Everything right from the candidate scores, interview feedback, candidate journey is all stored at one place. You can have a look at the detailed integration process here.