Internal mobility, aka talent mobility, is more than just a buzzword to build a versatile talent pool within an organization. Instead, when your company makes the best out of talent mobility, it can enhance your company's growth and improve your employees' performance, retention, and satisfaction rates.
In most cases, employees depart from their current organization voluntarily when there is a lack of growth opportunities. Hence, it is essential to have plans within your organization to help retain your best talents for the long haul. One method is to plug internal mobility pathways into your talent management infrastructure.
Since we have had a glimpse into internal mobility, why don't we dive deep into its details now?
What is internal mobility?
Internal mobility refers to a process through which you can broaden the career scope and growth opportunities of your employees within your organization.
"It's about how you are empowering and facilitating movement within your organization. This can mean promotions, lateral movements, part-time work, working with L&D teams to have healthy movement within your organization," said Teuila Hanson, Chief People Officer, LinkedIn, during LinkedIn's Talent Connect Summit 2022.
Internal mobility isn't a concept that developed recently. It has been around for quite some time. Traditionally, organizations facilitated internal mobility in an orchestrated manner as promotions. However, today, there are different types of internal mobility that an organization can consider.

Different types of internal mobility that you can facilitate within your company
From lateral to gig-based mobility, your organization can facilitate internal mobility in different ways. They are as follows: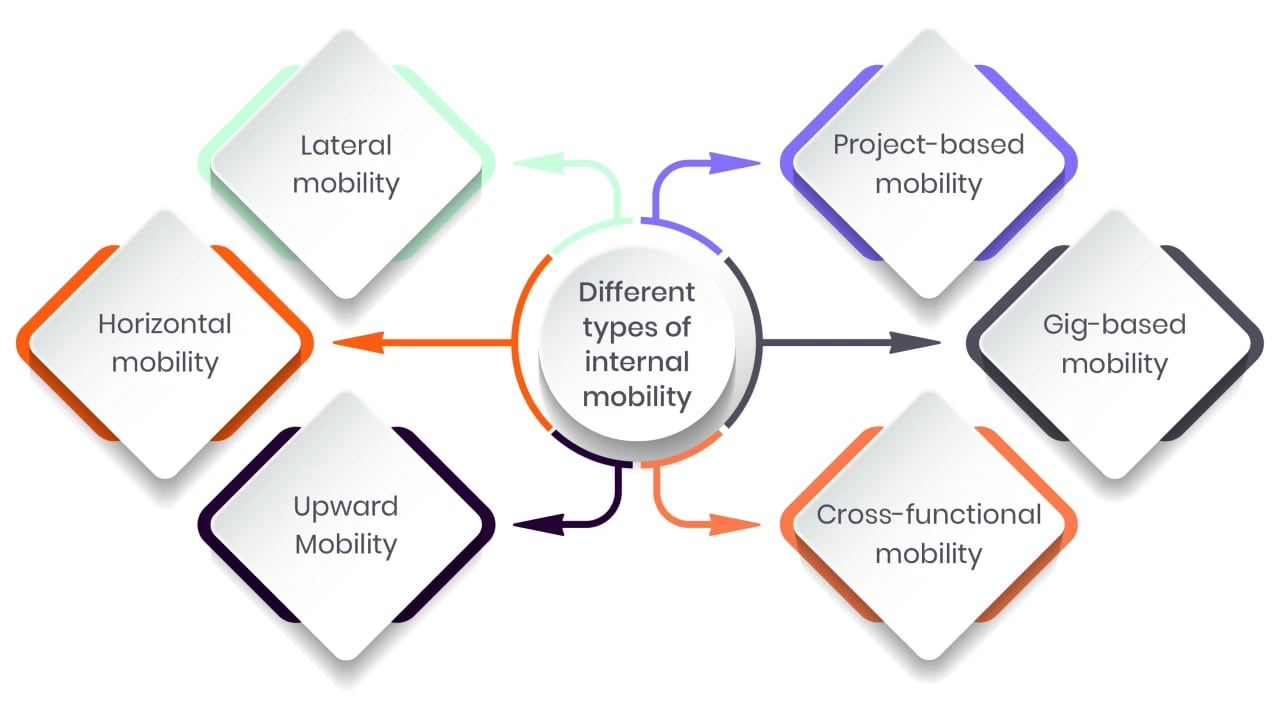 Lateral mobility:
This refers to movement from one specific job role to another. However, the employee won't be going up the career ladder in this type of internal mobility. Nonetheless, it is beneficial for employees to develop new skills and apply their existing skill sets. It can help them with networking and building healthy collaborations.
Horizontal mobility:
This type of internal mobility increases the responsibilities within an employee's existing job role. Similar to lateral mobility, this will assist employees in improving their skills and competencies.
Upward mobility:
This form of internal mobility is quite popular. It is also known as promotion, which is often provided based on an employee's performance, excellence, caliber, and contributions.
Project-based mobility:
This is short-term mobility, where an employee can be assigned to be a part of a different project in another department or location.
For instance, if your organization, based in the US, has a three-month assignment in Germany, you can select employees based on their skills and deploy them for this on-site project. Through this, employees can gain exposure, growth, and mentorship and also widen their career scope.
Gig-based mobility:
This is an opportunity through which your employees can take up gigs or other part-time opportunities within your organization. This can be a way for them to enhance and sharpen their skills, pursue their hobby, etc. Through this, you can share talent within your organization.
Cross-functional mobility:
In this type of mobility, employees can move from their department and join other departments if job openings align with their interests and skills.
Therefore, these are the different approaches your organization can take to initiate internal mobility within your talent management system. However, initiating internal mobility is a challenging task. There can be several roadblocks or hindrances that your company would have to overcome. They include:
Lack of awareness of internal mobility, its different types, and the benefits of implementing it within an organization

Employees and employers being misinformed about the concept of internal mobility

Inability to onboard the management or leadership team with the idea of internal talent mobility and their reluctance to hire employees internally

The misconception that hiring new talents can be much easier than opting for internal mobility

Friction or concerns within departments, between employees, etc

Lack of clarity on job openings

Lack of visibility on employees, their career paths, and interests

Rapid changes in skills and job profiles

Issues with creating job descriptions and compensation scales based on the job profile
However, your HR department can seamlessly integrate and implement internal mobility within your company with the right mindset, understanding, awareness, technology, and measures.
Now, you would have the question: how can you facilitate the same within your company?
One of the best ways to do so is by having an internal career site where you can post job openings internally. Through this, your employees can apply for open positions within their departments or other departments if they align with their interests, skills, and expertise. However, in most cases, employees are unaware of these opportunities even if such a system is in place.
To overcome this concern, your HR department can conduct awareness programs related to talent mobility within the company, share emailers and newsletters regarding job openings, etc.
Apart from employees applying for these positions directly, their line managers or HR professionals can approach potential employees and inform them to apply or take up these positions.
Like an internal career site, a skills intelligence platform and an internal talent marketplace can also enhance internal mobility. A skills intelligence platform with up-to-date skills data of employees can easily help you filter potential candidates within your workforce for a job vacancy. Based on this, your HR team can notify or connect with concerned employees to find out if they are interested.
An internal talent marketplace, put to best use with a skills intelligence platform, could provide your employees with updates and notifications on vacancies within your organization. It would also have algorithms that would consider your employees' skills inventory and facilitate them with opportunities, aligning with their skills, experience, career goals, and aspirations.

Benefits of internal mobility
Since we have looked at the different aspects of internal mobility, it's time for us to bring the benefits of incorporating internal mobility as an HR functionality to the spotlight. From enhancing employee engagement to improving company growth, there are several ways in which internal mobility can help your company.
So, let's get into the details without beating around the bush.
Enhance employee retention
Unlike earlier boomers, millennials and Gen-Zs aren't ready to continue working in the same organization or perform the same role for a long time. They prefer to have change and are often searching for better opportunities that can enrich them professionally. With an increase in the millennial and Gen-Z workforce, HR professionals must focus on strategies to enhance employee retention.
One of the best ways to do so, in the current scenario, is to facilitate internal mobility. However, these internal mobility options can facilitate employee retention only when your organization implements it strategically by considering your employees' career growth and trajectory.
As per the statistics presented by Teuila Hanson during the LinkedIn Talent Summit 2022, companies practicing internal mobility have increased employee retention to 5.4 years.
Therefore, by focusing on internal mobility, you can retain your top talents within your organization for a long duration.
Reduce cost and time
Many recruiters and hiring managers have a misconception that internal mobility can increase their HR costs. But, in reality, it is the other way around. While opting for internal mobility and focusing on L&D initiatives, you can save money in the long run.
Through this, your organization won't have to invest in external hiring, recruitment processes, onboarding, and training activities. Besides, if you opt for in-house hiring, your employee would already have clarity on your company's work culture and policies, making the transition easier for both parties.
Similar to the increase in costs, time-to-hire and time-to-fill is also drastically increasing. Finding the right talent with the required skill set is becoming increasingly complex every day. Therefore, looking within your organization can be highly beneficial before searching for talent externally. Through this, you can reduce the time taken to hire new talents.
Improve employee engagement and satisfaction
Lack of clarity on career trajectory and progression, inability to visualize a future within their current organization, and career growth issues are some prominent reasons employees decide to look for a job change.
But, if your company can overcome these problems by facilitating your employees with proper career goals, progression, and trajectory achievable through internal mobility, things would be different. This clarity can enhance employee satisfaction tremendously.
Besides, your employees will be ready to take upskilling/reskilling programs as they better understand their career trajectories. Through this, you can improve employee engagement rates too within your company.
Build Diversity, Equity, and Inclusivity (DEI)
Today, every organization is on a journey to improvise and improve its DEI initiatives. Many underrepresented employees leave their organizations because of a lack of career opportunities, concerns with networking and growth, and issues with having "the conversation" with their managers because of underlying systemic biases.
Due to these issues, many organizations lose their best talent. But, your organization can build DEI and empower your employees by prioritizing internal mobility. By the way, you can further your DEI initiatives and take internal mobility to the next level by making the best out of skills intelligence.
Final Thoughts
Thus, internal mobility can be a pathway through which you can empower your existing employees, improve best practices within your company, generate higher revenue, and attract new employees to your talent pool.
Therefore, things can become much more convenient once your organization moves past the complications associated with implementing internal mobility within your company.
Lacking processes to identify and move employees internally? Talk to our experts about how iMocha is helping Hexaware, Coupa, Capgemini, and hundreds of other organizations!