The hiring problems can be tackled efficaciously by combing human interaction with AI. With the right strategy and a fully-fledged recruiting tool, virtual hiring can even reach remote areas and source top talents for your business.
Yes, the market has several automated recruitment software that can overcome each recruitment loophole, saving your organization lots of time and dollars.
What is recruitment management?
Recruitment management systems are tools that help hiring managers find the best possible candidate for a particular position. Effective hiring and team management practices can help teams maintain productivity and an efficient workflow.
Recruitment management software offer services like:
Automated job posting: Allows for automated posting of jobs on multiple job boards in one go
Automated interview scheduling: Enables applicants to self-schedule interviews, removing the recruitment team as middlemen
Skills Assessment: Allows for quick evaluation of skills and competencies of candidates
Hassle-free background check: Verifies background of potential employees by reducing extra recruitment efforts
Application tracking system: Manage and track applicants throughout the recruitment process.
Top 20 Recruitment Management Software
Skill Assessment Recruitment Software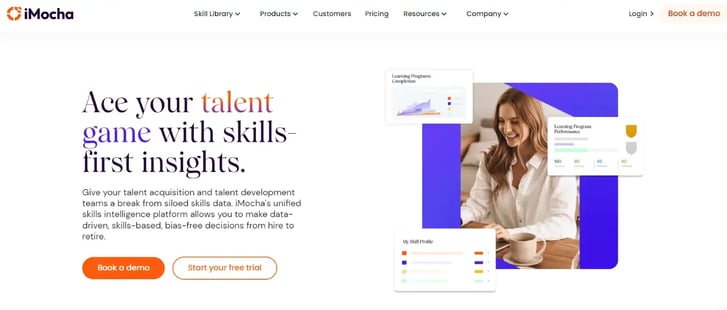 iMocha, an AI-powered skill assessment recruitment software, offers a solution for Talent Acquisition and Talent development to assist you in building a competent and skilful team for your organization.
iMocha's talent acquisition program automates hiring in various aspects, such as remote hiring, campus/university hiring, lateral hiring, and diversity hiring. It allows you to hire in huge volumes free from logistic hassles and 100,000+ man hours.
To maintain 100% recruitment integrity, iMocha uses AI-powered smart proctoring that includes real-time audio and video proctoring, image capture, window violation, safe assessment browser, IP range restriction, and randomizing questions and answers.
Besides, iMocha's talent development program also helps L&D managers to quantify learning programs' ROI by identifying and analyzing training needs, understanding employee skill levels, and encouraging internal mobility.
Founded in: 2015
Founded by: Amit Mishra & Sujit Karpe
Website: https://www.imocha.io
Free Trial: Yes
Pros:
iMocha is one of the best recruitment management software with 2500+ skills in its ready-to-use skill assessment library
It offers 25+ coding compilers with thousands of coding challenges

The software has 30+ integration with the world's leading recruiting partners and learning platforms

It provides ready and custom integrations with leading ATS

It offers provision to add your questions, as per the business need and job role requirement
Cons:
iMocha does not conduct psychometric tests
Clients: Deloitte, PayPal, Fujitsu, Capgemini, Cognizant, Wipro, Vanguard, CGI
Pricing: Explore the Pricing options offered by iMocha
G2 Crowd Rating: 4.4/5 (165)
Programmatic Job Advertising Management Tools
Founded in: 2000
Founded by: Colin Day
Free Trial: No
Pros:
ICIMS offers a sizable database that enables you to save the details of both active and passive job seekers, and access them anytime

It allows you to swiftly track a candidate profile from the beginning to the end using the software, and evaluate any significant drop-off spots

It offers a variety of insightful features, including text engagement, Teams integration, job posting, and social distribution, which helps streamline the talent acquisition process for recruiters and candidates alike.
Cons:
Their self-service options are limited; most things cannot be customized from the user's end and must be handled by customer service

Due to the system's large amount of data, there are frequent errors and slowdowns.

The UI/UX of ICIMS is outdated and occasionally overbearing.
Clients: Pepsico, Sun Life, Amdocs, intel, Intuitive
Pricing: $1700/month
G2 Rating: 4.0/5 (479 reviews)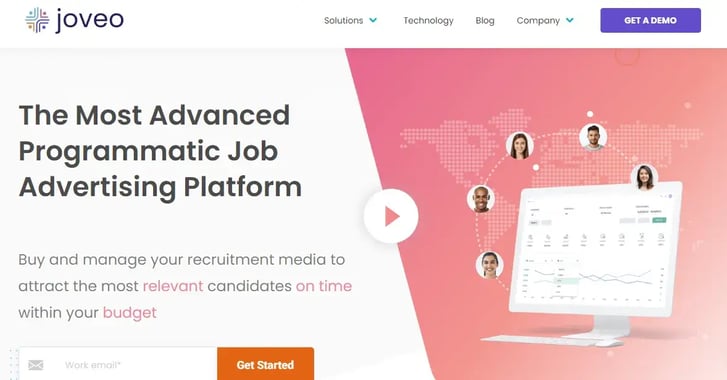 Founded in: 2017
Founded by: Kshitij Jain
Free Trial:
Pros:
Joveo offers complete control of campaign optimization, including publisher sending, automated CPC increases, and decreases, flexibility to alter titles and locations to better respond to market trends and drive more application

U.I. of this recruitment software is self-explanatory and easy to navigate

The customer support team is quite particular about their services
Cons:
Joveo does not allow you to track reporting on current campaigns; you need to connect to customer service for it

Downloading reporting data is a time-consuming process
Clients: Sony, Phillips, WilsonHCG, HCL, Penna
Pricing: Not disclosed publicly
G2 Rating: 4.9/5 (11 reviews)
Interview Scheduling Tools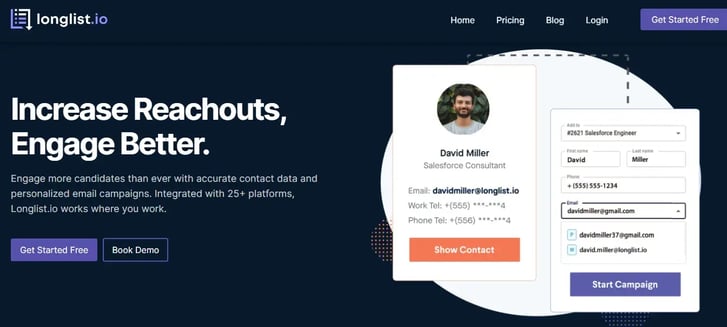 Founded in: 2020
Founded by: Annil Chandel
Free Trial: Not Available
Pros:
It seamlessly syncs with your inbox and sends follow-up emails on your behalf to prospects who haven't responded

This recruitment management tool has a top-notch AI capability in recommending the most relevant candidates

The software makes it easy to contact candidates by offering their phone numbers
Cons:
The starter price of this application is a bit expensive

It doesn't allow individuals to open multiple tabs; each new tab opens up a new window
Clients: LT Harper, Fidius, Mason & Co, Jankin Energy
Pricing: $29/month
G2 Rating: 4.9/5 (16 reviews)
5. Setmore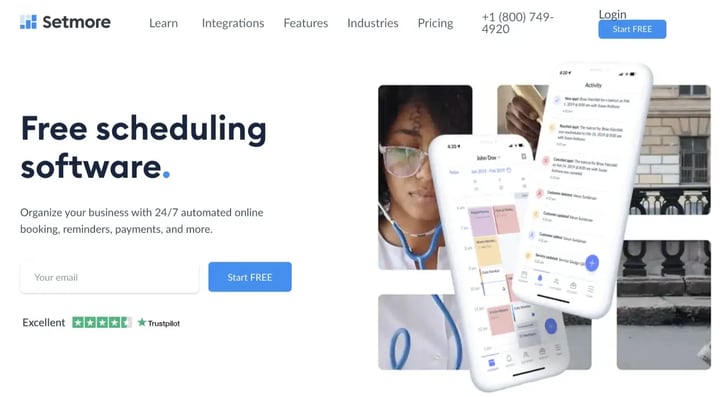 Founded in: 2011
Founded by: Bryce Morrow
Free Trial: Yes
Pros:
This online recruitment management software has a two-way sync ability with both Outlook and Google calendar, making it more user-friendly since most of us already use the other

Setmore allows unlimited bookings, even in the free version

It allows grouping courses/appointments into categories hence organizing the data much more effectively
Cons:
It does allow multiple locations on a single agenda

The application does not perform well on Safari as it does on Chrome

Over time this recruitment management software develops many bugs, slowing down the system
Clients: TDC Digital Agency, Happy Dental, The Johnson High Tennis Academy, Marketing Maverick, Law Office of Athar A. Khan
Pricing: $0/month
G2 Rating: 4.5/5 (208 reviews)
Recording Interview Feedback Tools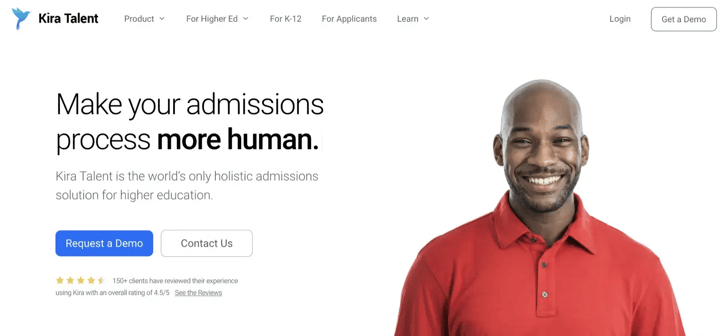 Founded in: 2012
Founded by: Emilie Cushman
Free Trial: Yes
Pros:
This recruitment management software streamlines the process and puts all the information in one place, hence making it easier to get through the info efficaciously

Kira Talent is one of the best recruitment software for candidate serving. It is accessible, convenient, and provides candidates' performance statistics, therefore, meeting candidates' needs effectively

It allows customization of interviews

It provides the ability to upload own videos for branding purposes
Cons:
The U.I. is complex and annoying at times. For instance, it is simple to accidentally click outside of the Notes button when selecting it, which will cause the entire video and ranking section to collapse.

It does not allow the filtering of candidates demographically

It does not support mobile application
Clients: M School of Dentistry, Berkeley Haas, Imperial College London, Instead, Northwestern Kellogg, Des Moines University
Pricing: Not disclosed publicly
G2 Rating: 0 reviews and rating
Applicant Tracking System
7. Greenhouse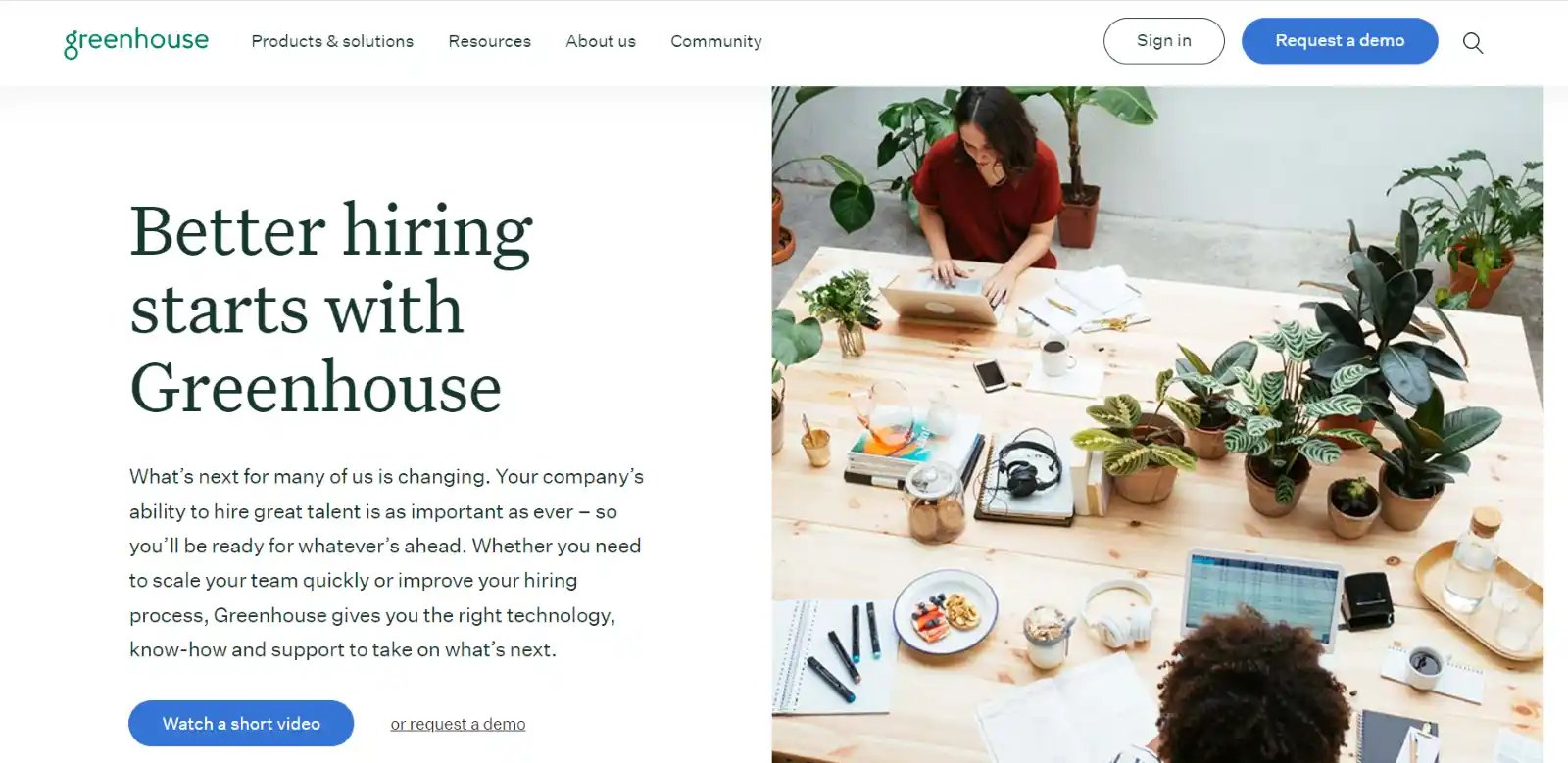 Founded in: 2012
Founded by: Daniel Chait and Jon Stross
Free Trial: No
You can modify the platform to match the particular needs of your business and create several hiring strategies for every position

It is easy to use and compatible with a variety of systems (E.g., G Suite & Goodtime)

The Greenhouse provides a one-stop shop for all hiring needs. Using Greenhouse, you can post job openings, review applicants, schedule interviews, make offers, and even source from the site
Cons:
Greenhouse offers limited customization

The application does not support adding several departments, tracking communications, or saving notes

The software fails to match resumes with similar candidates
Clients: invision, J.D. Power, HubSpot, Wayfair, HARRY'S
Pricing: On request
G2 Rating: 4.4/5 (1214 reviews)
8. Bullhorn

Founded in: 1999
Founded by: Art Papas
Free Trial: Yes
Pros:
The UX of Bullhorn is entirely customizable

You can keep track of your lead monitoring, response procedure, and sales cycle with the help of this recruitment management software

Using its robust integration with WaveTrackR, you can post multiple job offers at once, saving you a great deal of time
Cons:
The program is cumbersome and sluggish

Sessions expire very soon, interrupting the flow of work

Both the search engine and its algorithms do not function properly
Clients: Allen recruiting software, FILTER, ADITI STAFFING, Addison Group, ALKU
Pricing: On request
G2 Rating: 4.0/5 (505 reviews)
Candidate Relationship Management Recruitment Software
9. TalentLyf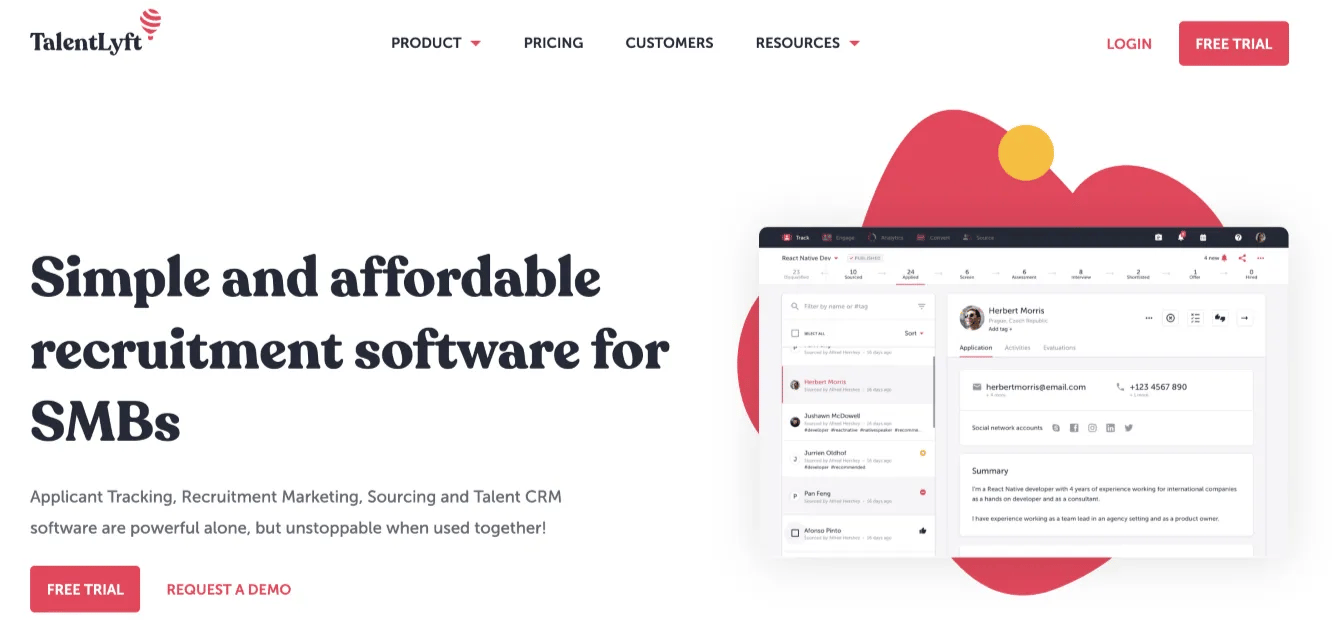 Founded in: 2016
Founded by: Nikola Biondic
Free Trial: Available
Pros:
The software provides straightforward monitoring and transparency of the entire selection process

TalentLyft offers effective multi-functionality by linking multiple job portals in one place to provide a range of C.V.s.

Their customer support is efficient and particular
Cons:
It does not allow editing of career page

They have a very few integrations for both video interviews and assessment tests
Clients: Addiko Bank, Decathlon, Dekra, Eurosender, Gideo, iOLAP
Pricing: $49/month
G2 Rating: 4.9/5 (28 reviews)
10. Recruit CRM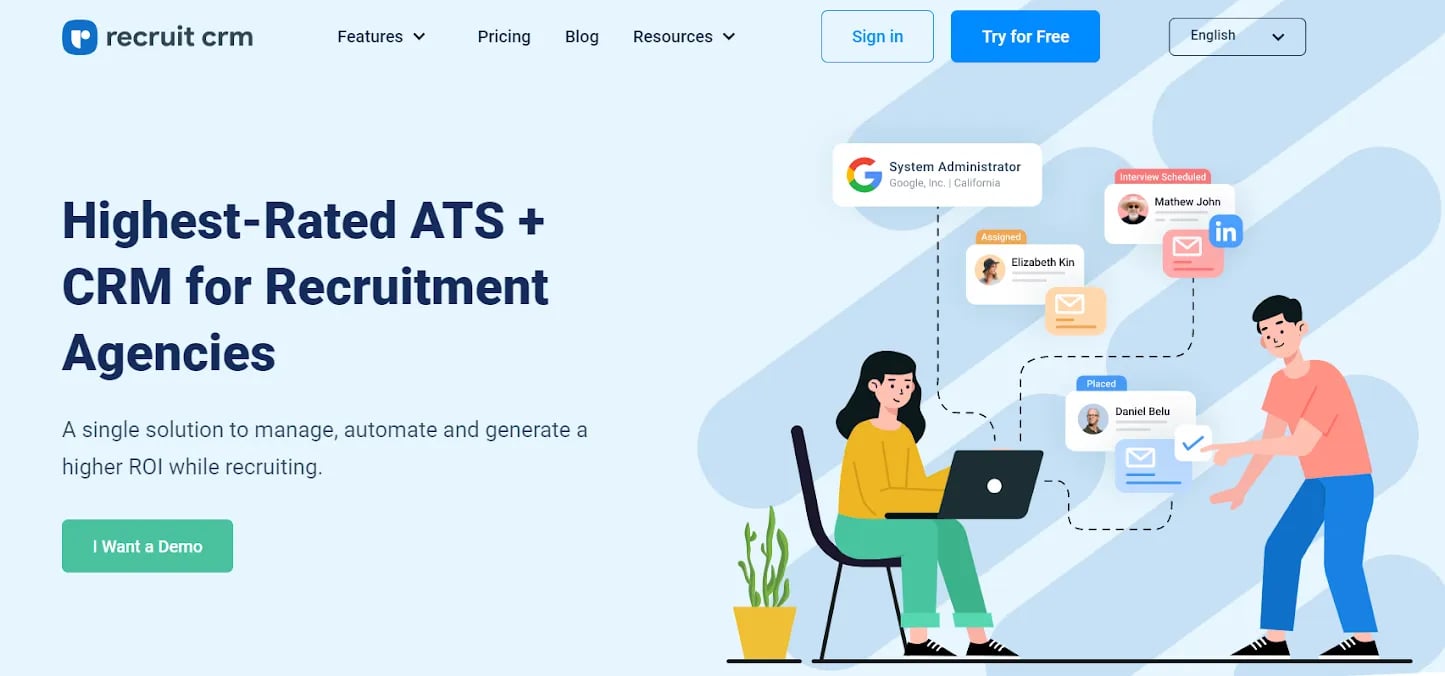 Founded in: 2017
Founded by: Shoanak Mallapurkar
Free Trial: Yes
Pros:
They provide personal, hands-on and accessible customer support

The U.I. is exceptionally user-friendly with lots of useful functions

It allows you to convert the whole U.I. into your preferred language
Cons:
Their email integration does not work properly

The software lacks reporting, does not provide custom reports even
Clients: Reflection X, The Wellington Agency, Auto Careers Group, Top Coder
Pricing: Not disclosed publicly
G2 Rating: 4.7/5 (29 reviews)
11. Smart Recruiters

Founded in: 2010
Founded by: Jerome Ternynck
Free Trial: Yes
Pros:
It allows the recruiter to review candidates, add grades or ratings, pass the review to another reviewer, or return the review to the H.R. team

It enables hiring teams to communicate and have complete access to the candidate pool during the hiring process

The application provides the functionality of creating email correspondence templates
Cons:
It is not well integrated with other platforms

SmartRecruiters does not have any feature for self-scheduling interviews

It does not automatically contact candidates after a job application
Clients: Equinox, Avery Dennison, VISA, LinkedIn, Skechers
Pricing: On request
G2 Rating: 4.3/5 (439 reviews)
H.R. Recruitment Management Software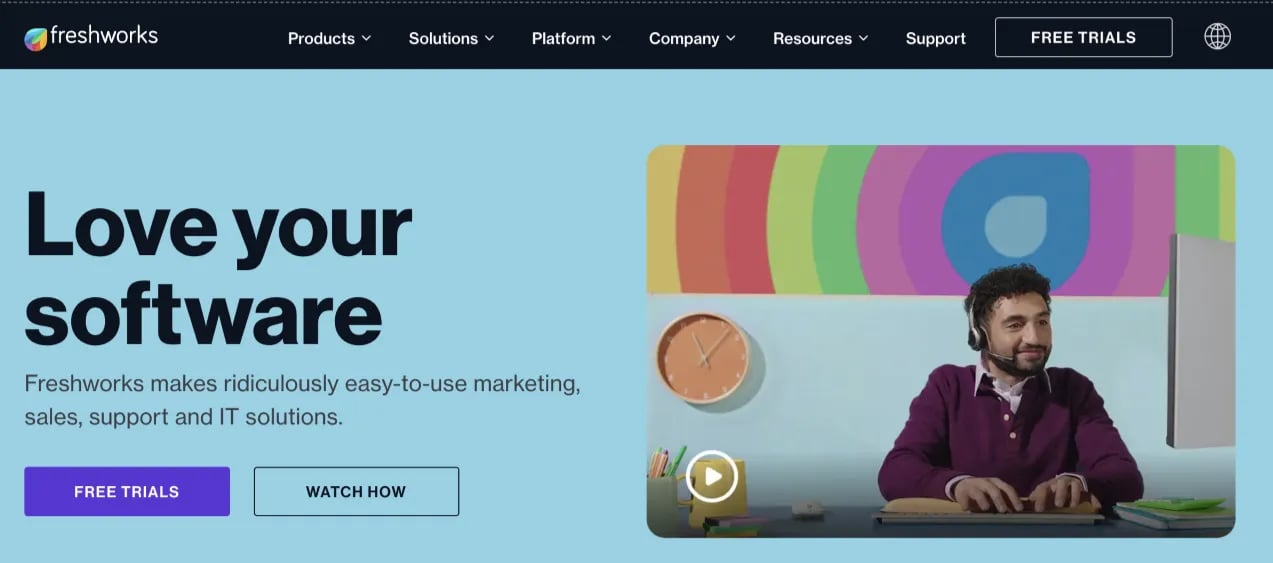 Founded in: 2010
Founded by: Girish Mathrubootham
Free Trial: Available
Pros:
Freshworks is a cloud-based software with self-automation that helps make the process streamlined and faster

With the help of webhooks, users can extract candidates' data within a limited time

The platform helps interact with many potential candidates via a contextual message from the chatbot, and then the letter can be handed over to the agent at the right time
Cons:
Clients: Clarity, Salinas Valley Memorial Healthcare System, Bridgestone, Synergy, Bensons for Beds
G2Crowd Rating: 4.5/5
Pricing: Varies with teams, ex: $625/month (success teams), $950/month (enterprises)
13. Tracker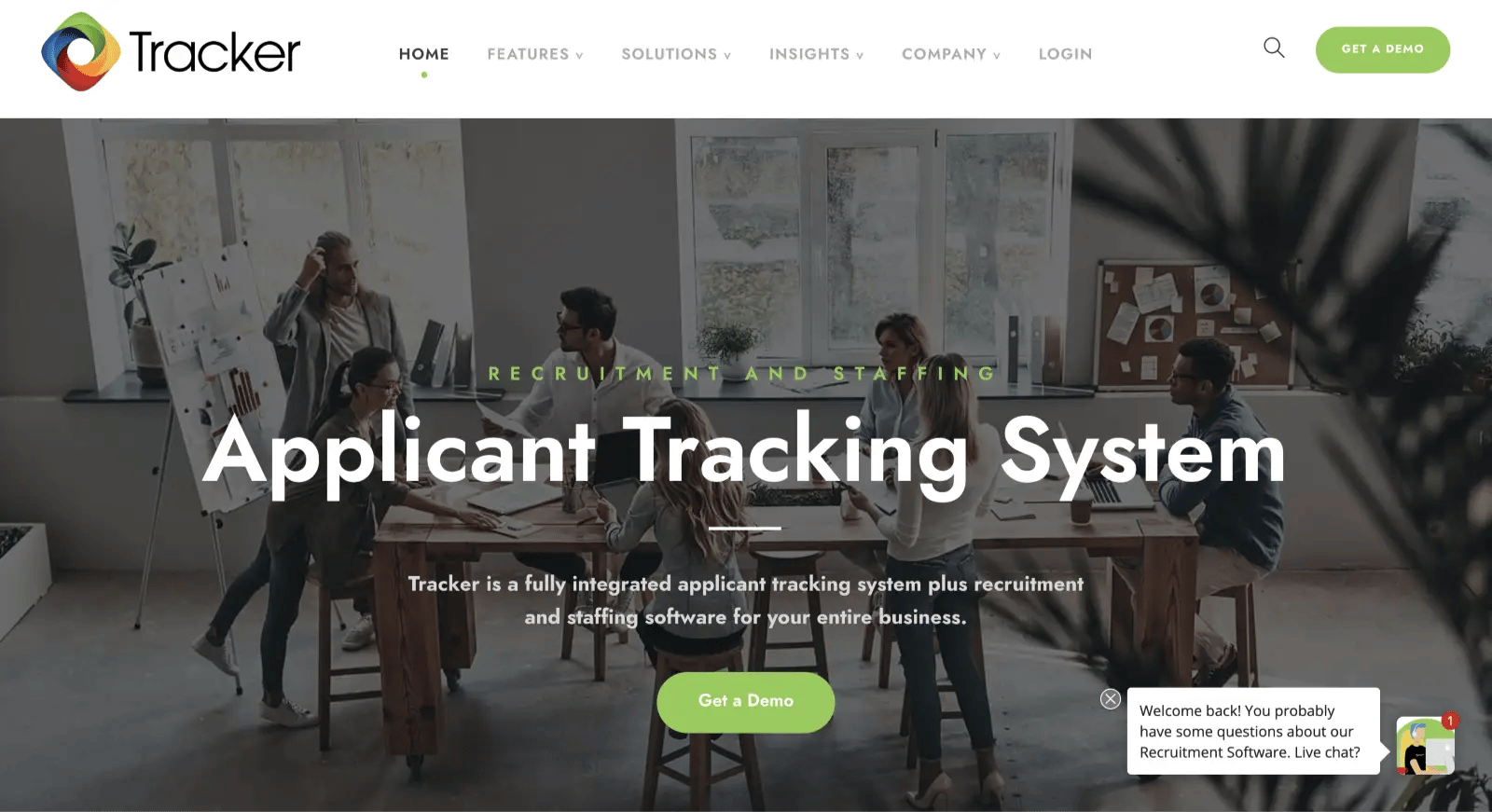 Founded in: 2005
Founded by: David Alonso
Free Trial: Yes
Pros:
The application allows seamless data access and import to both clients and candidates

Their customer support is easily accessible and available for consultation

The software is highly customizable. It allows you to configure the U.I. as per your preferences
Cons:
It does not pair up with other software for background checks and e-sign documents

The software does time out a lot frequently in the middle of work
Clients: Palmer Group, Centurion Consulting Group, Pure Staffing, MD Staffing
Pricing: $80/month
G2 Ratings: 4.6/5 (84 reviews)
14. Fetcher

Founded in: 2012
Founded by: Andres Blank
Free Trial: No
Pros:
Fetcher offers finest quality of candidates within a short span

The software allows you to enable auto-reach out once the search is calibrated

Fetcher is a powerful recruiting tool that offers many of the advantages of having an in-house source, with a creative twist of integrating with the business' email system to conduct targeted outreach to possible candidates
Cons:
The software has a lot bugs affecting its functionality adversely

The software cannot edit contact cards after being added to searches
Pricing: Not disclosed publicly
G2 Rating: 4.6/5 (11 reviews)
15. Zimyo

Founded in: 2018
Founded by: Kumar Mayank and Ajay Singh
Free Trial: Yes
Pros:
Zimyo has important features like finance, TDS, slips, and more

The software helps employees in getting loans to gain financial stability hence promoting a good culture in the organization

Zimyo has an intuitive dashboard that provides detailed insights into the organizational structure
Cons:
It does not allow integration into accounting software

The user interface of this online recruitment software takes a lot of time to adapt

The software is not fully-fledged and comes with a lot of bugs
Clients: iMocha, The Claim Consultants, THB, IFC, Go4fresh
Pricing: $2/month
G2 Rating: 4.6/5 (38 reviews)
Recruitment Operating System
16. Vincere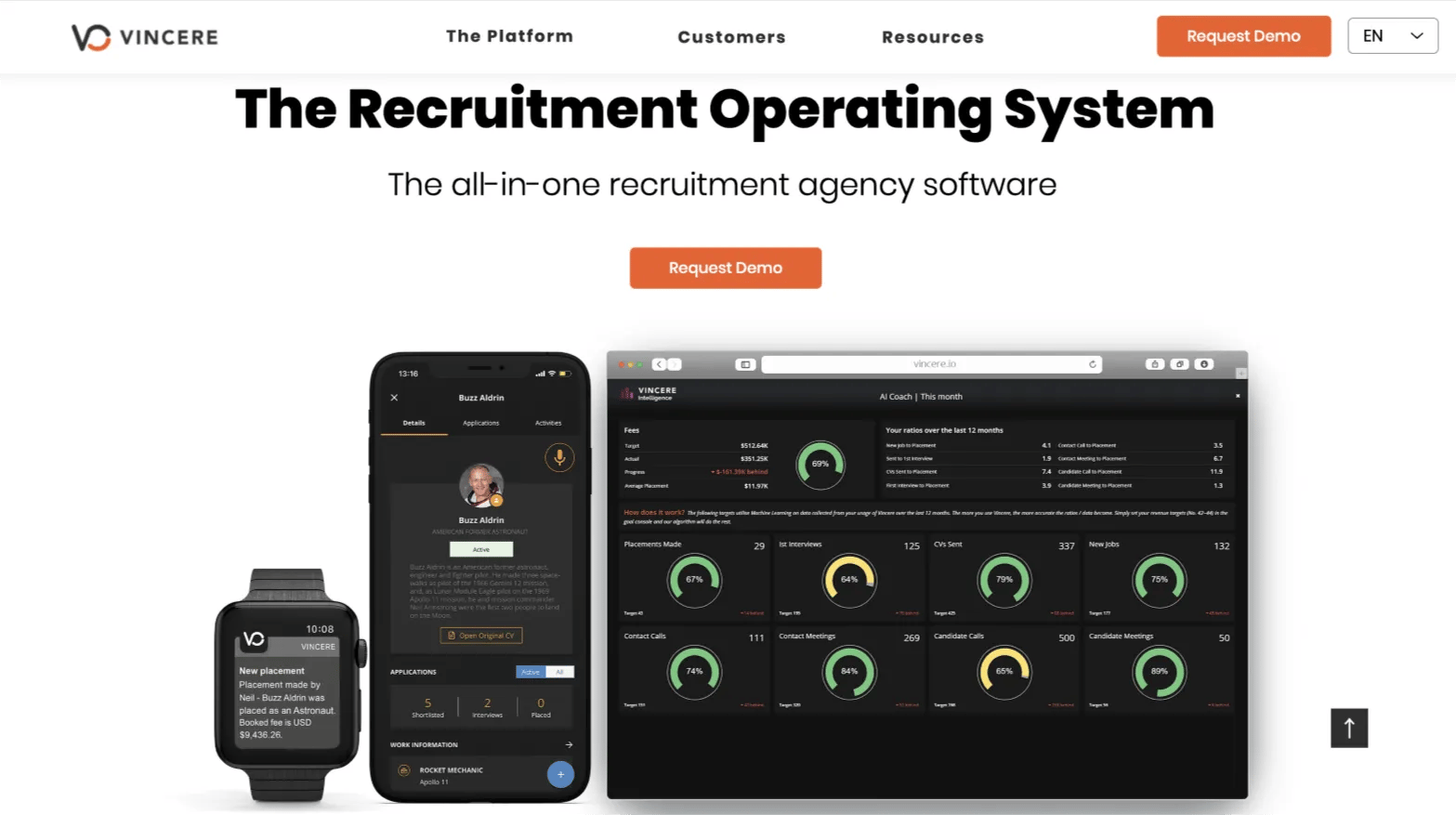 Founded in: 2015
Founded by: Bernie Schiemer
Free Trial: No
Pros:
The software has some fine automation capabilities that make it simple for recruiters to contact candidates, perform procedures, and interact with LinkedIn

The software is affordable to all

Vincere allows you to run a free text search from any page and get accurate results
Cons:
The system is click-intensive and prone to bugs and problems

The software is not customizable enough

It does not integrate with job boards properly
Clients: Webber Chase, Lincoln Recruitment Specialists, Halcyon Knights, Eden Scott
Pricing: $39/month
G2 Rating: 4.6/5 (375 reviews)
Employee Referral Management Software
17. Workable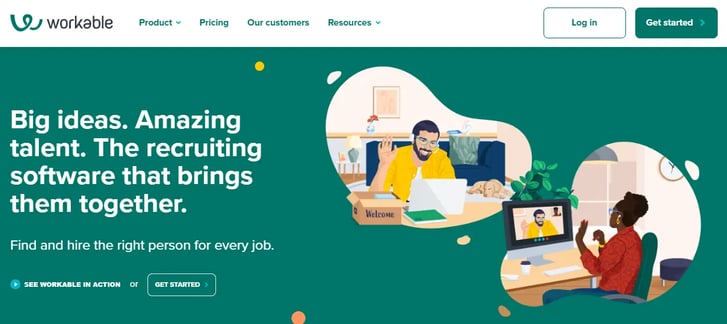 Founded in: 2012
Founded by: Nikos Moraitakis and Spyros Magiatis
Free Trial: Yes
Pros:
The platform automatically branches out a single post to several different companies

Workable provides a shared space for hiring managers and team members to collaborate in an efficient manner

The software has effective integration with Outlook, Zoom, and Teams for accessible communication and interview scheduling
Cons:
It does not allow the recruiter to add a title while setting up an invite email template

Customer support is hardly available over call; you have to contact them via mail

Reports/analytics functionalities are not customizable
Clients: dribble, moodle, LYST, bevi, bulb, Deposit Solutions
Pricing: Varies from $129 - $559/month
G2 Rating: 4.6/ 5 (365 reviews)
18. Referral Rock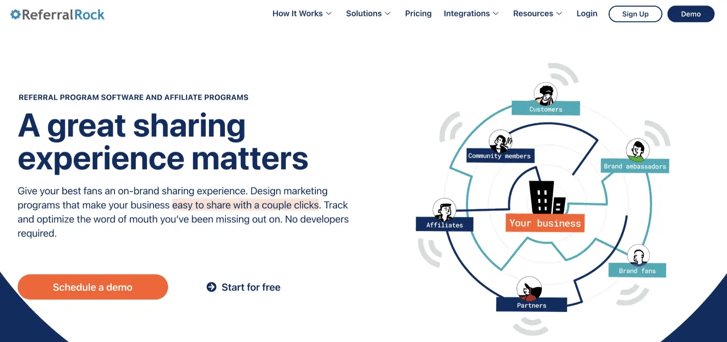 Founded in: 2017
Founded by: Josh Ho
Free Trial: Yes
Pros:
It provides an easy setup for the referral program and rewards payout

The pricing structure is reasonable

They provide a set of core feature sets, such as simple-to-integrate widgets, single- or double-sided referral program options, one-click signup forms, automated templated email messages, unique tracking for sharing, API connectivity, conversion tracking, reporting, etc.
Cons:
They have built-in email templates, which are not much customizable

Their reporting is limited and unclear

Features like text, font selection, size, spacing, etc. Are super glitchy
Clients: TripAdvisor, Fidelity, AT&T, Manpower, PCB( Phelps County Bank), Random House
Pricing: $200/month
G2 Rating: 4/5 (4 reviews)
19. ERIN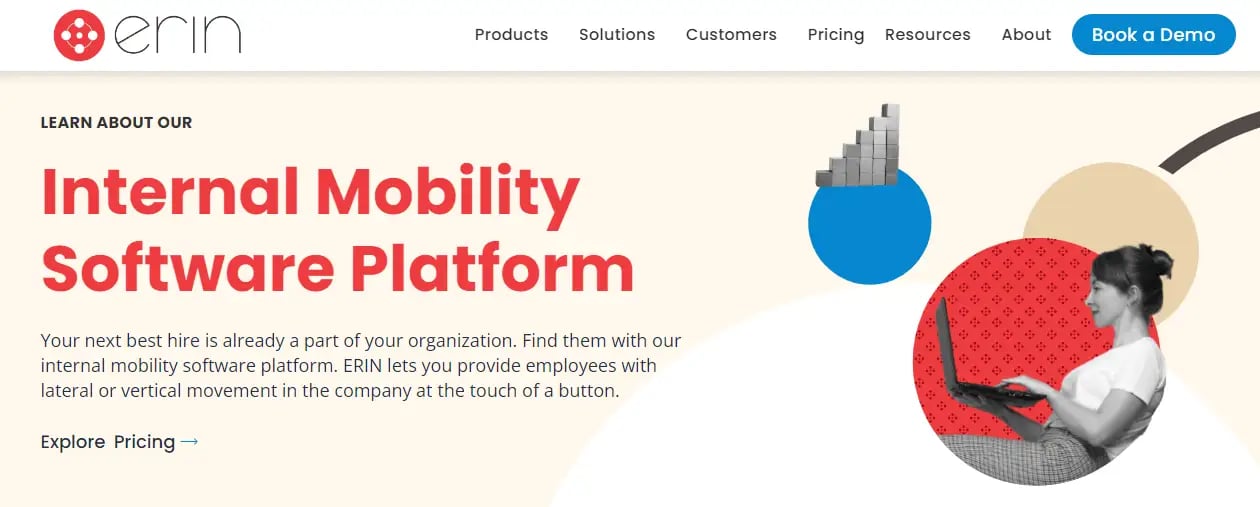 Founded in: Mike Stafiej
Founded by: 2018
Free Trial: No
Pros:
This application keeps you updated about the status and process of the referrals, saving much time

The UI ERIN is quite self-explanatory

The application has a dashboard with the entire referral summary on one page
Cons:
The mobile version of this application is slow

A few administrative tasks, such as removing an employee still need to be done manually
Clients: Wendy's, Verisure, Sunrise Senior Living, Sea World, Rush Enterprise, Heartland Dental
Pricing: $500/month
G2 Rating: 4.7/5 (158 reviews)
20. Comeet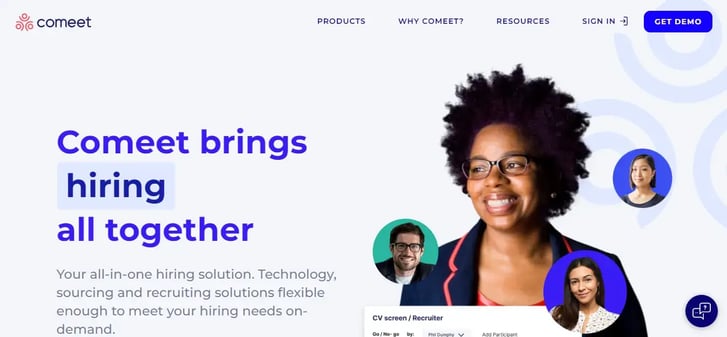 Founded in: 2013
Founded by: Omer Tadjer
Free Trial:
Pros:
Comeet has many valuable features, such as integration with MS 365, which makes it very easy to schedule sessions

They sort a card with pros and cons after each interview

The software has an effective integration with zoom for scheduling interviews
Cons:
There's no automation feature available

It's tough to edit existing interview scorecards

It's not recommended for large-scale organizations
Clients: bob, Fiverr, tytocare, Vimeo, DataRails, Noname, KPMG
Pricing: Not disclosed publicly
G2 Rating: 4.6/5 (158 reviews)
FAQs
What is recruitment management software?
Recruitment Management Software is a bunch of individual tools put together to manage and automate virtual hiring and staffing procedures. These tools take control over every single step in recruitment, such as posting jobs, interview schedules, candidate follow-up, customized messages or emails, and onboarding. Online Recruitment management software such as iMocha automate your entire hiring process.
What kind of software do recruiters use?
Recruiters use a bunch of useful software such as
ATS, Applicant Tracking System; collects and tracks applicants who apply to your job listing

CRM, Customer Relationship Management software; develop and maintain relationships with vast applicant pools while efficiently overseeing the entire hiring process

HRMS, Human Resource Management System; a software that organizations use to control internal H.R. operations
How do I choose a recruitment management system?
While choosing a recruitment management system, make sure it has the following features:
Strong encryption

Onboarding

Candidate training

Responsive customer support

Job promotion via social media

Tools for passive candidate search and candidate sourcing

Job posting on free, premium, and niche job boards
What are the five stages of the recruitment process?
Following are the five stages of the recruitment process: