Taxonomies, including the famous Dewey Decimal System for library organization, focus on creating an infrastructure for classification. In short, every database follows a unique organizational technique for its data to enhance ease of use and improve the retrieval experience.
Similarly, skills, which are the currencies and DNAs of every business, require a centralized and transparent classification system, and it is known as skills taxonomy.
In this blog, we will walk you through the concept of skills taxonomy with its different elements and also delve into the contribution of skills taxonomy to skills intelligence.
Let's get to understand each of these better.
What is Skills Taxonomy?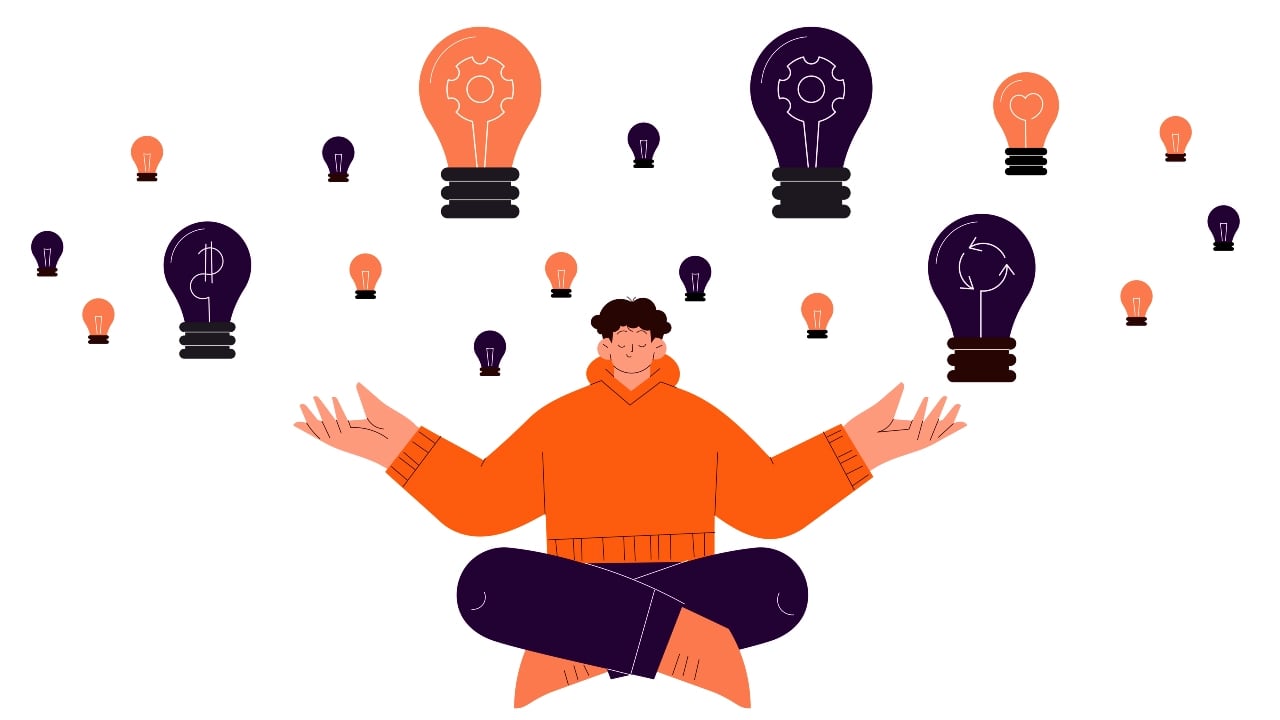 Skills taxonomy refers to a straightforward and easy-to-visualize comprehensive infrastructure of skills that can help your business optimize decisions and make the best of the available human capital. It offers an atomic-level view of workforce skills to assist your company in achieving operational efficiency.
Skills taxonomy isn't a new concept that evolved with digitalization. Instead, it has a rich history that has stood the test of time. You might also want to know about efficient skill assessment tools. So check out the link attached.
Previously, employees within an organization burnt their midnight oil by performing research to develop skills taxonomies. But this type of infrastructures is prone to errors and often gather dust without timely updates. In addition, this method is expensive and time-consuming.
Nonetheless, even today, some organizations follow this age-old technique of creating skills taxonomies, and one among them is O*NET, a US-based skills taxonomy platform.
However, now, organizations can form skills taxonomies conveniently by leveraging the power of AI using sophisticated algorithms.
You can have structured lists of workforce skills at an organizational level, which can be further classified into skills clusters (simply put, groups of related or overlapping skills) based on your company's needs. You can include high-level definitions of core or transverse skills that can be broken down into multiple categories, which can further help in future-proofing your company's skills taxonomies.
In a nutshell, skills are becoming increasingly dynamic, and the shelf life of skills is also decreasing dramatically. For instance, the shelf life of skills is only five years, per a LinkedIn Workplace Learning Report.
Therefore, by using skills taxonomies, you can identify skills gaps, work on improving your hiring decisions, and design upskilling/reskilling programs. Most importantly, you can clearly understand the skills you need to attain your business goals and become a skills-first organization.
'Skills-First' Companies have achieved 2x higher revenue growth than their peers. Don't miss out!
Essential components of a Skills Taxonomy
A skill taxonomy has different components that make it unique and easy to comprehend. They include:
Skills hierarchy: Skills hierarchy refers to a group of related skills arranged in a hierarchical structure. This provides an intuitive way to go through different skills without any broad classifications or very granular structures.
Skills name: It can bring consistent language and terminology without being too specific or generic. This can help you understand skills better, avoiding any confusion for that matter.
Skills description: It can offer a detailed overview of skills, preventing individual interpretations. It is beneficial in auditing and analyzing skills and identifying direct or indirect skills overlaps.
Skills map: A skills map helps build relevance to the available skills data and also assists organizations in making data-driven decisions. It aids businesses in visualizing and identifying skills gaps.
Skills clusters: Skills clusters refer to groups of related or overlapping skills.
How do Skills Taxonomies contribute toward Skills Intelligence?
In no time, skills intelligence would become a layer within organizations providing them with a competitive advantage. It would facilitate companies with a better understanding of the skills required based on the changes in the labor market trends and their business strategies.
In this structure of skills intelligence, skills taxonomies will act as the first level. The different resources that can facilitate skills data for creating a skills taxonomy include: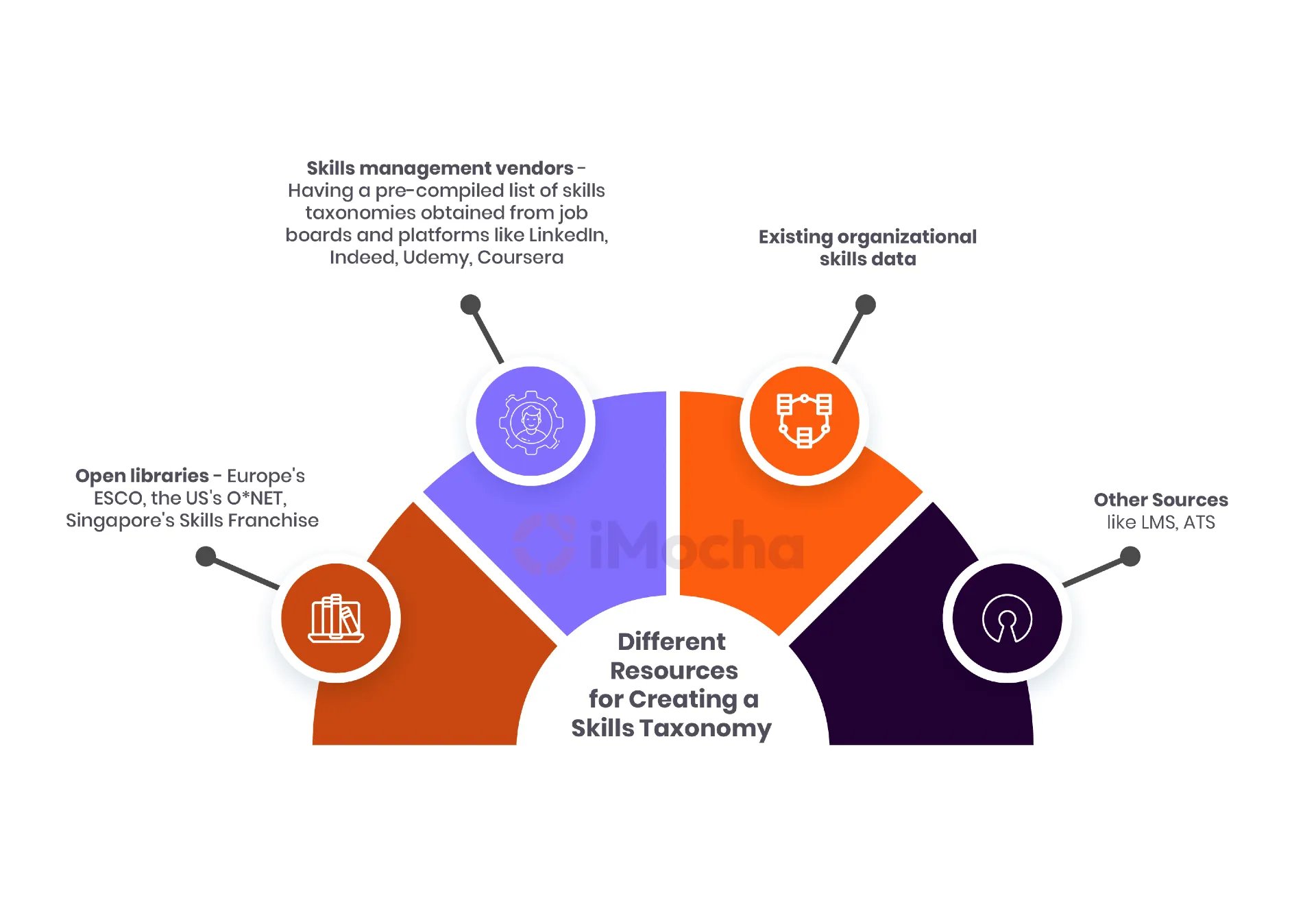 Skills intelligence, using the power of AI, Natural Language Processing, and Machine Learning, can create agile skills taxonomies with different forms of skills data. Such a taxonomy can be a classification system benefiting your organization at different levels.
Moving forward, companies like yours can achieve the following by relying on skills taxonomies, acting as the backbone of skills intelligence:
Recruit efficiently

Provide career growth for their workforce

Enhance internal mobility

Overcome succession-related problems

Decide on the pay scale, training, assessments
Now, let's look at an example of how ESCO created a skills taxonomy for the UK by utilizing the power of AI. The researchers gathered 62,892,486 job adverts from Text Kernel, forming a random sample of 500,000 job alerts. They then, using AI, created skills sentence predictions and found 19,755,486 skills sentences. They clustered skills sentences and formed a list of 6685 skills.
This is indeed a great achievement.
But a skills intelligence platform could take these pieces of information to the next level.
Skills taxonomies in skills intelligence can aid your company in building job models and architectures by prioritizing the skills needed for your business's future. It can also assist in identifying skills that will become obsolete with time.
For instance, front office, administration, and customer support skills are taking a back seat nowadays. A skills intelligence platform could analyze and find related or adjacent skills to train and equip employees with skills relevant to different future-ready roles.

How can Human Resource functions benefit by relying on Skills Taxonomies?
Your company's Human Resource functions could traverse an extra mile and be ahead of others in talent acquisition, management, and development by using skills taxonomies. But remember that skills taxonomy won't alone provide the solution. You can only make the best out of it with skills intelligence.
So, let's explore how your Human Resource functions can benefit from skills taxonomies that rely on skills intelligence.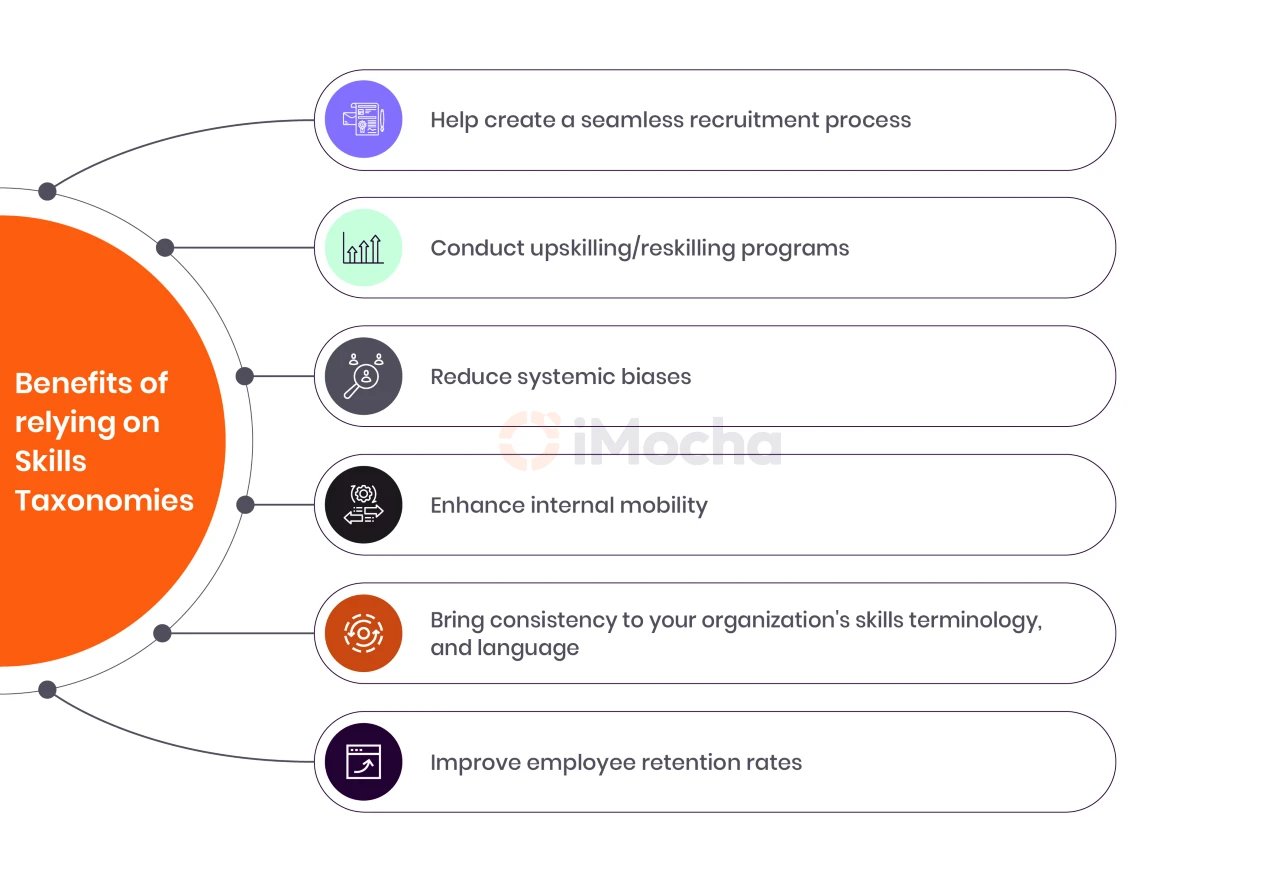 Help create a seamless recruitment process
Skills taxonomies, focusing on different skill packages, help create hiring processes, emphasizing skills. By adopting this method, your business can shift to a skill-based recruitment process (including soft and hard skills) from the ancient role-based hiring pattern.
Here, a skills intelligence platform can assist you in screening multiple resumes based on your organization's skills taxonomies, helping to shortlist suitable candidates. Further, a skills intelligence platform can aid in conducting skills assessments based on the skills required for your organization. These assessments can be customized based on the skills clusters needed for performing different tasks.
Conduct upskilling and reskilling programs
As per the World Economic Forum's report, automation and economic uncertainty would change the dynamics of labor division between humans and robots by 2025. Due to this, 85 million jobs will be displaced, and 97 million new ones will be created.
So, how can companies like yours equip themselves for these drastic changes?
Well, hiring new candidates constantly based on these developments might not be an easy task. So, the best way to resolve such a constraint is to upskill and reskill the existing workforce to compete with this competitive landscape. In short, your company can fill the present and emerging skill gaps efficiently by adopting continuous learning initiatives.
Upskilling and reskilling, based on skills taxonomies, can facilitate these benefits:
Enhance employees' performance and productivity

Improve their engagement rates

Increase morale

Validate the proficiency of your employees

Provide measurable ROI
Reduce systemic biases
Your company can overcome systemic biases with a skills intelligence platform combined with an efficient skills taxonomy. It can help conduct bias-free hiring, promotions, and performance reviews, focusing on the skills and contributions made by your employees.

Enhance internal mobility
Internal mobility is an integral factor, adding to employee satisfaction and retention. According to LinkedIn's Learning's 2021 Workplace Learning Report, internal hiring or promoting employees improves twice the chances of them staying in that organization than in those companies that don't provide internal mobility. In addition, as per the same report, internal mobility makes employees 3.5 times more engaged.
While utilizing the power of skills intelligence, skills taxonomies can facilitate inputs on skills (overlapping skills, adjacent skills) available within your organization, opening up doors for internal mobility. This means you can understand which skills can be trained and which can only be obtained through hiring new employees.
Most importantly, internal mobility will also break down the concept of a vertical career path within your organization.
Bring forward consistency
Well, this can sound a bit confusing.
So, let's get some clarity.
The reference is to bring consistency in the conceptualization of workforce skills, terminologies, and language used for describing different skills. This will help your HR make better hiring decisions and find candidates with matching skill sets.
Improve employee retention Rates
As per the Work Institute's Retention Report, 18% of employees who participated in the study stated that their cause of quitting their previous organizations was often career-related, including lack of growth, achievement, and security.
Skills intelligence combined with skills taxonomies can create career paths for your employees to boost their retention rates. It will give them a better understanding of the skills they need to work on to attain career advancements.
How do Skills Taxonomies as a layer of Skills Intelligence help your candidates, employees, and business?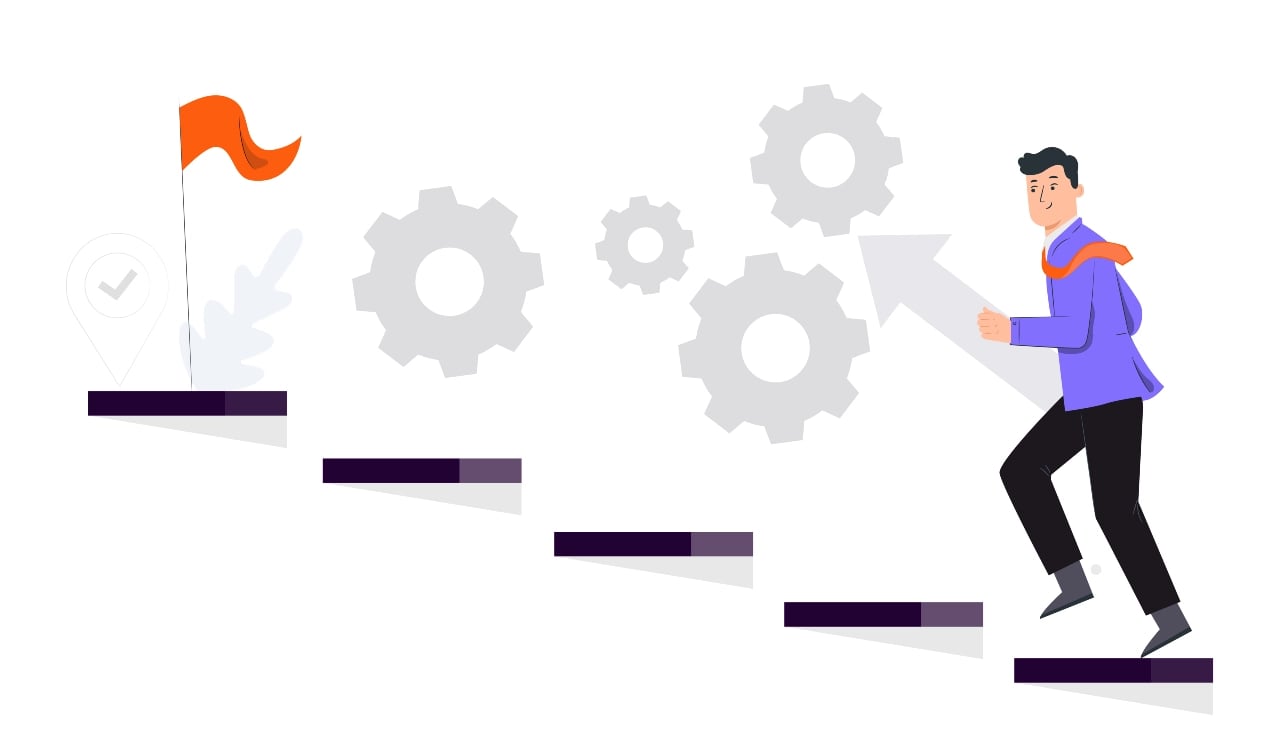 We will delve into the role played by skills taxonomies in helping your employees and your business. So, let's get into it.
How can these developments help your candidates and employees?
Help candidates apply for jobs based on their skills rather than the role or project.

Provide ample opportunities for upskilling by understanding each employee's job transaction pathways in your organization.

Facilitate more possibilities for internal mobility.

Give your employees an in-depth knowledge of your organization's future goals, which will help them to align themselves better with your company.

Prevent your employees from being prey to unconscious or systemic biases.
How can these developments help your business?
Help your organization make the best out of the skills data available.

Facilitate an in-depth understanding of the skills gaps and shortages.

Aid in creating a skilled workforce that meets the expectations of your business needs and labor market.

Assist in forming strategic roadmaps for different skills-based categories or roles in your organization.

Provide input on the workforce skills required for your organization to remain relevant in the future.

Create strong internal skills data.

Furnish information on broad changes in skills demands across thousands of skills, helping you to stay relevant for the present and equipped for the future.
Conclusion
Thus, skills taxonomies, put to their best use by skills intelligence, can significantly benefit your organization in achieving its business goals and strategic growth. So, why not leverage skills intelligence and move towards greater heights in your business?