Skills intelligence refers to the practical usage of up-to-date skills inventory, skills taxonomy, and market skills intelligence to make data-driven and intelligent talent decisions.
Incorporating a skills intelligence platform into your HR tech architecture can be highly beneficial for several reasons. They range from enhancing your recruitment process to attaining strategic business growth.
This blog will delve deeper into six use cases of skills intelligence that can assist you in obtaining the benefits offered by a skills intelligence platform. They include:
Screening and recruiting candidates

Performing skills matching

Benchmarking candidates

Creating a skills matrix

O

btaining accurate skills insights

Conducting a skills gap analysis
So, without any further ado, let's switch gears and move into the discussion!
Screen and recruit candidates better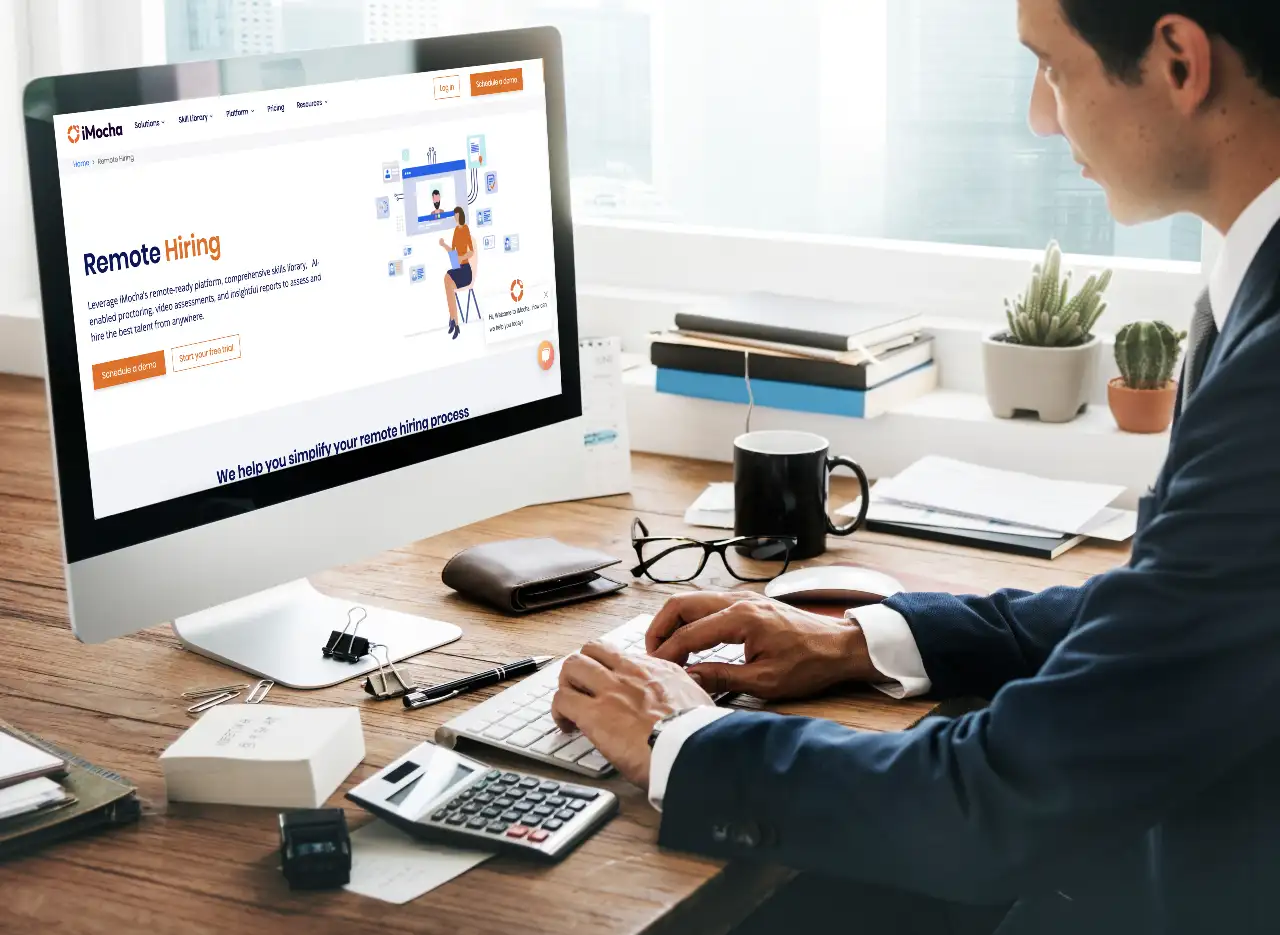 The time-to-hire and time-to-fill open positions in companies worldwide are drastically increasing. As per the Navigating an Uncertain Hiring Market report from Hired, companies in the US take approximately 60 days to fill an open position in 2022. But it was only 52 days in 2021.
From this, it is clear that organizations must review their recruitment practices and strategies and focus on adopting a measure that can improve their hiring velocity.
As per a Gartner study, 65% of the candidates dropped out of the recruitment process because of the company culture, inability to gain clarity on the job role, lack of development process, etc. Apart from increased dropout rates, different factors hinder the recruitment process within an organization, and they include the following:
Issues with

identifying the best channels

for recruiting candidates

Difficulties in

creating job descriptions

that align with the skills requirements and industry standards

Complications in

assessing the candidates

accurately on their technical and non-technical skills

Lack of

candidate engagement

and other unexpected delays

Problems with

nurturing the candidates

throughout the recruitment journey

Concerns with

managing and organizing a diverse talent pool
Your organization can move past these hurdles and create a smooth recruitment process by relying on a skills intelligence platform. It is because a skills intelligence platform can offer insights on untangling each of these concerns. Through this, you can lower the mounting pressure on your Talent Acquisition team and recruit unicorn candidates who can take your business to profound heights.
A skills intelligence platform would leverage labor market insights while duly considering your organization's skills inventory as part of assisting your Talent Acquisition team in creating a seamless recruitment process.
Thus, your company can hire faster and better by making the best out of the features offered by a skills intelligence platform like iMocha.
Perform skills matching
"It's a match made in heaven!"
No, we're not talking about a date. We're talking about skills!
Skills matching, utilizing a similar logic, helps match the skills of your candidates and employees with your company's required skill sets for building future-ready teams.
A skills intelligence platform can assist you in performing this task efficiently by leveraging the skills data available on your skills inventory and skills taxonomy.
Therefore, skills matching can aid your organization on different levels. They include:
It helps your

recruiters and hiring managers

to recruit candidates with the skill set required for a specific job role and make better data-driven hiring decisions.

It assists

employees

in exploring opportunities for internal mobility within your organization.

By performing skills matching and relying on a skills matrix, your

company

can find employees within your organization who can collaborate on a project or work together as a team.
Thus, your organization can gain different employee, team, and organizational benefits with skills matching.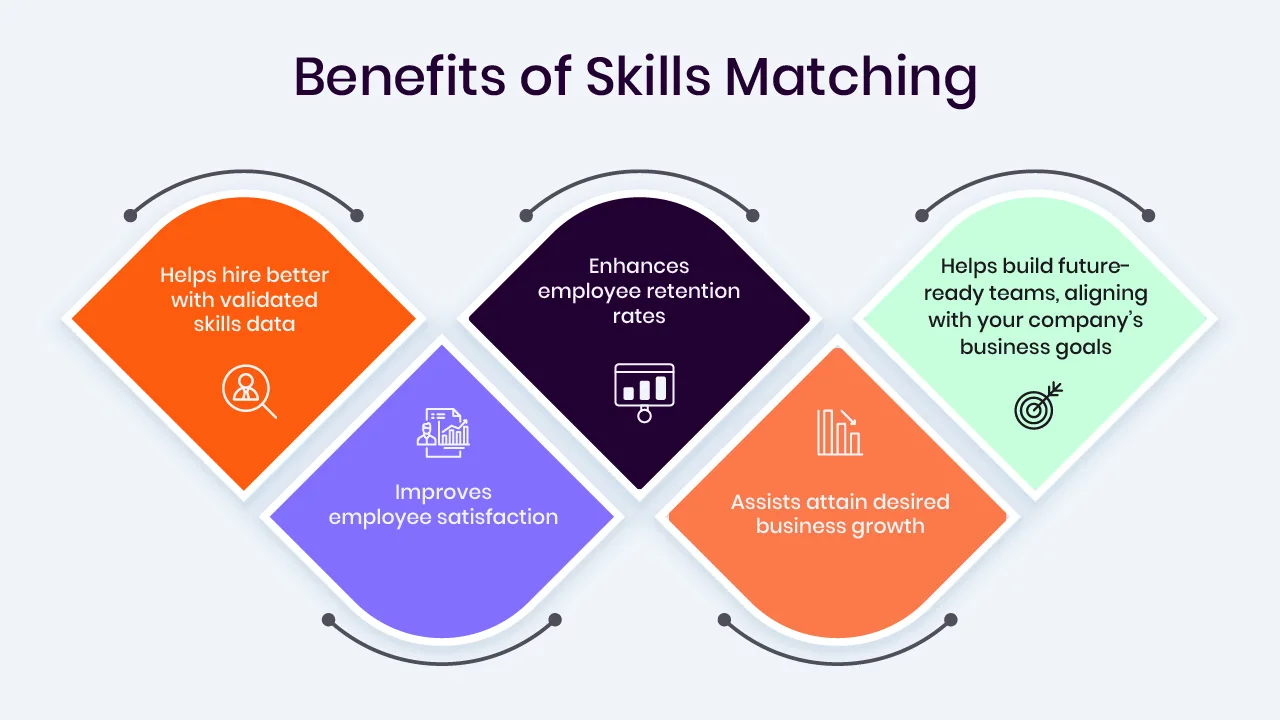 By having a skills intelligence platform in place, your company can perform skills matching and enrich its employees, teams, and business in numerous ways.
Benchmark your employees' skills proficiency efficiently
Most organizations invest in benchmarking their businesses by comparing them with industry best practices and metrics.
Similarly, in today's world, companies will have to focus on benchmarking their current employees' skills proficiency according to their organizational and industrial standards. It is integral for building a skills-first organization.
This helps your employees create career expectations and goals. It also aids in finding areas of improvement. You can perform this seamlessly with a skills intelligence platform integrated into your HR tech architecture.
A skills intelligence platform can diligently perform employee benchmarking by making the best out of your company's skills inventory, which will have all the up-to-date skills data of your employees.
It can also form your company's average skills proficiency for a particular job role by analyzing your skills inventory. It can further benchmark your candidates based on industry standards by comparing their skills with those of people from top companies and your company's average.
Here is an example of how skills intelligence can benchmark an employee named Katherine based on her company and industry standards: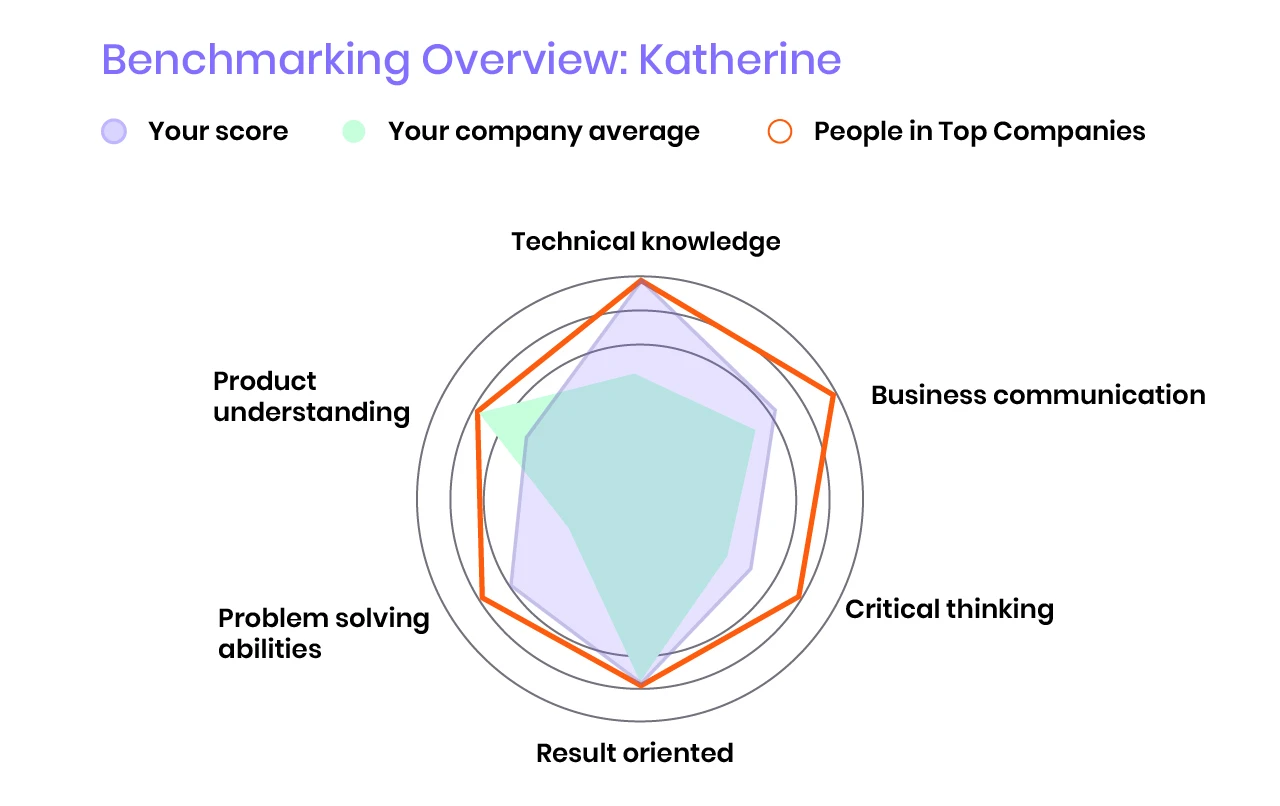 Based on the benchmarking performed, it is clear that Katharine has the technical knowledge and result-oriented skills equal to people from top companies. But Katherine's business communication skills, problem-solving abilities, product understanding, and critical thinking skills aren't the same as employees from top companies.
In short, your company can identify skills gaps, take the necessary measures to overcome these issues, and assist your employees in enhancing their career paths with benchmarking.
It helps organizations respond to changing market trends efficiently. Besides, benchmarking skills proficiency of your employees will play a crucial role in diverting the focus to talent agility-related skills or critical business skills. It is because with benchmarking, your organization can better understand the industrial standards for each job role.
Create skills matrix
A skills matrix, also known as a competency matrix, is a grid-like visual representation of your employees' different skills with a focus on their proficiency levels. In your organization, you can have different types of skills matrixes, and they include:
Individual skills matrix for each employee with the skills required for performing their job roles

: This can include skills data collected from social data, internal system data, user input, and skills validated through assessments. There can be information on each of these skills active period. Now, let's have a look at an individual skills matrix of an employee named Katherine, who performs the role of an enterprise architect: From this individual skills matrix of Katherine, it is clear that Katherine has the highest proficiency in application design and the lowest in project management. Similarly, you can find details on Katherine's skills proficiency levels for an enterprise architect role with a skills intelligence platform.
Skills matrix with skill proficiency of all the team members collaborating on a project:

This will consider the skills required for a project on one axis with the proficiency or proficiency levels of the employees collaborating on that project on the other axis. Your organization can use this to ensure that the collaborators of a particular project have the required skills and competencies to complete it.

Skills matrix with skills required for a particular project completion:

Your company can create a skills matrix to identify prospective team members for a project. You can also use it as a resource for hiring new employees and upskilling the existing workforce to overcome the skills shortage. Here's an example: From this, we can gain clarity on the different skill sets each team member- Joe, Katherine, Christy, and Amanda- has in relation to a front-end development project.
Skills matrix at an organizational level:

Through this, you can obtain an overview of your company's different skill sets and the skills that need to be developed to attain the desired growth.
To cut a long story short, having an up-to-date skills matrix in your organization can help your employees, team, and company on different levels. This includes:
It helps your

organization

to hire better, identify skills gaps, conduct efficient learning and development initiatives, understand workforce performance, etc.

It aids

teams

in measuring the success rate of their projects.

It assists

employees

in learning more about themselves, their skill levels, and their scope of improvement.
To achieve this, your organization must have an updated skills matrix. But, opting for a manual process to set up a skills matrix can be time-consuming because it involves the creation of a database, skill measuring scales, employee evaluation, and so forth.
But, with a skills intelligence platform like iMocha, your organization can create an updated skills matrix for your employees, teams, and organization in no time by leveraging your organization's skills inventory, skills taxonomy, and market intelligence.
Conduct skills gaps analysis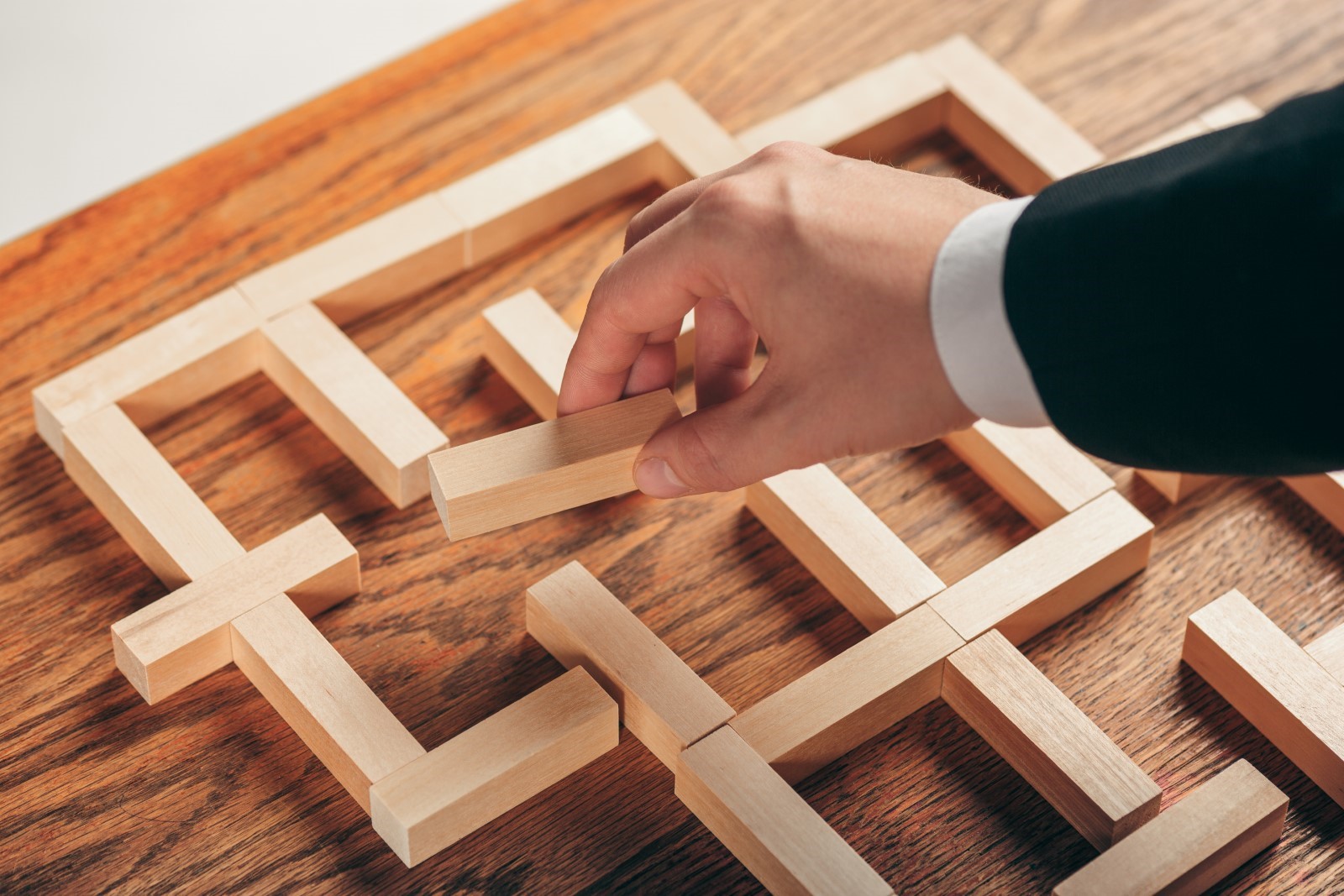 As per a 2022 CEO survey conducted by Deloitte, the CEOs found skills and labor shortages as one of the primary concerns affecting the proper execution of business strategies. Skills shortage arises because of the prevalence of skills gap in an organization. To overcome this, your company will require a specific skill set that aligns with its business goals.
Your employees' skills must align with your company's and the labor market's skills requirements. If not, it will pave the way for skills gaps, and nowadays, skills gaps in organizations worldwide are aggravating, leading to:
Workplace inefficiency,

Reduction in productivity,

Increased stress on the workforce,

Concerns with business growth, and so forth.
In an organization, skills gap can exist in three different forms, and they are:
Lack of knowledge of a particular job role, which is the

knowledge gap

Inability to put into practice the acquired knowledge in a specific job role, which is the

skills gap

Lack of motivation for performing a job role, which is known as the

performance gap
There can be different reasons that cause these types of skills gaps in your employees and your organization in general. Your company can address these issues efficiently by performing a skills gap analysis, and a skills intelligence platform can assist you with this process.
A skills intelligence platform with your up-to-date skills inventory, skills taxonomies, and market skills intelligence or trends can help identify skills gaps in your employees/ your organization. Instead of manually performing a skills gap analysis, leveraging the HR tech architecture offered by a skills intelligence platform can save time and money and reduce errors.
Thus, your organization can intervene and resolve these skills gaps once you have identified them. You can recruit new employees, redesign job roles, and conduct learning and development activities to overcome these skill gaps.
Obtain accurate skills insights
Skills insight refers to an overview of each of your employees' different skill sets and proficiency levels. It is beneficial for your employees to unleash their full potential to enhance their performance and productivity.
Your organization can create skills insights for your employees by analyzing their skills data in your skills inventory. However, it can be a labor-intensive and time-consuming process when performed manually. Besides, it will be prone to errors and mistakes when you do it manually.
But your organization can obtain skills insights on each employee with a skills intelligence platform, making the best out of automation and artificial intelligence. A skills intelligence platform can facilitate insights by analyzing the skills data objectively. Skills insights can also be helpful for other use cases of skills intelligence, including skills matching, recruitment, skills gap analysis, creation of skills matrix, etc.
When you have skills insights of your employees, it can be beneficial in different ways. They include:
Measure employee performance, which can help you conduct performance appraisals without any biases

Understand your employee's true potential and help them identify career paths suitable for their development and the company's growth

Find out areas of improvement for your employees, teams, and organization

Conduct upskilling, reskilling, and cross-skilling programs

Gather information on the effectiveness of different HR activities, including recruitment, Learning, and Development

Facilitate opportunities for internal mobility
Improve employee retention rates
Thus, skills insights can aid your organization stay a step ahead in its journey and help achieve its business goals in time.
Conclusion
To summarize, these are the six different use cases of skills intelligence as of now. Since it's an evolving technological architecture that leverages artificial intelligence and automation, several new changes and innovations would happen with time.
For the time being, your organization can attain business growth and improve your talent acquisition, talent development, and talent management wings of HR by relying on an efficient skills intelligence platform.