Talent strategy refers to a plan that organizations can create to hire, engage, retain, and develop their talent. As an HR professional, you can perform this process smoothly, especially by placing data at the center.
This can help your organization in many ways, ranging from improving diversity to forecasting employee retention. This blog will walk you through the top ten reasons to put data at the center of your talent strategy.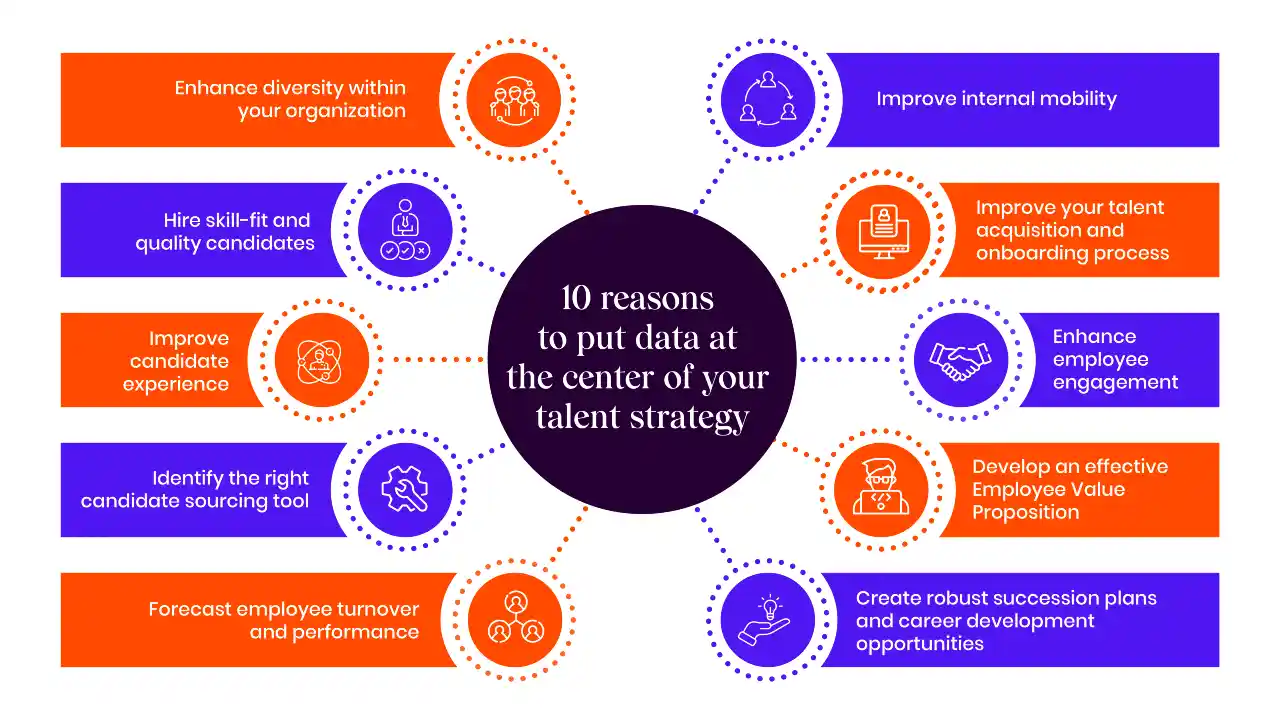 Enhance diversity within your organization
Diversity, Equity, and Inclusion (DEI) are crucial in talent acquisition, development, and management. Unfortunately, most DEI measures become tepid because of a lack of accountability, consistency, and commitment.
As per a recent WebMD survey with 2000 employees working full-time in the US, 89% reported that their company has a DEI program. However, 62% of employees agreed that these programs were ineffective.
Therefore, if your organization has or wishes to incorporate DEI within its talent strategy, you can do it better by placing data at the center. With data, you can:
Understand and remove biases

Increase underrepresented talent

Expand your diverse talent pool with
You can consider different forms of talent data, including:
Labor market insights

Diversity audits (performed with data obtained via surveys) of your current employees

Candidate and new hire data (focusing on the percentage of diverse resumes, percentage of interviews with diverse candidates, etc.)
Analyzing and using these data points while planning your talent strategy can benefit your organization in building a diverse, innovative, and productive workforce for today and the days to come.
Make intelligent talent decisions using iMocha's skills-first insights! Learn how we reduce complexity and ensure efficiency at every stage of your talent lifecycle.
Hire skill-fit and quality candidates
Hiring is an expensive process. According to a research survey by Zippia, hiring a new employee costs around $4,700 for non-executive posts, which can vary widely based on the company and the role. If it turns out to be a bad hire, it would cost companies an average of $14,900, which includes the employee's salary, benefits, cost of hiring a replacement, etc.
Instead of traditional recruiting methods, you can rely on data-driven recruitment strategies to obtain better results. For this, you can build an HR tech stack with Applicant Tracking Systems or ATS, skills assessment platforms.
Through this, you can make objective hiring decisions based on the talent data obtained and identify if a candidate is a skill fit for your organization. You can further use predictive analysis and forecast if a candidate would perform well if hired for a particular role. Some data points to consider during this process are:
Candidate's educational background

Job experiences

Skills

Scores obtained in skills assessments

Performance in structured interviews
Thus, you can hire better and build a talented workforce with data-centric talent acquisition approaches facilitated by ATS and skills assessment platforms.
Improve candidate experience
Providing outstanding candidate experience can attract top talents into your recruitment pipeline and enhance your hiring process.
Since candidate experience is a core element within a talent acquisition strategy for increasing conversion rates, you must identify the areas where your organization is lagging and excelling. This can range from creating inclusive job descriptions to initiating personalized communication.
As a starting point, analyzing and studying relevant data can help strategize plans to improve your candidate experience. You can collect this data from your candidates and new hires via surveys and feedback forms embedded in different formats throughout their recruitment journey.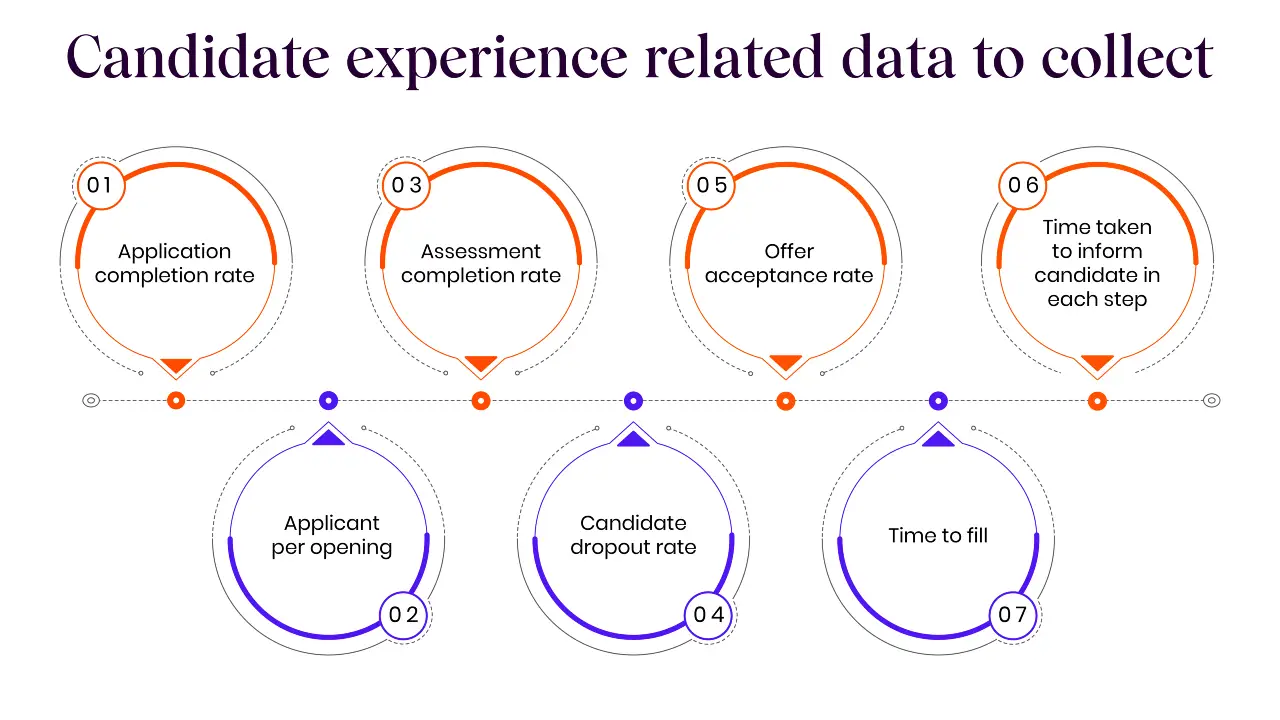 Tracking and analyzing these data will help identify ruptures within your recruitment cycle and aid in creating a robust data-driven talent acquisition strategy.
Identify the right candidate sourcing tool
Candidate sourcing is a proactive method of searching for candidates to fill open positions in your organization. There are different ways to source candidates, and they include:
Career sites

Job boards

Hackathons

Employee referral programs

Social media like LinkedIn

Networking on niche platforms like Reddit or Slack

Resume databases

Portfolio sites
Although there are different ways to source candidates, each job opening and every organization is unique. Therefore, you have to determine the right sourcing tool for your company based on your organization's previous recruitment history and what has worked and what hasn't.
For that purpose, you need to analyze these data points manually or using an AI-based tool.
Which sourcing platform has facilitated you with the highest and lowest number of quality and relevant applicants?

Which sourcing platform has helped you reduce the time to fill an open position?

Which platform has assisted you in staying within your recruitment budget and provided you with the best results?

Which sourcing platform has provided candidates with excellent retention rates?

Which platform provided candidates with the highest and lowest dropout and engagement rates?
Once you have gathered and analyzed this data, you can identify the best candidate sourcing tool or tools to incorporate within your data-driven recruitment strategy.
Forecast employee turnover and performance with predictive analysis
Predictive analysis in HR is an analytical method using advanced measures like machine learning technology to forecast employee retention, performance, and so forth. Your company can identify and manage employees at a flight risk through this data-centric approach.
Previously, organizations used to perform these predictions via traditional methods like manually creating and analyzing their employees' descriptive data. But today, you can conduct a predictive analysis much more precisely and accurately with AI. Based on these descriptive analytics and other historical data, you can identify factors leading to turnovers and focus on resolving these issues. Some metrics to look into are:
Employees' performance reviews

Time spent at work

Pay scale

Internal growth opportunities
Further, you can analyze labor market data to form hypotheses based on economic scenarios to learn more about factors leading to employee turnover.
Similarly, you can forecast your employees' performance based on past performance reviews, pay, promotion, assessment scores, etc. You can decide how to improve your employees' performance based on the observations.
Improve internal mobility
A 2019 Deloitte study has shown that organizations can increase employee engagement by 30% with internal mobility. Internal mobility comes in different forms, from upward or promotion to cross-functional mobility. Want to learn more about internal mobility? Check our blog: Internal mobility: All you need to know.
Returning to the point, you can prevent the loss of valuable talent and help your employees identify job roles aligning with their interests and career goals with internal mobility. Even with the current scenario filled with tech layoffs, the labor market continues to be tight, further presenting the significance of internal mobility.
Your organization can create a bias-free process for internal mobility when you have up-to-date employee skills inventories.
Having an internal talent marketplace can be helpful. But you would need to explore your employees' skills data more to identify if they have the skills required for a specific role. You can perform these functions conveniently by relying on a skills intelligence platform.
You can filter potential employees and internally identify qualified employees for a job vacancy. Based on the skills insights a skills intelligence platform provides, your HR team can connect with the concerned employee and take it forward. You can also integrate a skills intelligence platform into an internal talent marketplace. You can regularly update on vacancies, aligning with their skills, experiences, and career goals.
Improve your talent acquisition and onboarding process
You can drastically improve your talent acquisition process when you have the correct talent data set. It ranges from identifying issues within your hiring process to resolving them strategically. Some of the things you can do are:
Determine how long hiring for a particular role can take

Understand the budget required

Reduce the time to fill and hire, especially for niche roles
Today, most HR professionals are hiring for roles that are unfamiliar to them. As per a recent Gartner study, 20% of current talent requisitions are for such positions, increasing the time to fill by 38%.
But, with good use of relevant data metrics and talent analytics, HR professionals can learn more about handling these situations better. They can create agile and responsive recruiting operation models.
Moving forward, you can also improve your employee's onboarding experience by analyzing data. For this, you can conduct employee surveys and refer to external resources.
Enhancing your employee's onboarding experience can help build employee engagement from an early stage. According to a recent study, seven in ten employees stated they have the best possible job, especially when their onboarding experience was exceptional. Similarly, these employees with great onboarding journeys were 2.6 times more satisfied with their job.
Are you struggling to reduce the time to hire and improve the quality of your hire? Try iMocha!
Enhance employee engagement
Engaged employees can improve performance, retention rates, and business growth. Therefore, employers must consider improving employee engagement as one of their top priorities.
One of the best ways to improve employee engagement is by analyzing data and understanding how to create an employee engagement plan, providing better measurable results. You can explore more on this topic from our blog on How to increase employee engagement in the workforce.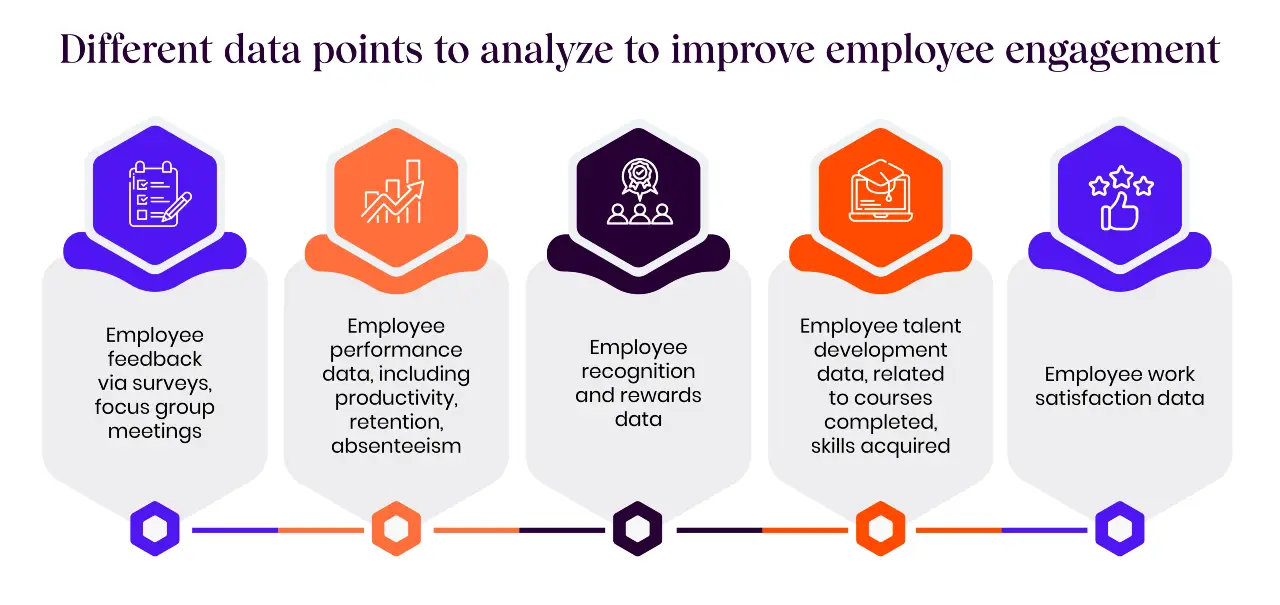 Collecting and analyzing these data types can help create targeted employee engagement plans for your talent management strategy.
Develop an effective Employee Value Proposition (EVP)
Employee Value Proposition (EVP) is an employer's promise to employees. Organizations endeavor to bring a human-centric approach while structuring their EVPs in the post-pandemic era.
Creating and implementing an effective EVP in your organization can improve your company's positioning, attract and retain quality talents, boost employee performance, and so forth. You can learn about this topic from our blog on what an Employee Value Proposition is and how to create EVP.
Data is crucial in creating an EVP as part of your talent strategy. Some of the data points you have to collect and analyze are as follows:
Employee surveys give insights into what motivates them to work for your company and what can be improved.

Exit interviews provide reasons why your employee decided to leave your organization and the areas for improvement.

Recruitment data helps you understand how your previous or current EVP has been incorporated and how it has improved your quality of hire, retention, and employee performance.

Compensation data (including labor market data) based on industry standards help benchmark salaries better.

External data, especially feedback on social media channels and platforms like Glassdoor, aids in improving your EVP further.
Thus, by analyzing these data metrics, you can take steps toward enhancing your EVP.
Create robust succession plans and career development opportunities
Succession planning is a continuous process for creating a safety net to help identify the right talent internally or externally. It is in preparation for a situation when someone in your company's leadership or non-leadership position decides to leave.
When you have a robust succession plan, it can aid in retaining company values, and intangible and tangible knowledge, enhance diversity and retention, and many more. You can explore more about this topic from our blog on succession planning.
As part of creating a strategic succession plan and offering career development opportunities for your employees, you can rely on a skills intelligence platform. Such a platform can analyze your employees' skills inventories with up-to-date skills data and help identify employees with the potential to take up critical roles.
You can also use the skills insights available to create your employees' career development plans and trajectories. To perform these activities effectively, you can rely on different forms of data, and they include:
Employee performance data

Skills insights

Skills assessments and their scores

Career aspirations

Predictive analysis data on retention and performance
By analyzing these data points objectively and unbiasedly, you can craft your organization's succession and career development plans for your workforce.
Final thoughts
Thus, you can build your talent strategy efficiently by relying on talent data and analyzing them effectively with the right tools, like a skills intelligence platform. So, why not put data at the center of your talent strategy and upscale your talent acquisition, development, and management plans?
Do you know what's common between Hexaware, Capgemini, and Cyient? They all use iMocha's talent solutions. So, why not try iMocha?