In today's time recruitment has become more data-driven than ever. While it is an important element, recruiters can end up spending a lot of their time viewing, monitoring, and analyzing data from different channels within a software. To help recruiters get more value from their data and make smarter hiring decisions, we have introduced Recruiter Dashboard. Using the recruiter dashboard, you will be able to get the pulse of all your hiring data at any given moment.
What are the key metrics that would be covered?
1) Overview - All recruiters can view real time insights into their data. The Dashboard has an overview strip that will cover metrics like Tests Created, Invitations Sent, Tests Appeared, and Tests Completed. The timeline is customizable, and you can view the data by selecting the preferred duration.

2) Invitations and Invitation Mode - View month wise or day wise breakup of the number of invitations sent. You can see which months or days had more traction than the others. Also, view the mode of invites. It could be email invite, open link (url) invite or invite through API.

3) Test Status & Usage Report - You can view how many of the tests were completed, left or terminated. This brings to surface the appeared to test completed ratio, which can then be used to modify the tests. You can also see the number of reports that were generated.

4) Candidate Performance and Candidate Status - This will provide a breakup of how the candidates have performed across tests and the percentage of candidates that have been shortlisted/rejected.

5) Performing Tests and Performing Candidates - View the top 10 performing tests. This is based on the maximum number of invites sent for a test. And the invites should be sent from your account. Also view the top 10 performing candidates who have scored more than 50%. Only those candidates who are invited by you will be featured here.

6) Candidate Experience - View how your candidates have rated their test experience. This is a great way of knowing how the candidates feel about the test at a glance.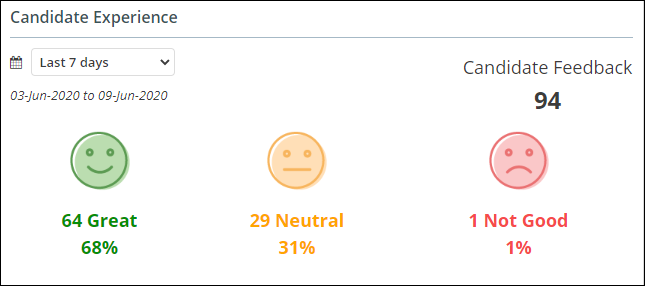 These insights will help you align your recruitment efforts, define areas of improvement, and build effective skills assessments.
We would like to know your views and feedback on Recruiter Dashboard. Do hit the share button or comment in the section below.
Happy Recruiting!