The BFSI sector is facing a perfect storm of obstacles, with the rapid pace of technology, market uncertainties, and evolving regulations creating a tumultuous environment.
One of the significant challenges is the presence of skills gaps, where professionals in the sector struggle to keep up with the latest advancements in areas such as digitalization, cybersecurity, and financial technology, creating a gap between the skills required by the industry and the expertise possessed by the workforce.
Additionally, a shortage of skilled talent in the BFSI sector makes it difficult for organizations to attract and retain top-tier professionals, especially those with specialized knowledge in emerging fields. The intense competition from fintech startups and technology companies and the difficulty of upskilling and reskilling their existing employees to adapt to the changing landscape further contributes to low employee retention rates within the sector and keep CHROs wondering about the issue of 'Resource Dependency.'
Although these challenges are common for all BFSI firms worldwide, regional challenges also exist, complicating the situation further. The same applies to the South East Asian BFSI sector, also called the SEA BFSI market.
How is the SEA BFSI sector different from the rest of the world?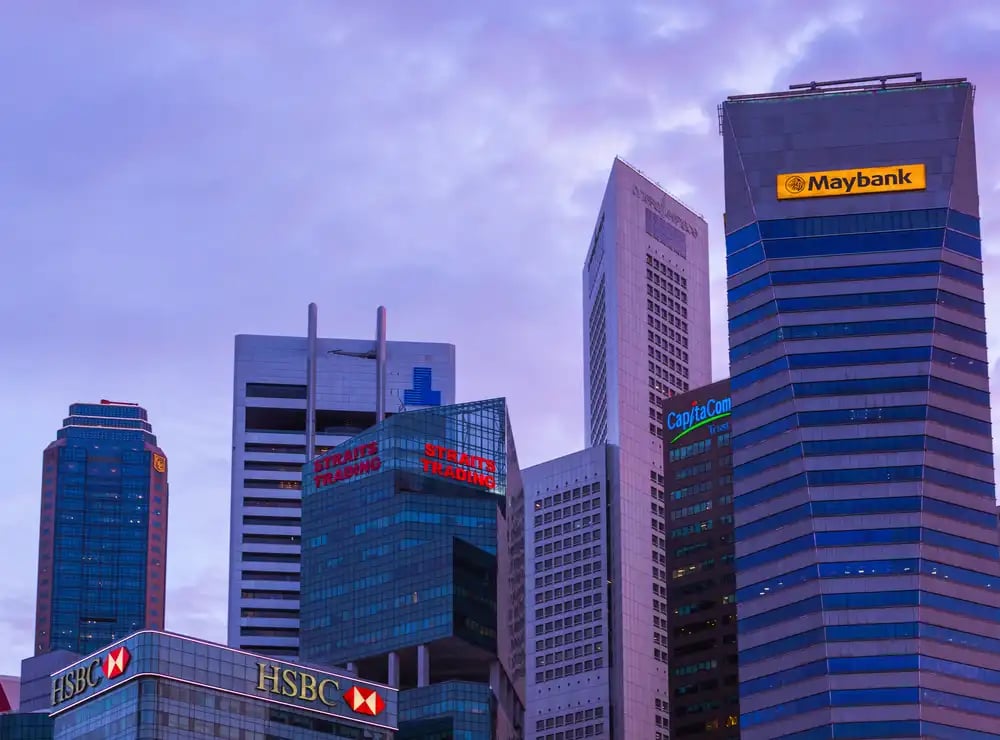 While hurdles, such as skills gaps, talent shortage, and the lack of a reliable L&D framework are not unique to the South East Asian BFSI sector, this region presents its own distinctive bottlenecks associated with Resource Dependency. To truly comprehend the situation, let's explore how the SEA BFSI sector works:
Market Dynamics: The SEA region boasts a diverse range of economies at different stages of development, resulting in a unique market landscape. Alongside more developed economies like Singapore and Brunei, emerging markets such as Indonesia, Thailand, Malaysia, Vietnam, and the Philippines coexist. This diversity brings forth various levels of economic development, regulatory frameworks, and consumer behaviors, presenting both challenges and opportunities for the BFSI sector.
Fintech Innovation: Southeast Asia is experiencing a revolution in fintech. The region has become a fertile ground for fintech startups and technological advancements, posing formidable competition to traditional BFSI players. These disruptors offer alternative financial solutions, challenging established business models in digital lending, remittances, peer-to-peer lending, and microfinance. To address these challenges, the SEA BFSI sector needs to adapt to the changing landscape and integrate new technologies through collaboration.
Varying Regulations & Skills Competencies: Each country within the SEA region has its own regulatory framework governing the BFSI sector, resulting in a complex compliance landscape. Furthermore, a noticeable disparity in skills competencies makes it challenging for organizations to assess the precise skill sets required for growth and success in the region.
Lack of Career Mapping & L&D Opportunities: Despite the region's potential, many BFSI organizations prioritize short-term goals and immediate business needs over long-term talent development. This leads to insufficient investment in comprehensive learning and development programs and career mapping initiatives. The lack of these opportunities can hinder professionals from acquiring new skills, impede career progression, and contribute to low retention rates.
Fewer Avenues For The Assessment of Language and Soft Skills: Effective business communication and other cognitive/functional skills are crucial, especially for professionals in client-facing roles. However, evaluating language skills such as English listening, speaking, writing, and reading proficiency remains challenging. Without a standardized metric to determine communication abilities and align them with industry standards, assessing and addressing these skills gaps becomes more difficult.
To mitigate these challenges and reduce resource dependency, the SEA BFSI sector requires a collective effort from organizations. By prioritizing talent management and investing in comprehensive AI-powered skills intelligence platforms, organizations can create clear career progression pathways and successfully navigate the dynamic landscape. Let's learn how!

How iMocha's AI-driven Skills Intelligence can address Talent Management challenges in the SEA BFSI Sector?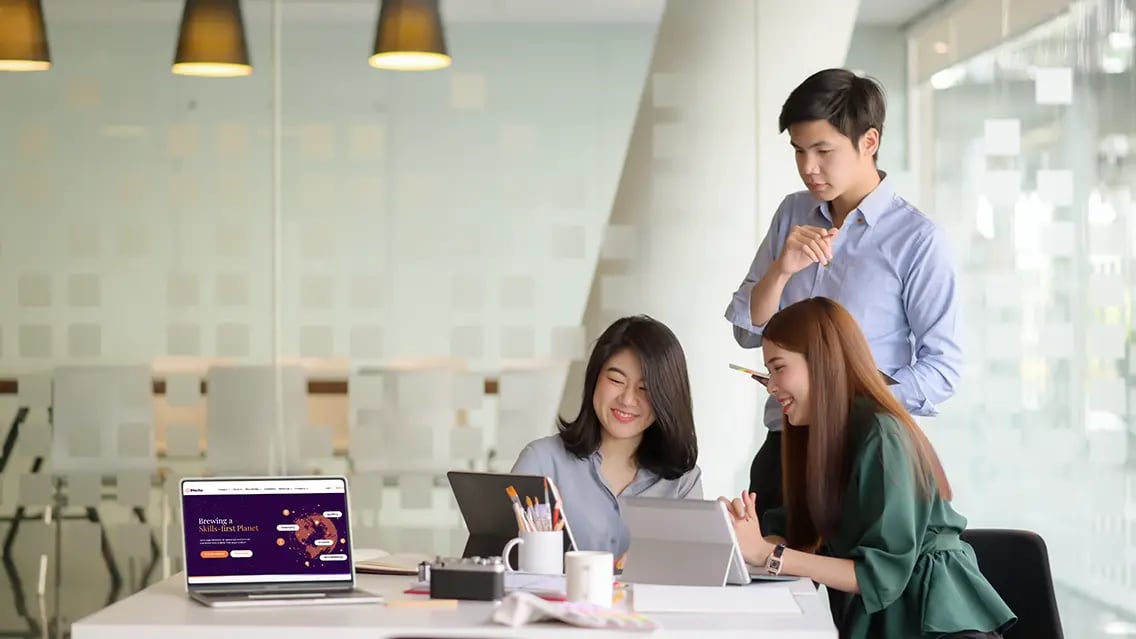 iMocha solves critical issues such as skills gap analysis, people analytics, employee career pathing, talent/resource management, and more using its AI-powered Skills Intelligence.
By adopting a skills-first approach, iMocha transforms every job role and employee into a set of precise skills proficiencies, redefining the BFSI landscape. Whether it's strategic workforce planning, managing skills gaps, or enhancing employee development, iMocha's platform provides crucial insights to drive HR and business decisions.
Let's explore in detail how iMocha's Skills Intelligence Cloud can benefit the South East Asian BFSI sector and reduce its resource dependency:
Creation of Skills Taxonomy and Ontology: In an industry like BFSI, where new skills emerge daily, complete visibility into an organization's skillset is crucial. iMocha's Skills Intelligence platform utilizes a Multi-Channel Skills Validation approach to determine the skills and proficiency levels within the organization. This coupled with the latest region/industry-specific skills framework (Taxonomy) and AI-generated skills ontologies enables you to create a detailed inventory for role-based skills, empowering the workforce to adapt quickly to future disruptions.
AI-powered Competency Assessment: Customizable skills assessments are vital to iMocha's Talent Management offerings. These assessments are curated by subject matter experts across various BFSI-related topics relevant to the SEA market. With the world's largest skills library of 2500+ skills, CHROs and Talent Development managers can easily assess their workforce's technical, cognitive, functional, and business communication skills. Identifying skills gaps allows for the design of dedicated learning and development programs to address and resolve them. The iMocha skills intelligence platform also offers AI-enabled tools like AI-LogicBox (pseudo-coding platform) and AI-EnglishPro, further simplifying the assessment of coding and business English skills.
Strategic Workforce Planning: In the face of talent shortages and declining retention rates, internal mobility and succession planning becomes a viable option for SEA-based BFSI firms. iMocha enables organizations to reduce resource dependency and leverage existing resources to fill gaps left by new disruptions. By monitoring the growth and skills trajectory of the workforce, decision-makers can identify employees with the relevant skills needed for new projects or designations, streamlining internal mobility and succession planning efforts. This approach not only enhances retention rates but also keeps the workforce motivated in a highly competitive market.
Workforce Transformation: Technological advancements, regulatory changes, and evolving business needs often require workforce transformation. iMocha helps CHROs understand the skills required for digital transformation, identify skills that may become obsolete, and develop reskilling and upskilling programs to ensure the workforce remains relevant and adaptable.
Diversity and Inclusion: Skill intelligence supports CHROs in promoting diversity and inclusion within organizations. By understanding the skills and capabilities of a diverse workforce, CHROs can create inclusive talent management practices, mitigate biases, and ensure equal opportunities for career advancement.
By leveraging iMocha's AI-powered Skills Intelligence Cloud, the SEA BFSI sector can streamline talent management, reduce resource dependency, and pave the way for sustained growth and success in the region. It can also help them increase employee engagement scores, improve quality-of-hire and align the workforce's capabilities with strategic goals.
Want to know more about how iMocha's AI-enabled Skills Intelligence can help your BFSI firm succeed in the South-East Asian region? Schedule a demo today or reach us out at marketing@imocha.io.