Organizations worldwide continue to perform benchmarking as a way of attaining business growth. Regardless of the industry, investing in benchmarking initiatives helps companies enhance their products, performance, and processes while assisting them to stay ahead of their competition.
Companies conduct different types of benchmarking, both internally and externally. They include strategic benchmarking, performance benchmarking, talent benchmarking, process benchmarking, competitive benchmarking, and functional benchmarking.
Incorporating talent benchmarking initiatives in your organization can play a crucial role in improving your talent acquisition, development, and management activities. Remember that talent benchmarking differs from including benchmarking initiatives in revising salary structures. We will get into the details in some time.
By keeping these things in mind, why don't we delve into the details of talent benchmarking, its different examples, and its benefits?
What is Talent Benchmarking?
Talent benchmarking is a process through which you can measure your employees' or candidates' skill levels based on your organizational and industry standards. In the learning and development space, you can determine if your employees have the required skill sets and proficiencies to perform the job by considering this internal and external data brought in by talent intelligence.
If there is a skills gap, you can identify them and conduct suitable upskilling, reskilling, or cross-skilling programs for your employees to reduce the skills gap and make them skills-fit and future-ready.
In talent acquisition, benchmarking will help identify the right candidate suitable for the roles you are hiring. It is generally known as candidate benchmarking, where candidate skills can be analyzed against your company and industry standards.
However, there is something that has to be considered closely regarding benchmarking. There is always a 70% match rule for benchmarking skills. It is because even though job titles would be the same, job roles and responsibilities would vary based on the organization.
While performing talent benchmarking within your company, it is best to rely on AI-powered tools. It is because manually benchmarking your employees can be an arduous task, and it could also be prone to errors. Thus, with software offering benchmarking as a feature, you can perform these tasks efficiently and gain valuable insights quickly.

Talent Benchmarking: Examples
Since we have explored what talent benchmarking is, let's now look into its examples from both benchmarking candidates' and employees' standpoints.
An example of Candidate Benchmarking while hiring
Consider your organization is conducting a remote campus recruitment drive for database developers. As part of this, you have publicized the campus drive via your company's social handles and have created a recruitment microsite to smoothen the application process. You have decided to conduct skills assessments for the recruitment process to find the right talents for your organization.
During the drive, 1000s of candidates appear for the online assessments, where you analyze their following skills:
DBMS concepts

Algorithms

MySQL

Coding

Communication skills

Problem-solving
After conducting the assessments and gathering the results, you can perform benchmarking to decide whether to proceed with a candidate.
For instance, let's consider the report of a candidate called John, who attended the test during this campus drive using iMocha. After completing the test and obtaining the report, you can gain a section score analysis of the candidate, where you can find the percentage attained by the candidate for each section in the test. With this data, a skills intelligence platform can benchmark your candidate based on your company and industry averages, forming an average percentage.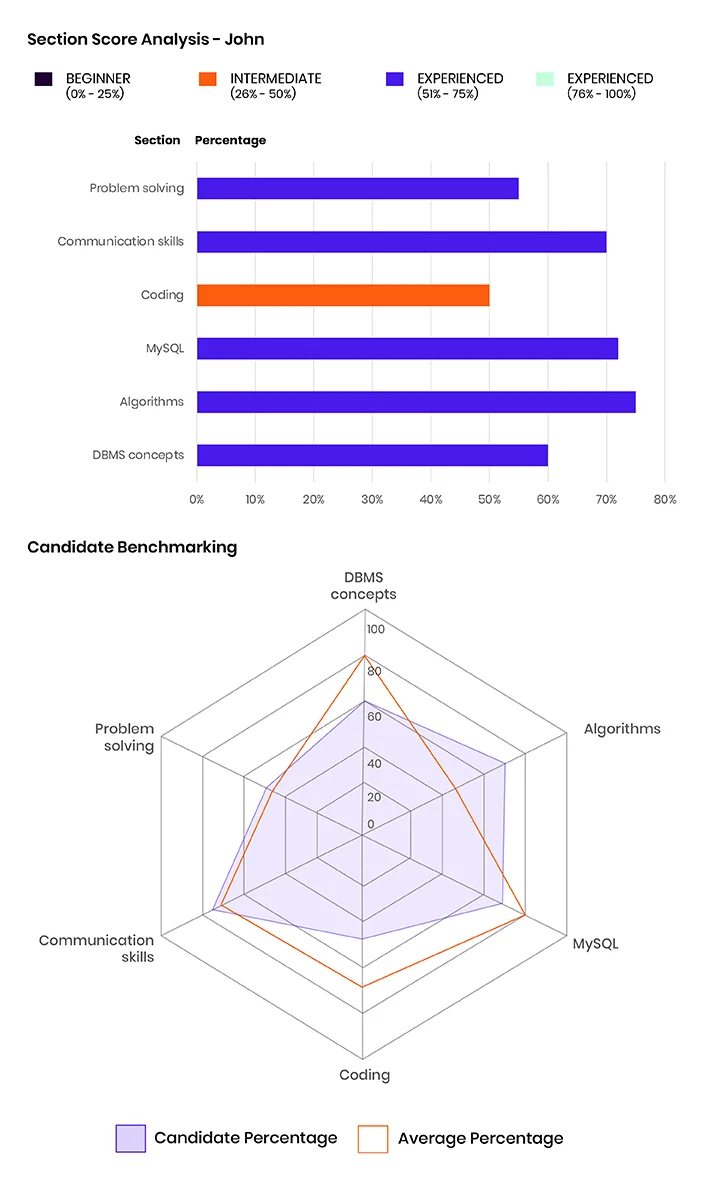 In this instance, John's percentage for DBMS concepts is 60%, which is less than the average percentage, which is 80%. But, regarding algorithm skills, John's percentage is 75%, whereas the average percentage is 50%.
You can also find the percentages for other skills in the above image. Thus, based on the data obtained, you can decide whether or not John is a suitable candidate for the role.
An example of Talent Benchmarking your employees
Regarding L&D activities, benchmarking is highly beneficial in identifying skills gaps, creating career development plans, etc. Now, look at the insights gained by talent benchmarking database developers within your organization. For instance, let's consider an employee named Mariya, who has worked as a database developer in your organization for the past two years.
While benchmarking this employee's skills against the industry standards and your company average, you can attain clarity on your employee's skill set. Based on this, you can plan their L&D activities and mobility within your organization, create succession and career development plans, etc.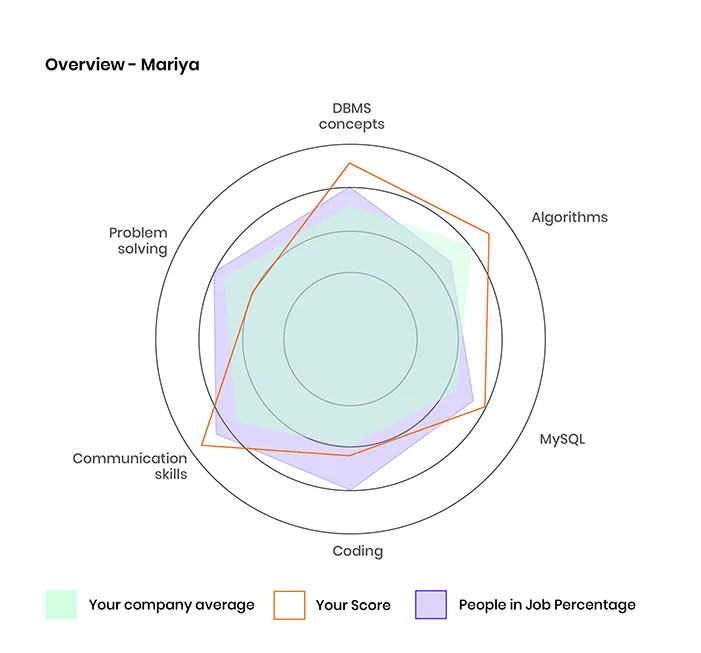 As per the above image, it is clear that Mariya is a high performer with a score higher than the company and industry average in the critical skills for a database developer, including DBMS concepts, algorithms, MySQL, and communication skills. However, she lacks coding skills as compared to the industry average. But it is better than her company's average.
Regarding problem-solving skills, her average is lower than the company and industry averages. Through these insights gained, it is apparent that she has to work on her coding and problem-solving skills, to attain a competitive edge.

What are the benefits of benchmarking talent?
There are different benefits of benchmarking talent with regard to talent acquisition, talent development, and talent management. Let's have a look at some of these perks in detail.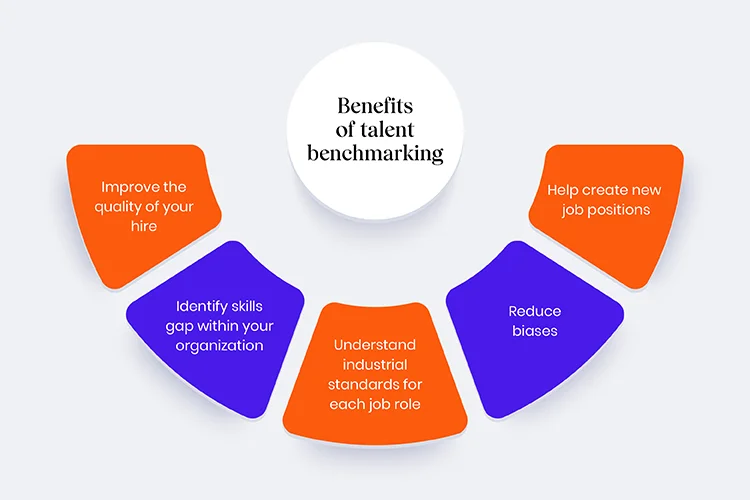 Improve the quality of your hire
As per recent research from Zippia, a single bad hire could cost up to $14,900 and hamper your organization's business growth; however, a good hire can enhance your business growth, improve productivity, reduce employee turnover, and increase employee engagement. Therefore, as part of making quality hires, it is essential to have a standardized recruitment process with skills assessments and validation.
By doing so, you can identify candidates with the right skills to perform the job role efficiently. While doing so, you can further enhance the quality of your hire by incorporating benchmarking metrics as part of analyzing the candidates.
Identify skills gaps within your organization
Skills are changing drastically, and their shelf lives are also decreasing tremendously. With new skills emerging now and then, it has become crucial to identify skills gaps within your company. One of the best ways to do so is by performing talent benchmarking. Through this, you can find employees within your organization who need to improve themselves in particular areas.
You can gain this information based on the insights obtained through benchmarking and skills profiles. Once you have identified the skills gap in your employees, you can plan their upskilling, reskilling, or cross-skilling programs accordingly.
By the way, nowadays, you can automate all these activities using a skills intelligence platform. Your employees can learn more about their skills gaps from their employee dashboards and improve their skills-sets by aligning them with your company's skills requirements and future career goals.
Understand industrial standards for each job role
Although there is always a 70% match rule regarding benchmarking, having a clear view of the industry standards will benefit your organization while hiring new employees and your talent development activities.
While benchmarking your employees' skills and capabilities against the industry average, you will understand the skills they have and lack. Based on this, you can plan their learning and development activities and career trajectories. Doing so ensures that your organization remains skills-fit and future-ready, as skills and job roles are highly dynamic these days.
Regarding talent acquisition, having clarity on industry standards will help you assess candidates objectively and ensure you hire the right candidate with the required skill sets for the job.

Reduce biases
Biases- systemic, unconscious, or conscious- can hamper your recruitment and other talent management processes and can harm your organization's culture in the long run. You can overcome this issue or reduce its presence within your organization by relying on talent benchmarking in these activities:
Analyzing candidates and shortlisting them,

Creating opportunities for internal mobility in your company,

Forming career trajectories and progression pathways for your employees,

Assigning upskilling, reskilling, or cross-skilling programs
By reducing biases in your recruitment process, you can find quality candidates who would prefer to stay within your organization. Similarly, regarding talent development and management, eliminating bias will improve employee retention, satisfaction, engagement, productivity, and morale.
Help create new job positions
Sometimes the existing job roles or open positions within your organization won't suffice your new requirements. You can identify such gaps efficiently while performing talent benchmarking.
Based on the inputs gained, your organization can work on creating new job positions that would help you hire new talents who would benefit your company in attaining sustainable business growth. Through this, you can prevent your current employees from being burnt out and help them perform their existing job roles proficiently.
Final thoughts
Thus, your organization can enhance its talents profoundly by making the best of talent benchmarking in your recruitment, learning and development, and talent management activities. It can help your organization, as discussed, in various ways, ranging from reducing skills gaps to improving internal mobility within your company to accelerating business growth.
So, why not opt for a skills intelligence platform that can facilitate you with the right set of talent benchmarking features for your company?