Skills are slowly turning into rivers. Well, not literally.
As you might know, you can't touch the same water flowing in a river twice. Similarly, skills are evolving and changing rapidly as new skills are added to the list, while several others are becoming obsolete over time.
According to a report by Gartner, the number of skills required per role is increasing by 10% yearly. Therefore, if an individual requires ten critical skills to perform their role this year, they will need 11 skills in the next year.
For instance, a few years back, SPSS and SAS were predominant technical skills. But they are expiring as yesterday's skills and getting replaced by much more advanced skill sets like Python and Tableau.
The evolution of skills widens the skills gap between employees and businesses as there is a constant need to be updated to stay relevant.
Keeping this in mind, we will explore the skills gap in detail, its effects, its causes, and how businesses can overcome this issue.
Also, don't forget to click here to learn about the top skills assessment tools.
Skills Gap: An overview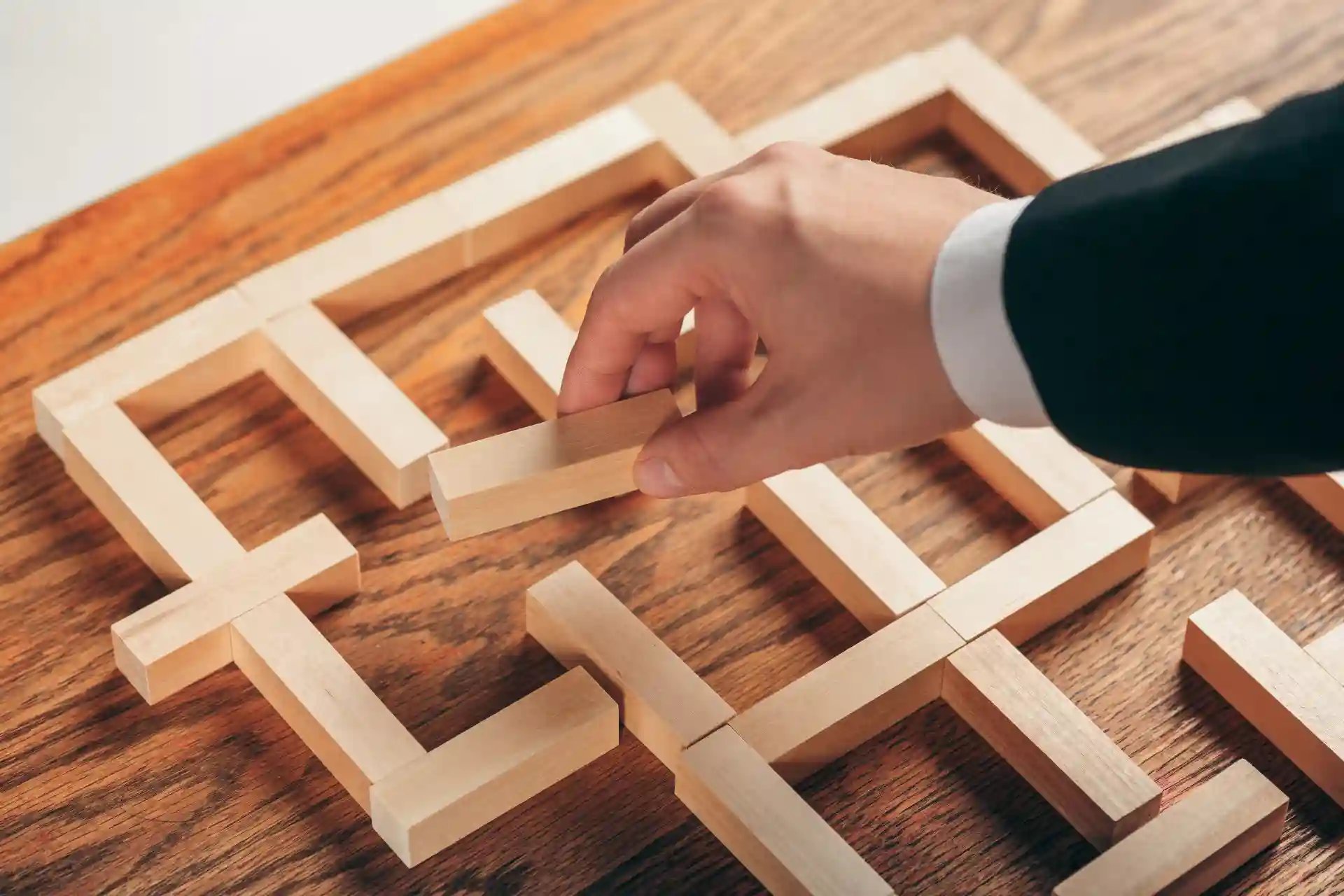 The skills gap's breadth is widening with every passing quarter, and many reasons contribute to the skills gap. However, most of us find joy in blaming the unprecedented pandemic for aggravating the skills gap. Indeed, the pandemic added fuel to the fire.
But it wasn't the only factor that exacerbated the skills gap.
The digital transformations, the growth of gig culture, reduction in upskilling and reskilling initiatives are other reasons, to name a few. Because of these factors, a gap exists between the existing skills and the skills required for companies to gain a competitive edge in their businesses.
As per a report from Mckinsey, 44% of global organizations predict a possible skills gap by 2025, paving the way for workforce disruption. Although hiring new employees is an option, it is in no way contributing to sustainability. It is because most organizations have a vague sense of the skills inventory they possess and the skills required to stay relevant in the future.
Another way around this is to conduct upskilling and reskilling activities. On average, organizations spend 1270 USD annually per employee for learning and development activities as of 2020. It's worth appreciating, considering the dwindling funds allocated for L&D in 2020 during the pandemic.
But, even with a higher fund allocation, only 12% of these skills acquired were applied by employees in their jobs. Why is that so?
The reason is simple.
It's not about how much an organization spends or how many training programs a company conducts per year. It is about its significance to the employees and the organization in attaining their business goals.
If not, it is synonymous with shooting in the air aimlessly.
The skills gap disruptions affect different industries differently. Among them, the telecom sector, tech, and financial services face the most issues due to the prevalence of the skills gap. However, it has a lower impact on the healthcare and pharmaceutical industries. In brief, the rapid skill developments have increased the skills mismatch in the current talent supply chain.
Moving forward, new graduates aren't adequately prepared to enter the industry. According to the 2022 Global Digital Skills Index, 76% of global workers need more time to prepare for the future of work.
One of the principal reasons cited for this issue is that most employees are unaware of avenues where they could acquire these skills to prepare themselves to face the industry and the skills transformations.
Impact of the Skills Gap
The impact of the skills gap varies based on the industry, organization, geographical location, and the employees' roles. Similarly, how the skills gap affects an employee would differ from how it affects an organization.
Now, let's look at how the skills gap impacts employees:
Reduces their satisfaction

Hampers their productivity

Impacts their engagement rates
When it comes to businesses, it does the following:
Lowers staff turnover

Impacts the work quality and productivity

Increases the time to hire and time to fill critical roles

Reduces revenue

Faces a decrease in the number of skilled managers to train their new employees

Lacks visibility of available skills and skills required
These are the impacts of the skills gap, and one of the ways to overcome this issue from the structural level is to emphasize life-long learning. Previously countries like France and Singapore have implemented this change, and nowadays, many Scandinavian countries are also incorporating continuous learning policies as part of bridging the skills gap.
Why do we have the Skills Gap?
This is a question that we need to address before delving into how to resolve the skills gap. It's only when we understand the core issue, we can eliminate them and bridge the skills gap efficiently.
Ineffective use of resources
There are plenty of learning platforms offering a plethora of resources. But most organizations fail to understand their skills requirements and invest in inadequate training programs.
Due to this, the skills gap prevails across different sectors. Additionally, many organizations have reduced their L&D activities, worsening the situation.
Concerns with the educational system
Our educational system is ten years behind what our industry requires. For instance, most universities and academic institutions don't have skill-centered courses and programs. Most of them continue to follow the age-old traditional curriculums.
Because of these flawed educational systems, many people, howsoever highly qualified they are, lack the skills to thrive in this fast-paced, tech-driven ecosystem.
Technological advancements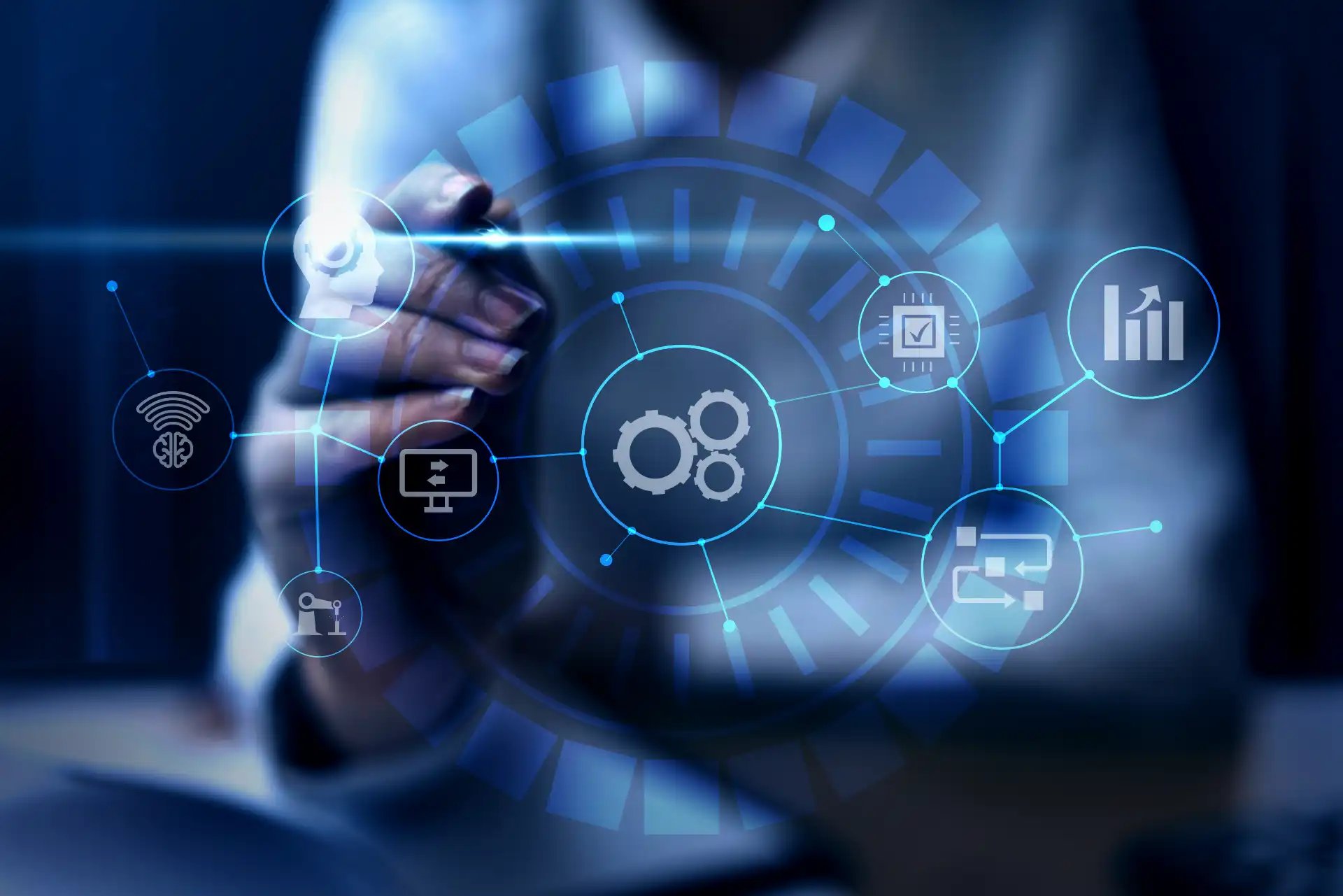 Well, this has been out there for quite some time. Technological developments, including artificial intelligence, Natural Language Processing (NLP), automation, and machine learning, have created and removed many skills, contributing to the skills gap.
Ever-changing skill sets
Companies have to focus on hard and soft skills for achieving their short and immediate future goals. According to a report from the World Economic Forum, some of the top skills required by 2025 are analytical thinking, innovation, critical thinking, and creativity.
Along with this, there is an urgent need to bridge the skills gap in data analytics, IT, mobile or web design and management, executive management, HR, and talent management.
In short, organizations must focus on reducing the skills gap related to cognitive and complex technical skills to attain desired business growth.
Difficulties in finding the right talent
Hiring is one of the ways to reduce the skills gap.
But the question is, where can you find the ideal candidate for all your skill shortages?
Most companies don't have a skills inventory or an understanding of the market trends, which could provide them with clarity on who to hire or whom not to hire and when and when not to hire. This happens when companies don't invest in HR tech architectures like ATS, skills intelligence platforms, etc.
If you have integrated these changes into your HR system, your HR department could identify future skill needs quickly to create and implement new recruitment strategies in time.
The unprecedented pandemic
Well, this has become an old tale. But the impact created by the pandemic has significantly contributed to the current skills gap. It is because most companies and employees were caught off-guard by the overnight changes brought about by the pandemic.
How can businesses overcome the Skills Gap?
From emphasizing employer leadership to enhancing adjacent skills in your employees, there are different ways to overcome the skills gap.
Let's discuss six methods through which your company can bridge the skills gap and move forward in your business.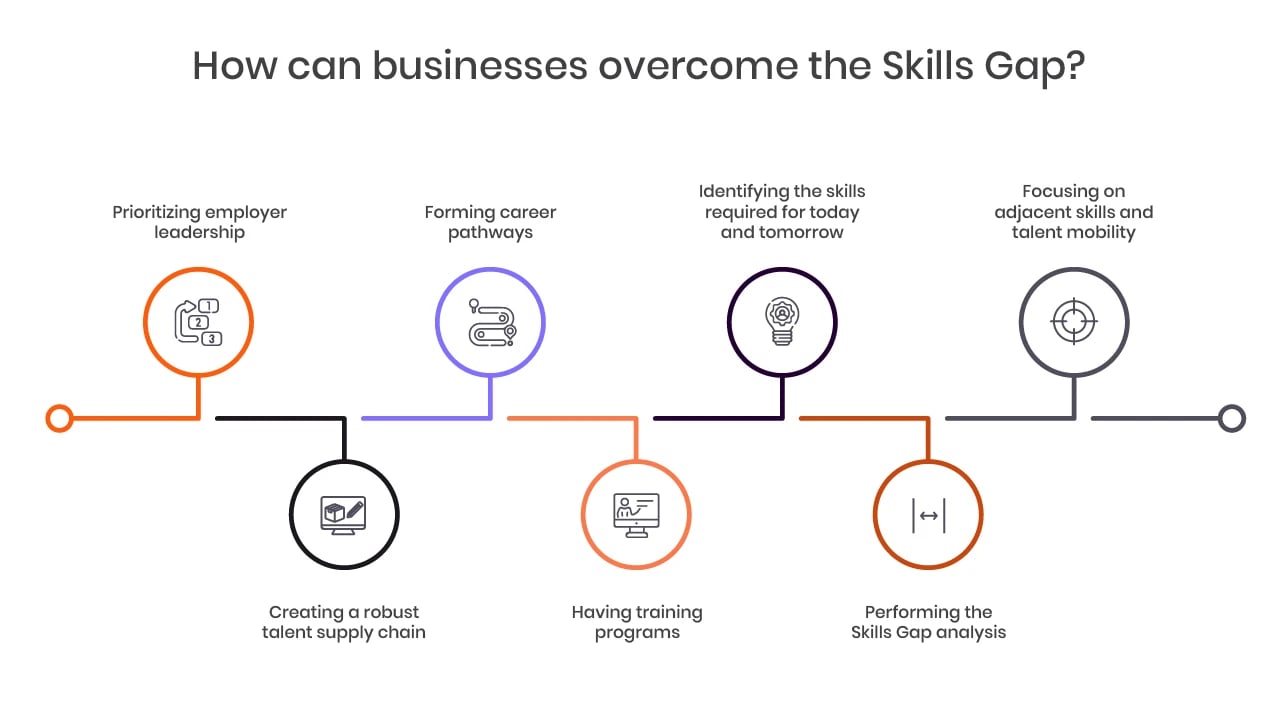 Prioritizing employer leadership
Your organization can take a step toward overcoming the skills gap and attaining sustainable development by conducting employer-led initiatives. To bridge the skills gap, employers have to prepare themselves:
By bringing a change in their mindsets

By being open to re-strategizing their recruitment, and L&D activities

By focusing on employee retention and the creation of robust talent pipelines

By investing in HR tech architectures like a skills intelligence platform

By incentivizing skills development activities

By creating partnerships and collaborations (sector-based or cross-sector) with governmental and non-governmental bodies

By increasing transparency in the organization

By building accountability for all the programs hosted by their organization
Thus, your organization can achieve growth and reduce the skills gap when your employer makes the best out of their leadership capabilities and focus on skills development.
Creating a robust talent supply chain and forming career pathways
A robust and diversified talent supply chain can be one of the solutions for reducing the skills gap. A resilient talent supply chain can help with operational and strategic workforce planning based on a clear understanding of how your business will progress. It will assist in meeting your talent demand.
With a robust talent supply chain, you can hire new candidates and initiate upskilling initiatives effectively. You can diversify your hiring practices and hire candidates with a willingness to learn and improve themselves. This can aid your organization in bridging its skills gaps.
Similarly, creating career pathways for all your employees can benefit your organization in learning more about the career trajectory of each of your employees. Doing so can prepare your company for any impending skills gaps that you might confront and take action at the right time.
Having training programs
Conducting upskilling programs can be time-consuming and resource intensive. If so, is it really worth the hype?
Yes, it is.
But it is only possible when your organization conducts it by understanding specific skills requirements.
Reskilling employees is one of the best initiatives to develop your existing employees to take up new roles. Based on your company's operational and business needs, you can identify upskilling programs suitable for your employees.
You can focus on in-demand skills like:
Leadership and management

Critical thinking

Decision making

Mathematical skills

Adaptability
In a nutshell, based on your requirements to achieve bottom-line growth and enhance business impact, your company can focus on upskilling your employees in cognitive, technological, social, and emotional skills.
However, before kickstarting any internal training programs or online learning initiatives, you have to do the following:
Identify the skills required

Decide the program or course

Find out employees who can provide maximum ROI with the concerned upskilling initiative

Conduct pre-assessments and post-assessments to understand the progress
Additionally, your organization can focus on conducting work-based learning programs and micro-learning initiatives as they can be a time-saver for your employees.
Similarly, you can consider incentivizing skill building to increase your employees' interest to participate in these programs.
Identifying the skills required for today and tomorrow
One of the most crucial steps in overcoming the skills gap is identifying the skills your organization needs to stay relevant now and in the future. Your company can do so by focusing on skills data and making the best of the advancements in HR tech architectures like a skills intelligence platform.
Through this, you can perform a skills diagnosis conveniently and understand the skills possessed by your employees and the skills they need to develop to close the skills gap. Based on this, you can prepare your workforce by aligning them with your business strategies.
You can then take up upskilling or reskilling initiatives, hire new candidates, and consider alternative options like freelancers or contractors to overcome the skills gap.
To cut the long story short, identifying the skills required is far better than aimlessly hiring new employees or conducting refreshment programs for all of your workforce.
Performing the Skills Gap analysis
Organizations mainly conduct four types of gap analysis: market gap, strategic gap, profit gap, and skills or HR gap analyses. Among them, companies must prioritize the skills gap analysis to ensure that the company and its employees have relevant skills aligning with their business goals.
Your company can now quickly analyze its skills gaps by integrating a skills intelligence platform into its HR tech architecture. Through this, you can identify skills gaps, set the metrics, create SMART goals, and form strategies to overcome the skills gap, which can be present as knowledge, performance, or skills gap in your workforce.
Focusing on adjacent skills and talent mobility
In most cases, while organizations are trying to fill their skills gaps, they aren't looking internally for solutions.
Similarly, when hiring new candidates, they could search for employees with experience having similar skills and not just the same role. This means that your company can reduce its skills gaps by focusing on adjacent skills (refers to skills with a close relationship to other skills) in your employees and new candidates.
For instance, here is an example used in Gartner, if your organization is looking for someone with Natural Language Processing (NLP) skills, you can look into its adjacent skills like machine learning, sentiment analysis, and tensor flow. If you have employees or candidates proficient in any of these adjacent skills, you can conduct upskilling programs to make them efficient in NLP.
Additionally, your company can overcome the skills gap by focusing on talent or internal mobility. Through this, your organization can facilitate lateral movement within your company and allow employees to shift occupational categories.
The bottom line
To summarize, organizations must invest and focus on practical ways to reduce the skills gaps as it is integral to align your employees with your business goals and strategies. Thus, by concentrating on upskilling, reskilling, and other activities, your company can bridge the skills gap and attain a competitive advantage.
Are you struggling to identify the skills you need to stay ahead of your competition? Try iMocha!