A skill used to be relevant for 2-3 years earlier but now it conversely remains relevant for only six months. So, keeping a track of necessary current and future skills is important. Moreover, when it comes to hiring, skills assessment is a great way to filter candidates.
Especially if you are on the hiring team, you can relate to the difficulties and challenges faced during the entire hiring process. For niche roles, there is no other reliable way of assessing a candidate's job fitness. Firstly, because a number of coding languages are new so years of experience are not a marker, and there are no educational courses or specified degrees. So, people have to rely on assessments.
The latest statistics claim that, on average, 118 people apply for a single job role, which floods your mailboxes with resumes. Therefore, sifting through each resume is a cumbersome task.
That's where top skills assessment tools make your life easier. These assessment tools are reliable, affordable, transparent, and above all, time efficient.
You can find out ideal candidates among hundreds of applicants without contributing a lot of time and manpower. Along with the job role, you can assess them on aptitude and cognition levels to determine culture fitness. In today's competitive market, many skills assessment tools are available which makes it difficult for the recruiting team to choose the most relevant tool.
To help you, we've compiled this list of top skills assessment tools for you, replete with the pricing structure, their pros and cons, and more to help you make an informed decision.
Top 12 Skills Assessment Tools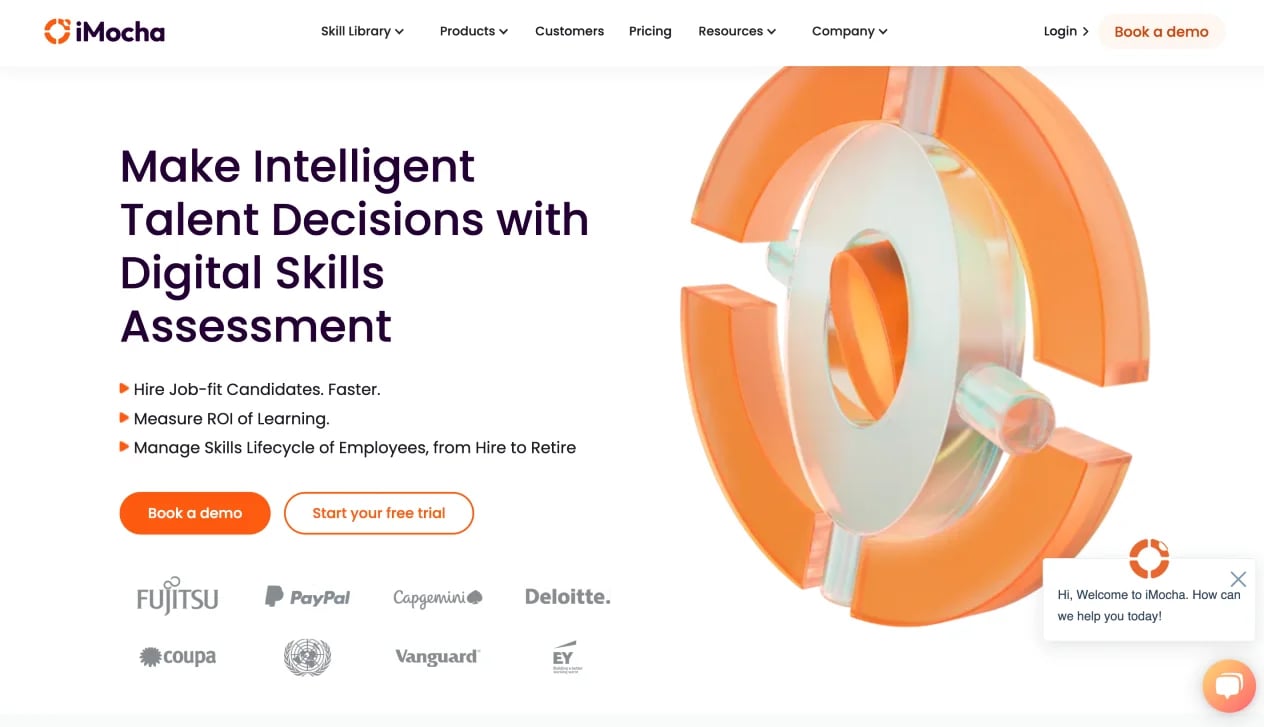 iMocha is one of the top skills assessment tools that provides talent acquisition and talent development solutions to help you create an up-to-date and skilled team for your organization.
iMocha's talent acquisition program helps recruiters automate the hiring process by providing them with pre-employment assessments. Using pre-employment assessments, hiring managers can easily analyze the skill set of employees according to the company's requirements. With the help of this tool, you can easily set skill benchmarks in your organization to ensure a quality bar for future employees and candidates.
Besides that, iMocha's Talent Development program allows L&D managers to upskill their existing employees. Using this platform, you can conduct pre and post-training assessments based on employees' competency levels—beginner, intermediate, proficient, and experienced. Their pre-training assessments determine the employee's current skill status and identify the development area. Its post-training assessment measures the knowledge gain and the impact of training, and, hence, helps you measure the objective ROI of the L&D program.
Founded by: Amit Mishra & Sujit Karpe
Website: https://www.imocha.io
Free Trial: Yes
Pros:
Cons:
iMocha does not conduct psychometric tests

It does not provide background check for candidates
Clients: Deloitte, PayPal, Fujitsu, Capgemini, Cognizant, Wipro, Vanguard, CGI
Pricing: Visit the Talent Acquisition Solution Pricing
G2 Crowd Rating: 4.4/5 (165)
2. TestGorilla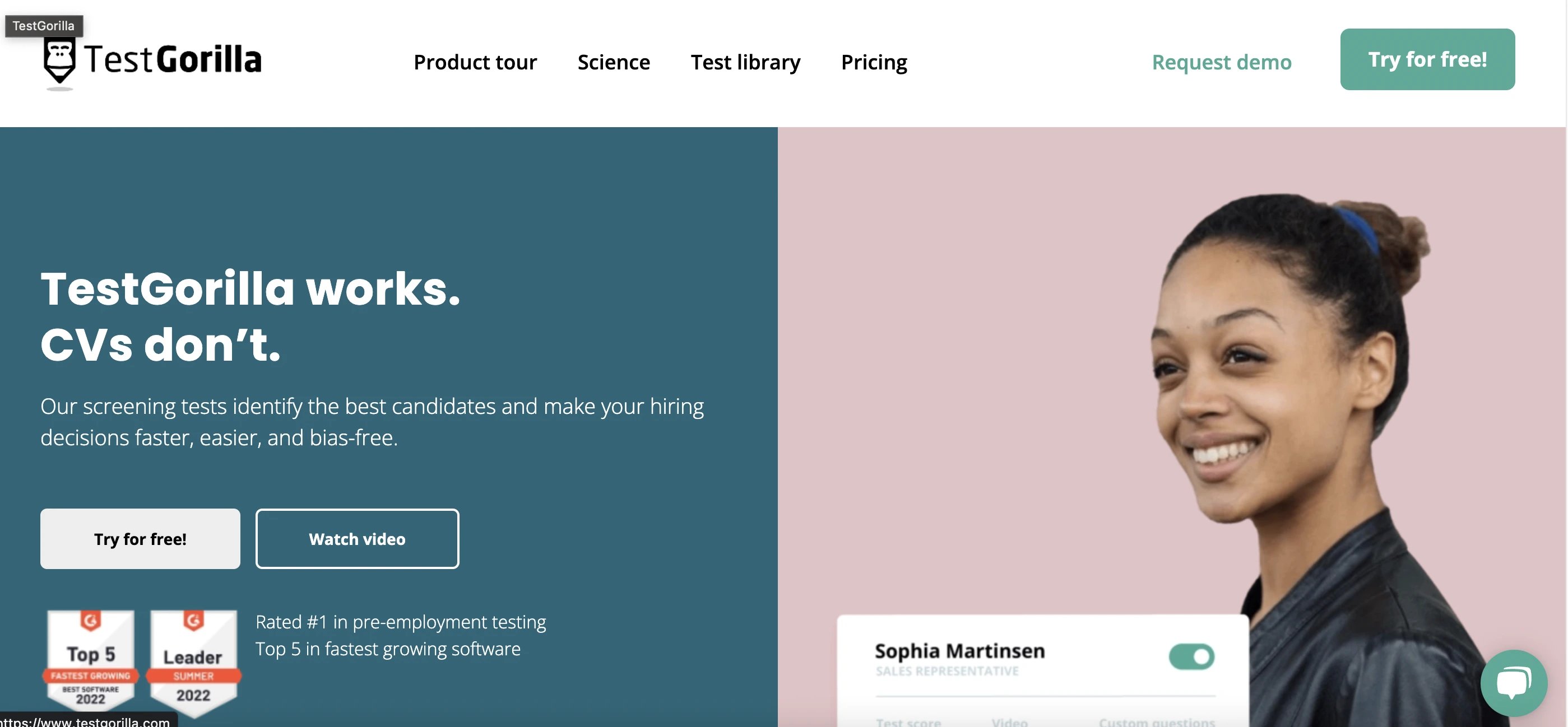 Founded in: 2019
Founded by: Wouter Durville and Otto Verhage
Free Trial: Yes
Pros:
It allows you to follow a candidate's recruitment funnel effortlessly

It offers 250+ skills assessments in critical areas such as mental aptitude, culture fit, and other fundamental abilities

TestGorilla balances assessment difficulty very well to finalize only deserving candidates
Cons:
TestGorilla's virtual customer support does not respond

This technical assessment tool lacks live video interviews
Clients: Majorel, H&M, Public Groupe, Oracle, Bain & Company
Pricing: Pay-as-you-go model
G2 Rating: 4.5/5 (626 reviews)
3. TestDome

Founded in: 2013
Founded by: Zeljko Svedic
Free Trial: Yes
Pros:
TestDome is priced conveniently for smaller companies

The platform is highly user-friendly

Its skills are constantly updated to include new ones in order to keep with the market trends.
Cons:
TestDome does not allow candidates to customize templates, logos, design invites, or integration

The platform does not allow you to change assessment timings

It offers limited assessments available for data science.
Clients: McAfee, indeed, EY, Adobe, UNICEF, PayPal
Pricing: $20/month (per user)
G2 Rating: 4.5/5 (84 reviews)
4. Wonderlic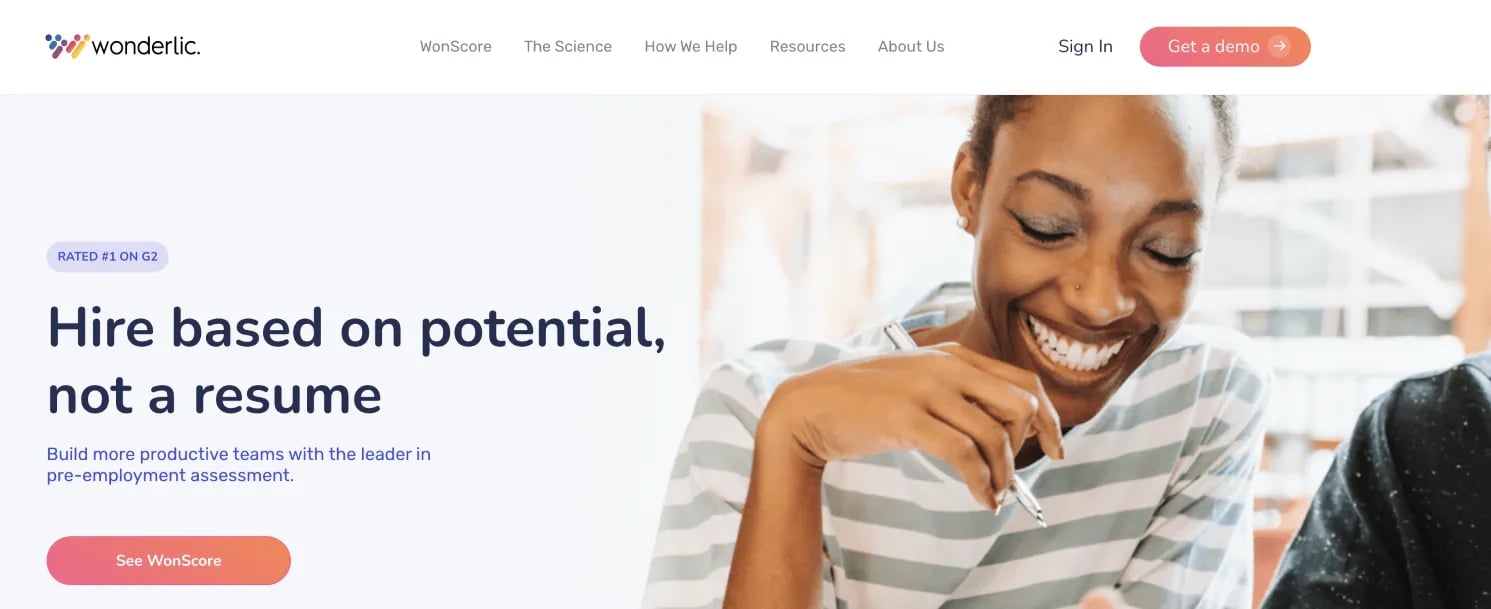 Founded in: 1937
Founded by: E.F. Wonderlic
Free Trial: Yes
Pros of Wonderlic:
The tool best suits businesses or recruitment service providers (RPOs) with a high volume of recruitment work in front-line positions such as retail, sales, customer service, contact centers, airline, and graduate positions

It provides a cognitive, motivation, and personality rating that can be critical for employers during live interview process

It has a user-friendly UI/UX
Cons of Wonderlic:
Wonderlic does not provide any customer support service

This tool's assessments are lengthy and time consuming
Clients: Aveda, Duracell, Subway, Sedgwick County, Champion Auto
Pricing: Not mentioned publicly.
G2 Rating: 4.3/5 (82 reviews)
5. eSkill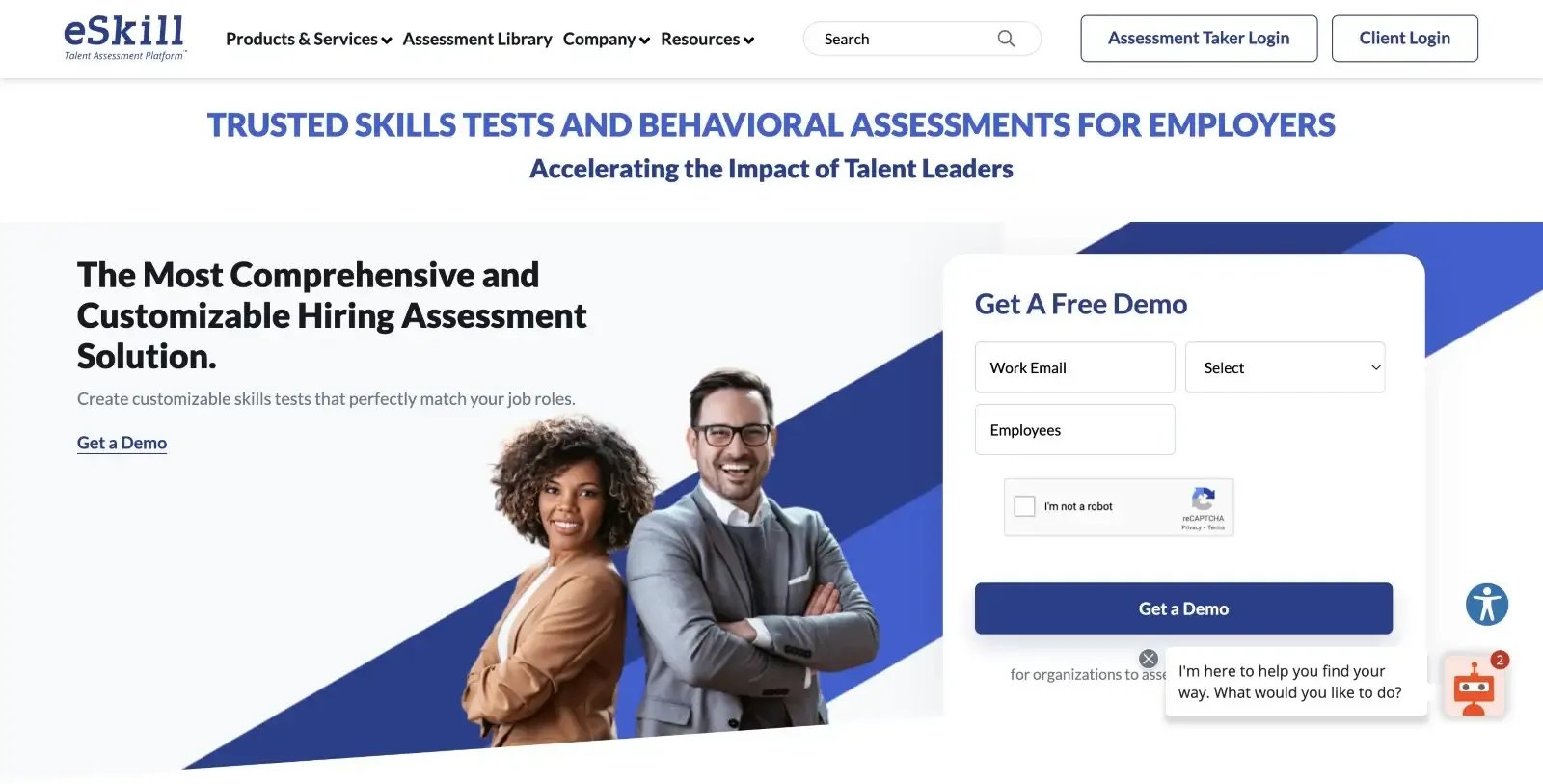 Founded in: 2003
Founded by: Gerrad Szatvanyi
Free Trial: Yes
Pros:
It's easy to create a test using eSkill's pre-loaded questions. It also allows users to duplicate a test and customize it based on the job role to make it more relevant to the job requisition.

There is an impressive level of detail in their pre-made exams, which cover everything from general skills to job roles

eSkill has an extensive library of market and industry-specific evaluations, making it one of the well-recognized soft skills assessment tools
Cons:
eSkill does not allow test model payment. Each year, you must purchase the entire model, which is more than you need

It has a complicated U.I., making it hard to explore the platform
Clients: Coca-Cola, Work Personnel, State of Colorado, Emory University, Pandora
Pricing: Not mentioned publicly.
G2 Rating: 4.5/5 (311 reviews)
6. DevSkiller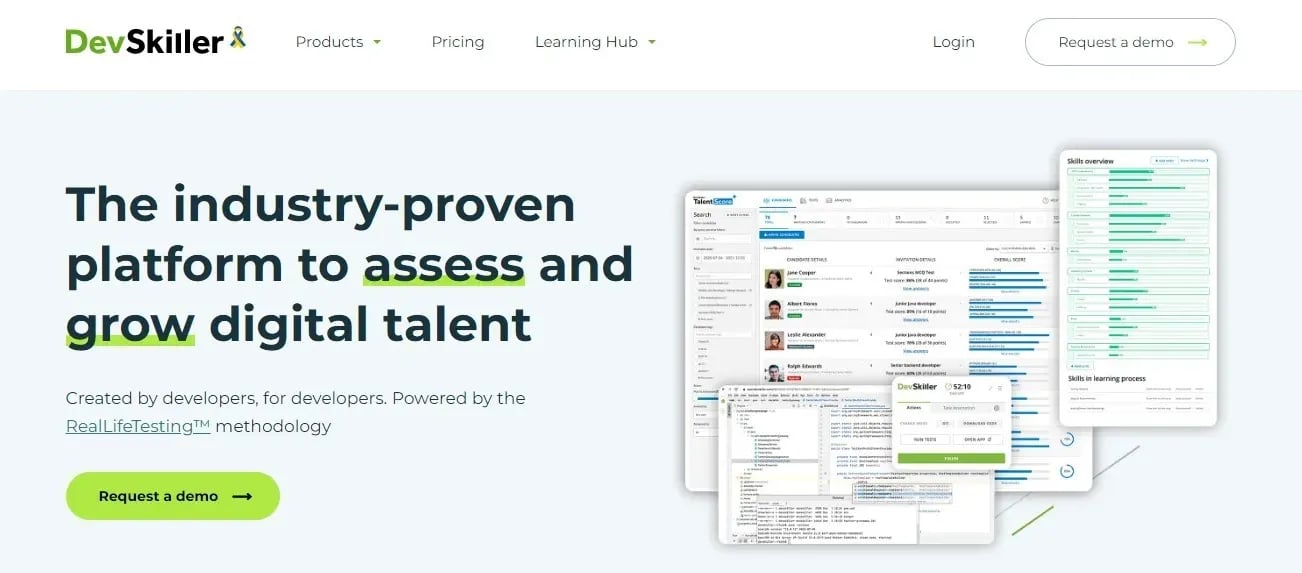 Founded in: 2013
Founded by: Jakub Kubrynski
Free Trial: Yes
Pros:
DevSkiller is a very versatile online technical skills assessment tool. You can either customize the skills you want tested or you may choose from 4,000 ready assignments

It aids recruiters in making impartial decisions to create a diverse workforce

You can quickly identify a candidate's skill gaps with DevSkiller
Cons:
DevSkiller is an expensive technical skills assessment tool

The candidates cannot manage their subscriptions and add-ons on Devskiller as no management panel is available

It lacks assessments for personality, language, culture, behavior, etc., and critical skills
Clients: Jonah Group, IKEA Retail, TPAY, Mindera, ADA
Pricing: $499-$999/month
G2 Crowd Rating: 4.5 /5 (54 reviews)
7. Codility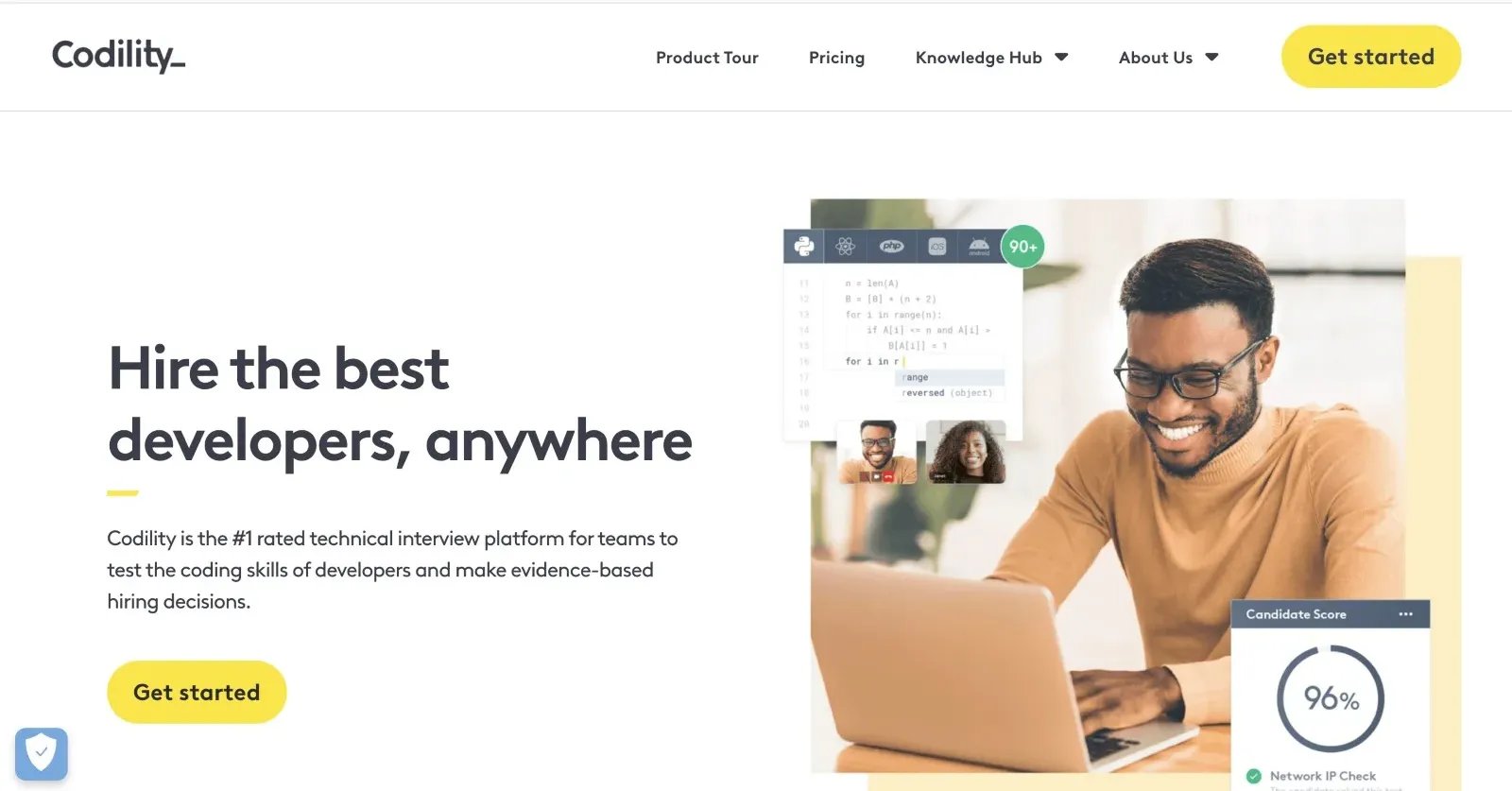 Founded in: 2009
Founded by: Greg Jakacki
Free Trial: Yes
Pros:
The platform is made with such ease that HR professionals, who typically don't know how to code, can also deploy assessments quickly. They can assess applicants' skills against other programmers without additional technical help

Codility helps you create a collection of code tasks suitable for specific job types

To ensure that customers' concerns are being addressed, Codility's account manager conducts monthly follow-ups
Cons:
Codility has no debug pane (a tool to fix all software errors), which makes testing more difficult for users

Users can easily copy and paste answers from other web pages since it doesn't provide anti-cheating features, such as video monitoring or image proctoring
Clients: Unity, Zalando, Paypal, American Express, Intel
Pricing: Not mentioned publicly.
G2 Crowd Rating: 4.6 /5 (319)
8. Mettl

Founded in: July 2009
Founded by: Tonmoy Shingal
Free Trial: No
Pros:
Assessments are divided into many modules, allowing applicants to choose individual modules or combine different modules to meet their needs

Mettl provides users graphs and subjective data that help them understand the level of their skills
Cons:
Mettl does not provide an AVG Score or excel reports (local or global standard)

It has a complex U.I., hindering users' experience
Clients: Ghent University Global Campus, MakeMyTrip, Workforce, Gulf University, NASSCOM
Pricing: $249/year
G2 Rating: 4.8/5 (247 reviews)
9. Vervoe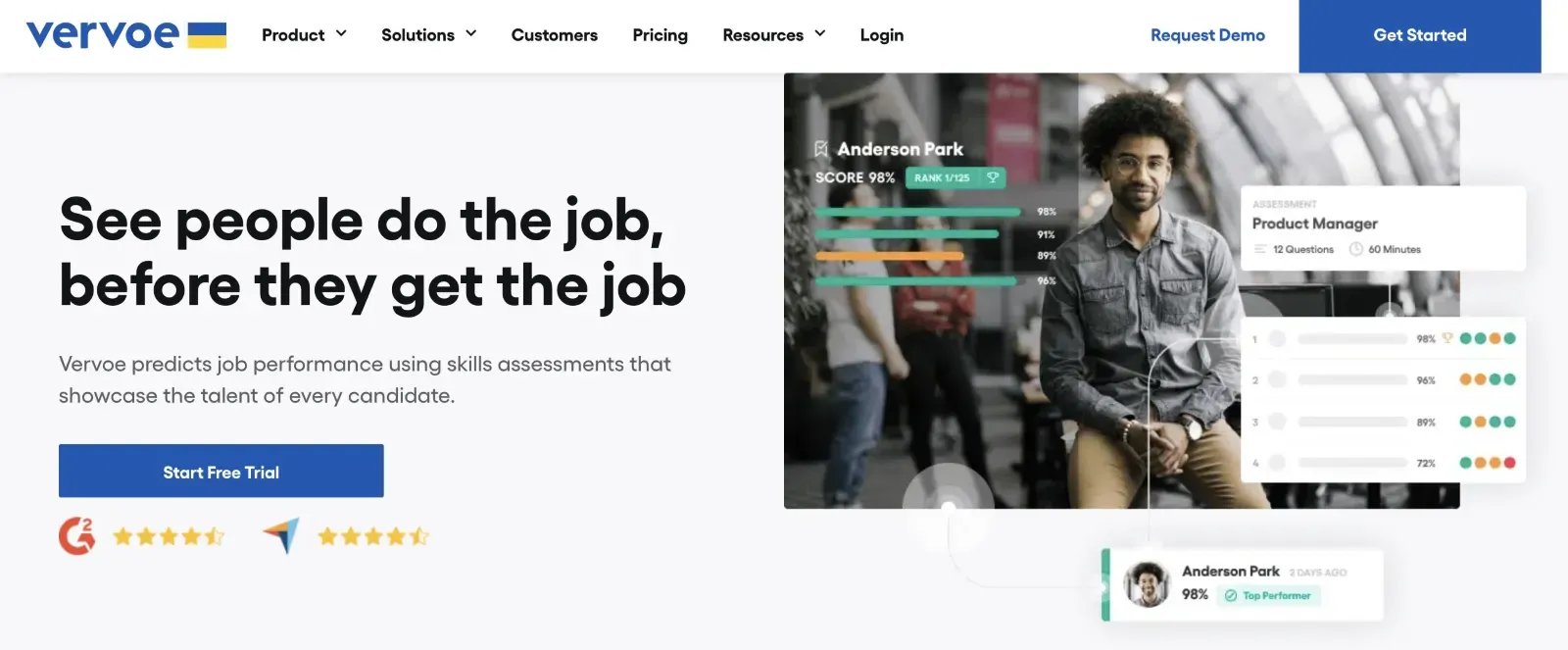 Founded in: 2016
Founded by: Omer and David Weinberg
Free Trial: Available
Pros:
With everything in one place, Vervoe application and screening process are quick and easy

Vervoe allows you to customize your assessments using a variety of question types — multiple choice, essay, video, audio, visual, etc.

It features 10+ immersive question categories, such as ones that require video responses and coding
Cons:
The pricing model is arbitrary and not flexible

The software is not mobile-friendly

They have poor customer service
Clients: Myob, TriNet, Australia Post, WPP, OmnicomGroup, K-FORCE
G2Crowd Rating: 4.6/5
Pricing: $149/month
10. CoderPad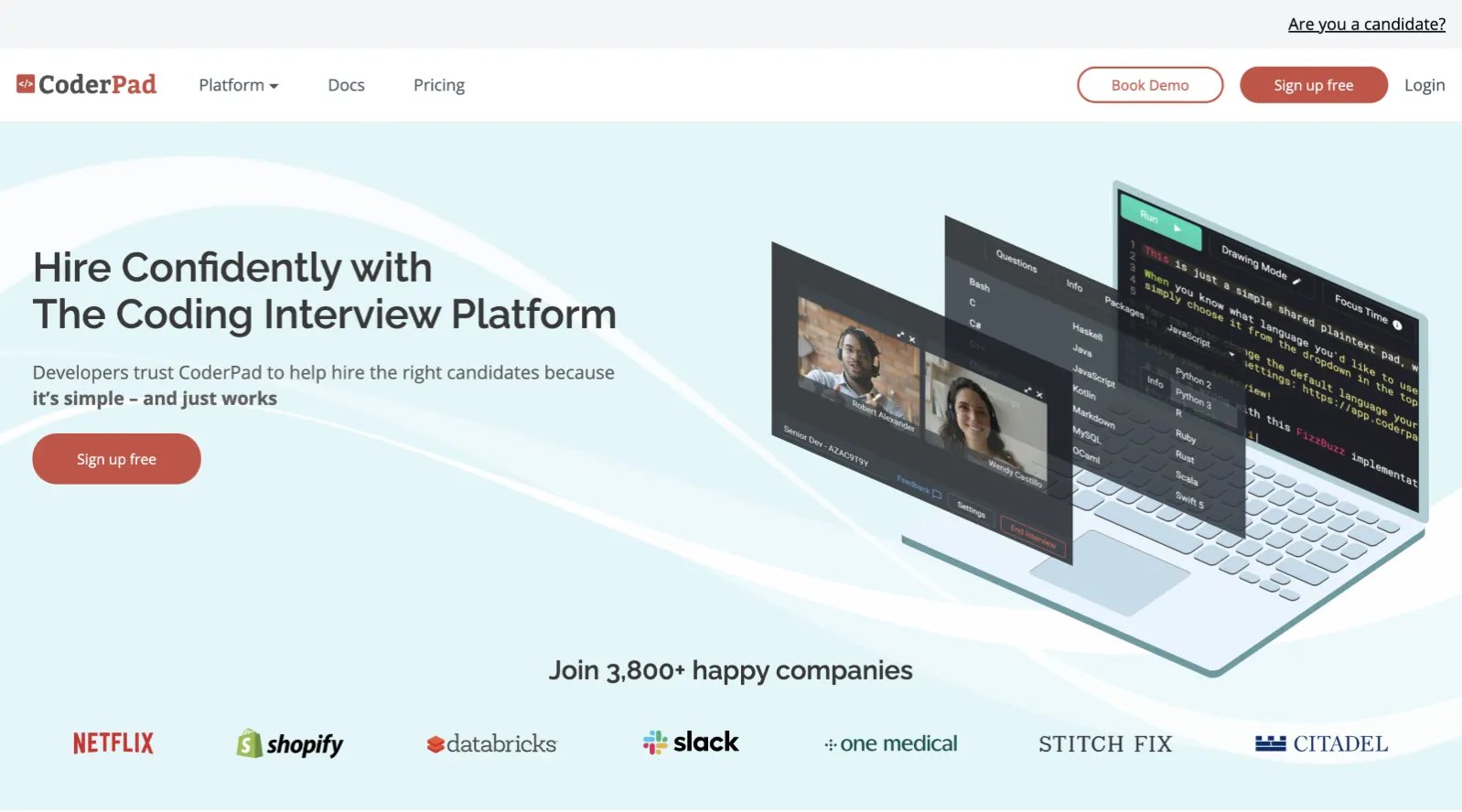 Founded in: 2013
Founded by: Vincent Woo
Free Trial: Yes
Pros:
It organizes coding competitions among candidates to prepare them for industry positions

With CoderPad, you can code in over 30 languages and use over 60 technologies and frameworks

CoderPad offers its assessments at a reasonable price
Cons:
Candidates often have difficulty understanding the U.I. of CoderPad

Due to CoderPad's lack of freehand drawing and illustration support, it can be hard to illustrate specific concepts and problems
Clients: Netflix, Shopify, Databricks, Slack, One Medical
Pricing: $50/month
G2 Rating: 4.3/5 (16 reviews)
11. HireVue

Founded in: 2004
Founded by: Mark Newman
Free Trial: Not available
Pros:
HireVue provides live and on-demand interviewing tools to improve the interview process for hiring managers.

HireVue offers an end-to-end hiring experience platform with video interview software, assessments, and text-enabled hiring tools.

The UI/UX is user-friendly for candidates, recruiters, and hiring managers.
Cons:
HireVue has an expensive skill assessment model.

The support staff at HireVue is unreachable.
Clients: Smartlynx, Amazon, Beacon, The Co-operative Bank, The Foxtel Group
G2Crowd Rating: 4.1/5
Pricing: Starts at $35K/month
12. HackerRank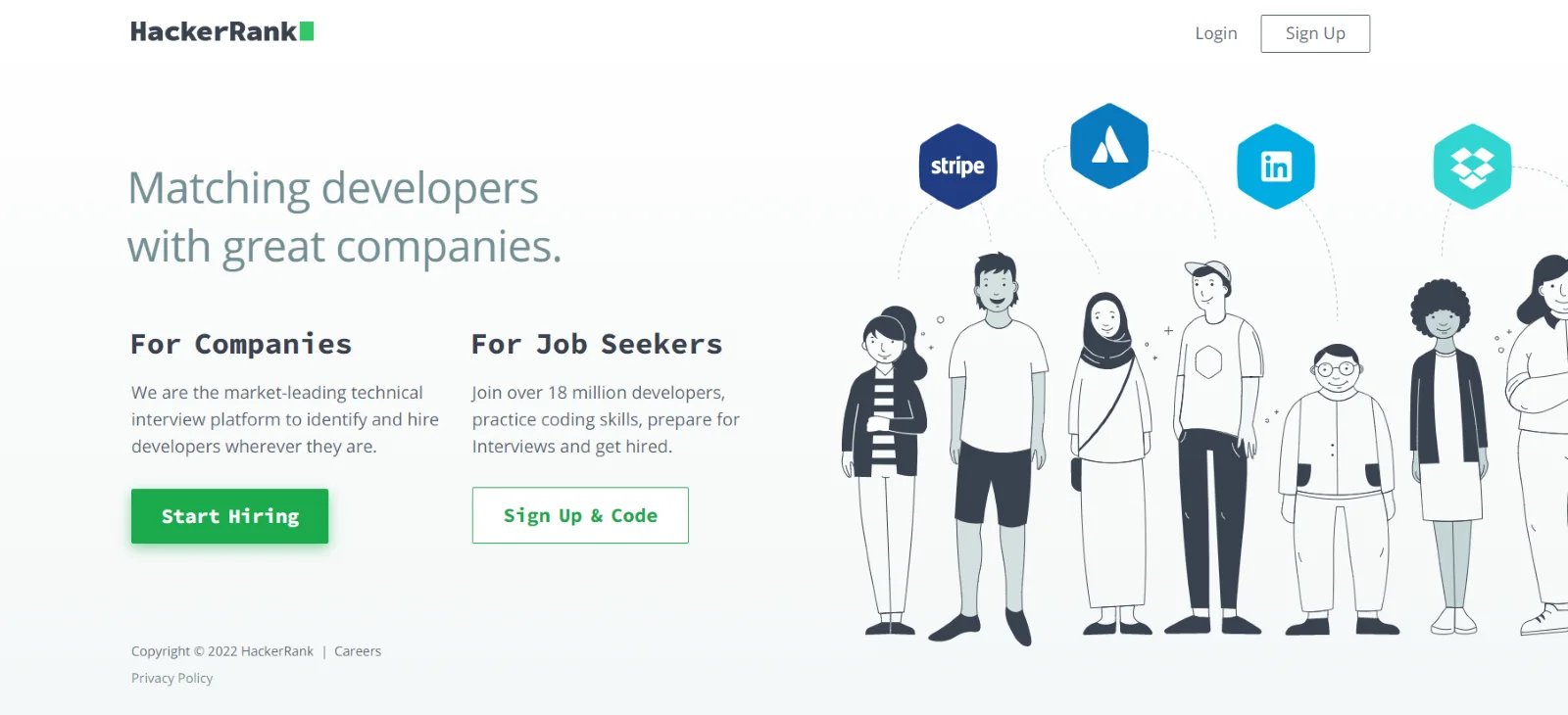 Founded in: 2012
Founded by: Vivek Ravisankar and Hari Karunanidhi
Pros of HackerRank:
Their assessments are self-paced

HackerRank offers free certification programs

It provides insightful reports that contribute to closing skill gaps by identifying areas of improvement in individual performance
Cons:
There is no mobile version of HackerRank

HackerRank does not provide aptitude tests
Clients: Badoo, Canva,Clumio, Dropbox, Enel
FAQs
What is a skills assessment tool?
A skills assessment tool helps organizations assess the skills competency of existing employees and candidates. They help you identify the skill competencies, areas of improvement, help you create a skills benchmark for current and future employees, and more. An ideal skills assessment tool will also help you conduct training needs analysis, which helps you identify L&D needs on an organizational level.
What are skill assessment tests?
Skill assessment tests are web-based assessments used by employers to evaluate candidates' skills either while hiring new candidates or upskilling/reskilling existing employees.
These assessments include psychometric tests, personality tests, aptitude tests, job-specific tests, and more. Many skills assessment tools provide the option for tailoring tests.
What are the benefits of using skills assessment software?
With skills assessment software, one can:
Pinpoint areas need to be developed

Make unbiased and data-backed hiring decisions

Avoid bad and unfit hire

Conduct high-volume hiring with ease
How do you assess skills?
Skill assessment is of paramount importance nowadays for both individuals and employers. So here is how you can assess skills:
Determine the skills you want to assess — besides functional and technical skills, you may focus on personal effectiveness, communication, employability skills, critical thinking, business etiquette, teamwork, cognitive abilities, and other skills

Create or outsource questions in variety of difficulty levels

Collect the data — do one-on-one conversation, surveys, observation, and most importantly, assessments using top skills assessment tools such as

iMocha

Analyze all the data — once you have gathered all the information, done surveys, and attempted assessments

Utilize the analyzed information from the skill assessments to strengthen the following stage of the selection procedure

Make a data-backed decision for your hiring