Are you looking for a skill gap analysis tool?
Addressing the skill gap has become a necessity for organizations. A recent World Economic Forum study claims that skills required for jobs have changed by almost 25% since 2015, and by 2027, that percentage is likely to double.
However, conducting an in-depth skills gap analysis with a particular focus on verticals and departments is not easy, especially because identifying skill gap analysis is a continuous process.
,There are various skill gap analysis tools in the market that can help you keep up with the changing business landscape.
We understand selecting the one that best suits your needs can be challenging. Hence, we've collated a list of the most reliable tools you can consider for skills gap analysis.
Top 5 Skill Gap Analysis Tools
#1 iMocha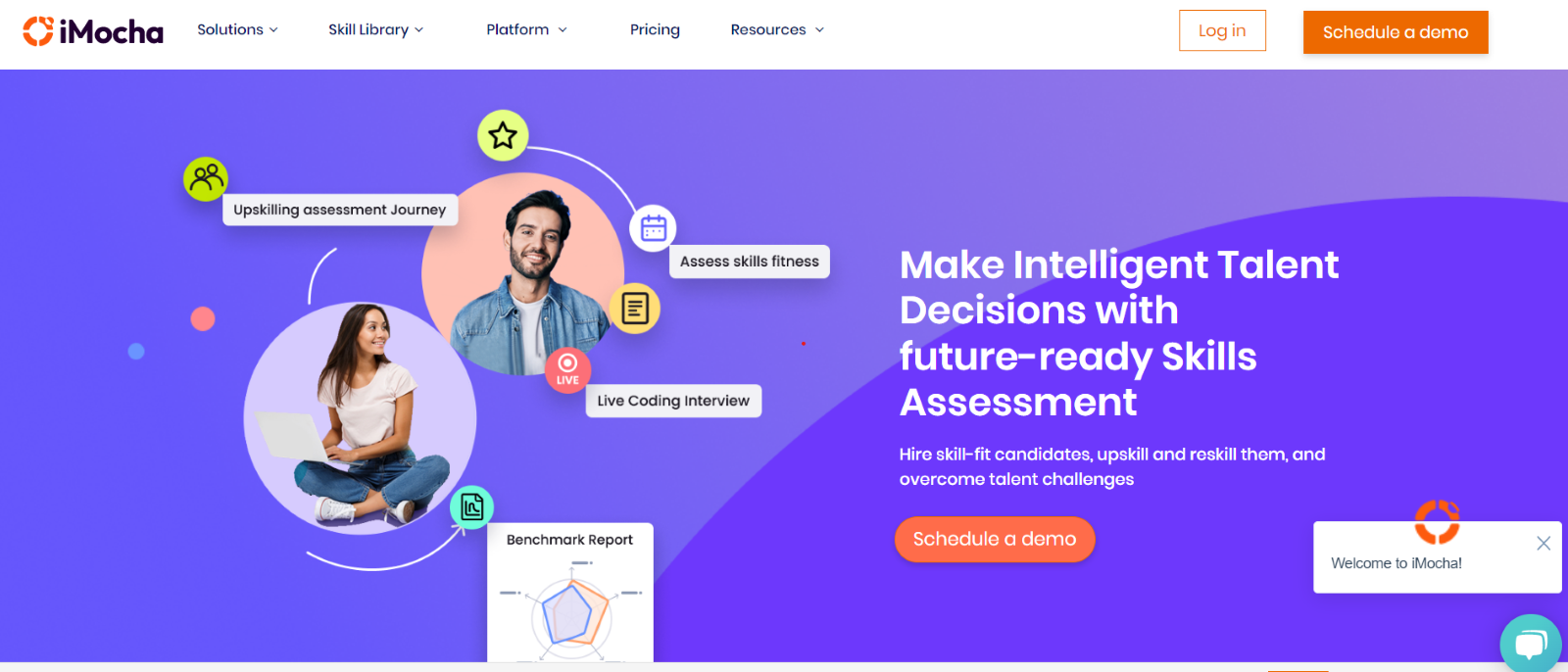 G2 rating: 4.4/5 (159 reviews)
Founding year: 2015
iMocha is a skills evaluation solution platform that assists firms in shortlisting prospects for employment and upskilling the existing workforce. It enables firms to measure the skill competency of current and prospective candidates using Talent Acquisition and Talent Development tools.
They provide a skills gap tool under Talent Development, which allows you to create custom evaluations for each learning course. They also have a dedicated upskilling portal, which you can utilize to map individual employees' growth and check your organization's overall skills level.
Besides that, iMocha also has a Microsoft Upskilling bot, which enables your learners to take tests in a setting with which they are accustomed and comfortable.
Assessment reports are produced based on pre-test and post-test evaluations to examine the depth of employees' learning. Organizations may use these reports to track their employees' development and identify areas requiring more attention.
Pros
This platform provides tailor-made assessments to analyze candidates' varied abilities before and after their training initiatives.

The entire procedure is transparent, comprehensive, and devoid of biases. Moreover, it helps to reduce the hiring time by up to 40%.

Organizations can quickly determine an employee's competency based on their performance using iMocha's color palette monitoring function in test reports. The iMocha color palette allows you to navigate and evaluate the performance of employees to check if employees fall into the beginning, proficient, or expert categories.
Cons
iMocha does not offer an end-to-end LMS system. However, it provides integration with various LMS.

iMocha does not offer psychometric tests since they are difficult to standardize across languages and may include implicit biases.
Free trial: Available
Top Clients:
Capgemini

Ericsson

FUJITSU

Deloitte

Vanguard
#2 Paradiso Solutions

G2 rating: 4.3/5 (12 reviews)
Founded Year: 2011
Paradiso Solution is an artificial intelligence e-learning platform that assures usability through its activity modules, multitenant learning paths, report builders, and other features. They provide an LMS that allows applicants to examine their skills level based on a diagrammatic summary created by combining self and manager ratings; a course is then suggested based on this rating.
Pros
This platform's multitenant learning paths offer comprehensive solutions to the corporate and educational sectors.

The Paradiso LMS's user-friendly interface enables clients to enter questions for training, education, and other purposes.

Paradiso Solution's LMS offers a variety of features, such as a report builder, learning pathways, course developers, gamification, and UI customization.
Cons
Some reports and feedback suggest that Paradiso has limited reporting capabilities.

Despite having decent broadband, users experience frequent call lags.

The platform is slow and difficult to use, resulting in a loss of interest in the training program.
Free trial: Available
Top Clients:
Webex

Woo Commerce

One Login

Salesforce
Pricing: $5.50 /user (per month)
Looking for skills gap analysis tools that can help you boost your employees' performance?
#3 digits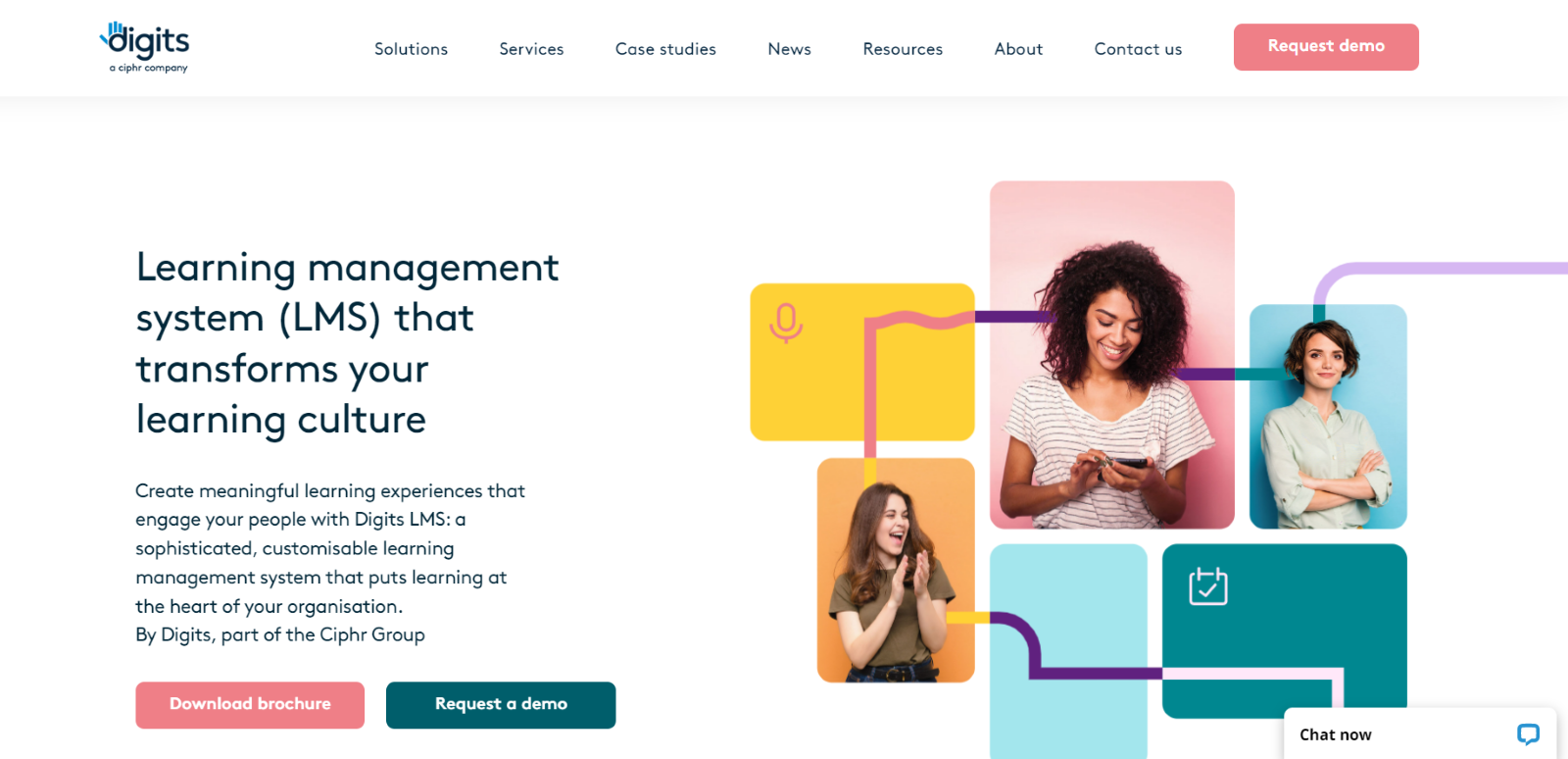 Capterra rating: 4/5 (1 review)
Founded Year: 1999
digits is a digital learning provider that offers a skill gap analysis feature by combining LMS and LXP functionality to design and deliver an engaging learning experience. This combination aids managers in discovering skills gaps and assigning relevant training.
This platform allows companies to customize their LMS depending on the requirements. All activities within the learning program are carefully selected depending on learner needs, allowing them to enhance their abilities as they progress.
Pros
Individuals can customize the LMS platform according to organizational needs.

The skill gap analysis software from digits makes thoughtful recommendations to learners by directing them to related learning material.

The reporting system of digits allows managers to monitor completion rates through its reporting system.
Cons
digits LMS platform is slow and takes a lot of time to load.

Analyzing the candidates' performance is difficult because reports are not produced, edited, or published in this tool.

The system does not adapt to different time zones. It makes running face-to-face workshops extremely difficult outside the UK.
Free trial: Available
Top Clients:
Honda

Mitsubishi Motors

Coca Cola

RBS
Pricing: $2400.00 /year
#4 360Learning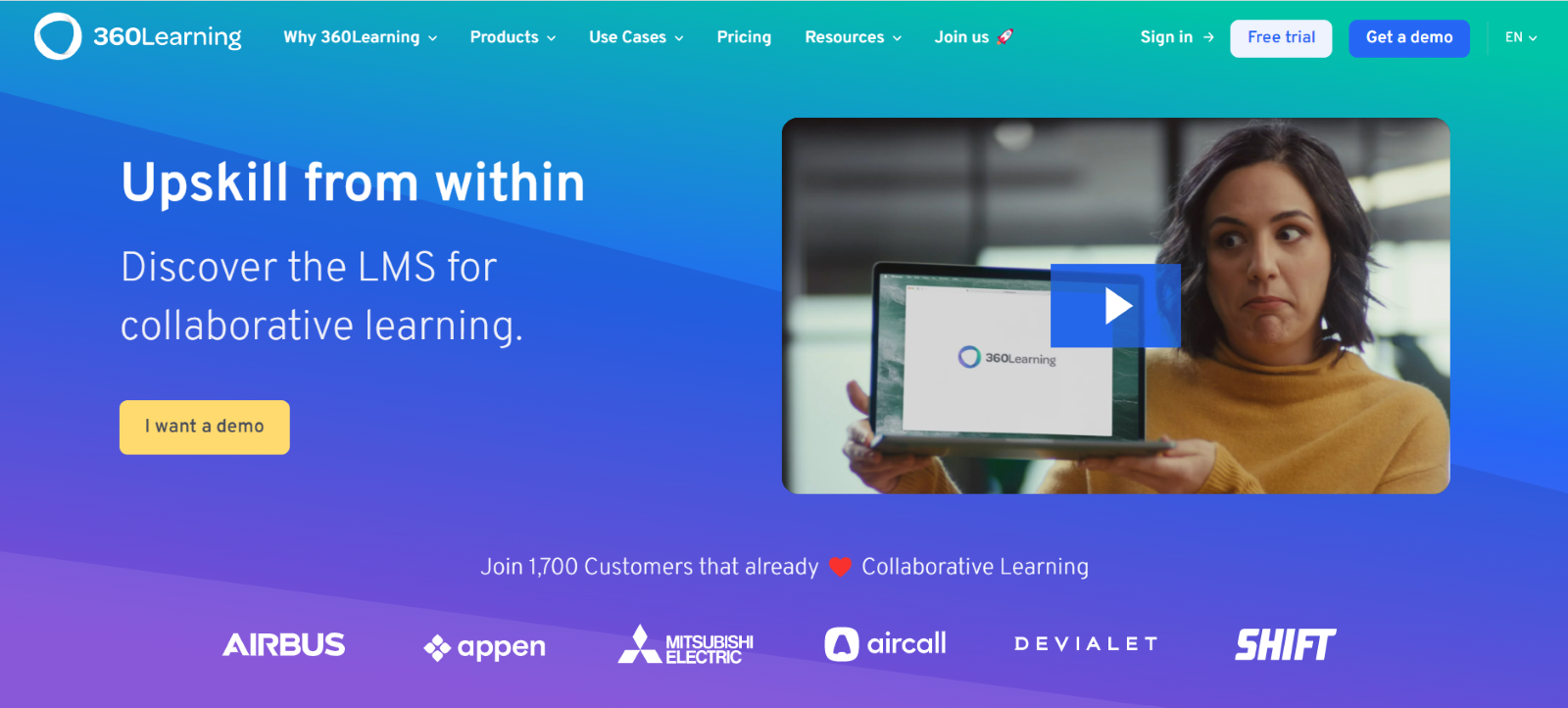 G2 rating: 4.6/5 (252 reviews)
Founded Year: 2013
360Learning is a learner performance platform that helps businesses upskill their existing staff. The LMS offered by 360Learning prioritizes collaborative learning, and internal experts offer upskilling support rather than delaying top-down teaching.
With learner recommendations, 360Learning's AI expert-identification software enables organizations to effortlessly tap into their employees' expertise and locate in-house subject-matter experts.
Pros
With real-time declaration and upvoting learning features, candidates can identify specific training they need to succeed.

360Learning allows its users to build courses quickly.

Their LMS function delivers training in environments with complicated infrastructures, provides highly detailed information on learner follow-up, and promotes a collaborative learning philosophy that learners highly value.
Cons
The LMS is lacking in integrated gamification scenarios.

When candidates are consuming content, 360Learning's automatic timeout functionality does not work properly.

This LMS does not provide the option of tracking people's course completion progress.
Free trial: Available
Top Clients:
LVMH

Toyota

Aircall

Similarweb
Pricing: $8.00 /user (per month)
#5 Entomo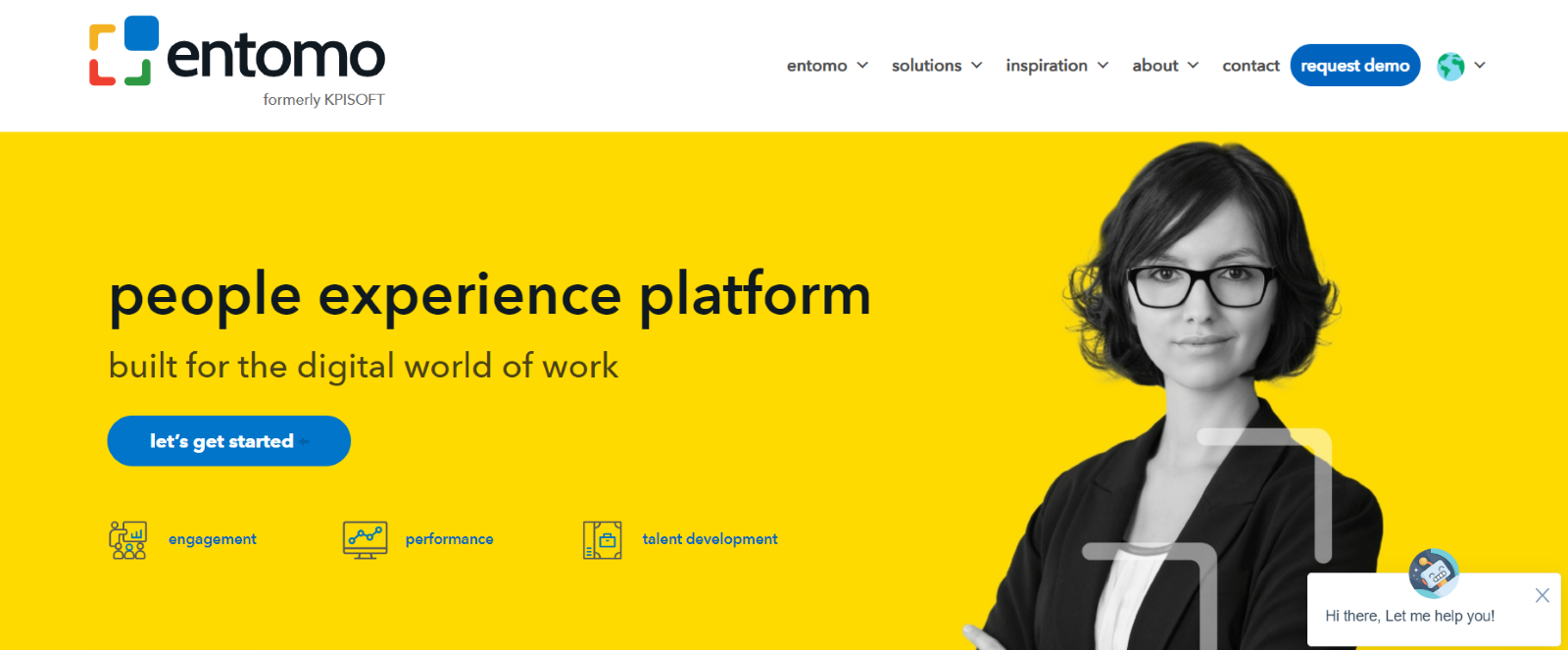 G2 rating: 4.7/5 (73 reviews)
Founded Year: 2008
Entomo, formerly known as KPISOFT, is a contemporary performance management tool that offers skill gap analysis assistance to manage distributed and remote teams by matching goals and encouraging actionable insights.
This tool helps businesses and individuals achieve their goals by utilizing disruptive technologies such as augmented analytics and behavioral science.
Its proprietary platform enables firms to communicate and achieve targeted performance objectives through hyper-personalized actionable insights and nudges.
Pros
Entomo's BI Analytics Reports offer actionable insights connected with the performance and career modules.

The EPMS application and feature suites give comprehensive insights into employee performance and support micro-level tracking of the goals and objectives.

The Entomo tool allows you to easily track KPIs to know the real-time achievement of employees.
Cons
It isn't easy to alter the UX/UI of Entomo to accommodate widget-based design or menu pinning. The personnel monitoring capabilities of the plug-and-play architecture supporting the integration are insufficient.

The LMS does not provide individual customization to meet various corporate demands.

The non-tangible features of performance management cannot be tracked or captured by the Entomo tool.
Free trial: Available
Top Clients:
Bosch

Audi

Johnson & Johnson

Harman

CGI
Pricing: $15 /user (per month)
| | | | | |
| --- | --- | --- | --- | --- |
| Software | Features | Pros | Cons | Pricing |
| iMocha ✅ | Pre-test and post-test skill evaluations | Devoid of biases | Psychometric test option unavailable | $1800.00 /year |
| Paradiso Solutions | Diagrammatic summary of self and manager's ratings | UI customization | Limited reporting capabilities | $5.50 /user (per month) |
| digits | LMS and LXP functionality | Recommendations for next learning actions | Inability to produce and publish reports | $2400.00 /year |
| 360Learning | Prioritizes collaborative learning | Detailed information on learner follow-up | Lacking integrated gamification | $8.00 /user (per month) |
| Entomo | Hyper-personalized actionable insights | BI Analytics Reports offer actionable insights | Non-tangible performance feature is unavailable | $15 /user (per month) |
FAQs
1. What is skill gap training?
Skill gap training refers to the measures taken by a company and its employees to bridge the gap between the skills required by the employer and the skills of their employees. It is the onset of training intervention where candidates' skill levels are evaluated through pre-assessments, allowing them to undergo training. Furthermore, post the learning, similar skills assessment tests are offered to candidates to check the level of their acquired knowledge.
2. What causes a skills gap?
The changing demands from the workforce as a result of technological advancements, digitization, digital transformation, and changing economic situations lead to the skills gap. Due to these changes, companies expect varied skills from each individual. New capabilities such as AWS, Alteryx, Azure, blockchain, and many others get introduced more often, causing a gap between the existing and required skills.
3. How do you analyze the skill gap?
L&D Managers can examine the skill gap by taking a few basic actions, such as:
Evaluating the current skill level of the candidates
Measuring the gap between the required skills and existing skills level using the skills gap analysis tool

Examining the cause of the skill gap and determining the need for additional competencies and skills
What is a skills gap analysis example?
You can understand skill gap analysis as a process of assessing candidates and providing training as per their proficiency bucket. After completing the training, candidates get reassessed and receive certificates as per their proficiency levels. Some examples of skill gap analysis are AmaliTech employing the iMocha skill assessment tool to upskill its 16000+ learners. Jobberman leveraging iMocha for assessing candidates on their portal for evaluating and upskilling 50,000 youngsters with the help of a soft-skills training program.