Finding it hard to evaluate your employees' core skills? Unable to have a clear-cut view of the widening skill gap? A skills management software can help fix your talent woes.
It's quite challenging to manually profile the right candidate with the perfect skill sets for open positions. Unfortunately, this process has not been upgraded, and many recruiters still use age-old job descriptions to find matches. Down the line, it results in major skill gaps and slower business growth. You might be wondering how to strengthen a team and tackle existing skills gaps. Although this might sound like a daunting task, it's not.
That's when a skills management software comes in place.
But what should you look for before choosing skill management software? To help you fix this dilemma, we've rounded up 16 outstanding skills management software and highlighted their benefits, price range, and reviews so that you make precise hiring decisions and improve your organization's performance with the best-fit tool.
Top 16 Skills Management Software
1. iMocha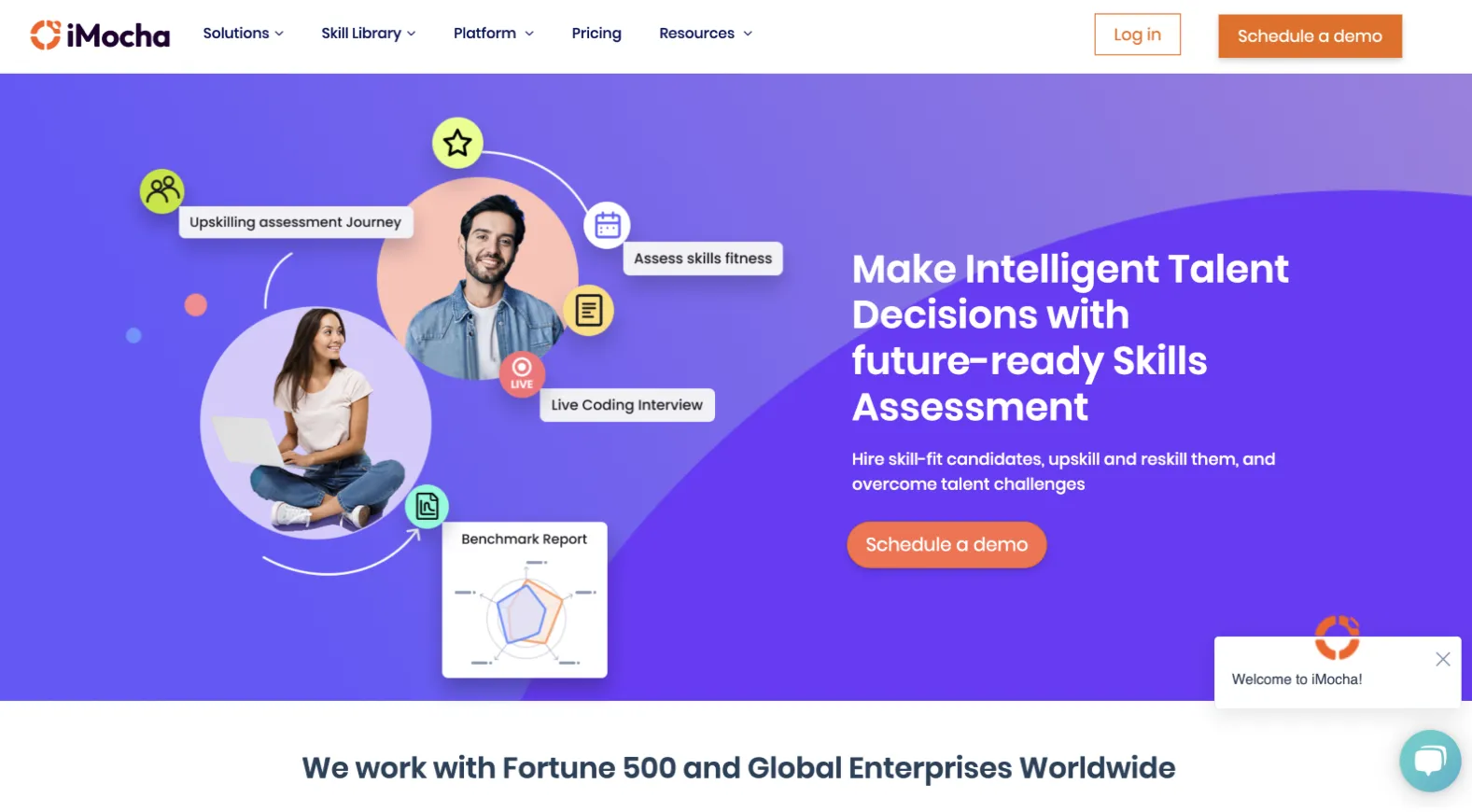 iMocha is an intuitive skill management tool that helps you identify, track, and upgrade the core skills of your workforce, deploy the right talent to fill open positions, and close the existing gap in skills, among many other features. This AI-powered skills management platform offers out-of-the-box solutions for effective talent and skill management. It ensures your employees are ready to face clients with top-notch skills that fit their true interests.
This assessment portal helps L&D and TD managers map candidate growth and assessment journeys. The app is also integrated with Microsoft Teams and reminds learners routinely to take self-assessments. Organizations can use this portal to identify skills gaps and measure them against expected industry standards. After completing the training skills gap analysis, these employees can undergo training and development programs to reach the set benchmarks. There are various skills gap analysis tools in the market that can help you identify employee training needs and keep up with the changing business landscape.
Further, you can track and improve your employees' learnings and deploy the right talent into more critical roles that cater to your organization's progress.
What's good about iMocha?
Provides skill mapping of your employees so that you can effectively measure their performance, plan training to hone their skills, and eliminate skill gaps.

Effortlessly assess, track, and take action to improve your employees' knowledge, problem areas, competency, and training effectiveness.

Aids automation and digital transformation of skill assessment. This lets your workforce upskill at their own pace and track their performance regularly.

In-depth, data-driven pre and post-test

assessment reports

and analysis to evaluate your team's weak and strong points seamlessly and build a future-ready workforce.
G2 rating: 4.4/5 (181 reviews)
Pricing: $1800/month
2. Pluralsight Skills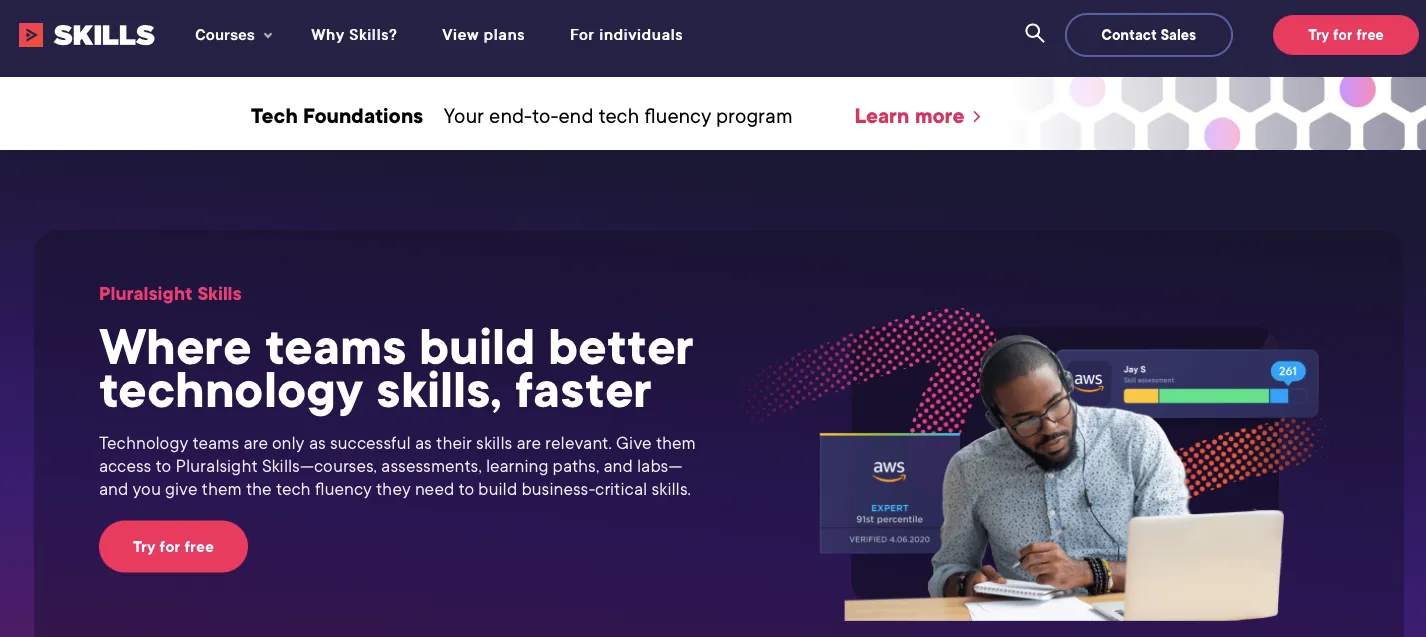 If you are an IT organization, Pluralsight's skill management tool offers well-curated learning paths for your technical employees to upskill or reskill. And since technical skills need to be extremely hands-on for a better grasp of the topics, this skills management software provides labs, practice sessions, and more. With the increasing competition in the market, employers are shifting from traditional hiring methods, and adapting to technical assessment tools to keep up. Read more on the top 15 technical skills assessment tools in the market today.
What's good about Pluralsight Skills?
Evaluate your team's knowledge gaps and strong areas with Skill IQ - a smart free employee assessment portal.

Supports advanced skill analytics and provides actionable insights that let you discover the right talent for the right roles and bridge the gaps between skills and competencies.

Start organizing your teams better using Pluralsight's advanced roles analytics. It reports on the number of users assigned to each skill, their minimum and average proficiency, etc.
G2 rating: 4.6/5 (882 reviews)
Pricing: $399/month to $799/month
3. Learnerbly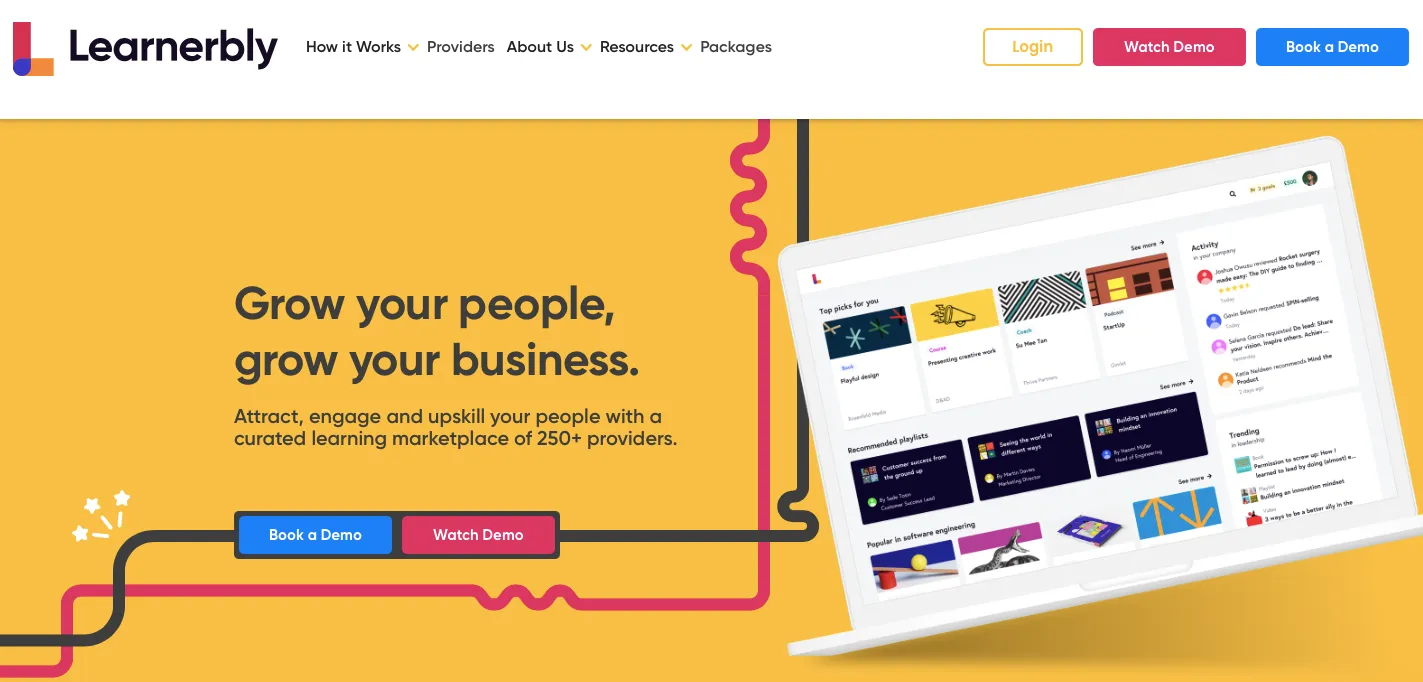 Learnerbly is a workplace learning and development (L&D) platform for over 250 providers. It follows a unique approach to investing in skills, where you or your employees can set a learning budget and use it to upskill or reskill based on their interests.
Apart from courses, this skills management platform offers a wide range of resources, such as podcasts, books, research documents, etc., to gain a deeper understanding and master skills.
What's good about Learnerbly?
Offers access to a wide range of media to learn and improve skills, ranging from curated videos, books, podcasts, subscriptions, etc.

Companies can assign individual learning budgets as pre-approved limits to their employees, and managers can easily track their team's learning progress using the dashboard.

Works efficiently alongside your existing skill gap analysis by providing real-time data on L&D requirements across your organization and helps tailor learning programs.
G2 rating: 4.4/5 (477 reviews)
Pricing: Custom pricing
4. Neobrain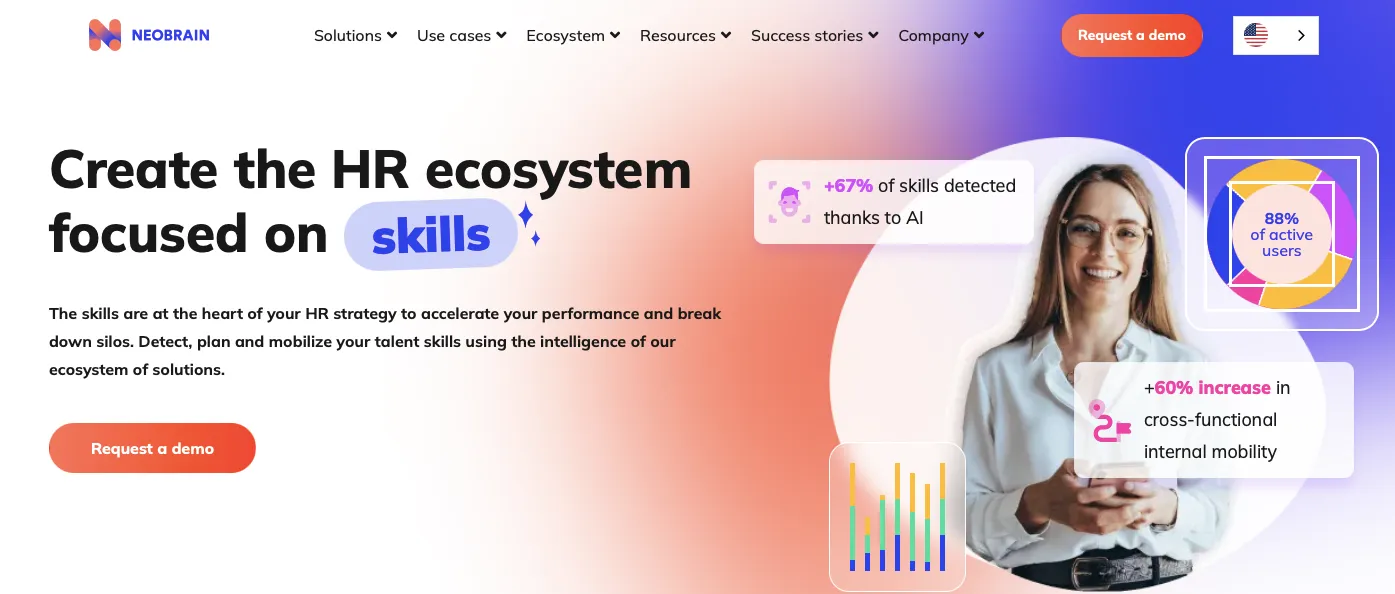 A Machine learning and AI-based skill management platform, Neobrain offers intelligent solutions for employee transformation, alignment of workplace skills with business strategies, and improved employee commitment.
What's good about Neobrain?
Reduces skill gaps by individualizing learning experiences and supports in developing personalized career tracks to improve your employees' efficiency at work.

Using an intuitive decision support tool to dynamically map skills, Neobrain helps visualize the skills that must be strengthened to witness maximum productivity.

AI-based skills management software to assess your employees based on intelligent test suggestions.
G2 rating: 4.8/5 (27 reviews)
Pricing: Custom pricing
5. Skills Base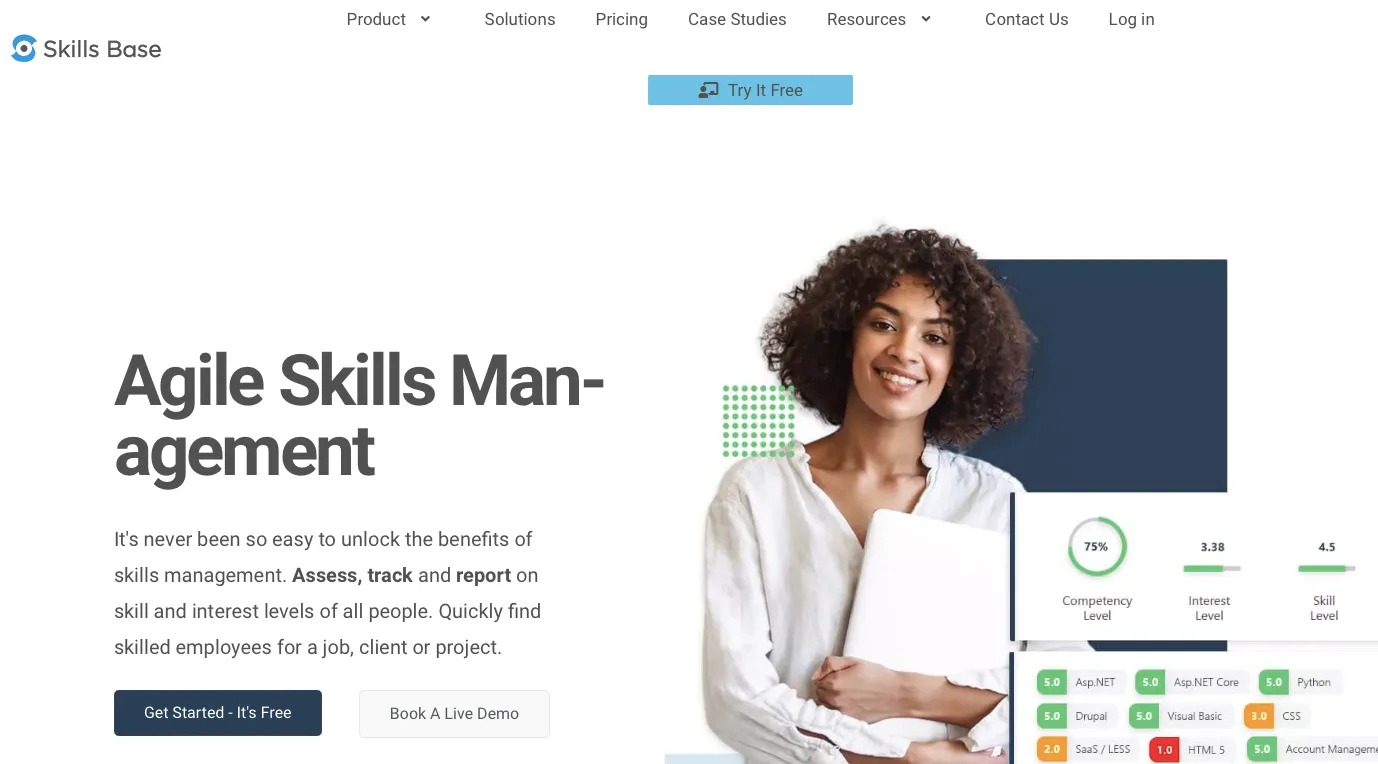 Skills Base is a data-driven skills management platform that helps individuals and organizations to upskill, reskill, measure, and visualize from a huge inventory of skills. It helps you hire smartly by focusing on eliminating skill gaps and assigning the right people to the right set of projects.
What's good about Skills Base?
Its unique interactive Skills Matrix is a tool where employees and managers can have a bird's eye view of assessments, skill levels, average skill levels, competency levels, and more.

A single source of truth for all your skills data to support the decentralized modern workforce.

Use objective data to assign the rightly qualified employees to critical projects.

Offers powerful insights to capture skill management data accurately and helps make well-informed business decisions.
G2 rating: Unrated
Pricing: $1/user/month for Teams and $2/user/month for an Enterprise
There are many skills assessment tools available which makes it difficult for the recruiting team to choose the most relevant tool. Here's a list of top skills assessment tools with the pricing structure, their pros and cons, and more to help you make an informed decision.
6. TalentGuard
TalentGuard is an exceptional skills and performance management system that uses your skills data to create competency frameworks, customize job profiles and curate learning options.
Its skill management is divided into four main categories: Create to create, edit, and compare skills; Map to efficiently map skills to profiles and jobs; Calibrate to perform job profile calibration — adjust proficiency levels; and Govern to manage job role data.
What's good about TalentGuard?
Builds a well-integrated, standardized talent and skills management system that fits perfectly into your business.

Offers an unbiased skill verification method to assess, rank, and verify skills to rectify existing gaps.

Tailored learning paths to understand your business goals and align the right talent to accomplish them.
G2 rating: 4.7/5 (3 reviews)
Pricing: Custom pricing
7. SkillsDB Pro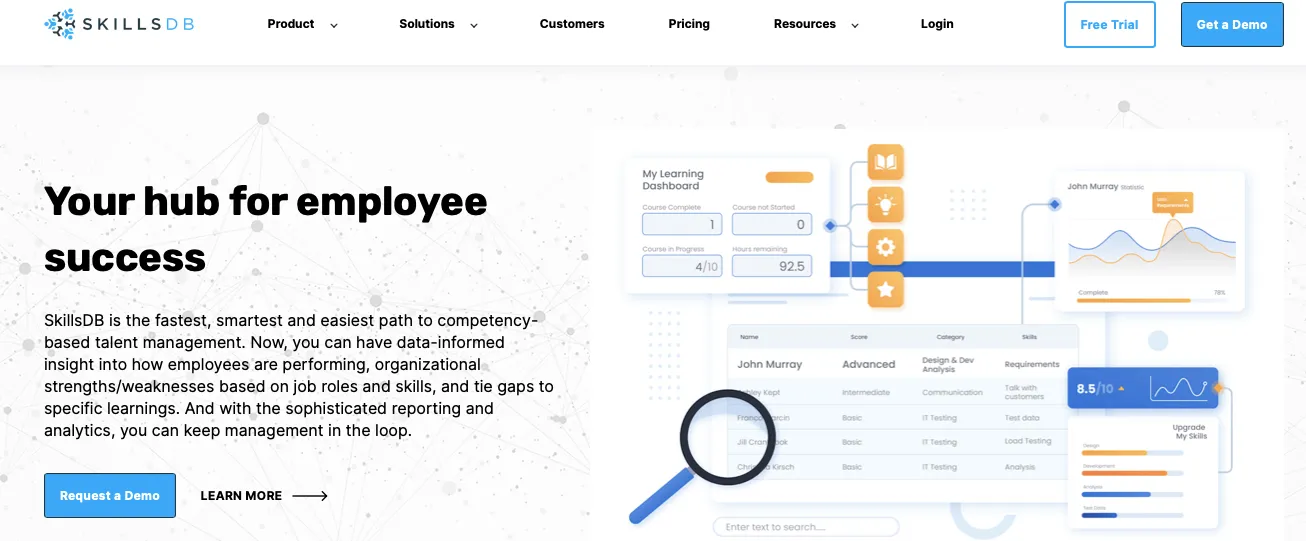 A competency-based skill management tool, SkillsDB Pro is a great option for organizations looking to improve their employees' performance with data-backed insights and advanced analytics.
The interface is highly user-friendly and offers easy onboarding of skills and resources.
What's good about SkillsDB Pro?
Identify organizational job role-based strengths and weaknesses to bridge gaps between skills and learnings.

Offers employee development plans through recommended learning paths by comparing the existing role's skill scores with the learning catalog skills and scores.

Since this skills management software is web-based, it easily integrates with your existing Learning Management System (LMS).

Enables comprehensive skill tracking, proactive skill gap analysis, high-level reporting through data analytics, and more.
Capterra rating: 4.6/5 (11 reviews)
Pricing: Starts from $75/month
8. MuchSkills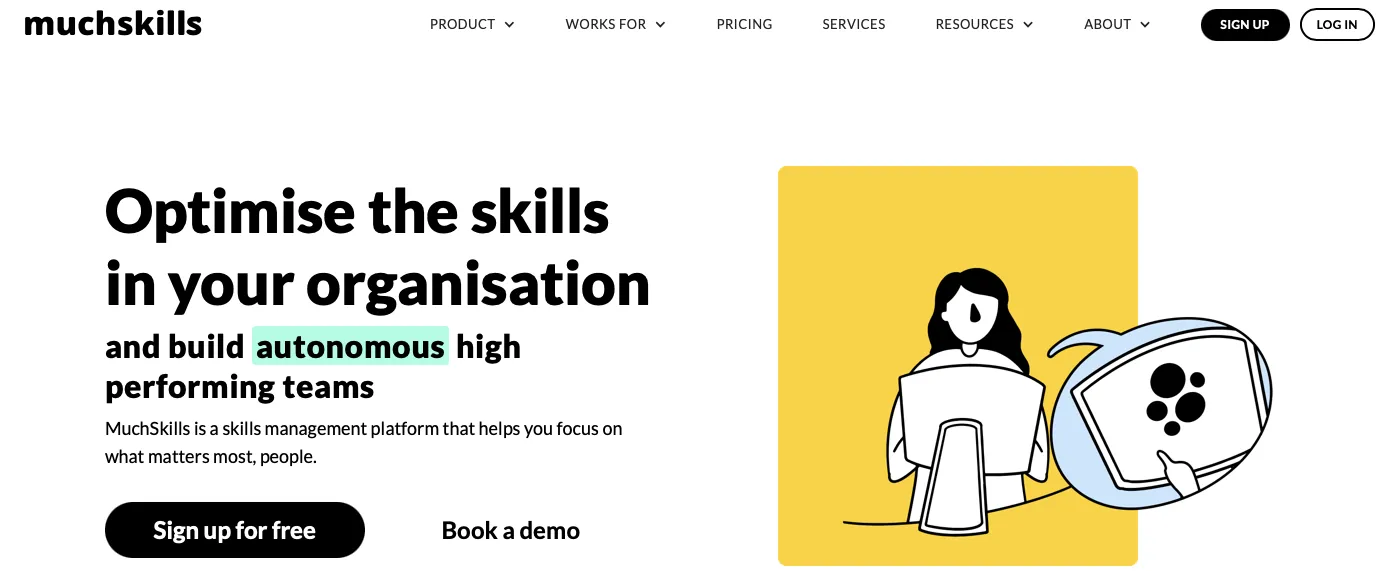 MuchSkills helps build agile, high-performing teams by following a people-focused approach to skills management. You can create a Skill Matrix for a single view of your team's strengths and weak points, identify recruitment opportunities using real-time data, and so much more.
What's good about MuchSkills?
Real-time skill gap analysis with unique insights, tap into your employees' abilities and identify growth opportunities.

HR managers and team leads can verify each employee's MuchSkills profile for quick employee assessment and hold one-on-one discussions on the go.

With the MuchSkill Team Builder, you can quickly build teams based on competencies and skills alone, thus, not giving room to unconscious bias.
G2/Capterra rating: Unrated
Pricing: Starts from $5/month for smaller teams and $720/month for larger teams
9. viGlobal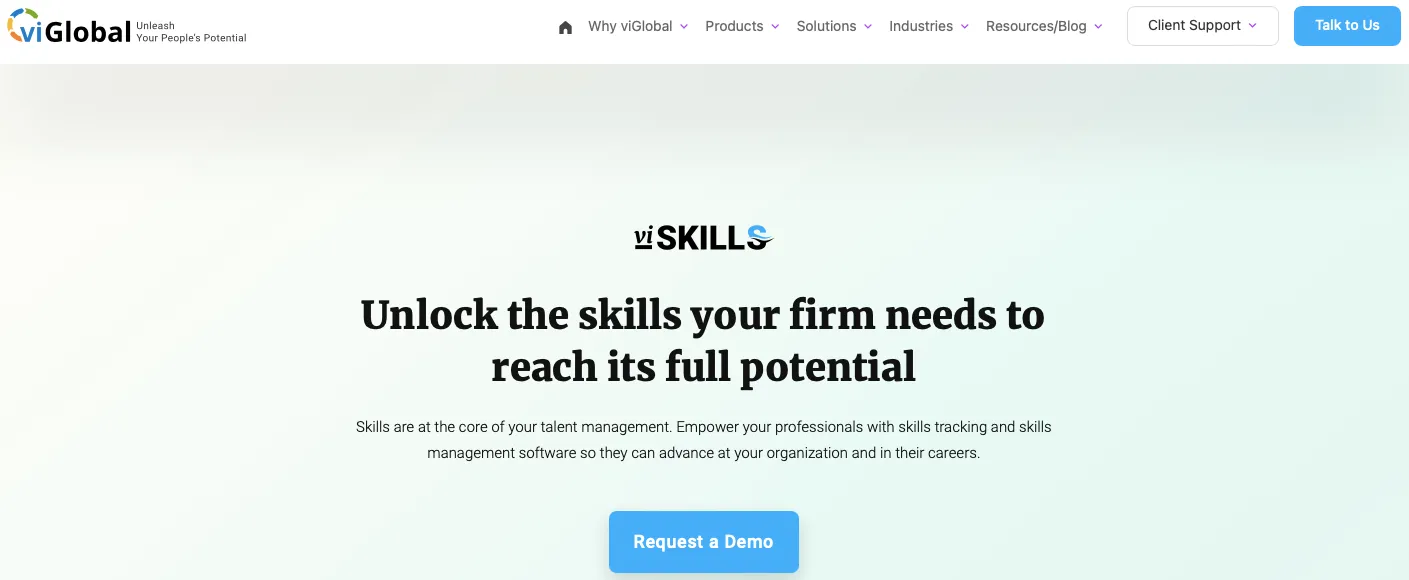 viGlobal's viSkills platform focuses on improving project staffing based on skills and provides an efficient solution for your employees to track their skills, learning, and performance. And for managers and leaders, you get access to an organization-wide reporting platform of your employees' progress, along with an automated mechanism to send timely reminders.
What's good about viGlobal?
Use this skills management software to highlight missing critical skills urgently needed to deliver projects on time. It can also predict the missing expertise so that you can make an intelligent decision to hire or train staff for the missing skill.

For employees that handle multiple clients, tracking their progress gets quite challenging. With viSkills, your team can track their skills specific to projects or assignments easily.

With the Skills Progression Report, managers get a firm-wide view of statuses, progress made, employee experience, and more.
G2/Capterra rating: Unrated
Pricing: Custom pricing
10. intelliHR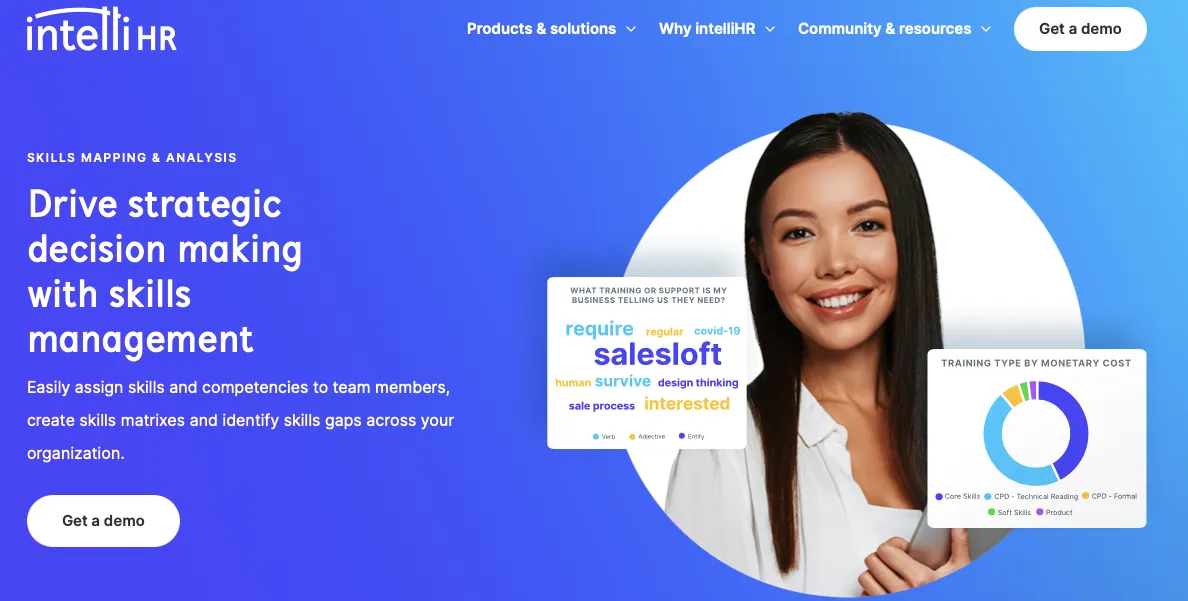 The data-enabled skills management platform, intelliHR is one of the most sought-after tools for successful planning and hiring. Instead of making critical decisions using surface-level observations, intelliHR gives the most focus on making well-informed, data-driven decisions for promising outcomes.
What's good about intelliHR?
Using the Skills Database, you can create an entire library with firm-wide skills so that new hires are quickly assigned to skills. Also, employees can upskill by choosing their most desired skill by seamlessly searching through the database.

Provides a great visual representation of mapped business-critical skills, people assigned to them, and more, using a heat map.

Make sure no vital skills are lost when employees leave the organization. intelliHR lets you conduct a skill gap analysis for proactive planning.
G2 rating: 4.8 (77 reviews)
Pricing: Starts from $9.90/employee/month
11. AG5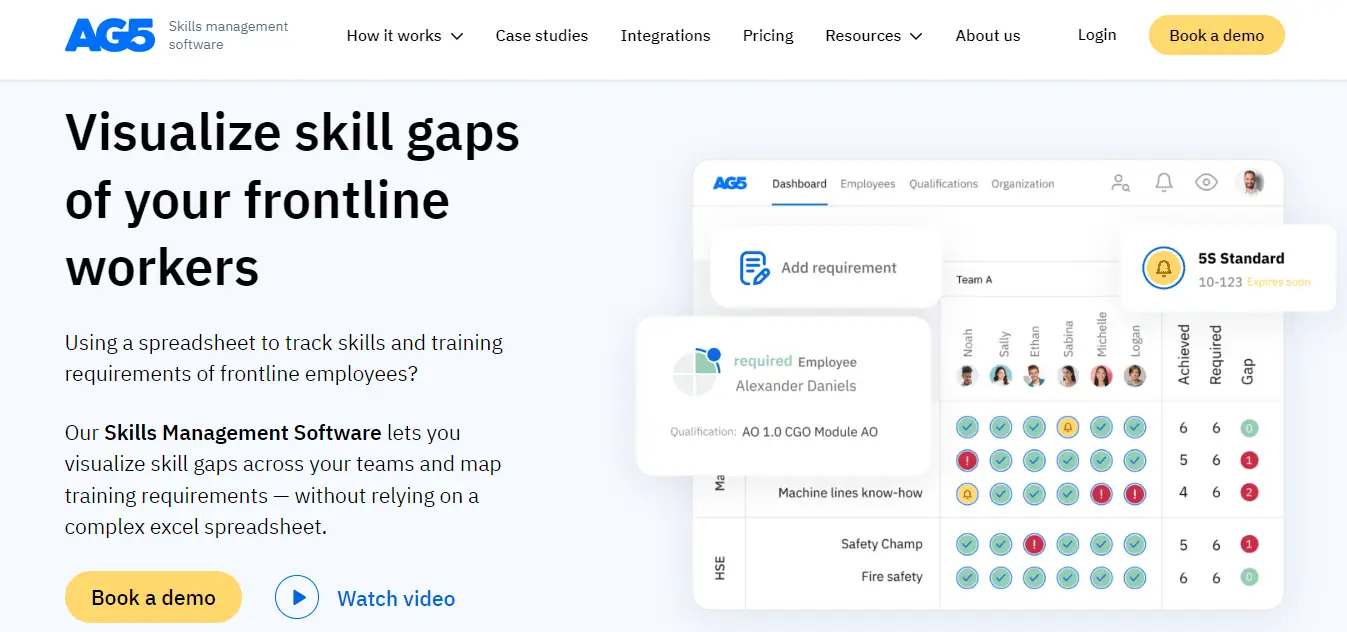 AG5 provides an easy way out of manual skill and workplace management. Managers can quickly glance through their employees' scores, performance, and workplace instructions using this skill management tool dashboard. This skills management software lets you pin-point if specific qualifications are aptly met before deploying employees to the role.
What's good about AG5?
Visualize everything from skill matrices to skill gaps and requirements to tracking learnings.

Offers 150+ integrations to other Learning Management and HRM Systems for smoother operations.

Put together an entire team of suitably qualified employees for a new project in no time.

Save employees' managers' time using the interactive app's skill matrices to access skill documentation, receive and send automatic notifications, and retrieve information instantly.
G2 rating: 4.8 (8 reviews)
Pricing: Starts from $96.5/month
12. Experis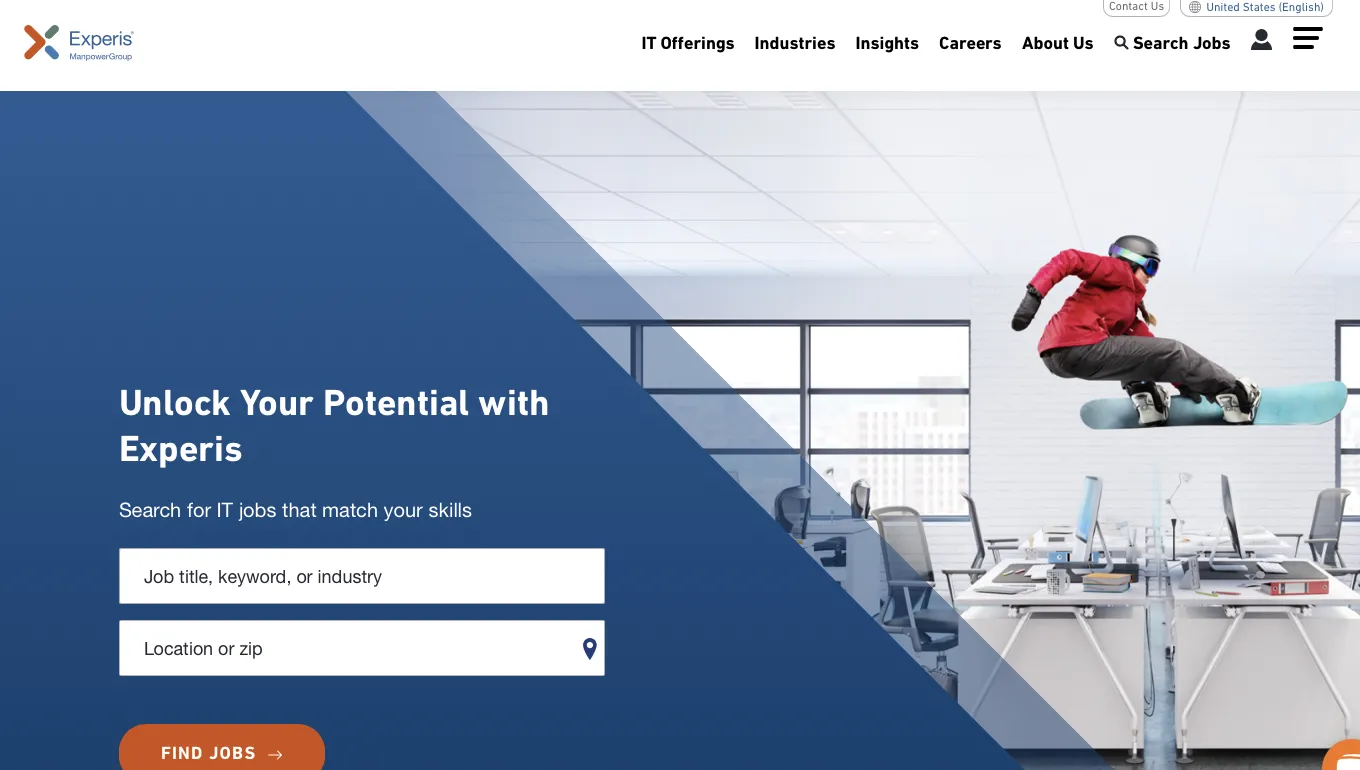 Experis offers varied services, from professional outsourcing to an AI-powered platform for upskilling and reskilling. The project and skill management services are designed to promote team agility and increase operational efficiency while delivering your business outcomes on time.
What's good about Experis?
Deliver top-notch talent on time and within budget by matching the required skills to candidates.

Experis Academy offers several upskilling programs focused on increasing employee retention and engagement.
G2 rating: Unrated
Pricing: Custom pricing
Read more on which of the best upskilling platforms will help track traditional metrics, conduct training needs analysis and identification, identify critical skills for business growth, and measure the objective ROI of L&D initiatives.
13. Itsyourskills
Itsyourskills (IYS) helps with Skill Profiling - a mapping and identification mechanism in multiple domains, and Skill Taxonomy - an online database of skills that enables quality skills profiling. Some of its popular clients include Gartner and Tata Communications.
What's good about IYS?
IYS is a skill management tool that offers IYS Skills and Occupations Taxonomy, a one-of-its-kind skill management API solution for organizations that enables efficient mapping and identification of skills to a job or an individual's profile.

ISY Skills Profiler helps you and your team search, select, and rate skills. And this tool can also be used by managers to capture new skills.

The SaaS-based Employee Skills Analytics app lets you maximize opportunities to reskill or upskill and improve engagement. It also helps perform skill gap analysis, identifies new career opportunities within your organization, etc.
G2 rating: Unrated
Pricing: Custom pricing
14. Kahuna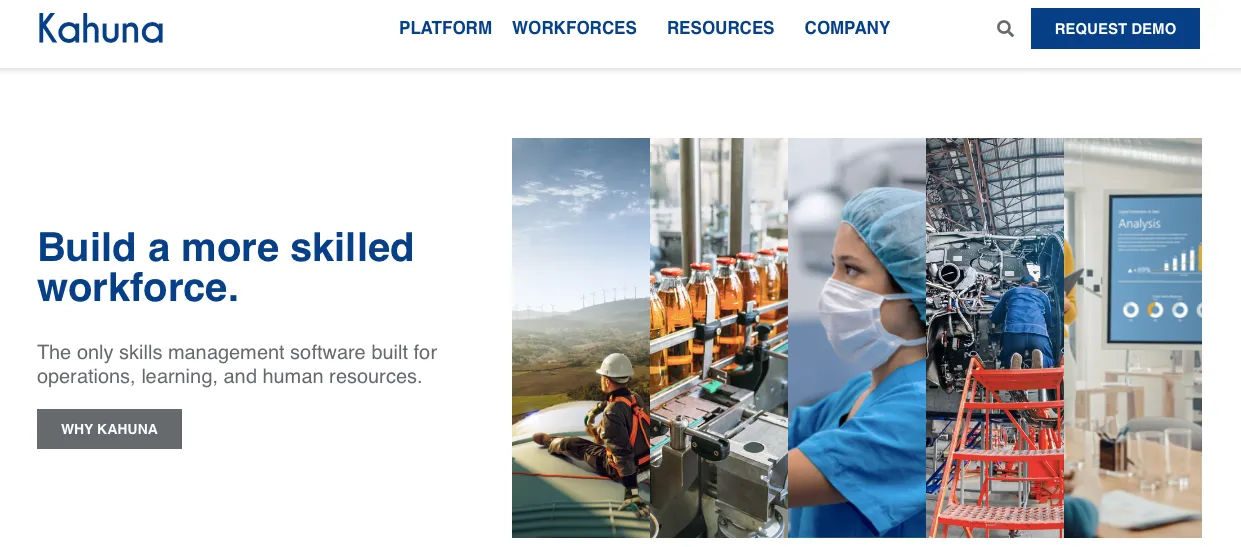 Kahuna is an all-around skills management software that commits to increasing your training ROI by building a future-ready organization. With Kahuna, you can hire the right talent, curate, assign, and assess skills, and align your teams to meet fresh demands rapidly.
What's good about Kahuna?
Build and organize your teams globally and optimize capabilities to meet the current critical skills through efficient, proactive skill mapping.

Use your skills data to understand skill shortages and overages. With this, create action plans to reskill and close any underlying skill gaps.

Track everything from training completions to experiences under your Kahuna dashboard. Use this data to identify future development needs within upcoming projects.
G2 rating: 5/5 (19 reviews)
Pricing: Custom pricing
15. 365Talents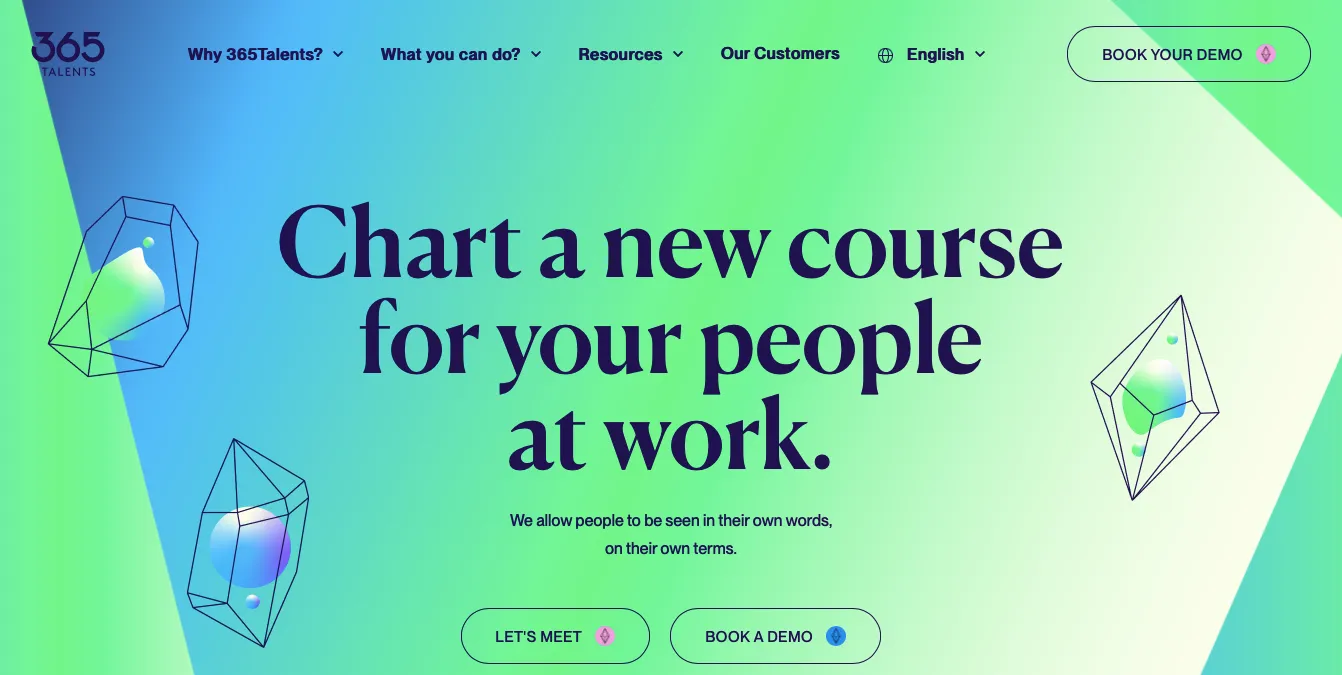 365Talents highlights the importance of viewing skills decentralized, meaning the primary focus is your employees with an employee-first skill management approach. This skills management platform lets HR managers and leaders discover untapped opportunities, based on your employees' perspective.
What's good about 365Talents?
Employs "self-declaration" by employees to efficiently map skills using each individual's own words and experience in their roles.

An AI engine to continuously analyze employee profiles and offer personalized solutions to further improve their skills and proficiencies.

Offers varied statistical and analytical tools to retrieve and utilize skill-related information, identify gaps, predict future requirements, etc.

Strategic workforce planning by anticipating requirements through in-depth data analysis, pushing emerging skills, and slashing outdated ones through accurate predictors.
G2 rating: 4.7/5 (25 reviews)
Pricing: Custom pricing
16. Draup for Talent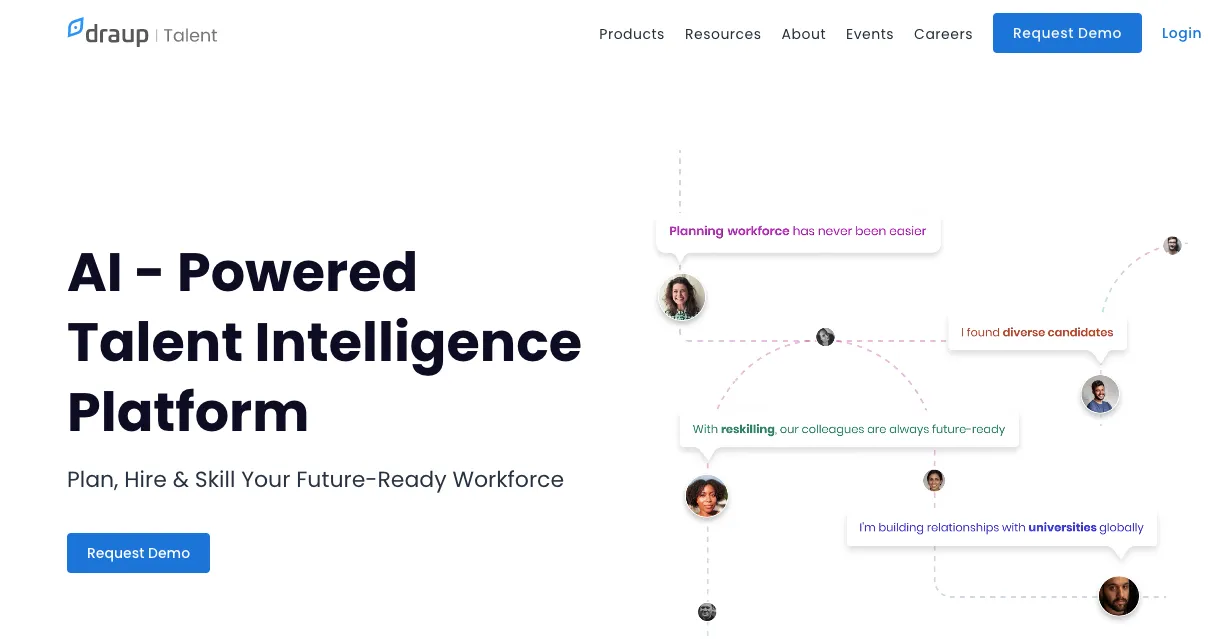 Next-gen roles are constantly evolving, and so are the skills needed to fulfill open opportunities. But your current workforce may not be upgraded yet to stay in sync with the market trends.
But with a tool like Draup, you can build a future-ready workforce by anticipating skill requirements and tapping into your employees' real potential.
What's good about Draup for Talent?
An AI-driven reskilling platform supports your team's career growth and meets growing project requirements with zero delays.

Save costs of hiring a new, highly skilled workforce by intelligently reskilling your current employees.

Using Draup contextual matrices, match employees with their best-fit skills and help their career transformation and growth.

Draup offers 750+ million profiles that can support you in crafting employee-centric reskilling opportunities.
G2 rating: 4.8/5 (8 reviews)
Pricing: Custom pricing
Here is a blog we have curated with the list of the 'Top 10 Skills Matrix Software for 2022' that will offer a complete transparency into your team's skills and performance.
Wrapping up
Building a skilled workforce that matches the evolving project dynamics with zero delivery delays, is on every organization's agenda. But effective skill management while staying within budget constraints is more challenging than anticipated.
Manual talent and skill management is not just outdated but also highly inefficient. It further leads to more damage, such as uncontrollable skills gaps, a disengaged workforce, and slower business growth.
An all-inclusive skills management software such as iMocha can help you scale your business while banking on a higher ROI due to continuous learning, eliminated skill gaps, and intelligent hiring.
Are you lost trying to assess your team's skill gaps and looking to offer them a personalized reskilling opportunity? Schedule a demo with iMocha today!
FAQs
What is a skill management system?
Skill management system is a platform that helps organizations to determine, analyze, track, and measure their employees' skills efficiently. It helps close skill gaps, identify their employees' strengths and weak points, and create a learning path to reskill them.
What is a skills matrix?
A skills matrix is used to map employees' existing skills and their levels alongside the required skills for a project's successful completion. It can be pictorially represented and used to boost performance by highlighting areas where the organization must reskill its employees or hire fresh talent.