We all understand the importance your workforce holds in your organization. Still, monitoring their growth, development, and overall performance is complex without having an in-depth idea of their skills and capabilities. With no visibility into your employee's qualifications and skill sets, it becomes tough to:
Map out future projects and niche offering change

Create specific career development paths

Identify gaps

between employees, teams, and departments

Track employee development (Progress monitoring)

Enhance succession plans & risk mitigation

Predict the fastest learners

Track key staff members

And effectively assign people to projects
In addition, considering the ever-changing technological landscape, you need to know if your team is well-versed or at least informed about the latest skills required to succeed in today's market.
This is where skill assessment tools like iMocha are a game-changer. iMocha allows you to test your employees and job prospects against skills that you need to scale, succeed and adapt as per ongoing technological trends. It helps you identify skill gaps within your organization and rectify them before they leave any negative impact on your organization's growth. Another facet of skill assessment testing is the 'skills matrix'.
Employee skills matrix software provides you with a large-view or granular insight into what skills your team has on the most basic level and offers you a simple "yes" or "no" about whether a person has knowledge and experience in a specific area.
The image shared below is an example of a conventional skills matrix that segregates employees on the basis of their knowledge and know-how of a particular skill.
It streamlines employee performance evaluations and makes learning and development more effective. Using an employee skills matrix software, you can:
Effectively assess the skills of your employees

Give your organization a competitive edge

Create customized and effective learning plans

Tracks skills across different departments

Identify your

employees' strengths and weaknesses

, and much more.
Types of Employee Skills Matrix Software
It can be used for multiple purposes. They can help you assess potential job candidates, employees that are being preferred for future job roles, or simply the overall qualification of your team with respect to a particular skill set. Based on these functions and applications, we have two main types
Skill Matrix: These employee skills matrix software comprise a skills matrix, which is usually created by hiring and human resources teams to assess employees' skills and abilities for a particular job role or project.
Training Matrix: A training matrix software pinpoints what skills an individual or team needs to have to be an influential contributor to their organization.
That being said, the next question that pops up is-
'How will you know which skills matrix software is a perfect match for your organization?'
Don't worry! We got you covered. We have curated a list of the 'Top 10 Skills Matrix Software for 2023' that will offer you complete transparency into your team's skills and performance.
Top 10 Skills Matrix Software for 2023
Skills Matrix Software
1. Skills Base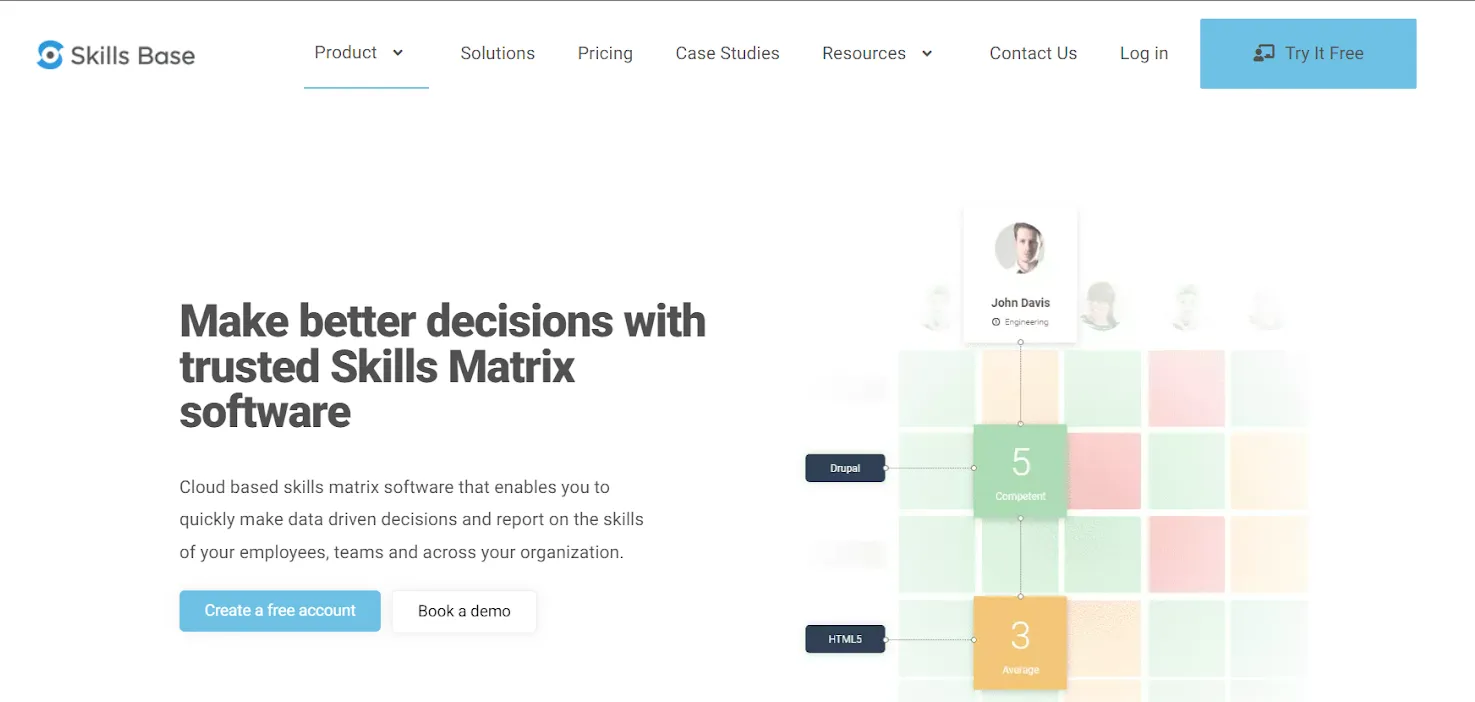 Skills Base is a cloud-based employee skills matrix software that allows you to make data-driven decisions and report on the skills of your employees and teams. It is designed for businesses and teams of all sizes and helps teams and organizations understand, measure, assess, visualize and act on skills data in a meaningful and intuitive way. With help of skills and competency matrix, it enables you to understand the skill gaps in your team and address them to build a qualified and skilled workforce.
Features:
It helps you automatically visualize your skill competency data in seconds

Allows you to with scenario planning around the skill competencies of your teams

Helps career planning based on the goals of individuals and organization

Easy API Integration

GDPR+ Compliant
Pricing: Free for up to 25 users
G2 Rating: NA
2. TalentGuard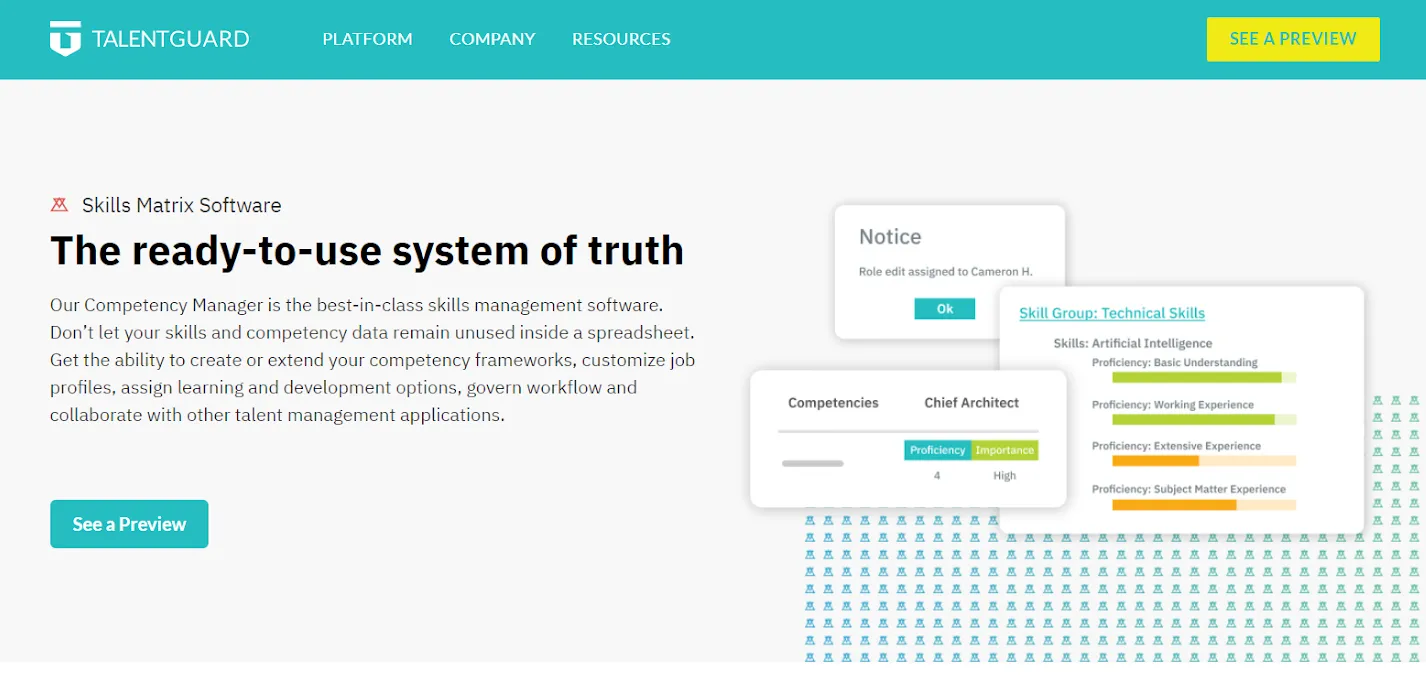 TalentGuard is a global provider of SaaS-based talent competency management solutions. It offers a cloud-based software suite that helps you engage and retain employees It also allows you to create, edit and compare multiple competencies such as skills, experience, qualifications, and other preferences required for specific job functions. Using TalentGuard's Talent Development solution, you can learn exactly what your employees can do so your team can apply their talents and plan future developments.
Features:
Automates performance management

360-degree feedback support

Career pathing and succession planning

Individual development planning

Certification tracking
Pricing: Not disclosed publicly
G2 Rating: 4.7/5 (3 reviews)
3. Team Guru

TeamGuru comes with 16 fully integrated modules that allow you to effectively execute strategic plans, understand business priorities and visualize team contributions. It helps eliminate the skills gap and enables your organization to scale faster. With TeamGuru, you can manage your X-matrix, all related Projects (A3s), and metric dashboards in one fully integrated environment, where everyone can track the progress in real-time.
Features:
Deploys strategic objectives using a Hoshin Kanri X-matrix

Manages all critical projects and actions in one place

Set up crisp dashboards to track your key performance indicators

Resolves problems quickly (5-Why, Pareto, Corrective Actions).

Eliminates PowerPoint reports, re-use live charts & actions
Pricing: Not disclosed publicly
G2 Rating: NA
4. Think Eleven: SkillStation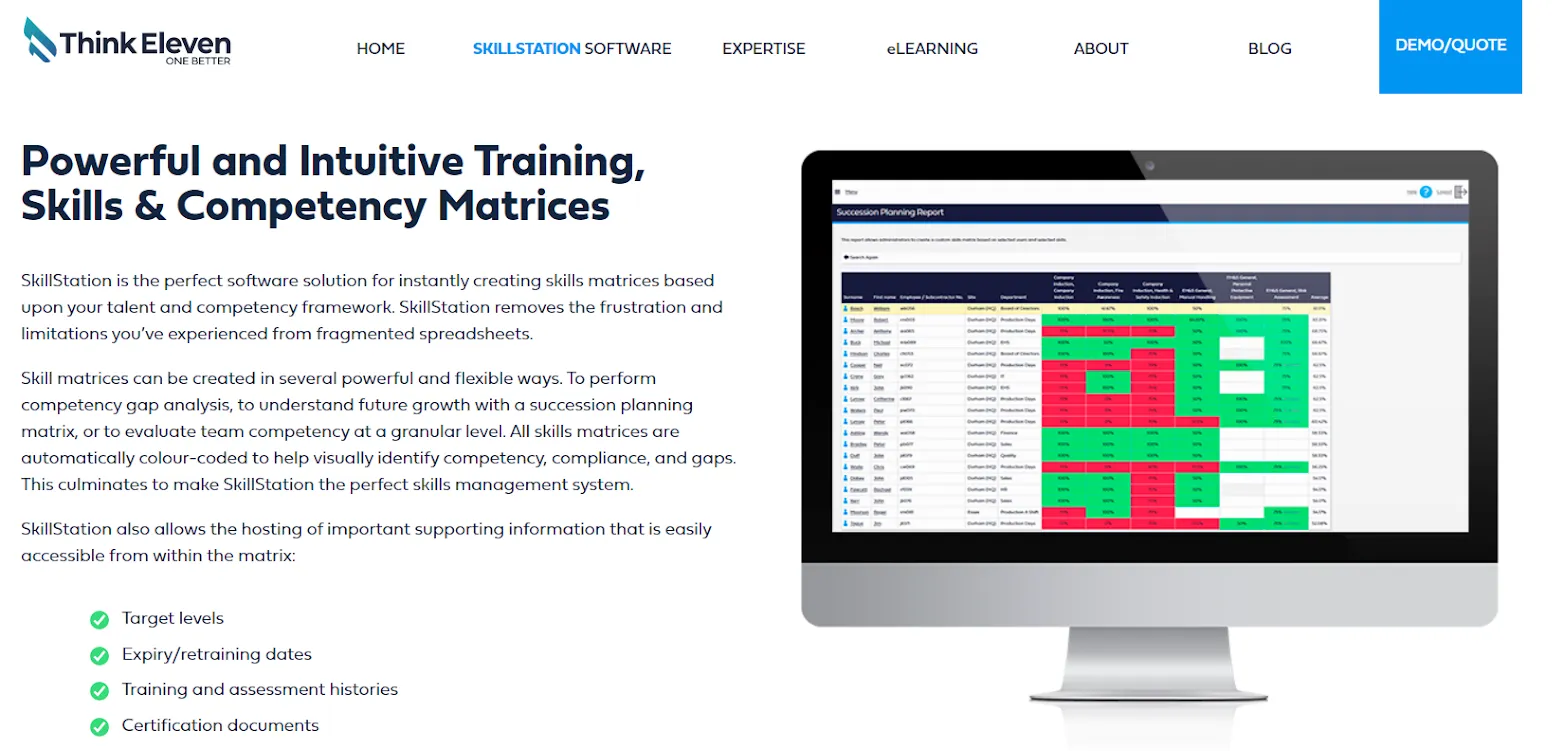 Think Eleven's SkillStation is an employee skills matrix software that instantly creates skills matrices based on your talent and competency framework, removing the frustration and limitations of spreadsheets and paperwork. It enables you to host crucial supporting information, which can be easily accessed within the same matrix. It also streamlines processes and provides a coherent all-in-one solution using which you get complete visibility into your training and development activities.
Features:
Creates skills & training matrices of any size

Chooses any combination of people, skills, job roles, or functions

Provides customizable or generic skill targets for individuals/job roles

Offers instant access to historical training & assessment data, certification, and evidence
Pricing: Not disclosed publicly
G2 Rating: NA
5. AgileValue

AgileValue's software solutions help organizations adapt quickly to ongoing market demands. It identifies how many team members must be trained to deliver success and monitors their critical skills and capabilities to ensure that the team has sufficient knowledge. It offers you spider diagrams that help you assess the learning potential of your team and how much progress they have made. It also enables you to monitor key skills and ensure that your team has sufficient knowledge.
Features:
Defines skill requirements and identifies the gaps

Visualizes progress

Improves collaboration

Supports the development of skills in the entire organization

Integration with JIRA for task management
Pricing: Not disclosed publicly
G2 Rating: NA
6. muchskills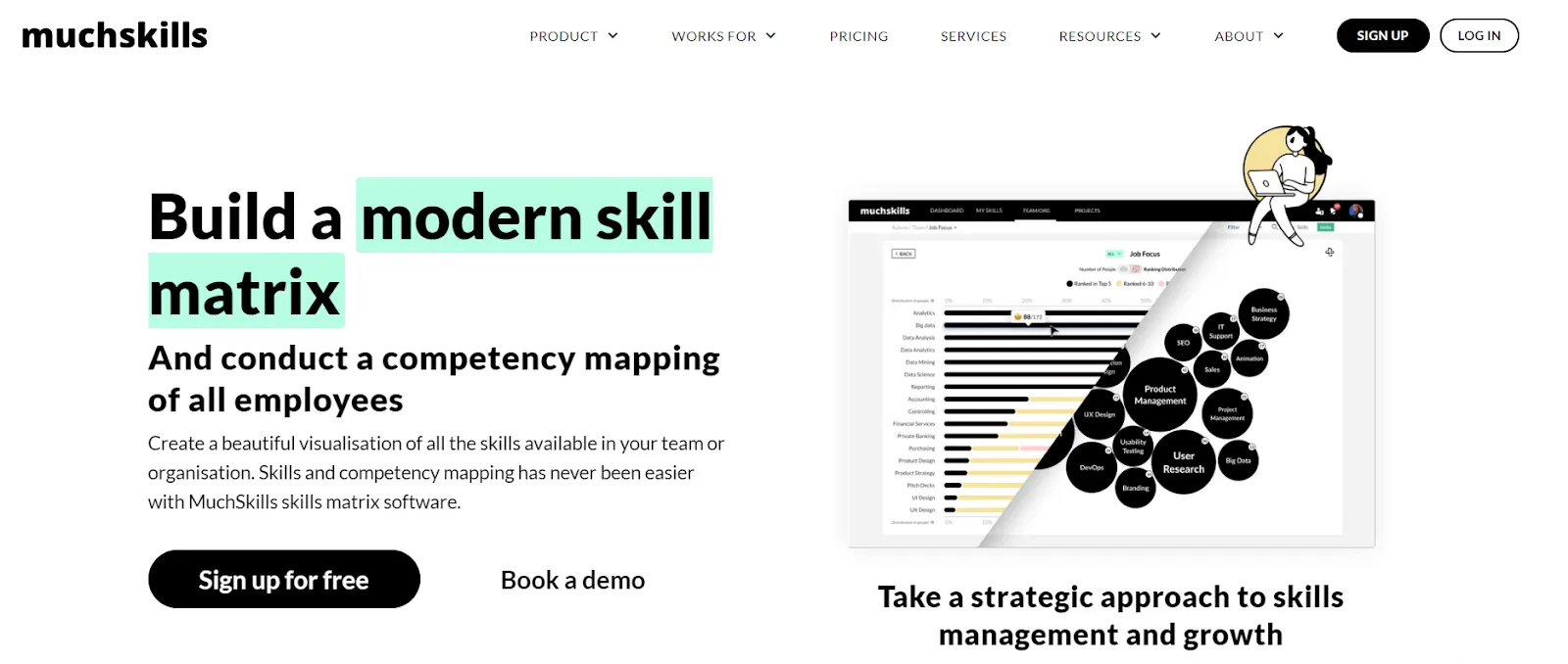 muchskills is a skills and strengths visualization tool that enables individuals and teams to improve productivity, engagement, and job satisfaction by evaluating skills and matching the right person for the right project. It visualizes the skills available in your team or organization and presents them using engaging modern skill matrices. It provides you with clear insights into the skills, competencies, skill levels, interest levels, certifications, skill distribution, and more while offering exactly what you need to build high-performing teams.
Features:
Skill & competency matrix

Certification tracking

Organizational chart

Skill gap analysis

Team builder
Pricing: Not disclosed publicly
G2 Rating: NA
7. Skill Metrics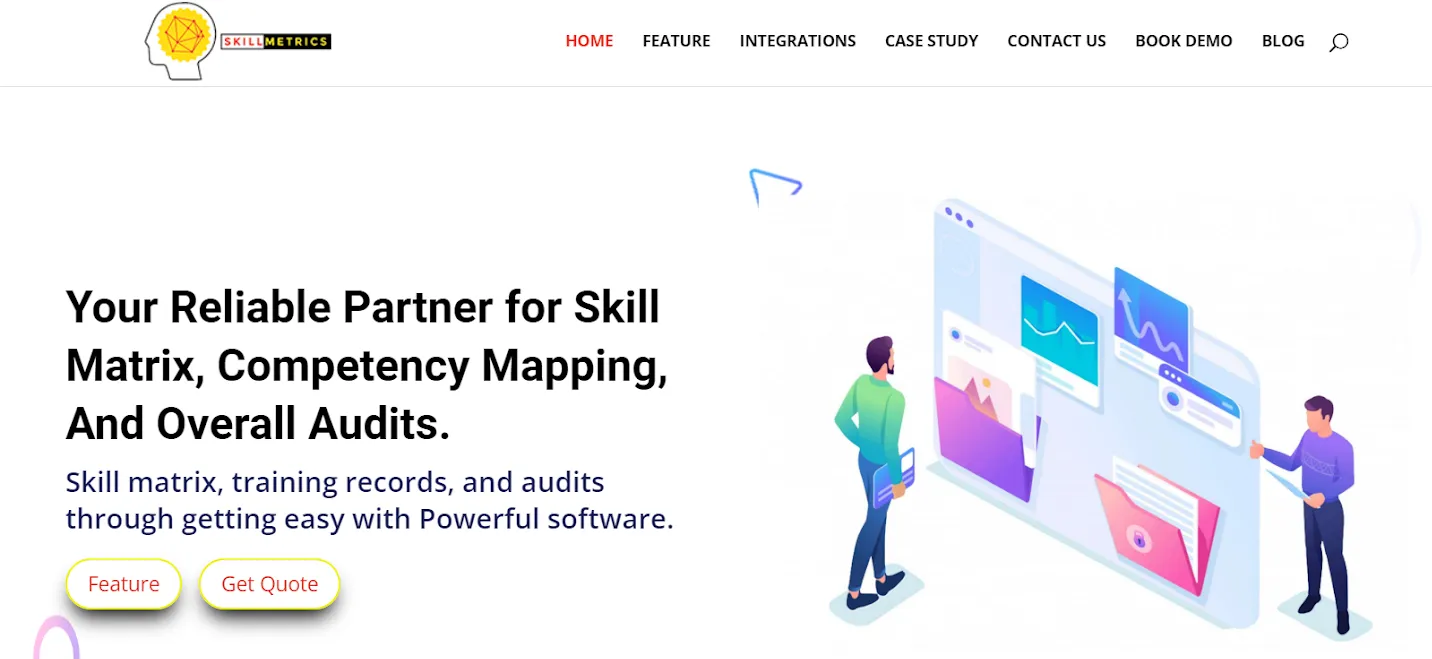 Skill Metrics helps you manage your organization's overall skills, competency matrix, and training records using advanced software that brings all this information in one place. It provides centralized support and reporting capabilities to eliminate spreadsheets and paper-based documents and forms and also enables you to plan and schedule. Using Skill Metrics, you can capture detailed proof of the training sessions, assessment activities, learning, competence, and compliance outcomes in real-time.
Features:
Unlimited records

Easy to manage

Powerful and intuitive dashboards

Department performance overview

Timely reminders
Pricing: Not disclosed publicly
G2 Rating: NA
8. Weeverapps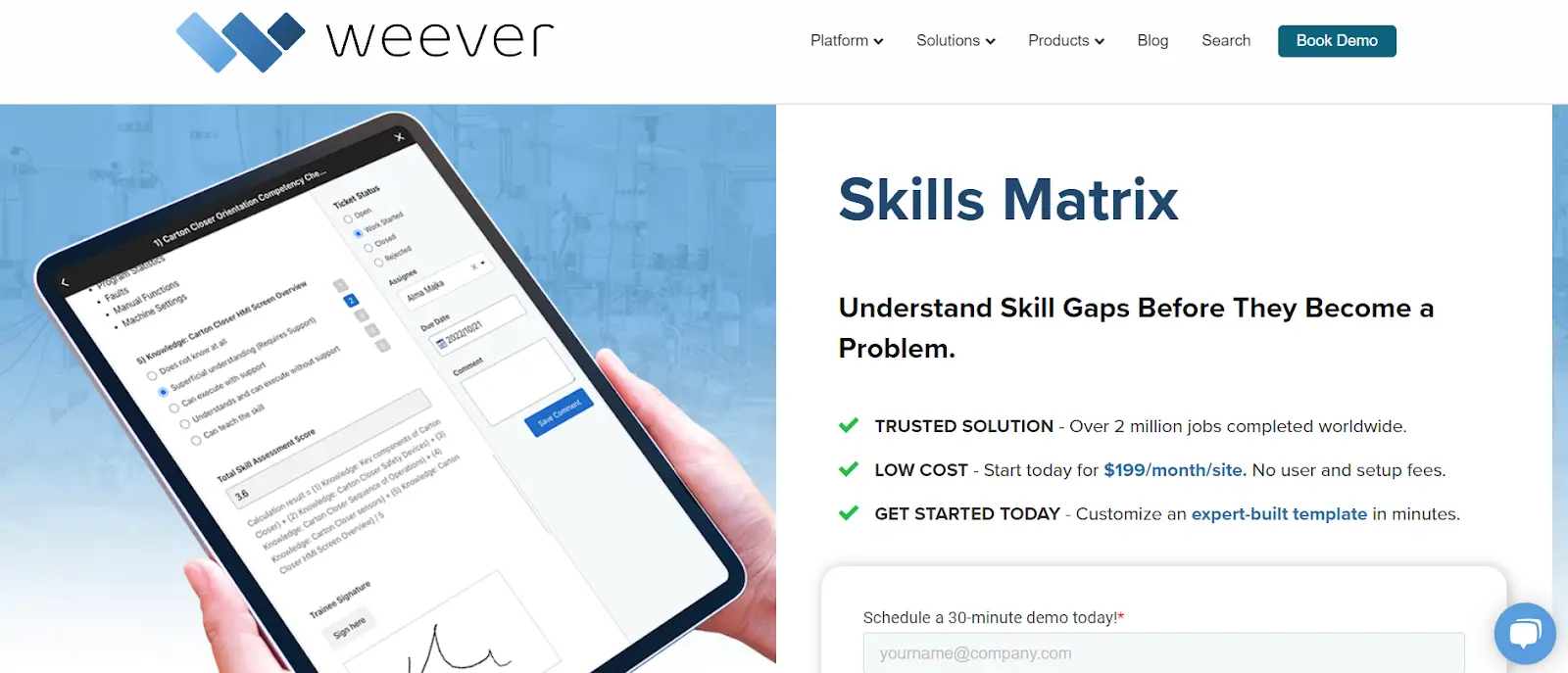 Weever is a cloud-based Workflow Management Platform that digitizes all workflows and helps you save money, become more efficient, and spend time more efficiently. Its configurable software platform reduces the cost and time associated with inefficient paper and spreadsheet-based workflows related to safety, quality, maintenance, production, continuous improvement, training, and compliance.
Features:
Customizable Templates

Dashboard Reporting

Automated Workflows

Schedule Management

Real-time Visibility
Pricing: Not disclosed publicly
G2 Rating: NA
Training Matrix Software
9. BIS Safety Software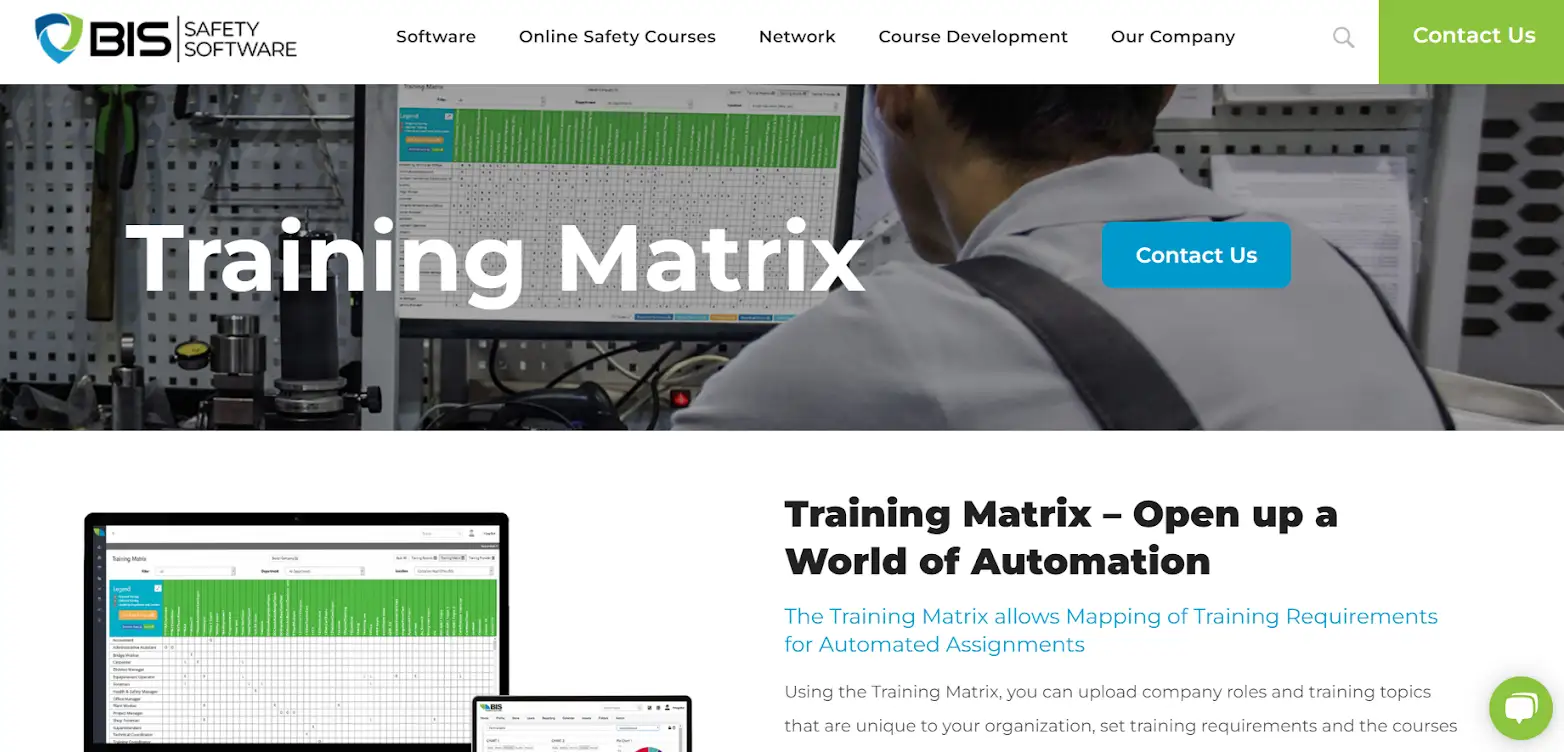 With BIS Safety Software's Training Matrix, you can upload custom company roles and training topics, set training requirements and courses, and quickly assign these courses to your entire team. It also has a robust competency management system that automatically triggers multiple levels of supervised assessments. You and your managers can validate and confirm competency on almost any task, equipment, or soft skill training.
Features:
Assign by location

Automate Notifications

Select training providers

Customize tests

Test competencies across different skills
Pricing: Not disclosed publicly
G2 Rating: NA
10. HandsHQ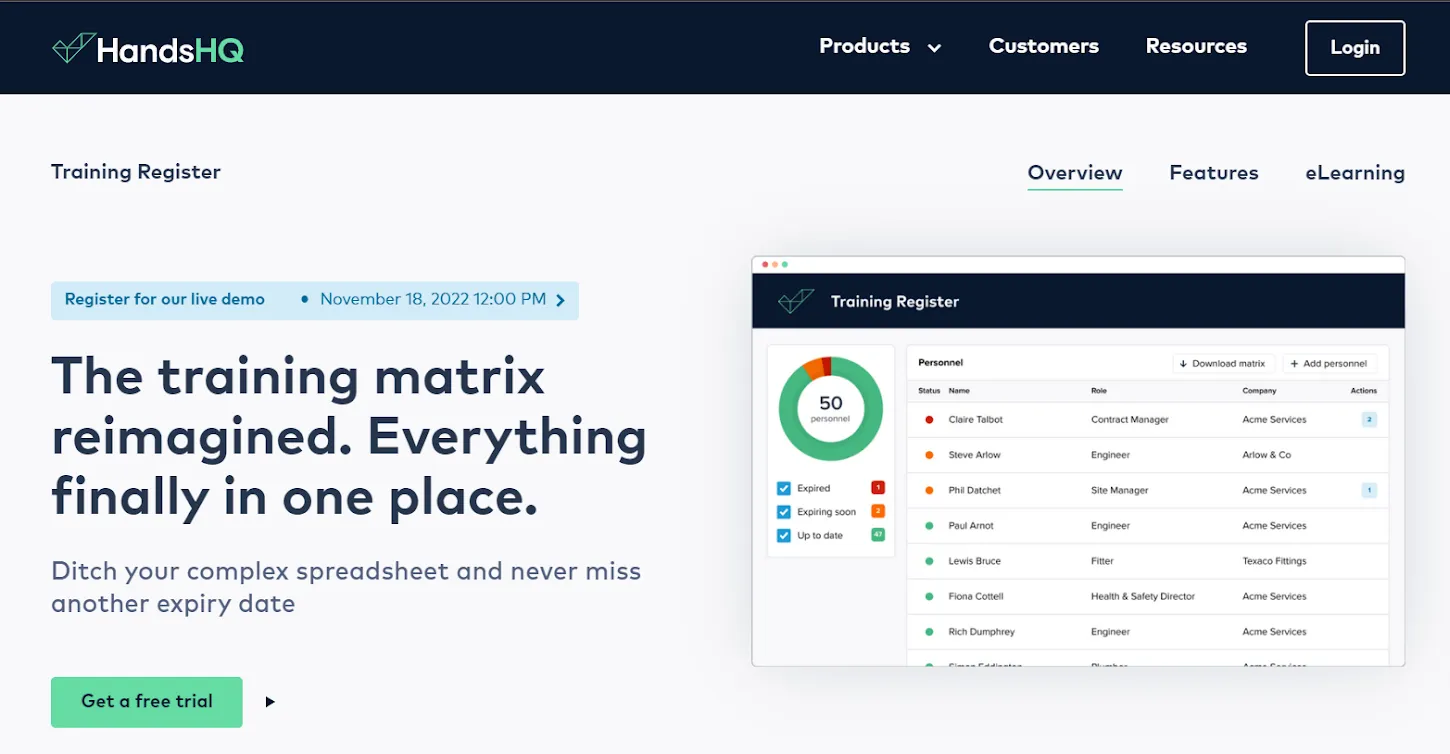 HandsHQ is a cloud-based risk assessment, and method statement platform explicitly built for high-risk work. Its purpose-built RAMS software allows you to create risk assessments, method statements, and COSHH assessments 80% faster than any other solution. With HandsHQ, you can map the training requirements of every employee and easily identify and resolve missing or expired training. It allows you to identify skills gaps and help employees who need training.
Features:
All training in one place

Training needs analysis

Split personnel by business and division

Distinguish between employees and subcontractors

Email notifications
Pricing: Not disclosed publicly
G2 Rating: NA
Role of Skills Level Assessment in Skill Testing
Skill assessment software such as iMocha plays an integral part in assessing the capabilities of your employees.
It provides you with the freedom to test job candidates' and team members' skills from wherever they are. You can design custom skill tests using an enormous skills library and analyze each candidate's qualifications through detailed reports and in-depth insights. Moreover, you can even use these tests at any level of an employee's lifecycle, be it for acquisition or talent development.
Skill assessment software, just like employee skills matrix software, helps you identify and resolve skills gaps that are there in your organization and enable hiring managers to simplify the screening and select suitable candidates for future job roles without bias or prejudice.
Frequently Asked Questions
What is Skills Matrix Software?
A skills matrix software uses a framework that maps employees' skills and levels. It's a grid that contains information about the skills that are available in a workforce and their evaluation. Skill matrices are generally used to manage, plan, and monitor existing and desired skills for a role, team, department, project, or entire organization.
Why Use Skills Matrix Software?
A skills matrix software generally addresses four key areas:
Project planning and staffing

Skills gap analysis and upskilling

Succession planning

Merger & Acquisition
Using a skill matrix, you can identify the overall competency level of your team, be prepared for future changes, get complete visibility of your team's performance and make more informed business decisions.
How long does it take to create a skills matrix?
The time required to create a skills matrix depends on how you make it.
One method can be using Excel, where you manually list all the related pointers and skill information and create a fully custom skill matrix.
The other way is to input all the relevant information into a skills matrix software and generate a skill matrix.
E.g., Let's say you need a software developers' skills matrix. All you'll have to do is:
Assess the skills which are required to complete a project successfully.

Evaluate your employees' skills and interests

Add the data into a table or a matrix

Map employees with the right skills

Use the skills matrix to identify training needs and allocate assignments