The year 2020 has been a whirlwind for a number of reasons. But where we see its impact is primarily in our external environment. The rapid technological shift, demographic and social shift, and, of course, the pandemic has significantly impacted the way we work.
Our research shows that technical dexterity, further propagated by Digital Transformation during the pandemic, has suddenly become vital for all roles. This doesn't just include the roles in IT, other functions, such as HR, finance, and support functions are also getting increasingly dependent on data analytics and technology. So, in the future, a round of technical screening isn't just limited to the candidates applying for tech-based jobs, but for any and every function.
From the skills employees need to perform their job and the tools they use to their relationship with their employers is experiencing a change. While some part of this includes upskilling the existing workforce and enabling them to lead the change, a lot is also dependent on the hiring strategy that your organization creates to face the continually-in-flux job market. It need not only be agile and future-proof, it must also consist of contingency and fail-safe plans to ensure you face the coming challenges head-on.
So how can you create a plan that sustains you and your organization in the next year?
Make it as realistic as possible
Earlier, one of the most significant factors that used to drive leaders and organizations, at large, is the financial implications. Revenue projections led the way. However, in this day of change and more change, that is no longer sufficient.
As recruitment leaders, you must also have conversations with your leaders about how your organization is looking at transformations the world is witnessing right now: would there be changes in the business model? what will it mean for your employees and the kind of work they do.
Today, the world has been thrusted towards digitization, so just having a macro-level understanding of its repercussions, such as its industry-level effect and economies, will prove to be detrimental. As recruitment leaders, you must help your leaders understand what the future trends mean for you. To do this, you need to probe your leaders to assess the shifts thoroughly before coming to a conclusion.
For instance, the world is looking at rapid automation across all industries. You can follow this template to gauge meaningful results: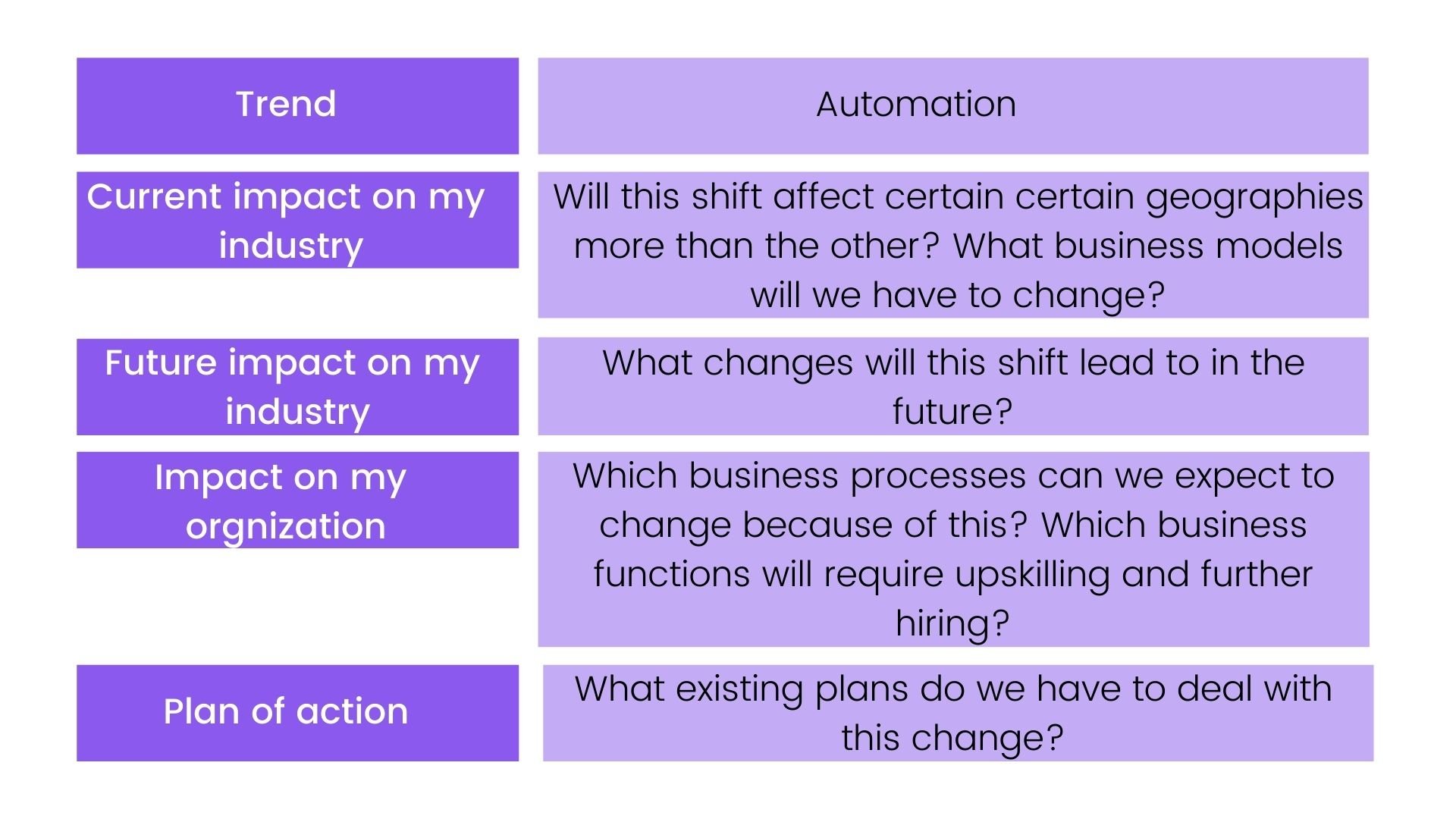 Understand how the roles are changing
Generally, recruitment leaders get the requirements on each role from their head of functions and business leaders. While their inputs are vital to understand the requirements, it sometimes fails to capture a detailed profile of the candidates required during this disruption.
Each role is changing; the roles are more and more skill focussed; and the workspace is more matrixed than ever. All employees work with varied functions and departments, have multiple stakeholders, so the hiring managers alone do not have complete visibility about each role. So, it is important for you to have an understanding of how the roles are changing as well.
Depending on that understanding, you can offer your organization the following framework of role change:
Preservation method

If the role isn't changing significantly, you may keep the role and title as is. While doing so, you'll have to keep an eye on how the role is changing further. Keep a tab on the future trend forecasts.

For instance, the role of a marketer is getting more and more tech based, depending on where this role is leading in the future, you can introduce a technical assessment test for the future and existing employees.

Enhance method

If some of the skills required for the role change, keep the role and title as is but introduce the new requirements to your existing talent. You'll need an active participation from your L&D managers for this purpose.

Eliminate method

If most of the skills required to perform a role change, eliminate the role and title. However, elimination of title does not mean elimination of the talent as well, it merely means there will be considerable upskilling. For instance, if automation has led to the elimination of a role, upskill your existing staff and introduce IT skill assessment at every part of the process.
Create and iterative environment
2020 has made the work more unpredictable than ever. No one could have anticipated the workplace shifts and digitization in the beginning of the year. The uncertainties (both external and internal) and unpredictable nature of the work makes it impossible to have a linear hiring strategy.
To create a future-proof strategy, you must create a strategy with multiple possible scenarios and outcomes - this kind of planning is known as scenario planning. This process encourages decision makers to envision possible outcomes in different environments and introduce flexibility in your strategy.
This will help you in making ground-level changes in your strategy as well. For instance, depending on the changing functions of each IT professional, you'll understand which IT skill assessment test you need to introduce.
As the world of skills is shifting, it means you need to also focus on skills more than academic merit and background. Moreover, 2020 has proven that location isn't a limiting factor anymore; each candidate can be assessed and onboarded from any corner of the world. So make sure you factor these practices in and create a truly future-proof hiring strategy.