Did you know each bad hire can impede the growth of an organization by 5%? Therefore, investing in the wrong employee is the costliest mistake recruiters can make!
Employees are the most substantial assets to an organization. They are the ones that work effectively and rigorously to uplift any organization. Therefore, regardless of your firm's size, startups, SMEs, or MNCs, every business needs skilled employees to achieve further steps.
But how do you hire the perfect fit for your business every time? By using top talent assessment tools.
Talent acquisition assessment tools are the way to keep your organization's skills level at par, cut time-to-hire, attain a competitive edge, and manage expenses.
Top 10 Talent Assessment Tools Globally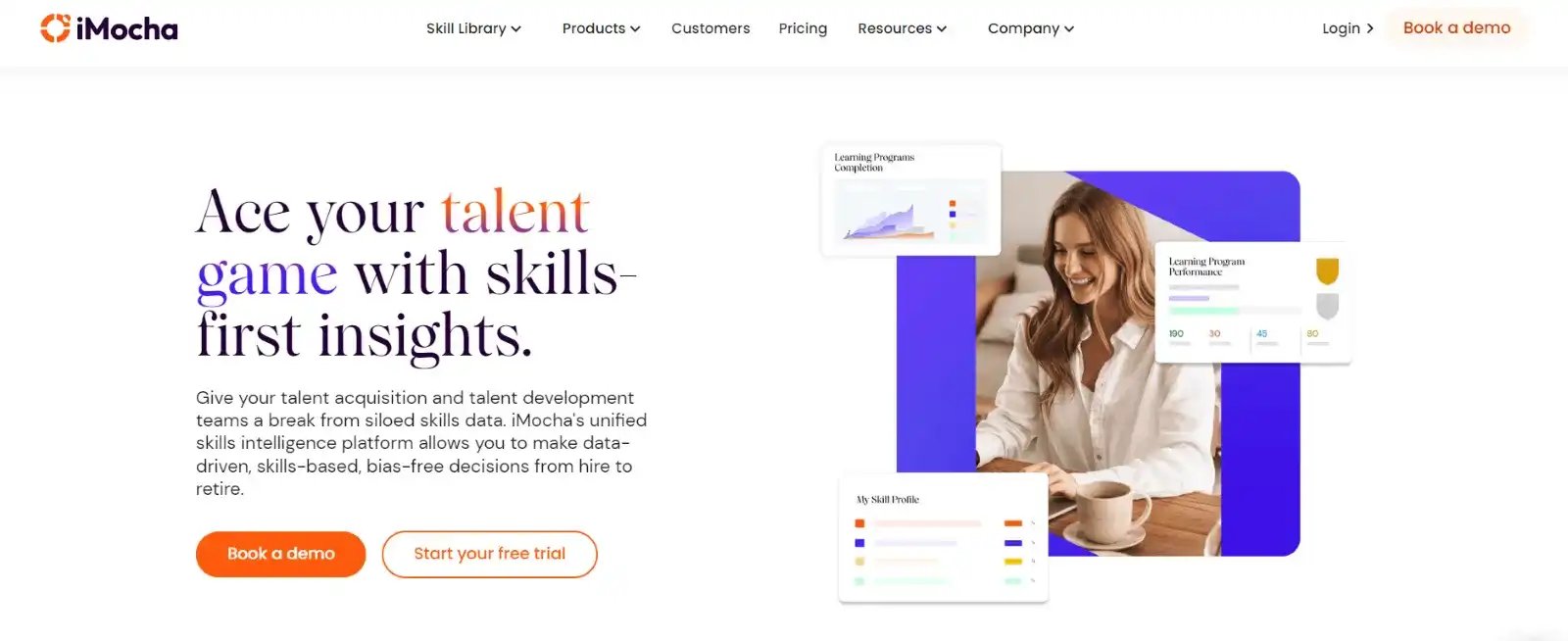 Founded in: 2015
Founded by: Amit Mishra and Sujit Karpe
Website: https://www.imocha.io
Key Highlights
A.I. LogicBox: It helps assess candidates' coding skills for languages like C#, Java, SQL, C++, etc., where compilers are unavailable. It enables talent professionals and hiring managers to focus on a candidate's functional and technical skills rather than theoretical ones.
Types of Assessments: Coding assessments, role-specific skills, cognitive ability, communication skills, analytical and technical assessments.
iMocha began as a video interviewing software but quickly realized a more significant problem to solve: the skills gap. iMocha has worked significantly on its talent acquisition platform, which provides talent analytics, candidate benchmarking features, and more.
In addition, their talent management tool helps organizations for learning and development initiatives by utilizing the Kirk Patrick model as a reference to measure the return on investment (ROI) of your learning efforts.
Presently, iMocha offers two main products: Talent Acquisition and Talent Development.
Pros of iMocha:
It evaluates post-training skills, including project readiness, upskilling, reskilling, and new joiner training.

The platform allows businesses to properly evaluate candidates and staff, which is crucial for identifying and comparing candidates' skill levels to industry and business requirements.

With evaluation needs for current, job-based, and futuristic digital abilities, iMocha's product, platform, and custom services are suitable for all sectors.
Cons
iMocha does not conduct psychometric tests.

Coding compilers are not yet available for some languages.
iMocha's Clients: H.P, Fujitsu, Mindtree, TCS, Reliance JIO, Wipro, Capgemini, Cognizant (US & Australia), Deloitte- India, Ericsson, ABSA bank.
When Satya Nadella talks about the innovation brought by iMocha, one of the Best Assessment Tools.
2. Codility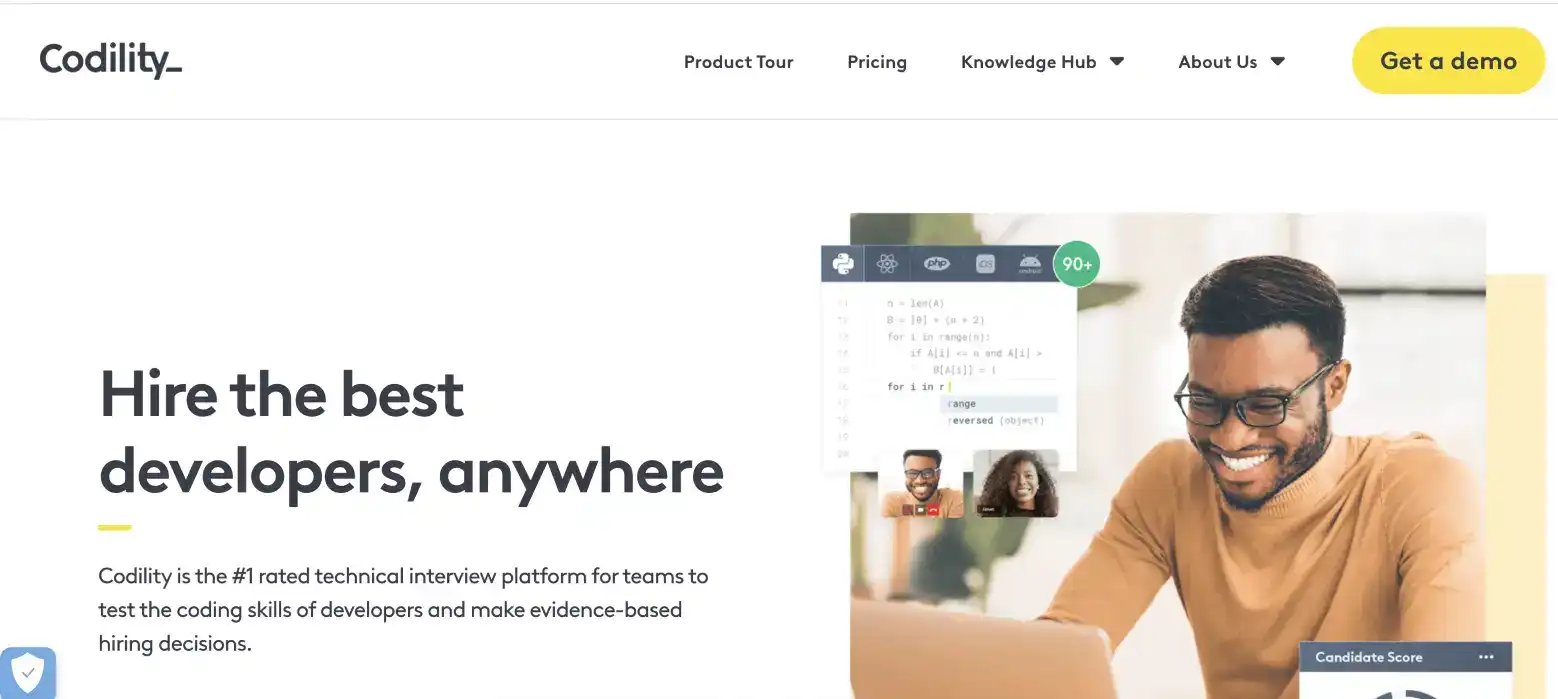 Founded in: July 2009
Founded by: Greg Jakacki
Key Highlight:
Top Programmers' Recruitment Platform: With Codility, you can evaluate and hire top coders across the globe.
Types of Assessments: Role-specific assessments, aptitude, cognitive abilities, and technical
Pros of Codility:
The user can practice and evaluate their coding skills with the help of the lessons and challenges, and the assessment summary clarifies the areas they need to improve and the areas they are doing well.

Codility helps you design a set of coding challenges using software that is appropriate in terms of difficulty for the type of hire. It can also catch cheating, which has been immensely valuable for weeding out applicants we don't want. After using the software for a while, you can compare various candidates.
Cons of Codility:
There are no anti-cheating measures built into Codility platform, such as video monitoring, image proctoring, etc. Therefore, users can easily copy and paste solutions from other web pages into their Codility assessments.

The lack of a debug pane (a tool that helps rectify all the errors in software) makes it harder to conduct tests for the users.
Clients: Unity, Zalando, PayPal, American Express, Intel
3. HackerRank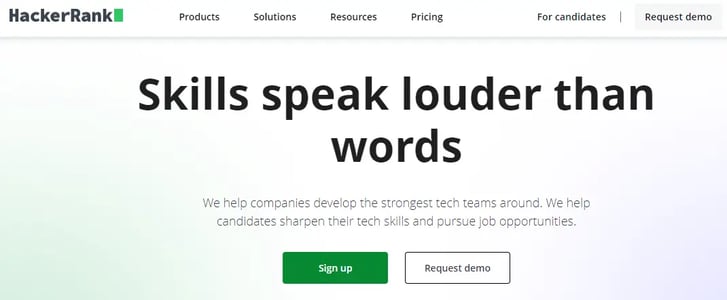 Founded in: 2012
Founded by: Vivek Ravisankar and Hari Karunanidhi
Key Highlight:
Multi-lingual: The candidates can use the HackerRank interface in 40 different languages.
Types of Assessments: Role-specific assessment, aptitude, cognitive abilities, technical
Pros of HackerRank:
Hackerrank is a phenomenal talent assessment tool for all, from novice to expert coders. It recently introduced certificate programs that increased the portal's level of competition and encouraged happy coding among all users.

It provides an effective online compiler and code editor.
Cons of HackerRank:
One of HackerRank's shortcomings is the lack of coding assessments; it needs to add more coding exercises and languages such as Java and C#.

HackerRank is not a mobile-friendly application.

It is a very pricy assessment tool.
Clients: Badoo, Canva, Clumio, Dropbox, Enel
4. Aspiring Minds
Founded in: 2008
Founded by: Himanshu and Varun Aggarwal
Key Highlight:
First Standardized Employability Test in the U.S.: Aspiring Minds was the first and one of the most accurate talent assessment tools that brought the concept of standardized employability test to the U.S. for the first time. It tied up with various universities and companies and employed candidates for 90% of available jobs.
Types of Assessments: Language, Cognitive, technical, and functional assessment.
Pros of Aspiring Minds:
Real-time evaluation to see how a candidate approaches a coding assignment in a virtual live session.

A.I. to aid in the automated assessment of facial detection, hence preventing cheating.
Cons of Aspiring Minds:
Aspiring Minds does not yet feature cognitive and aptitude skills (which are considered superior skills during the hiring process).

Aspiring Minds does not provide insights into clients' assessments.
Clients: Tata Motors, SBI Life, Huawei, Titan, Microsoft
5. eSkill
Founded in: 2002
Founded by: Eric Friedman
Key Highlight:
Application Tracking System integrated with ERP: eSkill has an Application Tracking System integrated with ERP (Enterprise Resource Planning), which allows for screening candidates, parsing resumes, and hiring more efficiently and quickly.
Types of Assessments: Role-specific skills, aptitude, language, technical, cognitive skills, personality & culture assessment.
Pros of eSkill:
Their pre-made assessments cover almost everything, from general skills to job positions, with excellent attention to detail.

Based on industry and market demand, eSkill has a comprehensive library of assessments.

Making a test using eSkill's pre-loaded questions is simple. An old test can be copied and then customized or modified to make it more appropriate for the current recruitment.
Cons of eSkill:
Test model payment is absent. Monthly or smaller test packages are not available for purchase. The entire model, which is more than you require, must be purchased annually.

Navigating the results platform is challenging due to its complex U.I.
Clients: FedEx, L.G., Coca Cola, Western Union, Paycheck
6. HireVue
Founded in: 2004
Founded by: Mark Newman
Key Highlight:
Organizational psychologists' verification: Organizational psychologists at HireVue have identified dependable elements that enable you to impartially and objectively assess candidate potential. HireVue enables you to make the best hiring decisions, without any unintentional human bias, by prioritizing candidates based on job-related criteria and removing factors contributing to bias.
Types of Assessments: Psychological, cognitive skills, role-specific assessment, personality tests.
Pros of Hirevue:
Flexible UI/UX streamlines the hiring procedure for the H.R. and recruiting teams.

If you want to save on labor costs and do pre-screening interviews, HireVue is the best choice.
Cons of Hirevue:
Not everyone can afford HireVue.

The video quality of HireVue is low-grade, which leads to disruptive interviews.
Clients: Smartlynx, Amazon, Beacon, The Co-operative Bank, The Foxtel Group
7. TestGorilla
Founded in: 2019
Founded by: Wouter Durville and Otto Verhage
Key Highlight:
The perfect mix of aptitude and skills test: To give candidates a more streamlined testing experience, TestGorilla makes a customizable test to mix personality assessments with technical skill tests.
Types of Assessments: Job-specific assessment, critical thinking assessment, language assessment, cognitive ability assessment, personality and value test.
Pros of TestGorilla:
Assessment difficulty is balanced.

TestGorilla provides many valuable skills like culture fit, mental aptitude, and other basic skills.
Cons of TestGorilla:
No virtual customer service is provided by the team TestGorilla.

No video proctoring analysis is available.
Clients: Majorel, H&M, Public Groupe, Oracle, Bain & Company
8. Wonderlic

Founded in:

1937
Founded by: E.F. Wonderlic
Key Highlight:
Extensive Experience: Wonderlic has served the recruitment industry as one of the top assessment tools for over 85 years. This talent assessment tool has great anticipatory powers and data to prove them.
Types of Assessments: Cognitive ability (Wonderlic Personnel Test), personality assessment, Cognitive Ability, and motivation assessment.
Pros of Wonderlic:
It provides a cognitive, motivational, and personality rating that can be critical for employers during the Personal Interview process.

This tool is the best fit for businesses or RPOs with high volume hiring for front-line positions like retail, sales, customer service, contact center, airline, and graduate.
Cons of Wonderlic:
No customer support.

It takes an excessive amount of time to complete Wonderlic assessments.
Clients: Aveda, Duracell, Subway, Sedgwick County, Champion Auto
9. HackerEarth
Founded in: 2012
Founded by: Sachin Gupta
Types of Assessments: Aptitude test, technical assessment, role-specific assessment, programming test.
Key Highlight:
FaceCode: HackerRank released FaceCode as a standalone solution for remote developer interviews during the pandemic. It is a potent note-taking tool and audio transcriber that facilitates quick speech-to-text conversion. Overall, these automated features have streamlined the interview process.
Pros of HackerEarth:
HackerEarth guarantees career growth and the best hiring process.

It provides appropriate assessment scores along with detailed reports of assessments.
Cons of HackerEarth:
HackerEarth is a niche-limited assessment tool.

The question level is not up to the mark.
Clients: Dunnhumby, Walmart, Inuit, Wells Fargo, Amazon
10. Mercer Mettl
Founded in: July 2009
Founded by: Tonmoy Shingal
Key Highlight:
Assessment for all: Mercer Mettl is one of the most diversified talent assessment tools. It assesses almost everyone, including coders, retailers, engineers, finance geeks, and even delivery personnel.
Types of Assessments: Psychometric, behavioral, aptitude, technical, communication skills
Pros of Mercer Mettl:
It assists in identifying the top applicants from the pool of those interviewed. Additionally, many designation-related tests are provided, which improves matchmaking.

The ease with which Mercer Mettl can comprehend the competencies using graphs and personal information about the competencies helps organizations finalize the suitable profiles for the jobs.
Cons of Mercer Mettl:
Each assessment has no AVG Score (local or global standard).

Mettl has complex U.I. leading to wastage of time.
Clients: Ghent University Global Campus, MakeMyTrip, Workforce, Gulf University, NASSCOM
FAQs about Talent Assessment Tools
What is Talent Assessment?
In a nutshell, it is one of the crucial aspects of the hiring procedure. With an unprecedented surge of skills in the market, talent assessment helps H.R. managers and recruiters save time and effort during the acquisition process.
Talent acquisition assessment tools assume significance when hiring a skilled, potential job-fit employee among hundreds or thousands of candidates.
What are some best talent assessment tools?
Finding the best talent assessment tool is one tricky part. As an H.R. manager or recruiter, you must evaluate various aspects, including budget, effectiveness, easy adaptability, etc.
After analyzing various talent assessment tools, here is the list of the best ones:
iMocha

Mettl

Codility

HackerRank

Aspiring skills
Are talent assessment and talent development the same?
Talent assessments can give insight into areas where the business needs to supplement its existing talent pool and identify areas where current employees are succeeding or need to progress.
While talent development can offer a solution to close staffing gaps and foster individual employee growth.
iMocha provides both talent assessment and talent development for your business.
What type of businesses should use iMocha as their talent acquisition tool?
Our talent acquisition tool is available for all businesses. We have worked with Fortune 500 and Global World Enterprises in various sectors. Our services have proven to be of great help for I.T., Telecom, ITES, BFSI, and Automotive to be more precise.
Are talent acquisition and hiring the same?
No, talent acquisition and hiring are not the same. Unfortunately, talent acquisition and recruitment are often confused.
In the first place, recruitment refers to finding potential candidates—perhaps anyone—to fill vacant positions. While an assertive search for potential experts determines talent acquisition, executives, and other competent individuals for an organization.
iMocha reduced Fujitsu's dependency on the technical team by 50% and accelerated employee hiring: Read More