Talent management is a process that involves methodically organizing strategic processes like recruitment, hiring, onboarding and skill development to attract and retain the right talent. But at the same time, it also involves ensuring that the business goals and objectives remain intact and get fulfilled timely through the processes. Owing to the extensiveness of the process, it often gets overwhelming for HR departments to carry out all the functions in a streamlined manner.
This is where the importance of talent management tools comes into play.
Statistics reveal that talent management accounts for as much as 70% of the variance in employee engagement at an organization.
A talent management tool is a comprehensive solution for your talent needs, from acquisition to development within the organization. A good tool can do everything from ensuring employee engagement, supporting upskilling and reskilling programs, succession planning, increasing diversity and inclusivity, and measuring workforce performance at scale. You must also be aware of the top 10 talent development tools available in the marketplace today.
But how do you choose the right talent management software when so many options are available? In this article, we're listing down the top 20 talent management tools based on their feature set, G2 rating and pricing.
Top 20 Talent Management Tools to consider in 2023
Talent Management Tools for Acquisition and Development
#1 iMocha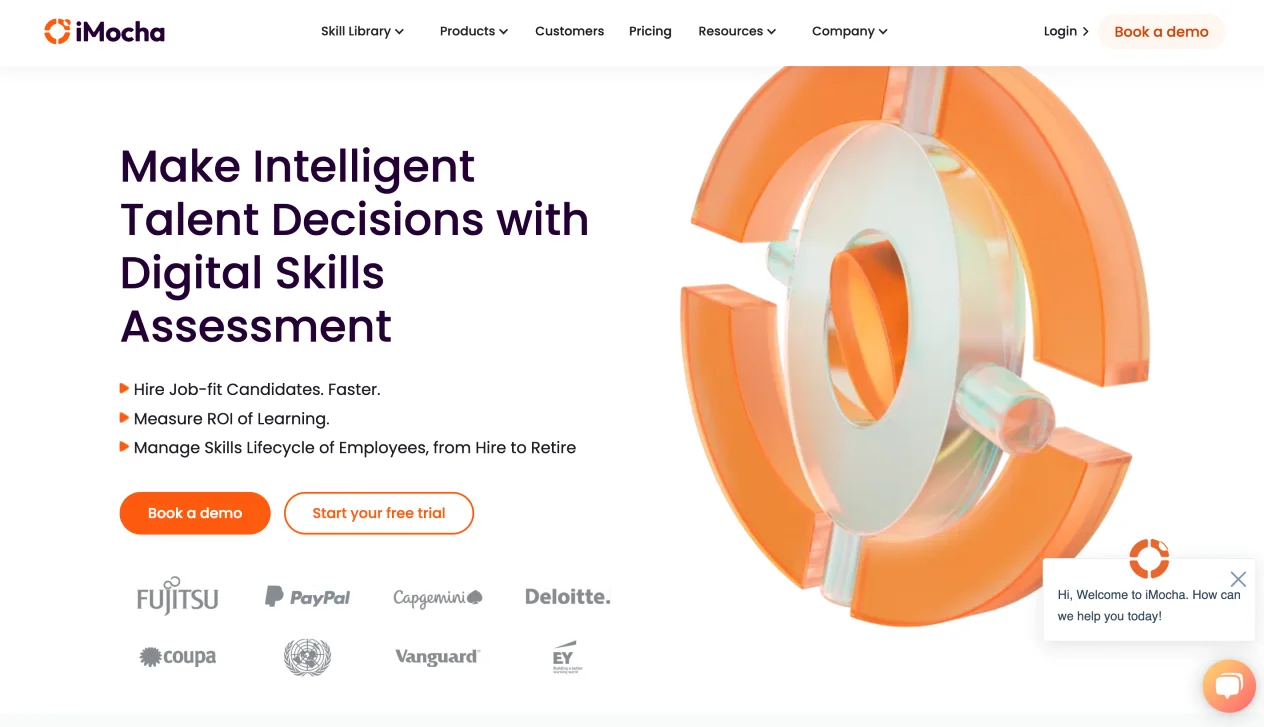 iMocha is a one-stop solution for all your talent management needs. It's one of the best talent management tools that provide out-of-the-box solutions for improved talent acquisition and development. It comes with the world's most extensive skills assessment library to assess IT, coding language, cognitive, next-gen, and other skills, along with AI-powered talent analytics to make data-driven decisions.
With iMocha, you can recruit the best talent and enable your existing employees to get upskilled or reskilled in their preferred domains.
What's good about iMocha's talent management software features?
Reduced attrition by helping employees develop their skills from day one and clearing any skill gaps by allowing

opportunities for upskilling

.
iMocha's exceptional coding simulator like the patented AI-LogicBox assess functional programmers for skills.

Fasten your recruiting process using

AI-driven proctoring

measures to avoid malpractices during

hiring

.

Talent management tools like

better candidate tracking

to make the right hiring decisions quickly using valuable insights

An exclusive self-assessment portal where your employees track and measure their skill proficiencies and work to improve them.

The Smart Video Proctoring feature helps organizations prevent candidates from cheating, ensuring integrity.

A more streamlined process to make onboarding faster so that no top talent quits due to long wait times.

You can evaluate the job-readiness of graduates during

virtual university hiring or campus hiring drives

by creating customized assessments or using pre-built ones.
G2 rating: 4.4 (184 reviews)
Price range: Price on request
Recruiting Software
#2 Recruitee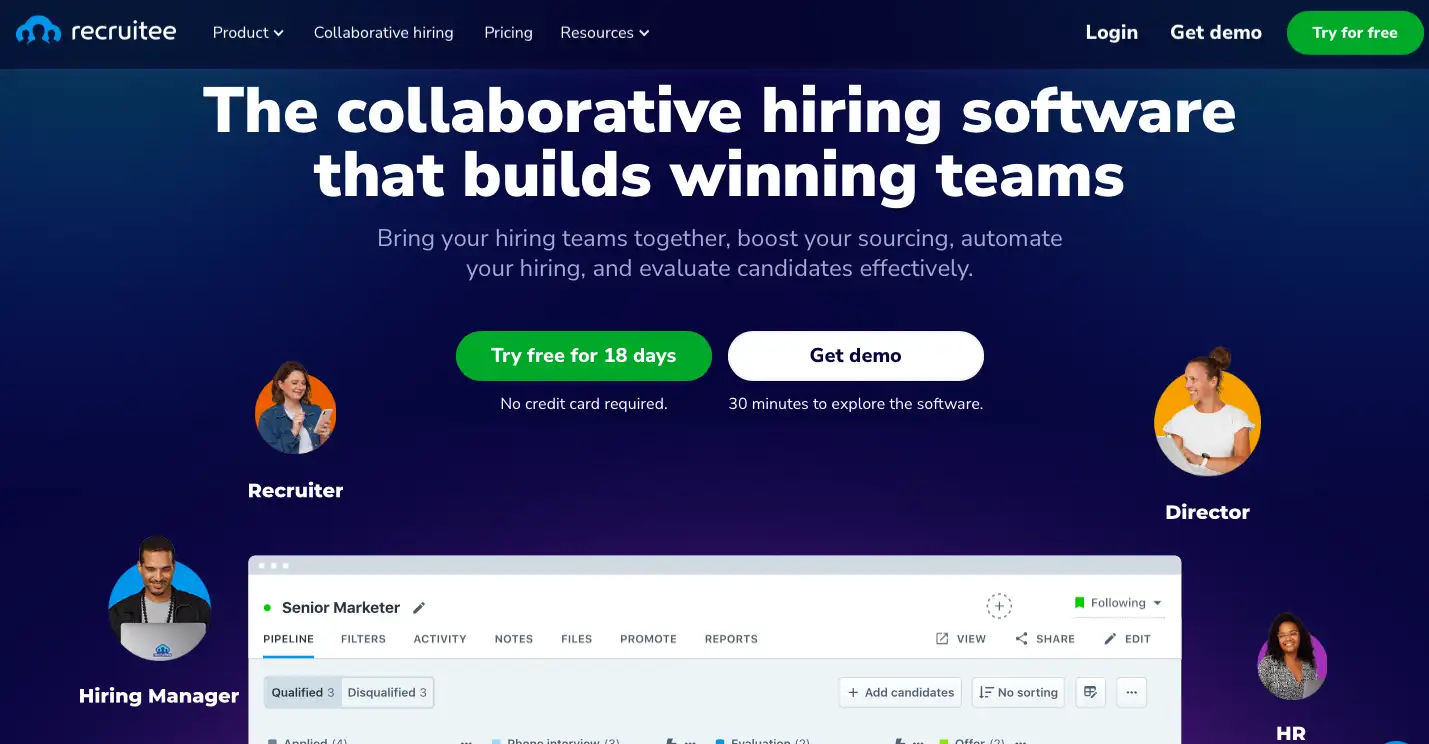 Recruitee's collaborative hiring platform provides an intuitive interface for HR teams to hire faster. Using the user-friendly interface of the talent management solution, your internal HR teams can collaborate seamlessly, make hiring decisions quickly, and evaluate candidates on the go.
What's good about Recruitee?
One interface to team up HR teams and hiring managers and communicate instantly to reduce the hiring time

Reduce manual effort by building custom pipelines to automate recruitment and attract and source top industry talent

Evaluate candidates effortlessly and track performance using customized reports

Improve talent sourcing with Recruitee's innovative campaigns that help share open positions across multiple job boards such as Indeed, Google jobs, etc.
G2 rating: 4.5 (337 reviews)
Price range: Starts from $109/month
#3 Paycom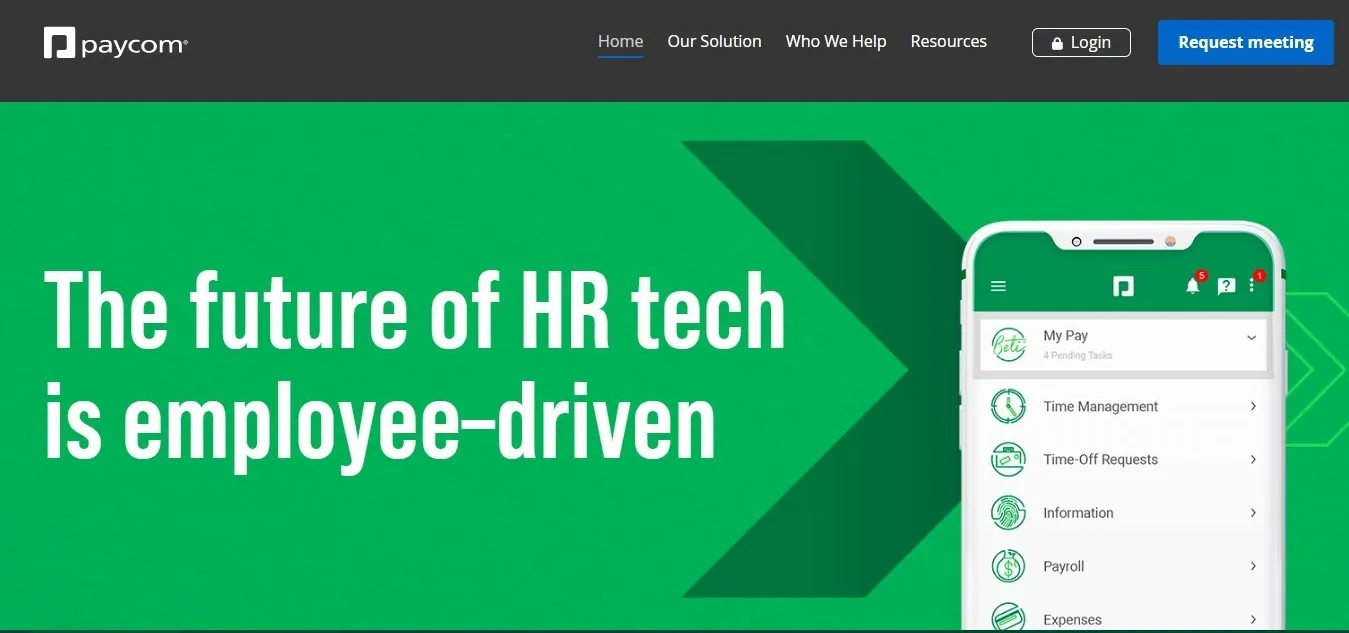 Paycom provides a complete employee-management solution and helps retain top performers using its solutions in compensation budgeting, performance management, learning platform, and more. The talent management software helps a wide range of industries, from small to large, and provides exclusively tailored solutions for each business size and challenge.
What's good about Paycom?
Helps automate recruitment processes and improves your internal hiring process using tools such as Manager On-the-go

Improve transparency and elevate employee engagement using tools like Ask Here and Paycom Surveys. These let your employees share their thoughts and feedback

Stay organized and eliminate manual effort with an in-built document management system

Paycom provides tools like Applicant Tracking and E-verify to fasten your acquisition methods and fast-track hiring
G2 rating: 4.2 (1005 reviews)
Price range: Custom pricing
#4 SeekOut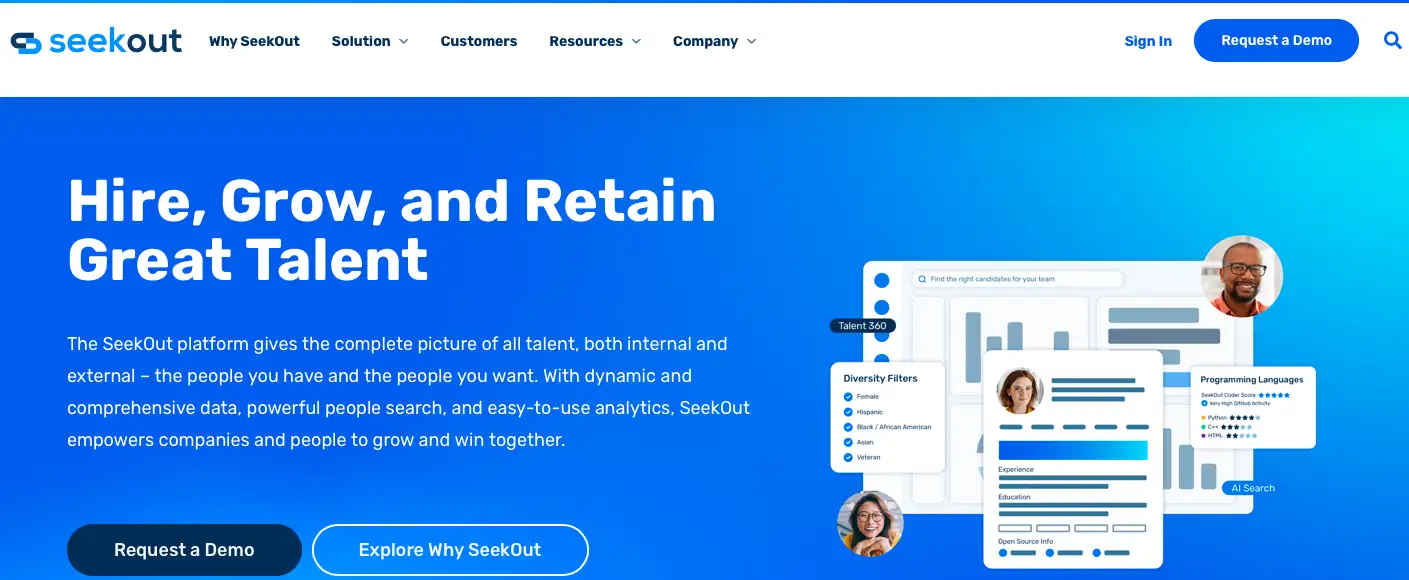 If you're looking to improve your new and existing talent using powerful analytics and proven data, then SeekOut is an excellent talent management and recruiting software for you. SeekOut Recruit provides advanced search capabilities that help you find specialized candidates. With this solution, you can diversify your teams and avoid bias.
What's good about SeekOut?
Hire rare talent using SeekOut Recruit's advanced search options and build comprehensive profiles

Explore SeekOut's talent pool of millions of highly-qualified candidates and hire efficiently

Improve diversity and eliminate bias by creating an easy data-driven hiring strategy through the in-built talent management tools

Retain your top talent using SeekOut Grow, a people-first platform that helps develop your workforce and advance their career goals
G2 rating: 4.5 (582 reviews)
Price range: Custom pricing
#5. TalentReef
Looking to hire part-time or gig workers? TalentReef is an hourly hiring platform that offers optimized solutions to streamline your hourly recruitment processes. The talent management system lets managers quickly and efficiently hire, onboard, and develop their hourly employees with customized workflows.
What's good about TalentReef?
Super simplified hourly recruitment and talent management platform to accelerate hiring gig and seasonal workers

Exclusive manager dashboards offer quick access to rate candidates and make well-informed hiring decisions

Spend less time reviewing and scraping through hundreds of applicants. TalentReef's talent management tools show best-fit candidates and automates the interview scheduling process
G2 rating: 3.9 (40 reviews)
Price range: Custom pricing
#6. Cegid
Cegid Talentsoft is an all-in-one talent management solution with a comprehensive suite of HR solutions, all under one platform. The platform offers multiple tools that help you manage talent and optimize your workforce management. Not just talent, Cegid lets you plan your salaries based on current budgets using key insights.
What's good about Cegid's HR talent management software features?
Helps source high-quality candidates and provides ways to improve your communication with potential hires

Offers excellent onboarding experience, so potential employees build a better relationship with your company and increase joining possibilities

Current employees can share open positions with their LinkedIn followers with just a click

Empower your employees by offering new training in next-generation skills

Offers a talent management matrix that helps you measure individual and team performances and identify the next steps
G2 rating: 3 (1 review)
Price range: Custom pricing
Talent Management Tools for Development, Training & eLearning
#7. Cornerstone OnDemand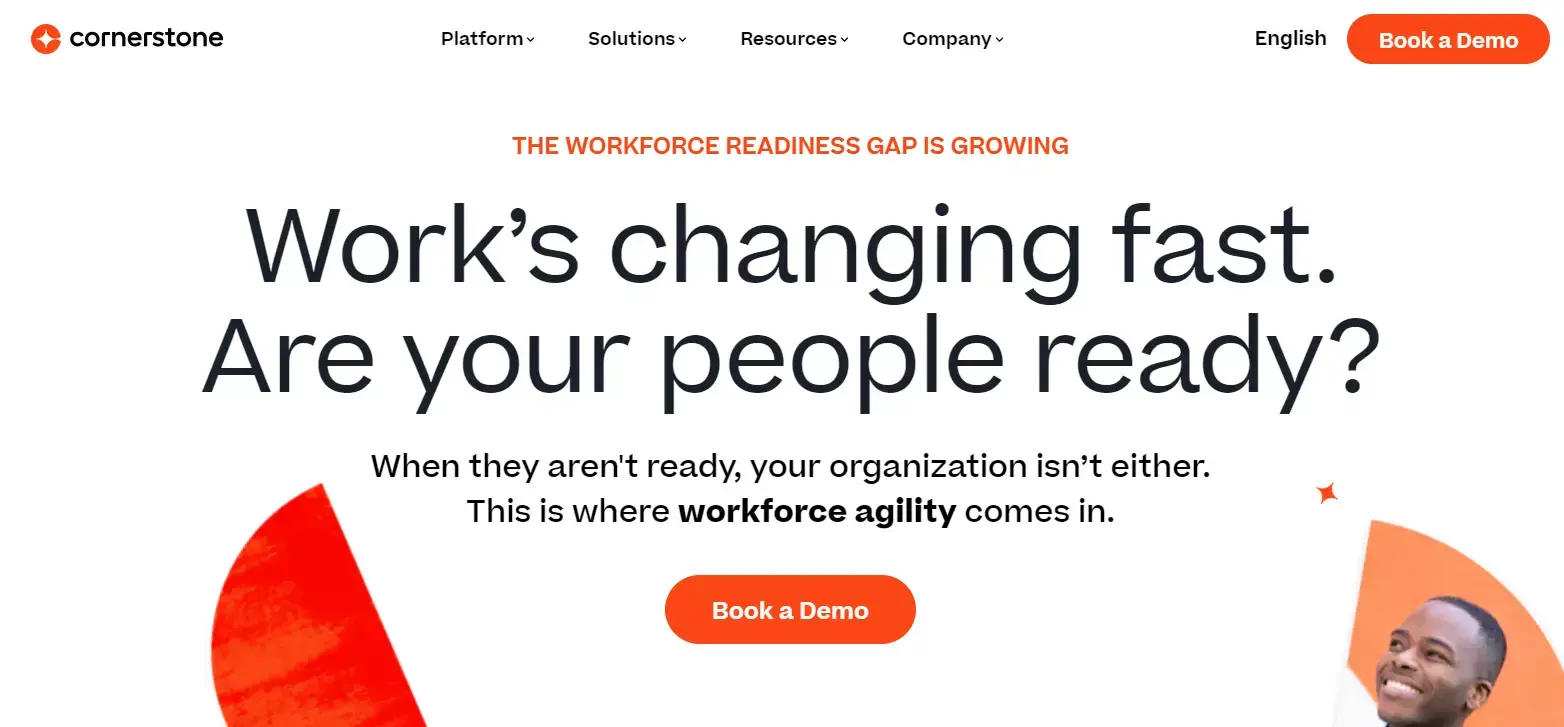 The cloud-based platform - Cornerstone OnDemand helps transform your HR operations and offers complete solutions for training your workforce, recruiting, performance monitoring, learning, and data management. The talent experience platform provides growth-centric employee learning opportunities and helps talent leaders with AI-powered transformation in employee engagement and growth.
What's good about Cornerstone OnDemand?
Helps create personalized and connected employee and leadership experiences across domains such as upskilling, learning, and mobility

Offers Cornerstone AI, an intelligent talent marketplace where your employees can view auto-recommended skills that can boost their career trajectory

On-demand dashboards help HR teams make quicker, more accurate hiring and learning decisions
G2 rating: 4.2 (7 reviews)
Price range: Custom pricing
#8. SAP SuccessFactors

A human capital management (HCM) software, SAP SuccessFactors is also one of the best talent management tools. It hosts a suite of HR and HCM tools offering solutions for employee experience management, core HR, talent management, and HR analytics. This suite has served significant companies such as Whirlpool, Vodafone, and Telefonica, among many others.
What's good about SAP SuccessFactors?
Strengthen employee experience by clearly understanding their needs, providing a personalized learning experience, and aiding their professional growth

Get powerful data-driven insights that help you analyze current people trends and improve workforce planning

Offers future-ready solutions for recruitment, performance, onboarding, learning, and development
G2 rating: 3.8 (559 reviews)
Price range: Custom pricing
#9. Saba TalentSpace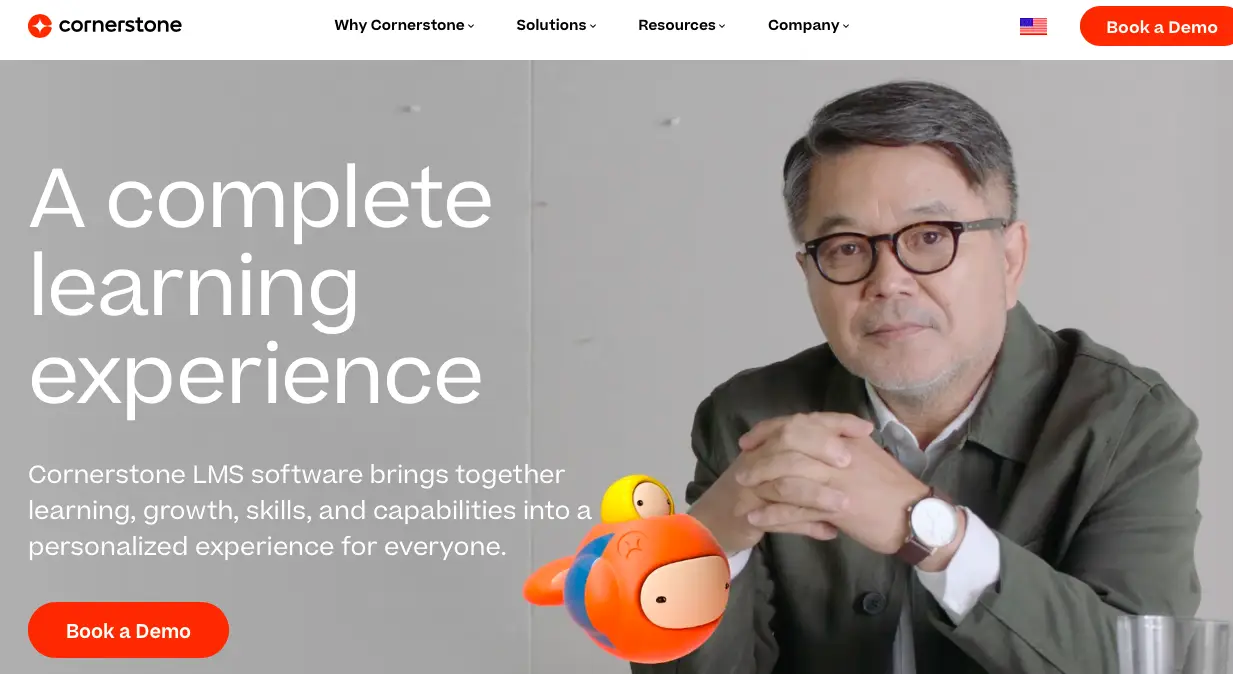 Recently acquired by Cornerstone OnDemand, Saba TalentSpace offers cloud-based solutions for talent management, employee learning and development, and performance management. Mainly an LMS software, the platform aims to use learning to build a future-ready, motivated workforce.
What's good about Saba TalentSpace?
Provides scalable learning with virtual and in-person training sessions, eLearning modules, and more

Auto-recommended AI-led content that helps your employees get upskilled and transition their careers

Create curated content and bring flexibility into your employees' self-driven learning experiences
G2 rating: 4.2 (183 reviews)
Price range: Custom pricing
#10. SkyPrep

SkyPrep is a modern LMS software that helps you carve better learning experiences. The employee training solution will help you retain your best talent and improve team performance for high-quality, results-driven work.
What's good about SkyPrep?
Improve your employee engagement and loyalty with top-quality training. Create learning opportunities for employees to upskill and reskill and work with motivation

Talent management tools to enhance employees' skills and eliminate knowledge gaps to improve productivity

Offers a wide range of performance metrics and reports to help you track and measure performance
G2 rating: 4.5 (64 reviews)
Price range: Custom pricing
#11. Pluralsight Skills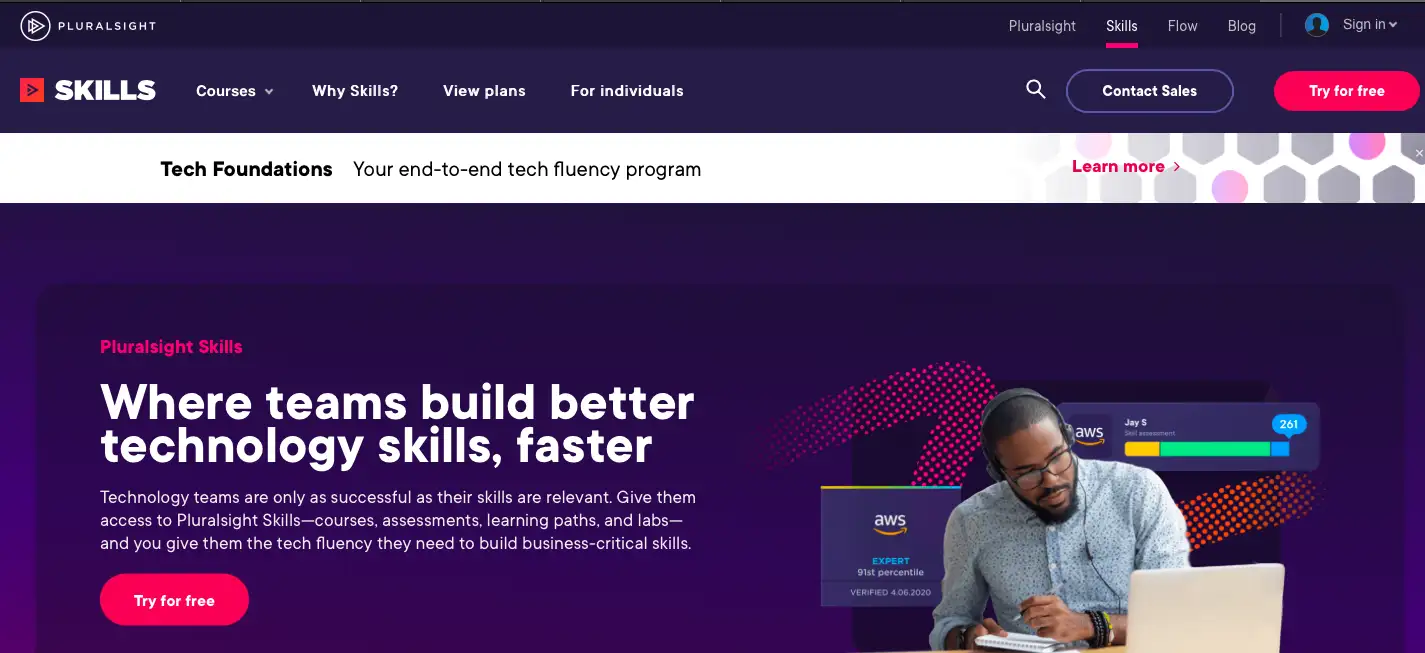 Are you an IT organization looking to boost talent development initiatives with the next generation of technology skills? Then Pluralsight Skills is an excellent option for you. As technology keeps advancing, it's critical to ensure that your teams are up to the mark with the latest changes in the IT space. Pluralsight Skills offers a wide range of hands-on training in programming languages and other IT skills.
What's good about Pluralsight Skills?
Helps your teams build relevant technology skills to stay at par with the current industry standards

Your employees can choose from courses, assessments, learning paths, and more

Allow employees to self-learn their desired in-demand IT skills such as AWS, Javascript, Python, VMware, and many more

Hands-on labs and step-by-step training courses to learn through coding and improve their programming language proficiencies

You can assess and evaluate your teams' progress with Skill IQ. Identify gaps, problem areas, and areas of expertise, and celebrate milestones
G2 rating: 4.6 (882 reviews)
Price range: Starts from $399/user
Performance Management Software
#12 ADP Workforce Now
ADP Workforce now offers a complete suite of talent management solutions, from HR, payroll, and employee benefits, to performance reviews and management. By serving over 90,000 clients, the platform aims to help mid to large companies with their HR suite of solutions.
What's good about ADP Workforce Now's HR talent management software features?
No more hassle in managing employee-related information. Store your workforce data on a single all-in-one dashboard for easier access

Offers intuitive performance management workflows and templates for easier annual reviews and communication

Helps you attract, engage, and retain top talent by streamlining the hiring and selection process. Reduces friction for both employees and managers using a custom career website

Your employees can access thousands of courses on essential topics and develop their career paths

Perform employee check-in seamlessly and ensure employee productivity is maintained
G2 rating: 4.1 (3173 reviews)
Price range: Custom pricing
#13. Lattice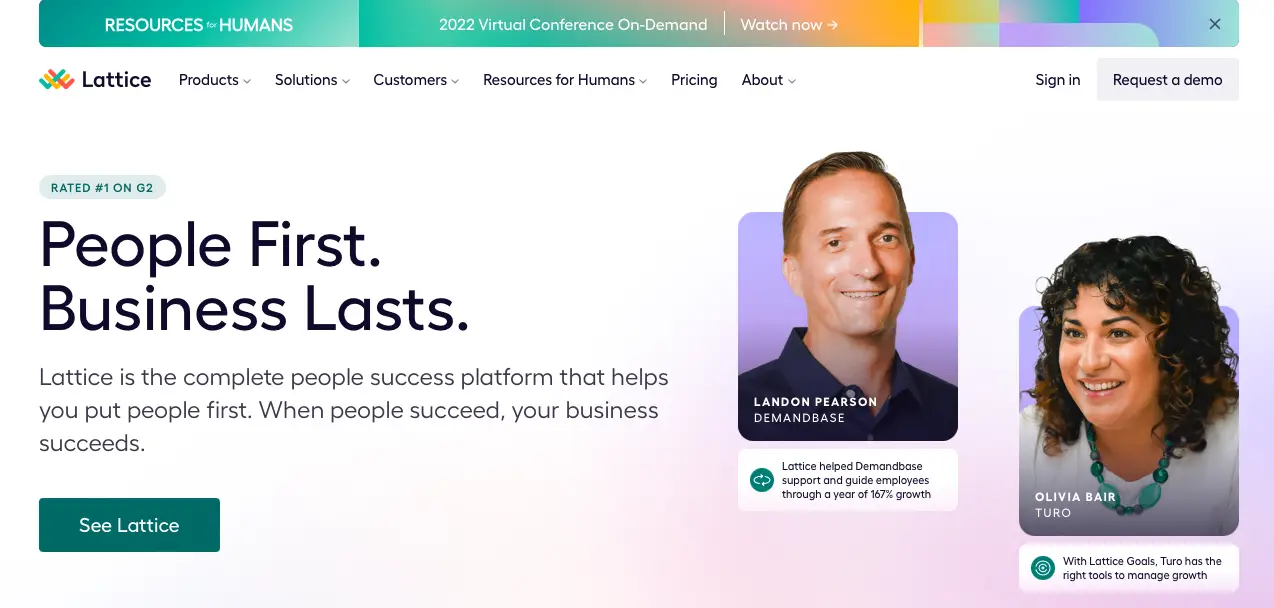 A perfect tool for "people" leaders, Lattice helps transform your current processes in performance, engagement, and development. It is an employee-focused tool that enables you to provide effective feedback and offers customized solutions to cater to continuous growth for employees and managers alike.
What's good about Lattice?
Offers exceptional customized solutions for both employees and managers

Helps build a regular feedback culture to work towards performance improvements with healthy feedback

Managers are given performance tools that help them measure their employees' performance in real-time

Enables managers to respond to engagement feedback by their teams with automated surveys
G2 rating: 4.7 (3295 reviews)
Price range: Starts from $11/person/month
#14. BambooHR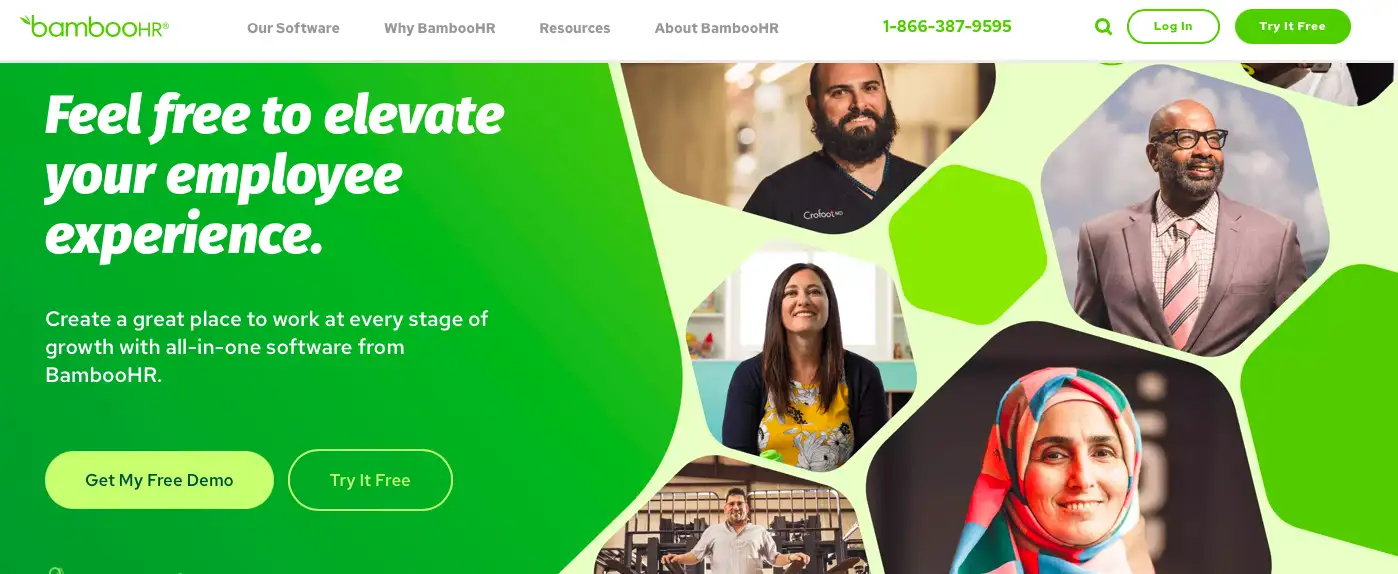 BambooHR is tailor-made for small to medium-sized businesses looking to improve their company culture, hire talent efficiently, and onboard with no fuss. The tool helps connect and manage people's data to gather actionable insights and measure employee performance and engagement.
What's good about BambooHR?
The software simplifies hiring, onboarding, managing compensations, and developing a healthy work culture by analyzing your people's data

A single database to store and access your employee information

Offers applicant tracking tools to make your hiring faster at every stage, from offer letters to scheduling interviews

Impress your new hires. The tool provides onboarding checklists and quick paperwork completion to rapidly onboard new talent
G2 rating: 4.5 (1239 reviews)
Price range: Starts from $5.25
15. Paylocity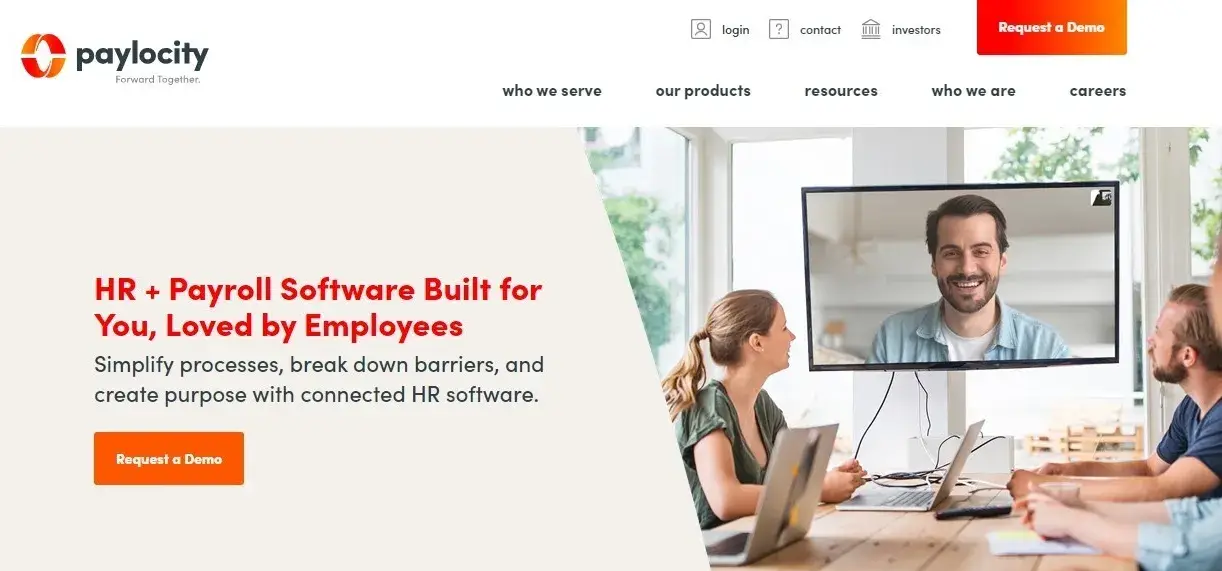 Paylocity is a complete HR and payroll solution that aims to improve the employee experience. This talent management software helps you hire and retain high-quality talent with its new hire best practices, employee development methods, performance management, and so on.
What's good about Paylocity?
Simplifies the review process using a performance management solution with automated features to help you track performance and lets your employees view their progress year-round

Offers flexible and affordable LMS to shape your employees' learning experience and track progress

The recruiting tool helps you streamline your hiring processes. Perform quick background checks, and remove communication barriers with your potential hires

The tool offers compensation data to reward your employees accurately with zero bias
G2 rating: 4.4 (2143 reviews)
Price range: Custom pricing
Employee Management Software
#16 UKG Pro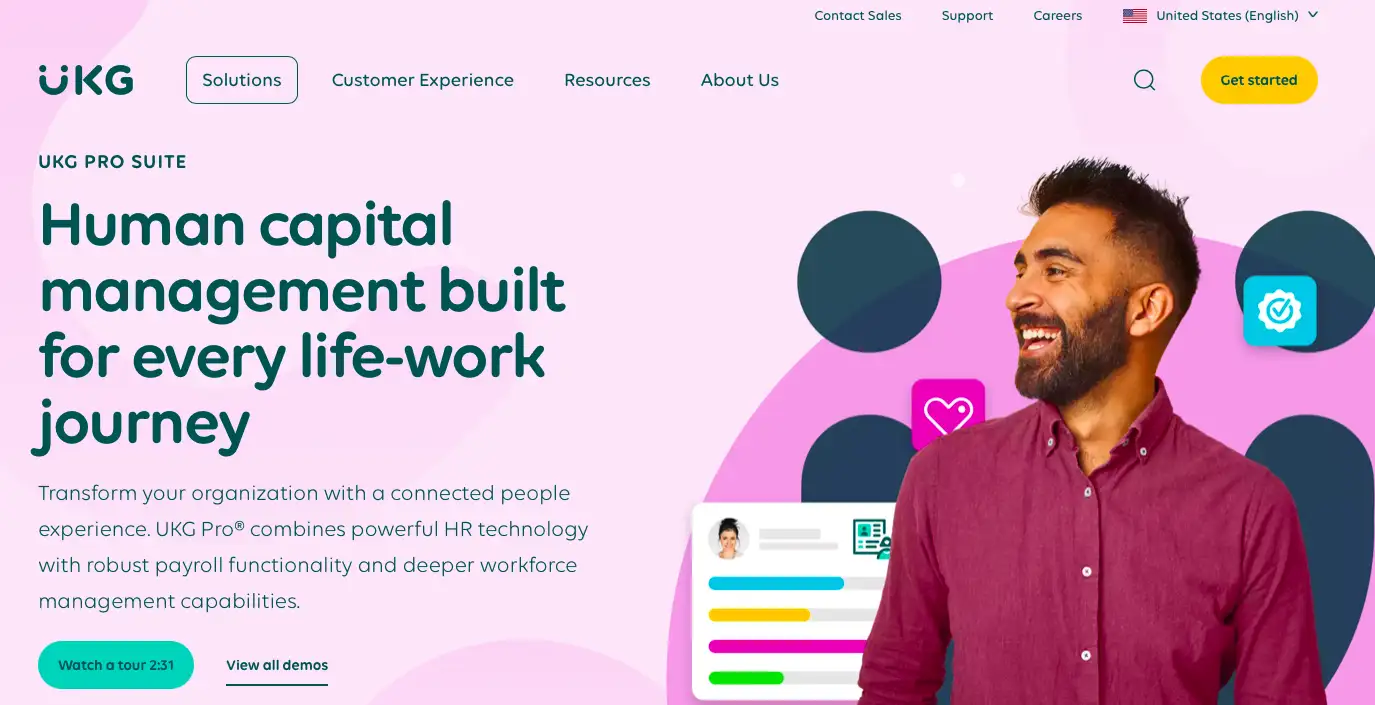 UKG Pro offers the best HR solutions and payroll functionalities to help organizations achieve people-focused results quickly. The talent management software is more than just a traditional HCM suite. It provides more innovative tools so that organizations can stay on top of their people strategy and workforce management goals.
What's good about UKG Pro?
Offers employee demographic data, employment history, workflow for promotions, transfers, and increments, and organizational management across multiple locations

Manage and access your employee data in a single place and seamlessly share important updates with your workforce

Keep employees motivated with UKG Pro's payroll solutions that help deliver accurate payroll and get deeper pay insights

Enable continuous learning and goal setting to develop your talent and keep engagement high
G2 rating: 4.2 (1416 reviews)
Price range: Custom pricing
#17. Insperity Workforce Optimization

Insperity Workforce Optimization is an all-inclusive HCM solution that caters to HR leaders to reach their desired business goals rapidly. It provides a robust talent management and workforce optimization solution by offering personalized guidance and tools.
What's good about Insperity Workforce Optimization?
Offers performance management support with its unique appraisal system that helps identify promotions, bonuses, and reviews

Helps with recruitment drives, program reviews, and recruitment recommendations

Houses 5000+ self-paced courses in multiple domains and 30000+ digital books.

Work with HR specialists to design an employee engagement framework to drive more retention and employee productivity
G2 rating: 3.9 (28 reviews)
Price range: Custom pricing
#18. ClearCompany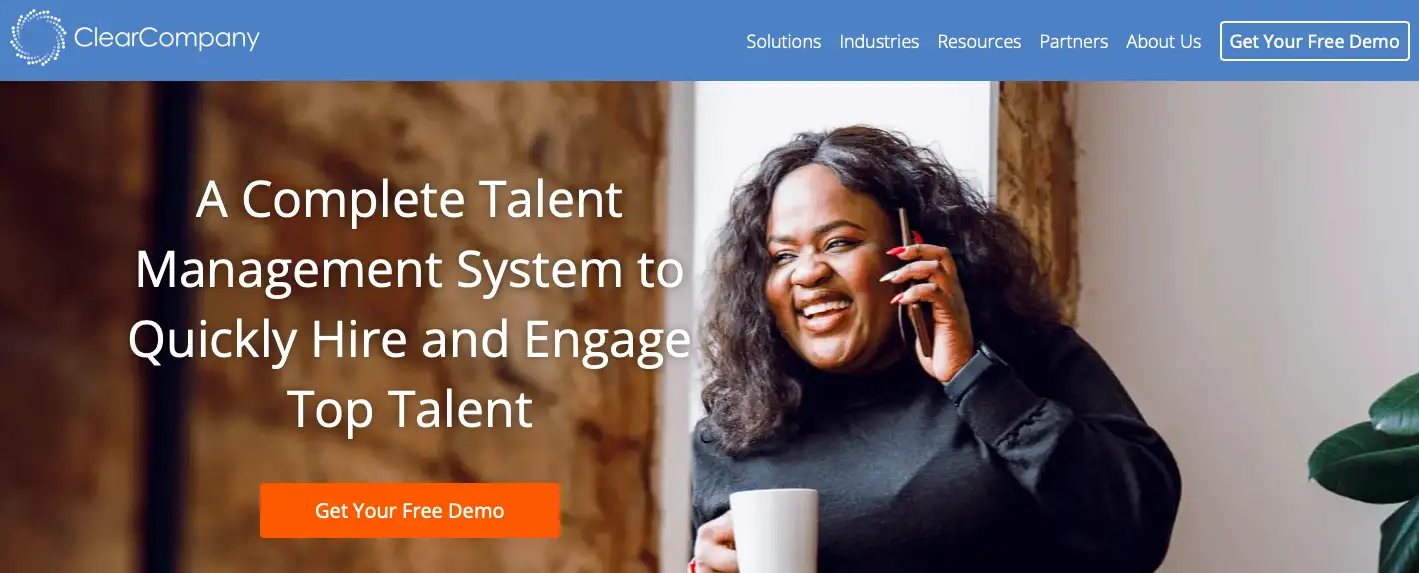 ClearCompany offers a full suite of talent management solutions such as effective planning, recruitment tracking, onboarding, aligning goals, and performance management. You also get access to expert advice for implementing best practices that help obtain maximum results from your talent management efforts.
What's good about ClearCompany?
The Applicant Tracking System helps you achieve over a 90% hiring success rate by employing the tool's methodology

Paperless onboarding makes the process easier for managers and new hires

Offer a personalized review experience for each employee. Increase employee satisfaction and frequency of performance reviews with the performance management solution

Offers tools for employee recognition and engagement. With these, celebrate milestones, promote diversity, and positive work culture
G2 rating: 4.6 (256 reviews)
Price range: Custom pricing
#19. PerformYard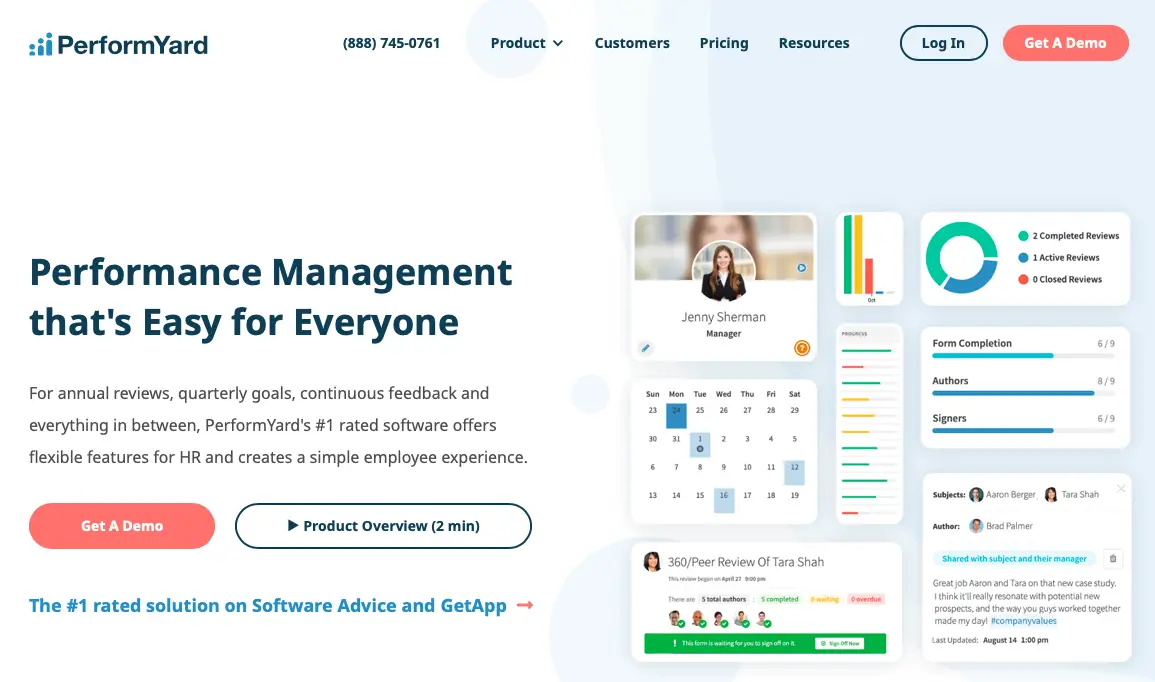 PerformYard is a performance and employee management software that helps HR leaders ease out of admin work and make way for more meaningful, goal-oriented tasks. Managers can quickly create custom goals, provide individual recognition, and appreciate colleagues' efforts.
What's good about PerformYard?
Facilitates easy manager check-ins to stay up-to-date with employees' performance outputs

Create customized reviews per your needs, include your questions, and set timelines

Track progress using the live dashboard for a 360-degree view of the overall progress

Identify and reward top performers using PerformYard reporting's eye-catching visualizations
G2 rating: 4.7 (457 reviews)
Price range: Starts at $5/user/month
#20. PeopleStreme

PeopleStreme, recently acquired by Ascender, is an end-to-end HR and employee and talent management solution that enables you to get the most out of your critical asset — your people. The PeopleStreme talent management tools further help you manage people throughout their employment cycle, from employment to retirement.
What's good about PeopleStreme?
No more recruitment delays and reaching the wrong set of audiences with PeopleStreme. Level up your recruitment efforts by streamlining your processes and eliminating manual tasks

Develop a continuous learning culture with PeopleStreme's talent and learning management platforms

Implement the suggested powerful strategies to keep your employees engaged

Review cycles are made easier for managers and employees. The tool simplifies goal setting and alignment and encourages meaningful conversations

Implement the best of Ascender and PeopleStreme. This fusion offers advanced tools such as Exit Analytics, eRecruitment, and payroll management
G2 rating: 4.8 (5 reviews)
Price range: Custom pricing
Which talent management tool should you choose?
Talent management is an extensive and complicated process often time-consuming for HR professionals and leaders due to its repetitive tasks. So, before considering a talent management tool, ensure it aligns with your business goals, automates routine work, and offers the best workforce experience. It is also a good practice to evaluate the HR talent management software features for easy scalability as your organization grows.
FAQs
What is talent management software?
Talent management software is a technology solution that helps HR managers and leaders manage employees better, accelerate their recruitment and onboarding processes, improve performance management, and promote a learning culture amongst employees.
What are various Types of talent management software?
The five types of talent management software are talent acquisition and development, recruiting software, talent development and training eLearning software, performance management software, and employee management software. The talent management software features may vary based on the objectives they are designed for.
What are the four areas of talent management?
The four areas or pillars of talent management are recruitment, performance management, retention, and learning. Here's taking a slightly deeper look into each of the pillars mentioned here:
Under recruitment, organizations work to attract talented people for new openings; the goal is to bring in the right set of skills for the job

Performance management focuses on the way in which the HR measures the performance of employees across their lifecycle; this includes performance reviews, one-on-one meetings, rewards and recognition programs

Learning and development as a pillar includes everything starting from the training during onboarding to how an employee continues to upskill or reskill during the lifecycle. This allows employees to develop critical skills that help them meet performance goals and also progress in their career path

Retention is focused on keeping the high performing talent at the organization engaged and involved through efforts like surveys to understand changing needs



What are talent management models?
Talent management involves a series of processes that are executed in a systematic manner for streamlined operations. The way in which they are executed is what is often referred to as a talent management model and it can be unique to every organization. A typical model includes - planning, attracting, developing, retaining and transitioning.
Planning includes proactively recognizing and addressing the needs of an organization. This includes accessing current talent in the organization, identifying skill gaps and predicting upcoming openings to fill in positions in a timely manner

Attracting includes creating job descriptions, developing an employee value proposition, listing the opening on job portals and aligning other marketing tactics around the same to entice new talent

Developing is the model that comes in after new talent has been identified and offered a position at the organization. It includes onboarding and orientation that helps them understand the business vision, mission, goals and their responsibilities. Often it also includes helping talent reskill and upskill to meet the job requirements

Retaining is focused on ensuring that the talent hired at the organization remains engaged. This includes creating strategies to understand employee satisfaction levels, conducting surveys to identify changing needs and behaviors, and adapting to keep up with employees across the lifecycle

Transitioning is where the organization focuses on succession planning, funneling talent through internal promotions, providing retirement benefits and similar, which also helps with employee retention and loyalty in the long run