Choosing the right learning and development tools should be easy, but is it?
If you're an L&D manager, you know how much a good learning and development tool can make life easier. They're on the job site with you daily, so you need reliable, easy-to-use tools that can help your employees achieve their full potential.
Numerous new techniques, tools, and processes have developed, making it challenging to find the appropriate one.
That's why we've shortlisted some reliable tools that you can use to make the learning adaptation and participation of your employees stronger.
Let's find out!
List of different types of Learning & Development Software:
Learning Management System (LMS)
LMS is an eLearning platform that records, manages, and measures educational courses.

L&D managers can use LMS to allocate training content to learners, and learners can receive timely notifications about the newly accessible course content with the help of this software.
Learning & Development Assessment Tool
Learning and development assessment tools enable L&D managers to analyze the existing abilities of candidates and areas that require more assistance through reports and scorecards.

These platforms offer tailor-made evaluations for specific jobs and purposes.

These assessment tools rely on a series of well-thought-out questions to gather insights and then evaluate these insights to reach an informed conclusion. It also provides post-skill tests to evaluate acquired knowledge.
Learning Experience Platform (LXP)
LXP platforms are learner-centric platforms that assess learner preferences and offer personalized learning routes. With these tools, employees get to decide what skills and information they want to gain.

These platforms' most popular features include personalized and social learning pathways. It delivers learning content via articles, blogs, videos, podcasts, and other courses.
Course Authoring Platform
These platforms enable L&D managers to design digital courses and disseminate them in various formats through user-friendly interfaces.

Course Authoring platforms deliver learning material through audio or video recordings, software simulations, or even quizzes.
Digital Adoption Platform (DAPs)
These platforms provide in-app guidance to learners and let them derive maximum value from a digital process or solution.
DAPs offer contextual guidance through valuable add-ons such as step-by-step tutorials, interactive walkthroughs, task lists, and in-app self-help menus.
Microlearning Platform
Microlearning platforms cater to anyone looking for instant training, support, or short-term assistance.

These tools offer content in the form of videos, audio, text, quizzes, and other formats that are frequently simple to create and absorb.
Online Course Providers
These platforms generate in-house training courses that any firm seeking to upskill its existing employees can access.

The courses offered on these platforms are not personalized but are simple and affordable alternatives.
Knowledge Sharing Tools
These tools enable the storage and transmission of critical information resources such as manuals, user guides, and job aids.

L&D managers can use these platforms to organize and share information that employees can access and utilize to carry out tasks correctly within the workflow.
Top 16 Learning & Development tools
Learning & Development Assessment Tool
1. iMocha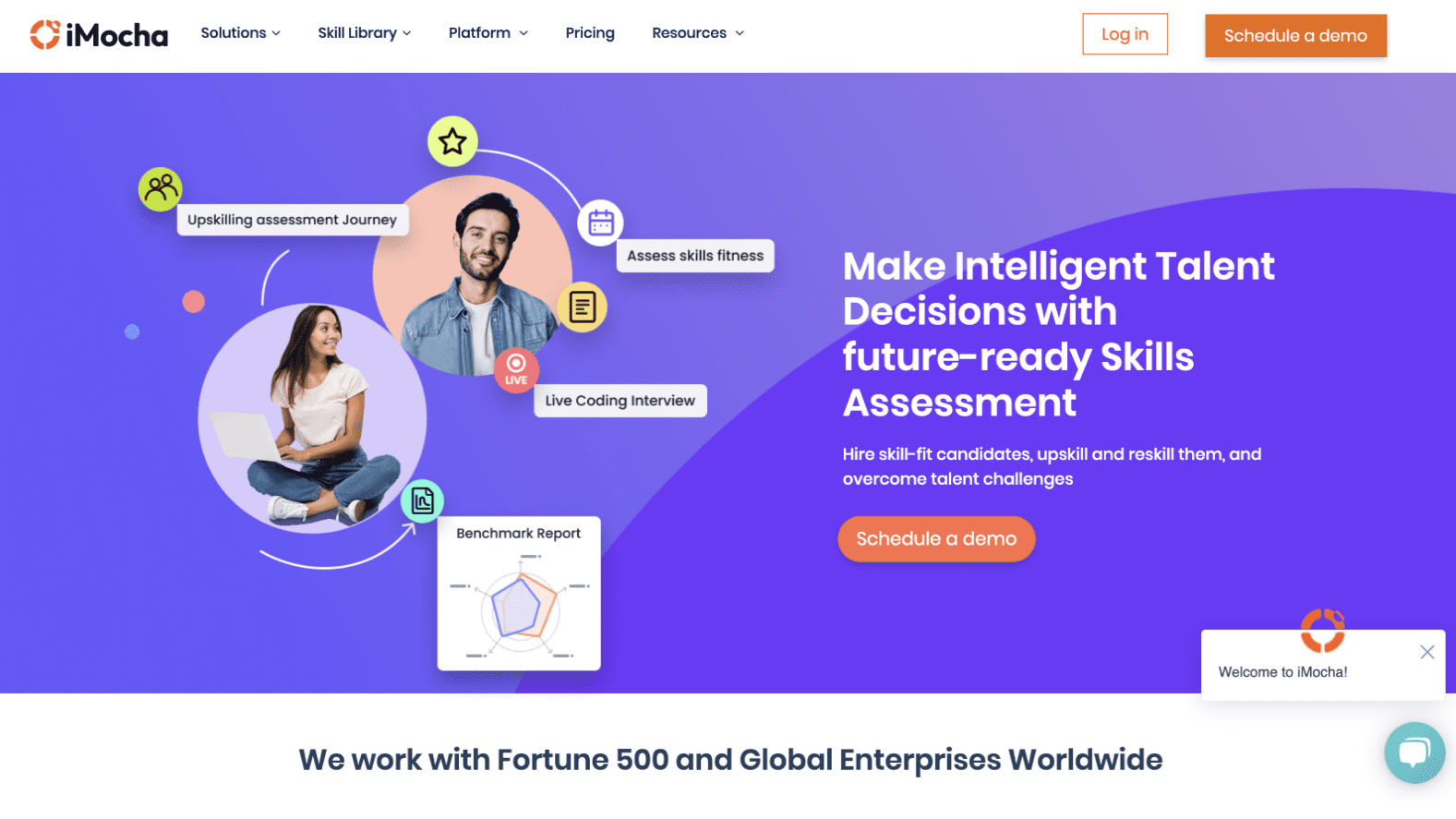 G2 rating: 4.4/5 (159 reviews)
Founded In: 2015
iMocha is a learning and development skills assessment tool that aids in creating a workforce equipped for the ever-changing demands of the business world. Using this platform, you can create targeted learning paths for your employees by conducting organization- and department-wide training needs analysis (TNA).
They provide customized role-based skills assessments in sync with each learning module. They also offer a sizable ready-to-use skill assessment library that L&D managers can use to test the knowledge of their learners and identify areas of development. Its post-learning assessment feature helps you determine the impact of learning and track their growth.
Pros
This tool offers a customized skill assessment option to examine employees' varied abilities before and after training. The color palette monitoring function of the tool makes navigating and obtaining records simple.

All the tools provided by iMocha are automated, which helps in reducing the administrative effort by 40%.

iMocha's assessments are devoid of biases, transparent, and comprehensive, allowing organizations to quickly determine an employee's competency level.
Cons
Psychometric tests are not offered by iMocha, as they are difficult to standardize due to varied cultural practices and languages and might end up causing implicit biases.

iMocha does not offer an end-to-end LMS system. However, it provides integration with various LMS.
Free trial: Available
Top Clients: Capgemini, Ericsson, FUJITSU, Deloitte, Vanguard
Pricing: $1800.00 /year
Learning Management System (LMS)
1.
iSpring Learn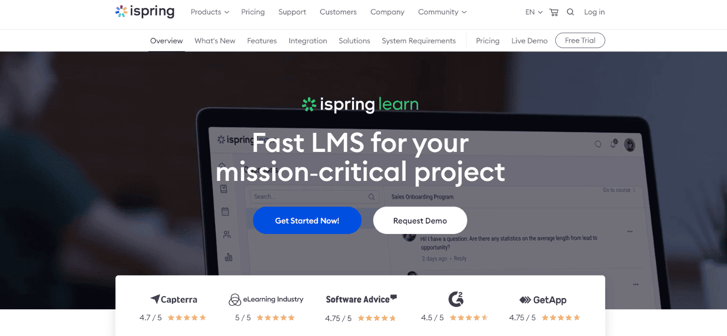 G2 rating: 4.6/5 (24 reviews)
Founded In: 2001
iSpring Learn is a cloud-based Learning Management System (LMS) platform that allows you to develop online training content for onboarding new employees and training the existing ones. This platform provides a broad range of features, such as a step-by-step automated learning process, adaptive online courses, and instructor-led training, which learners can access via their mobile app.
This tool also offers extensive reporting to learners, allowing them to track their progress and course efficacy.
Pros
iSpring offers an easy-to-use, comprehensive set of eLearning development tools.

It incorporates intuitive UX/UI to document all recruitment procedures.

This tool makes it simple to create content by providing features such as plain text, audio and video, and PowerPoint.
Cons
One element that makes this application less user-friendly is that it lacks reporting for follow-up and comparison.

There is no course library from where managers can upload video tutorials. Hence, managers are required to upload and use their existing learning content.
Free trial: Available
Top Clients: Central one, Drone class, Acer service, Vertin, HealthHelp, NAOS bioderma
Pricing: $3.66 /user (per month)
2. TalentLMS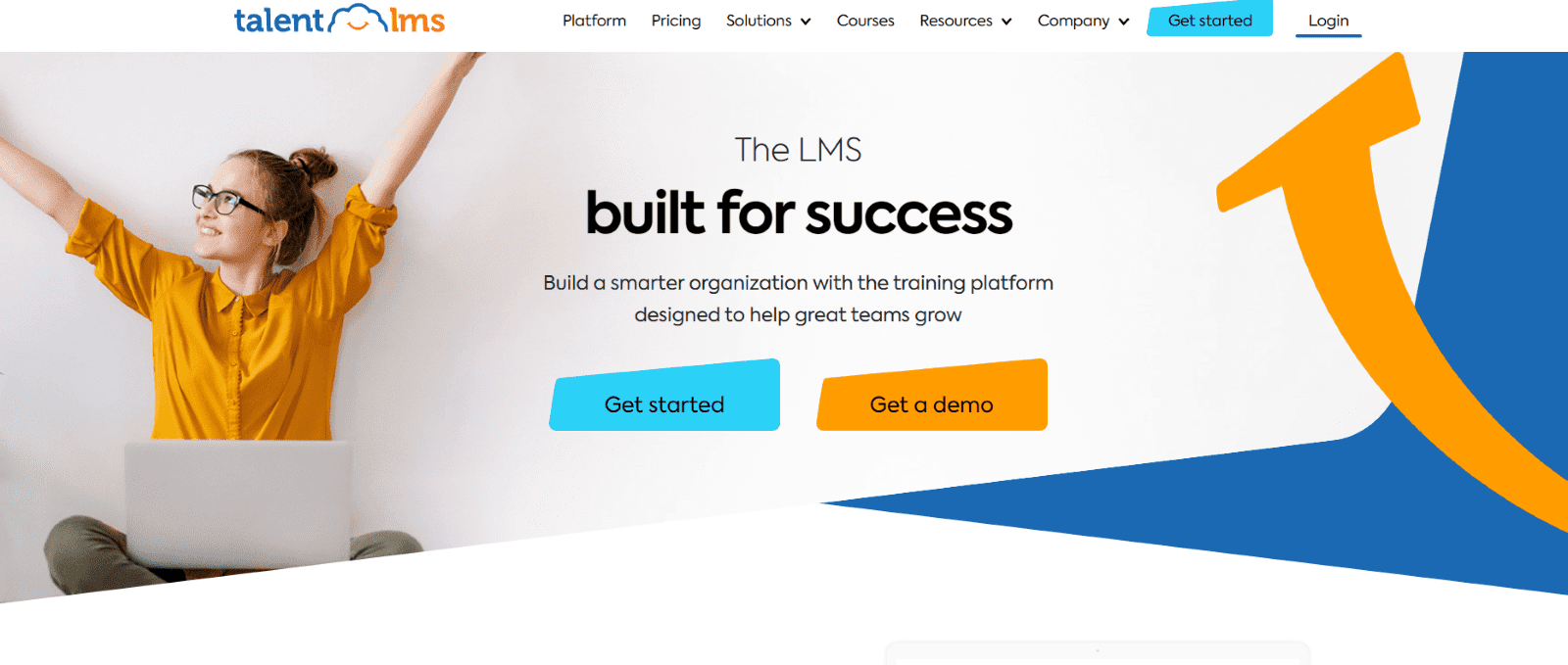 G2 rating: 4.6/5 (632 reviews)
Founded In: 2012
TalentLMS is a Learning and Development LMS software. Its course management feature is content-friendly and supports essential eLearning standards such as SCORM and CMI5. It also includes an authoring tool, which enables L&D managers to create online courses, including quizzes and surveys.
It allows integration with various tools to personalize the training experience. Moreover, it has a diverse learning path feature, which assists in monitoring student development.
Pros
This tool uses innovative and creative graphics to track a candidate's growth.

The software's ability to automate and redesign courses aids in maintaining proper training schedules.

Real-time reporting makes it possible to monitor the learning progress of the candidates.
Cons
Filtering courses in the course catalog is not possible based on the user's participation. You can only automatically assign the courses to employees once the user has joined the group.

It breaks other elements in the department if you try to position content in a unit with many components, such as text, a photo, and a video.
Free trial: Available
Top Clients: Philips, Autodesk, Deliveroo, Duolingo, eBay, Lindt, PWC
Pricing: $69 /user month (up to 40 users)
Are you responsible for the learning and development of employees yet have no idea how to approach it? Speak to our experts!
3. Moodle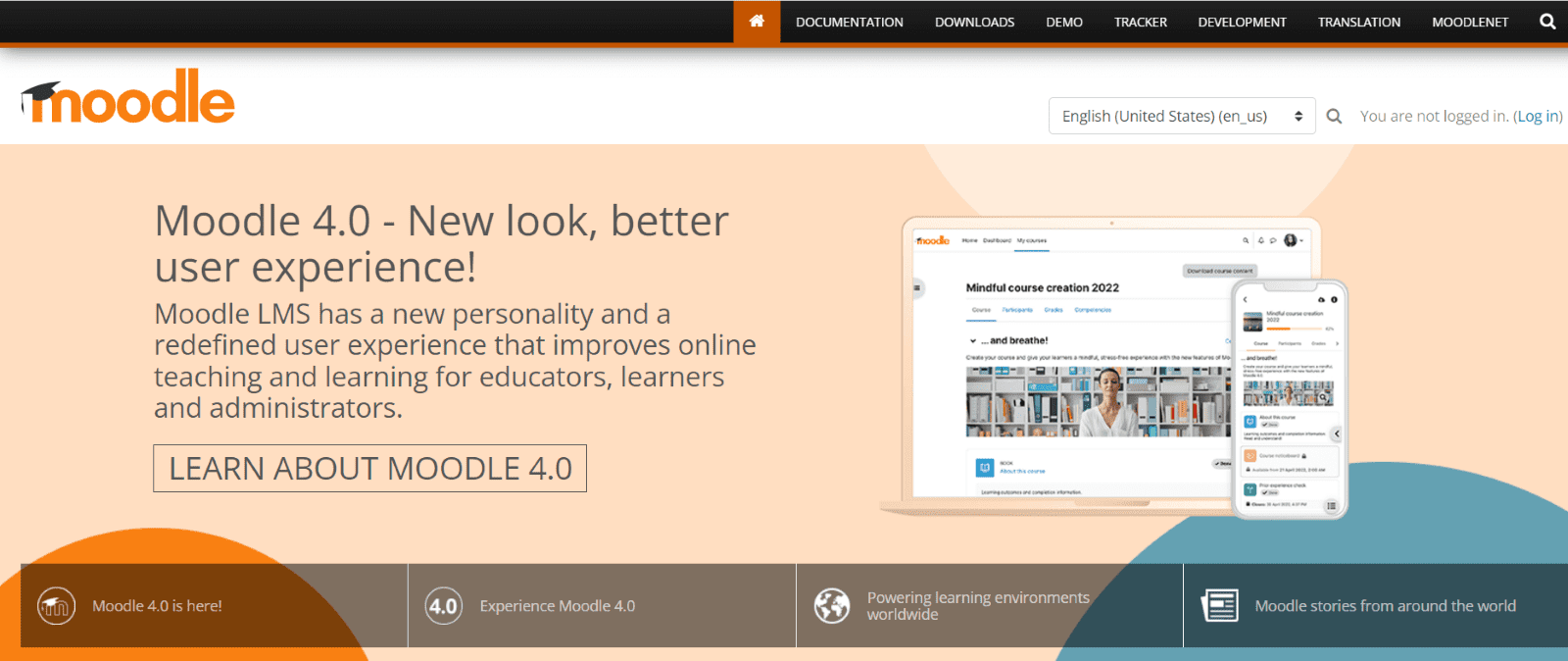 G2 rating: 4/5 (325 reviews)
Founded In: 2001
Moodle is an open-source, configurable learning management system that can help you enhance your employees' education and learner outcomes. It integrates with third-party platforms and plugins, allowing instructors to create an active learning experience. Moodle's dashboard also allows you to prioritize and manage your course deadlines in the calendar.
Pros
With Moodle, you can implement different content (tests, quizzes, videos, photos, texts, etc.) in one place.
LDAP setup is simple to deploy for central authentication.

The platform does not prohibit external content and is open to embedding links and custom pages to meet your specific requirements.
Cons
There is no end-to-end security available because everyone on the course can practically operate everything available in the course material and forum.

The procedure of installing this tool on a cloud server is complex.
Free trial: Available
Top Clients: Vodafone, Mazda, World Vision, University of Cambridge
Pricing: On request
4. SAP Litmos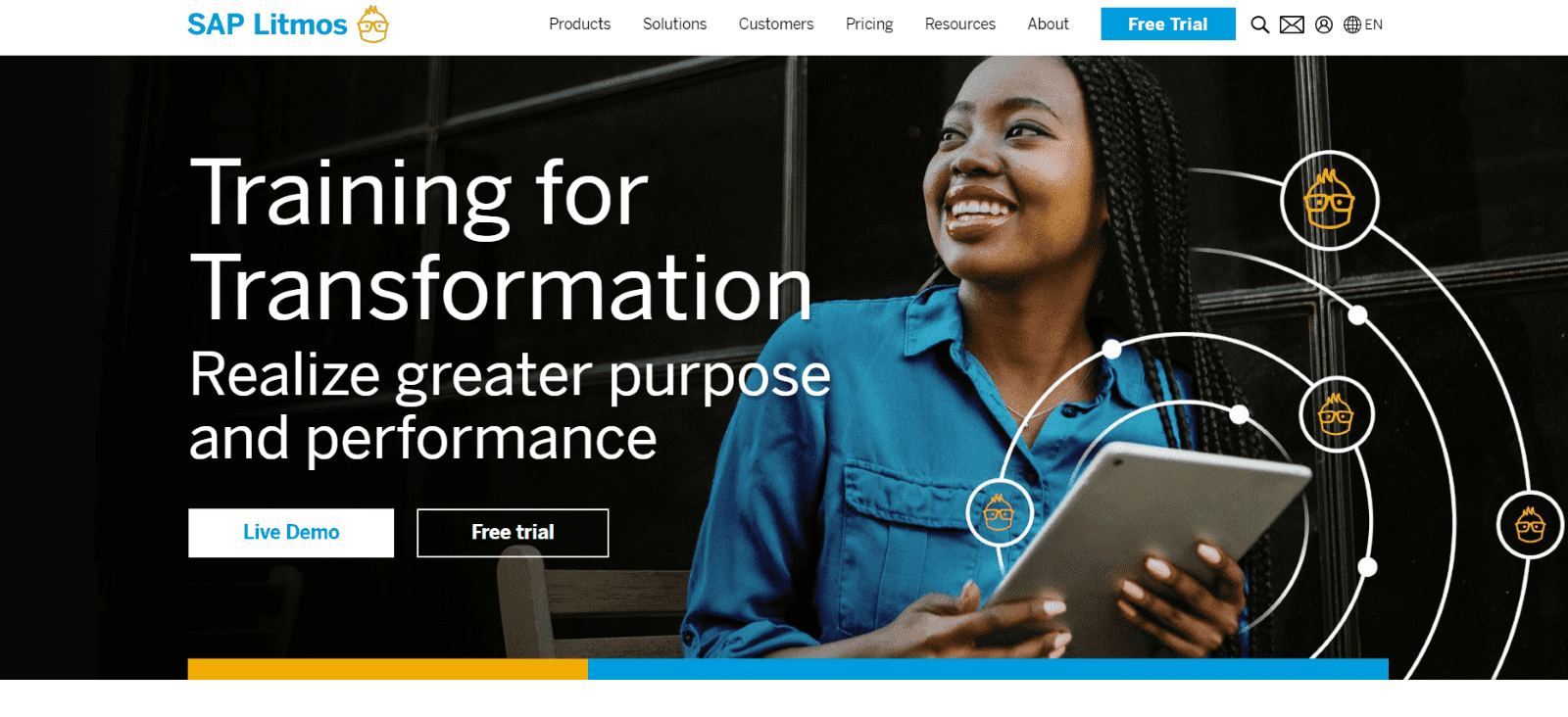 G2 rating: 4.2/5 (493 reviews)
Founded In: 2007
SAP Litmos is an easy-to-use LMS feature for admins and learners. This tool allows integration with other business systems and automates time-consuming tasks, such as user onboarding and reporting. SAP offers custom UI branding and a dashboard to make it more personalized. In addition, with 35+ preconfigured languages, learners can select their language of choice, eliminating barriers to learning.
Pros
You can include content from other sources and use leaderboards, badges, points, and other game elements to reward your team.
The dashboard is simple to read and provides options for bulk management and individual feedback.

The L&D managers can assess each person's learning progress using their training course.
Cons
It isn't easy to locate specific courses on the platform, which makes it less user-friendly.

The step-by-step wizard does not adjust properly while building a brand-new learner portal.
Free trial: Available
Top Clients: IBM, Fitbit, YouTube, NETGEAR, Mercedes Bens
Pricing: On request
Learning Experience Platform (LXP)
1. NovoEd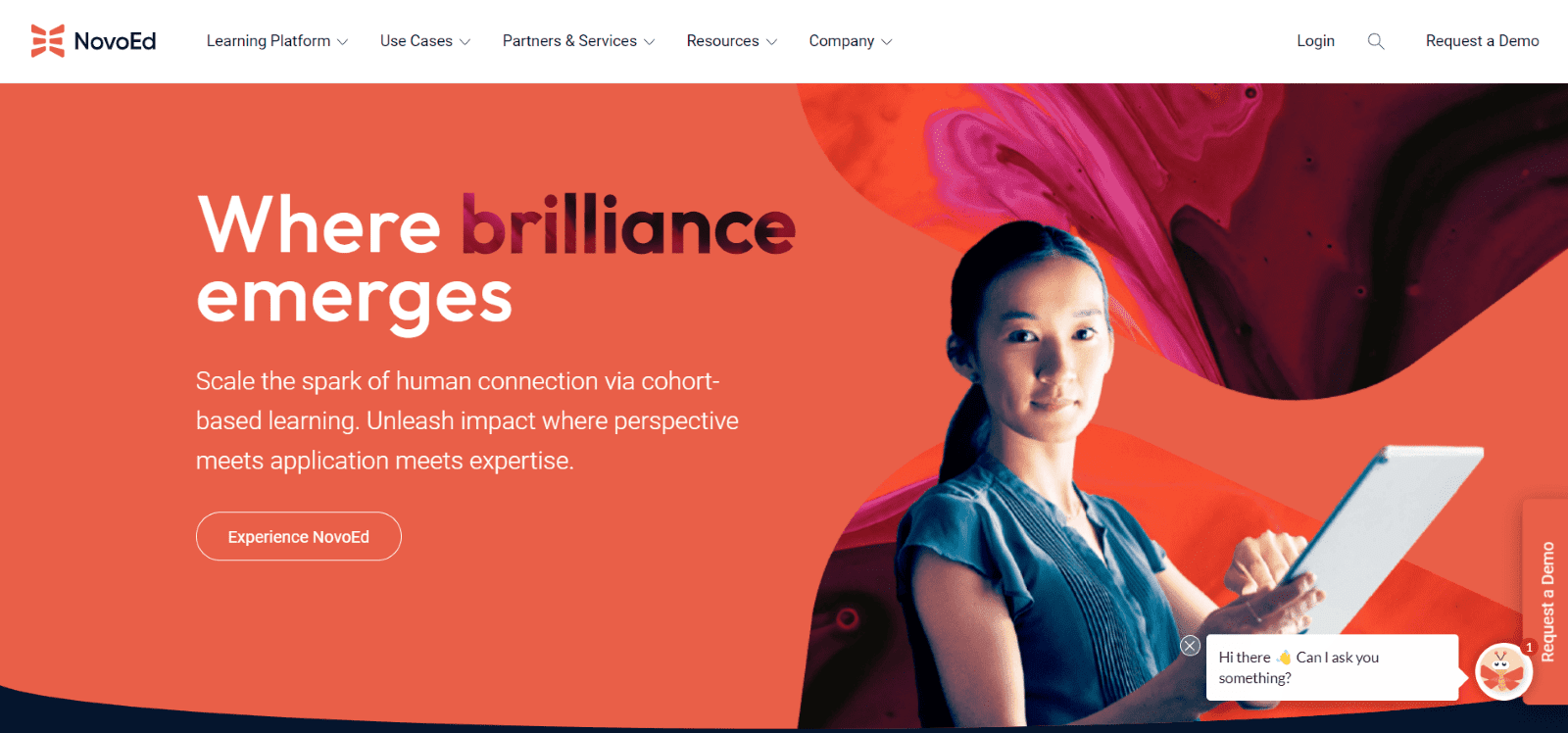 G2 rating: 4.5/5 (31 reviews)
Founded In: 2012
It is an LXP platform for collaborative learning that enables individuals to collaborate online, share ideas, and obtain feedback. With the help of this technology, learners can build a personal workspace, participate in various discussion modules, and even comment on it.
Its analytical reporting feature enables L&D managers to monitor the efficacy of training programs by integrating relevant instructional content with discussions, reflection, practice, and beneficial feedback.
Pros
With the leaderboard's help, managers can easily track learners' engagement.
Using third-party tools, L&D managers can add customized content, embed documents/presentations, photos, and more, to make it more visually appealing.

Members can upload assignments, engage in team workspaces, and get assessment results and feedback from the course facilitators or mentors.
Cons
The reordering of lessons and content has limited customization options.

There is no way to upload large amounts of content. As a result, setting up a program takes an extended amount of time.
Free trial: Available
Top Clients: VentureBeat, Financial Times, Forbes
Pricing: On request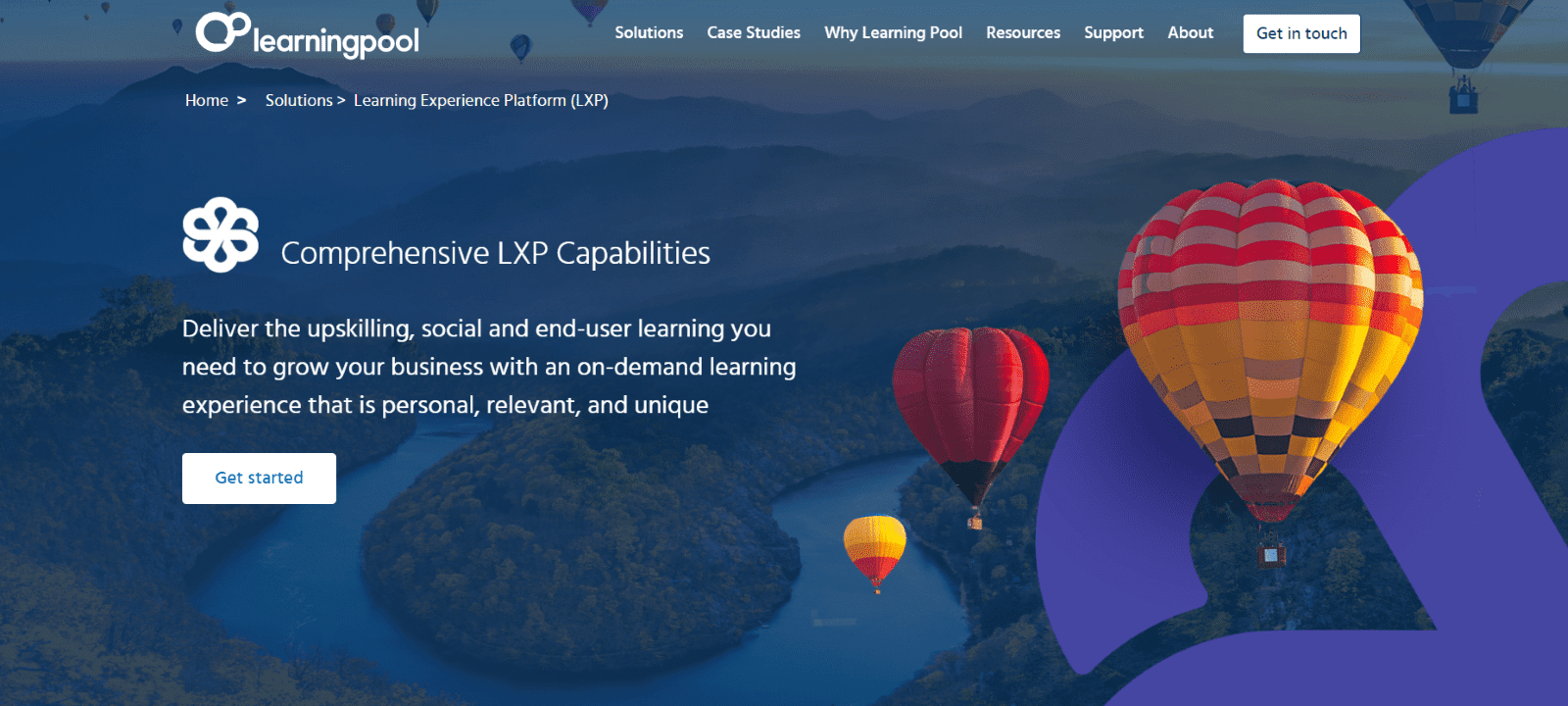 G2 rating: 4.7/5 (60 reviews)
Founded In: 2006
Stream LXP from the learning pool is an e-learning solution that offers an advanced search option to all employees, letting them discover relevant eLearning content. Each learner gets customized and relevant courses because of the basic authoring capabilities, which allows companies to develop a personalized on-demand learning experience.
Its natural language processing technology automatically converts the learning content into performance support materials and insights to enhance the collaborative learning experience.
Pros
It allows you to take complete control of the learning experience.

It is a simple-to-use platform that can quickly update and modify the format of the content.

The content catalog feature allows you to discover a course of choice, change it to suit your authority's standards, and upload it to your LMS system.
Cons
The one drawback of this tool is that it does not save the progress of the course.
This platform does not offer classroom training to accommodate different learning styles.
Free trial: Not Available
Top Clients: Supercell, The play project, Boots, RBS, HubSpot
Pricing: On request
Course Authoring Platform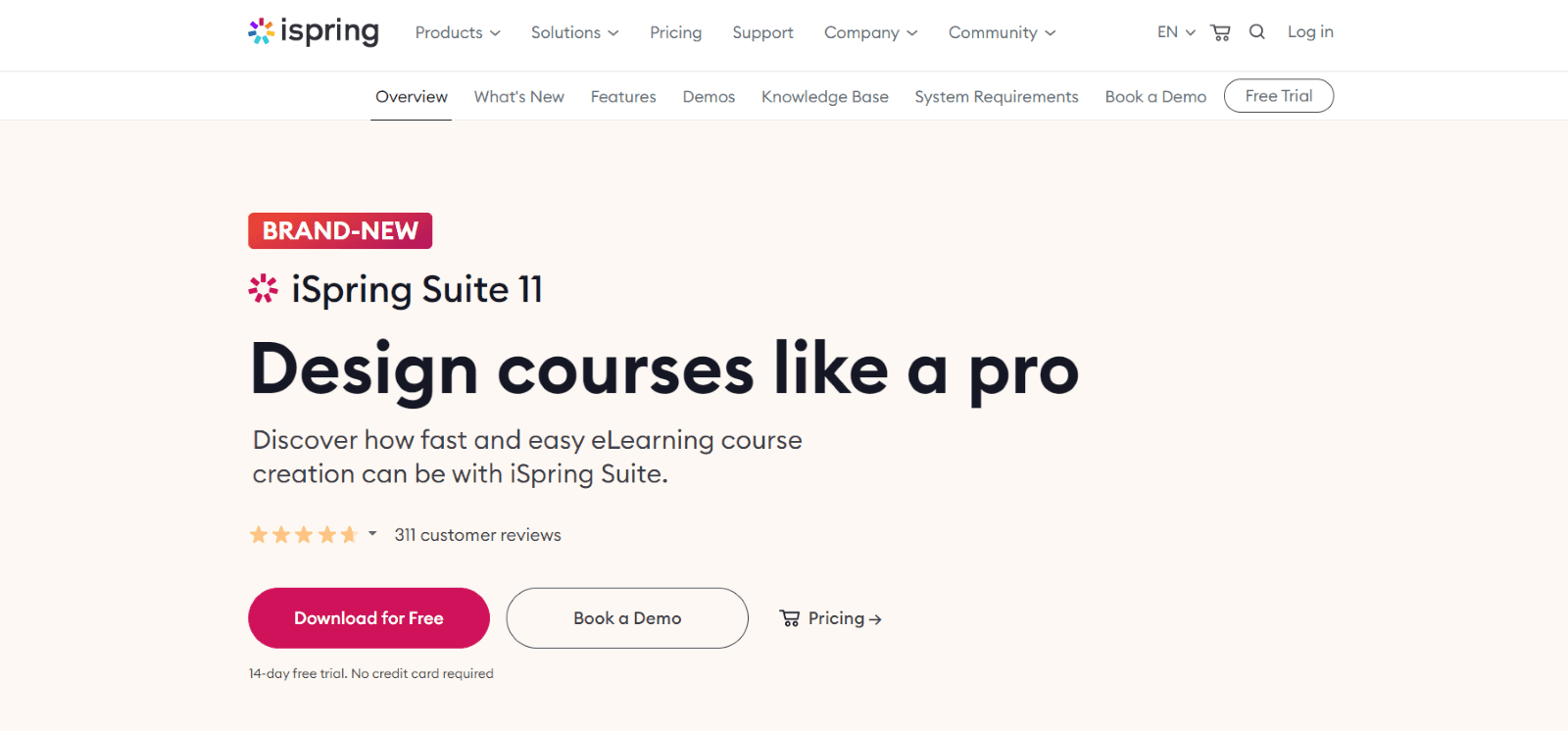 G2 rating: 4.7/5 (371 reviews)
Founded In: 2001
iSpring Suite is an eLearning course authoring tool that offers adaptive multi-device courses. This authoring tool enhances the e-courses with training videos, screencasts, interactive assessments, dialogue simulations, text-to-speech conversion, and other features.
Pros
The plugin functionality simplifies creating and publishing eLearning content in SCORM 1.2 format. This feature enables you to convert a standard PowerPoint presentation into an interactive eLearning course.

It offers a high level of interactive features to appeal to all learning styles and adaptability to cover practically any subject to make training and assessment more efficient.

The course review and approval process are streamlined and accelerated.
Cons
This tool does not provide any option to link quizzes to the course.

The global formatting capabilities of this tool are limited.
Free trial: Available
Top Clients: IBM, Microsoft, IKEA, Bank of America, Tesla
Pricing: $770.00 /year
2. Articulate Storyline 3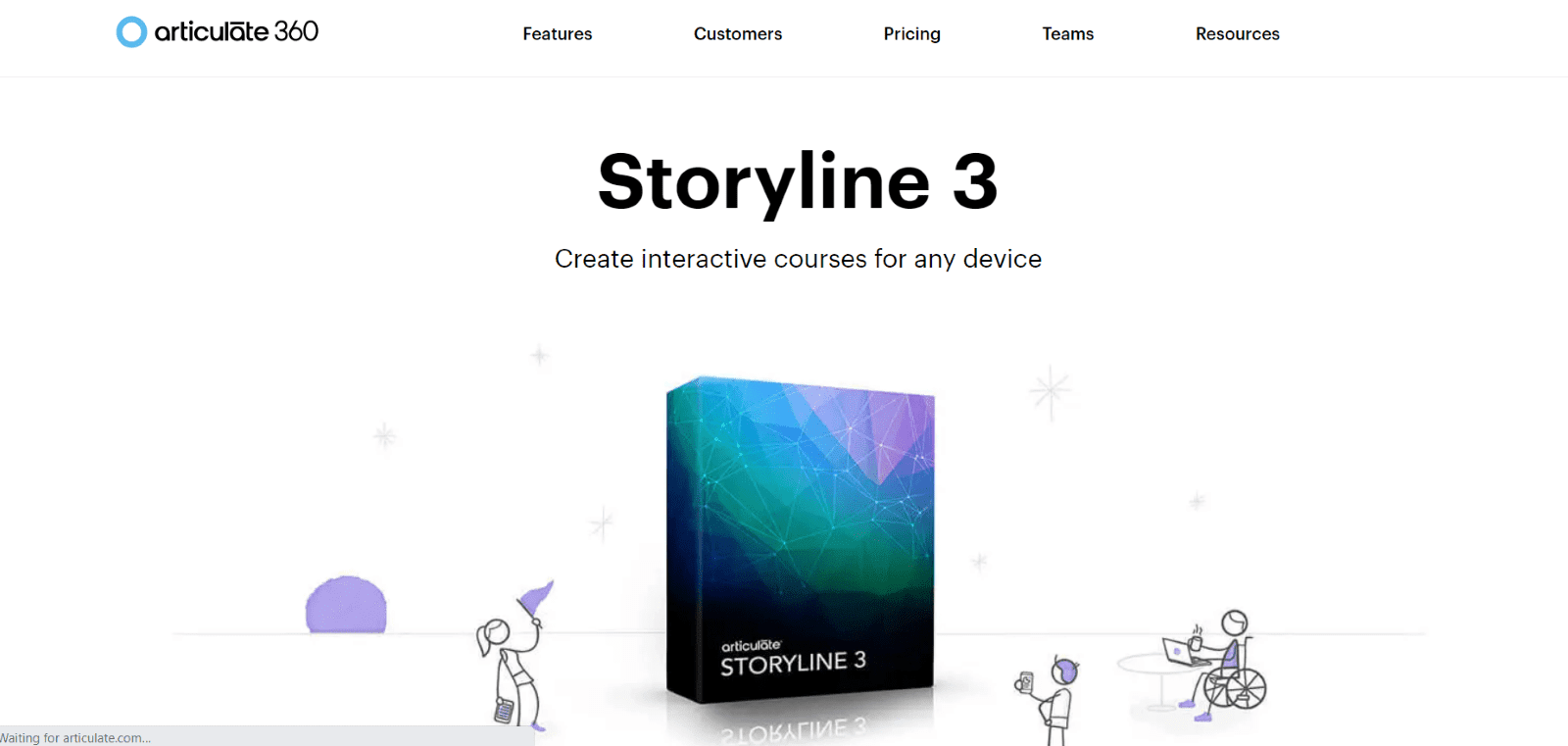 G2 rating: 4.6/5 (244reviews)
Articulate Storyline 3 is an interactive tool for creating courses. It enables you to design virtually any interactive lesson. This tool's content development capabilities are exemplary since it provides animation and interaction options to keep learners engaged in the course.
Founded In: 2002
Pros
The multimedia elements and characters of Articulate Storyline allow you to design interactive online and offline courses.

It has an excellent user interface.

The storyline makes it possible to produce high-caliber SCORM-based eLearning
Cons
The software is missing simple text drop shadows or other word art capabilities.

When you make a PowerPoint using this tool and then try downloading it into your system later, the audio connected to the power point does not get imported.
Free trial: Available
Top Clients: The Global Fund, Rentokil, Lexis Nexis, SWBC
Pricing: $1,398 per perpetual license
Digital Adoption Platform (DAPs)
1. Whatfix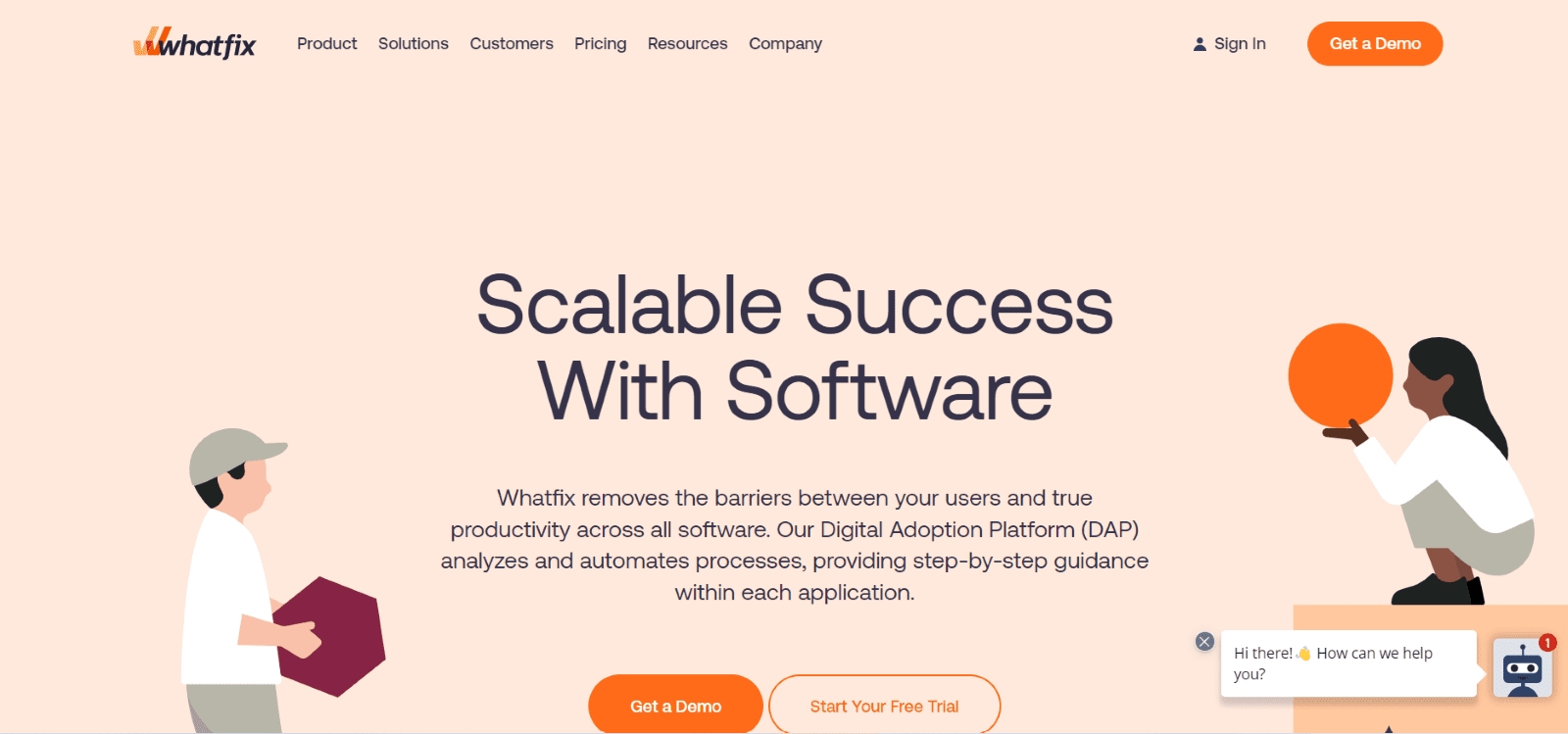 G2 rating:
4.6/5 (224 reviews)
Founded In: 2013
Whatfix is a digital adoption platform that enables businesses to provide users with contemporary and straightforward onboarding, efficient training, and enhanced support by displaying relevant material at the time of need. This product supports employee onboarding and digital transformation by providing interactive in-app instruction, extensive employee analytics tools, and interactive walkthroughs.
Pros
This tool is easy to use since coding isn't needed and offers seamless integration with different applications.

The analytics part offers insights into the kind of content users search for in the tool.

It updates regularly and does not break the existing flows of the course.
Cons
The admin interface for setting up content can be challenging to navigate.

Whatfix still doesn't have any in-depth styling modification options.
Free trial: Available
Top Clients: Axis Bank, Cisco, Zoom car, Wipro, ICICI Bank
Pricing: On request
Microlearning Platform
1. EdApp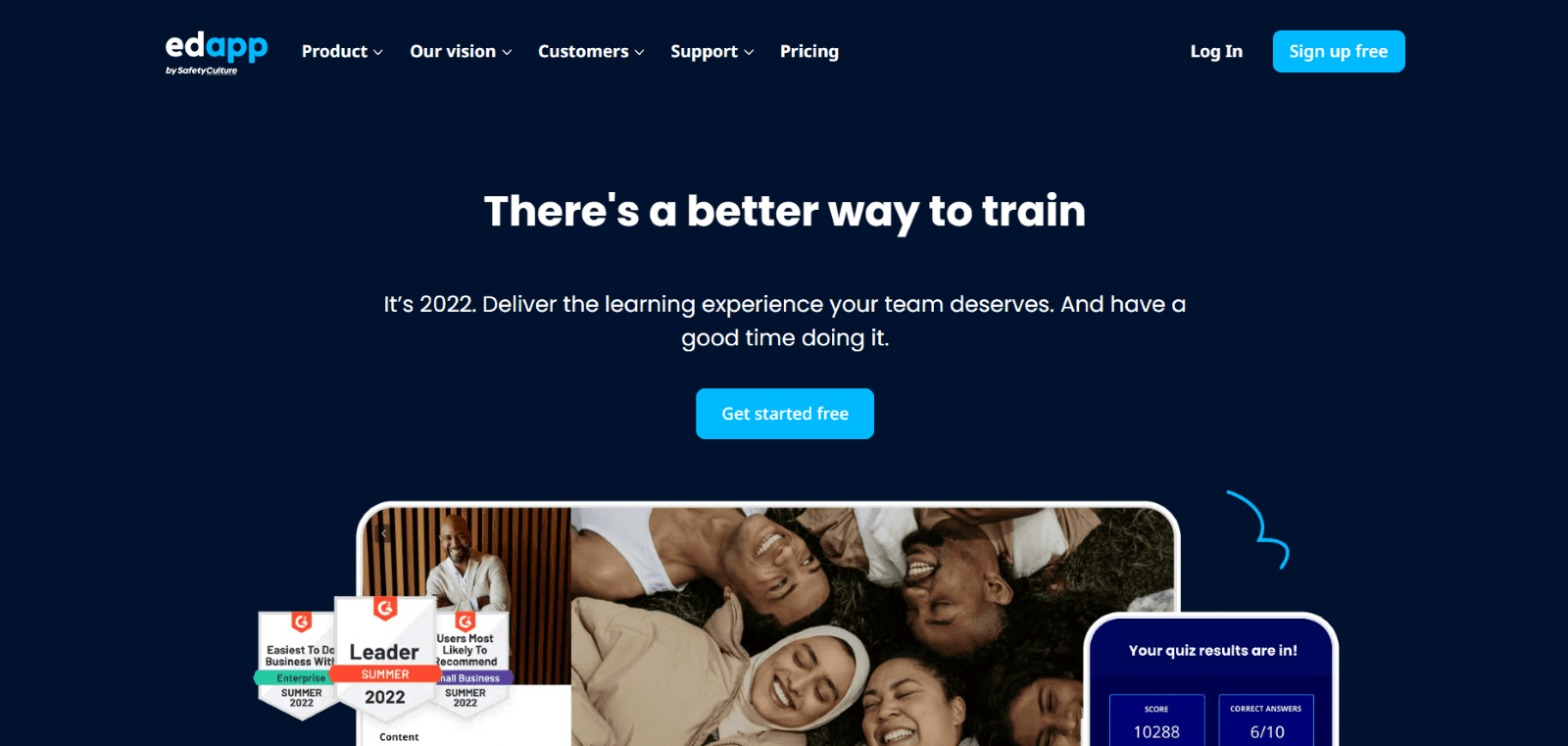 G2 rating: 4.8/5 (101 reviews)
Founded In: 2018
EdApp is a micro-learning platform that offers a mobile learning management system crafted for daily learning, delivering engaging content through various mediums such as blogs, articles, videos, and more to let the candidates learn from anywhere and anytime.
In addition to the content creation option, EdApp also features a per-content library option, which L&D managers can utilize to create templates that fit their preferred learning approaches. This platform uses gamification to support learning and development initiatives through increased learner engagement.
Pros
Creating a training course or downloading it from the library is easy.

It offers a wide range of templates.

This tool also incorporates gamification, teamwork, and dynamic analytics features.
Cons
You can upload videos of only up to 10 MB in size.

The analytics option does not offer a complete range of coding measure options.
Free trial: Available
Top Clients: Pandora, Deloitte, Chatime AU, Mars, Shell
Pricing: $1.95 /month
2. gnowbe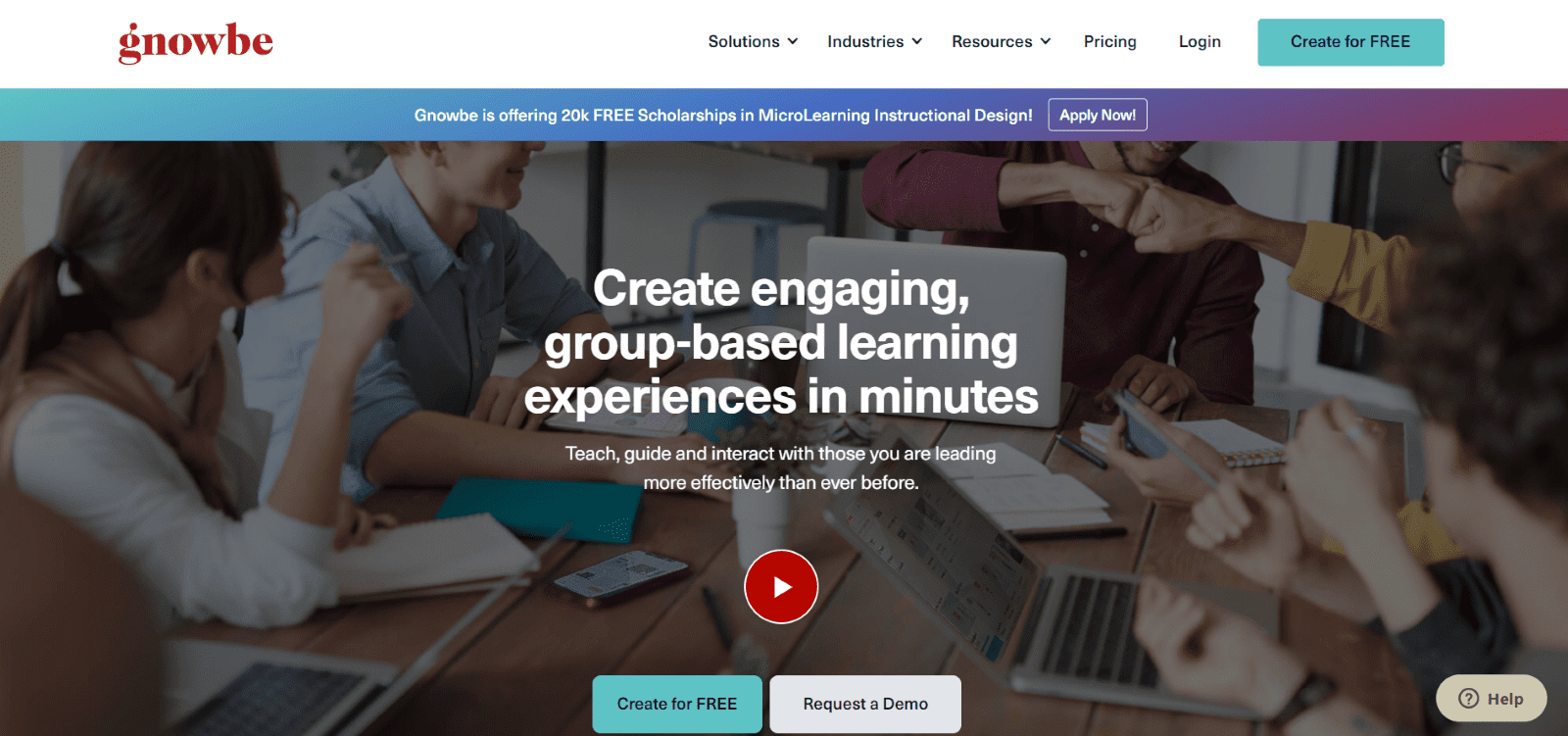 G2 rating: 4.8/5 (42 reviews)
Founded In: 2016
gnowbe is a performance enablement platform with a comprehensive range of enterprise-ready capabilities that links strategy, operations, and personnel. It also offers a course library and a selection of templates to create a more personalized course. The other features of this platform include deployment, planned sessions, rapid curation of accessible multimedia choices, gamification, offline access, and push alerts.
Pros
It allows you to create compelling and successful content quickly.

Its user-friendly UI aids in delivering all gnowbe courses with ease.

gnowbe's extra features include automatic emails with further references, a leaderboard, a group forum, and praise prompts throughout the course to enhance employees' learning journey.
Cons
The image sizing option is restricted, which makes content creation more challenging.

This tool does not allow you to add another curator to the program.
Free trial: Available
Top Clients: SAP, MetLife, MITSUBISHI, General Mills
Pricing: $5 /month
Online Course Providers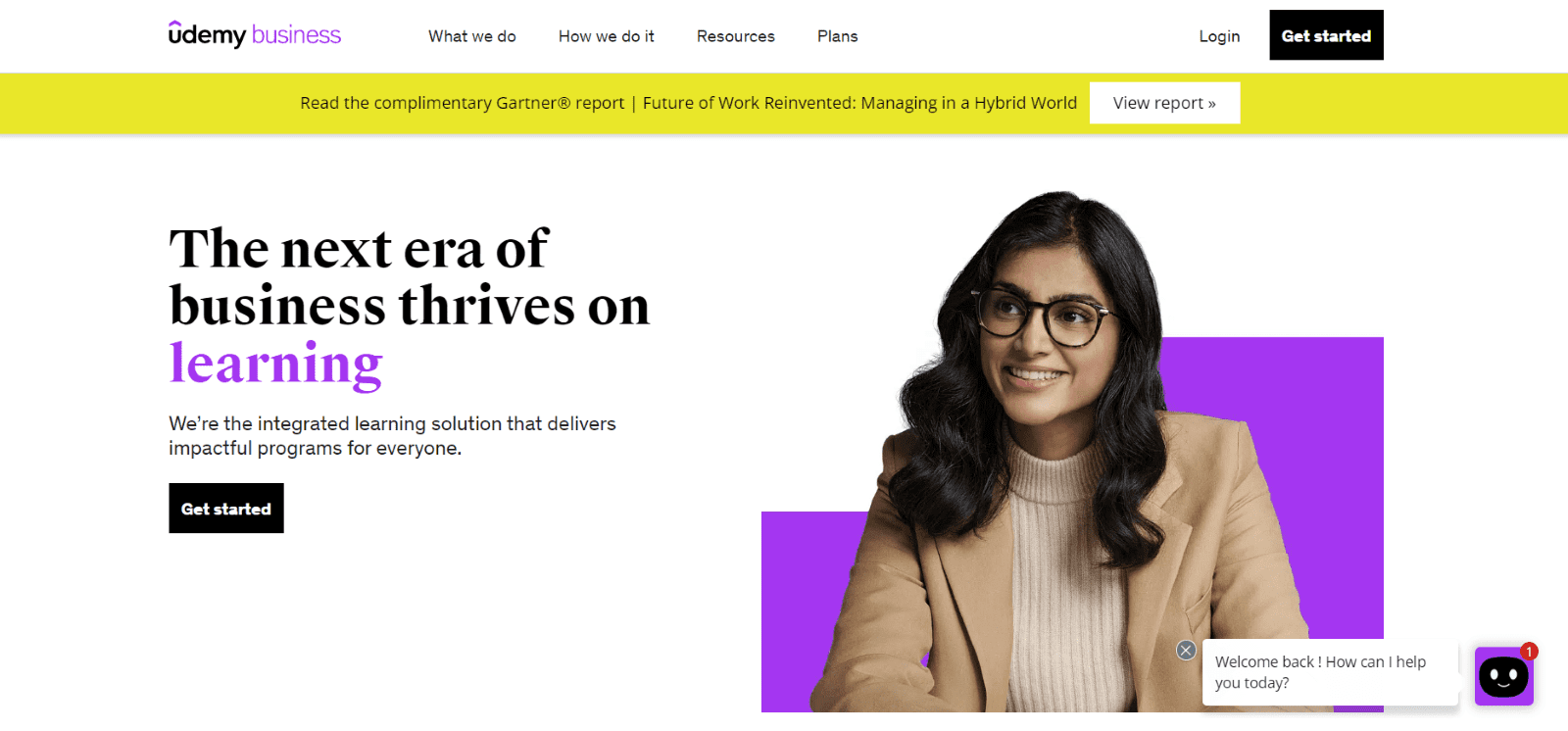 G2 rating: 4.5/5 (526 reviews)
Founded In: 2009
Udemy is a renowned online course provider that assists businesses in achieving their business objectives by helping them upskill their personnel through cohort-based learning courses. Also, candidates can use these courses to prepare for certification tests.
Pros
You can practically learn anything using their courses, from technical to soft skills.

Adding courses to your custom-designed route is easy.

It also includes an evaluation option to help you analyze your subject proficiency.
Cons
The course content is limited and does not focus on the full-fledged development of a particular skill.

Some courses offered by Udemy have low-quality content.
Free trial: Available
Top Clients: TCS, Mattel, box, tender, Aflac
Pricing: $360 /user (per year)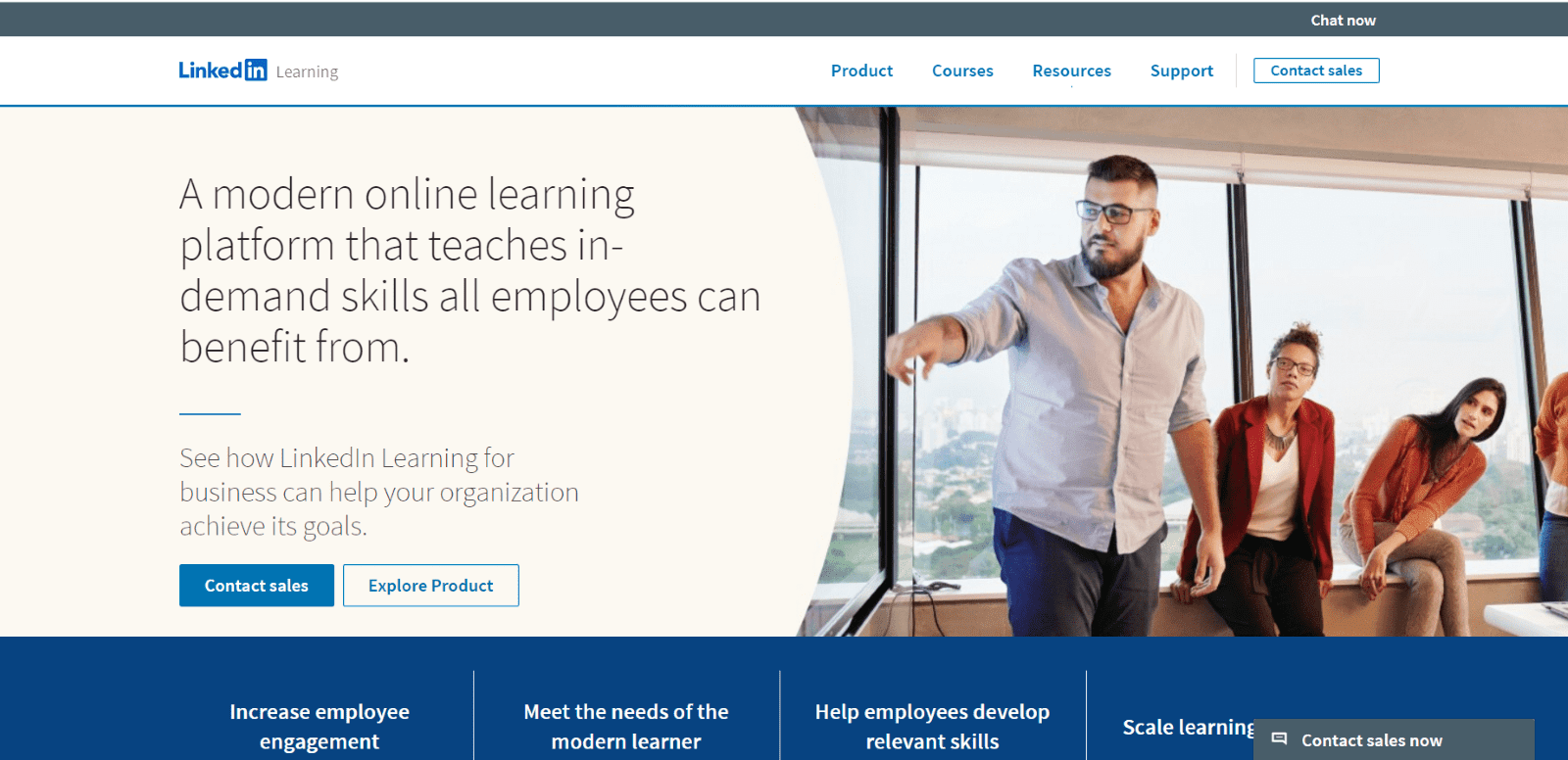 G2 rating: 4.4/5 (558 reviews)
Founded In: 2003
LinkedIn Learning is an online course provider offering over 16,000 eLearning courses based on data from its professional social media network. It helps companies enhance learner engagement and build skills they need today and tomorrow with the help of these courses.
Pros
LinkedIn Learning contains various courses spread across different domains like Finance, IT, Business Analyst, Product Management, etc.

The LinkedIn Learning platform is easy-to-use and has a straightforward user interface.
The portable feature of this platform allows you to learn from any location.
Cons
No quizzes or tests are attached to the course to evaluate the overall understanding of the candidates.

It is tough to determine if employees are spending the required time in training.
Free trial: Available
Top Clients: LEGO, Kellogs, City of Austin, Airtel, Allianz, BookingGo
Pricing: On request
Knowledge Sharing Tools
1. Loom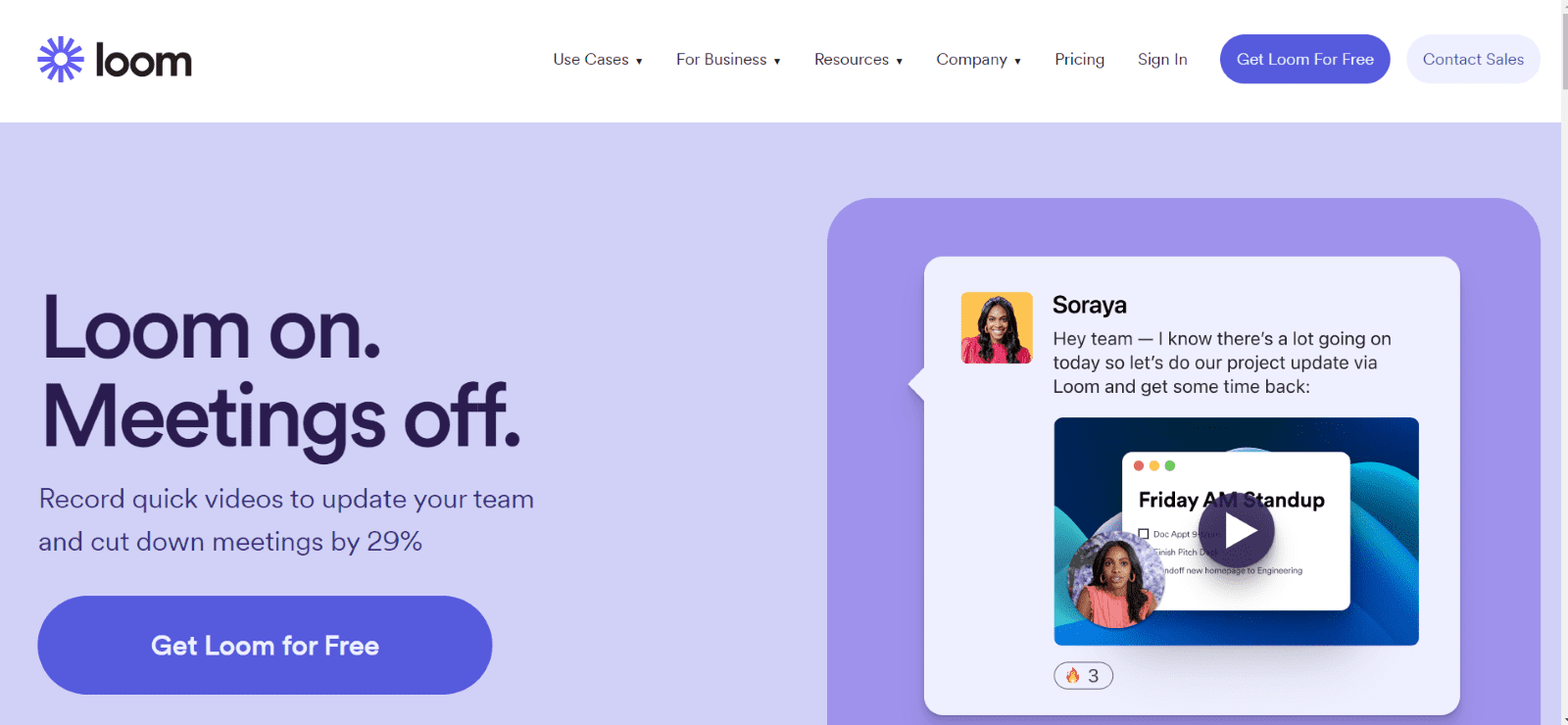 G2 rating:
4.7/5 (752 reviews)
Founded In: 2016
Loom is a knowledge-sharing software that captures screens and videos for asynchronous learning. It enables educators to record training sessions from Windows, iOS, or mobile devices. It also includes fast editing, unique branding, and engagement data to boost efficacy and ROI.
Pros
Loom is a helpful tool for creating screen recordings and films and automatically uploading them without the creator's intervention.

It helps to explain complicated tasks in less time by recording step-by-step videos.

Its sharing permissions follow a simple process.
Cons
One of the drawbacks of this tool is that there are time duration limitations for recording a video.
When you upload external material, video processing becomes extremely slow.
Free trial: Available
Top Clients: HubSpot, Atlassian, Netflix
Pricing: $8/user (per month)
2. Trainual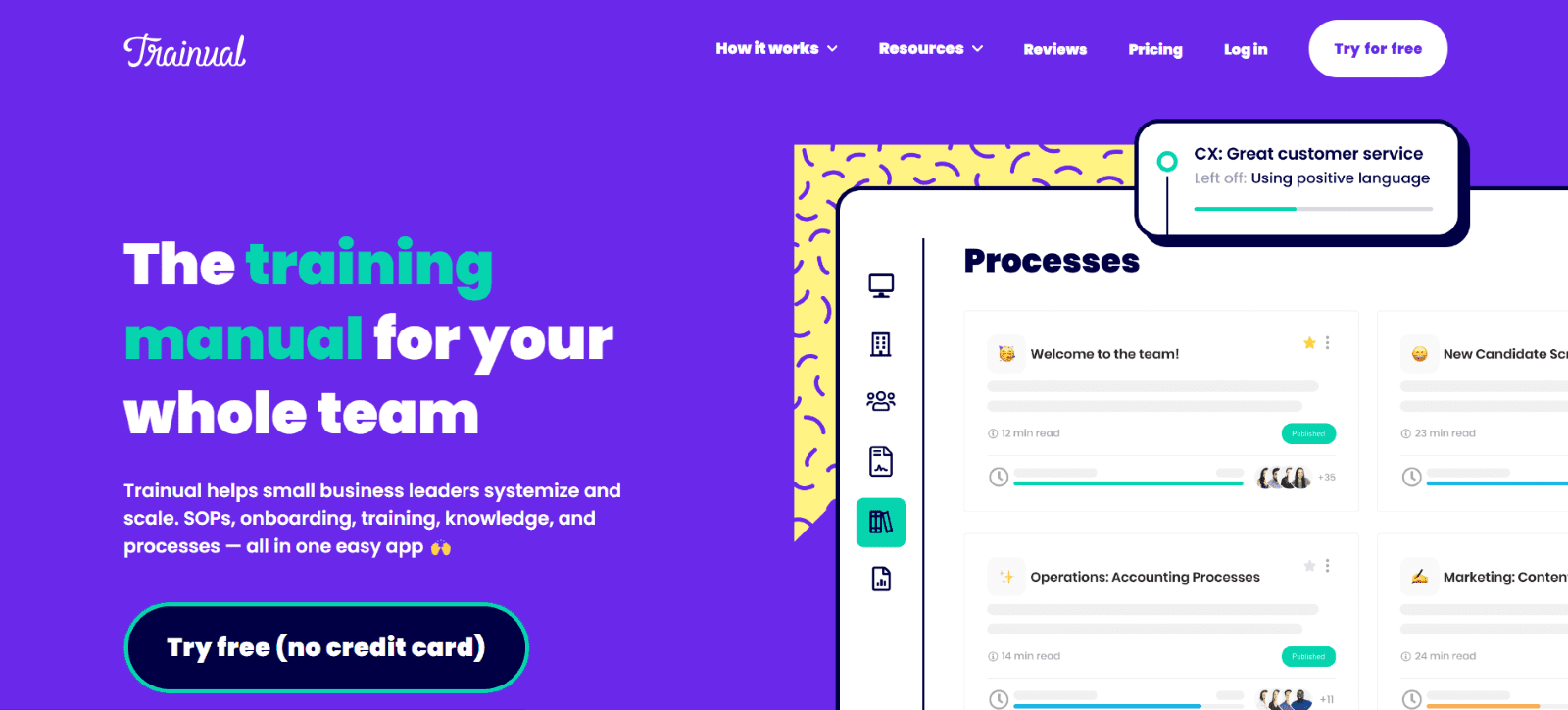 G2 rating:
4.7/5 (454 reviews)
Founded In: 2018
Trainual is a knowledge-sharing platform for onboarding new employees, automating training, and developing learning systems to help firms become more scalable. The consolidated dashboard of this platform acts as a repository for training content, team member information, roles and policies, and even operational operations. L&D teams can organize their data by assigning it to the appropriate individuals and tracking their progress.
Pros
Trainual is easy to navigate and an easy-to-update tool.

With plenty of guidance and templates, this tool makes creating content easy.

Visual elements in training draw attention section makes things easier to visualize and provides a professional appearance.
Cons
The analytics and reporting should improvise, as it is challenging to see broad usage and adoption.
It takes some time to become acquainted with creating tasks on the portal.
Free trial: Available
Top Clients: Design pickle, Standford university, Raceway, Ironman
Pricing: $61.00 /month
FAQs
1. What is a learning and development strategy?
A good learning and development strategy includes characterizing existing employees' skills and capabilities and the competencies that firms desire—and developing their talents to create a successful organization.
2. What is the first stage of the L&D process?
The first stage of the L&D process is to conduct a training needs analysis. It is the process of identifying current skills and competencies roles and comparing them to the desired proficiency level using skill assessment tools.
3. How do I plan an L&D?
To plan an L&D, you must follow five simple steps:
Conduct TNI/TNA

Evaluate existing skills of employees

Measure the gap between the proficiency of the candidates and the required skills

Deliver training solutions that'll help organizations to achieve lasting business impact with the help of learning and development software

Showcase the candidates' achievements through pre- and post-score cards to display how the training helped them improve their productivity