It was estimated by the World Economic Forum that over 60% of the world's workforce will have to upskill by 2025. This means the time to invest in upskilling and reskilling is … well, now!
Effective L&D helps employees and employers alike; employees get the knowledge needed to stay employable, and employers acquire the skills needed for business continuity. However, L&D initiatives sometimes fall short of achieving that because of their transactional nature, and that's where learning and development assessment tools come in.
These tools help you at various stages: pre-training assessments to understand skills gaps and learning requirements, ongoing assessments to assess growth and learning, and post-learning assessments to determine and measure overall growth as a direct result of learning initiatives. This analysis even helps you iterate and create effective learning programs.
Learning and development assessment tools have proven to be necessary as a result of their objective approach in determining L&D ROI.
There are, however, a number of disparate tools available in the market, and finding the one that works for you and your organization might be tricky. Which is why, we've curated this list of top 10 learning and development assessment tools to help you!
Top 10 Learning and Development Tools
1. iMocha

AI-powered skills assessment platform for end-to-end assessments before, during, and after L&D program initiatives. With the help of iMocha's talent analytics, AI-powered assessment tools, and expert guidance organizations can create effective learning programs.
USPs:
It offers over 2500+ skills, including 500+ IT skills, 37 Coding languages, 50+ Next-Gen skills, 20+ Domain skills, 20+ Cognitive tests, and more.

iMocha's skills library

is replete with all niche, technical, functional, aptitude skills, and more.

iMocha's patented

AI-Logic Box

helps assess coding skills, view complication details to assess learner's project readiness.

It helps you create an organizational skills matrix, with information about individual and organizational skills level, critical skills requirements, and more with their detailed reports.

iMocha has a

dedicated upskilling portal

, where you can chart individual growth. The portal also allows your learners to take assessments directly.
Trial: Free
Pricing: Custom quote available on request.
2. Mettl


Mettl is a learning and development assessment tool that allows organizations to evaluate employees smoothly. The research-backed assessments and in-depth analytics help deliver effective results before and after training programs.
USPs:
The platform offers 24/7 instant support.

Remote proctoring technology that allows L&D managers to conduct assessments securely and remotely.

Its data analytic reports get updated in real-time and are action-oriented and easy to use.
Trial: Free
Pricing: Custom quote available on request.
3. HackerEarth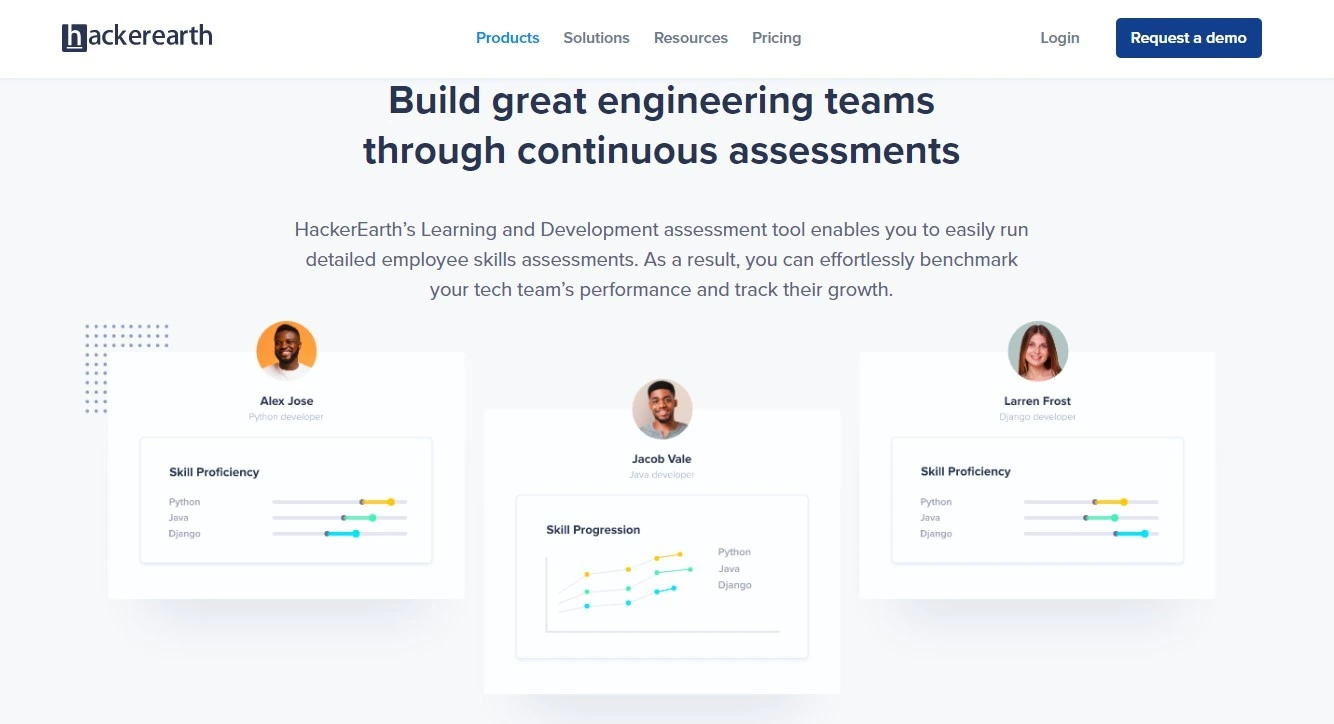 HackerEarth's Learning and Development assessment tool helps assess employee skills, identify skills gaps, and chart a clear learning path. As a result, organizations can benchmark their tech team's performance and track growth.
USPs:
This learning and development assessment tool provide an evaluation engine that accurately reports your employees' skills.

It allows you to run employee skills assessments across 41+ programming languages and 80+ skills.

Create tailored and self-guided learning pathways for employees and assess training effectiveness.
Trial: Free
Pricing: Starts at $119 per month, or a custom quote is available.
4. Hogan

Hogan is a personality trait measuring tool for organizations to understand an employee's performance and workplace performance. This training and development assessment tool help you delineate an employee's strengths, values, weaknesses, and more to close the skills gaps in an organization.
USPs:
The tool provides a 360-degree view of employee performance.

It analyzes data based on real-workplace performance data points to help organizations thrive and avoid derailment.

Its reports help you identify high-potential talent.
Trial: Not available
Pricing: Custom quote available on request.
5. EdApp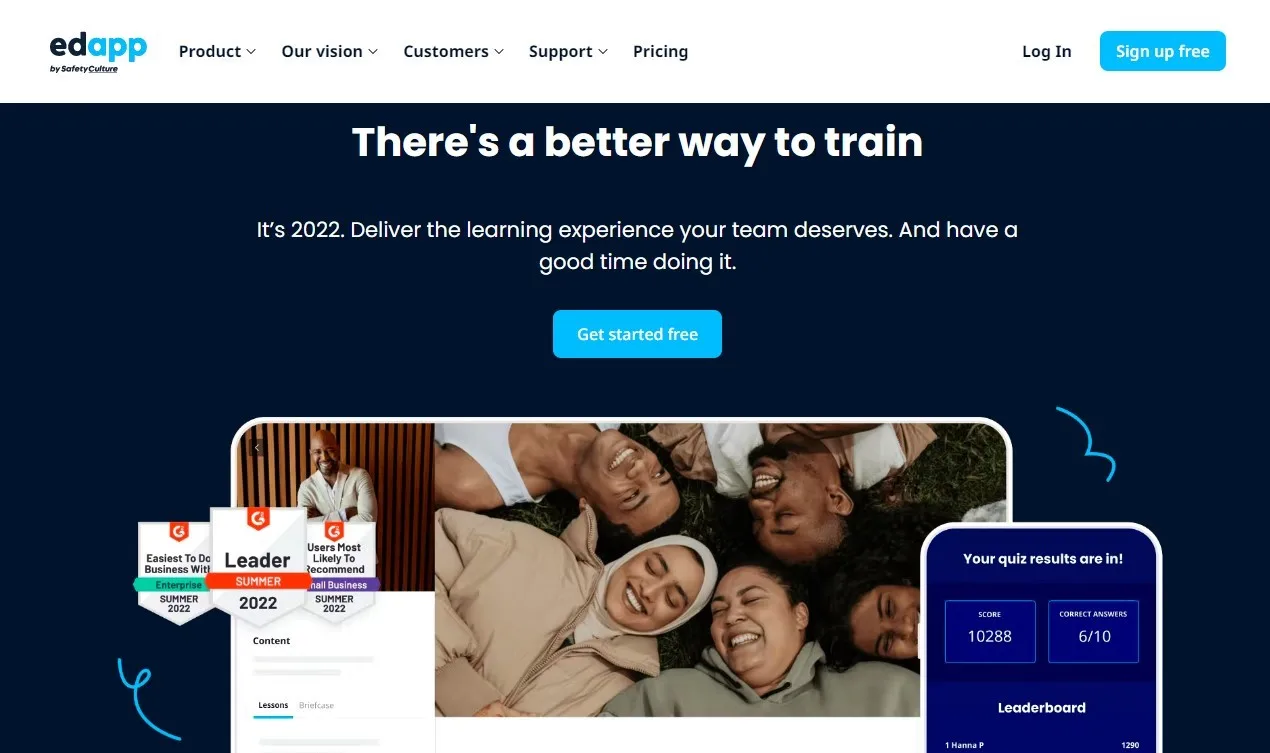 EdApp is a learning and development solution developed by a team of educational psychologists, digital natives, and software professionals. It helps deliver training solutions by combining unparalleled experience, comprehensive capabilities across mobile, and extensive research on leading-edge development.
USPs:
An all-in-one learning management system (LMS) designed to help you deliver assessments, training, and learning content to your employees.

It allows you to quickly view and export employee performance and engagement insights.

It offers assessments in text, image, and video format to test your employees understanding and measuring training effectiveness.
Trial: Free
Pricing: Starts from $1.95 to $2.95 per active user/ month*
Bonus: Here's a step-by-step guide to measuring training effectives of your learning programs.
6. SurveyMonkey


SurveyMonkey is an L&D tool that provides online surveys for employees. This tool's AI-driven insights and experience management solutions are for the pace of modern businesses. Currently, the survey tool offers 17 formats of the questionnaire, such as open-ended, true-false, multiple-choice, etc.
USPs:
It helps you manage your organization's data with advanced security and control to enable your teams to share and collaborate safely.

It offers pre-written survey templates by experts help get the most accurate and reliable survey results.

SurveyMonkey's Likert scale survey questions measure attitudes and opinions with greater nuance than a simple "yes/no" question.
Trial: Free
Pricing: Starts at ₨ 1,550 to ₨ 3,800 / user / month
7. ExperQuiz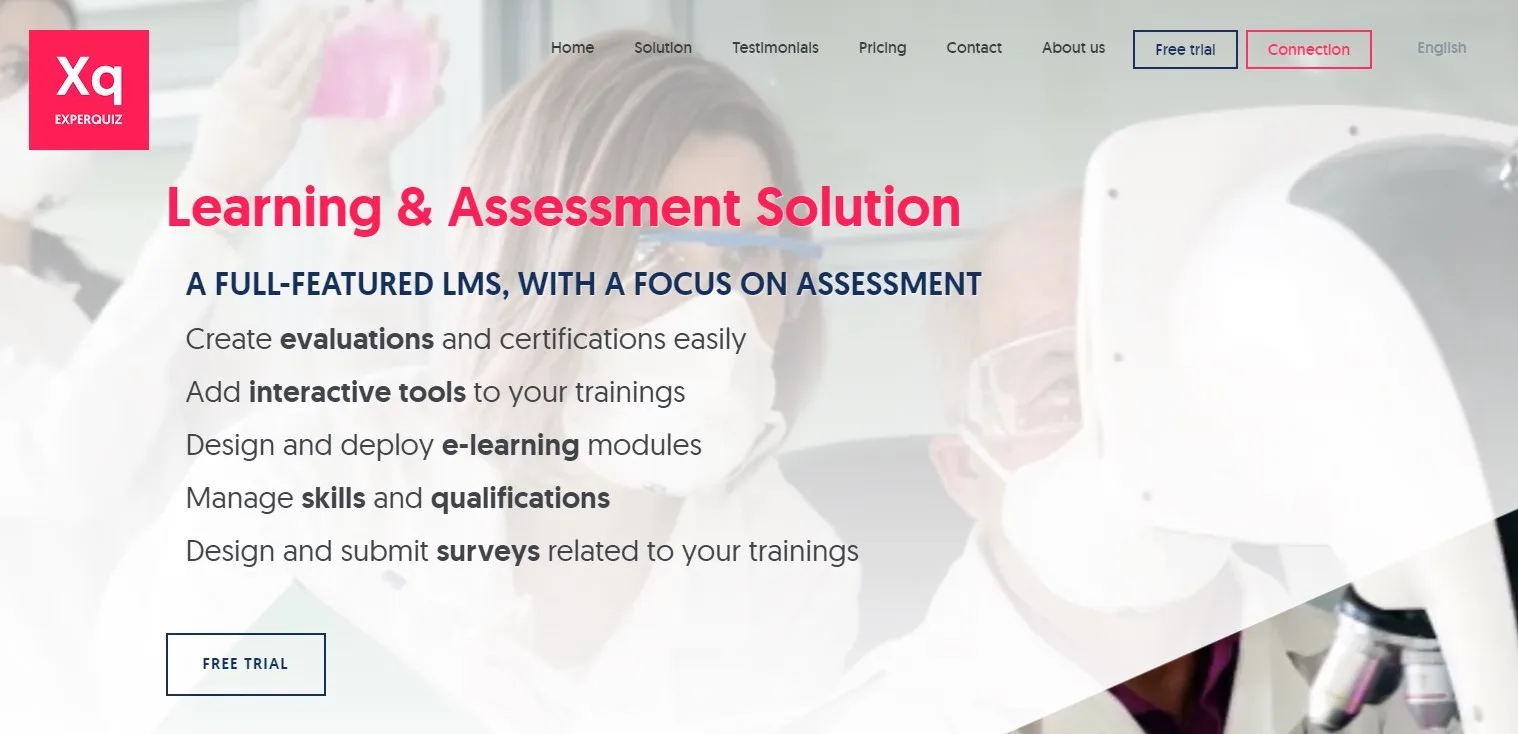 ExperQuiz is a learning and development tool that delivers efficient training courses for employees and provides assessments and quizzes to assess training effectiveness. This platform offers solutions to view detailed results of learning programs, engagement of employees, and manage skills and qualifications within your organization.
USPs:
This platform offers a straightforward design of questionnaires with attached course materials for employees.

Its surveys can be custom-built by choosing from a wide range of fields.

View results immediately with a detailed view of overall knowledge or per-domain breakdown and ranking.
Trial: Free
Pricing: Custom quote available on request.
8. Qualtrics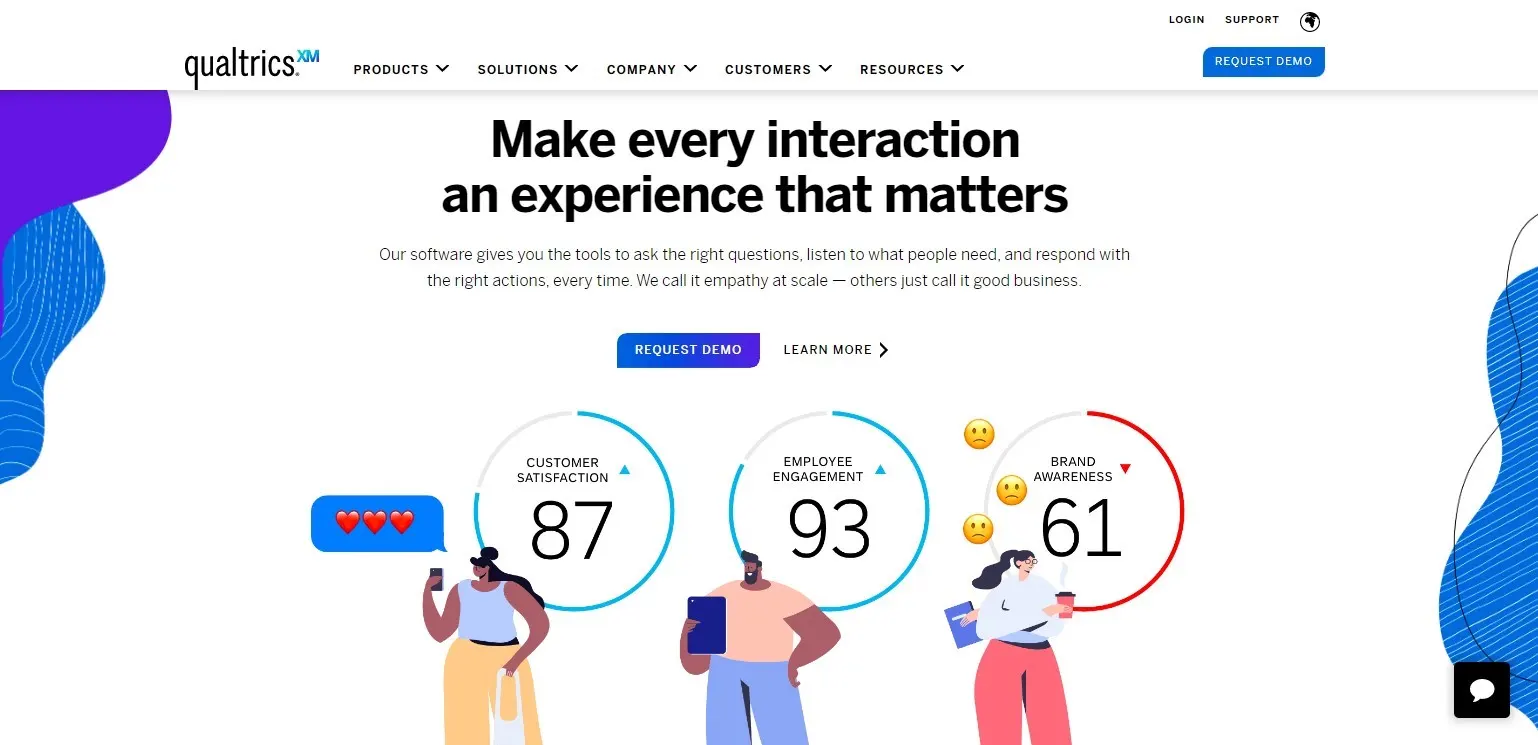 Qualtrics is a training evaluation tool that leverages surveys to gauge the efficiency of training. Using its pre-built training feedback tool, L&D managers can deploy assessments and surveys smoothly. With its pre-built analysis and visualizations, you get access to accurate employee insights that L&D managers can avail without delay.
USPs:
The tool helps to track employees' engagement in the L&D programs.

It has advanced and user-friendly surveying features.

This training and development assessment tool enables L&D managers to view impactful and comprehensive surveys of employees.
Trial: Free
Pricing: Custom quote available on request.
9. Questionpro


QuestionPro is a leading online survey software provider. It offers 88 features and customizable templates to suit your needs; their insights help you conduct effective A/B testing, uncover complex insights for your workforce, and identify actions that will have the most impact.
USPs:
The platform lets you quickly add multiple custom question types, logic, and personalized branding.

Questionpro's online survey software is available on Android and iOS.

It offers round-the-clock phone, chat, and email support.
Trial: Free
Pricing: Starts at $99/month.
10. Kudosurvey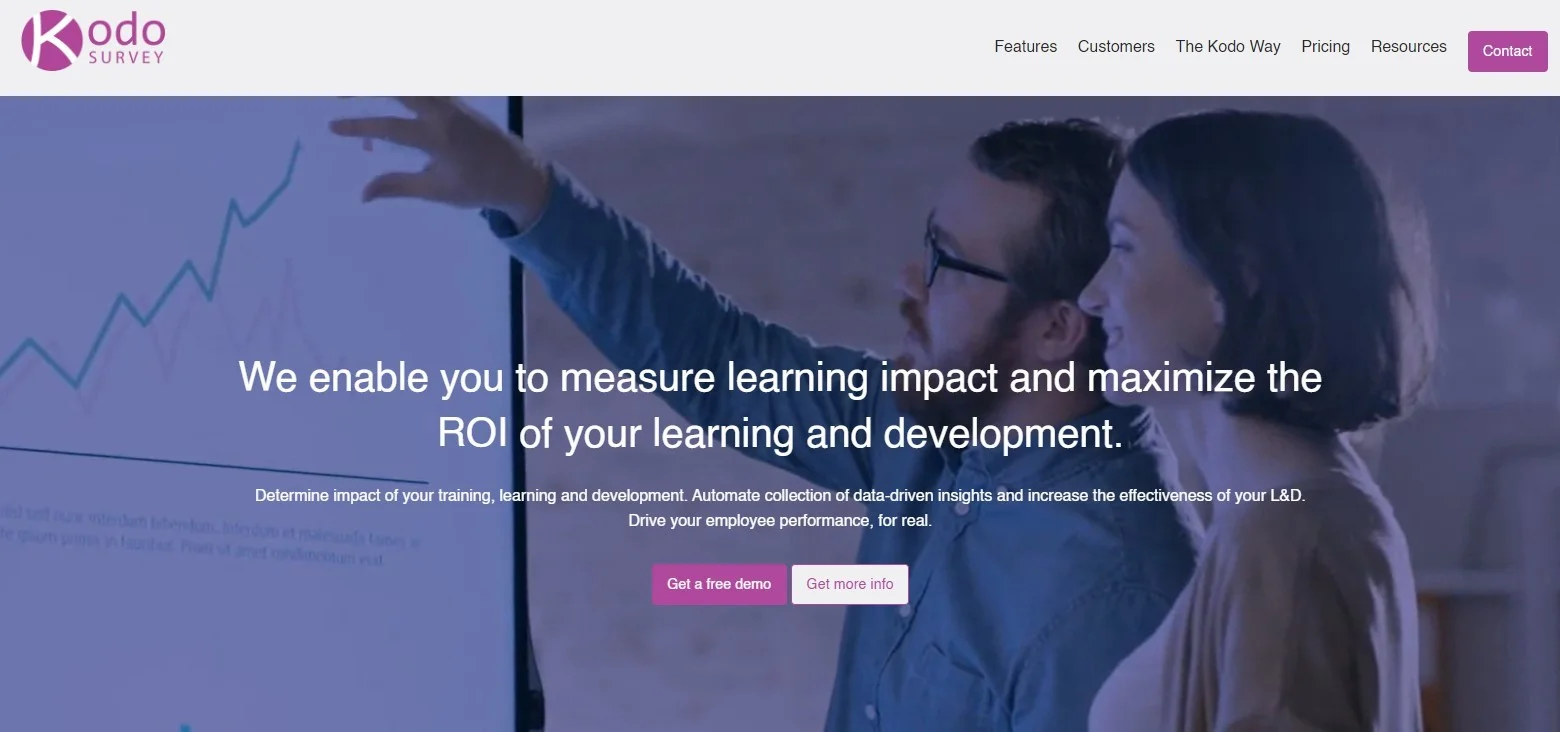 The Kudo Survey platform is a great tool to evaluate the impact of training and development programs. The software's dashboard gives an overview of critical metrics during evaluation. Moreover, it enables L&D managers to see results on an individual level.
USPs:
It helps you measure, monitor, and take action on employee skills gaps by checking metric reports.

Kodo Survey automates administrative tasks so you can focus on achieving business goals.

It offers quantitative and qualitative reports.
Trial: Free
Pricing: Starts at €542 / month
FAQs
How do you identify learning and development needs?
You can identify learning and development needs on individual and organizational level using assessments. Learning and development assessment tools help you identify the strengths, weaknesses, and areas of immediate improvement. Using these assessments, you'll also be able to gauge what critical skills you need for organizational development.

How is L&D effectiveness measured?
L&D effectiveness can be measured on both quantitative and qualitative parameters using learning and development assessment tools and learning surveys. Following the Kirkpatrick model of training effectiveness, you can measure the immediate reaction of learners, learning, behavioural changes, and overall results.
Some metrics that you can map are:
Training Attendance:

Tracking attendance for every course is an effective learning and development KPI to measure training effectiveness.
Time-To-Proficiency: One of the most critical training metrics is the time taken by an employee to produce results after completing a course.
Stakeholder Perception: Stakeholder perception requires frequent communication between the L&D team and managers. Measuring employee performance is not only vital thing but also to noting if the stakeholders are satisfied.
Test Results: Tests are essential to the training process and form a critical core of learning and development KPIs.
Application Test: Application test is a highly recommended approach; it is one of the best KPIs to measure the training effectiveness of employees.
How to measure the ROI of L&D programs?
The traditional way of measuring ROI is by using the ROI calculator. This entails comparing the overall costs incurred during a single training program with the total benefits of the program. However, most modern L&D leaders combine this with qualitative using training and development assessment tools and survey tools since development of skills like comprehension, associative memory, reasoning ability, etc. cannot be measured in objective terms.