"The land of opportunity and growth" is what each organization claims to be during hiring. But to what extent is it true? Is your organization capable of delivering that promise?
Well, most organizations often forget the growth factor after hiring candidates, which causes a severe "skill gap" and eventually results in economic underperformance, social discontent, and interpersonal suffering. The skill gap is not healthy for either employees or employers.
In fact, as per the recent survey conducted by Accenture, a lack of efficient or effective workforce development could result in a loss of nearly $3 trillion in future revenues.
So, if you are still contemplating whether to invest in workforce development assessment tools, you must not waste more time and invest in training your employees. Otherwise, you'll find your employees unskilled and unequipped to solve future problems.
Workforce development assessment tools can identify skill gaps, build customized plans per employment need, monitor progress, and certify candidates based on competency level.
Check out the top 5 workforce assessment tools below and choose one that is right for your organization.
Top 5 Workforce Development Assessment Tools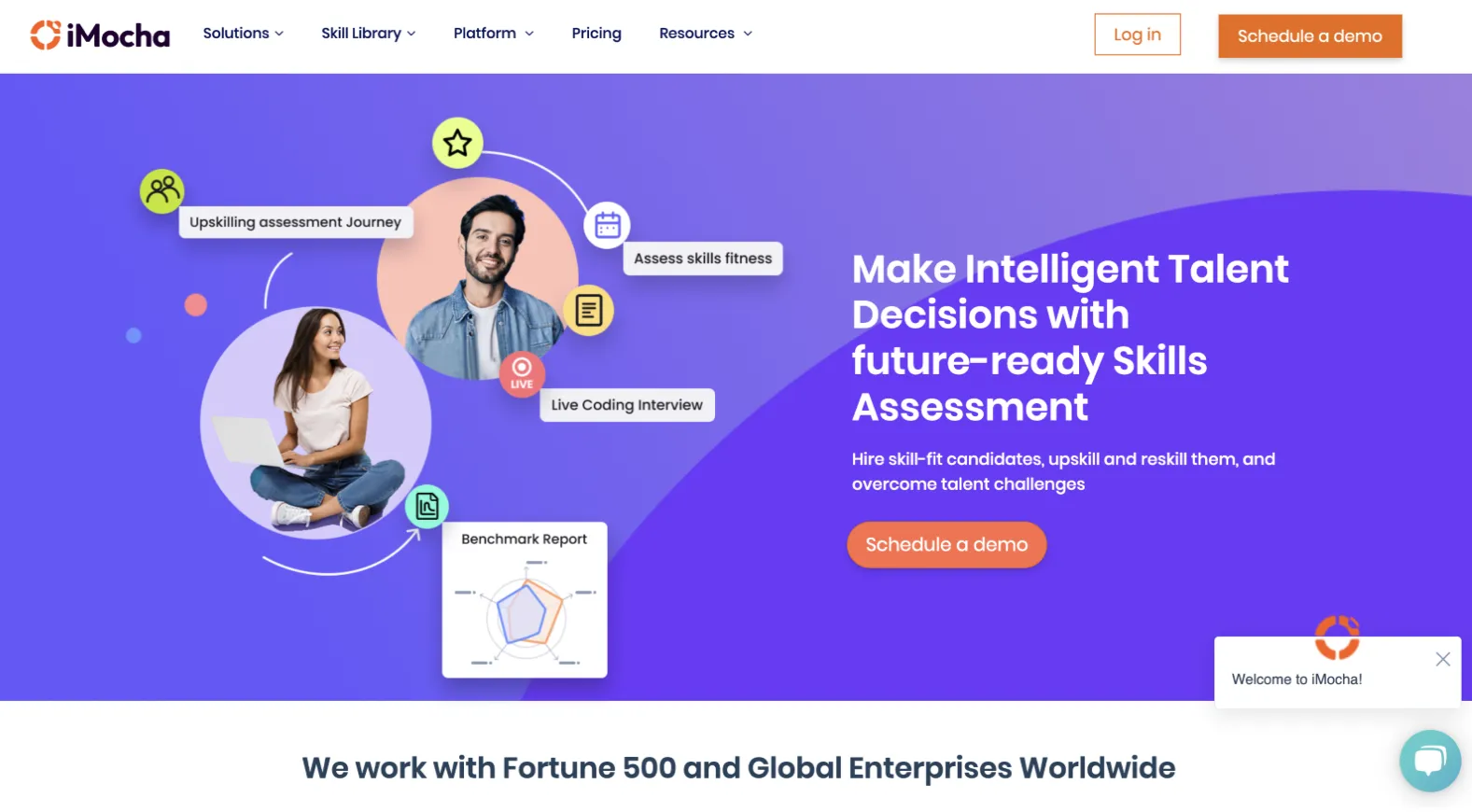 iMocha is one of the best workforce development assessment tools that helps organizations in up-skilling and re-skilling applicants and measuring the ROI of their L&D programs through skill assessment.
iMocha's extensive question bank includes 10,000+ questions on the latest skills, such as aptitude with numerical ability, logical reasoning, reasoning ability, spatial visualization, reading comprehension, statistics & probability, etc.
Using the platform's remarkably resourceful and customizable assessment framework, you may create pre-and post-training assessments depending on the candidate's competency levels—beginner, intermediate, proficient, and experienced.
After completing the training, candidates are reassessed to receive certificates as per their proficiency levels.
While LMS mainly has features like training program management, course content, certifications, and virtual classes, iMocha Workforce Development Solution provides skill gap analysis, industry benchmarking, talent analytics on participation, completion, and performance for data-driven succession planning decisions and measurement ROI of learning.
Founded in: 2015
Founded by: Amit Mishra & Sujit Karpe
Free Trial: Yes
Pros:
iMocha provides 2500+ skills, 10,000+ questions, and 35+ coding languages, which allows managers to evaluate job-specific skills for any industry

The platform allows you to create your questions as well as customize your assessment from the question bank

Their insightful assessment reports enable the learners to see their skill gaps, competency, and areas of improvement.
Cons:
iMocha does not conduct psychometric tests
Clients: EY, Capgemini, Deloitte, Vanguard, Ericsson, and more
G2Crowd Rating: 4.4 /5
Pricing: $1800.00 /year
Looking for the right tool to measure workforce competencies? Try iMocha's digital skills assessments!
2. CASAS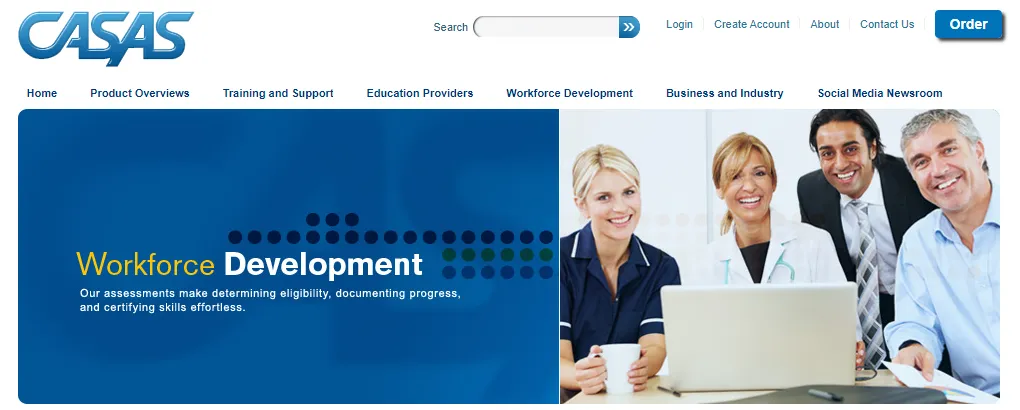 Founded in: 1977
Founded by: Martin Ouellet
Free Trial: Yes
Pros:
The platform manages the entire sourcing and recruiting process. Besides that, it also manages new hires, offers performance training, and promotes career advancement.

For your organization's growth, it delivers workflow-driven human capital.

Oracle has an easy-to-understand and intuitive UI.
Cons:
When searching for candidates in the database, the "years of experience" filter is not embedded.

It does not provide custom-built reports and dashboards.

The feature to download CVs in bulk is not available.
Clients: Generali, AutoZone, Sainsbury's, Vanderbilt university, Schroders
Pricing: $2500/month
G2 Rating: 3.4/5 (340 reviews)
3. eSkill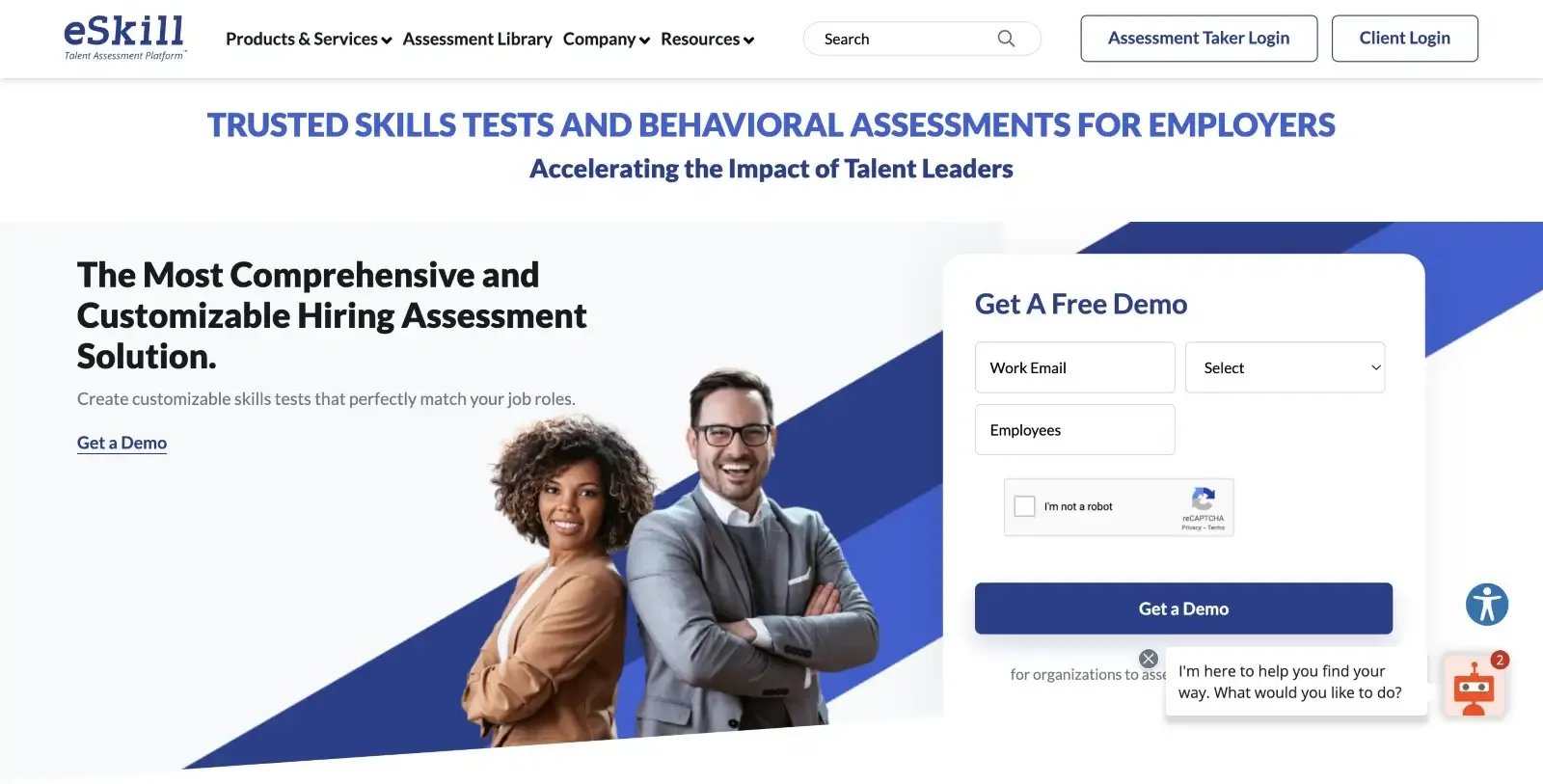 Founded in: 2003
Founded by: Gerrad Szatvanyi
Free Trial: Yes
Pros:
Using their pre-made exams, you can check everything from general skills to job roles, and they pay remarkable attention to detail throughout the process.

It's easy to create a test using eSkill's pre-loaded questions. To make a test more suitable for the current recruitment, it can be duplicated and then personalized as per the job role.

eSkill provides an extensive library of evaluations based on market and industry requirements.
Cons:
There is no test model payment. It is not possible to buy test packages that are monthly or smaller. Every year, the entire model, which is more than you need, must be acquired.

It is challenging to navigate the results page because of its confusing user interface.
Clients: Coca-Cola, Work Personnel, State of Colorado, Emory University, Pandora
Pricing: On request
G2 Rating: 4.5/5 (311 reviews)
4. The Predictive Index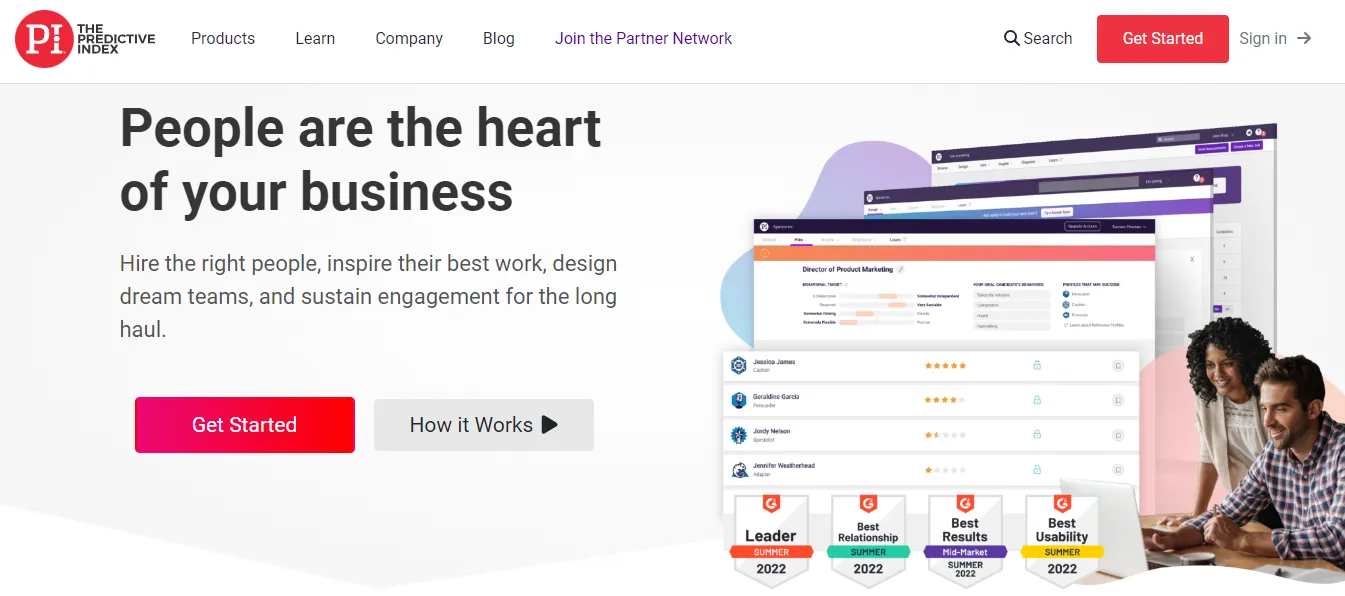 Founded in: 1940
Founded by: Arnold S. Daniels
Free Trial: No
Pros:
Through the combination of psychometrics and technology, P.I. provides you with tools that help diagnose employee experience and identify specific actions to help improve it.

Their assessments are available in 70+ languages.

The software offers one of the fastest behavioral assessments of just 6 minutes with impactful insights into a candidate's behavior.
Cons:
The Predictive Index is one of the high-priced workforce development assessment tools, and only enterprises with big budgets can afford it.

The software has a complex and unintuitive U.I., making it much harder to navigate features like a link to the assessments and more.
Clients: DocuSign, Formstack, AutoNation, 47
Pricing: On request
G2 Rating: 4.7/5 (367 reviews)
5. Kahuna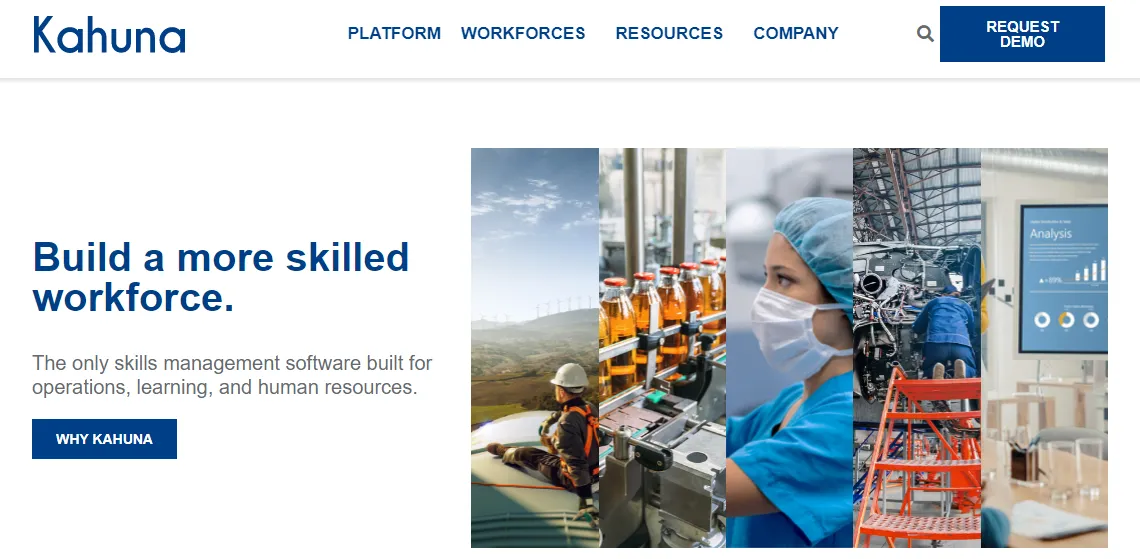 Founded in: 2018
Founded by: Jai Shah
Free Trial: No
Pros:
Kahuna's team is highly supportive and service-minded.

The software provides seamless integration with HRIS and LMS.

They provide a great deal of flexibility and customization that can be implemented to meet the needs of businesses of all sizes.
Cons:
Features like email system notifications, dashboards and import templates lack functionality.

There are minimal guidelines on accessibility and usage of the software, which makes it quite complicated to use.
Clients: Intermountain Healthcare, J.M., St Luke's, Fugro, DCP Midstream
Pricing: On request
G2 Rating: 5/5 (19 reviews)
Wondering how to measure the impact of your employee development programs? Use iMocha's skills assessments to measure objective ROI!
FAQs
What is a workforce assessment?
Ans. Workforce assessment is the critical step in upskilling the workforce/employees for long-term success. With the help of the evaluation of these assessments, employers can identify the skill and competency gaps between current and future workforce needs.
Why is workforce development significant?
Ans. Workforce development has become one of the crucial aspects nowadays since it allows employers to retain and recruit top people, boost morale and job satisfaction, boost productivity, and raise profits. Additionally, the latest statistics state companies with engaged staff experience a reduction in attendance of 41% and an increase in productivity of 17%.
What is the most commonly used workforce development assessment tool?
There are many workforce development assessment tools in the market currently. Here is the list of commonly used ones:
iMocha

CASAS

eSkill

The Predictive Index

Kahuna