Employee assessment tools are no longer drag versions of 'never-used' software. Companies are increasingly recognizing the value that talent assessments can provide.
A report by SHL claim that around 60% of workforce managers use this tool for talent development, and about 93% of recruiters use it for hiring purposes.
Employee assessment tools come in forms, including self-assessments, performance appraisals and more. They also serve following purposes;
Assessing the performance,

skills

and abilities of employees.

Identifying

employees to develop effective talent management strategies.

Gaining insights into

employees'

strengths and weaknesses.

Making informed

decisions when hiring

talented individuals.

Providing

feedback and performance evaluations to employees.

Improving communication and accountability, within the organization.
Given the range of tools, selecting the right one can be a challenging task. Thus, in this blog post, we will examine 12 employee assessment tools that can assist talent managers in enhancing their workforce, boosting employee engagement and achieving business objectives.
Top 12 Employee Assessment Tools Worth Considering in 2023
1. iMocha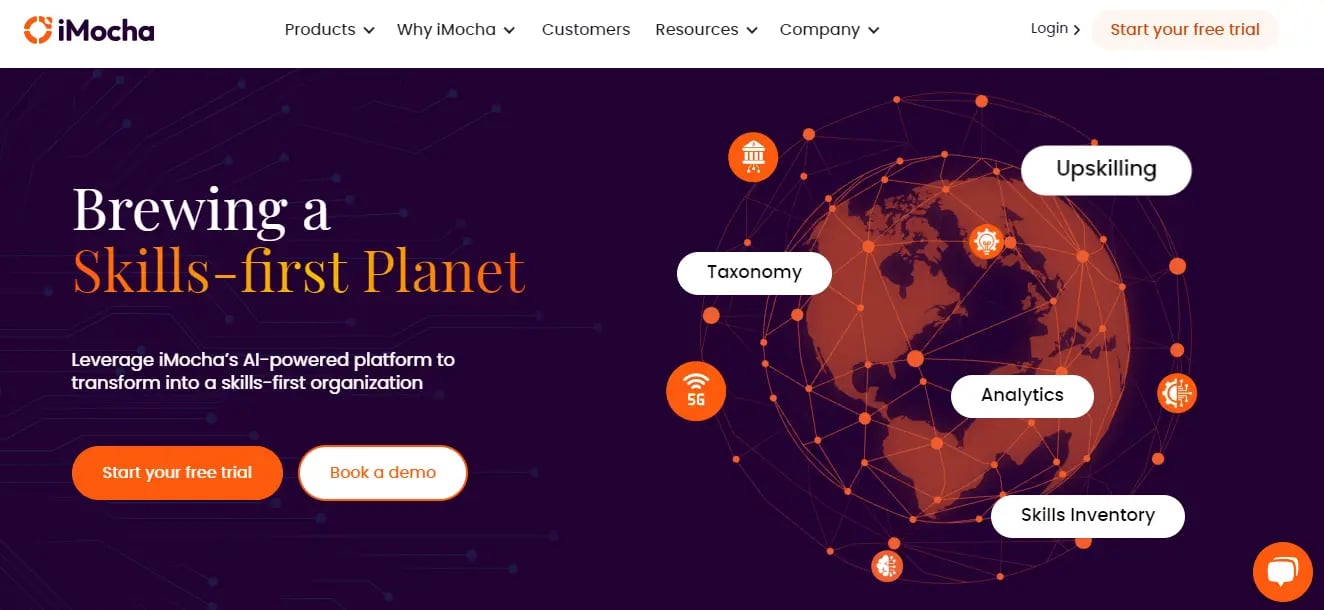 iMocha is a cloud-based skill intelligence platform that offers a comprehensive suite of skill assessments and employment screening tests. It is designed to help recruiters and HR professionals streamline their hiring and talent management processes.
With its wide range of pre-built and customizable skill assessments, automated evaluation and scoring, and real-time performance reports, iMocha easily identifies the right candidates for any role.
Additionally, it enables talent managers to create a detailed skill profile of all employees, aiding in evaluating and identifying their potential career paths or suitable role within an organization.
Key Features:
Customizable skill assessments to validate the technical and non-technical skills of employees and candidates

Anti-cheating features

such as safe assessment browsing experience, face detection, randomization of questions, and more

Live coding interview

to hire experienced coders and assess their logic as well as problem-solving skills.

Automated detailed reporting capabilities with access to real-time candidate performance reports

Skills Taxonomy and Skills Ontology to build skill-based job architecture

Role-based access control to eliminate the chance of biases

AI-LogicBox, a pseudo-coding platform that evaluates programmers for skills such as AWS, SAP, UiPath, and more
Coding simulator

with 3000+ coding problems across 35+ coding languages
G2 Rating: 4.4 out of 5
Price: Customized enterprise plans available
2. Skillmeter
Skillmeter is a platform that provides a range of made and customizable skill assessments. It assists recruiters and HR professionals in identifying candidates for any position.
With its automated evaluation and scoring system, real time performance reports and seamless integration, with ATS systems Skillmeter efficiently identifies talent in a timely manner.
Key Features:
Customizable Assessments to create custom assessments that match their unique needs

Candidate Invitations to invite candidates to take assessments by sending them an email invitation

Reporting and Analytics on candidate performance allow users to identify strengths and weaknesses

White-labeling feature to customize the tool's appearance and branding to match their own

The tool is GDPR compliant and offers robust security features, including 256-bit SSL encryption and two-factor authentication
G2 Rating: NA
Price: It offers 3 plans -
Standard: $59/month

Premium: $119/month

Ultimate: $239/month
3. eSkill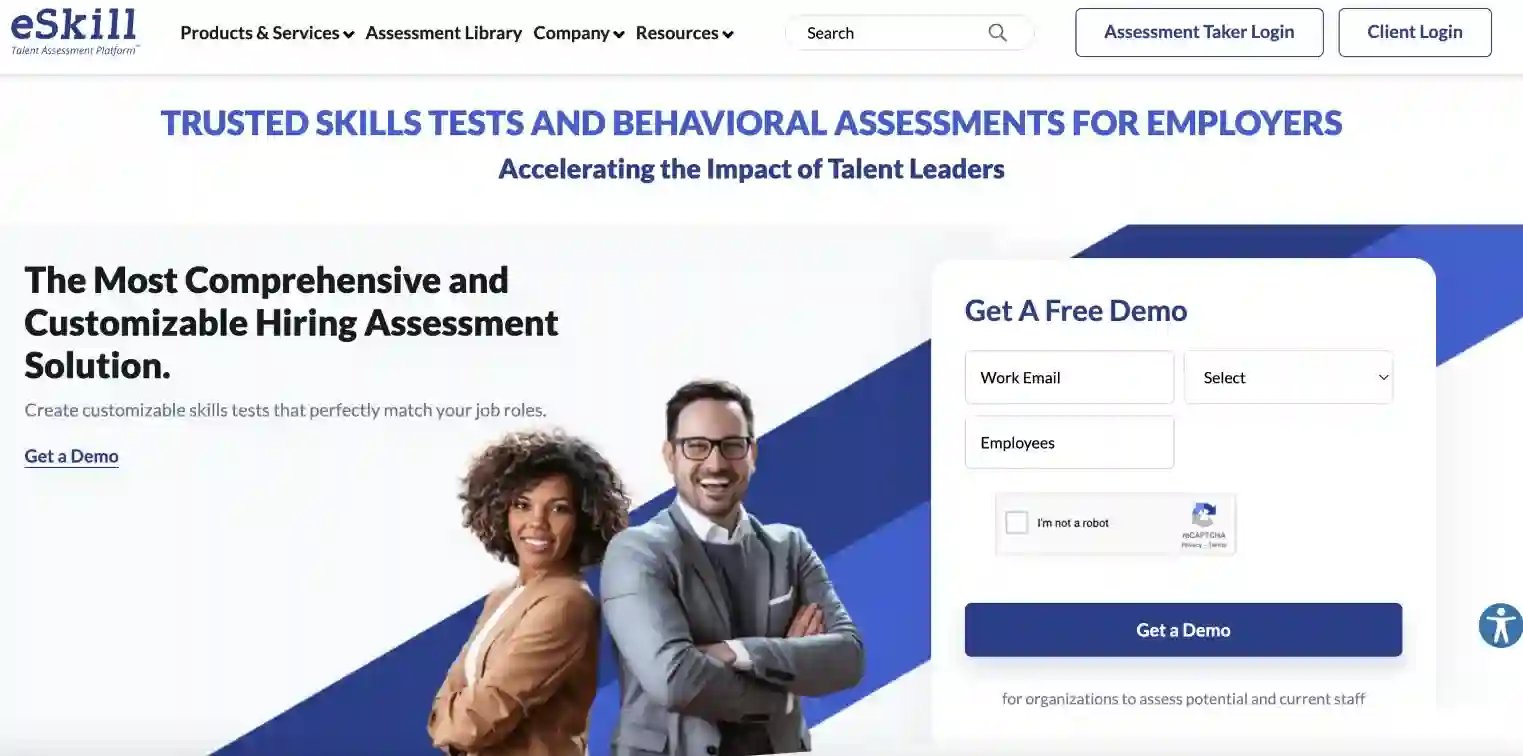 eSkill is another employee assessment tool useful for recruiters and HR professionals as it helps identify suitable candidates for any role.
With real-time results, integrations and robust security measures eSkill provides a suite of employee assessment capabilities. Additionally, the inclusion of video interviewing enhances the hiring process, by offering a tool.
Key Features:
Pre-built and customizable assessments to help employers ensure that candidates are tested on relevant skills.

It covers a wide range of skills, from technical skills like coding and data analysis to soft skills like communication and teamwork.

eSkill's assessments are interactive and engaging, featuring videos, animations, and other multimedia elements that help candidates stay focused and motivated.
G2 Rating: 4.5 out of 5 stars
Price: The platform offers both pay-as-you-go and subscription-based pricing models.
4. Talview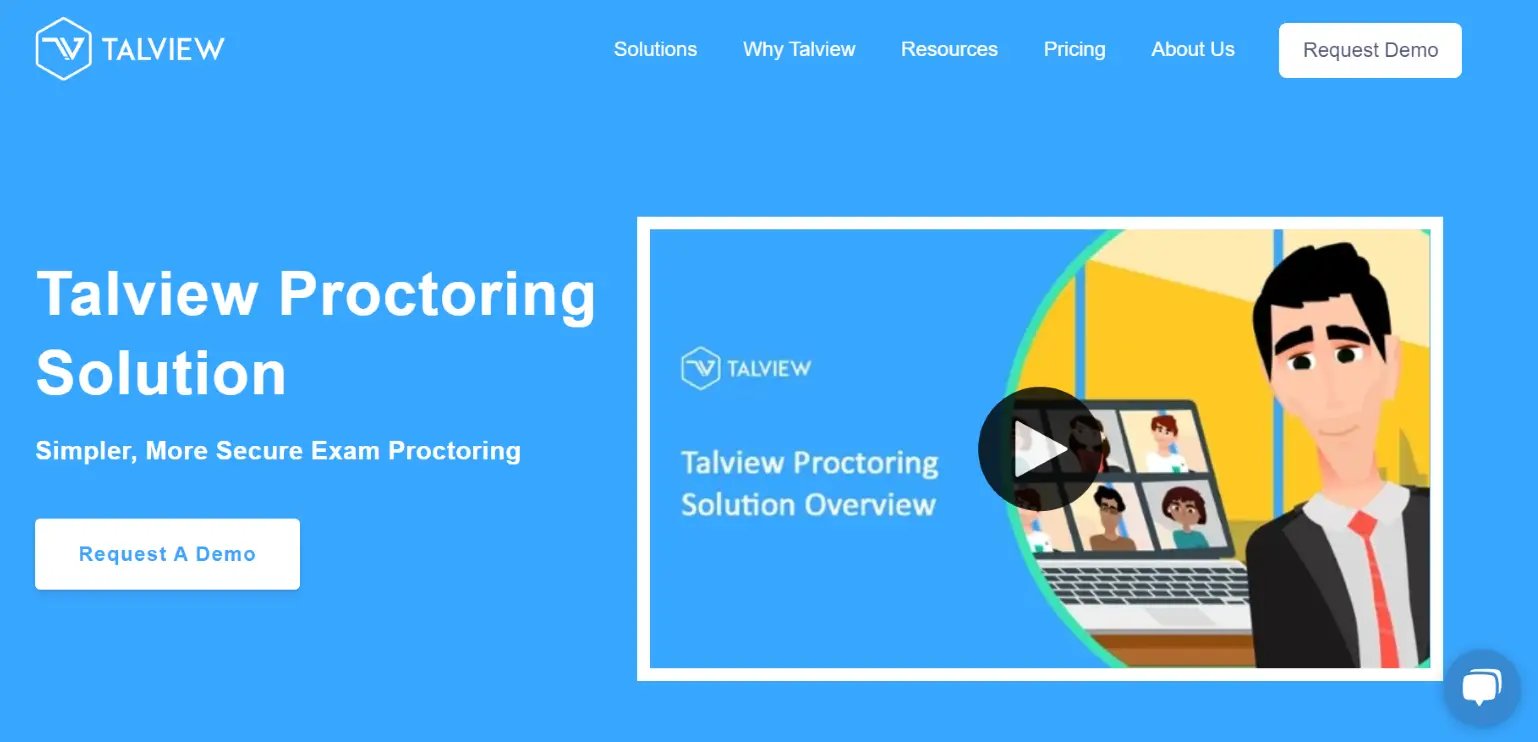 Talview is an employee assessment tool that leverages AI to offer recruitment solutions. With features like video interviews, psychometric tests, cognitive ability assessments, coding tests and more, Talview assists recruiters in making hiring decisions based on data.
Key Features:
Asynchronous video interviewing feature to remotely evaluate candidates and save time

AI-powered automated proctoring feature to detect suspicious behavior, such as cheating or impersonation, and so on

Behavioral insights feature to analyze a candidate's facial expressions, body language, tone of voice, and word choice to provide recruiters with valuable insights into their cultural fitment
G2 Rating: 4.5 out of 5 stars
Price: Available on request
5. TalentGuard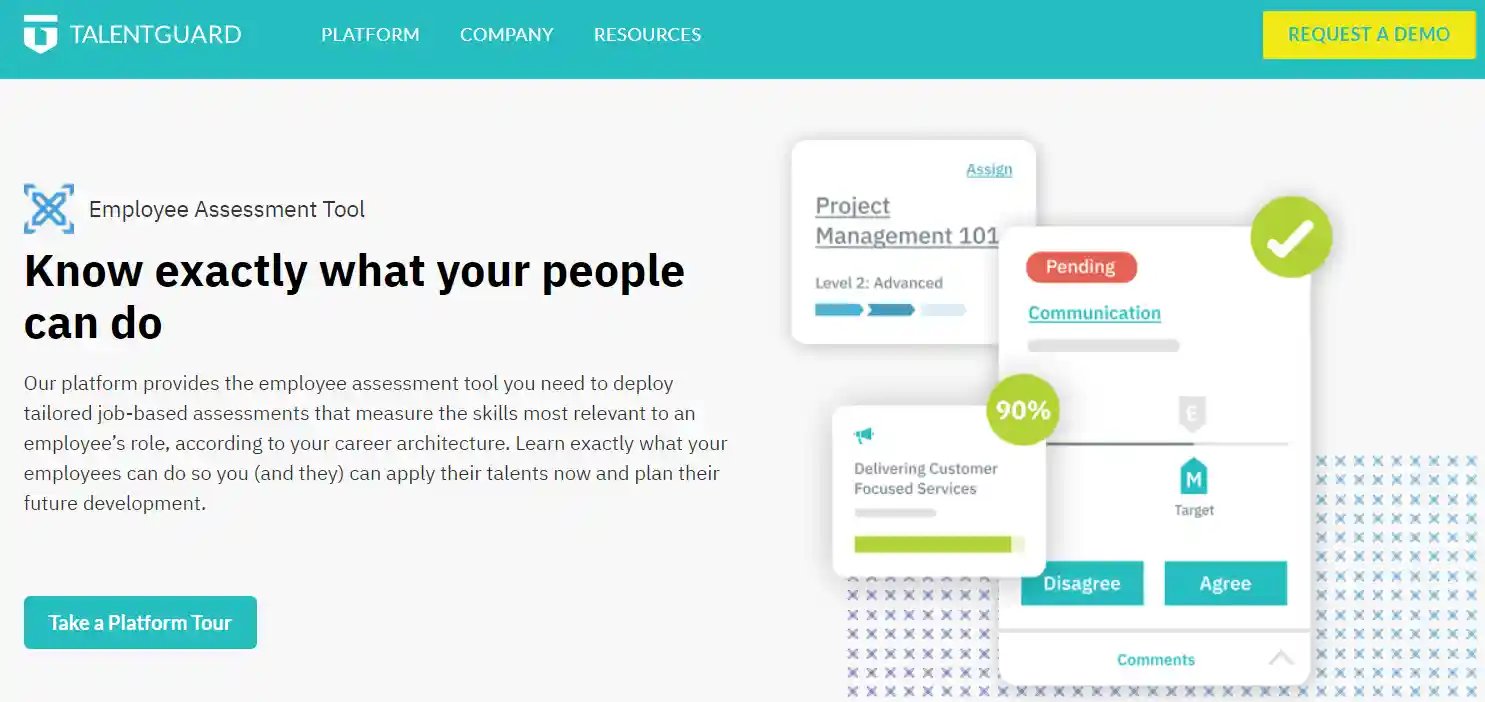 TalentGuard offers a talent management platform that includes employee assessments, like skills evaluations, 360-degree feedback surveys and gauging employee engagement.
What sets TalentGuard apart is its integration, with known HRIS and performance management systems making it effortless to incorporate into your existing HR technology stack.
Key Features:
Evaluate employee performance from perspectives using 360-degree feedback assessments.

Identify areas of strength and weakness through skills assessments.

Measure employee satisfaction and loyalty with employee engagement surveys.

Tailor assessments to meet the needs of your organization.

Seamlessly integrate with HRIS and performance management systems.
Price: Available on request
6. Mettl

Mettl provides a range of assessments, such as tests to measure abilities, evaluations of behavior and specialized domain assessments. These assessments are designed to assist organizations in making decisions regarding hiring and employee development.
One particular advantage of Mettls platform is its real-time feedback and reporting capabilities, which prove beneficial for recruiters and hiring managers. Additionally, the integration with used ATS systems and the inclusion of proctoring features are particularly valuable.
Key Features:
It offers an array of evaluations to assess candidates and employees thoroughly.

Assessments can be tailored to meet the requirements of your organization.

It helps to provide feedback and access real-time reports to track progress effectively.

Seamlessly integrate our assessments with Applicant Tracking Systems (ATS).
G2 Rating: 4.4 out of 5 stars
Price: Available on request
7. ExactHire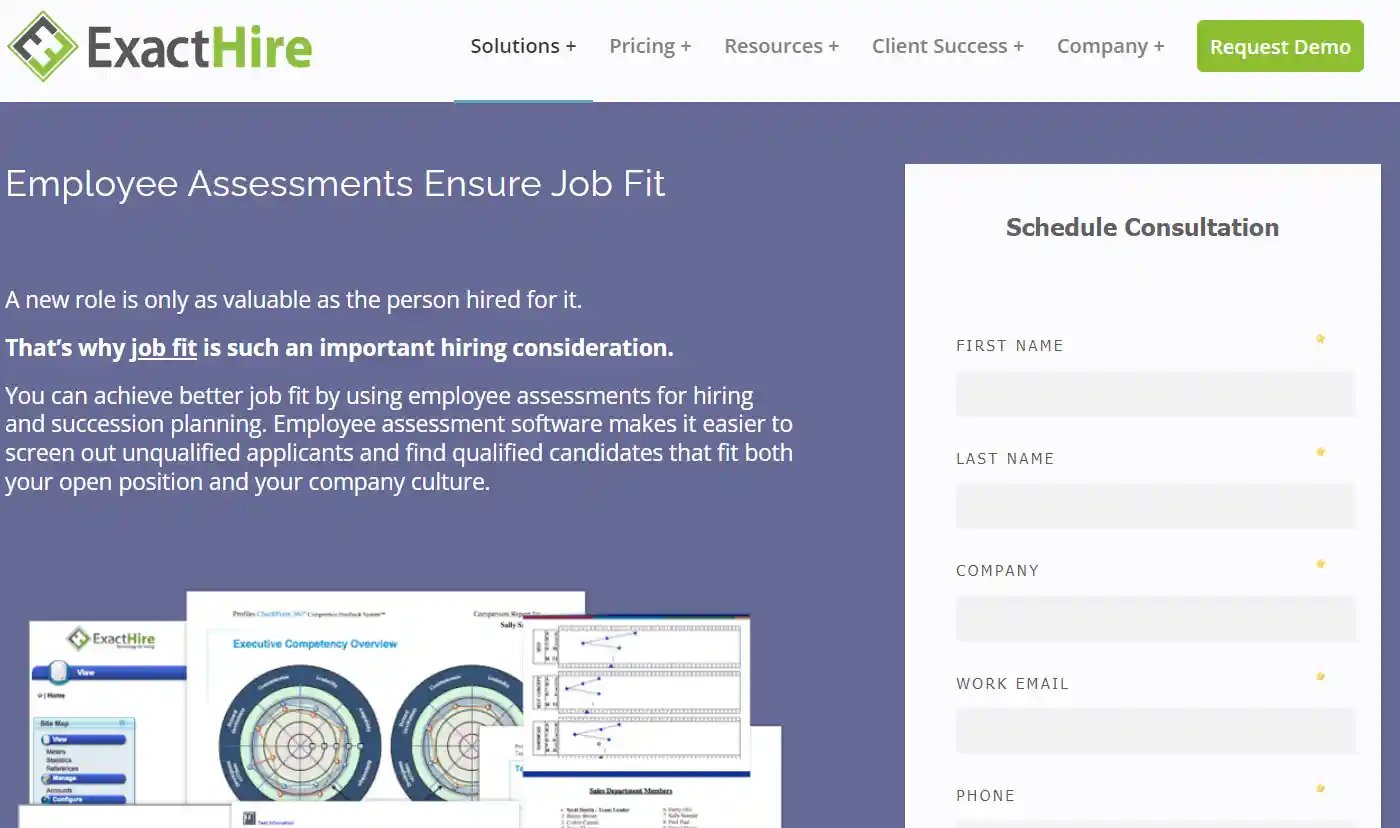 ExactHire is an HR software that operates on the cloud and offers a range of hiring tools. These tools include assessments, background screening and onboarding solutions.
One of its features is the ability to provide recruiters with pre behavioral and skills assessments. This helps them make decisions when it comes to hiring new employees.
Key Features:
Customizable assessments to fit your organization's needs

Pre-employment assessments to evaluate job fit and potential

Behavioral assessments to evaluate personality traits and work style

Skills assessments to evaluate job-specific skills

Integration with popular HRIS and ATS systems
G2 Rating: NA
Price: Available on request
8. Trakstar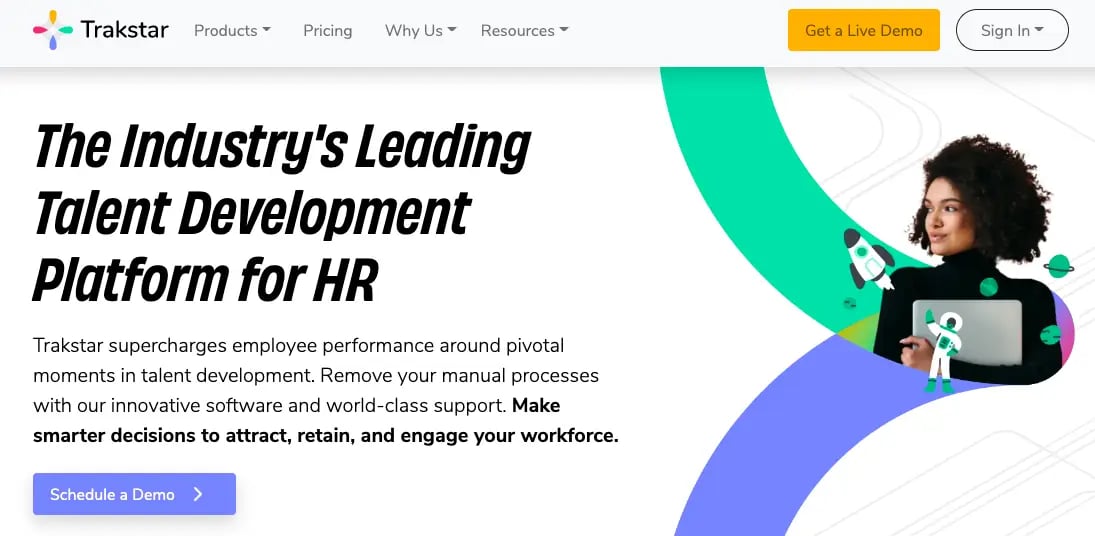 Trakstar is a platform that is designed to be user friendly and highly customizable allowing hiring managers to easily adapt it according to their requirements.
Moreover, it seamlessly integrates with HRIS and productivity tools enabling an experience, for managing your systems.
Key Features:
Goal setting and tracking features to ensure that everyone is aligned and working towards the same objectives.

Performance reviews and regular tracking of employee progress over time.

Feedback and coaching for employees to help them improve their performance.

Reporting and analytics capabilities to gain insights into employee performance and identify areas for improvement.
G2 Rating: 4.2 out of 5 stars
Price: Available on request
9. ReviewSnap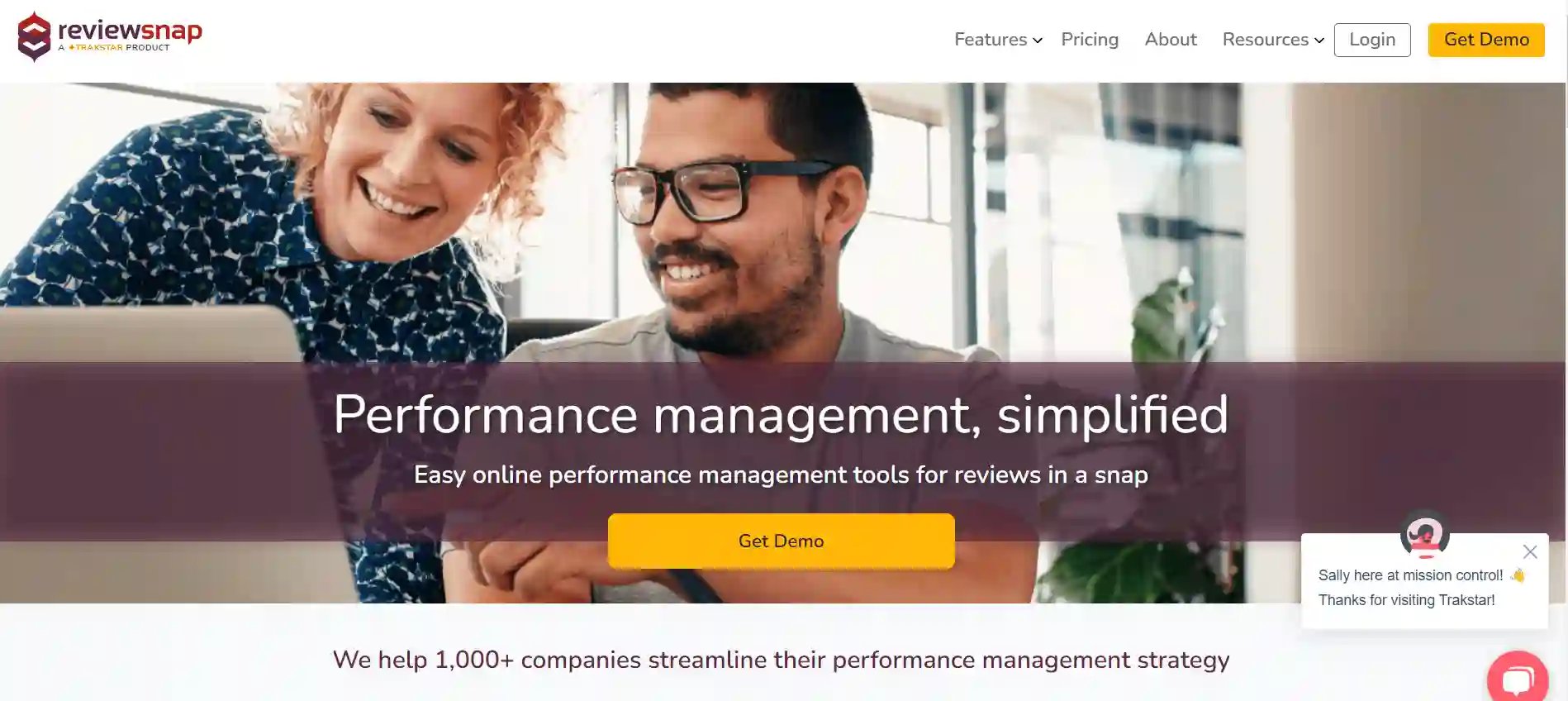 ReviewSnap is a tool for evaluating employee performance and gathering feedback from perspectives. It simplifies the assessment process. Also, provides user reporting and analytics features.
Key Features:
Performance evaluations enable managers to conduct regular performance evaluations and track employee progress.

360-degree feedback allows employees to receive feedback from their colleagues, managers, and customers.

Reporting and analytics capabilities enable companies to gain insights into employee performance and identify areas for improvement.
G2 Rating: NA
Price: Available on request
10. Synergita

Synergita platform supports performance enhancement and comes with powerful reporting and analytics features.
This performance management system, which operates on the cloud, can be tailored to meet the requirements of any organization.
Key Features:
Continuous feedback enables managers to provide continuous feedback to employees.

Performance reviews allow companies to conduct regular performance reviews and track employee progress over time.

Goal setting and tracking ensure everyone is aligned and working towards the same objectives.

Analytics and reporting capabilities enable companies to gain insights into employee performance and identify areas for improvement.
G2 Rating: 4.6 out of 5 stars
Price: Available on request
11. AssessTEAM

AssessTEAM serves as a tool for managers to monitor employee performance and productivity, oversee project advancements and establish objectives. This cloud-based solution offers real-time information and analysis enabling managers to pinpoint areas for enhancement.
Key Features:
Tracking employee performance and productivity in real time empowers managers to make informed decisions.

Managers can establish goals for both employees and teams facilitating goal setting.

Collecting feedback from sources, such as peers, subordinates and customers through a 360-degree feedback system.

Customizable reports are available to track progress, identify areas for improvement and acknowledge performers.

Additionally, the time tracking feature enables managers to monitor factors, like employee attendance, breaks and overtime.
G2 Rating: 4 out of 5 stars
Price: Custom pricing
12. ClearCompany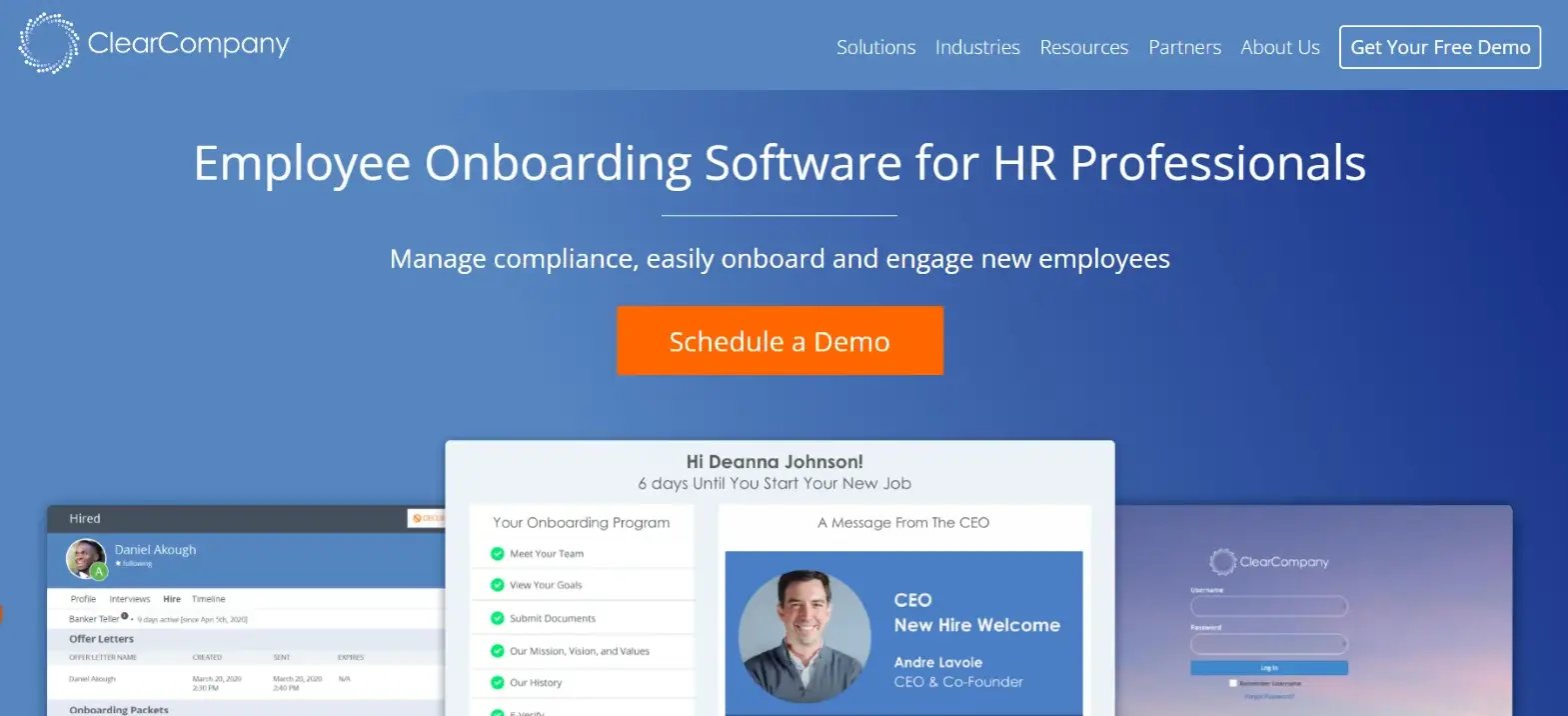 ClearCompany is an employee assessment solution designed to assist companies in attracting, recruiting and retaining top notch talent.
With its range of tools HR professionals can seamlessly handle the employee lifecycle starting from the hiring process and extending to performance management.
Key Features:
The tracking system for job applicants simplifies the hiring process making it easier to attract and recruit individuals.

Managing employee performance involves setting goals, conducting performance reviews and providing feedback to improve their performance.

Tools for helping new employees integrate into the company enable them to become productive starting from their day.

Compliance with legal and regulatory requirements, ensuring they avoid costly penalties and lawsuits.
G2 Rating: 4.6 out of 5 stars
Price: Available on request
Conclusion
In today's workplaces, it has become crucial for organizations to have tools that can help evaluate employee performance and pinpoint areas where improvements can be made. However, with a plethora of assessment tools available, in the market selecting the one for your specific needs can be challenging. Therefore, it is advisable to review the information provided in this guide and make an informed decision.
FAQs
1. What are the different ways of assessing an employee?
Here are some common methods used to assess employees;
Performance evaluations

360-degree feedback

Self-assessments

Observing behavior

Assessing skills
2. What are employee assessment tools?
Employee assessment tools encompass a variety of instruments that aid in evaluating employee performance. These tools include;
Performance management software, which automates performance evaluations

Personality tests that evaluate an employee's personality traits

Cognitive ability tests to assess an employee's cognitive capabilities

Skills tests that gauge an employee's proficiency, in job-related skills

Assessments that evaluate an employee's behavior and communication skills
3. Which is the most effective employee assessment tool?
The effectiveness of an employee assessment tool depends on the needs and objectives of each organization. It is crucial to evaluate assessment tools and select those that align with the organization's culture, values and performance objectives.