An organization is as successful as its employees - when employees succeed, the business grows. However, even the most skilled employees often need direction and encouragement to succeed at their job.
Proper guidance is crucial to enabling employees to do better work and increase participation rate in the organization's goals. It also plays a key role in creating a positive work culture that motivates employees to step up and exceed expectations.
That's why it is essential to assess the training needs of employees at the right time. Only regular training can enhance their skills and contribute to their growth and development. To enable training need assessment in the best interest of employees, organizations need an automated process.
Appropriate employee training tools for any business are paramount whether you're onboarding new employees, providing sales staff with product training, or educating them on soft skills.
With the help of iMocha's AI-powered skills assessment platform conduct end-to-end assessments before, during, and after L&D program initiatives. This platform is used to create, assign, track, and manage initial and ongoing employee training courses.
As the workplace is evolving, various creative and economical training options have introduced employees to a more engaging approach to learning and education.
Hiring managers can leverage iMocha's employee training platform to assess employee skills gaps through a pre-evaluation assessment test. This helps them understand where the employee currently stands, and they can modify their training programs accordingly. This HR training software also provides insights into employee performance post-training through continual evaluation.
These pre and post skills assessment tests can measure and track the improvement of the employees by gauging their understanding of the training programs.
Whether you want to train existing employees or recruit new ones for your organization, using the right employee training tools will help them reach the next level.
However, with a plethora of software reviews available, it can be challenging to evaluate which tool meets your needs the best.
Find out which are the Top 15 Training Need Assessment Tools in 2023!
To simplify things, we have created a list of the top 15 industry-preferred employee training tools and a quick review covering their key features and pricing.
The best employee training tools for organizations
1. Looop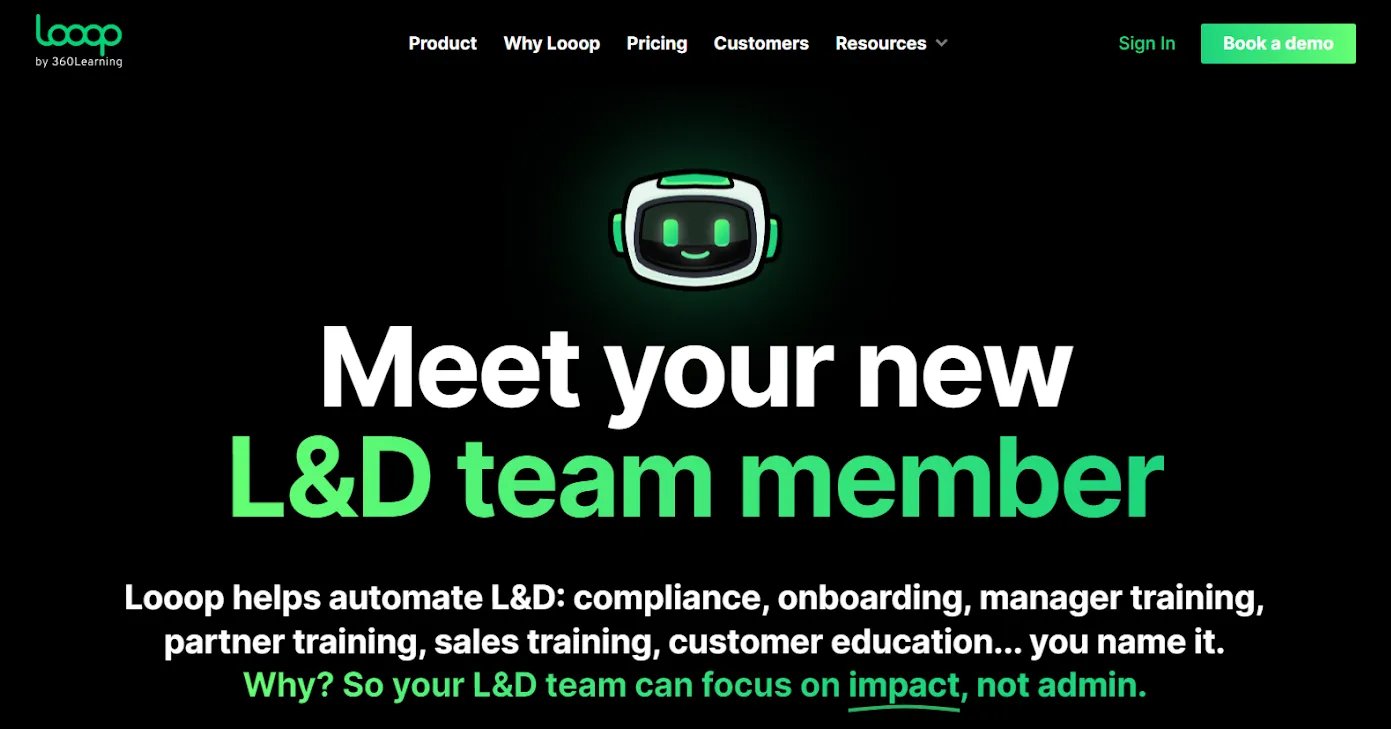 G2 Rating: 4.8/5 ( 85 Reviews)
Looop is an enterprise learning management system (LMS) with a modern UX designed to facilitate a faster LMS platform that provides the quality performance that a business requires. It is a learning delivery machine that's perfect for forward-thinking L&D teams.
Looop is available on the web, android, and iOS and is used by companies like ASOS, Sky, and Monzo for their business needs.
Features
Looop has all the features of a next-gen LMS wrapped up in a simple UX.

Approach your partners and employees directly through email, chat, or SMS and provide accurate resources at the right time.

Cut and paste text, drag and drop images, upload videos and screen recordings, and wrap your content with custom quizzes.

Share your content with different groups and assign your training to be completed by a defined date allowing it to be discoverable for all learners.
Free trial: Available
Subscription Range: Provides customizable prices based on the company's size.
Before diving straight into finding the right talent development software for your organization, it's essential to understand the different types of talent identification and development tools available in today's market.
2. 360 Learning

G2 Rating: 4.5/5 ( 264 Reviews)
Founded in 2013, 360Learning is the LMS for collective learning. It allows companies to upskill the existing workforce by turning to their experts for training their employees, customers, and partners. It is the easiest way to onboard and helps upskill the employees, train customer-facing teams, and enable customers all from one place.
360Learning allows businesses to identify the training prerequisites of individuals and teams. You can form distinct training programs through collective learning and personalized learning paths, observe the learning growth, share feedback, and motivate them towards personal progress.
Features
You can leverage AI to identify and grow the skills your learner needs by turning your experts into L&D collaborators.

With a built-in collaborative authoring tool, automated compliance, and instructor-led sessions, you can create, learn, and improve online courses together in one place.

The platform allows the users to develop courses for all the organizational functions, be it orientation for new hires, field training programs, or adaptation to new HR training software.

Organizations can integrate 360Learning into Salesforce and HR systems to link it to employee performance and appraisal cycles.
Free trial: Available
Subscription Range: Monthly subscription of $8 per user.
3. Graphy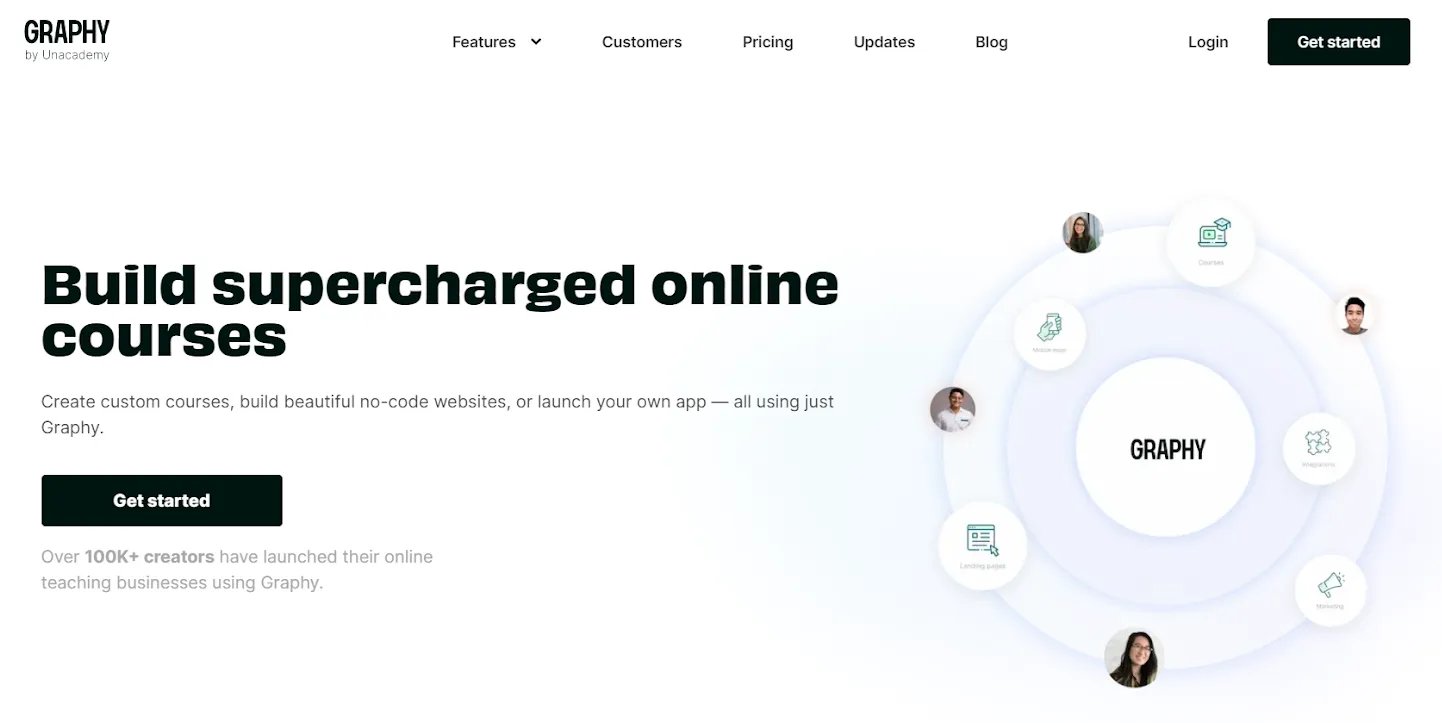 G2 Rating: 4.5/5 ( 134 Reviews)
Graphy by Unacademy, launched in 2018, is an all-in-one SaaS-based platform for content creators to grow their audience and host live cohort-based courses.
It is a platform that empowers educators to create and launch online courses and sell them to vendors through white-labeled websites and mobile apps to build your brand and nurture your knowledge business.
Features
Build no-code websites and mobile apps.

Craft highly interactive courses in multiple languages.

Host Webinars/ Live Classes.

Receive hassle-free payments.

Promote your course worldwide.

Have complete control over who can access your content.
Free trial: Available
Subscription Range: A one-time onboarding cost of $999.
4. Trainual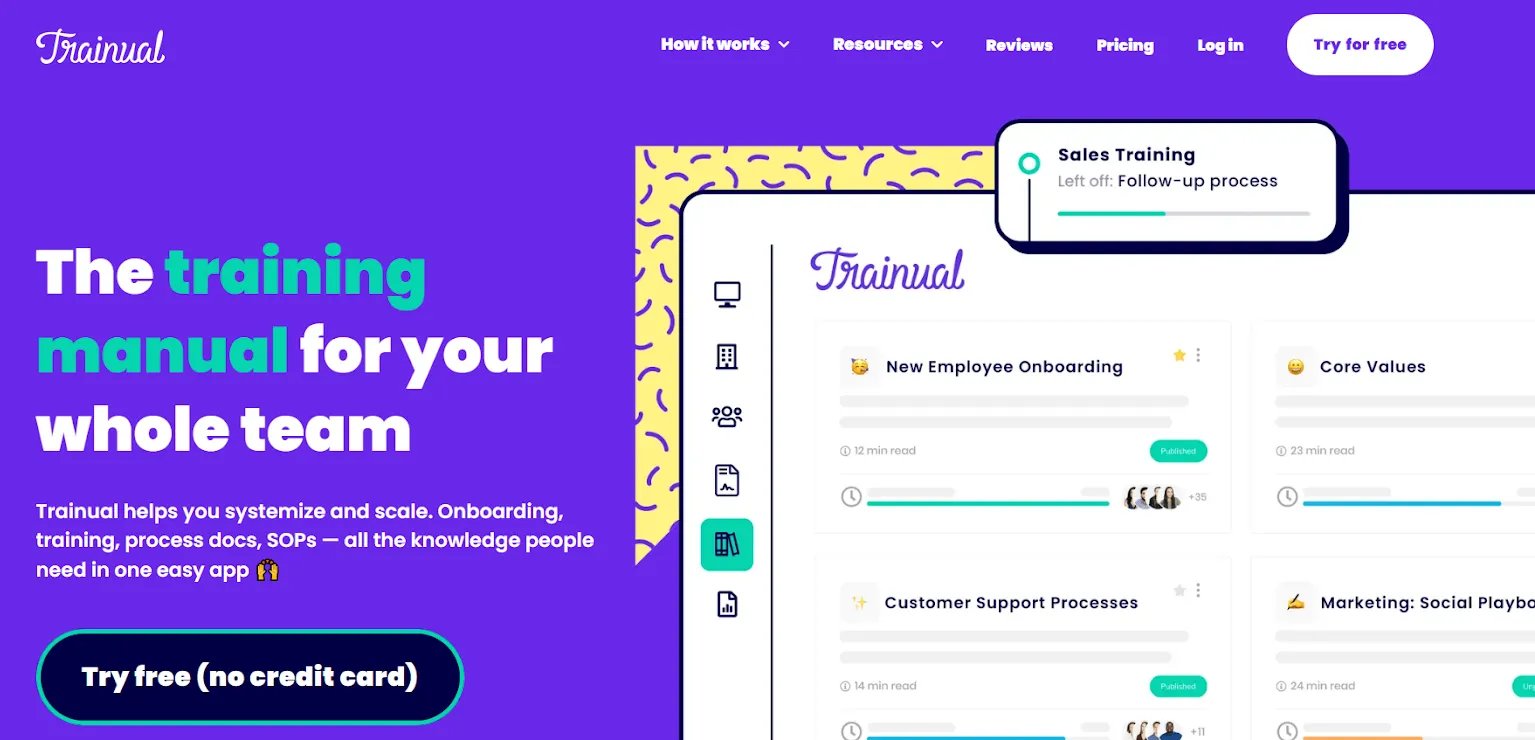 G2 Rating: 4.7/5 ( 466 Reviews)
Founded in 2014, Trainual is a cloud-based learning management system for modern businesses. It is a knowledge transfer and training solution that enables organizations to automate the onboarding and training process.
Every policy and process for all the roles and responsibilities in the business are effortlessly documented, structured, and assigned with the help of Trainual. This leads to seamless delegation and consistent processes and increases accountability.
Features
Trainual automates the tedious process of training and onboarding processes for businesses.

It assigns grouped content to the right staff members and tracks their progress.

It helps to document and organize every process and procedure in one place.

It prepares policies by using templates.

It offers a complete step-by-step training process and notifies the users whenever any information is updated.
Free trial: Available
Subscription Range: Monthly subscription of $199.
5.TalentLMS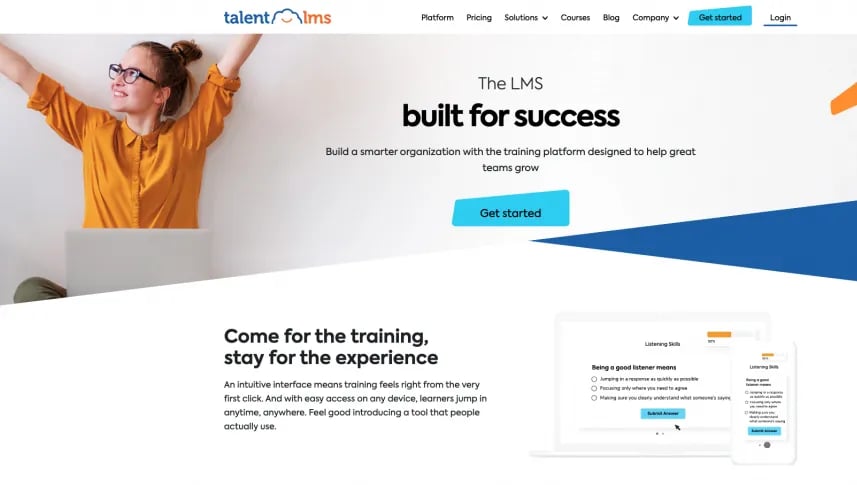 G2 Rating: 4.6/5 ( 635 Reviews)
TalentLMS is a cloud-based learning management system (LMS) built for training success. It has an array of attractive features that upgrades its utility value in comparison to other platforms.
With customized training options, the employees can start or stop the course at any time and continue at their pace. These employee training tools can be customized to allow enterprises to take courses that correspond with their brand image and style.
TalentLMS is a popular HR training software that focuses on training employees and assisting them with compliance training and onboarding.
Features
Build training courses quickly, add tests and quizzes, and host live sessions.

Drag-and-drop widgets for course creation

It has multiple customization plans making the experience relevant to each team and every learner.

Progress management and monitoring
Free trial: Available
Subscription Range: Monthly subscription of $279.
6. Teachfloor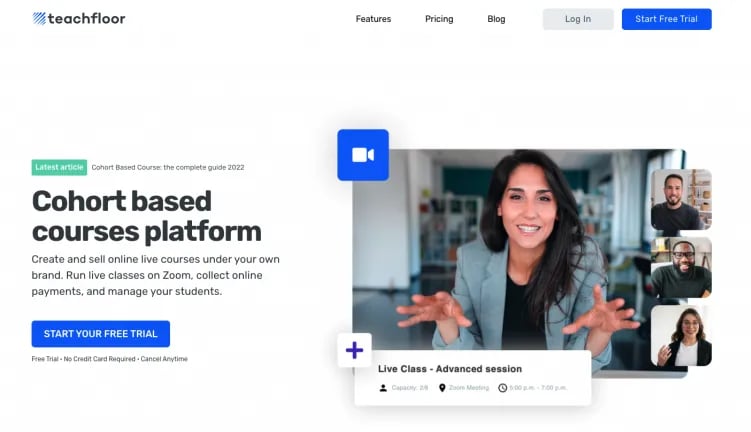 G2 Rating:
Teachfloor is a cohort-based learning platform that helps build your live online academy in just one click. You can create and sell online live courses under your brand in addition to running live classes on Zoom, collecting online payments, and managing your students.
Features
Teachfloor provides academies and instructors with employee development tools required to go online and monetize the same with a subscription-based business model.

It allows you to manage all your online activities from your dashboard effortlessly, such as checking for new subscribers, setting up programs, and tracking students' progress.

Students can easily register and access the calendar to schedule the lessons published on the website.

With an innovative system, simple and easy-to-use analytics helps keep track of your learner's most essential data.

It is integrated with Zapier, allowing you to connect with your desired apps and online tools, such as Google Docs, Airtable, Trello, and Notion.
Free trial: Available
Subscription Range: On request.
These training needs assessment tools will allow organizations to automate the entire training need assessment process to improve their programs and ensure that they deliver the desired results.
7. Whatfix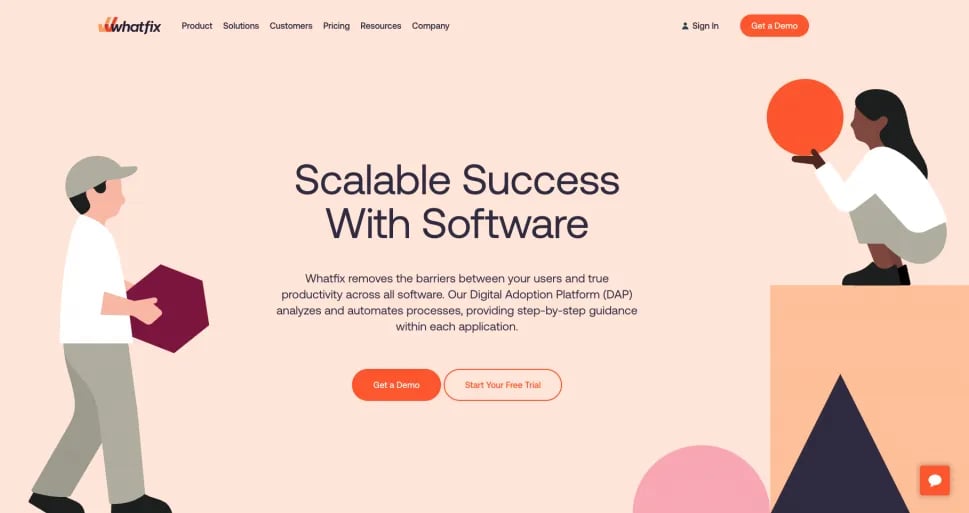 G2 Rating: 4.6/5 ( 234 Reviews)
Whatfix is a SaaS-based Digital Adoption Platform (DAP) that drives organizations for internal employees and end-user customers with better onboarding, training, performance support, and product adoption.
Businesses can make learning programs for their employees and help train them in other software like Salesforce, Microsoft Dynamics, etc. These employee training tools ensure that everyone uses it accurately and showcases product features to boost an organization's ROI.
Features
Easy content creation and in-app walkthroughs

No coding needed

Personalized coaching flows for multiple job roles

The best tutorials, tips, knowledge centers, etc.

Monitoring tools and analytics

Offers tailored experiences to adjust to the users' onboarding needs
Free trial: Available
Subscription Range: On request.
8.ProProfs Training Maker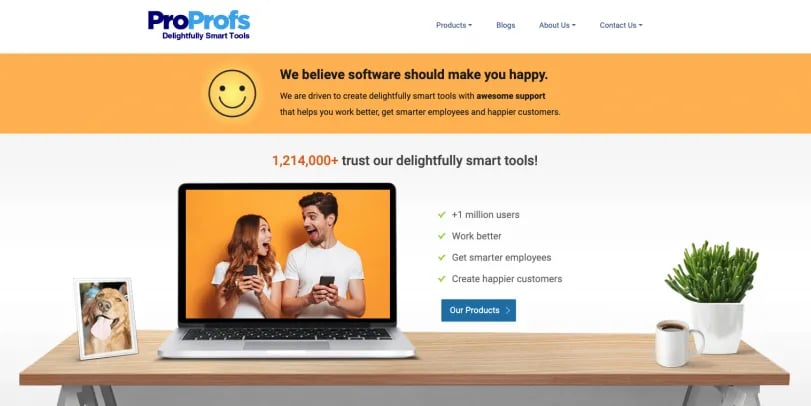 G2 Rating: 4.4/5 ( 24 Reviews)
ProProfs Training Maker is a cloud-based employee development tool for businesses, corporate trainers, and educational institutions. Helping users to create engaging courses and offering a holistic learning solution is the primary objective of this unique software.
It is crafted for businesses to help meet employee learning and development, providing a virtual classroom that helps them manage learners of any class size. The centralized virtual classroom allows you to create learner groups, add admin and instructors, and train a worldwide audience with real-time tracking.
Features
Employee development course creation

Develop online Assessments/Surveys/Polls/Flashcards

Create online training certification with automated grading

Custom branding / White label

Easy to add documents, articles, videos, PPTs, PDFs, wikis & blogs

E-Quiz and test creation

Knowledge-based content creation tools
Free trial: Available
Subscription Range: Monthly subscription of $1.97 per user.
9.WorkRamp

G2 Rating: 4.4/5 ( 342 Reviews)
WorkRamp is an all-in-one LMS built for the modern enterprise that puts learning at the center of everything they do. It offers a unique set of employee training tools that helps you build and sustain a corporate learning strategy prioritizing a superior learning experience.
With WorkRamp, you can make customized learnings for employees, customers, and partners via its self-guided learning modules, interactive coaching, and full certification. It helps you achieve your business outcomes besides happy customers and increased employee productivity and revenue.
Features
WorkRamp provides automated assignments and notifications, saving managers and trainers valuable time

It is equipped with e-commerce features enabling you to sell your courses online.

It is configured to deliver live, asynchronous learning sessions anywhere, on any device.

It offers robust editing and collaboration capabilities and powerful visualization and reporting workflows.
Free trial: Available
Subscription Range: On request.
10. Edapp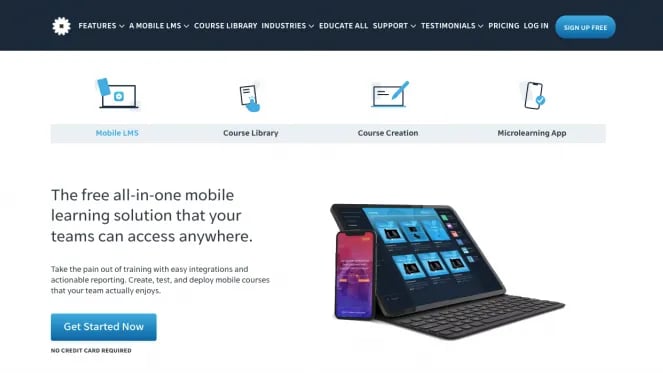 G2 Rating: 4.8/5 ( 106 Reviews)
EdApp is a mobile learning management system (LMS) designed to enhance corporate and retail training to make E-Learning more effective. The primary idea is to be easy for the teachers and deliver "micro lessons" directly to students, letting them use various devices to access learning.
With an integrated authoring tool, editable content library, and learner app, all intended for today's digital practices on mobile and web, Edapp is an award-winning platform used by thousands of teams across the globe.
Features
An editable content library filled with top-notch courseware contributed by industry leaders across the globe.

SCORM-compliant authoring tool to create interactive and result-driven micro lessons.

Spaced repetition, gamification, AI translation, and push notifications to make learning fun and engaging, resulting in higher retention and more profound knowledge.

Effortless translation of courses into over 100 languages within a few clicks with Google's Machine Learning Cloud Translation Engine.
Free trial: Available
Subscription Range: Starting at $1.95 per month.
11. Cloud Academy

G2 Rating: 4.7/5 ( 305 Reviews)
Cloud Academy is one of the employee training tools for tech teams that allows you to make smarter, data-driven decisions for your tech talent. Businesses can use this valuable employee training solution to make tech-based and comprehensive learning content for employees.
Cloud Roster lets employees learn in-demand skills essential for various job roles. It is the best hands-on learning for Cloud, DevOps, Software Development, and more. It allows customers to personalize everything required for their positions to develop their skills. This HR training software can be accessed by employees even when they are offline.
Features
Offline access to learning resources

A vast library filled with tech-fundamental content

Pre-built questions and custom quizzes

Tech-targeted and comprehensive learning content
Free trial: Available
Subscription Range: Annual subscription of $649 per user.
12. LearnUpon LMS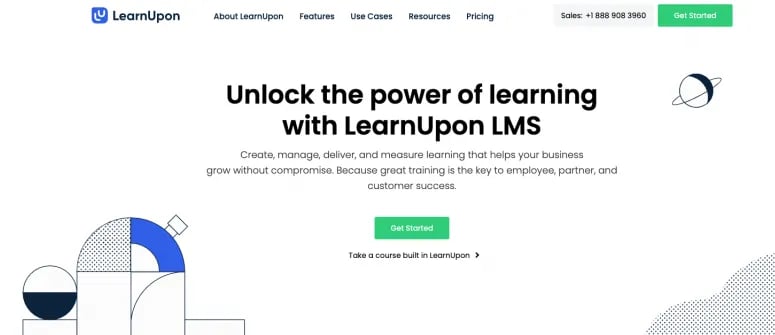 G2 Rating: 4.6/5 ( 108 Reviews)
LearnUpon LMS is a great employee training platform that unifies, organizes, and streamlines training delivery across your entire network. You can use LearnUpon to provide training and drive engagement by creating a customized learning experience that is consistent and connects your network with the knowledge needed to succeed.
Features
The course is created based on knowledge.

Personalized and accessible drag-and-drop content and course creation.

Compliance training and building automated workflows for businesses.

Automatic systems for progress analysis, tracking, and reporting.
Free trial: Available
Subscription Range: On request.
13.LearnWorlds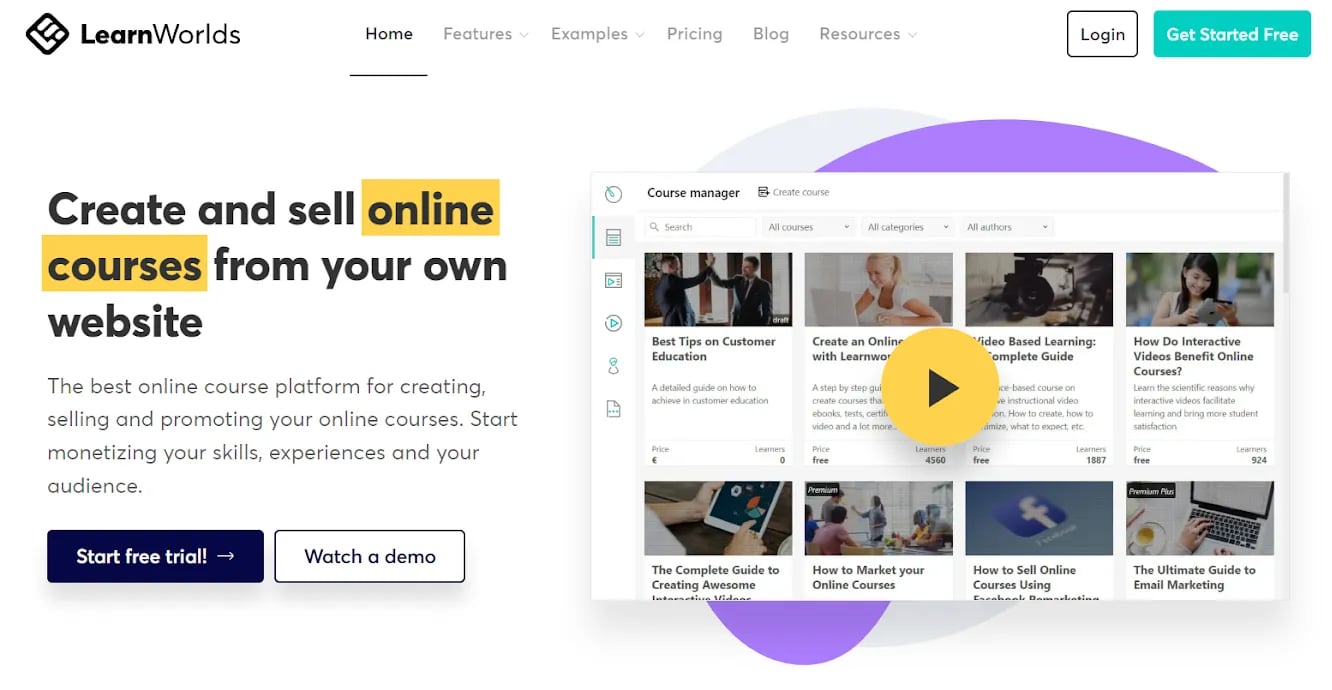 G2 Rating: 4.6/5 ( 205 Reviews)
LearnWorlds is an advanced, accessible, all-in-one eLearning solution that enables users to produce and sell online courses from their website. These employee development tools support you in monetizing your skills and knowledge using innovative and advanced course creation tools.
LearnWorlds is the ideal cloud-based LMS with advanced e-commerce-ready features and no coding or design skills. It is as simple as clicking through hundreds of ready-made, customizable templates.
Features
It provides a drag-and-drop block-based editor to develop high-converting sales funnels from hundreds of templates.

It offers a robust sales engine for all types of digital items, with advanced pricing options.

You can take control of the user experience through your web domain and imprint your brand identity.

It offers integrations with the industry's most effective marketing tools used by the most successful course sellers.
Free trial: Available
Subscription Range: Monthly subscription of $299 for a learning center.
14.LearnAmp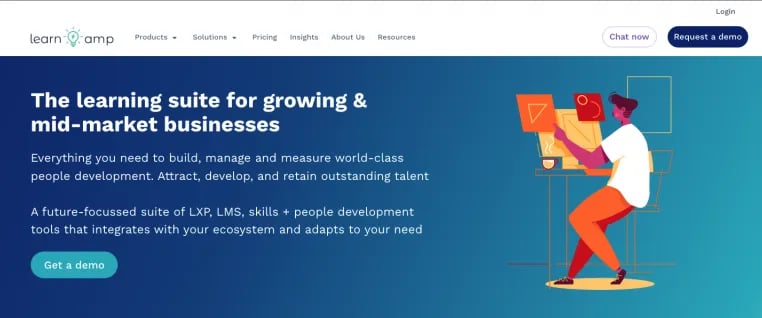 G2 Rating: 4.8/5 (38 Reviews)
Learn Amp is one of the employee learning tools that helps you grow your business by driving engagement, increasing retention, and improving performance through learning.
It is a leading employee training platform for budding global companies from different sectors and sizes, from SMEs to enterprises. It combines the best LMS, LXP, engagement, and performance management tools in one unified platform.
Features
Custom content and course creation

Live training setup and webinars

Interactive Test and quiz creation

Reporting and analytics management
Free trial: Available
Subscription Range: On request.
15. Administrate

G2 Rating: 3.2/5 (9 Reviews)
Administrate is a comprehensive training management platform that helps organizations streamline learning and development. It provides learners with a cloud-based, device-compatible experience for maximum training value.
Automate essential communications and tasks by integrating the system with a robust API and developer portal. It enables you to deliver multi-modality learner experiences, increase training resources, and establish business results with insight-rich reporting.
Features
Generate customizable, audit-ready reports to make informed business decisions confidently.

Provide best-in-class learning and analytics with no additional staff.

Organize, deliver, plan, automate, analyze, and scale your training program effectively.
Free trial: Available
Subscription Range: On request.
Conclusion
Industries today are rapidly developing, and organizations need skilled employees to stand out from the crowd. Luckily, multiple employee training tools are available to help these organizations.
However, if you genuinely want to understand how effective these training programs are, you must conduct assessments for your employees to recognize their understanding of the training sessions.
iMocha is an AI-powered Digital Skills Assessment Platform that identifies employees' aptitude by designing assessments and upskilling programs, to give you a talented workforce to skyrocket your company's growth.
Book a demo today to know more.
FAQs
What are the 4 types of training?
While there are numerous methods of training for employees, the top 4 types of training are:
Assessment based training

eLearning

Hands-on training

Instructor-led training
You can use employee development tools to administer an employee's overall performance and growth.
What should be included in employee training?
One of the most essential responsibilities of an employer is to ensure employees are well-trained for the job. An effective training program can help employees and supervisors be more successful in their roles.
Employees must have training in the following:
Communication in the workplace

Project management

Workplace management

Compliance Training
You can leverage a viable employee training platform that seamlessly integrates with your company's organizational structure.
What is the best training method for employees?
The best training method for employees is assessment-based training. It helps employees assess their skillset and effectively track their progress.
Which tool is used for training impact evaluation?
You can use iMocha, one of the employee training tools that can measure impact through online assessment-based training.