As technologies and business operations evolve, the need for Talent Development tools has become paramount for all organizations - irrespective of their industry or sector. By trainingyour high-potential talent with new skills, you can help them grow and, at the same time, speed up your company's progress towards achieving its goals.
But that being said, finding the right Talent Development Tool for your organization can be a tricky task, as the right platform needs to fulfill the following requirements:
Increase employee engagement

Reskill employees for new job roles

Address and suffice their skills gaps

Retain and motivate employees

Implement a successful learning program
But before diving straight into finding the right talent development software for your organization, it's essential to understand the different types of talent identification and development tools that are available in today's market:
Type of Talent Development Tools:
1.Skills gap analysis tools: Skills gap analysis tools evaluate the difference between your organization's current and desired skill levels and offer you the correct information that helps you make informed business decisions. Using assessments, these tools assess an employee's current skill level and provide reports that identify their skills gap.
2.Upskilling/Reskilling tools: These tools help employees become more knowledgeable and develop new competencies that relate to their current position while equipping them to grow and move into new roles within their organization.
3.Learning management systems: A learning management system (LMS) is a software or web-based technology that is used to plan, implement and assess a specific learning process and allows you to easily incorporate quizzes, situation-based problems and other interactive elements into your training.
4.Employee Training platforms: Employee Training platforms are used to create, assign, track, and manage an employee's initial and ongoing training courses while enhancing their overall learning experience.
Top 10 Talent Development Tools For 2022
#1 iMocha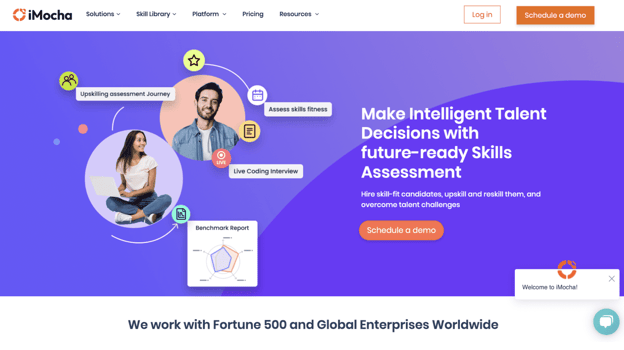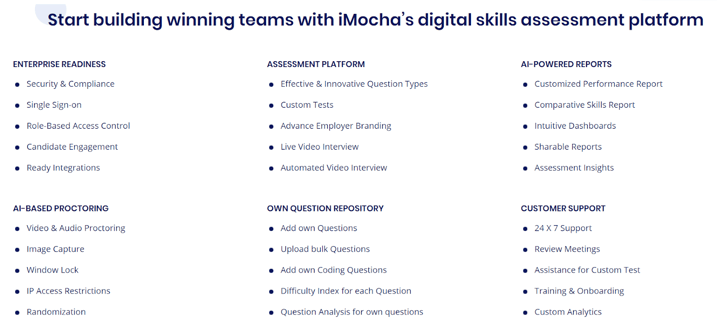 Type of tool: Skills gap analysis
iMocha offers a comprehensive AI-powered Digital Skills Assessment Platform for end-to-end assessments before, during, and after L&D Initiatives. It acts as both-a talent development tool and talent acquisition platform, which not only helps you identify an employee's skills gaps but also helps in upskilling and reskilling high potential talents.
What iMocha offers:
Customizable pre and post-assessments help identify the efficacy of your organization's L&D initiatives

Determines digital transformation readiness of employees

Offers assessments in over 2500 skills, including 50+ digital skills, including UiPath, AI / ML, IoT, Blockchain, Analytics, Automation Anywhere, AWS, Azure, and many more

It provides a self-assessment portal for employees to track, measure, and benchmark their performance against company standards

Allows you to select from 200+ job-role tests, and 2,000+ skills, including Digital Skills, Enterprise Applications, Cloud, Infrastructure Management, Application Development, Aptitude, Banking, & more
G2 Rating: 4.4/5
Customer Segment: Enterprise
Pricing: Free demo. Visit the iMocha website to get a quote
#2 Learning Pool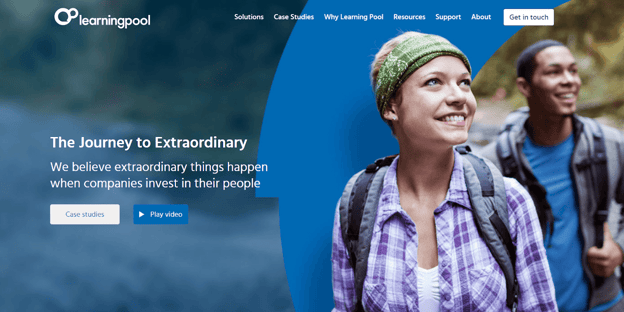 Type of tool: Upskilling/Reskilling
Learning Pool provides a customer-centric online learning solution that drives learning and performance improvement in your organization. It provides a complete service that includes a library of editable content, innovative tools to improve job performance, and online Learning Management Systems.
What Learning Pool offers:

A Stream Learning Suite that adapts and scales to any learning scenario, enabling experiences that meet the unique needs of your company

It helps you upskill your workforce and improve retention

Using its AI capabilities, it seamlessly integrates into your existing operations

Provides you with detailed reports and analyses of your employees' performance and knowledge

Configurable with all learning management needs, including compliance, onboarding, leadership, certified learning, and more.
G2 Rating: 4.7/5
Customer Segment: Enterprise & SMBs
Pricing: Free demo. Complete pricing information not disclosed online
#3 SweetRush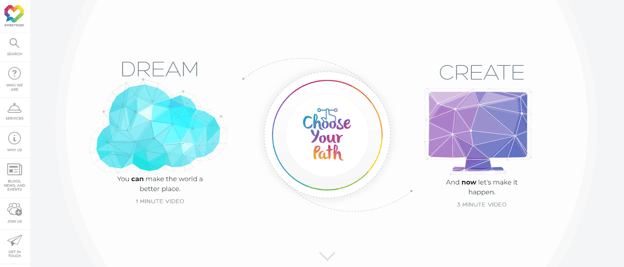 Type of tool: Upskilling/Reskilling
SweetRush's solutions focus on specialized areas such as Cultural Transformation Training, Employee Onboarding, Sales & Services Training, Soft Skills Training, and Talent Solutions. They analyze business challenges and deliver custom learning solutions that include eLearning, gamification, mobile, and instructor-led training.
What SweetRush offers:
AI capabilities combined with augmented and virtual reality

Content Authoring features such as Content Customization, Defining Training Objectives, and Training Needs Analysis

Helps with Content Design Development

It comes with an LMS Training Portal that can be white labeled

Helps organizations with graphic design and multimedia development to enhance the training experience
G2 Rating: NA
Customer Segment: Enterprise, SMBs
Pricing: Pricing information not disclosed online
#4 AllenComm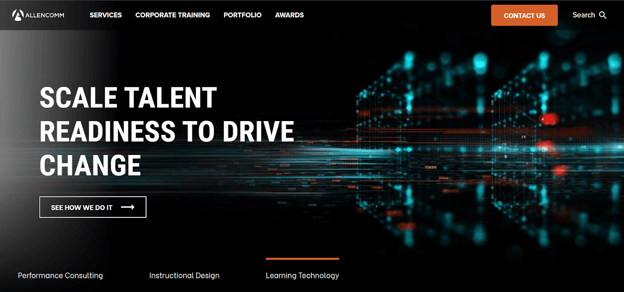 Type of tool: Upskilling/Reskilling
AllenComm is a custom training solutions provider that partners with you to create unique and innovative learning solutions for your organization. It explores and utilizes the best methodologies for its clients, such as microlearning, gamification, blended learning, motion graphics, AR/VR, and more.
What AllenComm offers:
Content Curation

LMS Training Portals

Content Design Development

Mobile Learning

Localization Translation Services
G2 Rating: NA
Customer Segment: Enterprise, SMBs
Pricing: Pricing information not disclosed online
#5 Bridge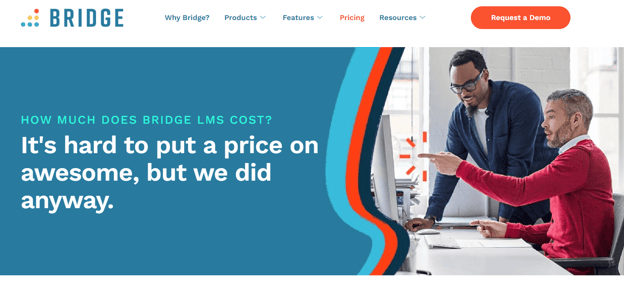 Type of tool: Learning Management System
Bridge is an employee development platform that brings learning management, performance management, career development, and engagement measurement under one roof. This talent development platform allows remote workers to stay connected and companies to develop their people with virtual training, 1:1s, and career development plans.
What Bridge offers:
Intuitive Dashboard

Content Delivery and Tracking

Course Authoring

Detailed Reporting and Analytics

Easy Integration Using APIs
G2 Rating: NA
Customer Segment: Enterprise, SMBs
Pricing: Learning Management: $4 per month, Learning+Performance Management: $10 per month, Learning+Performance+Engagement: $11 per month
#6 360Learning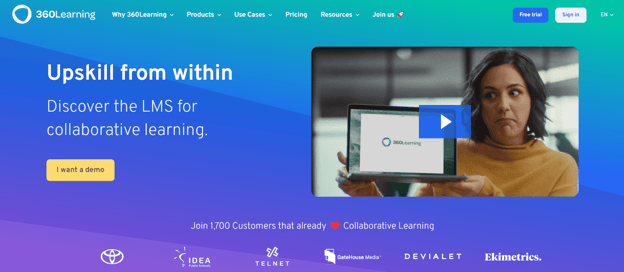 Type of tool: Learning Management System
360Learning is an LMS for High-growth companies that want to build a collaborative learning culture. 360Learning's solutions help companies to upskill from within and drive employee, customer, and partner growth.
What 360Learning offers:
Activity Grading

Assigns Courses to categories and allows users to edit and add new categories

Assignments engine and built-in Authoring Tools

Tracks Attendances

Provides Automated Report Scheduling, Canned Reports, Dashboards, and Graphic Reports
G2 Rating: 4.6/5
Customer Segment: Enterprise, SMBs, Non-Profits, Public Administration
Pricing: Starting Price: $8 per month, Free Trial
#7 Udemy Business
Type of tool: Learning Management System
Udemy Business provides an engaging, on-demand, immersive, and cohort-based learning system that helps companies achieve critical business outcomes and stay competitive. It is an integrated learning solution that delivers impactful programs for everyone.
What Udemy Business offers:
This talent development platform helps you engage, develop, and retain your employees

Cultivates a learning culture within your organization

Uses learning to navigate change and support business continuity

Trains your teams on the latest in-demand skills

Bridges skills gaps by keeping your talent's skills current and competitive
G2 Rating: 4.5/5
Customer Segment: Enterprise, SMBs
Pricing: Not disclosed publicly
#8 Absorb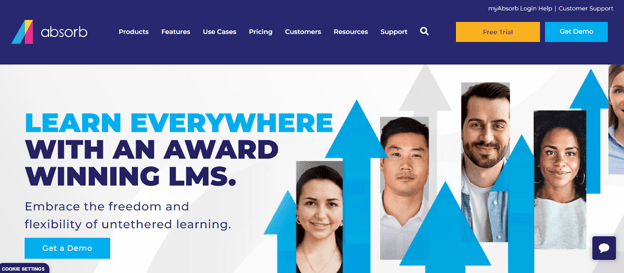 Type of tool: Employee Training Platform
Absorb is a cloud-based learning management system which enables learning and drives business productivity. Absorb LMS engages learners, fuels content retention, and elevates training programs by offering an intuitive learning experience.
What Absorb offers:
Uncovers meaningful training insights

Turn-key content library

Automates administration

Provides an intuitive interface

Detailed reports and analysis of each employee's performance
G2 Rating: 4.7/5
Customer Segment: Enterprise, SMBs
Pricing: Not disclosed publicly
#9 Trainual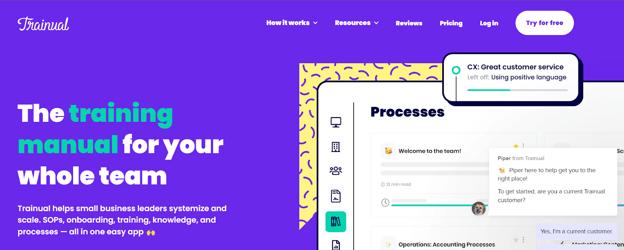 Type of tool: Employee Training Platform
Trainual helps small businesses systemize, scale, onboard, train, and processes- using one easy application. It turns best learning practices into standard operating procedures and ensures that all employees get trained consistently.
What Trainual offers:
A centralized system for your business

Reduces the time of learning and implementing new skills

Scales with your business

Offers remote accessibility through a mobile app

Visualizes and plans your company's growth
G2 Rating: 4.7/5
Customer Segment: SMBs
Pricing: Starter plan at $49 per month
#10 LearnUpon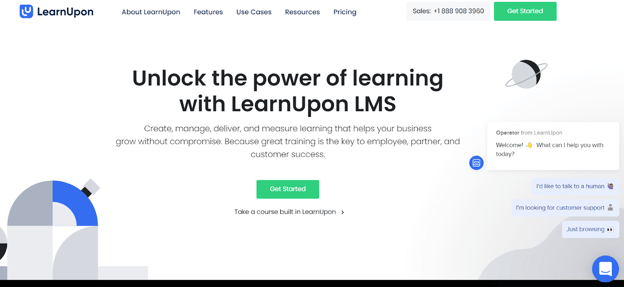 Type of tool: Employee Training Platform
LearnUpon creates, manages, delivers, and measures learning to help your business grow. This talent development software builds engaging user experiences that support and drives success for your employees, partners, and customers using a single remote solution that can enable learning from anywhere, anytime.
What LearnUpon offers:
Creates a consistent and customizable learning experience

Helps adopt a strategic approach to training

24/7 global support

User-friendly and intuitive UI

Processes multiple enrollments at once
G2 Rating: 4.6/5
Customer Segment: Enterprise, SMBs
Pricing: 3 plan options depending on the number of users
Frequently Asked Questions
#1 What are examples of talent development?

Talent development software can be of multiple types depending on the end goal of your initiative. Here are the four main types of talent development:
Individualized Growth Plans

Formal Internal Programs

Partnerships with External Providers

Mentorship Opportunities
#2 What is a talent development plan?
A talent development plan is created to identify and develop high-potential employees. The primary purpose of a talent development plan is to:
Map learning initiatives to specific company values or skills

Help employees have a deeper understanding of why those values or skills are important

Train employees with the required skills

Create opportunities for employees where they can put the newly learned values and skills into practice
#3 What are talent development strategies?
To create a successful talent development program, you need to strategize the step-by-step development of your top talents and choose a talent development platform that aligns with the needs and goals of your organization. Based on your company culture, you need to consider the following questions:
What areas of development are you focusing on?

Which skills are lacking in your company?

How should you be training your employees?

What are the expectations of your workforce?

How to inspire your employees and promote a positive work environment?