Skills inventory refers to a repository of your employees' skills data containing their educational qualifications, work experiences, certificates, licenses, etc. You can learn more about skills inventory from here.
However, you will need more than a skills inventory to benefit your organization. You can obtain the best results when a skills intelligence platform leverages your skills inventory.
Through this blog, we will walk you through the top ten benefits of creating a skills inventory, which can be handy when put into use with a skills intelligence platform.
So, let's get right into the details.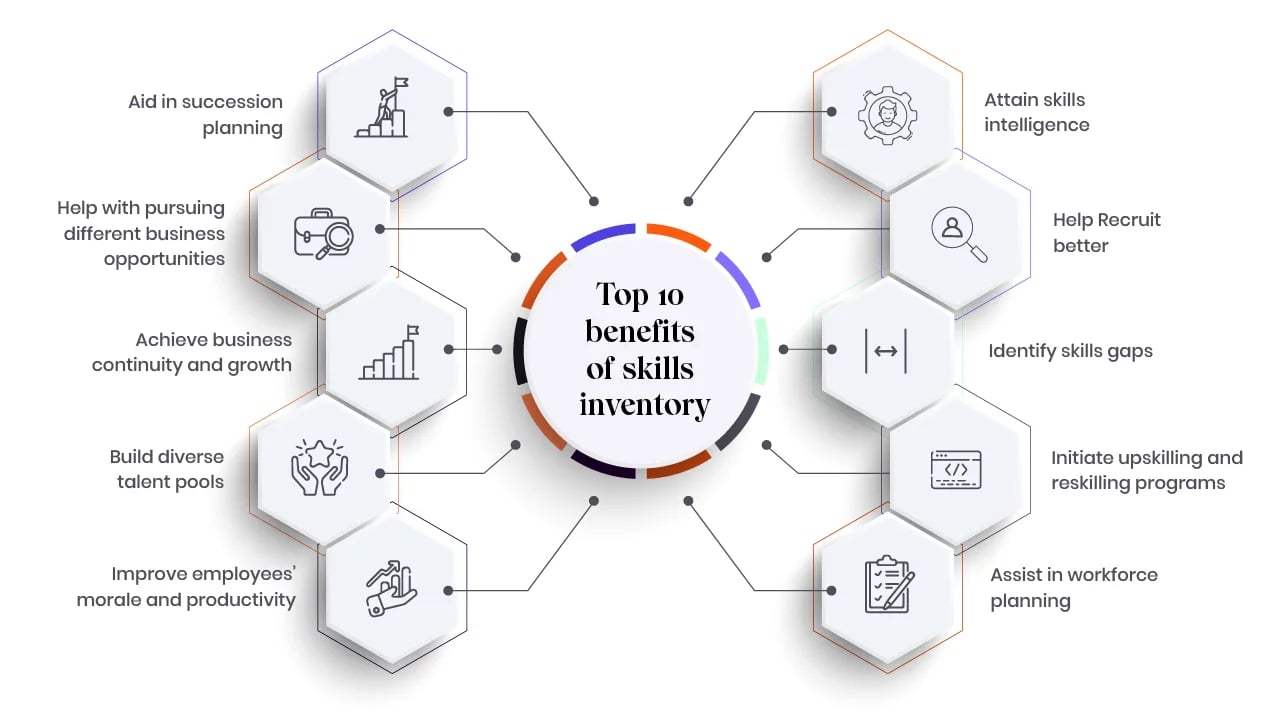 Attain Skills Intelligence
Skills intelligence is the next big revolution in the world of HR tech architecture. Your organization can attain skills intelligence by relying on the power of a skills intelligence platform. For that purpose, your company will need to create an up-to-date skills inventory with skills data for all your current employees.
A skills intelligence platform will need this database to analyze the data, form skills matrixes and skills insights, perform benchmarking, and identify skills gaps. Therefore, your company's up-to-date skills inventory can be a foundation for a skills intelligence platform to help your organization make intelligent talent decisions.
It can further aid your company in recruiting better, managing talent better, and conducting learning and development activities better.
In short, a skills intelligence platform can provide holistic development in different HR-related activities by leveraging a skills inventory. This can directly or indirectly help your company attain its business goals.

Help recruit better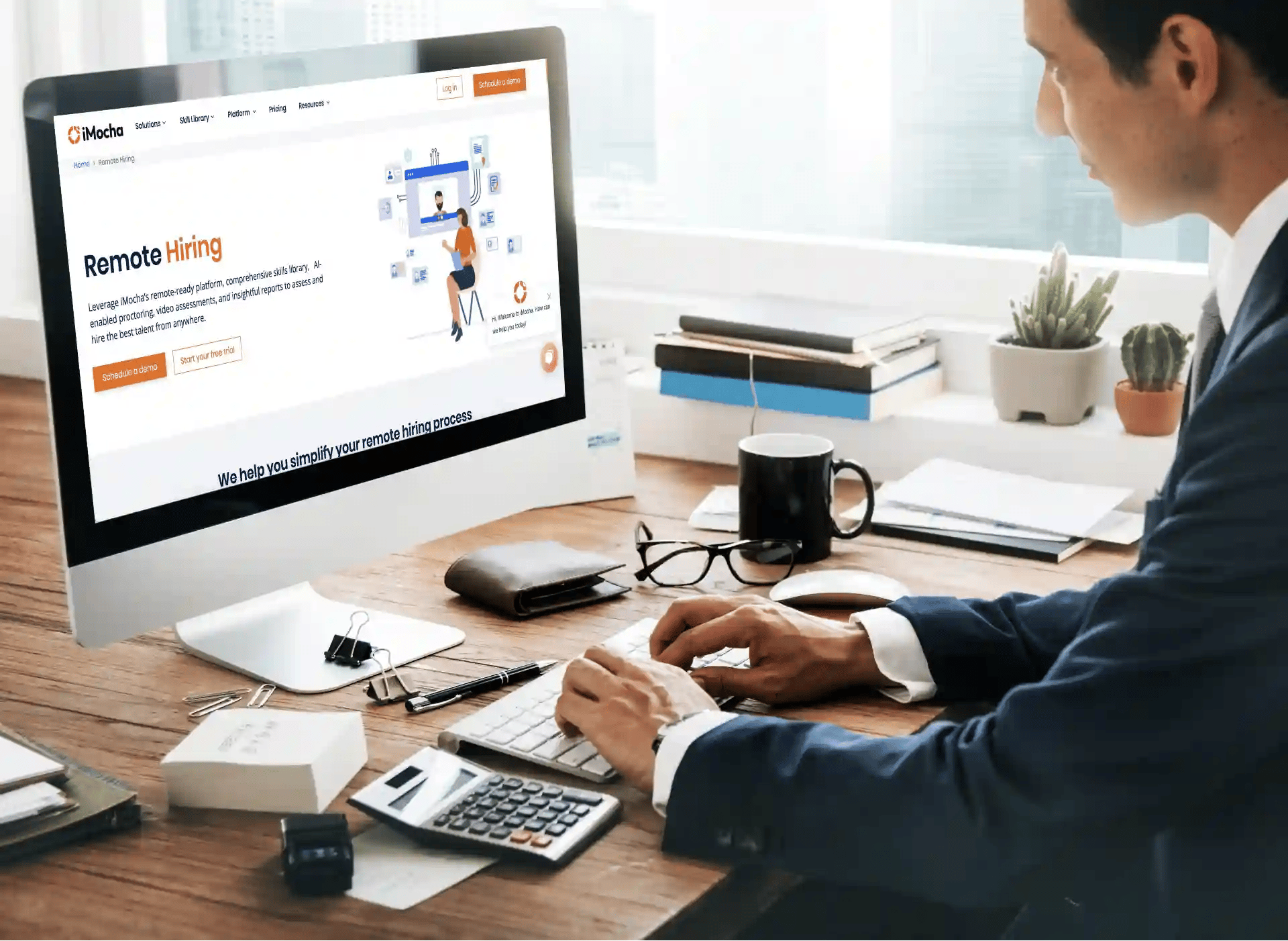 Recruiting new employees to your organization is essential when your company confronts a skills gap, skills shortage, lack of employees or resources to perform essential tasks, etc.
However, your organization can hire better when you know the skill set available in your company. A skills inventory can offer you these inputs. Additionally, a skills intelligence platform, while relying on your skills inventory, can do the following:
Help in the creation of job descriptions by delving deeper into skills cavities in your company

Make

skills matrixes

, which are grid-like representations of different skills, including skills required for various projects

Perform skills matching, which can help in identifying candidates or employees with skill sets, aligning with your requirements for a job role or project

Conduct skills assessments by focusing on the skills requirements
Thus, a skills inventory can play a pivotal role in helping your recruiters and hiring managers to hire better and find the purple squirrel that matches your needs.
Identify skills gaps
Identifying skills gaps and closing them at the right time can mitigate risks, making business decisions more straightforward. When your company's skills inventory is put through a skills intelligence platform, it can help you compare your employees' skills with the skills required for your company to prosper and build future-ready teams.
Additionally, you can discover areas with high risks that require quick actions. A skills intelligence platform does so by performing a skills gap analysis.
By doing so, you can understand proficiency gaps and conduct reskilling or upskilling programs for your existing workforce. A skills inventory with adequate information on skill shortages can also help budget your training programs. You can also make new hires to rectify the skills gaps with data-driven hiring decisions by relying on a skills intelligence platform that uses your company's skills inventory.
In addition, being aware of the skills gap can assist your company in creating skills backup plans, which can be pivotal in case of emergencies.
Initiate upskilling and reskilling programs
When used at its best, skills inventory can help you identify learning and development opportunities for your employees, aligning with your company's requirements and focusing on your employees' individual interests.
You can also conduct cross-training programs based on skill adjacencies, which is, by the way, a cost-effective method. You can do so quickly because you have adequate information about the preferences and interests of your employees, the skills they have, and the skills proficiency levels they need to have.
Besides, your company can improve employee retention rates by taking up upskilling and reskilling initiatives. It can create flexibility and give your employees a better understanding of their career progressions.
Assist in workforce planning
When your organization utilizes skills inventory with the assistance of skills intelligence, you can position your company better based on its workforce requirements. It will help you identify if your current workforce has the skills and capabilities to future-proof your company.
It is also beneficial in workforce optimization and avoiding scenarios leading to over-dependence or underutilizing your employees' skills.
Aid in succession planning
As per a research study published by Deloitte, 86% of the leaders who participated in the survey stated that they consider leadership succession planning as an "urgent" or "important" activity. It is integral for bringing in organizational stability and resilience, future-proofing your workforce, etc.
Succession planning, in simple terms, refers to identifying potential candidates within your organization or externally for taking up high management roles when required. Using the data available from your skills inventory, you can identify employees who perform well with the suitable skill set and experience to take up these positions.
It is always best to consider employees within your organization regarding succession planning. It can improve your employees' morale, provide them with growth opportunities, and enhance retention rates.

Help pursue different business opportunities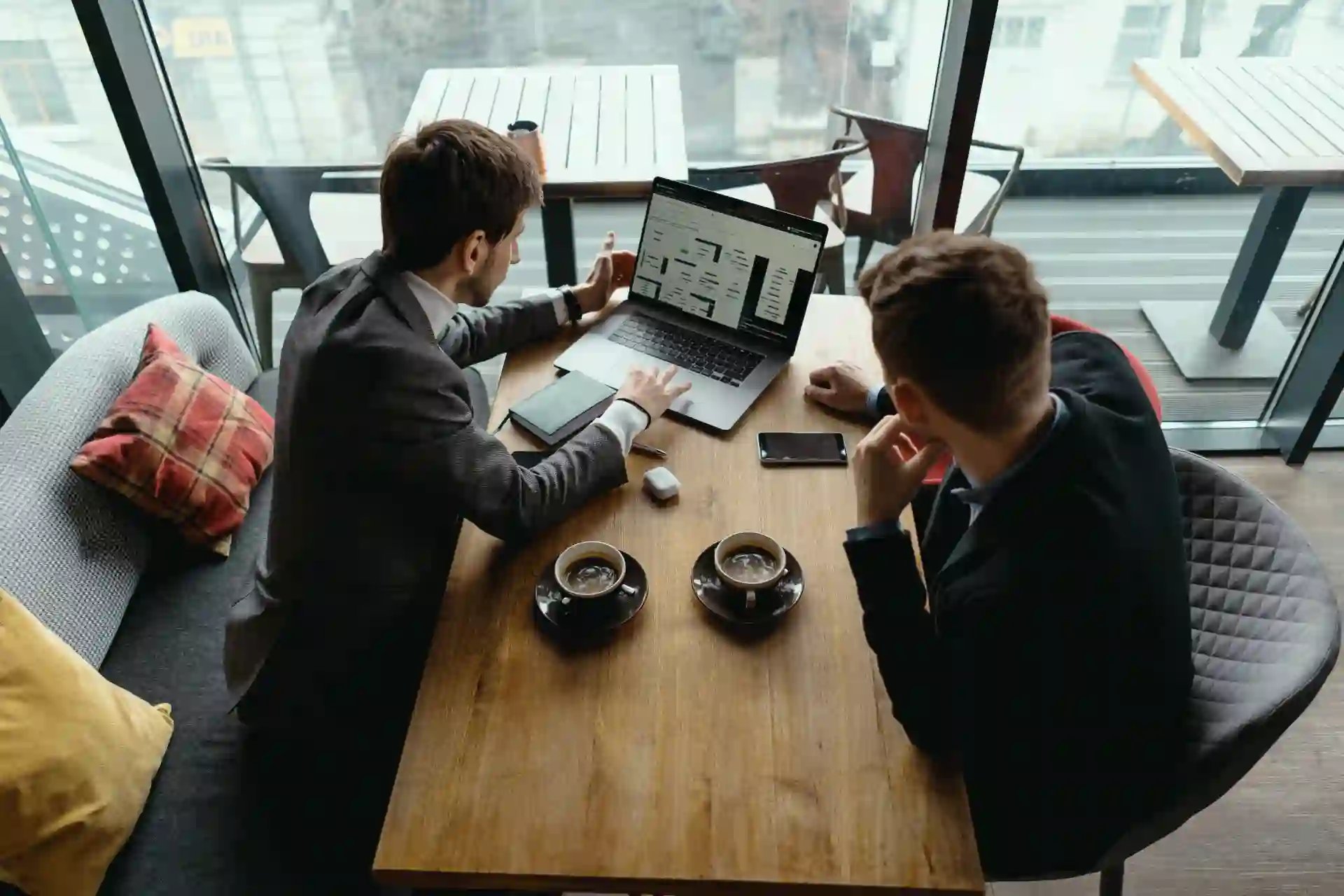 When your organization has an updated skills inventory, you can gain clarity on all the skills in your company. To pursue a business opportunity, your company must identify whether its current workforce has the required skills.
A skills inventory can minimize the time and determine whether or not your employees have these skill sets. You can also find adjacencies and cross-skilling opportunities to assist your company in taking up a particular project.
Your organization can explore diverse business opportunities, pursue them, extend partnerships, and attain business growth through this. Several small and large business opportunities would come your way as an organization. But it is integral to identify which among them can facilitate your company with the desired results.
A skills intelligence platform can analyze your skills inventory and identify the right business opportunity, aligning with your business goals for generating high revenue and growth.
Achieve business continuity and growth
Business continuity is crucial for running your business without concerns during an emergency. It is a part of your company's Crisis Management Plan that contains inputs to equip your business with the core functions and skills to have the organization work seamlessly while facing a crisis. It will focus on determining crucial roles and identifying job roles that can be temporarily suspended or deferred during an emergency.
It aids in succession planning as well, which will make your organization equipped if your leaders gain promotion or leave your company.
In short, your organization will need a business continuity plan to achieve all these goals, which is only possible if you have an up-to-date skills inventory.
Build diverse talent pools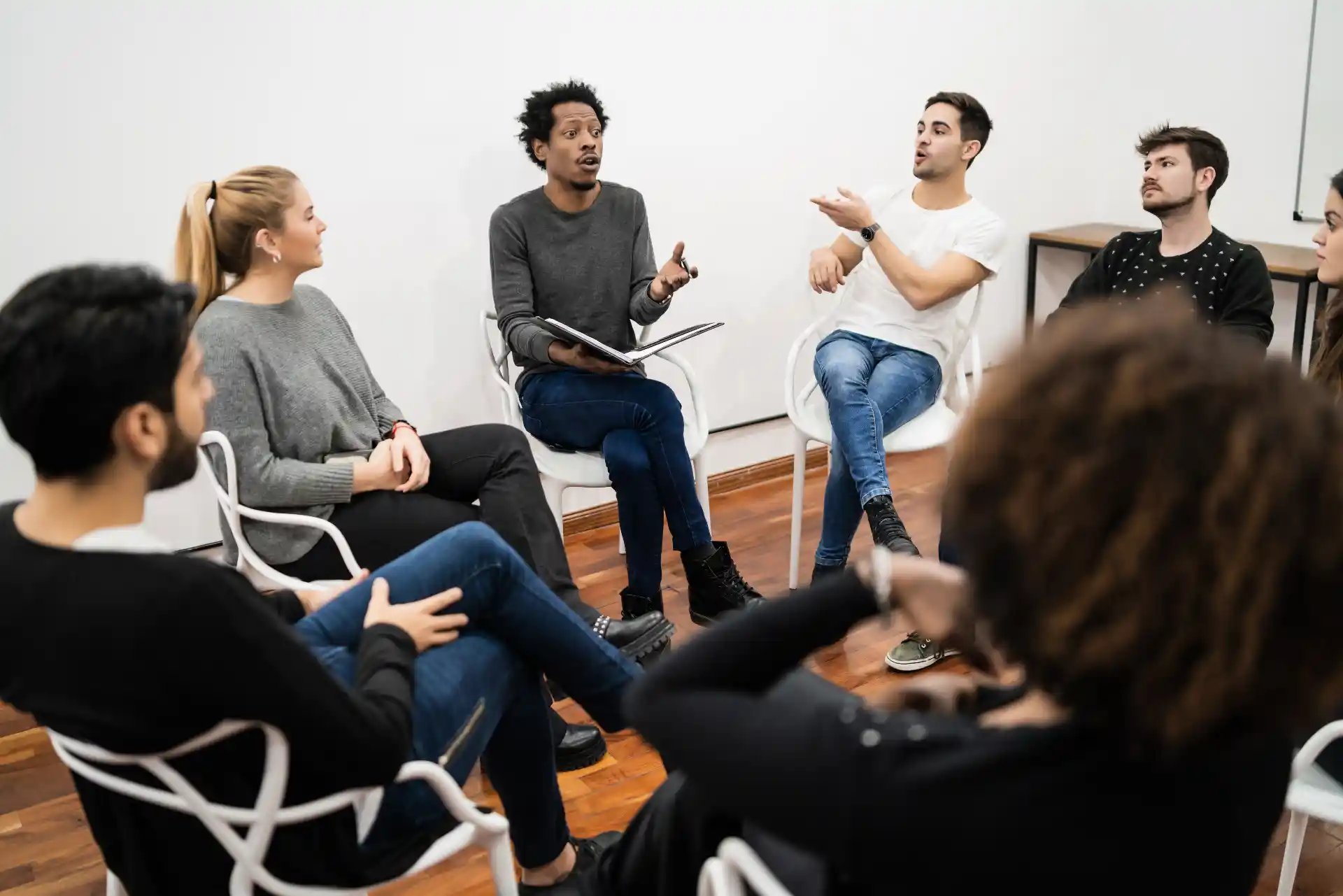 Skills inventory can act as an indirect pathway for creating recruitment pipelines for future roles. Based on the skills required in the near future, you can create talent pools even without having job openings. This can benefit you in filling high-volume positions by prioritizing criticality, as you already have a pool of candidates with the right skills and expertise to fulfill the role.
You can also have this talent pool categorized based on location, candidates ready to work from home, candidates willing to work from the office, etc.
Improve employees' morale and productivity
A lack of understanding of your employees, their skills, and their true potential could lead to burnout, disengagement, schedule overrunning, demotivation, etc. This can adversely affect their performance and demoralize them.
But, when your company has an up-to-date skills inventory and leverages it with a skills intelligence platform, you can identify the true potential of your employees, offer mentorship for their growth, and focus on succession planning.
All these factors can improve their morale and productivity and provide them with intrinsic motivation or, in layperson's terms, a feeling from within to continue working for your organization.
Conclusion
Thus, these are the benefits of having a skills inventory for your organization.
However, your company can attain the best results only when you focus on updating your skills inventory from time to time. When you put your skills inventory into use via a skills intelligence platform, your company can enhance its growth, improve employee satisfaction, recruit talented candidates, and build future-ready teams.
Are you struggling to identify the skills you need to stay ahead of your competition? Try iMocha!