44% of skills required for the global workforce to perform their job roles effectively would change by 2025, as per the Future of Works report by the World Economic Forum. Hence, paving the way for skills gaps.
Regardless of your organization, whether a very small business or an enterprise with over 20,000 employees, it's time to look into your company's skills management and intelligence strategies—if you're not already investing in them. It is essential for attaining business growth. Your company can set the foundation for the same by collecting skills data, which can be the essence of overcoming your organization's skills-related concerns.
This article will clarify what skills data is, the different ways of collecting skills data for your organization, and the benefits of having skills data in your company.
So, why don't we fast-forward to the discussion?
So, what is Skills Data, anyway?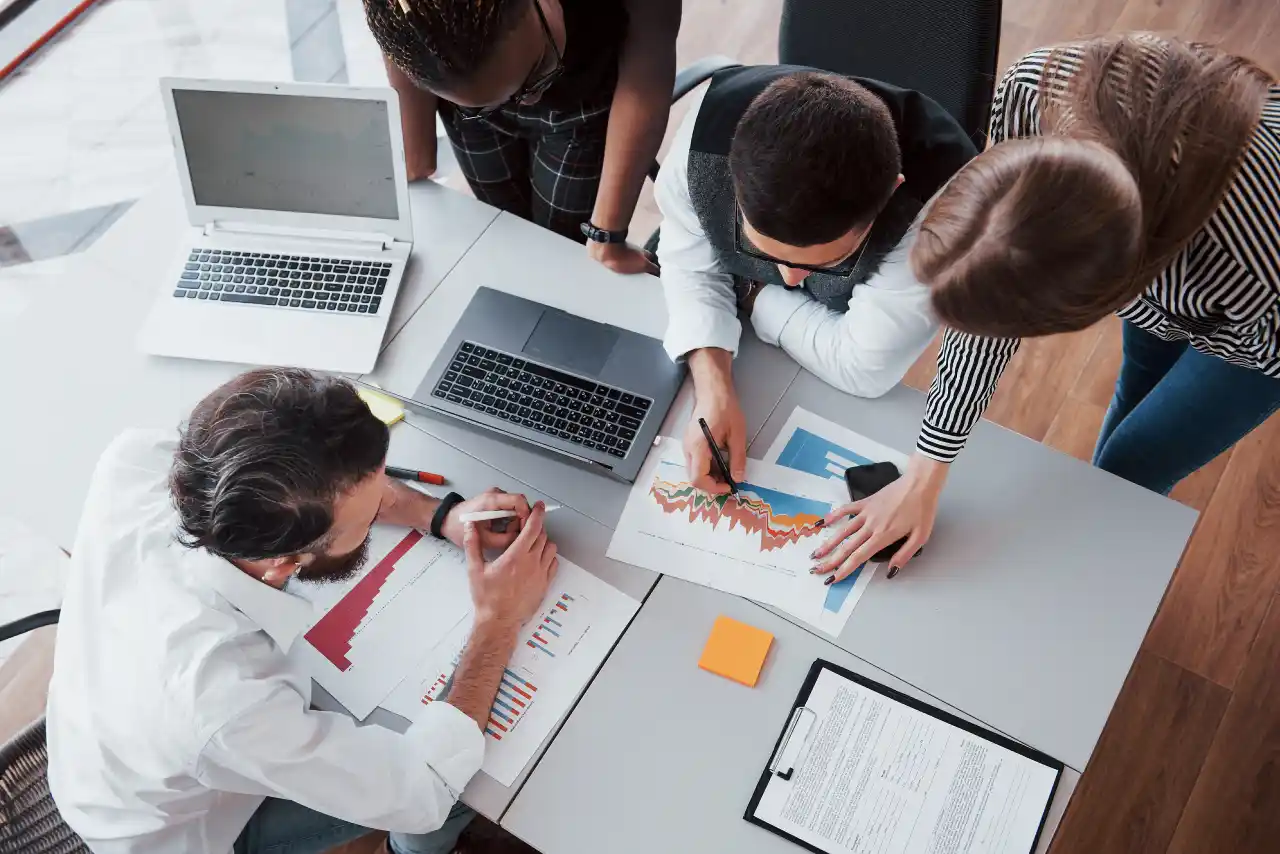 Skills data refers to the details of your workforce's skills and competencies that contribute towards a skills inventory, which is basically a repository of skills, educational qualifications, and work experiences of your current workforce.
Remember that skills data has to be multilayered, adaptive, and dynamic. Moreover, it is inherently incomplete and requires updates from time to time to stay relevant and provide you with the expected results.
But, do all the organizations worldwide have skills database?
The answer is, sadly, no!
According to the findings published by the Insititute for Corporate Productivity, only 10% of employee skills databases have profiles of all their employees with relevant information. In most cases, companies collect skills data from their employees, but they often gather dust in excel sheets or as printed documents without any updates or practical usage.
In addition, most companies face issues with the standardization and fragmentation of skills data.
What is the issue?
Sometimes, different sections within HR would have different sets of skills data for each employee, again hampering its standardization.
For instance, a company's workforce planning and Learning and Development sections would have two variations of a single employee's skills data. Because of this, the employee experience, business growth, and several other aspects of the organization could be directly or indirectly affected.
What can your organization do?
If your organization still needs to start working on creating skills data, it's never too late.
You can leverage the power of artificial intelligence (AI) to map skills data smoothly. It would be much more convenient than relying on excel sheets, which can cause consistency issues. While using AI, you can address your skills data much better. Here are some use cases:
Collect and maintain your skills data efficiently

Identify if you have to invest in building skills inventory or opt for solutions available in the market

Bring consistency to your skills data, especially when you have collected data from different stakeholders, and sometimes, these pieces of information could be in other languages

Help integrate multiple domains to put your skills data to the best use
Thus, by mapping skills data efficiently, you can enhance talent experience and focus on creating value for your employees by enriching their experience. You can prioritize your employees' measurable skills data points, including their skills proficiency levels, certifications, educational qualifications, work experiences, skills assessment results, individual skills listings, etc. Your organization can then put these skills data into use for the creation of an up-to-date skills inventory.
How can your company collect Skills Data?
Your organization can collect skills data for building your skills inventory in different ways. Let's have a look at the different ways to collect skills data in detail: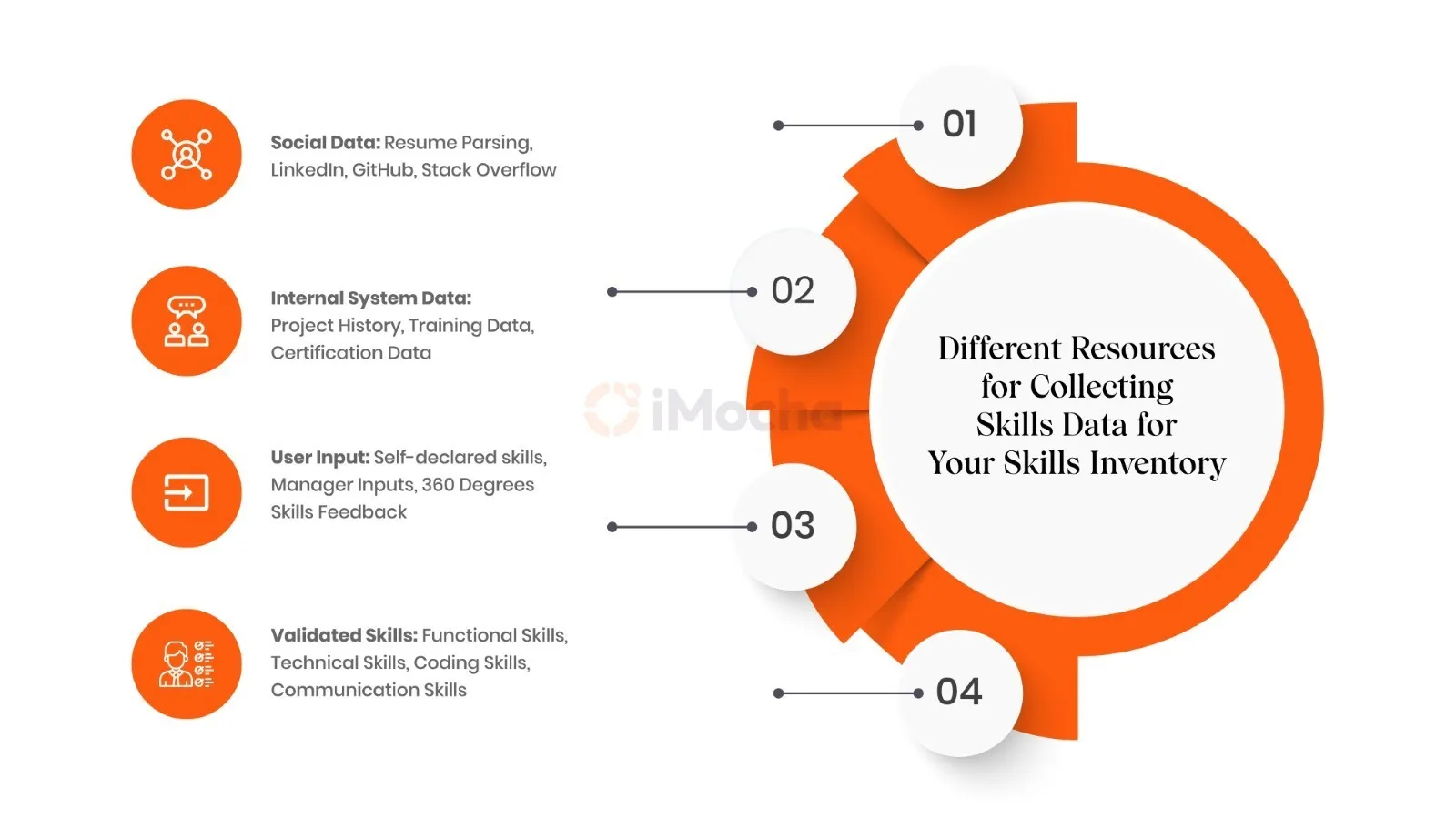 Social data
As part of creating skills data, your company can collate social data from internal and external social networks. You can discover valuable information about your employees from employee experience portals, social media channels like LinkedIn and Twitter, and platforms like GitHub and Stack Overflow. Your company can also consider resume parsing as another strategy to collect employee skills data.
User input data
User input skills data includes self-declared data, manager inputs, and 360-degree skills feedback. You can collect skills data subjectively or objectively. For instance, in the case of a subjective approach, employees or managers about their employees can mention that they have a particular skill set.
However, if a skill has to be objectively stated, employees or their managers must provide scenarios from their work history to substantiate the skills.
Besides these methods, you can conduct surveys for each employee with baseline ratings.
Internal system data
Your company can attain internal systems data on your employees from various resources. Some of the resources are:
Human Resource Management Systems or HRMS

Project Management Systems

Training and Certification data

Applicant Tracking System or ATS

Curriculum Vitae or CV

Career and training history
Your organization can identify your employees' skills data from these different resources and incorporate it into your system.
Validated skills
Skills validation through skills assessments is a way your company can understand if your employees have the right skill sets. It will help you measure ROI and analyze if they have progressed in their career pathways.
Platforms like iMocha can assist you in conducting various skills assessment, including functional, communication, technical, and coding skills.
Benefits of having skills data
Skills data is an innovation-based investment your organization can make to progress on par with the worldwide digital transformation. It can provide your organization with extra mileage to work on future-relevant skills. Here are some benefits of creating a skills database for your company:
Act as a foundation for Skills Intelligence
Skills intelligence helps manage, personalize, optimize, centralize and track skills by putting skills inventory, skills taxonomy, and market skills intelligence into use. Your organization's skills database will be integral in creating a dynamic skills inventory.
In short, by having skills data in place and when a skills intelligence platform leverages it, your organization can utilize it for workforce analysis, strategic workforce planning, workforce optimization, etc. Your company can map skills better and infer them proactively with skills data.
As part of your skills inventory, skills data is essential in creating a skills matrix, performing skills matching, and attaining skills insights of your employees.
Let's look at an example of a skills matrix that your organization can create with a skills intelligence platform like iMocha with the help of skills data: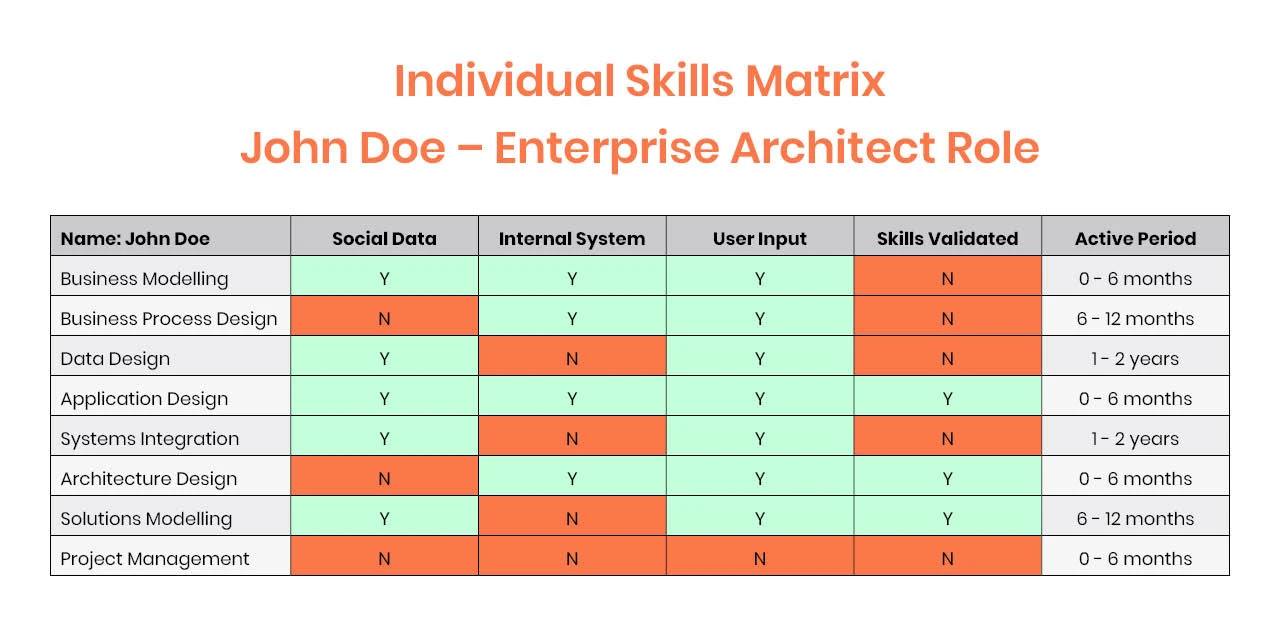 Improve employee ex

perience
Skills intelligence can be highly beneficial in enhancing your employee experience. However, skills data alone also can assist in improving their experience.
When your organization has an up-to-date skills data in place, it can pave the way for the creation of personalized career development opportunities for your employees.
However, there is a catch.
This will rely heavily upon the quality of data at an organizational level. Therefore, as the first step, your company needs to have a system in place that can ensure your skills data's standard and quality.
Besides, based on the skills data collected, your company can offer mentorships to your employees, which will aid them in improving their career paths and satisfaction.
Assist in talent mobility
Up-to-date skills data can assist in resolving current and future skills gaps in your organization. Your organization can overcome the skills gap by creating channels for talent mobility. When you put skills data into effective use via skills intelligence, you can identify employees with skill sets to take up a particular role, opening up opportunities for internal mobility.
In short, you can discover qualified candidates within your organization when new roles or requirements come up. It can be short-term or long-term mobility and even be a full-time or part-time requirement.
Through this, your organization can redeploy talents in regions of high demand within your company. It would offer your employees new avenues to disseminate their skills in other areas of their interest. It would enhance their career and provide them with better insights and understanding of their career purpose.
Help organize targeted upskilling initiatives
Skills data can assist your organization in performing structured and targeted upskilling activities. When your employees can choose the right upskilling/reskilling/cross-skilling path for them, it will help them to upgrade themselves by meeting their learning targets.
For instance, consider an employee who has listed themselves as having intermediate knowledge in Python. After completing an upskilling program for Python and working on Python, the employee could move from intermediate to professional level in Python programming.
In a nutshell, upskilling and reskilling initiatives can bring forward a learning culture and help create an agile workforce.
Thus, skills data, when used via skills intelligence, can help create personalized learning experiences for your employees.
Other benefits
Apart from these benefits, there are other perks of creating skills data in your organization. They include:
You can bring in diversity and inclusivity, especially by opting for anonymizing skills data.

Skills data can assist your company's people development functions by bringing relevance and proactiveness.

Your organization can use skills data to track and assess business growth.

You can better understand the requirements for each skill set and their proficiency levels in your organization.

Skills data can assist with resource allocation, creating development plans, and attaining development behavior.

Skills data can be crucial in measuring skills movement within your organization, which is an essential accelerator for upskilling/reskilling initiatives.
Conclusion
So, why not build your skills database if you haven't already started?
You don't have to wait until your entire talent roadmap is ready.
Instead, you can form the pathway for achieving skills intelligence and work on removing the roadblocks in your journey to become a skills-first organization by collecting precise skills data from your employees.