India will require more than 35 billion skilled workers across a variety of sectors in the upcoming years, including logistics, banking and financial services, security, housekeeping, call centers, and healthcare.
But it is impossible to reach these enormous numbers manually. Then, how would it be achieved? By deploying skill assessment companies in India that understand your organization's needs and objectives to hire accordingly.
Skill assessment companies in India have aided the recruitment process significantly, which led to the massive growth of the recruitment industry. According to recruitment statistics online, more than 95% of companies in India plan to recruit shortly by adopting modern recruitment trends.
Consequently, different types of assessments are integrated since the organization needs to evaluate candidates across all possible hiring aspects, including technical skills, communication skills, and culture fitment.
So here is the list of skill assessment companies in India to assist you in deploying a suitable one per your organization's recruitment needs.
Top Skill Assessment Companies in India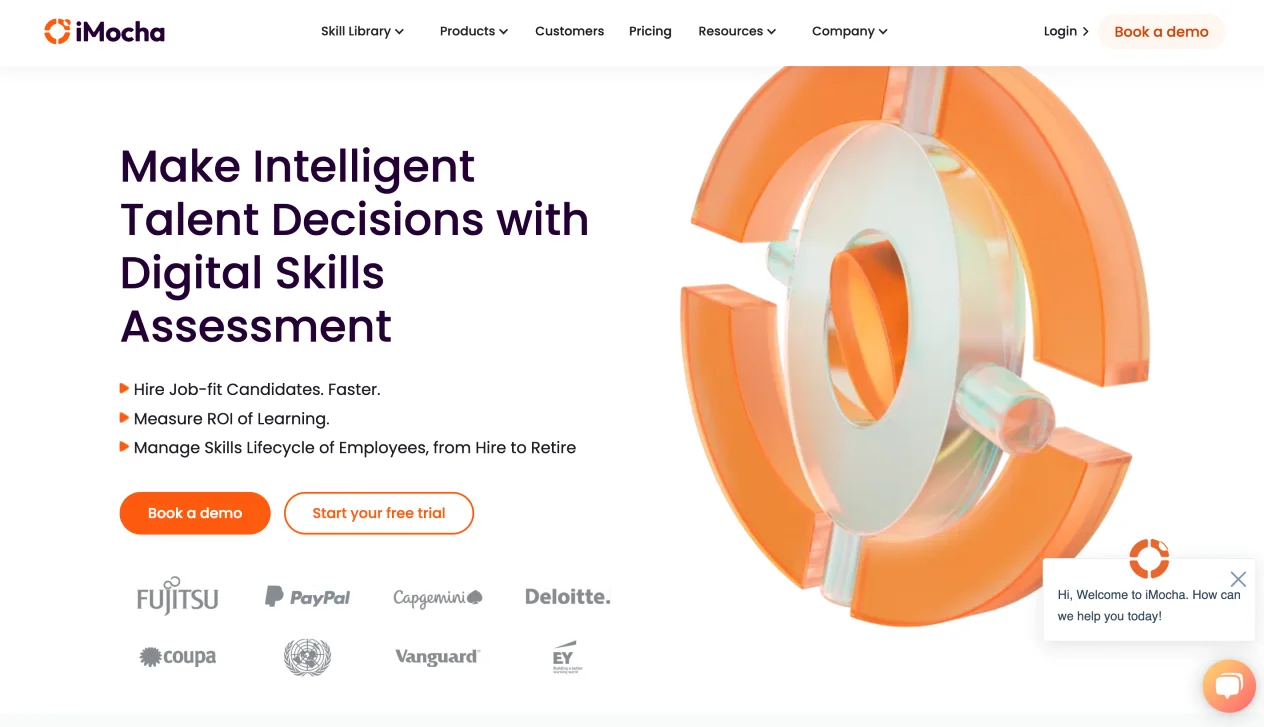 Founded in: 2015
Founded by: Amit Mishra & Sujit Karpe
iMocha is a robust, compliant, and enterprise-ready skill assessment platform in India that empowers organizations to recruit candidates and reskill existing employees. iMocha's talent acquisition and talent development portals introduces a plethora of useful tools and features recruiters.
With iMocha's talent acquisition program, recruiters can automate pre-employment assessments and streamline their hiring process to engage, screen and interview candidates. Hiring managers can quickly assess an applicant's skill set as per the organization's needs through pre-employment tests. With the help of this tool, you can quickly establish competence benchmarks within your company that guarantees a high standard for potential workers and applicants.
Talent Acquisition features:
In addition, the talent development program offered by iMocha enables L&D managers to upskill their current staff. With the help of this platform, you can carry out pre-and post-training evaluations according to the competency levels of your staff members—beginner, intermediate, proficient, and experienced. Their pre-training evaluations establish employee's skill level and pinpoint the areas that need improvement. Its post-training evaluation gauges learning outcomes and training effects, enabling you to calculate an accurate return on investment (ROI).
Talent development features:
Seamless LMS integration.

Measure employee's skill proficiency with the help of skill meter.

2500+ calibrated and bench marked skill assessments available.

AI-powered skills

report for actionable insights.

Tailor made assessments created by global SMEs (Subject Matter Experts).
Free Trial: Yes
Pricing: On request
G2 Crowd Rating: 4.4/5 (165)
2. Mettl

Mercer Mettl is a remote skill assessment platform that helps you scale your talent management processes easily and effectively. As part of their employee lifecycle assessment program, they create customized assessments for pre-hiring screenings, candidate skills assessments, training and development programs, certification exams, contests, and more. It also provides solutions for fundamental organizational growth procedures like performance evaluations, analysis of training requirements, identification of high-potential employees, succession planning, and leadership development.
Founded in: July 2009
Founded by: Tonmoy Shingal
Free Trial: No
Features:
Each test is divided into many modules, allowing applicants to select the modules they wish to take and the ones they do not and combine different modules into one.

Mettl makes it easier to understand and finalize profiles by making the competencies understandable through graphs and subjective data.

It has complex UI leading to wastage of time.
Pricing: $249/year
G2 Rating: 4.8/5 (247 reviews)
3. Perspect.ai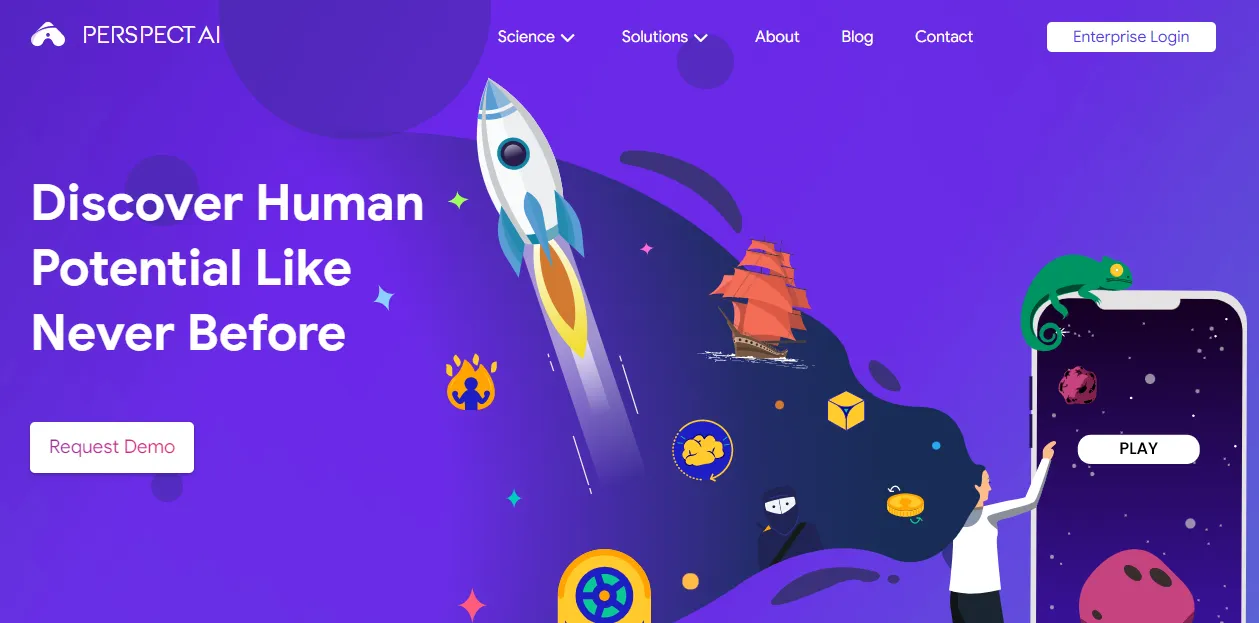 Perspect.ai is one of the new-age skill assessment platforms in India, that leverages games, mobile and artificial intelligence to make assessments more fun and engaging. PerspectAI exams are engaging and can be broadly categorized into games and contextual simulations. They are flexible and can be administered on a standalone basis, whether on a PC or a Mobile.
Founded in: 2017
Founded by: Jignesh Talasila, Karthik KV, Puranjaya Singh, Ravi Teja Koneru, Ravi Theja Muthu, Sai Suraj Vanka
Free Trial: Available
Features:
It provides game-based assessments to assess cognitive abilities, emotional intelligence and personality of candidates.

The assessments provided are easy to use yet challenging.

The software can capture multiple behavioral data points within 10 minutes.
G2 Rating: Not Available
4. eLitmus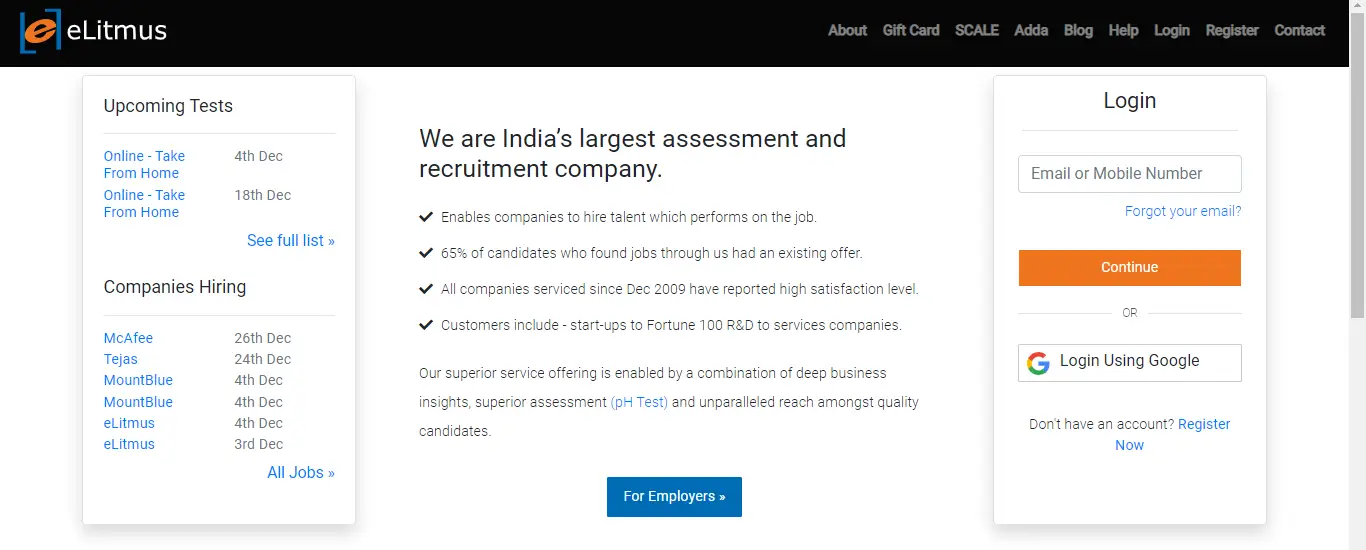 eLitmus is one of the top recruitments under the list of skill assessment companies in India that conducts a national-level potential hiring test, a pH test consisting of three sections: Quantitative, Problem Solving, and Verbal ability. They provide an extensive range of online tools. These tools help recruiters easily screen and select candidates based on this and dozens of other parameters.
Founded in: 2005
Founded by: Aseem Marwaha, Sandeep Sehgal, Shireesh Jayashetty
Free Trial: Available
Features:
It helps businesses to employ someone that excels in their current position.

According to reports, eLitmus offers their customers a high degree of satisfaction.

It offers 650+ assessments to assess candidates on General Mental Aptitude, English Communication, Behavioral Skills, and Domain Knowledge.
Pricing: $29/month
G2 Rating: 4.9/5 (16 reviews)
5. Iguage
Iguage a talent pre-screening platform engaged with 2000+ experts to perform skill analysis. The platform was created in accordance with EEOC requirements to eliminate unconscious bias from the hiring procedure. It presents the finest prospects for hiring, regardless of gender, color, ethnicity, or age. They claim to have offered 23,265+ jobs with their advanced hiring personal.
Founded in: 2011
Founded by: Bryce Morrow
Free Trial: Yes
Features:
It assesses each candidate individually by the top industry experts.

This is one of the top skill assessment companies in India, which is affordable for any size of business.

They assess candidate's profile with the help of technical experts on a real- time basis.
G2 Rating: Not available
6. AssessHub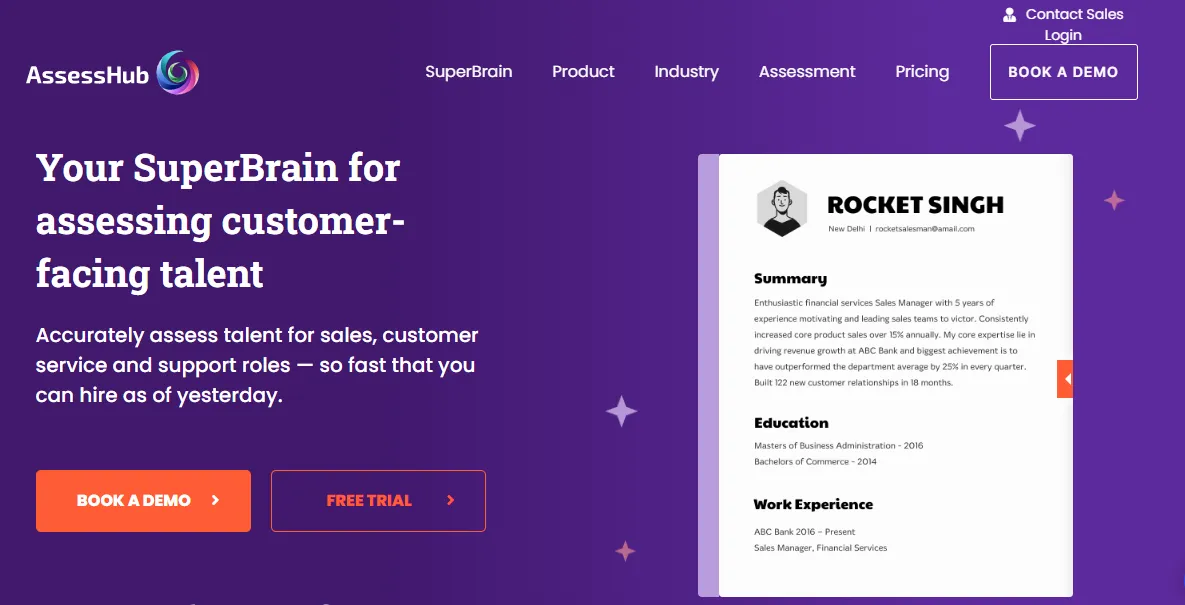 Skill assessment companies in India, such as AssessHub, help businesses find, develop, and evaluate talent. They provide recruiters with proprietary and statistically validated assessments that allow them to assess employees' domain skills, competence / behavioral evaluation, general aptitude, language proficiency, technical and functional abilities, and more.
Founded in: 2012
Founded by: Emilie Cushman
Free Trial: Yes
Features:
It provides candidate's 360-degree performance feedback to recruiter.

AssessHub provides 24x7 customer support on WhatsApp.

AssessHub also creates specialized job-specific evaluations for every role and level within your organization. Consequently, businesses can evaluate employees' job-relevant talents throughout the talent lifecycle.
Pricing: Not disclosed publicly
G2 Rating: 0 reviews and rating
7. Wheebox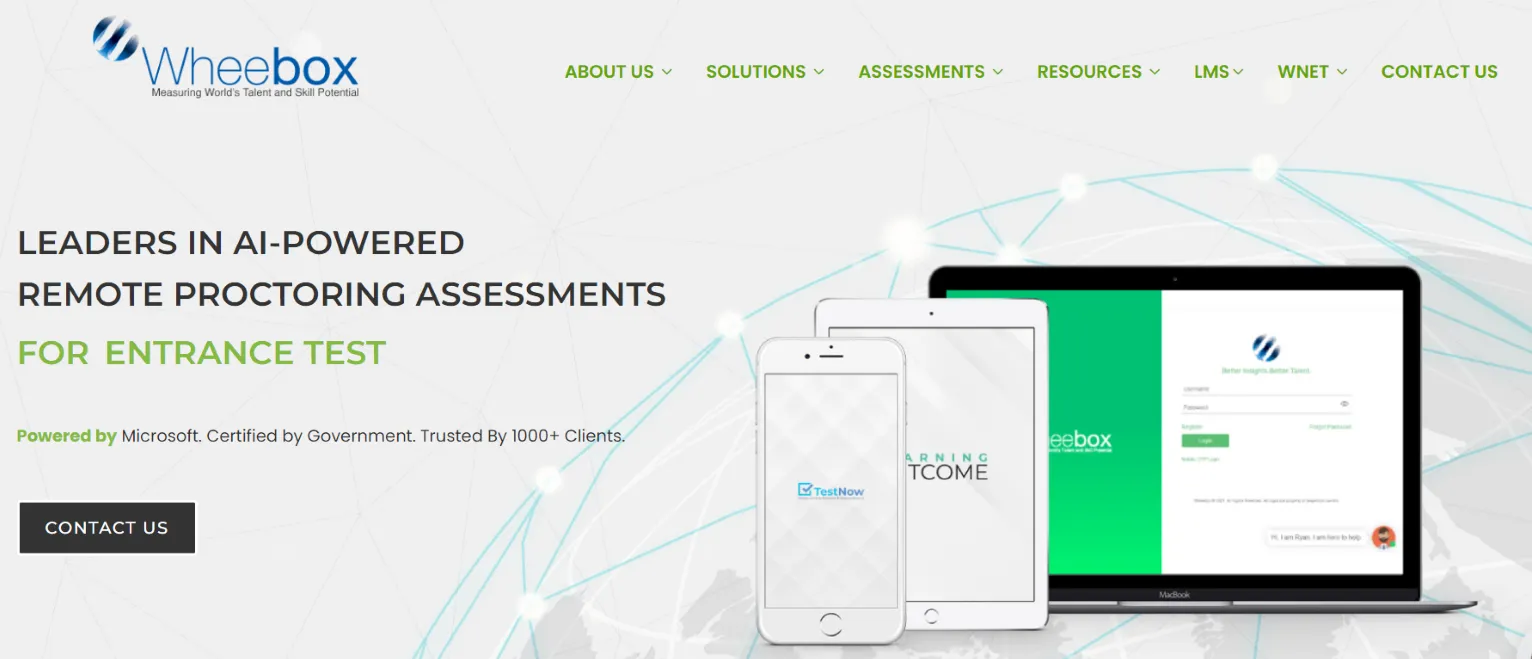 Wheebox is an India-based global online talent assessment company that supports academia, organizations, and enterprises' assessment, learning, and compliance needs. With their AI-powered assessments, institutions can conduct proctored assessments at scale. Over the past decade, Wheebox has facilitated remote proctored examinations and learning solutions for more than 3000 large companies in both private and public sectors. They deliver visible business results and Human Capital Return on Investment (HCROI) by leveraging the best and most secure test engine, rich and advanced analytics, and highly interactive and intelligent assessment tools available.
Founded in: 2011
Founded by: Nirmal Singh
Free Trial: No
Features:
Student identification is handled by the software using two-factor authentication.

Wheebox is one of the most secured and best skill assessment companies in India, providing security such as GDPR, ISO 9001, ISO 27001, etc.

With its advanced AI-powered detection, you can detect voices, faces, and objects.
Pricing: Not disclosed publicly
G2 Rating: 3/5 (1 review)
8. WeCP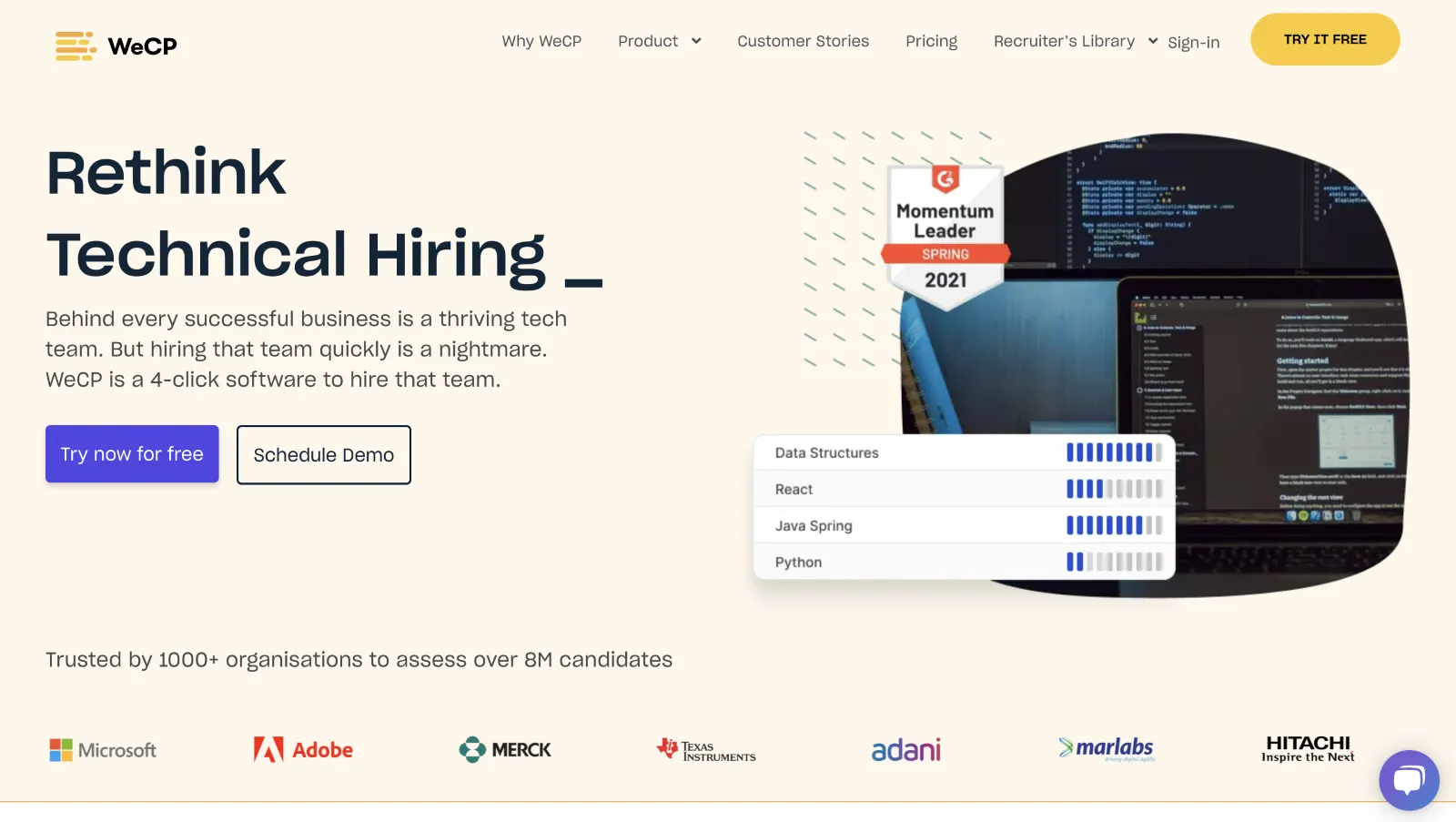 WECP is one of the most prominent skill assessment companies in India that offers an in-built AI-driven test development engine and runtime assessors. The software provides a pre-built and customized library of tests for 2000+ developer skills to hire tech talent. In addition, WeCP offer many useful features for recruiters and hiring managers, such as individual and bulk reports export, ATS integration, automated onboarding for new hires and more,
Founded in: 2015
Founded by: Abhishek Kaushik
Free Trial: Yes
Pros
WeCP has a pre-built and customizable library with 2000+ tests for developer skills.

It has a timely reporting system and an automatic follow-up process.

The customer service of this technical skills assessment tool is of great help.
G2 Rating: 4.8/5 (49 reviews)
Pricing: Not available publicly.
9. Mytat

MYTAT is a PaaS (Platform as a Service) that combines HR and EdTech solutions. This one of the top-listed skill assessment companies in India makes HR functions possible with its learning management system, assessments, lateral and campus hiring solutions, and applicant tracking system (ATS) (LMS). With its powerful features and cutting-edge technology such as job postings, hackathons, and psychometric assessments tailored to specific job postings, you can reach a more talented audience. In addition to technical efficiency, they offer a proprietary communication channel, built-in analytics, and both individual and group reporting.
Founded in: 2020
Founded by: Rohit N
Free Trial: Not available
Features:
The software offers skill-based assessment covering 2000+ skills from 20+ industry sectors and 200+ job roles.

It has a massive library of 300,000+ questions divided into different levels of master such as inbuild coding, video, and audio editor for screening all pragmatic skills.

They provide fully proctored assessment platform with image recognition and detection.
Pricing: Not disclosed publicly
G2 Rating: Not Available
10. Questy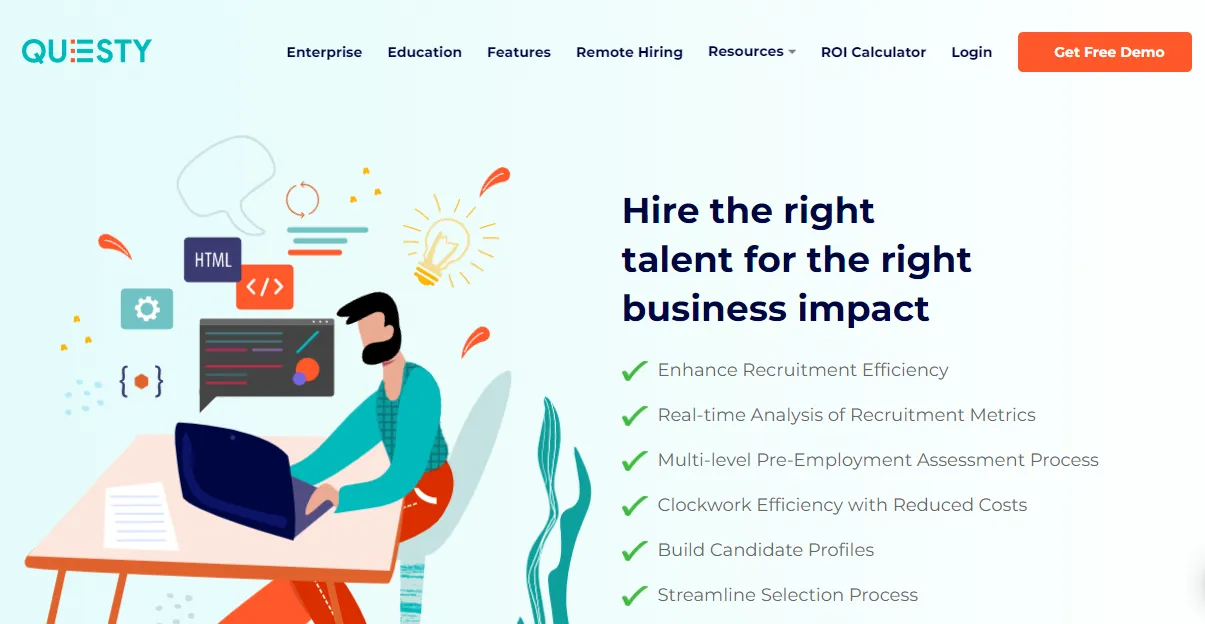 Questy is cloud-based, easy-to-use and access, skill assessment platform. The tool assists you in making insightful, precise decisions about candidates by providing you with curated assessments. They offer in-built tests with expertly curated and well-researched questions measuring domain knowledge, aptitude, cognitive, behavioral, and technical skills on a range of difficulty levels.
Founded in: 2017
Founded by: Shoanak Mallapurkar
Free Trial: Available
Features:
Questy provides invaluable insights into candidate's assessment.

They offer free, pre-defined test catalogs for multiple domains.

The tool also includes a strict proctoring suite; "access to test" is only given to the registered IP address.
Pricing: $49.99/month
G2 Rating: 0 reviews and rating
11. Skillrobo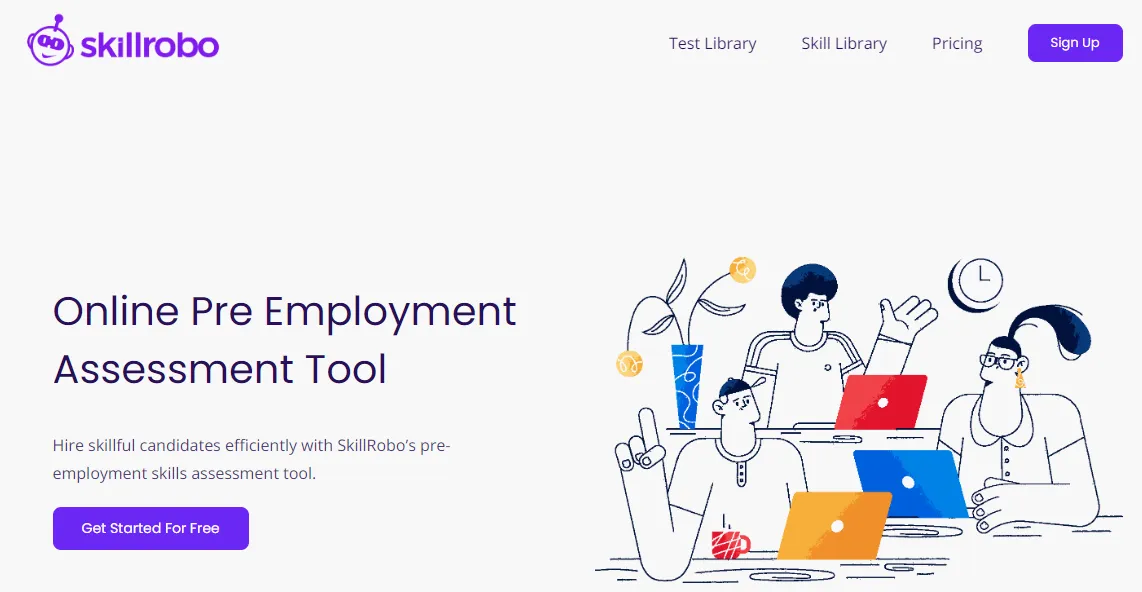 SkillRobo is a cloud-based skill assessment company in India that covers a vast collection of tests based on various technologies and skillsets. You can generate fully customized exams using SkillRobo that are focused on the skills you want to assess your candidates in. The hiring team promptly and effectively evaluates applicants using SkillRobo and narrow their list of prospects to the most qualified ones.
Founded in: Bhaskar Krishnamoorthy
Founded by: 2011
Free Trial: Yes
Features:
It gathers accurate, evidence-based information about the candidate like interests, personality traits, job-related skills, motivation levels, and cognitive abilities.

The software builds brand image by creating a professional outlook among candidates when they take tests with your brand logo.

They help recruiters narrow down the candidates whose objectives and values are aligned with the company's culture.
Pricing: On request
G2 Rating: 0 ratings and reviews
12. Freshwork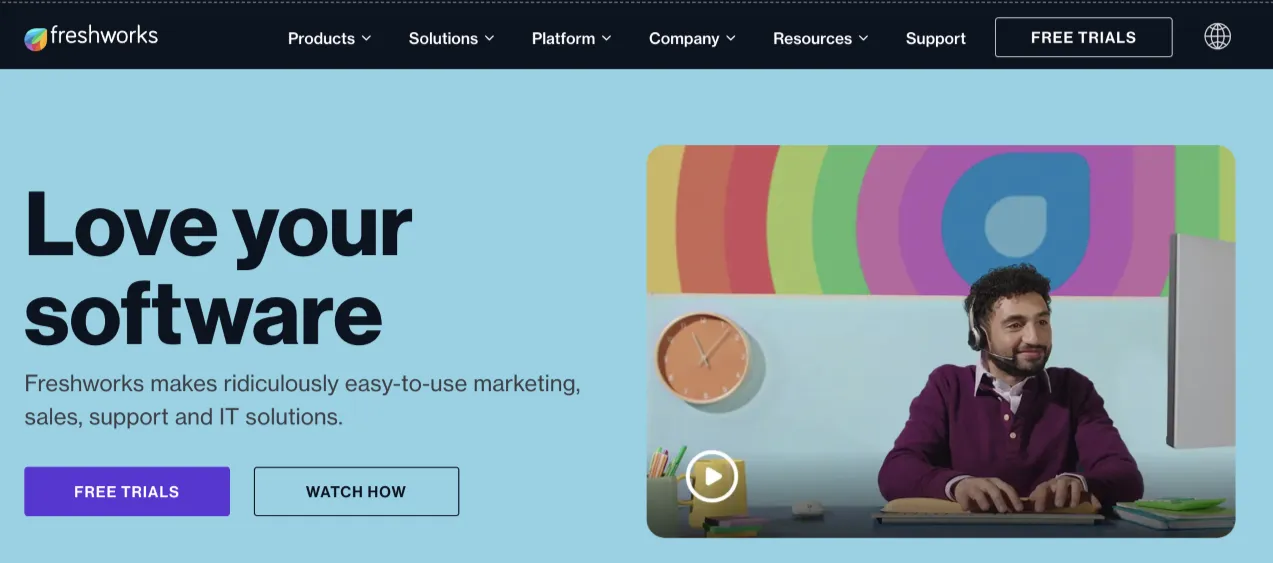 Freshworks is a SaaS based skill assessment platform that delivers intuitive and engaging experiences across the board. It is affordable, quick to implement and designed for the end users. It claims to have engaged with over 50,000 companies worldwide and enabled them to improve customer experience (CX, CRM) and employee experience (ITSM, HRSM).
Founded in: 2010
Founded by: Girish Mathrubootham
Free Trial: Available
Features:
It is a cloud-based software with self-automation that streamlines and speeds up the process

Using webhooks, users can retrieve candidates' data in a limited amount of time

The platform allows interaction with potential candidates via contextual message from the chatbot, and a letter can then be handed over to the agent at an appropriate time
G2Crowd Rating: 4.5/5
Pricing: Varies with teams, ex: $625/month (success teams), $950/month (enterprises)
13. Xobin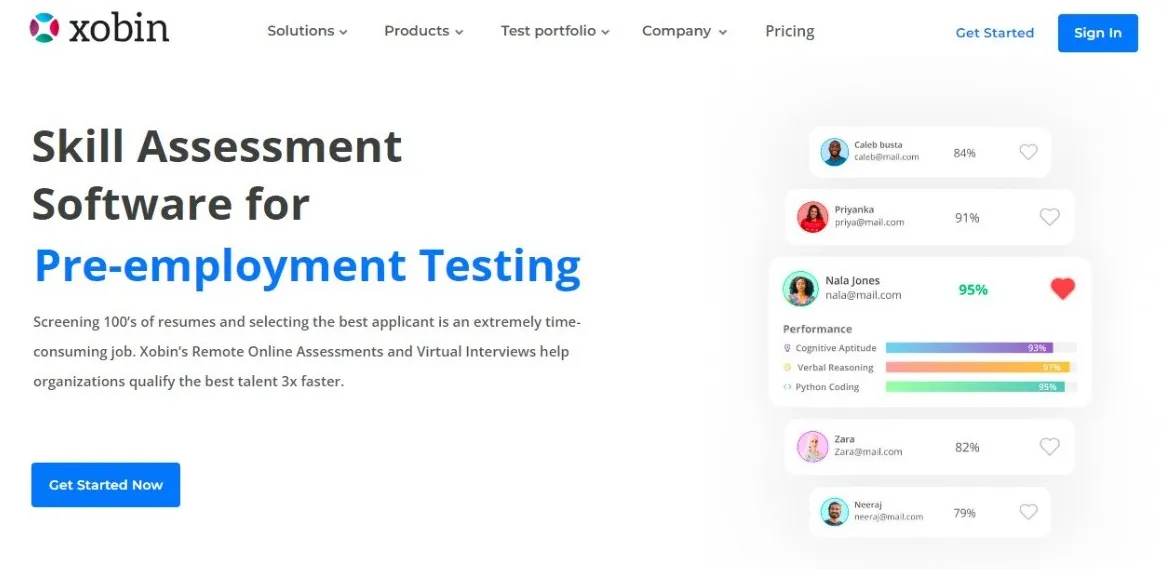 Xobin is a glitch-free assessment software that can be used for pre-employment tests, employee skills tests, and psychometric tests. Utilizing the Xobin online assessment platform, HR managers can optimize the recruiting life cycle from pre-hire skills screening to video interviews and cultural fit assessment. It is best suited for businesses seeking to assess candidates for psychometric, coding, or aptitude skills in their employment process. It comes with over 800 validated and verified pre-hire skill assessments.
Founded in: 2016
Founded by: Guruprakash Sivabalan
Free Trial: Yes
Features:
It offers a question library of 80,000+ refreshed questions.

This one of the best skill assessment companies in India offers pre-defined MCQ and coding library that helps create cuztomized test immediately.

Their customer support is responsive and helpful.
Pricing: $166 month
G2 Rating: 4.7/5 (42 reviews)
14. Talview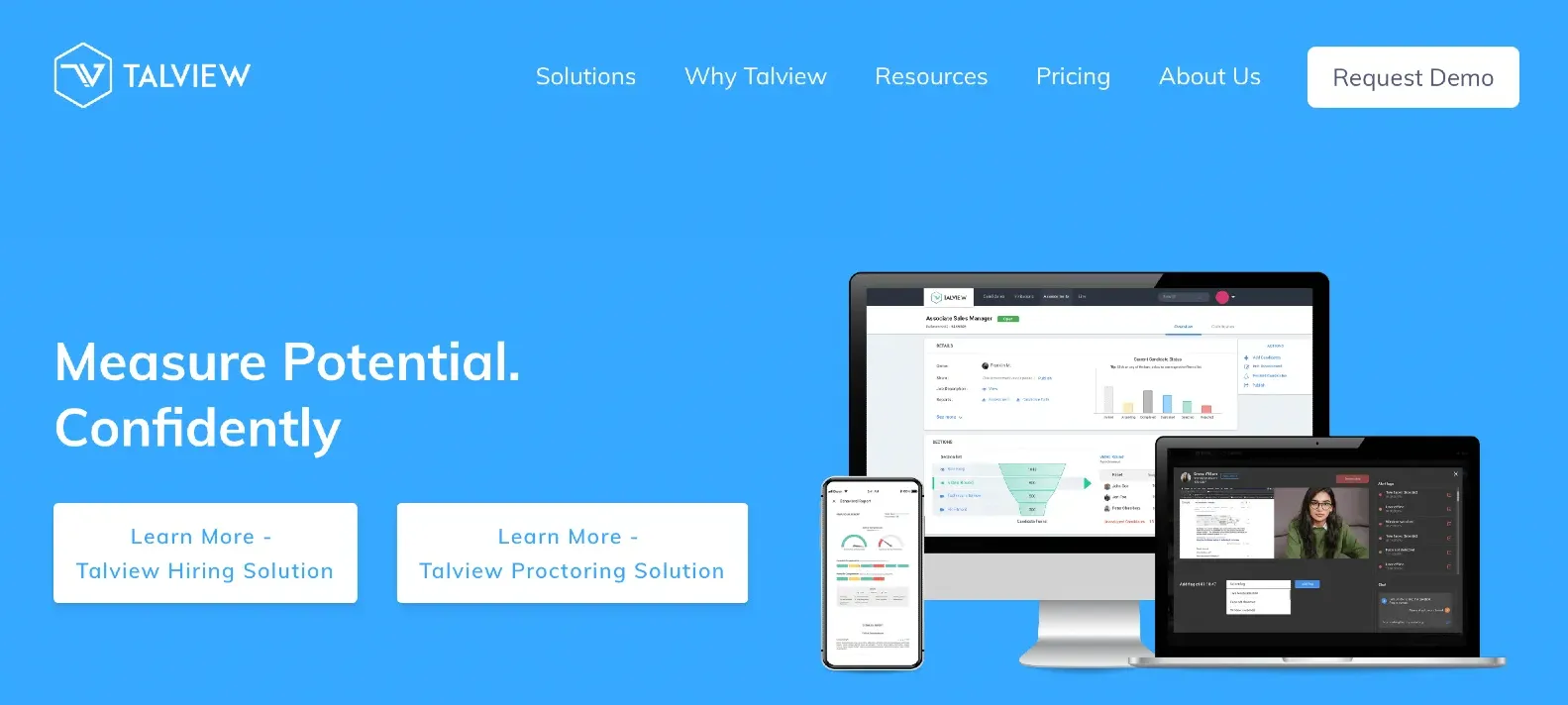 For enterprises looking to administer a significant volume of assessments, tests, or exams, Talview's online exam solution is a suitable option. This software can be customized and supports a variety of exam formats, including MCQs, essays, coding, and aptitude tests. To prevent cheating on exams, Talview offers online proctoring. It effortlessly integrates with top learning management systems when proctoring exams remotely. Additionally, it is mobile-friendly, enabling candidates to participate in exams from any location seamlessly.
Founded in: 2017
Founded by: John Jose, Sanjoe Tom Jose, and Subramanian Kailasam
Free Trial: No
Features:
With its multilingual capabilities, the platform is able to cater effectively to recruiters' needs.

Talview works with most of the top search engines used by students, including Chrome, Firefox, and Edge

The system is compliant with data safety standards.
Pricing: $25000/year
G2 Rating: 4.5/5 (33 reviews)
15. Easy Talent

EasyTalent can create skill tests to assess for qualities critical to almost all mid- and higher-level jobs, including - problem-solving, critical thinking, attention to detail, ability to learn and apply new information at work. Before conducting interviews, recruiters can evaluate candidates' job-specific competencies using the platform. Additionally, EasyTalent streamlines the hiring process to improve hiring quality and supports you in selecting better personnel.
Founded in: 2022
Founded by: Srinath Vedulal
Free Trial: Yes
Features:
It offers questions in multiple formats such as MCQ (Multiple Choice Questions, MRQ (Multiple Reason Question) and Likert Question.

It allows recruiters to gauge a job applicant's knowledge, technical capabilities, cognitive ability, behavioral qualities, and language proficiency.

Easy Talent conducts two-factor biometric validation and Aadhaar KYC for reducing impersonation concerns
Pricing: Not disclosed publicly
G2 Rating: Not available
16. Cocubes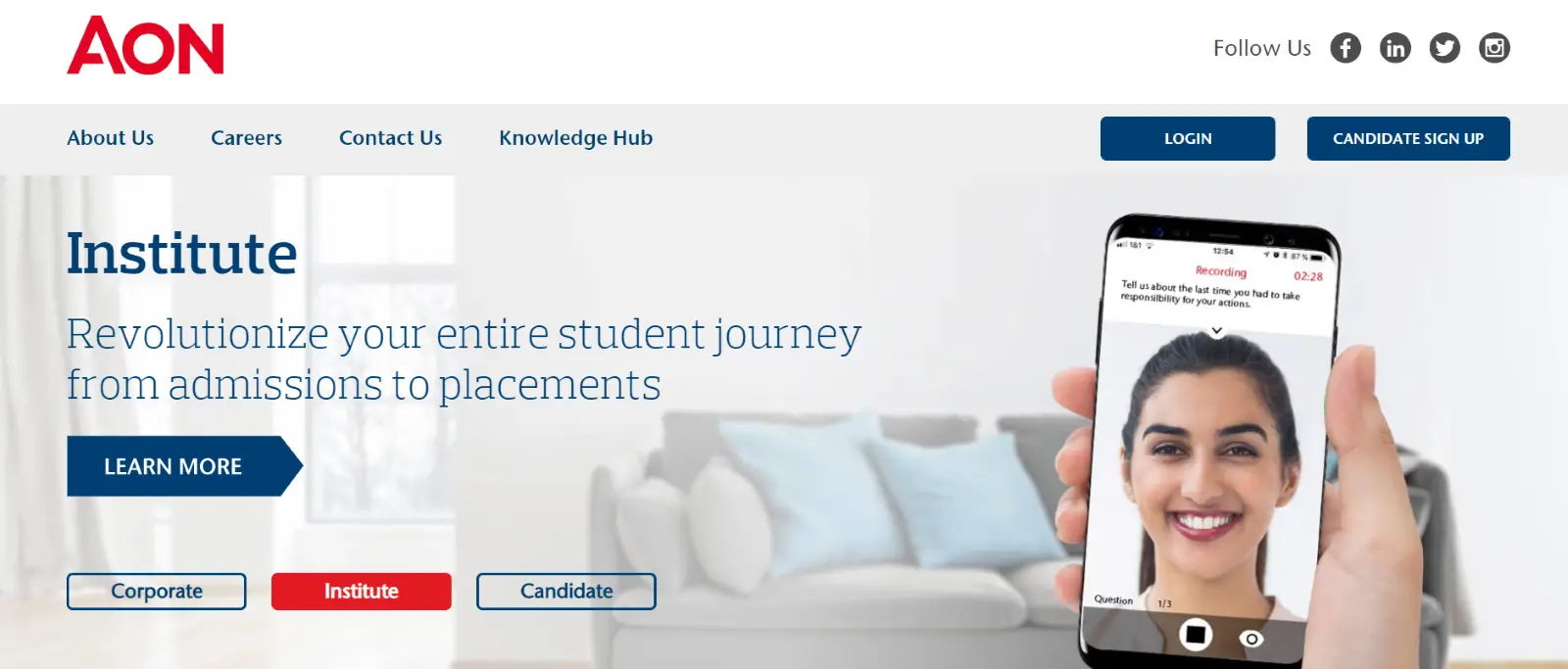 CoCube is one of the top skill assessment companies in India that provides virtual examination solutions. Its AI-enabled remote proctoring suite identifies possible malpractitioners and flags suspicious activity before, during, and after exams using a live video feed, facial recognition, impersonation, and object detection to suspicious flag activity.
Founded in: 2007
Founded by: Harpreet Singh Grover
Free Trial: No
Features:
The application has an easy-to-use interface, is seamless, secure, and can run at low Internet speeds.

By utilizing this platform, you can maintain continuity in learning while saving faculty time on the evaluation.

The platform is multilingual; supports 40+ languages.
Pricing: Not disclosed publicly
G2 Rating: Not available
17. SHL
SHL skill assessments blend science, technology, and people, allowing recruiters to gather more than just workforce data about the candidate. SHL's selection solutions enhance the applicant experience, recruiting efficacy, and efficiency. You can quickly find individuals most fit for the position, business, and culture by utilizing best practices and evaluations of the highest caliber and presented through an intuitive interface.
Founded in: 1997
Founded by: Andrew Bradshaw
Free Trial: Yes
Features:
They offer highly predictive and scientifically robust analytics reports.

The platform supports more than 40 languages, catering to an array of work cultures.

The platform offers assessments in a total of 7 large sectors via its diverse assessments.
Pricing: Not disclosed publicly
G2 Rating: 4.5/ 5 (2reviews)
18. HackerRank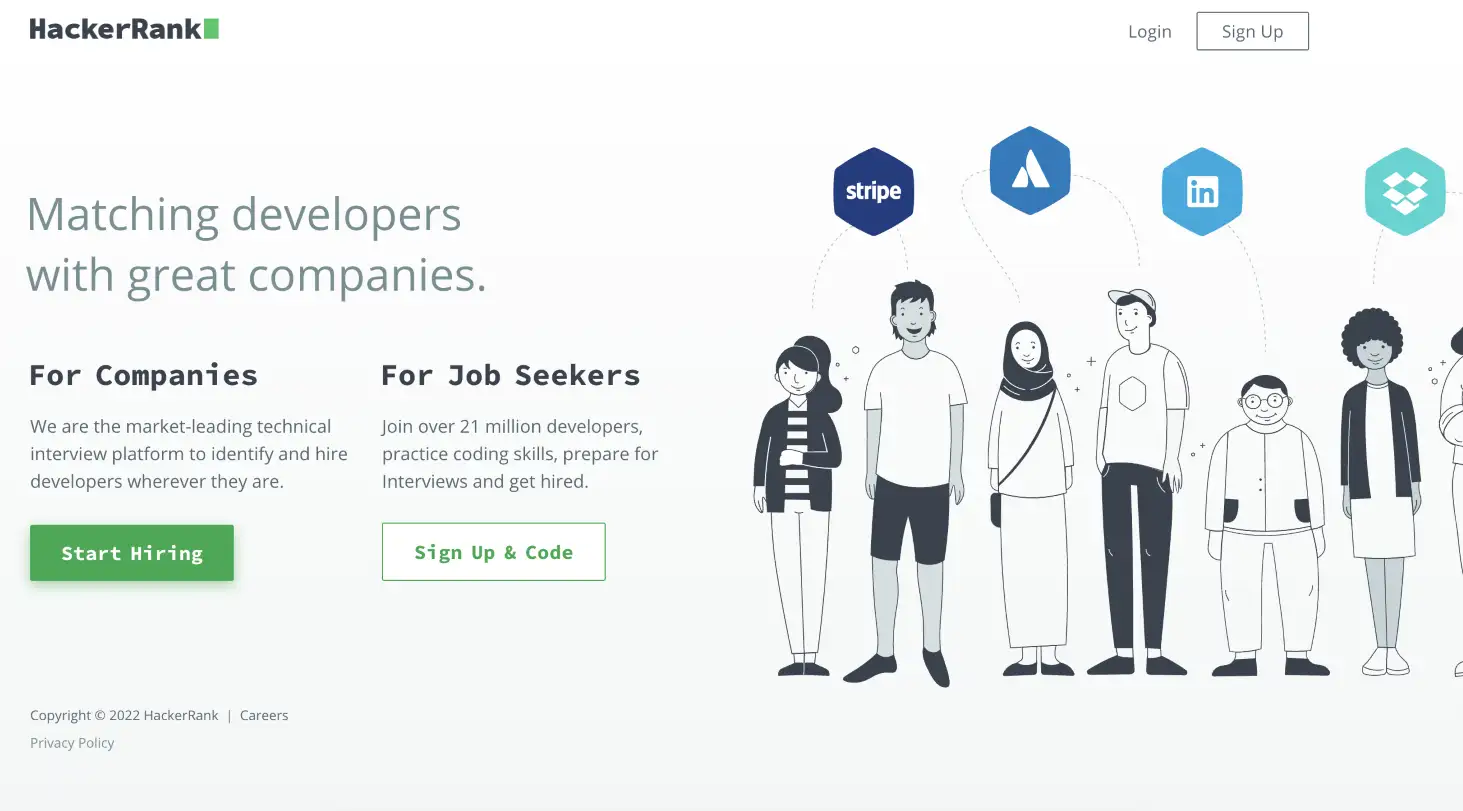 HackerRank creates a centralized dashboard that helps businesses find, screen, interview, and hire qualified candidates. To simplify remote hiring processes, it provides a configurable IDE environment and a virtual whiteboard for evaluating and ranking various candidates according to their creating skills. Managers can also use it to shortlist candidates from career sites and establish test cutoff scores, which makes campus visits easier.
Founded in: 2012
Founded by: Vivek Ravisankar and Hari Karunanidhi
Free Trial: Yes
Features:
The results of HackerRank are authentic due to its strong plagiarism detection system.

The tool often holds programming competitions to push programmers to improve and hone their skills.

Tests are available for more than 95 technical jobs, 40 languages, and eight pre-built or bespoke frameworks for HackerRank subscribers.
G2 Crowd Rating: 4.7 /5
Pricing: Custom pricing
G2 Rating: 4.7/5 (447reviews)
19. iSkill
As one of the best skill assessments companies in India, iSkill is affiliated with several renowned institutes such Healthcare Sector Skill Council of India, the Gems & Jewellery Sector Skill Council of India, the Media and Entertainment Skill Council, Skill Council for Green Jobs, and Textile Sector Skill Council to measure and identify talent for businesses.
Founded in: 2014
Founded by: Ram Pandey and Ankit Jaiswal
Free Trial: No
Features:
It offers assessments in regional languages spreading PAN India.

It offers assessments to measure abilities, behavioral competencies, domain knowledge for employability.
Pricing: Not disclosed publicly
G2 Rating: Not available
20. 9Links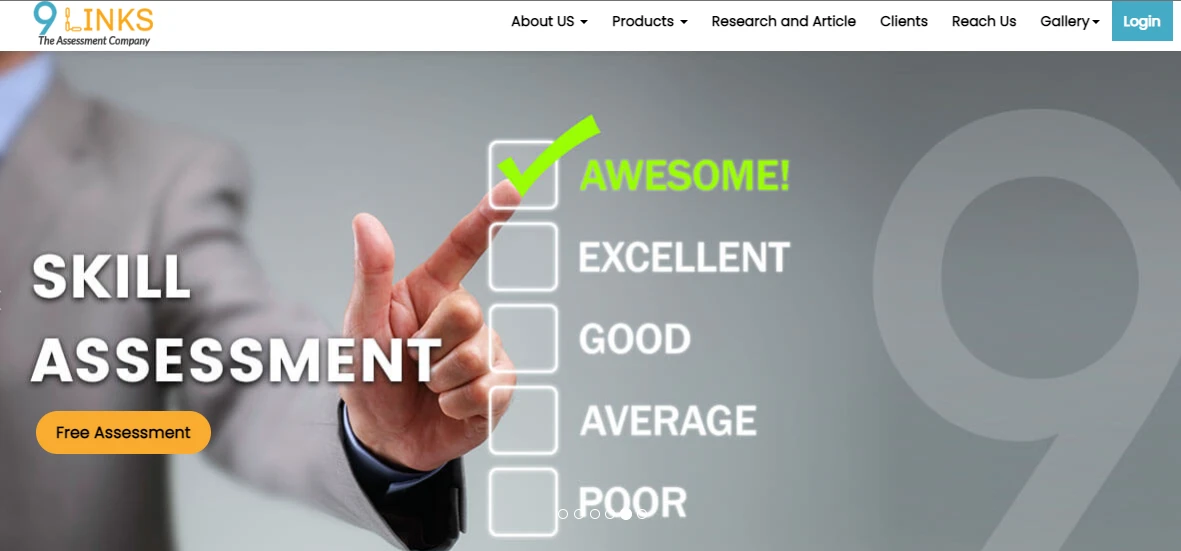 This Indian skill assessment company, 9Links provides online psychometric tests for Organizational Development and Behavioural Assessment. They offer in-depth, skill-focused modules that are accurately researched and produced for improved job fit, performance reviews, and training & development. The tests can be modified for employment in various sectors, organisational levels, and functions.
Founded in: 2013
Founded by: Omer Tadjer
Free Trial: Yes
Features:
Their psychometric test is created after extensive research and expert advices to provide 99.99% accurate results.

9Links assess an array of skills covering linguistic and mathematical aptitude, communication, openness to learning, stress tolerance, negotiating, customer orientation, and more. They also test visual memory and attentiveness.

All their assessments follow the APA (American Psychological Association) guidelines.
Pricing: Not disclosed publicly
G2 Rating: Not Available
FAQs
What are the best skill assessment companies in India?
Here are some of the best skill assessment companies in India:
Assess candidates in 2500+ different skills.

Ready-to-use and custom integration with leading ATS.

AI-powered insights with KPIs (Key Performance Indicators).
iSkill
Offers 99.99% accuracy in their psychometric tests.

Follows APA guidelines strictly.

Conducts 3SAQ multidimensional assessment based on extensive research.
Perspect.ai
Multilingual platform

Assess candidates in less than 30 minutes

Cater to each firm's core values
ELitmus
Served all sizes of companies, startups to Fortune 100 R&D.

Conducts unique pH tests to assess candidates.
Talview
Easy integrates with your web browser; chrome, Firefox, and Edge.

Built for mobile-first users (most of the Indians own mobiles compared to Laptops and PCs)

Candidate-centric platform