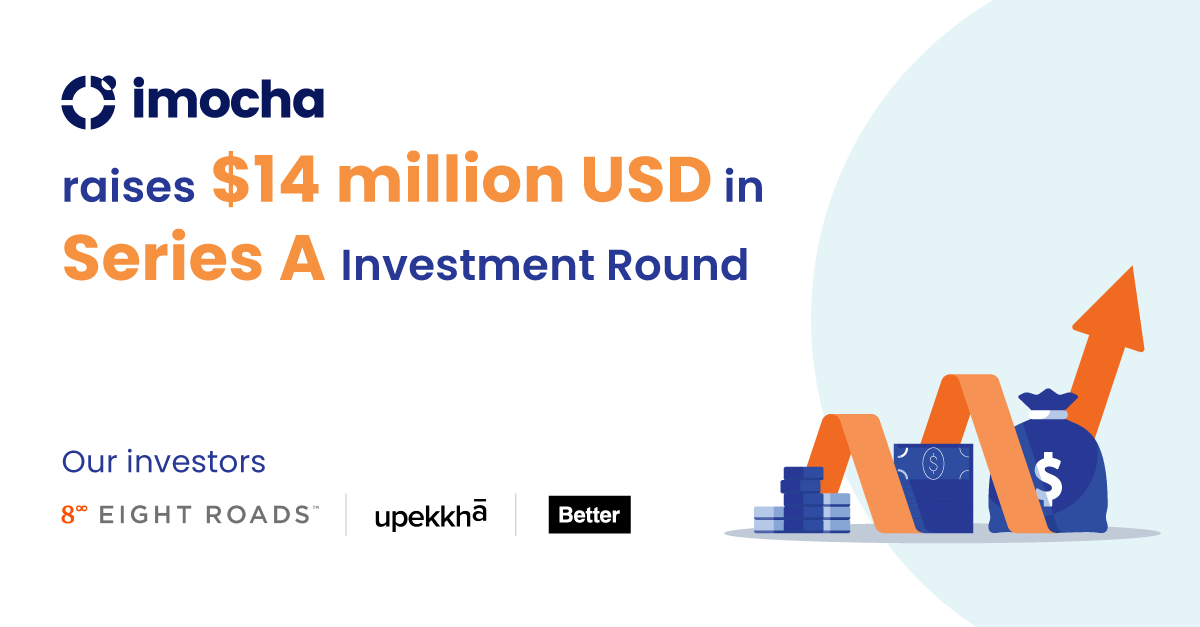 We are ecstatic, overjoyed, humbled to share exciting news with you today. Our series A round, led by Eight Roads Ventures wherein our existing investors, Upekkha and Better Capital also participated, has been a raging success, and we were able to raise $14 million USD in the round.
With this investment, we'll also add Aditya Systla from Eight Roads Ventures and Prasanna Krishnamoorthy from Upekkha to our board of directors, and we're grateful for their continued interest in our growth.
"Without a skill assessment platform to help measure and scale their talent pool, businesses will quickly lose out on talented team members. At iMocha, we've built the broadest and deepest technology skills library in the world with measurable outcomes. Our partnership with Eight Roads gives us a great launching pad to serve every Fortune 500 customer needing a skill assessment platform," said Amit Mishra, co-founder, and CEO at iMocha.
"By 2025, 50% of the world's workforce will have to upskill to next-gen digital skills. And by 2030, 60% of the skills required to perform enterprise roles will be different, making 'skills' the new currency for staying relevant and competitive. Because of our innovation and most importantly, our ability to create a skill-fit market, numerous Fortune 500 and global enterprises entrust us with their skills assessment and benchmarking needs," said Sujit Karpe, Co-Founder, and CTO at iMocha.
"Technology has been disrupting the way we work and increasingly, every business is transforming into a tech-first company. The idea of a "one-time digital transformation" is passé and the ability to quantify and analyze the skills matrix of an organization is critical to effectively drive recruitment and incorporate into learning and development strategies," said Aditya Systla, Partner at Eight Roads Ventures. "Leveraging an expansive and unique skills database, iMocha's AI-powered assessment platform has enabled organizations to make the talent management processes more robust and efficient. Over the past few years, Amit, Sujit, and the entire iMocha team have built a unique SaaS platform helping companies stay ahead of the curve on talent management and we are thrilled to be their partners on this journey."
A little bit of background
We remained bootstrapped since our inception in 2015, we grew consistently year-on-year, but the last two years have been especially great for us. Within a span of two years, we grew 400%, added numerous patents in our arsenal, and won numerous prestigious awards.
Our vision is to create a skills-fit market, and we're inching closer to it every day.
What lies ahead for us
Thanks to our customers, board members, and team, the last two years have bought a lot of exciting news. We added a number of Fortune 500 and Global enterprises as our customers crossed the threshold of millions of assessments on our platform and grew our team by 200%.
We plan to stay on the same trajectory. We'll continue to build our skills library, which already is the world's largest, expand our customer base, and expand our partnership in the HR tech ecosystem.
We'll also be continuously innovating, and adding more and more tools to make the lives of our customers easier.
A big thank you to Eight Roads Ventures, Upekkha, and Better Capital
We're thrilled to have gained their confidence and support, and for that, we're immensely thankful!
With their continued support, we're sure we'll achieve what we've set out to achieve.
Eight Roads Ventures has previously invested in game-changing organizations such as Whatfix, MoEngage, Shadowfax, BankBazaar to name a few, and we're sure that we'll continue this legacy.
Here's to the exciting times that await us!
To know more about iMocha and what we do, visit here: https://www.imocha.io/
To apply for the open roles, visit here: