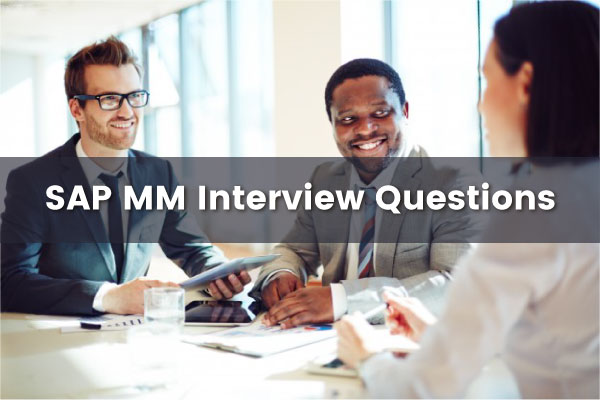 If you are looking for SAP MM interview questions, here is the list of most important questions that you must ask in interviews. Make yourself ready with this comprehensive list of interview questions.
SAP MM Interview Questions:
What is SAP MM?
What are the sub modules of SAP MM?
Describe procurement process?
What is the difference between CBP & MRP?
Explain steps in procurement life cycle?
A purchase requisition is an internal document or external document?
How can you create a purchase order from purchase requisition?
Explain about meta data, transaction data and master data?
If you need further information of interviewing SAP Candidates, check out SAP Interview Questions for Experienced.
Things to remember while interviewing SAP candidates:
A candidate with over 3 years of experience earns a median salary of $83k per annum according to Glassdoor SAP Salary Survey.
Since there are no professional courses on SAP, you may need to check what specialized SAP certifications they have. The three primary categories of certifications that SAP offers are: Associate Certification, Professional Certification, and Specialist Certification. You can learn more about these certifications here.
Use this list of SAP MM interview questions for interview preparation. Read them, bookmark them, and even add your own interview questions.