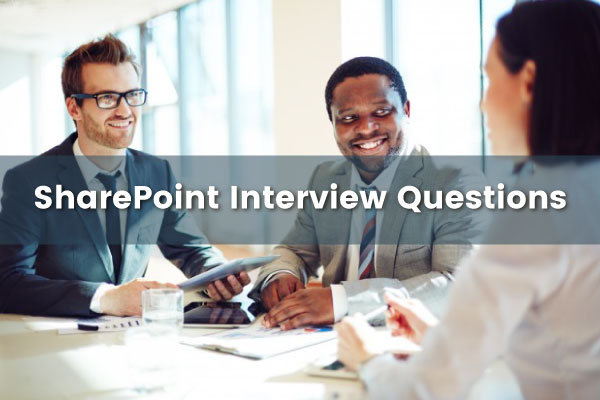 Looking for SharePoint interview questions? Here is the list of most important questions that can be asked in interviews. Make yourself ready with this comprehensive list of interview questions.
SharePoint Interview Questions
Below is a list of SharePoint interview questions for experienced developers. This list is by no means exhaustive; you can ask more complex questions to know the candidate's in-depth knowledge.
1. When retrieving List items using SharePoint Web Services, how do you specify explicit credentials to be passed to access the list items? When should you state the credentials in code?
2. You're developing a custom SharePoint 2010 solution. The solution writes data to a SharePoint list that users may or may not have access to. How would you assure that the application would always work and not throw an error?
3. How would you integrate a non-Microsoft SQL database with SharePoint 2010?
4. How many types of Client Object model extension are available in 2010 and when would you use one or the other?
5. When would you use a Different Site Collection for you new site?
6. How would you pass user credentials while using SharePoint WebService from your Web Part or application?
7. How can you force SPQuery to return results from all the folders of the list?
8. How to package a Content-Type and a Site Column into a deployable package?
9. What is the primary change with MySite document libraries in 2013?
10. How Do I Upgrade the Service Applications Database to SharePoint 2013?
11. Are there any Changes to Solutions deployed in \bin directory and GAC in SharePoint 2013?
12. How Do I Migrate Workflows to SharePoint 2013?
13. How would you a Migrate a Site Collection in SharePoint 2013?
14. Can you Create & Deploy Sandbox Solutions in SharePoint 2013?
15. Is it possible to deploy Master Page and Custom CSS from SharePoint 2010 in SharePoint 2013?
16. How to increase thedll's trust levels that are placed inside \bin folder? One way is to increase the turst level "minimal" to medium". Can you explain another way also?
17. Do you know any tools that can be used to create DataContent classes for use in LINQ queries?
18. Is it possible to deploy Master Page and Custom CSS from SharePoint 2010 in SharePoint 2013?
19. How can we force a Solution to be deployed to 15 Hive and not 14 Hive?
20. Why would you Recommend Re-Creating Solutions?
21. What are the new features and upgrades in SharePoint recently added?
Use this list of SharePoint Interview Questions for interview preparation. Read them, bookmark them, and even add your own interview questions in the comments below.