A passionate software tester needs to possess excellent experience in software testing as well as logical and critical thinking skills. I have compiled some good questions that can be asked in the interview.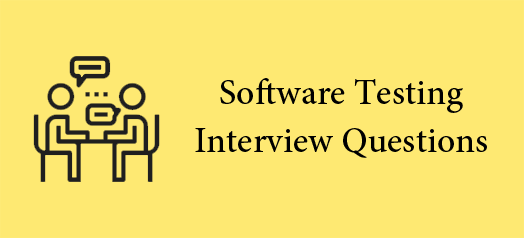 Software Testing Interview Questions:
1. Explain stress testing, load testing, and volume testing.
2. How can software QA processes be implemented without stifling productivity?
3. How to handle the low frequency issues during you testing?
4. Give me five common solutions for software developments problems.
5. When do you choose automated testing over manual testing?
6. How to overcome the challenge of not having input documentation for testing?
7. How to launch the test cases in Quality Center and where it is saved?
8. Inconsistent bugs – Why onsite can find it but offshore can't and vice versa – How to handle this situation?
9. Please provide information (an example) of your experience testing Linux and UNIX environments (including a type of system tested, how tested, actual commands and steps used for test) Testing applications using Linux and UNIX.
10. How do you decide which tests to automate? Which tests don't you automate, and why?
11. How do you create a test strategy?
12. How do you make sure that it is quality software or product?
Apart from these technical questions, ask these following questions to find out more about candidates software testing experience.
13. What are the tools used by you while testing?
14. How have you successfully helped launch a product?
15. What process are you using for testing currently? Can you describe how you might improve it?
16. What challenges they came across and overcame? Can you tell me about some specific software testing challenges you've faced, and how you overcame them?
17. Do you measure how effective (or not) your testing is? What metrics do you use?
18. How to handle a situation when you don't have time for complete testing?
19. Have you automated any of your tests? How?
20. Tell me which one the Most Critical Bug you find in your Life? What was the Severity? How it influenced?
21. What's your favorite testing tool? Why? If some technical constraint meant you were unable to use it, what would you do instead?
22. How you coped with having to learn any new skills?
These questions can be helpful for making remarkable expression in your next interview if you prepare for it in advance.