With 1.5 billion users, Facebook is still by far the most popular social media network, and as a result is becoming an increasingly popular tool for employers.
But how do you sift through the rough to find the diamonds?
Here are the top 6 hacks to ensure your hiring success on Facebook: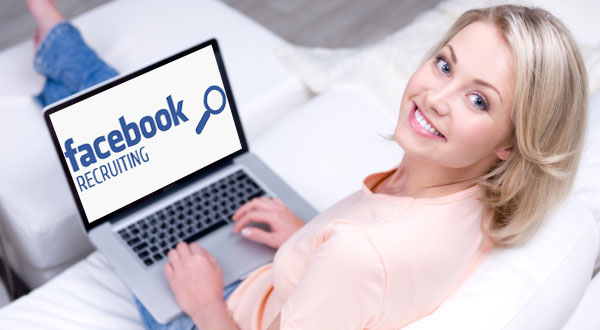 #1 Raise your Company's Profile
It's impossible for candidates to apply for jobs with your company if they don't know about you or can't find you. The higher your following and engagement, the more your page will show up in news feeds. Also, consider investing in Facebook ads. For a relatively low cost, you can boost your views by thousands, and select which demographics you wish to target by nationality, region, age and so on.
#2 Be Open About Your Activities
It's obvious to post links to recruitment pages on your company's website, or to job postings elsewhere about positions within your company. However, candidates on the hunt for jobs are highly proactive, and you should be too! If you have plans that are going to require great candidates in the near future, be sure to highlight them on your page. Job seekers will make a note of your plans and keep an eye on your page for future postings.
#3 Put Key Words on Your Recruitment Page
If people are doing a search for specific jobs, you want your company to show up in that search. So, on your recruitment page you want to put a heading that specifies exactly what you're looking for, e.g. Joe Bloggs Engineers Recruiting, or something to that effect. By doing this your page will pop up in any searches potential candidates might be conducting, and you'll draw the right traffic to your page.
#4 Go on the Hunt
While candidates are on the hunt for you, it's also worthwhile to hunt for them as well. You may get thousands of applicants for a position, with only a small percentage being suitable, but if you hunt in the right places, you'll get a far better standard of applicants. For example, search for Facebook groups related to the field you're hiring in, and if you're looking for recent graduates, find the student Facebook groups for your given industry. Here you'll be able to narrow your search down to get very specific user groups to pick from.
#5 Background Check
If you see a potential candidate and they're following your business on Facebook, you can normally access their profile to find out more about them, or more specifically, about their flaws. Red flags include racist or inflammatory comments (trolling), inappropriate behaviour evidenced in posted pictures, and links to inappropriate content posted on their Facebook profiles. Never forget that being an online platform, there are many people who are naturally inclined towards bad behaviour so a background check would be of paramount importance.
#6 Test For Skills
Now finally, test your candidate's skills with online assessment software like imocha to assess their skill competency. This will ensure that you are bringing in the right talent and the person fits job skill requirement perfectly.
As the biggest social network in the world, Facebook might just be your most valuable recruitment tool, So rev up your hiring efforts and ensure your success with facebook recruiting. Share your tips and tricks of the trade in the comments below!