Enterprise recruitment software can save you significant time and energy, allowing you to focus on other aspects of your business. They enable you to automate arduous, manual tasks that would otherwise take you hours to finish.
In addition, these recruitment tools can provide valuable insights into your candidates, helping you make better hiring decisions.
Because of this, businesses need to invest in software that can empower their recruitment teams.
However, one of the biggest recruitment challenges is understanding the different tools.
ERS systems often include applicant tracking, candidate management, and performance tracking. Moreover, not all enterprise hiring software equal. Some may help you create a candidate pipeline; some might help you get detailed analytics on each candidate, and some do it all. As a result, we have collated a list of several reliable enterprise recruitment software to help you make a more informed choice.
Top 12 Enterprise Recruitment Software
Pre-employment assessment software
1. iMocha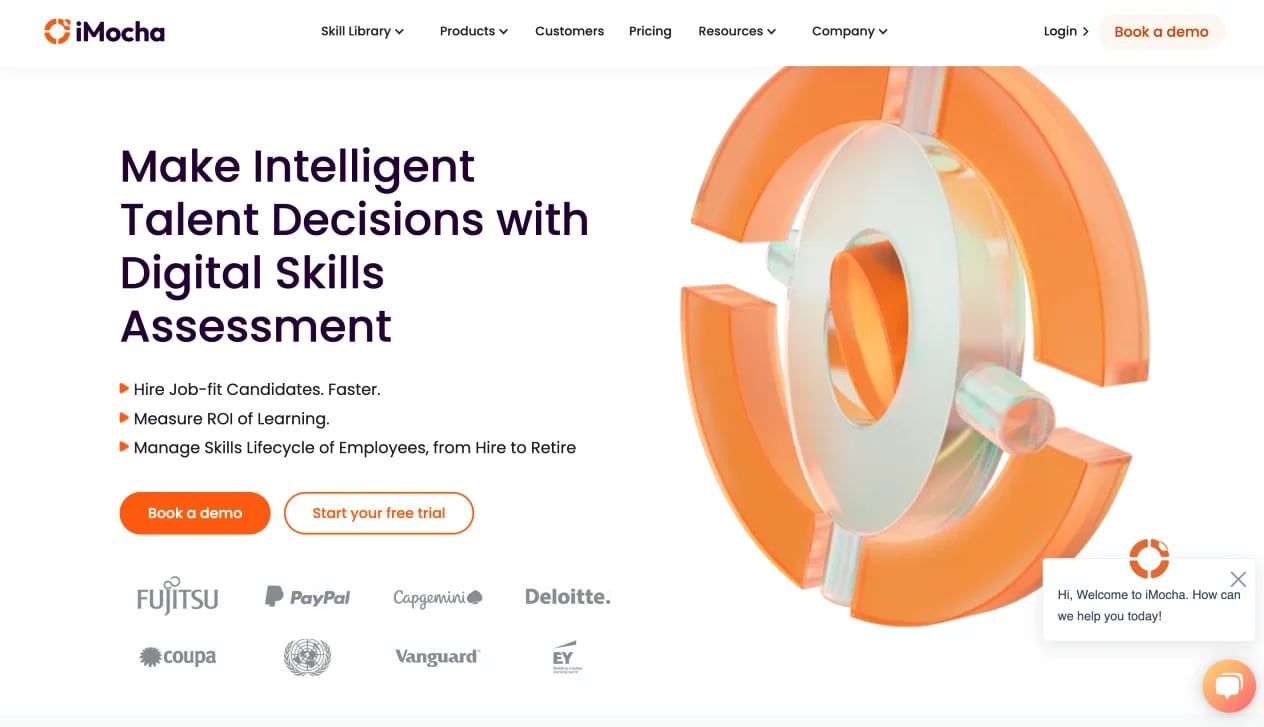 G2 rating: 4.4/5 (159 reviews)
Founding year: 2015
iMocha is an AI-powered skills evaluation solution platform that measures the skill competency of existing and potential candidates using Talent Acquisition and Talent Development tools.
The Talent Acquisition portal of iMocha allows hiring managers to recruit new candidates for their enterprise. It has the world's largest skills assessment library, assessments for enterprise application skills, coding simulators, and several other tools that assist businesses in shortlisting candidates that are best qualified for a particular job.
Its detailed report function enables enterprises to analyze results with ease. When the test concludes, reports are automatically generated and sent to the test administrator, along with valuable data such as live feed recordings and screen captures to help you make a more informed decision. Its best-in-class proctoring technology eliminates any scope of cheating and enables you to maintain the integrity of candidates.
Pros
The skill evaluation process of iMocha is devoid of human errors.

The pre-employment evaluation function of iMocha enables you to

save up to 40%

of the recruiting time.

The assessment flag function allows recruiters to view if and when candidates used any cheating attempts during the assessment.

One-click integration

with all legacy ATS
Cons
iMocha does not offer psychometric tests since they are difficult to standardize across languages and may include implicit biases.
Free trial: Available
Top Clients: Fujitsu, Mindtree, Wipro, Ericsson, TCS, Reliance JIO, ABSA bank, Capgemini, Cognizant (U.S. & Australia), and Deloitte (India)
2. Mettl

G2 rating: 4.4/5 (387 reviews)
Founded In: 2009
Mercer Mettl is an online assessment software that allows businesses to hire and develop the right people for the job. Its talent assessment tools measure personality, aptitude, communication, and job-specific skills.
Also, this tool offers ready-to-use assessment question banks and customized assessment features to help enterprises hire the best employees. With the help of the report analysis attribute, you get insights into the skill level of the candidates to determine their job readiness for the role. Moreover, this system offers a proctoring feature to ensure candidates do not cheat on their tests.
Pros
The user interface of Mettl is neatly laid out and makes it easy to use, even for first-time users.

It lets examiners and proctors track the activity of candidates and take preventive actions if required.

Mettl's security feature incorporates a double login verification system.
Cons
The platform does not include video proctoring results in the reports.

Questions in specific tests are about outdated technologies that are no longer in use.
Free trial: Available
Top Clients: Amazon, Airtel, Accenture, IIMB, BARCLAYS
3. HackerEarth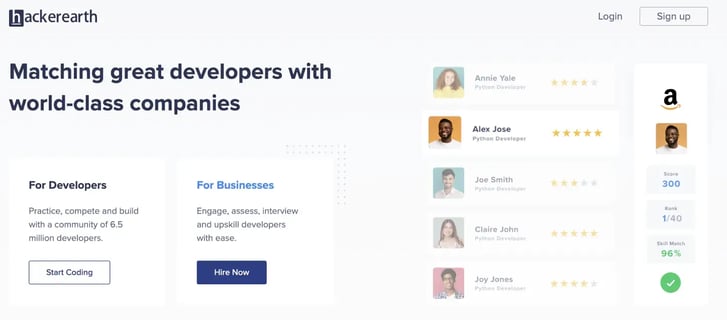 G2 rating: 4.4/5 (98 reviews)
Founded In: 2012
HackerEarth is a coding assessment enterprise software that helps enterprises with technical hiring needs. The software automates the complete technical screening procedure, reducing your reliance on your company's engineers.
The pre-employment assessment tool enables tech recruiters and hiring managers to construct accurate code exams from its coding question library, which has over 13,000 questions. Additionally, it automatically creates a leaderboard for each coding test for you to shortlist top candidates.
Pros
HackerEarth provides a plethora of programming languages to choose from and a good runtime environment for running code in real-time.

It features an enormous question bank that allows interviewers to select the best questions for the interview.

It offers fair evaluation results.
Cons
Sometimes the test becomes unresponsive.

Custom code evaluations are difficult to set up.
Free trial: Available
Top Clients: Walmart Labs, HP, DSB, HCL, Wipro, Barclays, L&T Infotech, and Amazon
4. Hackerrank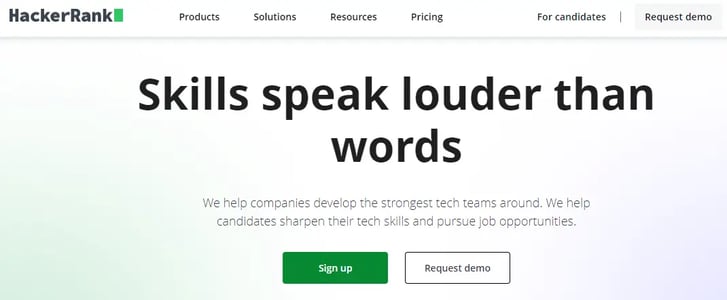 G2 rating: 4.7/5 (447 reviews)
Founded In: 2012
HackerRank is a pre-employment assessment software that allows organizations to shortlist suitable individuals via a single dashboard. It includes a configurable IDE environment and a virtual whiteboard for assessing and ranking applicants based on their skills. Managers can also set test cutoff scores and shortlist candidates from career sites to streamline on-campus visits.
Pros
It has an intuitive and user-friendly interface.

This tool offers a substantial percentage of coding questions to help users learn language fundamentals and data structures.

Its comprehensive multi-skill assistance and information on applicant response and quality scores aid in better hiring decisions.
Cons
It is challenging to monitor candidates' progress in the software.

It is an expensive tool.
Free trial: Available
Top Clients: Bloomberg, CISCO, Twitter, VMware


ATS (Applicant tracking systems) software
1. Greenhouse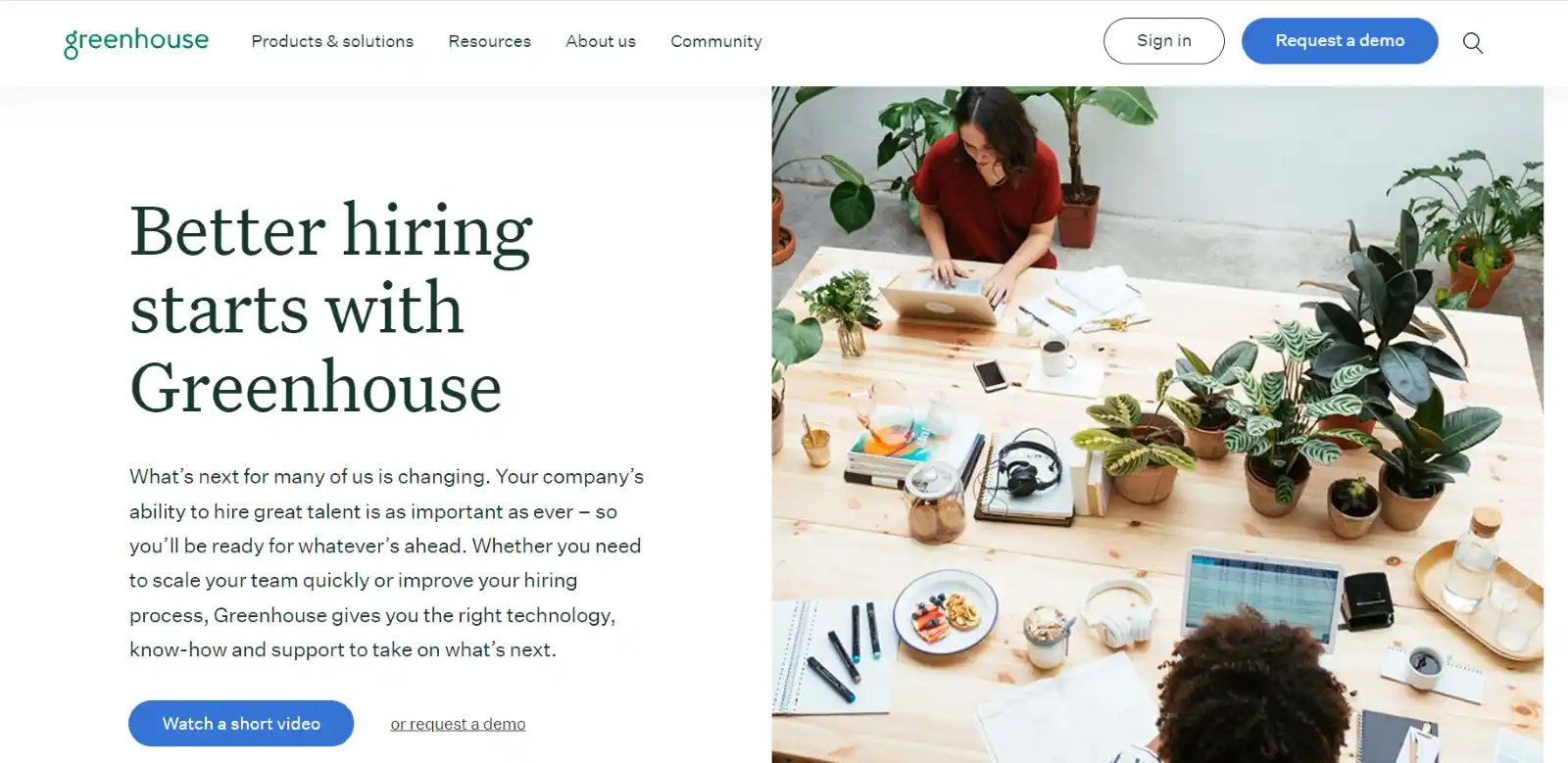 G2 rating: 4.4/5 (1213 reviews)
Founded In: 2012
The Greenhouse application tracking is an enterprise recruitment software that manages the entire recruitment cycle, from hiring to onboarding. It incorporates features that let you measure, iterate, and improve your hiring processes.
Greenhouse applicant tracking software assists you in organizing your employment process from start to finish, offering measurable statistics and transparency along the route. The scorecards and interview kits assist in concentrating interviews and reducing biases, bringing the best applicants to the surface.
Pros
The scorecard features are great and help you keep all the feedback in one place.

Greenhouse permits you to monitor each application and their data as it integrates with email and LinkedIn.

Greenhouse assists in flexible interview scheduling; both candidates and recruiters have the freedom to edit interview times or give reasons for rescheduling.
Cons
This platform does not allow saving candidates' data for multiple job roles.

It is not easy to track the status of the referrals in the portal.
Free trial: Available
Top Clients: AirBnB, Times Inc.
2. Jobvite
G2 rating: 4/5 (502 reviews)
Founded In: 2006
Jobvite is a candidate-centric applicant tracking system that offers companies a user-friendly, intelligent, and automated recruitment solution. With the help of this technology, organizations can gather data, classify candidates according to their experience and skill set, and screen them.
By customizing variables like posting type, location, workflow, and customized application form, this tool enables businesses to build any requisitions to meet their business process. Hiring managers with just one click can add 15,000 pre-screening documents on various job boards. Also, it improves recruiter efficiency by removing repetitive administrative tasks to hire better talent.
Pros
JobVite connects straight to the Outlook calendar to check interviewees' availability.

The workflow tab enables you to track the progress of candidates.

Jobvite is a user-friendly application.
Cons
This portal does not save candidates' data.

The analytical feature of the tool does not function properly.
Free trial: Not available
Top Clients: HubSpot, Wayfair, Harry's, J.D. Power, InVision
3. Lever

G2 rating: 4.4/5 (1370 reviews)
Founded In: 2012
Lever is another enterprise recruitment software that includes ATS and CRM functionality to help firms meet their hiring goals. Leaders can use the Lever Hire and Lever Nurture capabilities to expand and grow their pipelines, establish authentic and long-lasting connections, and find the appropriate individuals to hire. Lever Analytics helps hiring managers make strategic decisions and deliver customizable reports with data visualization.
Pros
Lever offers automated offer letter and email template capabilities, which integrates well with Slack and Google workspace.

Lever offers an easy-to-use UI.

This software not only allows you to create and post job postings on numerous portals, but it also allows you to quickly screen and set out interviews with talented individuals.
Cons
Currently, users cannot change the interview stages without first submitting a ticket to Lever.

The reporting feature falls short in providing actionable data insights.
Free trial: Not available
Top Clients: Netflix, Atlassian, KPMG, and McGraw-Hill Education
Onboarding software
1. ClearCompany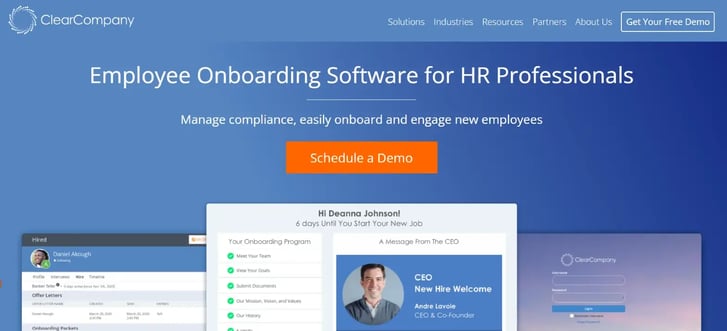 G2 rating: 4.6/5 (250 reviews)
Founded In: 2004
ClearCompany is an ATS software firm that aims to help companies identify, hire, engage, and retain qualified people. This enterprise recruitment software provides valuable insights about the candidates by understanding their roles and goals in the firm with the help of applicant tracking, performance management, employee engagement, and workforce planning & analytics functionality. Furthermore, by connecting performance evaluations with recruiting, this software enables firms to transfer talented candidates from prospective employees to top performers quickly.
Pros
The UI is easy to follow.

This tool includes scorecards to grade candidates fairly across the board.

The applicant tracking workflow aids in the filtering of applications through a multi-level metrics analysis.
Cons
ClearCompany currently does not integrate with HRIS.

The reports produced by the portal cannot be shared or exported.
Free trial: Not available
Top Clients: Cooper, bios, Axiom Bank, JCC, EyeMart Express
2. Rocketlane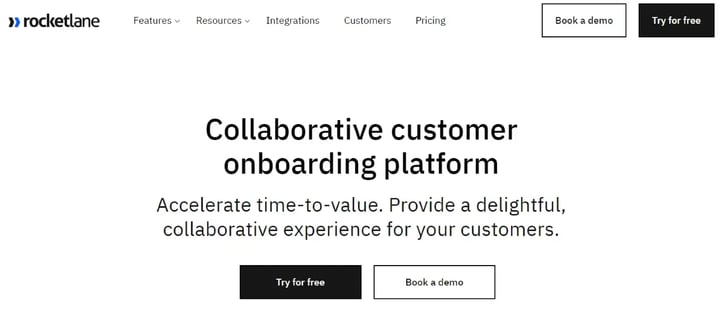 G2 rating: 4.7/5 (237 reviews)
Founded In: 2020
Rocketlane is a customer onboarding software that assists companies in reducing onboarding difficulty. It integrates project management, live document collaboration, and communication features into one to speed up and simplify the onboarding process.
Its project management solution enables improved resource planning, management, and forecasting with native time tracking. It also allows you to communicate with applicants and have live chats on documents, spreadsheets, and presentations.
Pros
It enables you to keep track of all the onboarding procedures.

This tool helps to bring transparency, as candidates can also check the tasks and status.

The customer service chat is also very responsive.
Cons
You have to update the date or each phase of the project manually.

If you add too many tasks to the portal, it stops responding.
Free trial: Available
Top Clients: Infinx, Delhivery, Teamwork, NetGain, WebEngage
CRM (Candidate relationship management) software
1. Beamery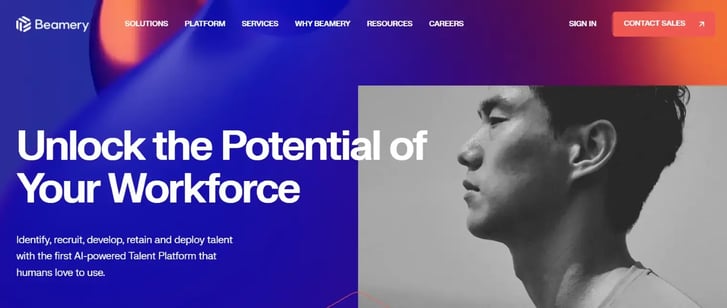 G2 rating: 4/5 (115 reviews)
Founded In: 2014
Beamery is a talent operating system that handles the sourcing, recruiting, and retention of employees within a business. It lets managers keep track of all conversations and nurture relationships with clients and prospects. It gathers all communications, documents, purchases, and tasks associated with each candidate to make the hiring journey hassle-free for both candidates and the hiring manager.
Pros
This tool offers many other functionalities, such as campaigns, talent pool search, events, and

integration with the ATS

.

With Beamery, you can easily understand all interactions with your email campaigns.

The Convert Flow feature in Beamery lets you create forms that make it simple to collect candidate information.
Cons
Security rules do not permit any customization.

The tool's radius search option does not work correctly.
Free trial: Available
Top Clients: Uber, Amazon, Expedia, UBS, Workday, Anthem
2. TalentLyft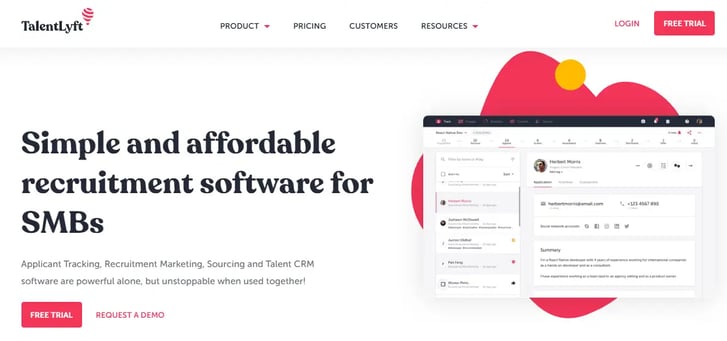 G2 rating: 4.9/5 (26 reviews)
Founded In: 2016
TalentLyft is CRM software that assists businesses in finding, attracting, and hiring the most talented individuals. This tool works well in collaboration with the applicant tracking system.
It makes it easier for companies to find high-quality applicants by utilizing employee referrals, social media recruiting, and job board capabilities. It creates many pipelines to assist you in monitoring various employment procedures at your firm and providing reliable reports.
Pros
This tool helps you easily collaborate with the rest of the team.

It helps you maintain candidates' data in an organized format.

The company's UI and UX are intuitive and straightforward to use.
Cons
The software provides relatively limited data management or visualization options.

The platform takes an extended amount of time to load.
Free trial: Available
Top Clients: Decathlon, Addiko Bank, Eurosender, Nanobit, iOLap
3. Recruit CRM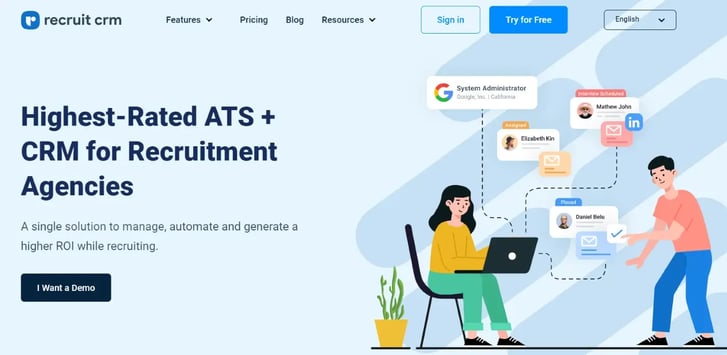 G2 rating: 4.7/5 (29 reviews)
Founded In: 2017
Recruit CRM is an ATS and CRM system designed for recruitment. It has all the features agencies want, such as resume processing, an in-built email client, job board posting, talent pools, and more. Moreover, it allows users to manage applications and generate reimbursements all in one place.
Pros
RecruitCRM offers excellent customer support.

Drag-and-Drop functionality for candidate pipelines makes moving people through the pipeline quick and easy.

It has an extension that works well with LinkedIn and can incorporate your contact's profile into your database.
Cons
It only shows a subset of the candidate's information.

Software bugs hamper the overall functionality of the tool.
Free trial: Available
Top Clients: Top Coder, Auto Careers Group, Reflection X, The Wellington Agency
FAQs
What is an enterprise hiring system?
Enterprise recruiting systems assist businesses in accelerating their hiring process by shortlisting eligible candidates, evaluating their skills, and eventually helping them improve the onboarding process.
Will implementation of enterprise recruitment software incur any delays?
No, enterprise recruitment software will not cause any delays; instead, it will assist you in ramping up the recruitment process. This software enables managers to reduce almost 40% of their hiring time by creating and managing job requisitions, tracking applicants, measuring their skill set for the required job, and connecting applicants to the entire recruiting process.
What is ATS, CRM & assessment tool?
Enterprise recruitment software comes in various forms and shapes, such as ATS, CRM, and assessment systems. CRM (customer relationship management) allows hiring administrators to oversee the recruiting process while establishing and maintaining connections with job seekers.
An applicant tracking system (ATS) is software similar to CRM systems, but it is made explicitly for tracking hiring processes. However, pre-employment assessment tools assist companies in identifying the candidates who are most suitable for a particular job role.