Multiple Choice Questions (MCQs) and Coding Simulators have been widely used as assessment question types for years to hire programmers. But they both have their set of limitations.
MCQs have been derided by many as an incapable measure of skills, and they may have lesser-known obvious flaws that don't help identify if the candidates are best-fit or not. Some of the issues with MCQ tests is that the multiple-choice don't eliminate guesswork or measure a candidate's functional skills.
Let's take a look at a multiple-choice questions. When MCQs are given to any candidate in hopes of measuring how well he or she understands something, it creates an illusion of right and wrong: one is 100% right and the others are 100% wrong. This also leave some chance of 'luck' or guesswork.
Similarly, when it comes to coding simulators, candidates have to write complex codes from scratch making it a time-consuming process. Coding assessments inflate the importance of finding the "right" method to solving a problem rather than the importance of understanding the problem. Moreover, coding simulators for languages such as SAP UiPath, Angular, Selenium, and numerous others are not available. But does that mean candidates for those roles shouldn't be assessed? Of course not!
It was to address this glaring problem, iMocha created AI-LogicBox.
What is iMocha's AI-LogicBox and how is it different from other coding simulators
AI-LogicBox is an AI-enabled innovative pseudo-coding platform for assessing skills for languages that don't have coding compilers. The pseudo coding platform was designed to assess programmers based on logical and problem-solving skills, along with building an efficient approach to screen developers before hiring them.
With the AI-LogicBox candidates don't have to write lengthy codes from scratch. Instead, a problem statement is provided, and candidates need to fill in the missing code snippets in the answer box and complete the script.
Traditionally, in most assessment tools, the scoring mechanism for a correct answer is 1 point and a wrong answer 0 points. However, with AI-LogicBox, the scoring mechanism can also be done partially. The candidate fills in the missing blanks and scores are given based on the correct answer sets stored in the backend with 0 compiler dependency. Through this process, candidates can now answer coding assessments faster and effectively.
How does the AI-LogicBox work
Every blank has an answer set stored in the AI-LogicBox. The candidate will input text or numeric answers, the tool, then, will match the answers with keyword, partial, exact, or range matches and generate the candidate's results.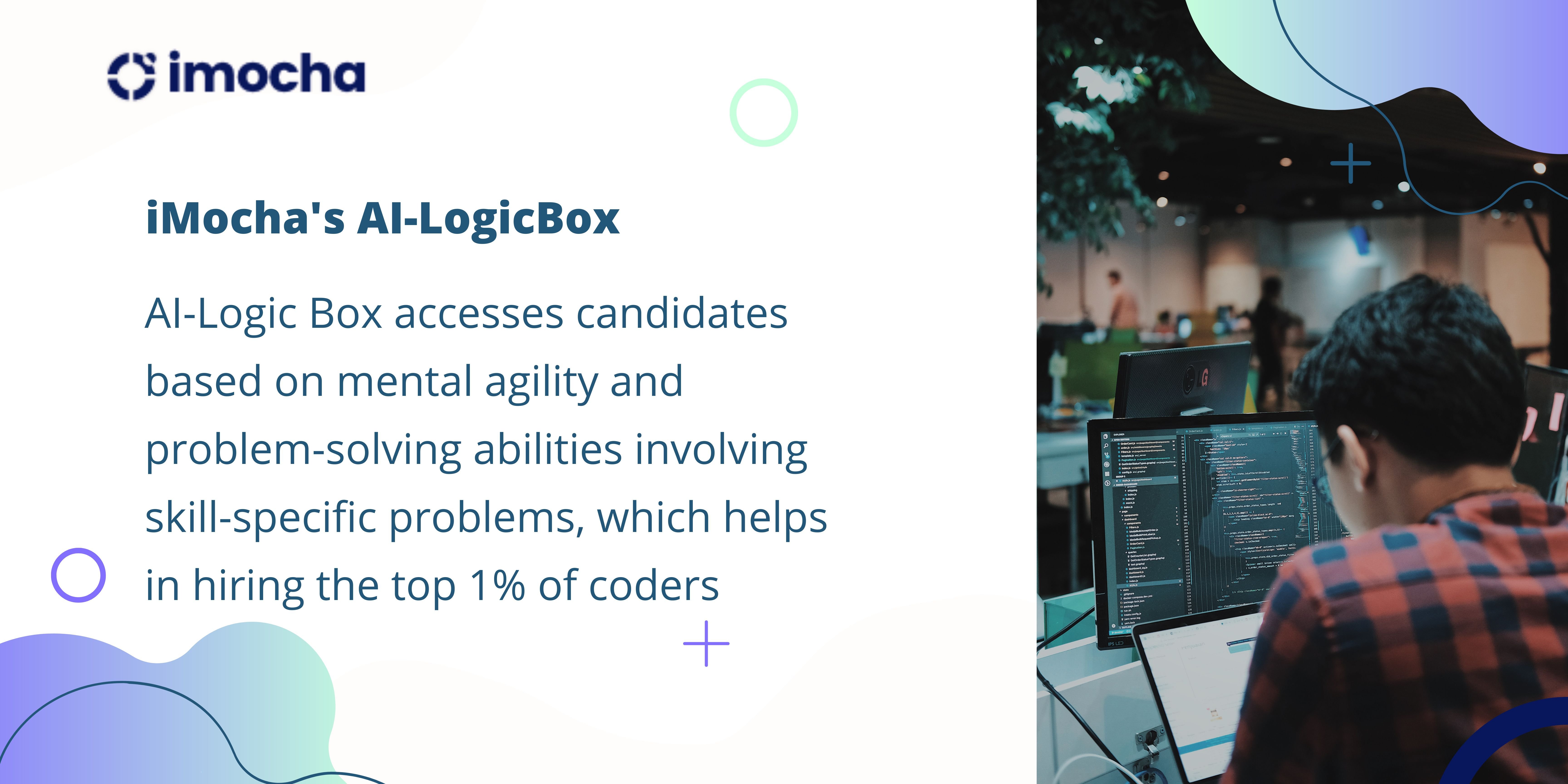 The benefits of using the iMocha's AI-LogicBox:
The platform allows candidates to answer coding assessments in an easy and efficient way

Eliminates candidate guesswork

Questions based on skills, where coding compilers are not available

1000+ LogicBox questions

Partial scoring for better skill assessment

Accurate test calibration to hire top coders
Looking to see how AI-LogicBox's interface looks and how you can add questions? Visit here.
Why choose AI-LogicBox?
When it comes to having the right workforce to improve revenue and operational efficiency, the top talent is key. AI-LogicBox's accurate and quality content helps with hiring the right talent for your organization's workforce. The AI platform helps assess candidates based on specific skill abilities that provide in-depth test analytics.
Let's take an example of how iMocha's AI-LogicBox helped a leading provider of audit & assurance, consulting, financial, risk, tax advisory, and other related services. This company also serves four out of five Fortune 500® companies.
Challenges they Faced
Low appearance ratio in lateral hiring

Unavailable quality content on SAP skills

Low returns on hiring investment due to unskilled recruits
Goal
To hire skilled candidates in SAP through year-long recruitment drives for laterals.
Solution
iMocha offered lateral assessments by leveraging on its patent innovation of AI-LogicBox, in addition to providing SAP-related content.

The star behind these assessments was iMocha's detailed skill mapping to perfectly match job roles.

Accurate and quality content provided by the iMocha team, each question goes through a rigorous 5-step QA process.

The AI-Logic Box platform was used to eliminate lengthy SAP questions into a shorter approach, allowing candidates to focus on the logic.

Auto-generated test reports gave clear and reliable analytics of candidates' skills.

Test reports can be downloaded and shared internally to enable quick review among stakeholders, speeding up the decision-making process.
Results
A hiring round that usually takes about 30 days' worth of effort, time, and cost, was concluded in 14 days. Precise assessments resulted in a short time limit, where 90% of candidates attempted the test and completed it. The organization could meet SAP-related challenges with high efficiency and effectiveness, with the right skilled recruiters in their team.
To know more about how iMocha's innovations has helped Fortune 500 and Global Organizations, visit here.