A Project Manager in an IT organization does what project managers in any other domain would do, that is, they manage projects. Project Management involves managing groups of people to achieve a specific outcome. Planning and organizing are their main tasks towards getting the desired software code written. Hence, it's beneficial to hire a project manager for your company.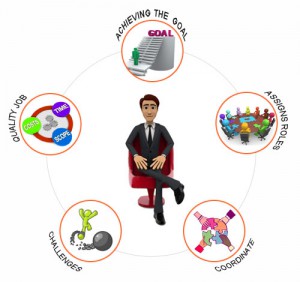 The main activities of a Project Manager are as follows:
• The Project Manager develops the specific goals and plans and defines the resources needed for achieving the goal.
• He assigns the roles to be done to all the individuals and also defines how results will be measured.
• He needs to coordinate with team members including both software specialists as well as administrative staff in order to satisfy the user, who may be an internal or external customer.
• Scheduling the various activities and allocating the necessary resources to enable the tasks to be completed on time.
• Recruiting, training, counseling, and motivating employees also fall into their purview. He is constantly developing the skills of his team.
• Any project would typically be divided into different phases and managing each phase is a major task.
• The project manager besides managing the tasks also plays a strategic role in terms of understanding the challenges and planning how to meet these challenges.
• The ultimate responsibility of delivering a quality job within a time frame and budget is of the Project Managers.
Key Skills Needed
The key skills necessary to assess project manager are -
Communication Skills:
This is mandatory for any Project Manager. He has to communicate with his team as well as the users of the software code. He has to engage with various stakeholders and coordinate various activities to ensure a successful outcome. He has to share relevant information with the team members to ensure that the project is running smoothly. Building relationships with stakeholders and sometimes negotiating with them is part of project management.
Leadership Skills:
The Project Manager must be a good leader.
Good Organizing skills:
Essentially, the Project Manager must be a good organizer with the ability to get work done from others within the specified time frame and with the specified budget.
Delivery Focused:
He needs to be highly delivery focussed.
Motivating team members:
He sets the goals and manages all the resources to ensure that the goal is met. Managing various stakeholders requires leadership skills. Getting cooperation from all stakeholders and ensuring that everyone is highly motivated and working towards the common goal is vital.
Daily Tracking of Multiple activities:
A Project Manager must track multiple projects on a daily basis to ensure that they are on the schedule. Since various activities will occur simultaneously, the project manager needs to track each of them and motivate all team leaders to adhere to time schedules without compromising on quality standards.
Problem Solver:
Any projects will invariably face obstacles and roadblocks. Project Manager must possess the ability to anticipate problems, identify their causes and also be able to solve the problems.
Excellent IT & Programming Skills:
This is a must for any project manager. In an IT project, project management involves technology operations along with general management. Without basic knowledge of software programming and some relevant experience, he will not be in a position to manage an IT project. He will not be able to allocate work, schedule tasks or monitor progress. Further, he will not get respect from all the stakeholders.
The Ideal Screening Test for a Project Manager
After understanding the role of the Project Manager and the necessary skills, it is obvious that assessing management skills is the vital part while recruiting Project Managers.
The ideal Project Management test has been designed to assess project management, communication, and analytical skills of a candidate. The test must contain questions in the following areas:
Project Management -
This is a multidisciplinary subject including leadership, basic management principles, risk analysis, financial planning, project management principles etc.
Analytical Thinking -
Displays the problem-solving ability of a candidate, irrespective of his educational background.
Risk Management -
Involves the whole process of identifying potential risks in early stages of a project and taking steps to manage them.
Stakeholder management -
Involves the management of team members, users of the software code and any other parties associated with the project.
Written Communication -
This Pre-Employment test can be used to hire a project manager:
• A Project Manager with 7+ years of experience
• A Technical Project Manager with 5+ years of experience
Test details:
Project Management -
These questions cover Stakeholder Management, People Management, and Risk Management.
Written Communication -
Questions on Sentence Correction, Selecting Words, Spotting Errors, and Data Comprehension.
Analytical Thinking -
Questions on analytical thinking to check the candidate's ability to analyze and solve a variety of business problems. This section includes questions of Statement and Argument, Logical Problem, Logical Deductions, and Number Series.
With Interview Mocha's online assessment software assess and hire a Project Manager and make your hiring process easier, better and faster.