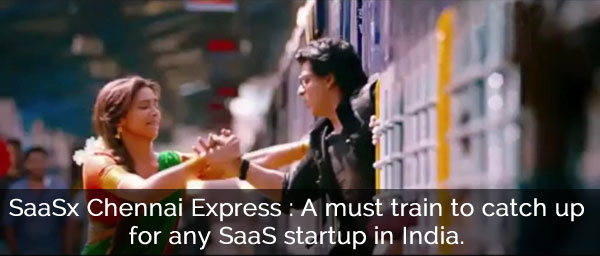 Dear SaaS Startups,
I am Amit - running a SaaS venture iMocha, a pre-employment skill testing company. In this blog, I am sharing my learning from SaaSx and how it helped me achieve product-market fit and grow my company fast.
As they say, "a startup's life is a roller coaster with ups and downs", this ride has not been easy for me either. Just to talk in numbers, in the first 1.5 yrs of our existence, we were able to add only 22 customers and that too mostly from Pune, our home-ground. While in last 6 months, we have been able to add over 100 customers from 11 different countries. Needless to say - SaaSx has played a major role in helping us achieve this. Hence, I would like to share my journey and learnings from SaaSx with the larger community of SaaS people out there.
My SaaSx journey started when Prasanna advised me to visit SaaSx-1 in Chennai and Avinash was kind enough to allow me immediately. I had one more reason to visit Chennai - to meet Krish (my mentor). I am happy to thank SaaSx, Prasanna Microsoft, Suresh Kissflow, Krish ChargeBee and Girish Freshdesk who are constantly acting as a source of knowledge and guidance for me.
Interestingly, I found something common about all of them and you know what that something is... They are all from "SaaSx" and they are all from "Chennai"
So now I can say that "SaaSx Chennai Express" is changing my (imocha) life completely and moreover this Chennai Express journey is a lot safer than Shahrukh Khan's Chennai Express as there is no Tanghaballi (villain) here, only heroes :-) and you still get your sweetheart Meenamma (Success).
Krish has helped us grow our daily leads from 2 to 10 leads a day. Suresh helped me multiply this number by his personal mentorship and playbook on Nuts and Bolts of Marketing & selling SaaS products to US customers from India for First Timers. Girish's Talks always makes me think - how this poster boy of Indian SaaS knows all my key problems and their solutions. He narrates everything as if he is my personal mentor helping me sharpen my SaaS business skills.
So, here are the key takeaways, learning and some food for thought from my interactions with these SAAS champs:
1. Focus, Focus and Focus.
Focus on customer pain (mother-problem(s) you are solving that customers care about). Focus all your efforts to solve these problems the best way possible.
2. Your Product has to be Superb.
Customer success, Word of mouth and "Mouth of word" are the key for SaaS products and which is not possible without a superb product. Product is the core - keep it in mind.
3. Product Market Fit.
Your product needs to achieve a product market fit for adding customers quickly and scaling further. This is the first good thing that can happen to your start-up. Product/Market Fit is the degree to which a product satisfies a strong market demand. It has been identified as a first step to building a successful venture in which the company meets early adopters, gather feedback and gauges interest.
4. Cold Calling 2.0 doesn't work.
Cold calling 2.0 won't suit your economies for B2B companies with less than $ 2,000 annual revenue per customer. Though cold calling 2.0 is a great predictable way for pipeline generation, however, it is not suitable to scale when you are charging very less annually.
5. Do not rely only on Email and Chat Support for closures.
Talk to signups/prospects over the phone. We are 100% inbound till a person signs up. Talking to users helped us increase engagement with prospects and in turn more closures. Also, you get the insights that your sales team needs to understand.
6. Founders - Change the work timings if you are targeting US.
Analytics does help you understand customers but nothing better than talking to customer themselves. Quicker responses mean more business.
7. SEO and Content Marketing are compulsory.
Content is King & SEO is the way. One or other traction methods may work, you can refer the list of all traction methods - google "Bullseye framework traction trumps everything".
8. SaaS is Software as a Service.
Focus highly on support activities and customer success. Get immediate reply policy as a part of company's DNA. Remember "Fast is Success".
9. Understand the behavior of SOHO, VSB and SMB for sure.
Each customer segment has its typicality and common needs. Understand their pain points, where they hang out over the internet, how they buy, what makes them happy. Targeting big deals from enterprises in initial days may not happen. One funny thing, we have a few fortune 500 companies as our customers paying us $49 p.m. these are SaaS enterprises (business units) and not classic enterprises.
10. A/B testing is the way for SaaS companies.
What works and what works better - don't assume much. Try A/B every now and then.
11. Tools help.
Start exploiting Mixpanel, Intercom, Moz etc. being a SaaS player, trust and adopt SaaS. These tools are helping us a lot in reaching, understanding and communicating with customers.
I consider the above points as extremely important for any SaaS business. I strongly recommend becoming a part of SaaSx community, if you are a SaaS startup in India. Chennai Express passengers/ drivers (Prasanna, Krish, Suresh, Girish, Avlesh, Paras, Avinash and many more) are easy to strike a conversation with, ask any question and receive immediate valuable responses.
Recently, I attended SaaSx-2 and acquired a new set of learnings. But I'll wait to write on those learnings till I execute them successfully. And yes, looking forward to adding 500 more customers before I board SaaSx-3 :-)
Thanks, SaaSx Chennai Express. Wishing All the Best to all Indian SaaS Startups!