The sales sector is undergoing a vast transformation, more so with the shift to remote working culture limiting the ability of sales representatives to meet clients in person. Thus, it is becoming increasingly essential for sales representatives to possess the ability to foster relationships with clients, despite the lack of face-to-face meetings.
Moreover, to survive in this ever-changing work landscape, a salesperson is required to have a combination of a variety of skill sets. It includes having the right skill set to understand buyers' needs, demonstrating subject matter expertise, telling a compelling story, and more. So, how to determine if the salesperson you are hiring has the ability to identify and empathize with customers' needs and challenges?
Here is a glimpse of a salesperson's cognitive abilities and their levels. And we've not even mentioned the hard skills!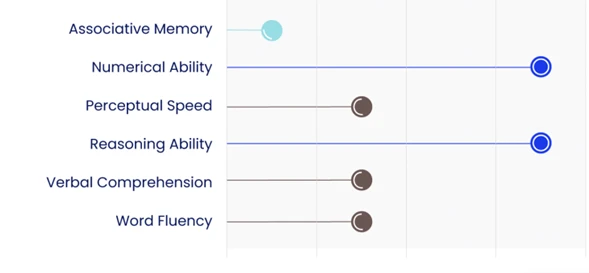 Consider incorporating a sales assessment test into your hiring process to ensure that your organization is bringing on the best-suited sales professionals. It will help you:
Avoid hiring poor-fit candidates for sales roles

Reduce turnover

Increase sales

Spot fake resumes

Identify high-quality candidates easily
Choosing the right assessment tool for successful recruitment can be cumbersome. Here's a list of the top 7 sales assessment tools to make it easier.
Sales Assessment Tools
#1.iMocha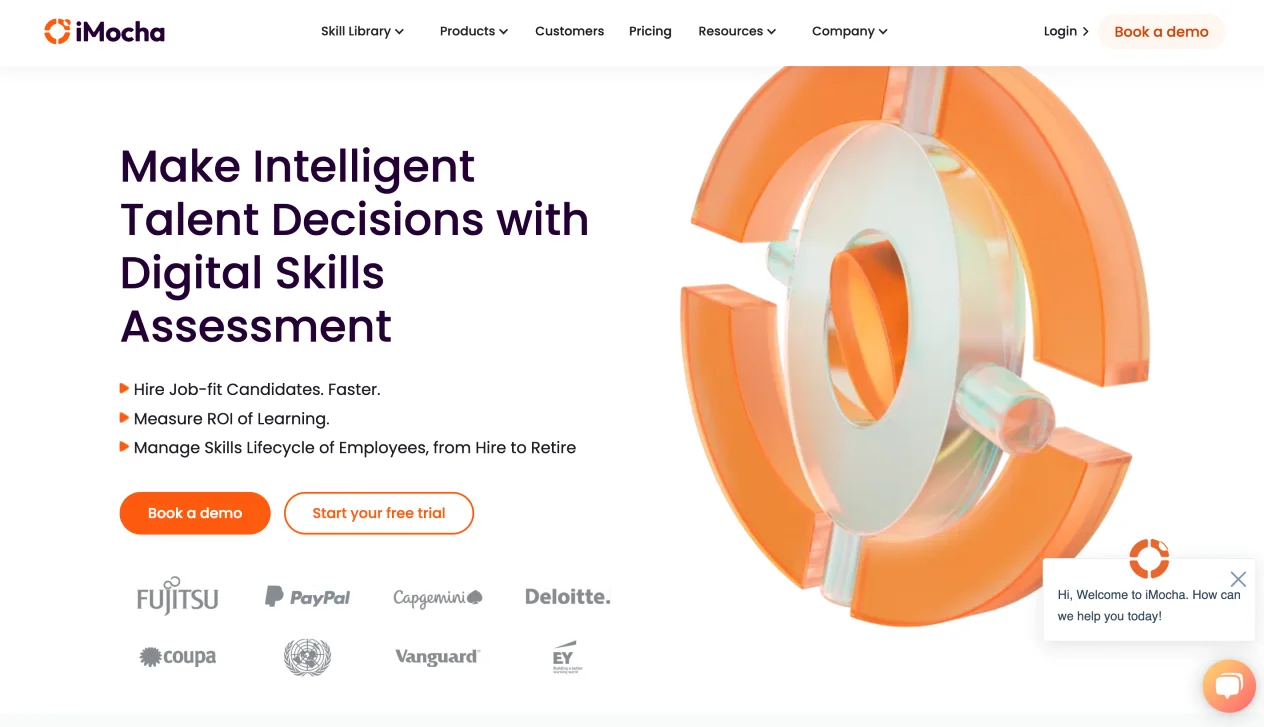 G2 Rating: 4.4/5 (185 reviews)
Founding year: 2015
iMocha is an AI-powered skill assessment platform with Talent Acquisition and Talent Development features. It provides the world's largest skill library to help recruiting managers make better hiring decisions. This portal's sales assessment tests allow you to examine applicants' individual talents and general organization skill levels.
It features robust reporting tools to assist you in making better recruiting decisions by analyzing comprehensive test outcomes. Additionally, this platform provides skills consultancy to assist you in creating customized sales skills assessments based on your company's job requirements. Using this feature, you can examine candidates' various proficiency levels and recruit skill-fit candidates.
This tool features the following services:
Candidate's proficiency level

Skill library with 2500+ skills
Free trial: Available
Did you know that iMocha can help you reduce your hiring time from 17 days to 7 days per role? Speak to iMocha Experts!
#2.TestDome

G2 Rating: 4.5/5 (86 reviews)
Founding year: 2013
TestDome is a tool for pre-employment screening. It provides a variety of services to assist you in screening job candidates through automated work-sample exams. It includes a skill library with skills spanning from programming, information technology, customer service, accounting, and administration to general mental aptitude and more.
In order to help you shortlist outperforming sales candidates with individual test reports. This test includes questions that require candidates to exhibit ability with various sorts of reasoning as well as interpersonal skills.
This tool features the following services:
Skill library covering 1000+ Questions

Test Result Analytics

Webcam monitoring

Plagiarism detector
Free trial: Available
#3.Mettl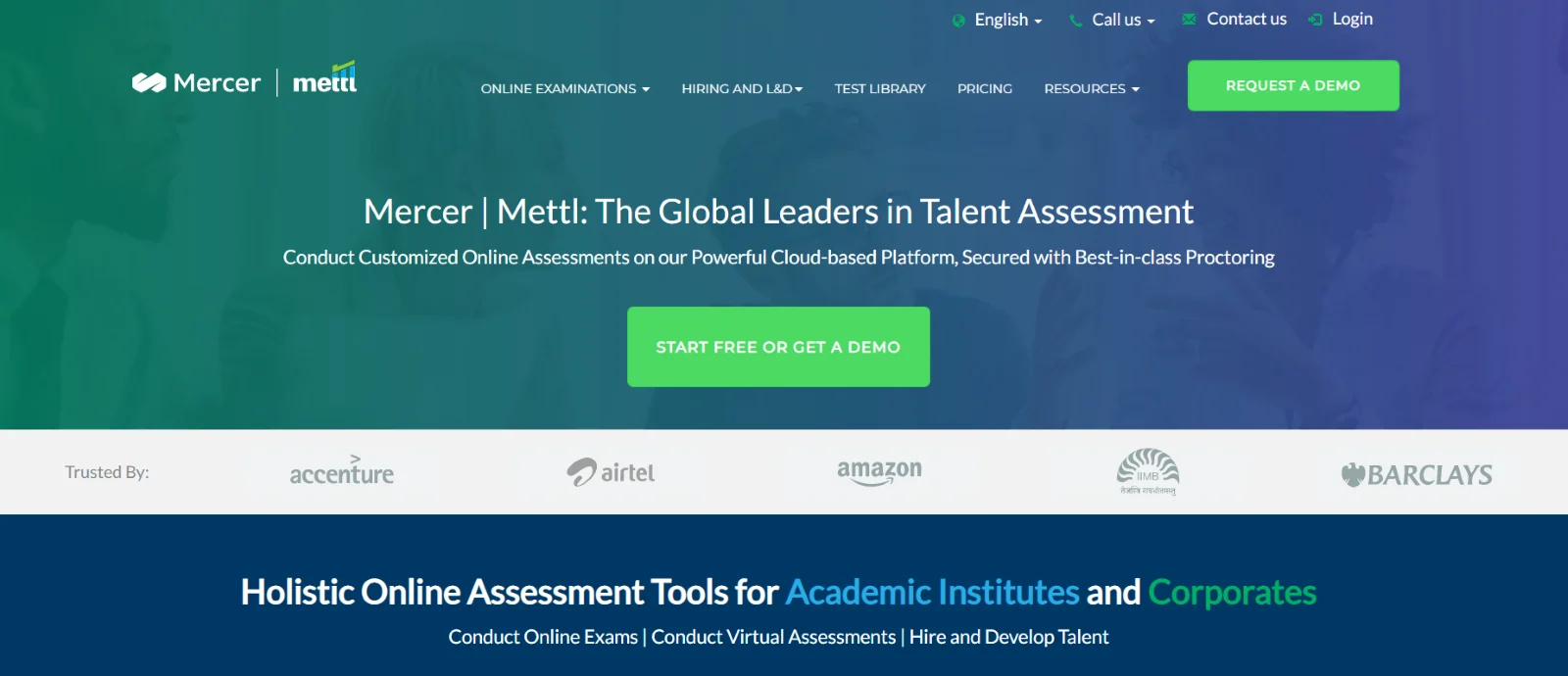 G2 Rating: 4.8/5 (247 reviews)
Founding year: 2009
This online assessment platform allows you to measure the skill competency of candidates before hiring them. In order to help recruiters and hiring managers streamline their hiring process, it includes numerous skill evaluation tests to objectively analyze candidates' fundamental attributes and acquired abilities.
Using this platform's sales assessment tool, you'll be able to identify and assess the critical behavioral and cognitive competencies of the candidates according to the unique requirements of your organization.
This tool features the following services:
Data-backed insights

Remote proctoring solutions

Easy Assessment Creation

Skill library covering 500+ skills
Free trial: Available
Are you unsure of the niche skills required for successful sales representatives? Take advantage of iMocha's Skills Assessment platform!
#4.Merittrac

G2 Rating: N/A
Founding year: 2000
MeritTrac is an online assessment platform. It enables enterprises to automate the entire examination process, from processing applicants to conducting assessments and digitally reviewing the results. You can use this tool to evaluate applicants on a variety of abilities and competencies.
This platform offers online sales skills test services with the aim of helping recruiters hire a salesperson with the right skills. The sales assessment test contains various types of assessment questions to track and monitor the progress of candidates on a variety of skills-sets.
This tool features the following services:
Create custom assessments

Automated scheduling

Analytics and Reporting capabilities

Skill library incorporating 360+ skills
Free trial: Available
#5.Vervoe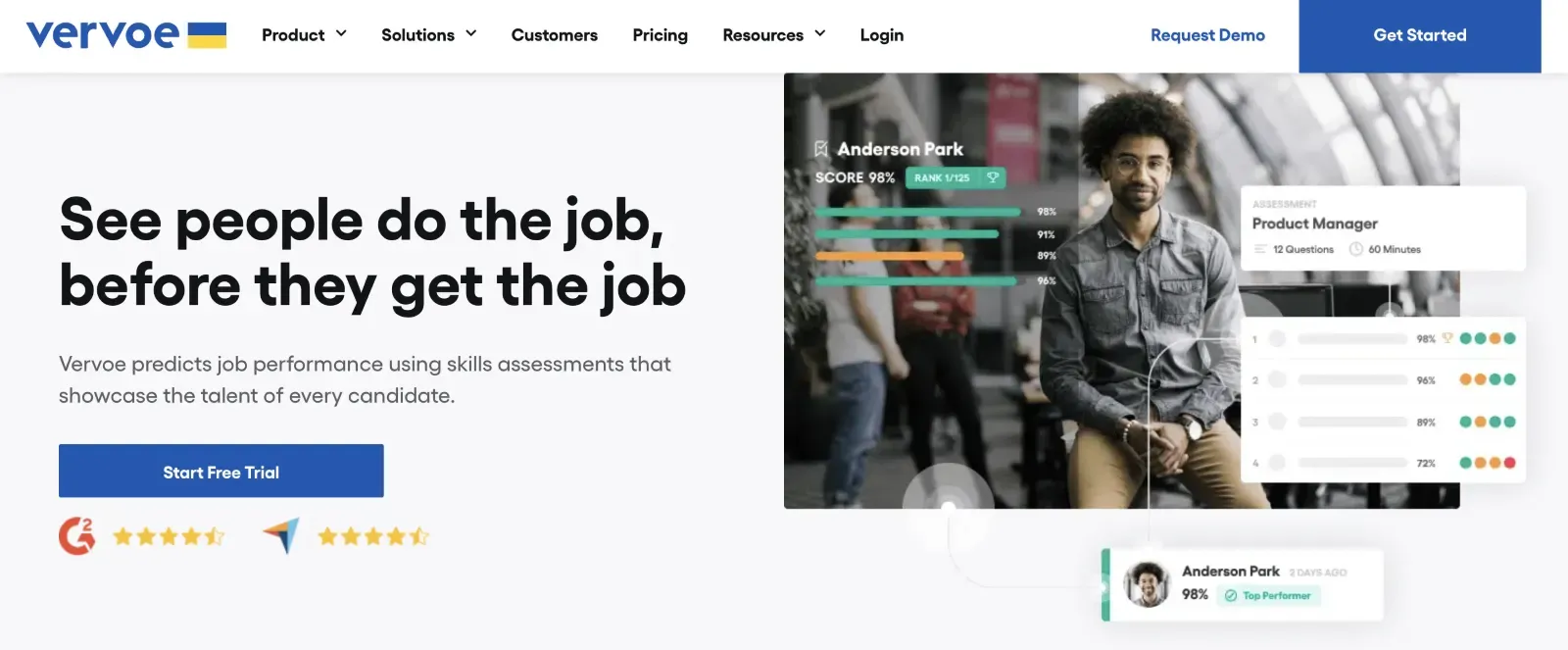 G2 Rating: 4.6/5 (56 reviews)
Founding year: 2016
Vervoe is a skill assessment platform that focuses on helping employers find the best job candidates. It assists recruiting managers in assessing candidates' job readiness using real-world assessments, assignments, and tools.
The platform offers sales repetitive skill assessment, which comprises a variety of questions. These questions are designed to determine whether prospective candidates have the essential abilities to successfully sell a product or service and convert prospects into customers. Using its automatic grading system, you'll be able to identify and shortlist top performers efficiently.
This tool features the following services:
Extensive library with 300+ skills

Custom test creation capabilities

Audio/video questions

IP Address Tracking
Free trial: Available
#6.TestGorilla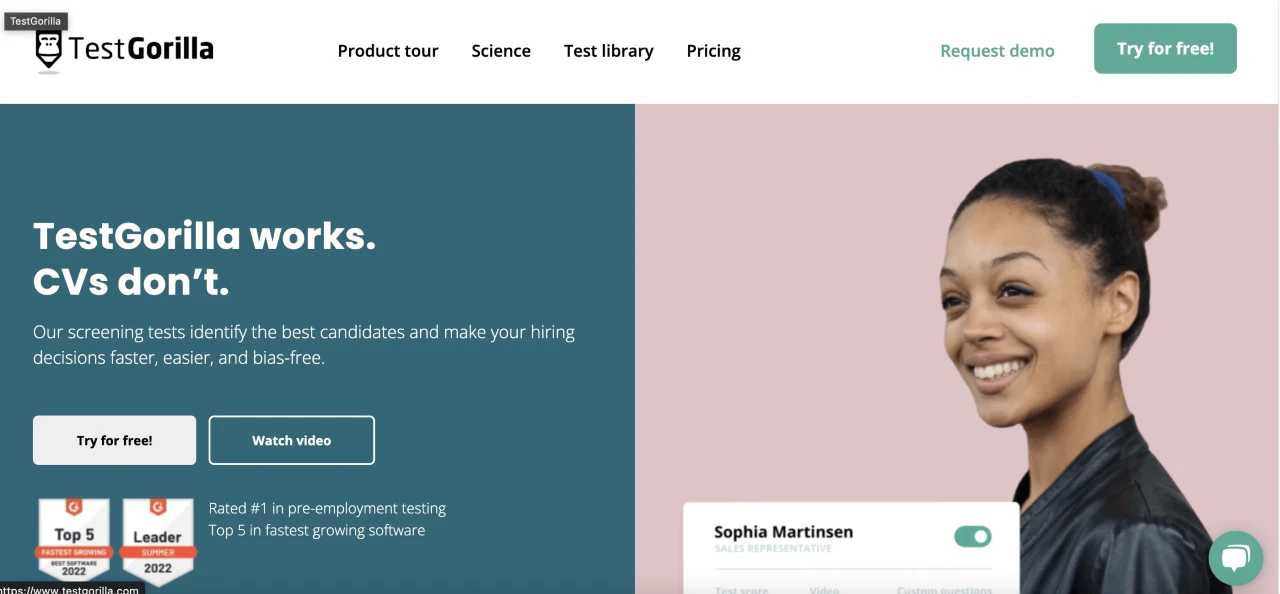 G2 Rating: 4.5/5 (715 reviews)
Founding year: 2019
TestGorilla is a pre-employment testing software that assists you in screening skilled prospects in order to make better hiring selections faster. You can use this application to manage the entire hiring process, from creating assessments and inviting candidates to conducting an in-depth review of outcomes.
This portal's sales assessment tool allows you to manage the applicants' real-time progress and organize them based on ratings. Using this tool, you can identify candidates that can qualify leads, handle prospects, and overcome objections in order to complete deals successfully.
This tool features the following services:
Real-time assessment results

Cheating prevention tools

Custom test creation

Skill library of 282 validated tests
Free trial: Available
#7.eSkill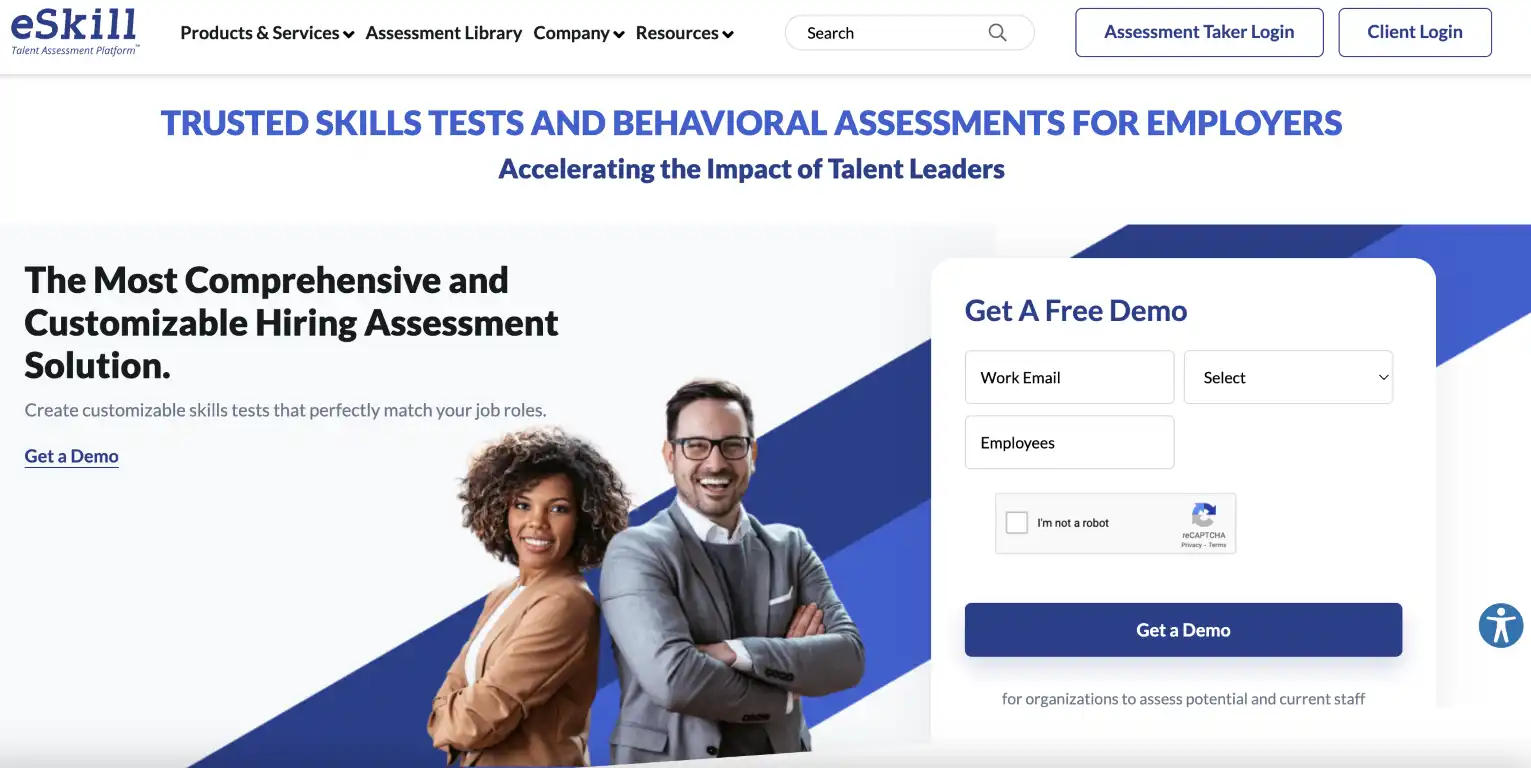 G2 Rating: 4.5/5 (312 reviews)
Founding year: 2003
This skills assessment software is intended to assist recruiters in acquiring and retaining top talent. This tool's skill library has 1,000 assessments that can be customized to meet your organization's hiring needs better. Apart from offering an extensive skill library, it also provides video response questions to obtain detailed responses to standard questions.
It also contains sales assessment questions that simulate real-world employment settings. Using this application, you can measure candidates' knowledge on topics such as relationship building, the ability to overcome objections, and deal-closing skills.
This tool features the following services:
Video response questions

Create customized job tests

Test Analytics capabilities

Application performance monitoring capabilities
Free trial: Available
Failing to draw candidates to complete assessments? Try iMocha's fun and interactive assessments to engage, assess, and hire the best candidates.
Conclusion
Overall, one of the most utilized ways to measure applicants' sales abilities is to ask situation-based questions based on real-life professional connections. However, assessing candidates' technical skills, problem-solving skills, and relationship-building skills are challenging through a single interview, making it difficult to understand their potential comprehensively. As a result, many firms are now using sales assessment tools to employ skill-fit candidates faster and make informed decisions based on data-driven insights.
FAQs
1.What is a sales assessment tool?
A sales assessment tool is software used to assess the knowledge of sales job candidates. Using this tool, hiring managers and recruiters can evaluate sales skills effectively. This tool helps you understand critical skills and competencies and how they measure against the existing organizational and industry benchmark/bar.
2.What are the benefits of using sales assessment tools?
There are several advantages to using sales assessment tools. Some of the most prevalent benefits are as follows:
Helps to improve the screening process

Gain deeper insights about candidates' skill-set

Filter candidates based on the skill proficiency level

Avoid biasness

Improve time to hire and cost per hire