From identifying factors that contribute to employee turnover (think: low engagement, lack of development opportunities, inadequate compensation, and more) to analyzing employee performance data and boosting productivity, all is possible with a talent analytics platform.

In this guide, we will deep-dive to learn about seven talent analytics platforms that can not only arm hiring managers with valuable insights into the workforce but also positively impact the organization's bottom line.
Top 7 Talent Analytics Platforms Worth Considering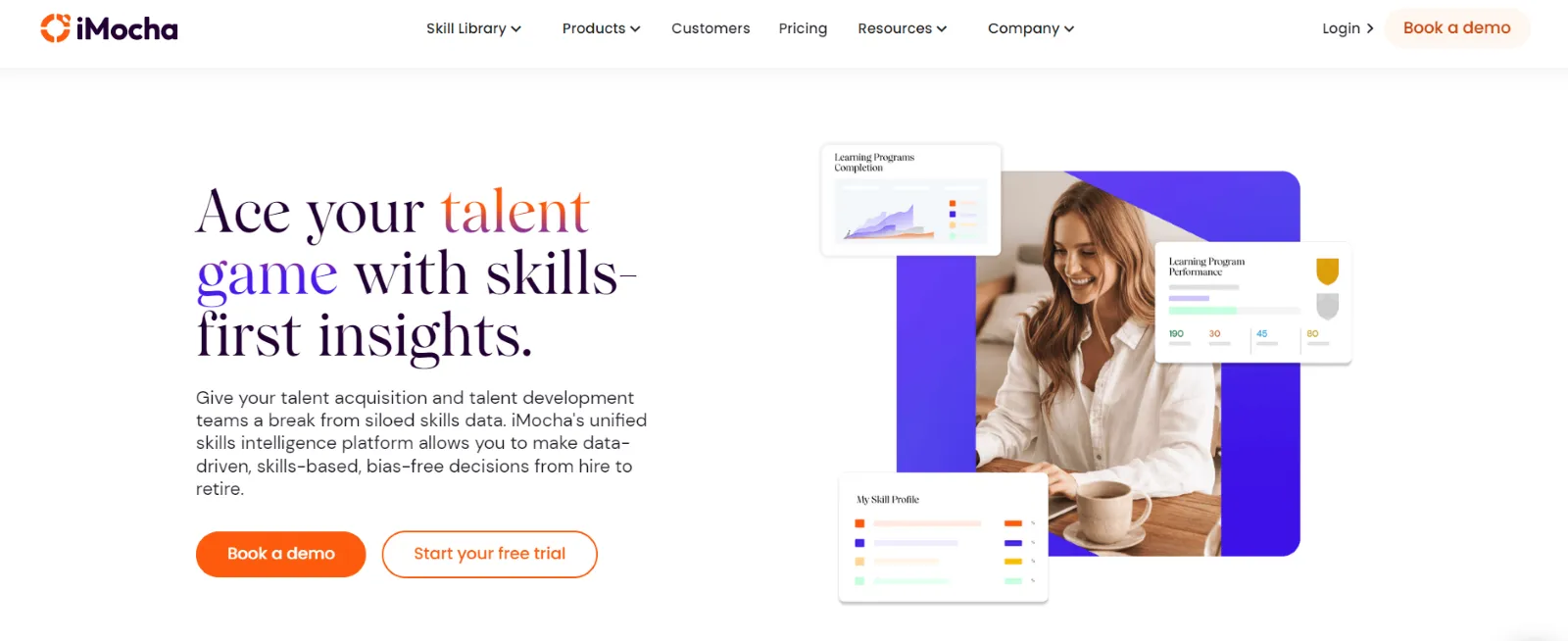 iMocha offers the world's largest skills test library with 2500+ pre-employment tests to help recruiters evaluate job candidates effectively. The platform also offers L&D solutions to help hiring managers drive impactful L&D initiatives and measure the effectiveness of learning programs: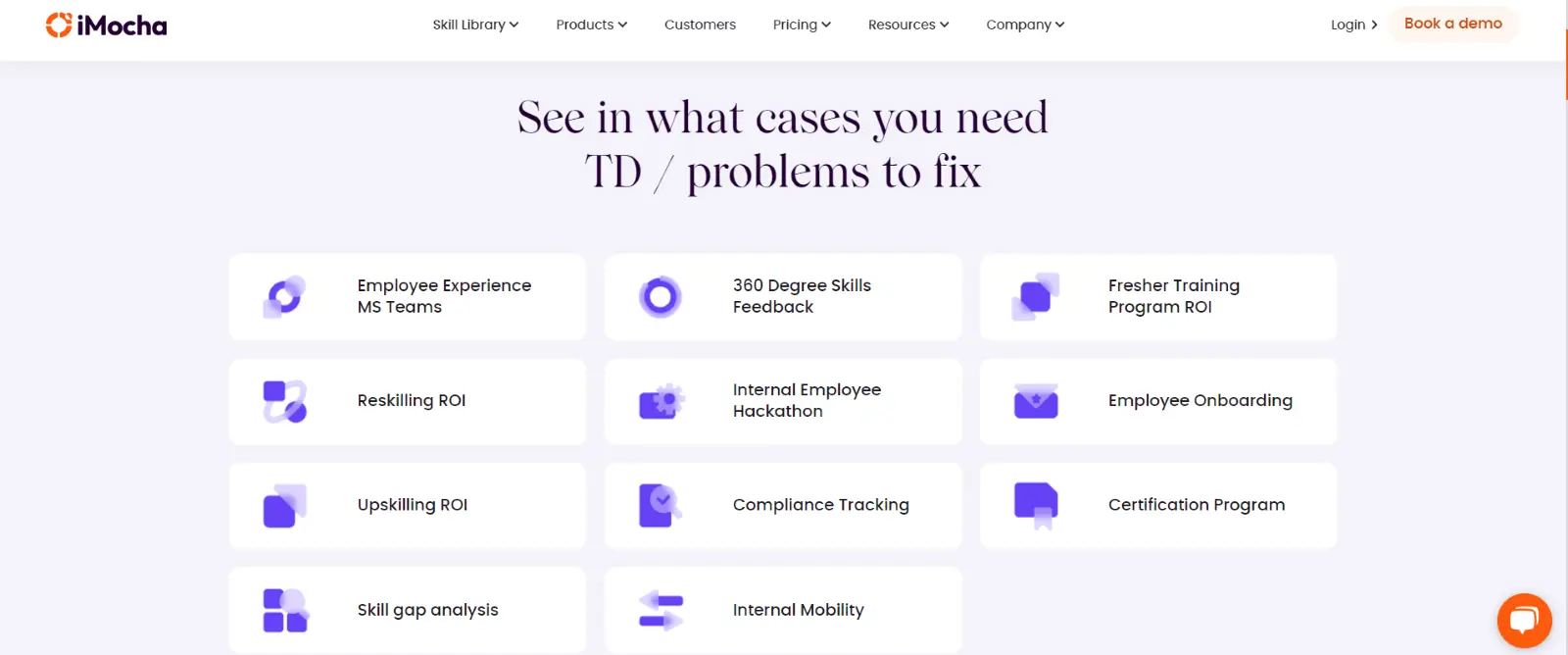 Other offerings:
AI-LogixBox

:

iMocha's AI-LogicBox is a faster and smarter alternative than regular coding assessments as it focuses on logic implementation and creativity rather than syntax for technologies where compilers aren't available.

Live Coding Interview

: iMocha's Live Coding Interview feature enables evaluators to remotely assess the candidate's programming and problem-solving skills in real-time: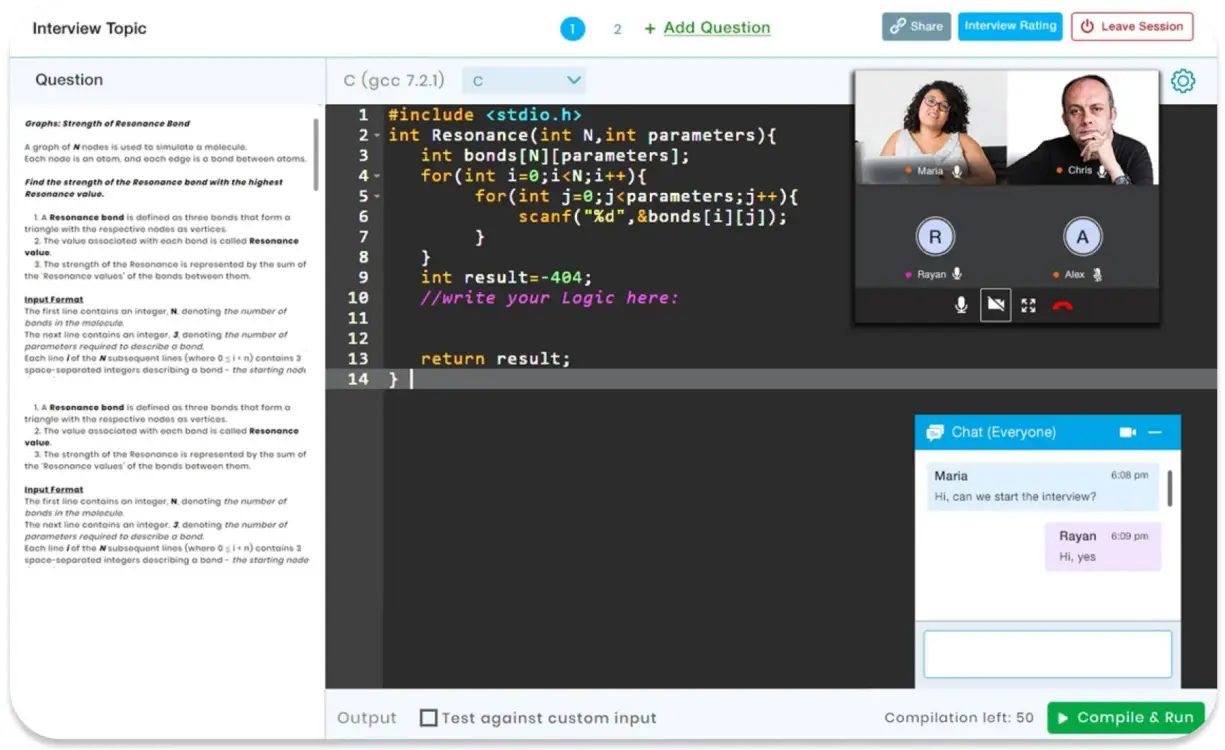 G2 Rating: 4.4 out of 5 stars
Price:
Professional: Starting from $5000/year
Enterprise: Custom pricing available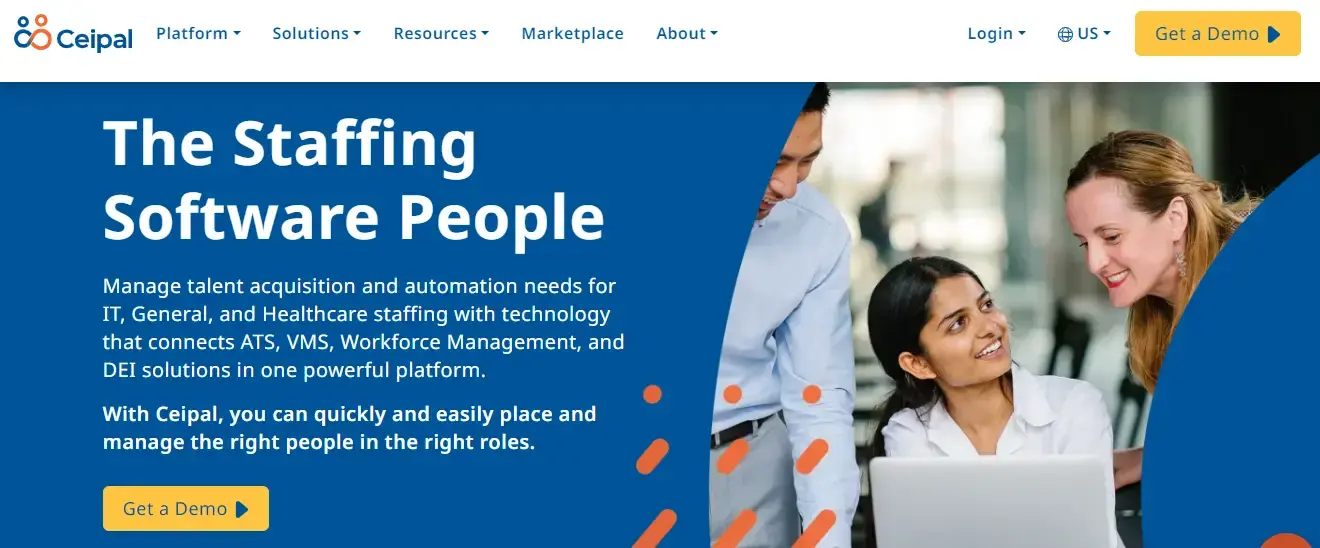 CEIPAL is a cloud-based talent management and applicant tracking system that offers recruiting and workforce management solutions to businesses of all sizes. It offers a suite of features to help organizations:
Streamline hiring processes

Manage the workforce

Gain insights into talent analytics
Features:
Customizable dashboards allow users to select from a range of data points and metrics to create a tailored view of their data.
Advanced reporting allows users to generate detailed reports on talent acquisition, performance, onboarding, etc.
Applicant Tracking System (ATS) helps users streamline their recruitment processes by providing tools for job postings, resume parsing, candidate tracking, and interview scheduling.
Onboarding management features help automate the process of bringing new hires on board.
G2 Rating & Reviews: 4.6 out of 5 stars
Price:
Ceipal ATS: $24/user/month (5-user minimum)
Ceipal Advanced Automation Bundle: $48/user/month (5-user minimum)
Ceipal Workforce Management: $4/user/month (25-user minimum)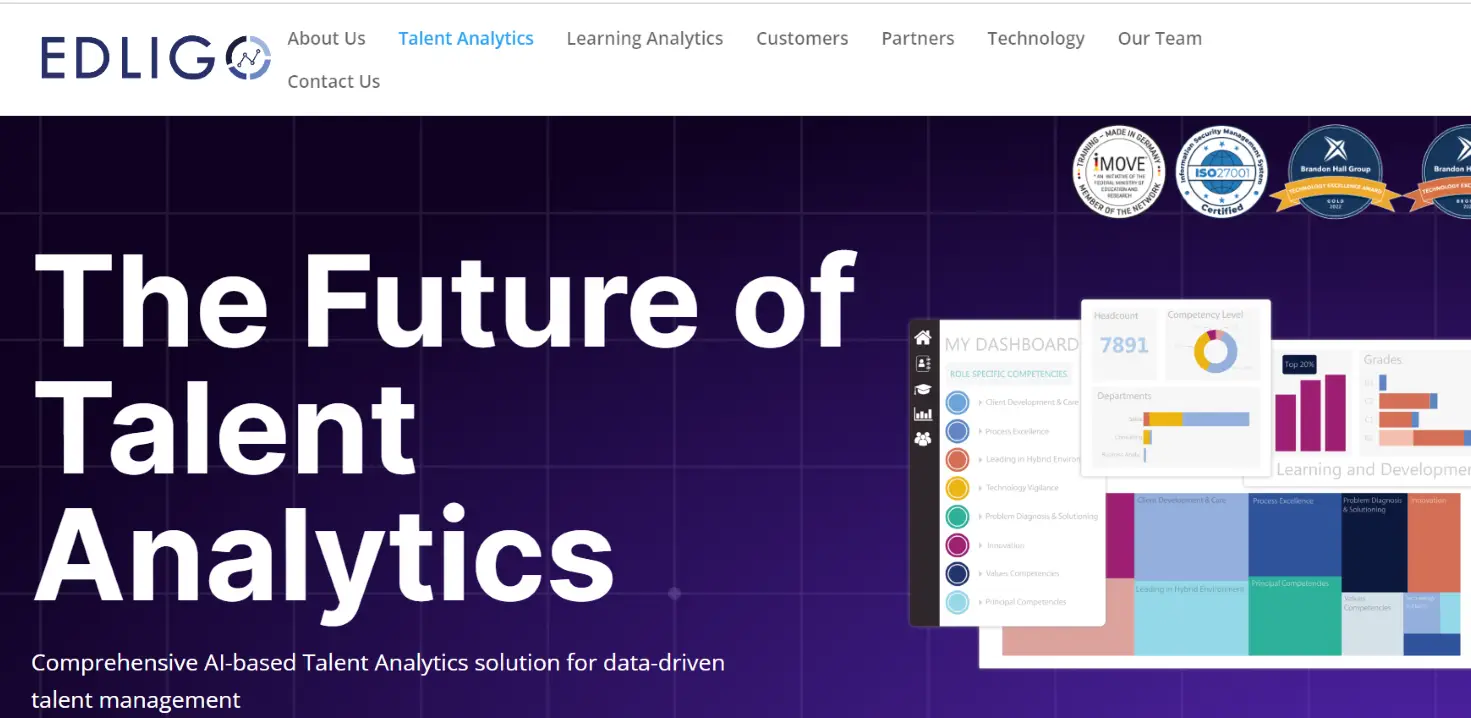 Edligo is a comprehensive AI-based Talent Analytics solution that empowers recruiters to embrace data-driven talent management.
Features:
Data-driven map creation for Talent2025 and Talent2030
Integration with any HCM or LMS platforms for data collection and procession
Digitize the competency assessment
In-the-moment talent plan delivery, as well as departmental staffing needs alignment with organizational objectives
G2 Rating & Reviews: NA
Price: Contact the team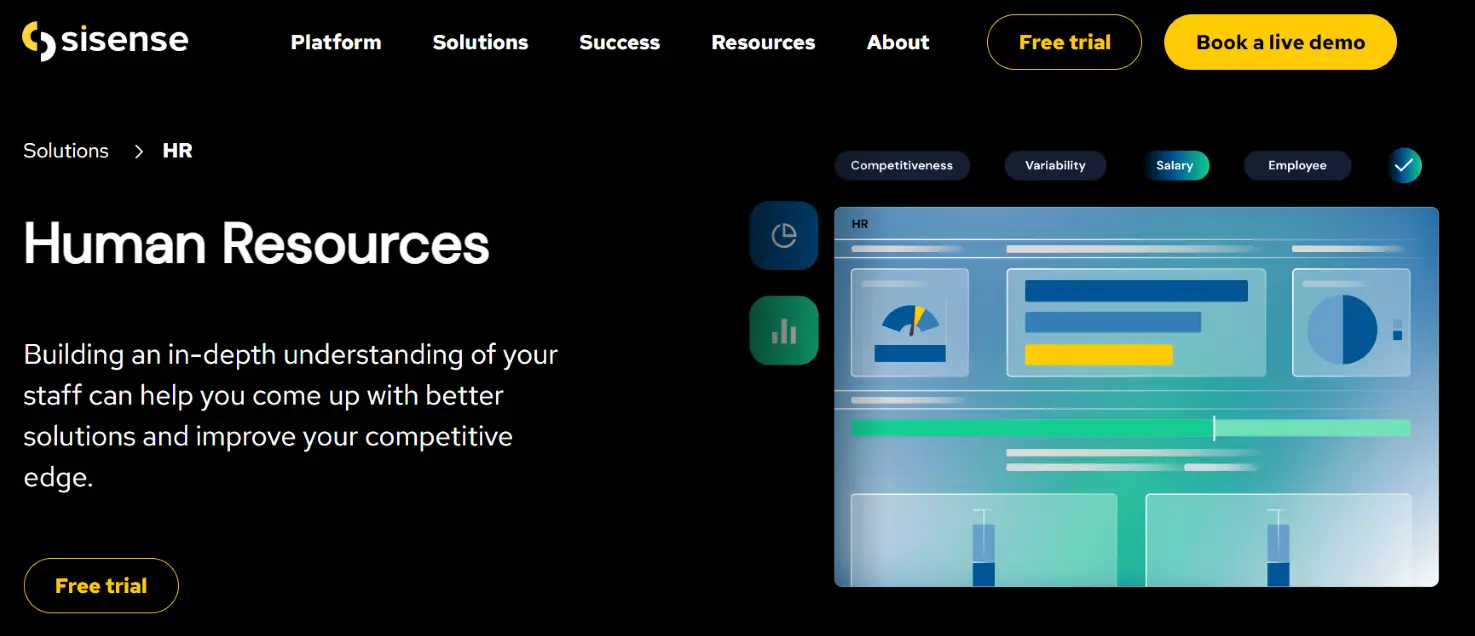 Sisense is a powerful talent analytics platform that can help HR teams gain insights into their workforce and make data-driven decisions.
Features:
Data integration: Sisense can easily integrate with various data sources, such as HR systems, performance management systems, and employee engagement platforms, to gather relevant data for analysis.
Data visualization: It offers powerful data visualization tools that can help HR teams easily create charts, graphs, and other visualizations to communicate insights and trends.
Predictive analytics: The tool's predictive analytics capabilities enable HR teams to forecast future trends, identify potential risks, and make data-driven decisions.
Self-service analytics: Sisense's self-service analytics capabilities allow HR teams to easily explore data on their own without requiring technical expertise.
Mobile accessibility: Sisense is accessible on mobile devices, enabling HR teams to access data and insights on the go.
G2 Rating & Reviews: 4.3 out of 5 stars
Price: Contact the team

Experfy is a powerful talent analytics platform that provides businesses access to top talent and powerful project management tools. Whether you're looking for data scientists, machine learning experts, or other technology professionals, Experfy can help you find the talent you need to succeed.
Features:
Expert talent: Experfy provides access to a curated network of expert talent in data science, analytics, and other emerging technologies.
Talent matching: The tool uses AI algorithms to match organizations with the right talent based on their specific project requirements and business needs. Consequently, recruiters can find the best talent quickly and efficiently.
Data security: Experfy takes data security seriously and has measures to protect client data. This includes secure data transfer, encryption, and access controls.
G2 Rating & Reviews: NA
Price: Contact the team

Crunchr's top features focus on HR analytics and provide hiring managers with a comprehensive overview of their workforce. This enables them to make data-driven decisions about talent management, recruitment, and retention.
Features:
Workforce Planning: Crunchr provides tools for analyzing workforce data and forecasting future needs. Consequently, hiring managers can make informed decisions about hiring, training, and succession planning.
Employee Engagement: It provides tools for measuring employee engagement, including surveys, sentiment analysis, and social network analysis. As a result, employee satisfaction and retention skyrocket.
Talent Acquisition: Recruiters can track and analyze recruitment data to optimize the hiring process and improve the quality of hires.
HR Reporting: The platform has a range of reporting capabilities, including customizable dashboards, to help organizations track key HR metrics and identify trends.
G2 Rating & Reviews: 4.9 out of 5 stars
Price: Contact the team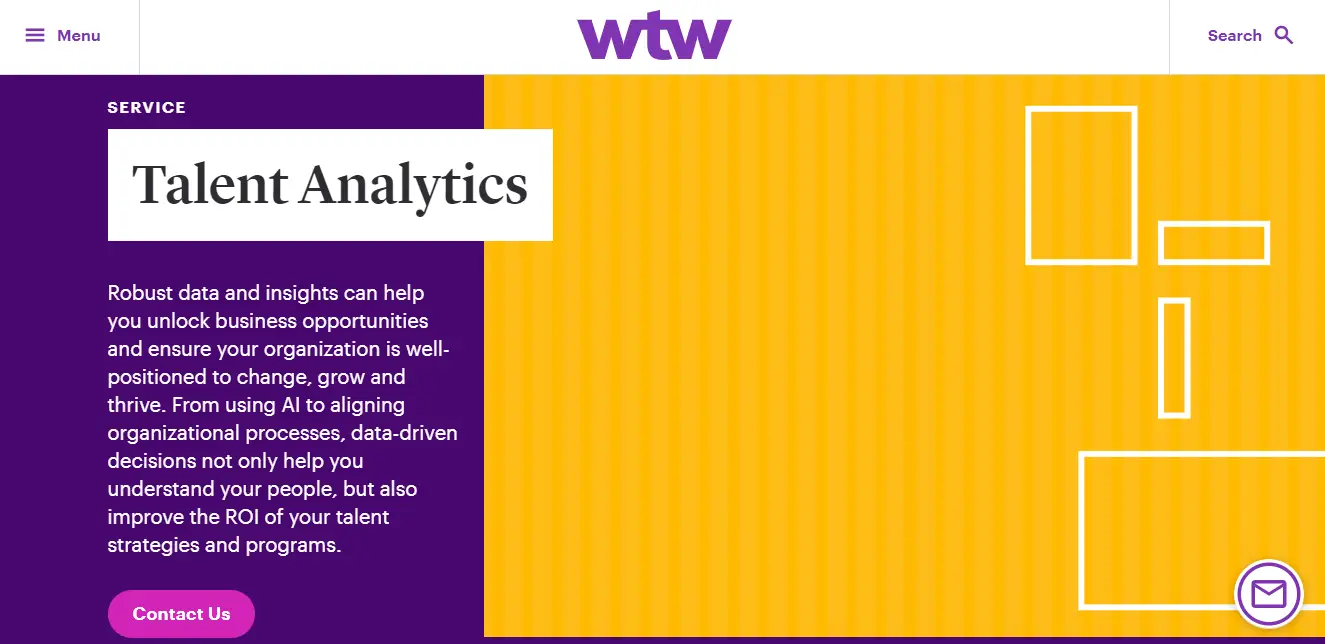 WTW is another talent analytics platform that uses AI to align organizational processes and help recruiters drive data-driven decisions. As a result, hiring managers can better understand their people and improve the ROI of their talent strategies and programs at the same time.
Features:
Data Integration: The platform seamlessly integrates data from multiple sources, such as HR systems, performance management tools, and employee surveys. This allows companies to get a comprehensive view of their workforce and identify trends and patterns.
Predictive Analytics: It uses machine learning algorithms to analyze data and provide insights into employee behavior, performance, and potential. This empowers recruiters to identify high-performing employees, anticipate turnover, and make data-driven decisions about promotions and career development.
Workforce Planning: The platform provides tools for companies to plan for their future workforce needs. This includes identifying critical roles, assessing the skills and capabilities of current employees, and developing talent pipelines.
Reporting and Visualization: The tool also includes reporting and visualization tools that allow recruiters to create custom dashboards and reports. This makes sharing insights with stakeholders and tracking progress against key performance indicators easy.
G2 Rating & Reviews: 4.5 out of 5 stars
Price: Contact the team
In Conclusion
Recruiters looking to unlock the potential of their talent acquisition strategies need a robust talent analytics platform to fuel their efforts. Every tool comes with its own set of advantages and disadvantages. The right tool for your organization will depend on your unique goals.
FAQs
1. What is talent analytics?
Talent analytics refers to using data analysis techniques and technologies to better understand and manage your organization's workforce. It involves collecting and analyzing data on employees' skills, performance, and other relevant factors to gain insights and make informed decisions about talent management.
2. What are the different types of talent analytics?
There are several types of talent analytics that organizations can use:
Descriptive analytics: Involves the use of historical data to understand trends and patterns in employee performance and behavior
Predictive analytics: Uses statistical models and machine learning algorithms to forecast future trends and outcomes related to talent management
Prescriptive analytics: Leverages data analysis to suggest the best course of action for specific talent management problems or challenges
Diagnostic analytics: Involves using data to identify the root causes of workforce problems and challenges
3. What are the six uses of talent analytics?
The six uses of talent analytics include:
1. Workforce planning to forecast future workforce needs, identify skills gaps, and plan for succession.
2. Recruitment and selection help recruiters make better hiring decisions by identifying the key skills and competencies needed for success in a particular role.
3. Employee engagement and retention to identify factors contributing to employee satisfaction and retention and develop strategies to improve these areas.
4. Performance management to identify high-performing employees, provide targeted coaching and development opportunities, and improve overall performance management practices.
5. Learning and development to identify skills gaps and training needs and develop targeted learning and development programs to address said gaps.
6. Diversity and inclusion to identify and address diversity and inclusion issues in the workplace by analyzing data on hiring, promotion, and retention practices.