In our recent webinar on the do's and don'ts of the technical hiring with Valerie Rothlin-Fenton, Fujitsu's Senior Technical Recruiter, we ran a quick poll.
The poll addressed the top challenges while recruiting for technical positions in the future, and almost 75% of the responses suggested that the time taken to fill a role is one of the biggest challenges for the recruiters.
All of us are aware that bridging this time gap is exhausting; however, we were shocked to see the results of the poll. Even though recruiting for technical positions entail other factors like dependency on the technical teams, monitoring and tracking the relevant data, and integration between tools, we found that amongst the poll respondents, time-to-hire turned out to be the single biggest concern for recruiters.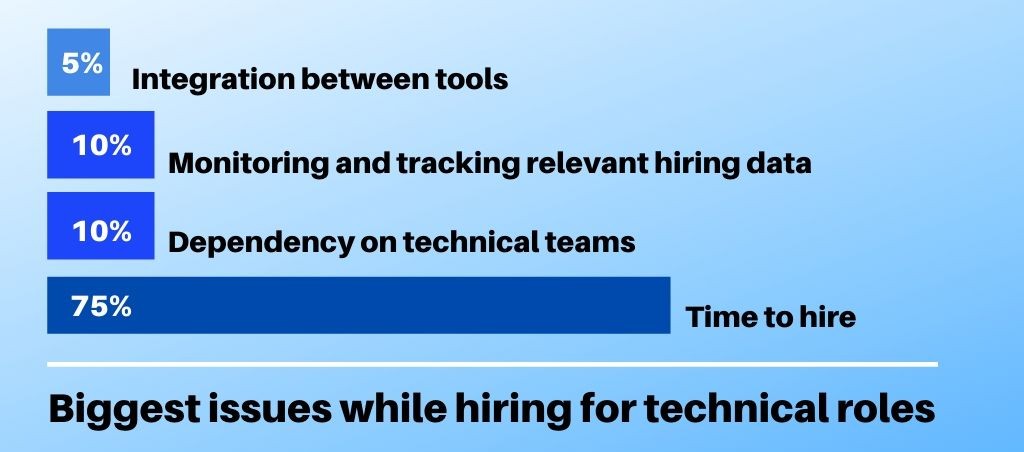 You mix the pandemic in this already-volatile function, and the entire playbook turns upside down.
Recruiting leaders now find themselves caught between the ever-increasing social and economic uncertainty and previously planned hiring strategies. While the pandemic has forced leaders to take a step back and reassess their hiring objectives for the near future, it has also further affected the time taken to fill a role—the more time taken to reassess; the more time taken to fill the role!
So, as recruiters of today struggle in this unprecedented limbo, leaders should take measures to assess and mitigate the risks, which not only are realistic for the times but help in achieving the business objectives as well. To that effect, here are a few things you must keep in mind to help your recruiters lessen the time taken to fill a position:
Business Shift Needs and Reprioritization
While the airline, hospitality, and healthcare industries are among the few of the most visibly and viscerally affected, each industry is facing a disruption in some manner. And that's a fact!
To mitigate this disruption, the first step that each leader should take, according to Valerie, is to reassess the existing hiring plans and align them with your response to the on-going pandemic. Understand what functions or verticals are going to be affected the most, and prioritize their hiring concerns. Delineating what's priority would help recruiters focus their energies where it is needed the most, and, incidentally, shorten the time-to-hire gap.
Operationalize Virtual Hiring
What once was considered a nice-to-have functionality has now quickly moved on to become a must-have. With practically no measure of having systemic, in-person interviews that we're used to and trust, virtual hiring has now become the norm. And thanks to Digital Transformation, we now have more tools at as disposal to achieve that. Invest in the tech infrastructure, spot requisitions that are necessary for virtual hiring and identify those that aren't important either, and, most significantly, increase your attention to online channels.
With more and more dependency on web materials on the part of candidates, prioritize web content and your career pages. Show your candidates how your response to the pandemic sets you apart, make it human. Establishing a connect with your candidates is vital, and these extra efforts will go a long way in building a wide talent pool.
During the webinar, Valerie suggested that investing in the right software is paramount for hiring virtually during the current times. And we believe this holds true for hiring for the future as well—some changes are here to stay, and conducting the hiring process virtually is one of them. It isn't only time saving for the recruiters but for candidates as well.
Identify Potential Confusion Areas and take Proactive Measures
We're sure you must have heard we're in uncharted territory a number of times by now, but that doesn't make it any less true. These times are just as unprecedented as they are fear-inducing. It is, then, only fitting that people are dealing with the feelings of confusion and anxiety, further adding to the time usually taken to fill a role.
Create a clear communications plan with your recruiters to keep your candidates updated on where they are in the process. Your recruiters must assure the candidates that an online process is just as valid as the in-person one; there is still uncertainty about the processes being new and unreliable, so it is on your recruiters to establish confidence with the candidates.
Be honest. People understand delays and disruptions, especially during these times. In case you've been forced to freeze hiring, convey to your potential candidates that you'd be keeping them in the talent pipeline for when the position reopens. This would lead to clarity and transparency in the process.
Recruiter Morale and Productivity
Leaders and management shouldn't lose sight of one crucial point, your talent personnel are going through the same anxieties and fear, the same confusion and uncertainty, and the same upheavals and expectations that your clients and candidates are.
Create a space for an open dialogue. Discuss the shifting priorities and attention, discuss what would happen during hiring slowdowns, and establish clarity in business goals and shifts. Such spaces would help in keeping the morale of your recruiters up. While this wouldn't be the measure to ensure productivity primarily, because the well-being of your employees is priority, it would surely affect the productivity, and, thereby, help you fill the roles in a faster, efficient manner.
COVID is an unprecedented disruption in everyone's life, and naturally hiring has been affected substantially as well. The onus now falls on you, as policy makers and leaders, to ensure that strategies are in place that enable your recruiters and talent acquisition teams.