Email templates can be time-saving valued tool for busy recruiters, however, they must be carefully created to meet the basic needs of the candidates. A study by IBM reported that more than 1/5 of all job candidates don't feel well-informed during the hiring process, which contributes to a poor hiring experience. Emails must have crucial details with clear and informative points so the candidate starts to feel excited and confident about each stage of the hiring process. Recruitment assessment tools like iMocha, follow the best points mentioned below to make a world class recruitment product there is.
Best Practices:
An Attractive Subject Line
When swamped with multiple job offers, grabbing the candidate's attention by setting up an attractive subject line which slays in a glance can just get your work done!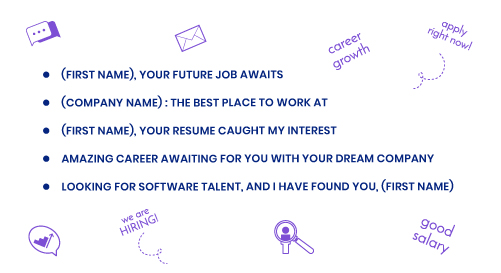 A Good Introduction Of Your Brand
A candidate may come from various channels, like social media, individual blogs, or employee referrals. Whatever the sources, a good introduction of your company with its style and tone aligning with the employer brand, along with the perks will always get them interested.
A Personal Touch
Cold machine generated mails which are blasted out without a personal touch usually wears out and are pushed to spam. If possible, mentioning past interactions such as previous interview processes with new expectations and ending with a specific request renders to be effective.
Short And Direct
A short, informative and to the point sentence increases the chance of a busy candidate reading it. It must include crucial details of the next task to be done with a clear objective.
Don't Keep Them Dangling
Interviews can be nerve-racking, therefore a detailed confirmation email must include basic attributes, like the time and duration, including the names of all interviewers to reach out to for any queries, and anything the candidate needs to prepare or bring before the interview process begins.
Proof Reading Matters
Chances of sending grammatically incorrect emails with silly typos popping up are high, it might reflect badly on your company too. You might need to double check all the candidate details and the relevant interview information before you press send. No one likes it when they are confused with someone else.
Reminders Help
"Fortunate are those who forget" is a saying many strive to implement, but NOT in this case. Sending out friendly interview email reminders a day before the actual interview, which repeats the essential details is a reliable way of reminding the candidates of the important tasks of the day.
SAMPLE TEMPLATE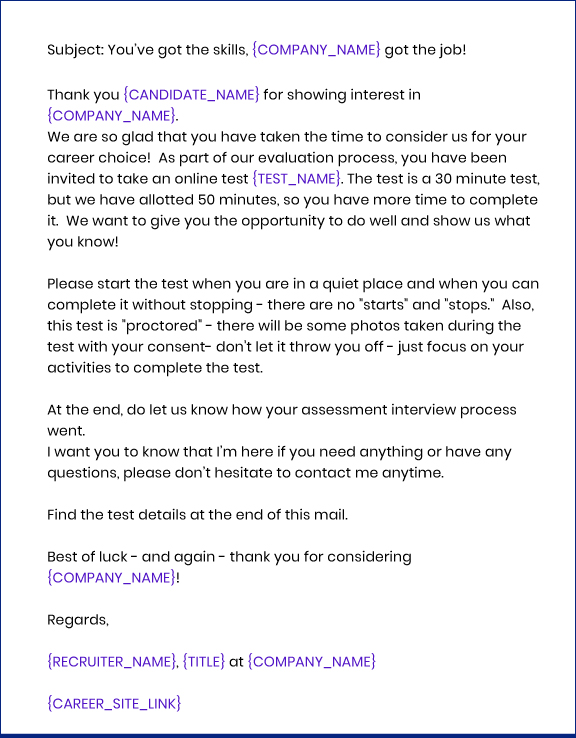 A Different Mold For Everyone
These are the 7 points that every recruiter must remember when inviting a candidate for an interview. But always know each candidate is different and specifying the invitation with much personalized touch like using their names, or their topic of interest can make all the difference in creating a first class candidate experience. It will help to draw job seekers attention. You can make use of your ATS with recruitment tools like iMocha to help streamline the process even further.
Happy Recruiting!