Would you believe me if I say writing a job description, sorting resumes, finding red flags in CVs, aligning potential candidates, and all other screening tasks require almost no human intervention?
No? Well, that's true now. The best applicant screening software makes it possible for recruitment teams.
Applicant screening tools deploy various advanced technology, such as social profiles, psychometric evaluations, and culture-fit aspects, to determine a candidate's potential and present a detailed report to the hiring authority. These reports, assessments, and sifting through thousands of resumes help hiring managers to make unbiased and fair decisions while employing candidates.
Studies have shown that approximately 78% of applicants lie in their resumes!
The hiring manager cannot screen resumes, conduct background checks, develop customized assessments, or evaluate those assessments solely. But all of this is possible using the best applicant screening software that ensures efficiency and promptness
That's why we have curated a detail-oriented list of the top 14 applicant screening tools, comparing pros and cons, price variations, free trials, ratings, and more.
So, find out and engage with an applicant screening software for your organization now.
Skills Assessment Tools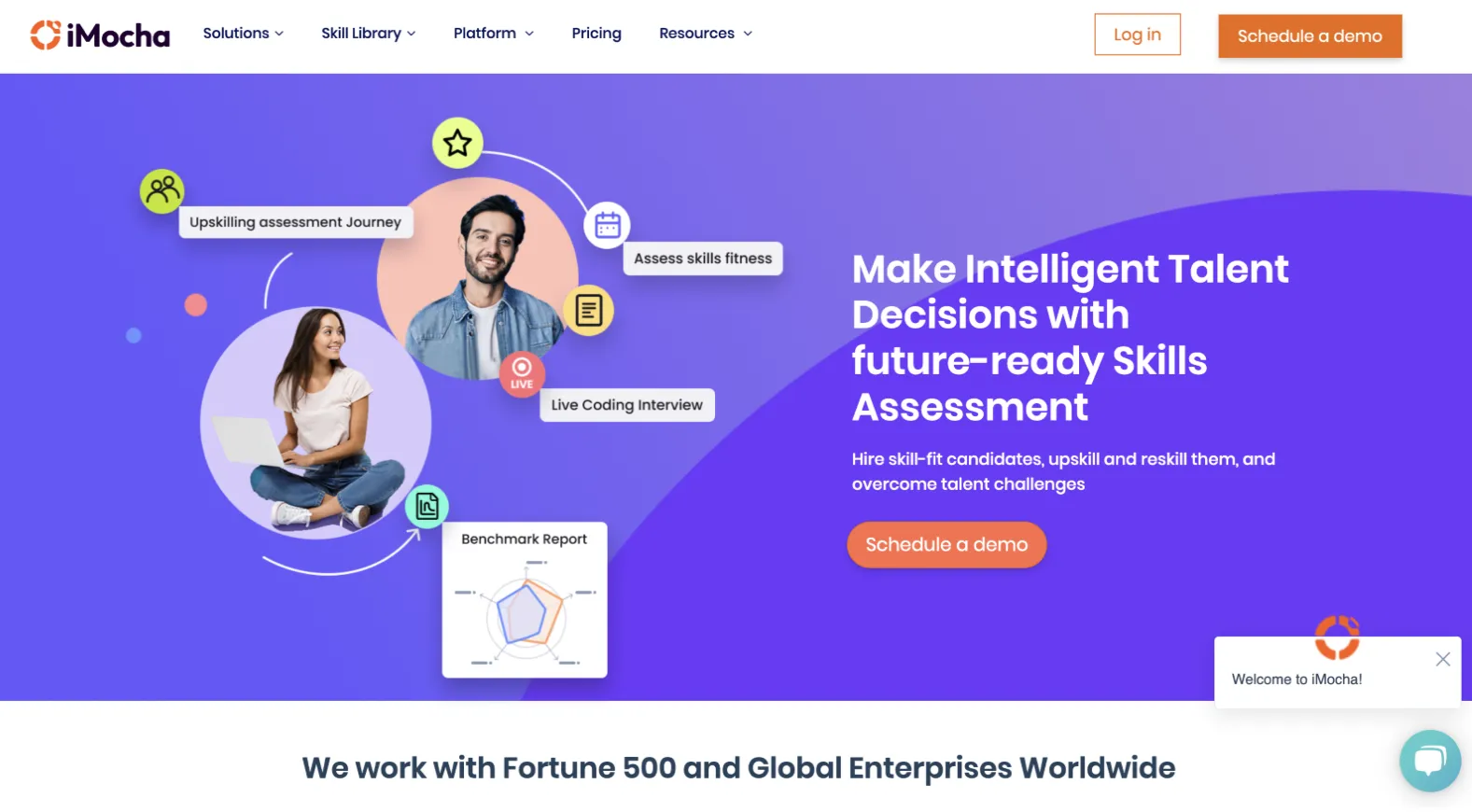 iMocha is an applicant screening and skills intelligence platform that empowers talent executives to make better decisions and build competitive teams. It provides firms with a robust recruitment platform that offers a clear, easy-to-read overview of a candidate's assessment and filters out potential candidates among the vast talent pools.
It is an enterprise-ready platform that eliminates all boring, unproductive, repetitive activities saving a lot of manpower.
Founded in: 2015
Founded by: Amit Mishra and Sujit Karpe
Free Trial: Yes
Pros:
It enables you to accurately determine the candidate's proficiency level, including beginner, intermediate, proficient, and experienced

This applicant screening tool allows recruiters to view candidate pipeline, measure test performance, and analyze invitation data

It provides insightful assessment reports that enable employees to see their skills, competency, areas of improvement, and training efficacy

iMocha offers AI-powered customizable and shareable reports
Cons:
iMocha does not conduct psychometric tests

It does not conduct a background check
Clients: Capgemini, Cognizant, Wipro, Vanguard, CGI Deloitte, PayPal, Fujitsu and more
Pricing: Price on request
G2 Crowd Rating: 4.4/5 (165 reviews)
Candidate Resume Screening Software
2. Freshworks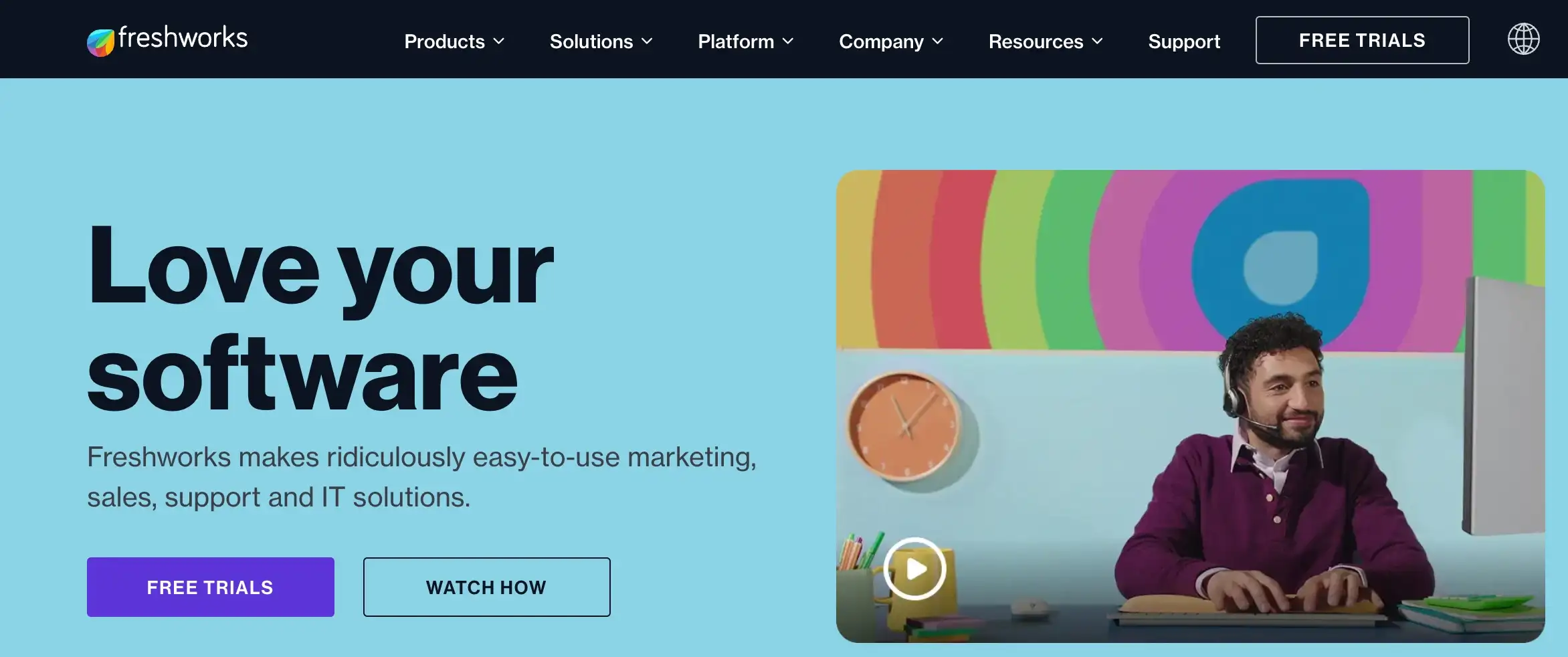 Founded in: 2010
Founded by: Girish Mathrubootham
Free Trial: Available
Pros:
Freshworks is a cloud-based software with self-automation that helps make the process streamlined and faster

With the help of webhooks, users can extract candidates' data within a limited time

The platform helps interact with many potential candidates via a contextual message from the chatbot, and then the latter can be handed over to the agent at the right time
Cons:
Freshworks is an expensive college recruitment software

The software has limited filtering options when compared to other campus recruiting software
Clients: Clarity, Salinas Valley Memorial Healthcare System, Bridgestone, Synergy, Bensons for Beds
G2 Crowd Rating: 4.5/5
3. Zoho Recruit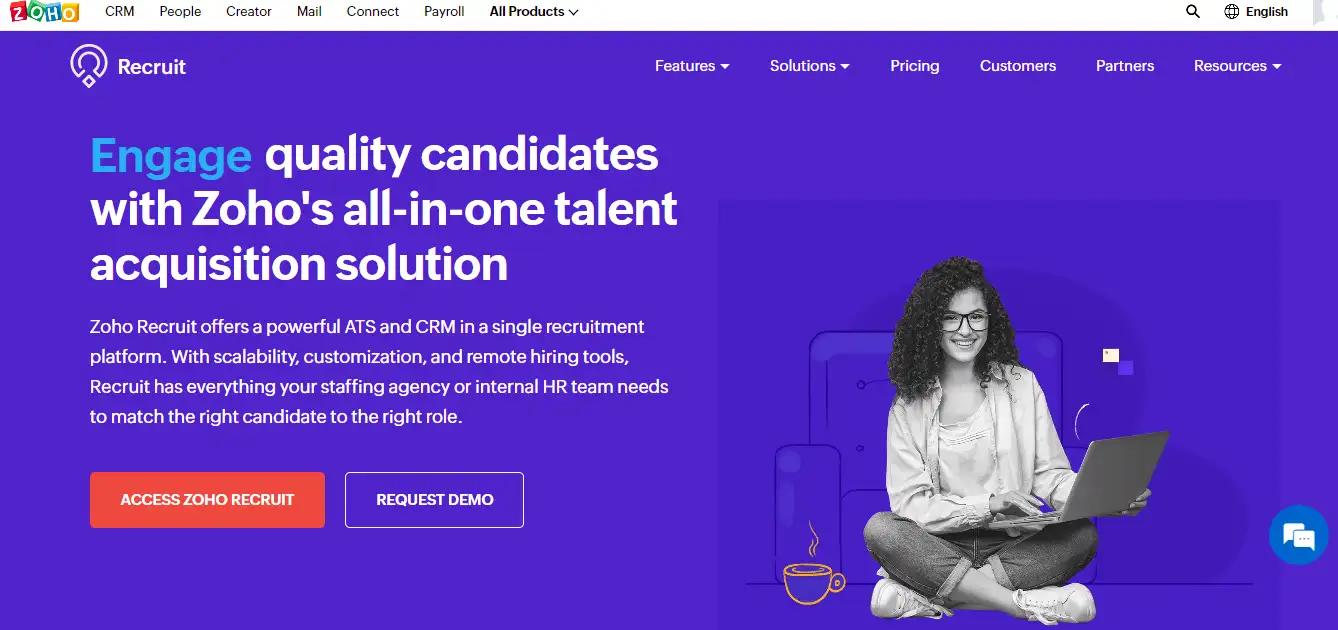 Founded in: 1996
Founded by: Sridhar Vembu and Tony Thomas
Free Trial: Available
Pros:
This talent mapping software enhances your return on investment

Zoho is one of the best talent mapping tools that allow all the Zoho applications, such as CRM, Email, and other inbound marketing tools, to sync together to work as one system

Zoho has integrated with many social media channels, such as LinkedIn, for social recruiting
Cons:
The application is not fully mobile-friendly

Their customer services are not readily available to free users

The platform has a complex, unintuitive user interface, making it hard for users to navigate and utilize many features
Clients: Allianz, PWC, Bosch, Deloitte, A1 (Telecom Austria Group)
Pricing: $145/month
G2 Rating: 4.4/5 (1,340 reviews)
4. Skeeled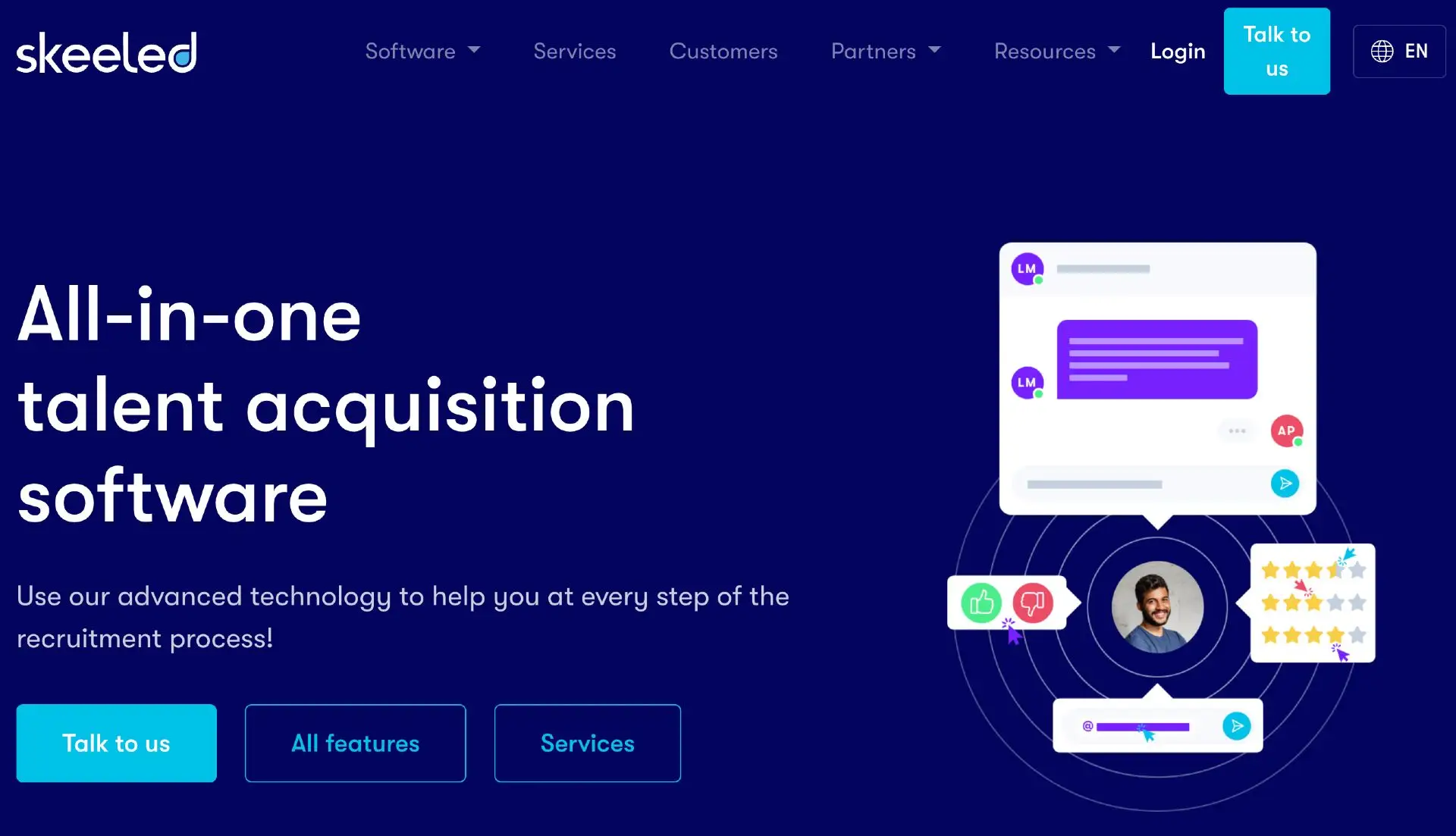 Founded in: 2014
Founded by: Mike Reiffers & Nicolas Speeckaert
Free Trial: Not available
Pros:
It's a user-friendly platform

Sending feedback to candidates is quick and effective with Skeeled

It allows the recruiter to multipost. i.e., a single post will be advertised on multiple job portals
Cons:
Their email integration is not effective at all. One has to repeat the same receiver's email id every single time. It also shows "no-reply" in reply to the mail

Implementing Skeeled is a lengthy procedure

Candidate grouping makes it even more confusing
Clients: Sales-Lentz, Nuo skin, IBDO, atHome.lu, G4S
Pricing: Not disclosed publicly
G2 Rating: 4.3/5 (21 reviews)
Video Interviewing Software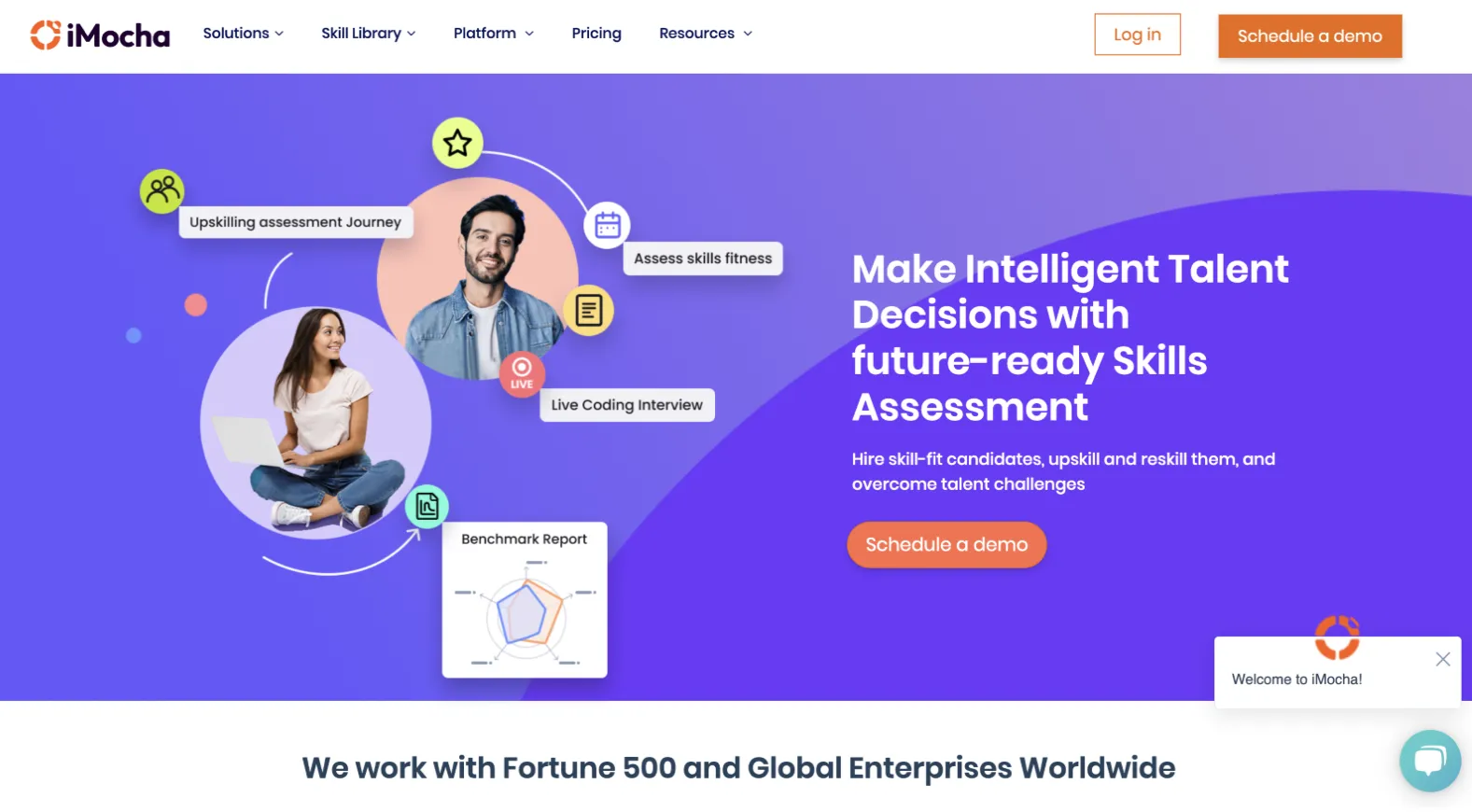 iMocha, one of the top applicant screening software that offers proven and tested solutions for hiring candidates virtually. Using its one-way video interview question function, you can evaluate candidates' required skills, including soft skills, technical skills, cultural fit skills, and more.
To protect their credibility, the assessments conducted by iMocha are encrypted through strict security protocols such as GDPR, ISO9001, and ISO27001. This applicant screening tool ensures that the data and analytics presented are unbiased and authentic.
Founded in: 2015
Founded by: Amit Mishra and Sujit Karpe
Free Trial: Yes
Pros:
iMocha lets the hiring manager set a maximum number of attempts for each question

This software allows you to create test links for all your hiring needs. E.g., you can opt for an Open link URL for bulk/campus hiring

You can design an extremely flexible test based on your requirements by determining the duration, the number, and the type of questions
Cons:
iMocha does not conduct psychometric tests.
Clients: Deloitte, PayPal, Fujitsu, Capgemini, Cognizant, Wipro, Vanguard, CGI, and more
Pricing: Price on request
G2 Crowd Rating: 4.4/5 (165)
6. Talview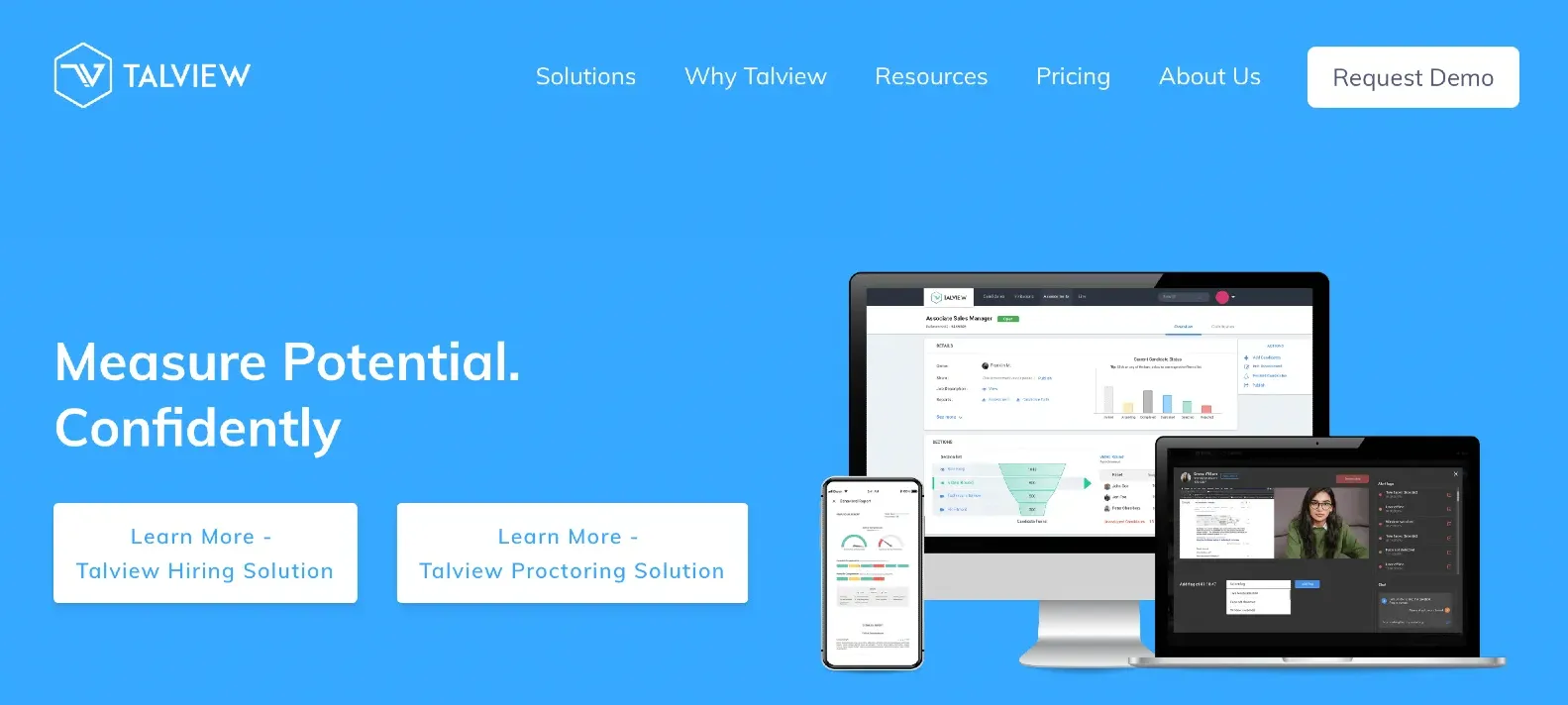 Founded in: 2017
Founded by: John Jose, Sanjoe Tom Jose, and Subramanian Kailasam
Free Trial: No
Pros:
The platform is multilingual, hence catering to the recruiter's needs effectively.

Talview works on almost all the top search engines used by students, such as Chrome, Firefox, and Edge

It is data-safety compliant.
Cons:
The portal often gets stuck during the data research phase.

The customer support is unresponsive.

Data panels of large size can be challenging to download.
Clients: Meta, Vodafone, HCL, Cambridge Assessment, Cognizant
Pricing: $25000/year
G2 Rating: 4.5/5 (33 reviews)
7.VidCruiter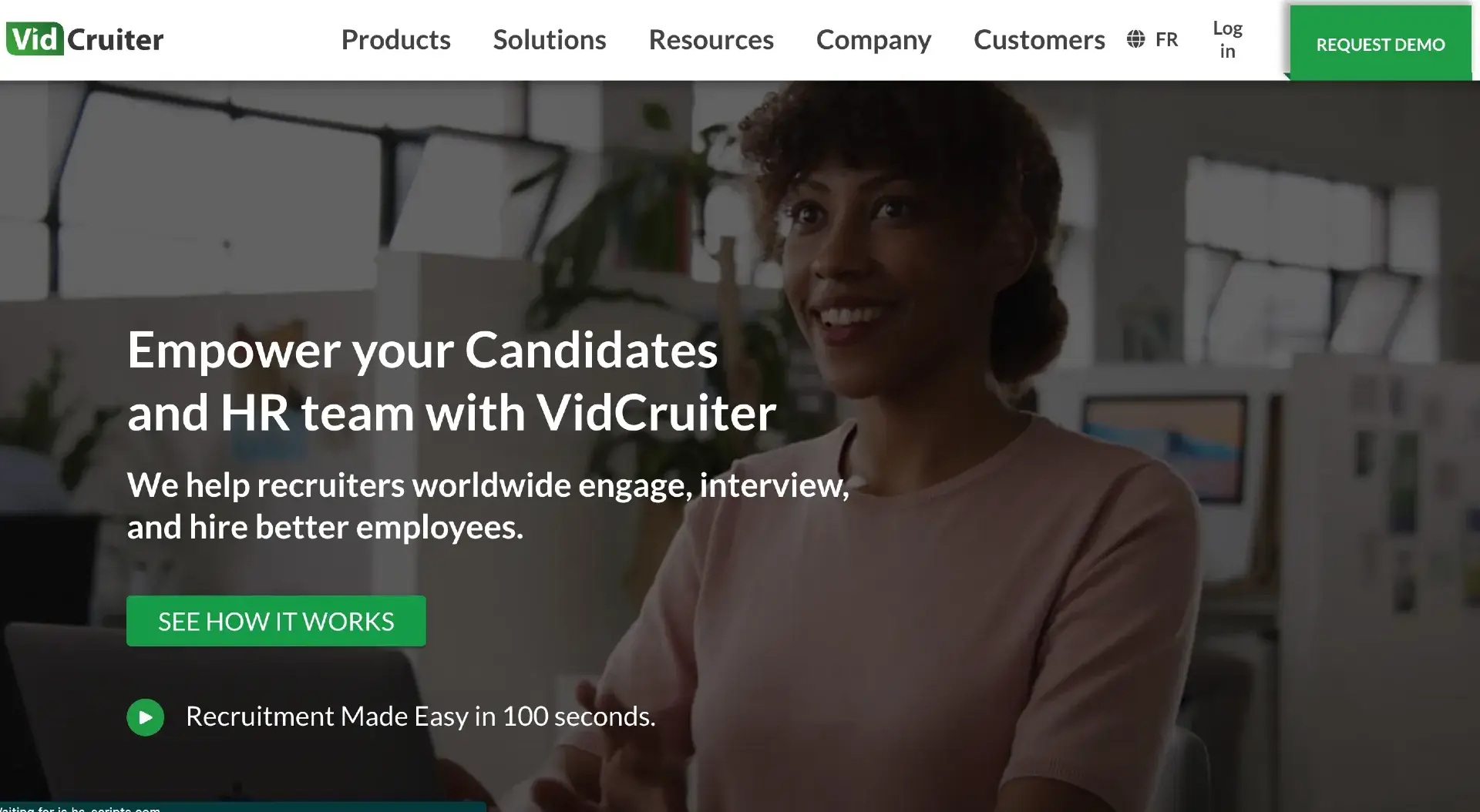 Founded in: 2009
Founded by: Sean Fahey
Free Trial: Available
Pros:
This applicant screening tool enables the recruiter to pre-screen applicants and organize them as per the organization's workflow

VidCruiter does not work on mobile phones

Team VidCruiter has a super backup support for any technical issue
Cons:
It lacks bulk automated actions such as bulk printing, or bulk download, etc.

It repeats a lot of information in the exported reports
Clients: Kelley, Human Capital Coordinator, Life Coach
Pricing: $5000/year
G2 Rating: 4.8/5 (191 reviews)
ATS (Applicant Tracking Software)
8. Jobvite
Founded in: 2006
Founded by: Jesper Schultz and Hans Larsen
Free Trial: Yes
Pros:
Jobvite job posting is also shared on other job boards, which improves the coverage for the posting and candidate outreach

The U.I. is applicant friendly intuitive and makes the recruiting process efficient for both recruiters and hiring managers

It provides analytical reports of each candidate
Cons:
You cannot access knock-out form templates, and neither can you customize basic templates

Jobvite automated email feature sends many emails at a time, which can overwhelm the inbox and end up mixing essential emails

It lacks integrations with M.S. Teams and LinkedIn
Clients: Scott Sendelweck, ACCO Brands, eegee's, Long Building Technologies, Exelon
Pricing: $30/recruiter/month
G2 Rating: 4.0/5 (504 reviews)
9. Greenhouse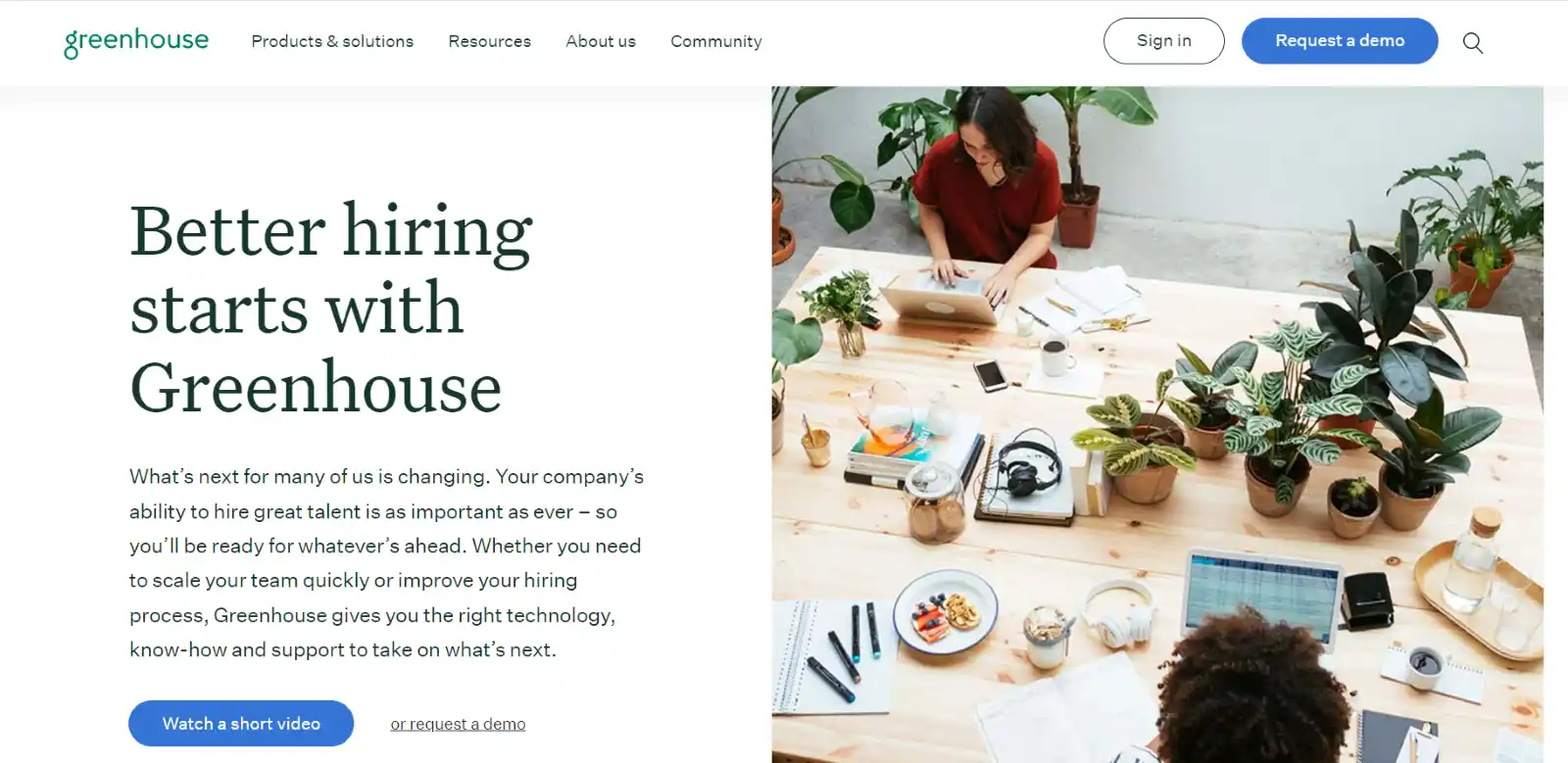 Founded in: 2012
Founded by: Daniel Chait and Jon Stross
Free Trial: No
Pros:
You can customize the platform to meet your organization's unique requirements and build different hiring plans for every role.

It is simple to use and works well with different platforms (E.g., G Suite & Goodtime).

Greenhouse is a "one-stop shop" for all hiring processes. Within Greenhouse, you can post positions, evaluate applicants, arrange interviews, make offers, and even source.
Cons:
It has limited options for customizations

The application does not allow for saving notes, tracking communications, and adding numerous departments

The application shows an inability to match resumes with similar candidates
Clients: HubSpot, Wayfair, HARRY'S, invision, J.D. Power
Pricing: On request
G2 Rating: 4.4/5 (1214 reviews)
10. Smart Recruiters

Founded in: 2010
Founded by: Jerome Ternynck
Free Trial: Yes
Pros:
It allows the recruiter to review candidates, add grades or ratings, pass the review to another reviewer, or return the review to the H.R. team

It enables hiring teams to communicate and have complete access to the candidate pool during the hiring process

The application provides the functionality of creating email correspondence templates
Cons:
It is not well integrated with other platforms

SmartRecruiters does not have any feature for self-scheduling interviews

It does not automatically contact candidates after a job application
Clients: Equinox, Avery Dennison, VISA, LinkedIn, Skechers
Pricing: On request
G2 Rating: 4.3/5 (439 reviews)
FAQs
What is the best way to screen candidates?
Here is the best way to screen candidates effectively:
Resume review

Read cover letter

Perform phone screening (phone call interviewing)

Video call interviewing/screening

Skill assessment

Background check
All of the above steps could be automated by engaging in the best applicant screening tools such as iMocha.
What are the types of applicant screening software?
Some of the commonly used applicant screening software are skill assessments, video interviews, live coding interviews, and ATS.
What goals can be achieved by using applicant screening software?
The best applicant screening software automates the hiring process, saving a lot of time and capital. It also boosts overall organizational productivity by eliminating repetitive activities such as sifting through each resume, grouping candidates, creating custom assessments, and more.