Resume screening is usually used to narrow down large candidate pools, reduce time to hire, and assess the accuracy of job descriptions. But doing so manually can be a very complicated and confusing task!
Imagine you posted a job requirement for your organization online and get swarmed by the resumes of hundreds of candidates. Your job listing definitely generated a great response, but now how will you accurately screen those hundreds of resumes? Your one small mistake, and the company will hire the wrong talent or reject the most deserving one. That would be sad, right?
Unfortunately, that's not the only issue with screening resumes manually.
1. Resume Inaccuracies
Study shows that approx. 78% of candidates lie during the recruitment process. They tend to mislead prospective employers about their skills, experience, academic degrees, and certifications to sail through the early stages of the recruitment process.
2. Unconscious Bias
Because of the manual nature of the task, it is very likely for an unconscious bias to seep into the recruitment process. This can not only decrease the chances of your organization getting the right prospect, but it also negatively affects your DEI goals. Skills assessment, for that matter, can also help you remove bias from your recruitment by eliminating bias-inducing factors such as location, gender, age, etc. Using masked assessments, such as the ones offered by iMocha, you can remove the bias and focus on your candidates' skills.
3. Waste Of Time & Resources
Manual screening is a lengthy and tiring task that directly impacts your time to hire. As a result, the ideal talents get hired by other organizations and the remaining ones forfeit because of processing delays.
Why & How to Choose an Automated Resume Screening Software? The answer to these aforementioned problems is - having an automated resume screening software in your set of recruitment tools.
Why you may ask? Firstly, these technologically driven tools are far more accurate and faster than screening resumes manually, apart from that, they offer the following benefits:
Eliminate unconscious bias

Screening resumes enables recruiters to assess the experience, qualifications, and skills of candidates and determine their suitability for the job and company

Allow talent acquisition teams to have more confidence in their hiring decisions and reduces the employee turnover rate significantly

Save a lot of time and effort for line managers
With these benefits, another question arises, i.e., 'Which resume screening tool will be the ideal choice for my organization and will easily integrate with my existing ATS?'
Top 10 Automated Resume Screening Tools & Software for 2023
To narrow down your choices and help you find your perfect match, here are the top 10 automated resume screening tools & software for 2023:
1. CVVIZ

CVVIZ is a resume screening tool that uses AI to screen resumes contextually. It automates candidate sourcing and matches the right candidates to the right jobs while providing you with insight into your hiring process.
Pros:
Resume parsing

Screens, matches, and ranks resume using NLP, ML-powered algorithms

Elastic search for quickly finding results

Identifies duplicate resumes

Engages, tracks, and makes job offers to the best candidates
Cons:
Users have reported that the mobile experience (specifically for a job posting) is lacking. Some of the drop-down elements don't appear in mobile view



2. Freshworks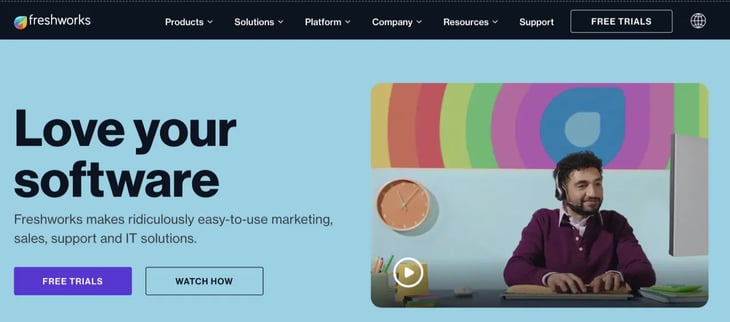 Freshworks is a smart HR software that claims to modernize HR by bringing your hiring, onboarding, time-off, employee data, and HR workflows under one roof.
Pros:
Reduces workload by 75%

Securely stores all employee data and files

Parses and deep searches resume

Improves collaboration

Offers pre-screen for tech interviews
Cons:
The report format is complicated
3. Trakstar Hire

Trackstar Hire, formerly known as 'RecruiterBox', is an online applicant tracking tool that searches and assesses candidates using cloud-based technology. It creates different candidates' profiles and shares them in a presentable manner, and also helps recruiters manage the whole process using a centralized portal.
Pros:
Offers a good Automated Tracking System

Conducts candidate profiling to filter top candidates

Promotes teamwork that engages all staff members and candidates

Conducts questionnaire screening and offers a good resume management system

Screens, interviews, and evaluates candidates using productive and automated workflows
Cons:
Lack of seamless integrations
4. Lever

Lever offers an applicant tracking system and a candidate relationship management system within one platform. It automates essential tasks, attracts the best talent with personalized outreach, and provides access to real-time recruiting data using its add-ons.
Pros:
Intuitive and user-friendly interface

Robust ATS

A detailed and legible reporting system

Easy to use analytics tools that allow talent teams to track their pipeline

DEI analytics to remove unconscious bias
Cons:
Lack of formatting options in the feedback text boxes



5. iClMS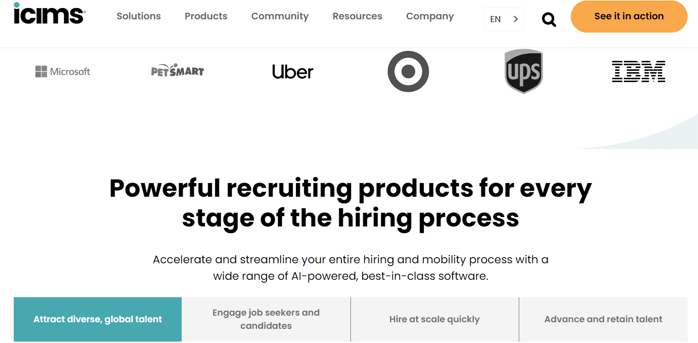 iClMS is an all-in-one hiring platform that delivers enterprise hiring solutions across every stage of the talent journey. Using its wide range of AI-powered software, it claims to accelerate and streamline your entire hiring and mobility process.
Note: iMocha offers one-click integration with iCIMS, which helps you maintain the entire candidate pipeline in one dashboard.
Pros:
Attracts diverse and global talent

Engages the candidates and talents

Comes with an intelligent Talent Acquisition Applications

Integrates with legacy TAS

Comes with a global hiring platform, called Talent Cloud
Cons:
6. Employa

Employa allows recruiters to focus on in-person interactions with the right candidates based on smart AI-powered technology. Its AI-driven approach eliminates all unsuitable resumes and offers you a ranked list of best-matched candidates that are tailored to your requirements.
Pros:
Offers unlimited options for search criteria

Automates candidate sourcing for you so that you can focus on interviewing qualified talent

Smart parsing

Integrates with existing ATS

Checks resume for job-hopping, employment gaps, or fraud
Cons:
Users have reported minor bugs and glitches upon the addition of new features



7. CVJury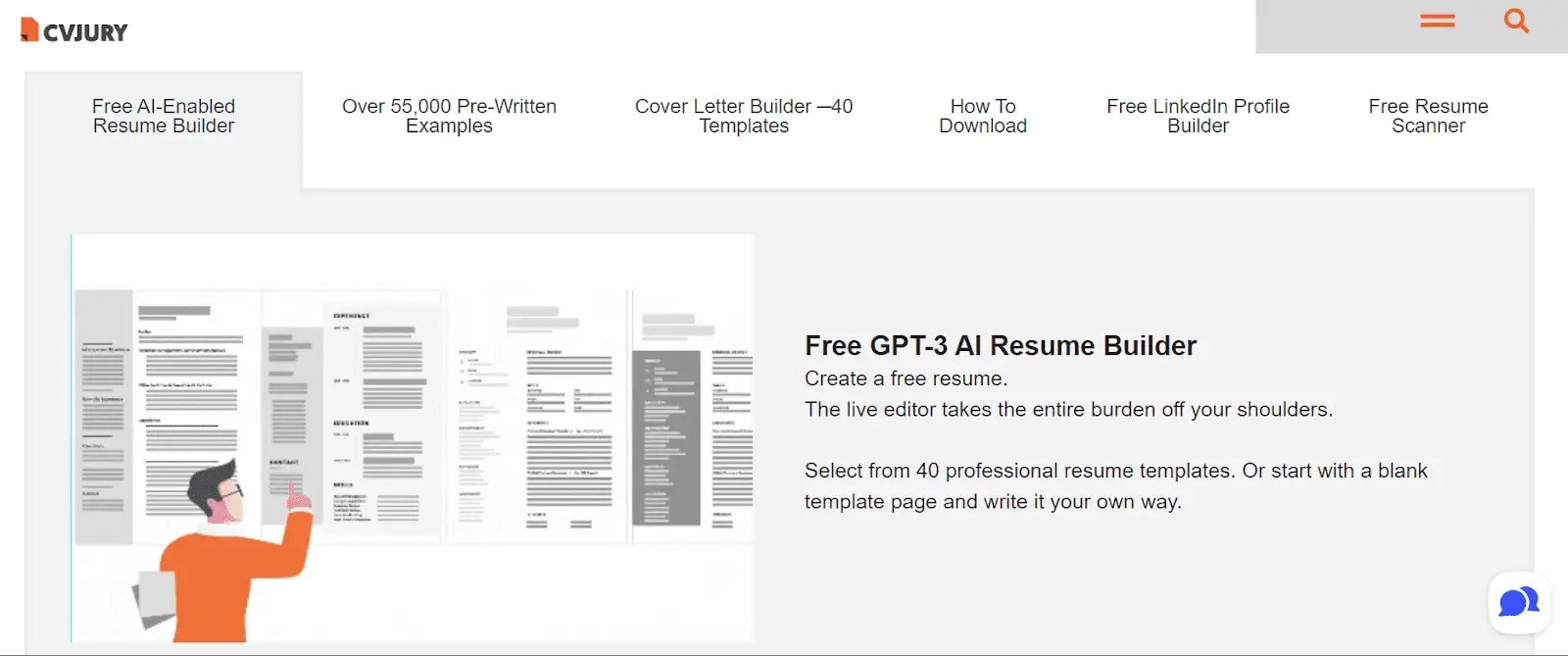 The free resume scanner from CVJury is an application that can scan your resume quickly and effortlessly while providing suggestions on how to improve it.
Pros:
It's free of cost

Aligns the job description & keywords with the ones that are there in your resume.

Identifies skill gaps

The LIVE editor dashboard makes it easier to optimize your resume by adding the suggested keywords and other features to improve the overall score

Offers real-time one-on-one consultation with Certified Professional Resume Writers (CPRWs) and senior recruiters
8. Manatal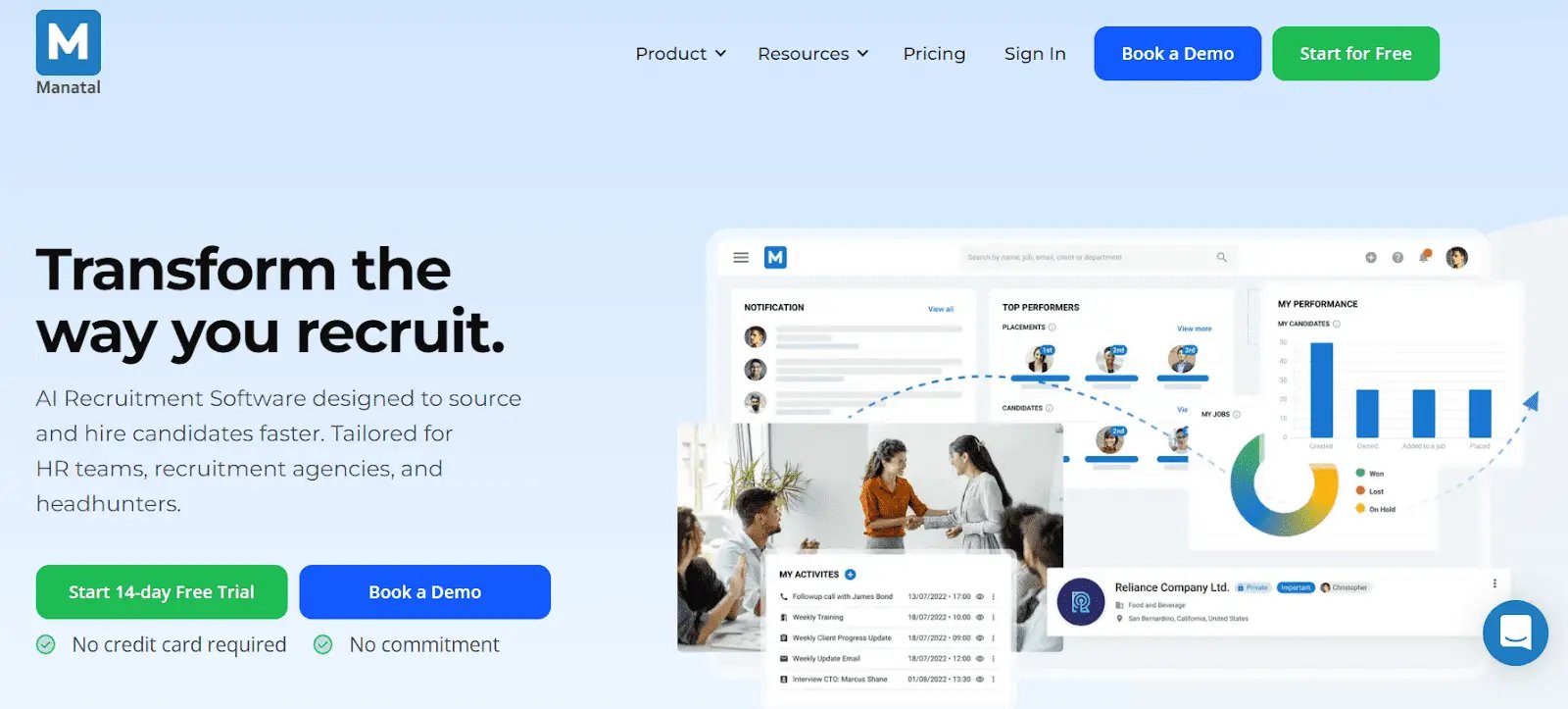 Manatal is an AI recruitment software that is designed to source and hire candidates faster, and is tailored to meet the demands of HR teams, recruitment agencies, and headhunters.
Pros:
Offers ATS integration

Provides reports and analytics

Easy to use UI

Manages all sponsored job advertising campaigns from a single platform

Scores candidates' profiles based on job requirements to facilitate your screening process
Cons:
No weekly automated reports, everything needs to be manually fetched from the admin page



9. Paycor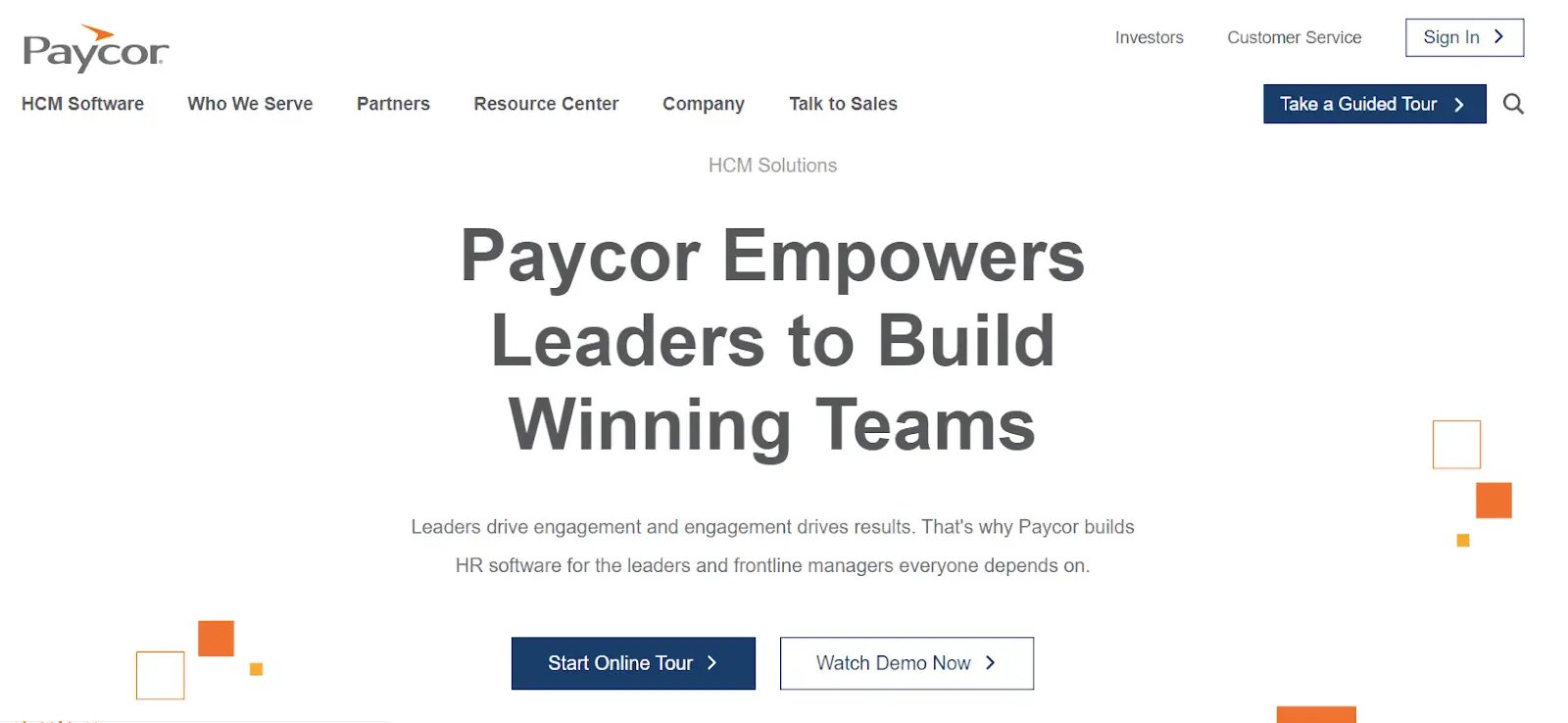 Paycor is recruiting + hiring software that reduces barriers by allowing applicants to apply from anywhere, on any device, and at any time. It offers a recruiting dashboard that makes the hiring process easy and streamlined by organizing candidates' information.
Pros:
Allows advanced searching mechanism

Promotes quick candidates' communication

Offers real-time analytics that tracks candidates' information

Provides custom course creation by internal experts

Provides a central repository for employee discipline and counseling
Cons:
Customer service is sometimes lacking regarding the timeliness
10. Skeeled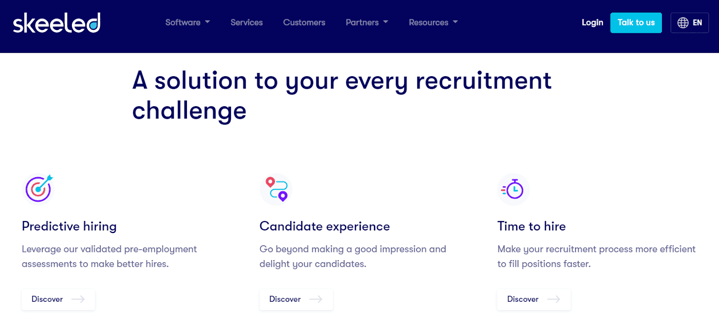 Skeeled uses cognitive ability tests, motivation assessments, personality tests, and more to find suitable candidates. It is an all-in-one talent acquisition software that uses AI algorithms to help you at every step of the recruitment process.
Pros:
CV parser to import CVs in bulk

Automated CV screening

Pre-recorded one-way video interviews

Multilingual support

Analytics to track the recruitment process for improvement
Cons:
Limited customization options for emailing candidates
Automated Resume Screening vs Self-Assessment Platforms
Although Automated Resume Screening tools simplify the screening process, they only tell recruiters about an applicant and fail to offer not enough information on the knowledge to assess whether candidates have the right skills for a role. Why?
AI-powered resume screeners are only as good as the data you provide them with.

It requires Talent Acquisition teams to carefully define the parameters for AI-powered resume screeners, whether it's job descriptions, priorities, or hiring expectations. If mismanaged, the technology can easily assume pre-existing human biases.
Self-Assessment tools can be a solution to this problem as they give recruiters the freedom to create customized and job-specific questionnaires and tests that can check a candidate's capabilities and skills for the given job role.
iMocha is a powerful assessment platform that is built to help you hire the best candidates faster. In addition to a large skills testing library, it has AI that recognizes when someone else is on the computer; if there's another human speaking in the background or any other form of cheating. Here is a detailed list of benefits that iMocha offers:
Ability to create & maintain valid & reliable tests for traditional as well as upcoming skills link to new collar skills.

Highly customizable tests that can combine multiple skills into one test, so that the candidate does not have to appear in multiple tests.

Simulation tests such as Coding simulators, SQL simulators, etc make your life easy by assessing the real job skills of applicants.

Tests that can evaluate hundreds of applicants in minimum time without investing time and money in lengthy and time-consuming recruitment methods.

Controlled randomization of questions will keep the test difficulty constant but with a random set of questions for each test attempt.

Content consulting and tweak/create questions capabilities to suit specific job roles.

Actionable insights to further improve the test and the overall testing experience of the candidates.

An intelligent testing system that calibrates and provides you with insightful reports.

Integration with your legacy ATS

… and much more!
Conclusion
Skill-assessment tools like iMocha are the present and future of Talent Acquisition and Development, as they help you assess candidates and not resumes. Test your candidate's skills, identify skill gaps, remove unconscious bias and hire the best candidates for your organization using skill assessments.
Click here to know how!