Amazon Web Services (AWS) is the most comprehensive and widely used cloud platform, providing fully-featured services from data centers around the world. The fastest-growing start-ups, largest enterprises, and leading government agencies are among those who use AWS to reduce costs, become far more agile, and innovate more rapidly.
AWS includes a mixture of infrastructure as a service (IaaS), platform as a service (PaaS), and packaged software as a service (SaaS) offering. It is a widely adopted and used cloud platform due to the benefits it provides. Some of the benefits of AWS are:
Easy to use,
Flexible,
Cost-Effective,
Scalable,
Reliable,
Secure
According to statista.com, Amazon Web Services (AWS) is the market leader in cloud computing, accounting for 32 percent of the total. Because of this high market share, there is a high demand to hire AWS engineers ranging from entry-level associates to experts, with companies scrambling to fill open positions of all types.
The Flexera State of Cloud Report, now in its tenth year, examines the latest cloud computing trends, with a focus on infrastructure-as-a-service (IaaS) and platform-as-a-service (PaaS).
According to the 2021 cloud computing trend results, Enterprises are continuing to adopt different cloud strategies and are also boosting spending with vendors, indicating a higher-than-anticipated cloud utilization due to COVID-19 pandemic restrictions. Image below: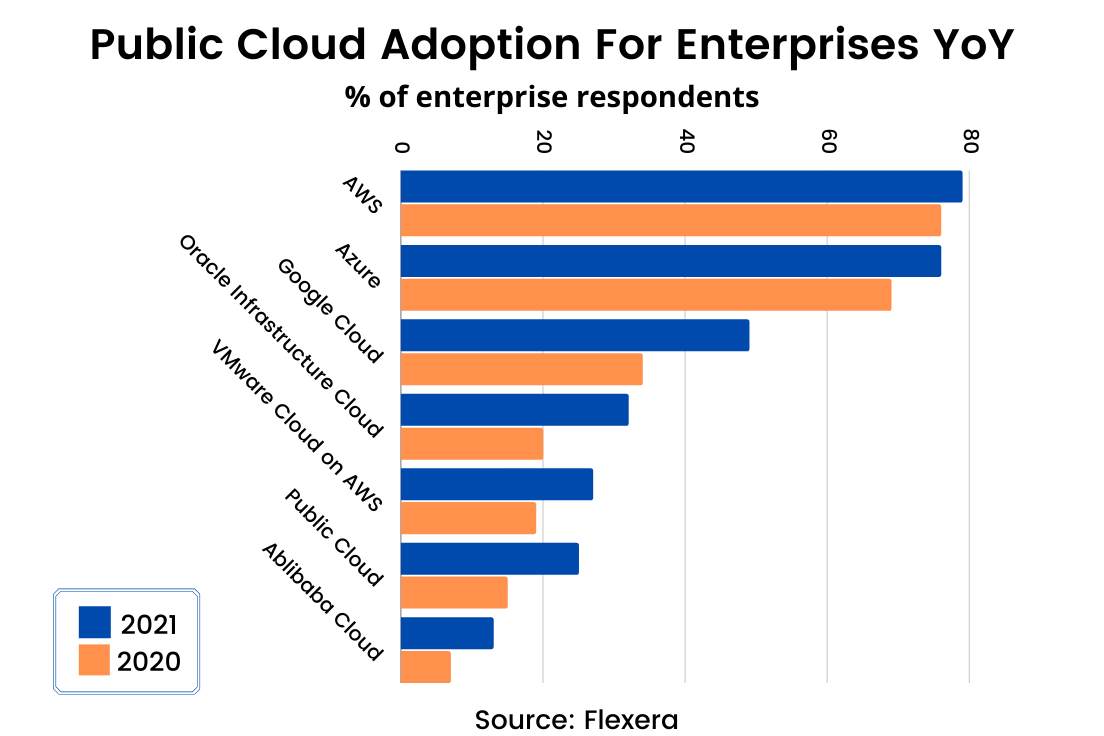 AWS Skills associates must have:
Programming skills in a variety of languages such as Java, Python, Ruby, PHP, and Node.js, etc
Cloud computing knowledge
Understanding of Lambda
Networking expertise
Other AWS services candidates should be familiar with include EC2 Instances, CodeCommit, S3 buckets, databases such as Amazon Aurora and DynamoDB, and API Gateway.
How iMocha can help you find skill-fit AWS candidates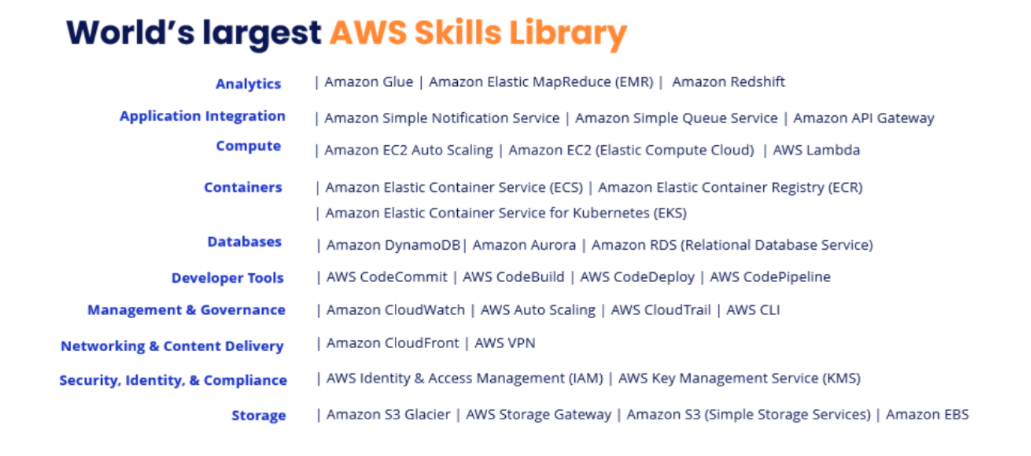 iMocha offers various skills assessments across different AWS Services that include analytics, application integration, compute, containers, databases, developer tools, management & Governance, Networking & Content Delivery, Security, Identity & Compliance, and Storage
Furthermore, the questions and the skills, as well as the question banks, are regularly updated to keep up with industry standards. We ensure that the customer always receives the most recent and updated questions and skills in the library. In addition, iMocha offers consulting services to understand the requirement and create custom skills and questions that are specific to the requirement.
To assess a candidate's or learner's technical skills and understanding, iMocha offers the following products:
Multiple Choice Questions A multiple-choice question (MCQ) is made up of two parts: the question or problem, and a set of alternatives or answers that include a key, which is the best answer to the question, and several distractors, which are convincing but incorrect answers to the question.
AI-LogicBox LogicBox(a patented offering of iMocha) is an artificial intelligence-based pseudo coding platform designed to assess programmers' logical and problem-solving skills.
Coding Questions iMocha has a wide range of question types to test the candidate's skills with many parameters. While screening for a developer role, you can test the coding skills of the candidate.
Code Replay With Code Replay, you can watch the video of code written by the candidate, view the compilation details, test case results, and memory usage. Each video timeline is plotted with hotspots that appear each time the candidate compiles a code. This will help differentiate good programmers from average programmers.
Live Coding Interview provides a hassle-free and seamless platform to conduct coding interviews by assessing the programming skills on the go in a real coding environment. It allows the interviewers to remotely recreate a coding interview environment that can help assess the programming skills in real-time.
Emerging AWS Job Roles
AWS Developer Engineer - is an IT professional who creates, maintains, and evolves an AWS cloud infrastructure for running applications
AWS Solutions Architect - responsible for managing an organization's cloud computing architecture
AWS SysOps Administrator - provides the necessary knowledge related to the working of cloud computing, IT, and business applications to improve service delivery
AWS Cloud Architect - is a cloud computing expert who designs the architecture of an organization's cloud assets and plans implementation of the design
AWS Cloud Engineer - is an IT professional who creates, maintains, and evolves an AWS cloud infrastructure for running applications
AWS DevOps Engineer - validates the ability to automate the testing and deployment of AWS infrastructure and applications.
AWS Security Engineer - works cross-functionally to assess risk and help deliver countermeasures that protect customers and company data
AWS Migration Engineer - they help in migrating workloads from on-premises environments to cloud, and vice-versa and hosting facilities
AWS Data Engineer - they design, build and operationalize large scale enterprise data solutions and applications using one or more AWS data and analytics services
AWS Data Scientist - they interpret the outcomes of data analysis, processing, and modeling to generate actionable plans for businesses and other organizations.
Also learn about the best AWS interview questions, here: AWS Interview Questions to Hire Experienced Professionals
Average AWS Professional salary in the US region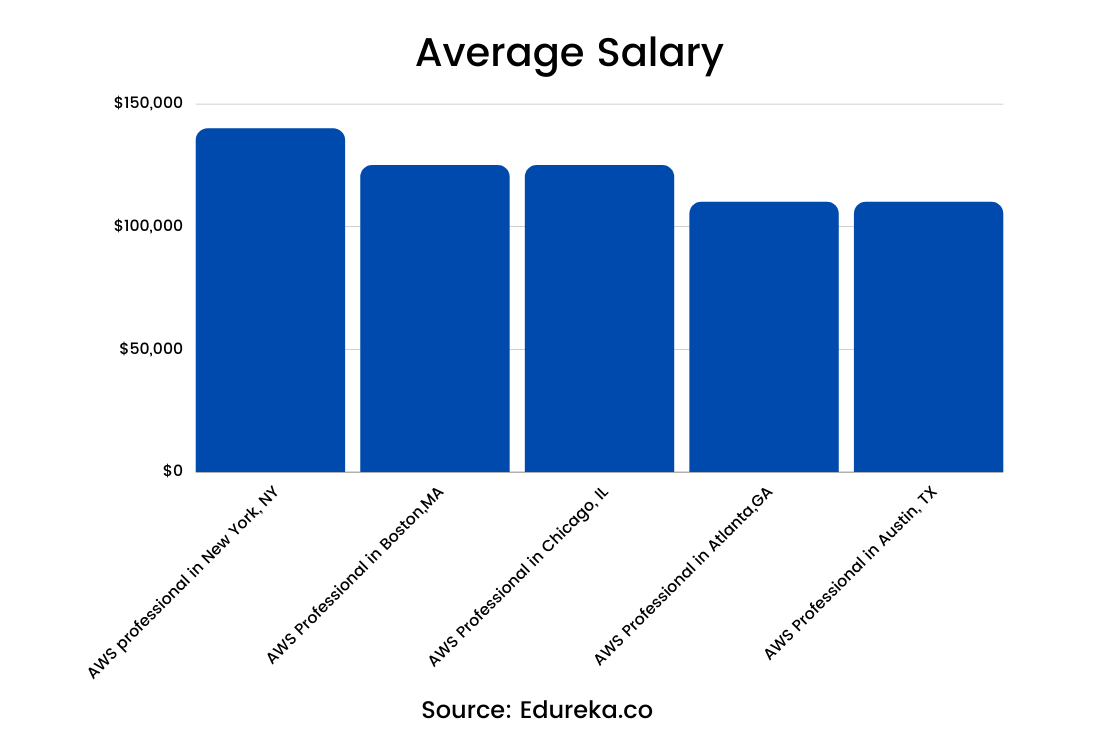 Conclusion
In today's market, where on-demand services are on the rise, Amazon Web Services (AWS) has emerged as a viable solution for businesses looking for cost-effective, scalable, and reliable cloud computing services. AWS is an excellent solution because it provides mature services and has a global reach. Hence, hire AWS engineers and use the AWS applications that include analytics, artificial intelligence, blockchain, and the internet of things (IoT).