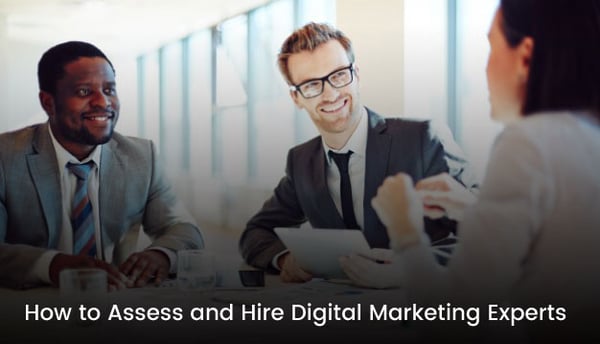 We have witnessed the revolution of marketing from traditional to digital. DM has brought change in promotion of products, services via different forms of digital tools and channels. It changes the power and position of firms in the market, generates data which can be used to tap target audiences. As every company's need is to hire digital marketing expert to handle its digital reputation and has strong grasp of current marketing tools, strategies to develop, implement, track and optimize digital marketing campaigns.
But, when it comes to choosing the best talent for digital marketing based on practical knowledge rather than skills being communicated verbally or listed in resume becomes bit difficult for recruiters. So to make a right hiring decision, l will tell you the skills required for digital marketing and ways to check them before hiring.
Digital Marketing Skills
Digital marketing is the process where marketing meets internet in order to spread relevant information to prospective & existing customers. It's a very vast field which includes SEO, content marketing, inbound marketing, social media marketing, Pay-Per-click (PPC), native advertising, marketing automation, email marketing, online PR.
To check and assess these skills you can take help of Digital Marketing assessment test specially created & validated for helping you to grab your next best hire.
Let's discuss each aspect of digital marketing in detail.
Social Media Marketing:
Social media platforms play a major role in brand awareness, opportunity to make new customers, and engaging acquired customers. To make the best use of these platforms to add to your revenue quotient, you must hire a social media marketer who will promote your products or services using various social media channels.
Below the skills that you must check in a social media marketing professional:
Fundamental knowledge of social media marketing tools
Hands on creating campaigns using Facebook, LinkedIn, Twitter etc.
Excellent analytical skills
Excellent writing and communication skills
Creative & Innovative thinking
Assessing these skills is a tough job. Single interview won't be enough to assess all the above mentioned skills of the candidates. So why not use the smartest way of testing candidates and avoid bad hiring? Use iMocha's below assessments to make right hiring decisions.
You can also use our below skill tests, if you are hiring a social media professional who will be working on a particular social media platform.
You can use the test to hire
Social Media Specialist
Social Media Analyst
Social Media Expert
Social Media Executive
Social Media Marketer
Social Media Consultant
These ready to use test questions are designed and validated by subject matter experts (SMEs). These latest & unique tests will help you to assess practical knowledge of candidate better & faster.
Google Adwords:
As we know, marketing world has changed drastically in recent years and Google is one of the most preferred search engine used for paid advertisement. Google Adwords helps you to target people who are searching information, products/ services that are most relevant to your business. A talented Adwords professional must be hired in order to plan, execute and monitor your paid ad campaigns.
Below are the skills in which you should test the candidate's expertise:
Able to create excellent ad copy
Ability to create ad campaigns (Search, Display, Remarketing, Video, Shopping ads)
Bidding Methods & Bid Adjustments
Keyword Research & Analysis
Basic knowledge of Google Analytics
To assess above mentioned skills, you can use iMocha's Google Adwords online test. This test is scientifically designed to help you evaluate the working skills of the candidate and make a better hiring decision.
Moreover, you can create a custom test where you will be able to add your own questions along with iMocha's latest & quality question banks to create the test as per your specific requirement. The tests make candidate testing super easy, gives detailed reports analysis which will lead to quality hire.
You can use this test to hire:
Google Adwords Expert
Google Adwords Specialist
PPC Expert
Search Engine Optimization (SEO):
SEO involves optimizing the content of the page in order to gain better rank on the search engine results pages (SERP). To get the website on the first page needs excellent SEO skills, huge efforts, and patience as it takes time to rank higher organically. Though it's tough & takes time, SEO efforts in right direction gives you the best results in long run. The more you appear in search results the more you get conversions. A study suggests that maximum number of users tend to click on the first three ads. So, to increase the click through rate you will need a skilled person, who can create a presence in the top positions for the keywords the user is searching.
Before considering a person for search engine optimization you can look for the following skills:
Keyword research and analysis
Submission strategies, planning & budgeting
Submission tracking
Critical thinking
Analytical skills
Excellent writing skills
A basic knowledge of HTML
Understanding of SEO tools like Webmaster, Keyword planner, open site explorer etc.
Which topics you need to look for while hiring a candidate for SEO?
On-page SEO : (Title Tags, URL Structure, Meta Description, Headings, Page Content, Image Text, Anchor Text)
Off-page SEO:(Guest Blogging, Q/A Link Building, Social Bookmarking, Blog Comments, Press Release, Forums, Article Submission, Profile links, Directory Submission, Resource Pages)
iMocha's SEO skills test, designed and created by industry experts, is the best choice to assess search engine optimization skills of the candidates. If the candidate is not comfortable in giving the test in English then you can use the option of multilingual support platform to create a test in a language in which the candidate is comfortable with.
You can use this test to hire:
Search Engine Optimization Executive
Search Engine Optimization Expert
Search Engine Optimization Consultant
Search Engine Optimization Analyst
Content Marketing/Writing:
Content writing is a technique where content is created and distributed for providing relevant & interesting information to target audience. The content marketer or writer is responsible for developing a way of communication with customers in order to get traffic, customer engagement and conversions.
So, while choosing a candidate for content marketing, look for following skills.
Excellent Communication Skills
Excellent Writing Skills
Basic Understanding of SEO & Inbound Marketing
Analytical Thinking
Creative and innovative thinking
If you are going to hire a content writer to promote your products or services, then you need to assess above mentioned skills through iMocha's Content Writing skills test. Because while interviewing, you cannot judge whether the candidates really have skills required for the job position and it's very difficult to verify what they have communicated is true. This test will give you opportunity where you can practically assess the above mentioned skills of candidates. It gives you detailed analysis of the test to choose a perfect fit for the job position.
You can use the test to hire
Content Writer
Blogger
Content Developer
Google Analytics:
Google analytics is the best tool to take your marketing strategies to the next level as it builds a bridge between your marketing activities and business goals. Getting impressions and customer engagement are crucial factors, but analyzing what business you have drawn from strategies, campaigns, on-page, off-page activities is also equally important. It helps you to monitor the effectiveness of your online marketing strategies, onsite content, user experience and device functionality.
To know the outcome of all your marketing efforts and analyzing its performance you need to hire a professional who possesses following skills.
Business acumen
Problem solving skills
Data visualization skills
Adaptive skills
Understanding Bounce rate
Understanding of traffic driver
Traffic analysis
Hands on Google analytics tool
Acquisition & behavioral reports
Goal setting and conversion
Evaluation of these skills of candidates is very important for recruiters and hiring managers. It gives them a fair idea about who is suitable for the post and who is not. Because candidate can say a lot more about Google analytics but to check the practical knowledge of him/her is must before hiring.The problem does not end here; the real challenge is how to check the skills before conducting interview?
Let's see the best solution for this. iMocha's Google Analytics assessment test will not only help you to assess above mentioned skills but to choose a right & experienced candidate for your organization.
You can use the test to hire
Google Analytics Consultant
Google Analytics Specialist
Google Analytics Analyst
Google Analytics Expert
Assess and hire expertise for other domains by using our recruitment assessment tool to make the hiring process better & precise. We have the largest inventory of skills assessments to enable you to evaluate candidates based on their practical knowledge.
Are you trying to make your recruitment process better and faster?
Check out our comprehensive guide on Pre-employment Testing.
This guide will walk you through the use, benefits, common mistakes, and best practices of pre-employment tests in detail - for employers as well as for candidates.