Acquiring the best-suited talent for an organization is the most crucial yet arduous task. And who does that? The HR management solely. Due to this, HR professionals face immense pressure to find, connect and acquire candidates to fill open positions for their organizations.
But these open slots cannot be filled by traditional hiring methods of using pen paper and piles of documentation; the latest skills demand advanced technology for efficient and accurate evaluation.
Are you aware that 70% of job seekers use their smartphones to find work? No?
Well then, it's high time the management gets woke to hire the latest skill-oriented candidates. The recruitment industry has shifted quickly to software and apps over the past few years (less than a decade). Gone is the time when job-seekers applied for jobs via advertisements or pamphlets.
Recruitment Apps are the only future of the hiring industry, says the latest demographics. Yes, the recruiting software market is reportedly worth $1.5 billion today.
iMocha is one of the best recruitment apps that can assist recruiters in hiring top talent from the vast talent market. Its advanced technology like live coding interviews, patent AI-Logicbox, and an extensive library with 2500+ skills to support its upskilling and reskilling portal is built to accomplish all your hiring needs at once.
Moreover, we have listed the top 14 recruitment apps to assist you in finding skilled and relevant candidates among the vague talent pool.
Best Recruiting Apps
1. LinkedIn Recruiter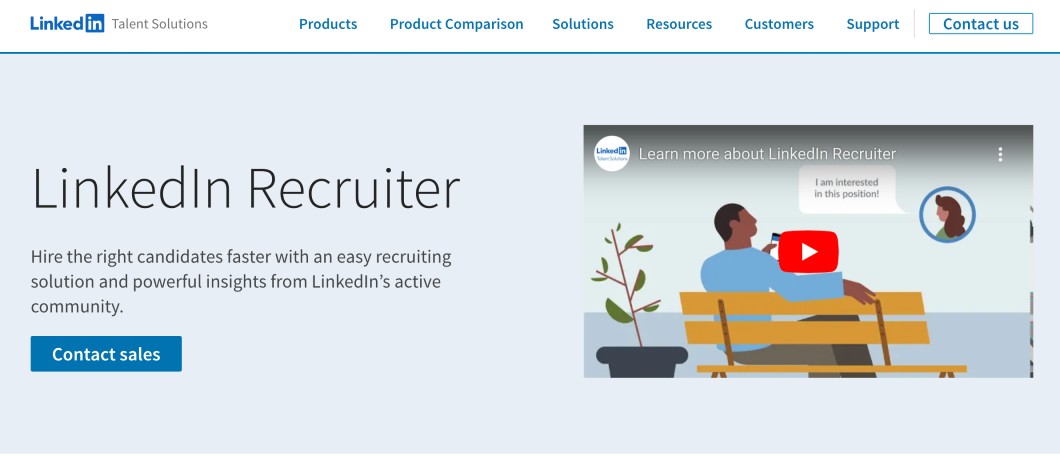 Founded in: 2003
Founded by: Reid Hoffman Eric Ly
Free Trial: Not Available
Pros:
LinkedIn Recruiter is one of the best recruitment apps, which has the highest number of active candidates

The software has the most effective filters, allowing you to find suitable candidates from anywhere worldwide. Hence it is a single platform for global hiring

LinkedIn is a social media to interact and expand corporate networks. However, it is more of a professional and productive network, which is fully automated and integrated with some of the best platforms for recruitment, such as Greenhouse
Cons:
Searching for candidates using Boolean algorithms is complicated and does not show appropriate results every time

No resumes are attached to the profiles

It does not allow the recruiter to add their required skills; only the ones added in the databases have to be used
Clients: Nestle, Amazon, Dropbox, SIEMENS
Pricing: $899.95/month
G2 Rating: 4.4/5 (264 reviews)
2. Monster
Founded in: 1994
Founded by: Jeff Taylor
Free Trial: Yes
Pros:
Monster is one of the best recruitment apps. It's effortless to search and contact candidates at Monster

This recruiting application is helpful to source candidates based on particular location and industry

Its job posting is very efficient and sends immediate alerts whenever candidates submit an application for an open position
Cons:
The user interface is intuitive

Monster is filled with lots of candidates with outdated and less active profiles

Filters are not effective
Clients: Paul Wurth, Tata Consultancy Services, Ananth Technologies, Ybrant
Pricing: $249/year
G2 Rating: 3.9/5 (99 reviews)
3. Glassdoor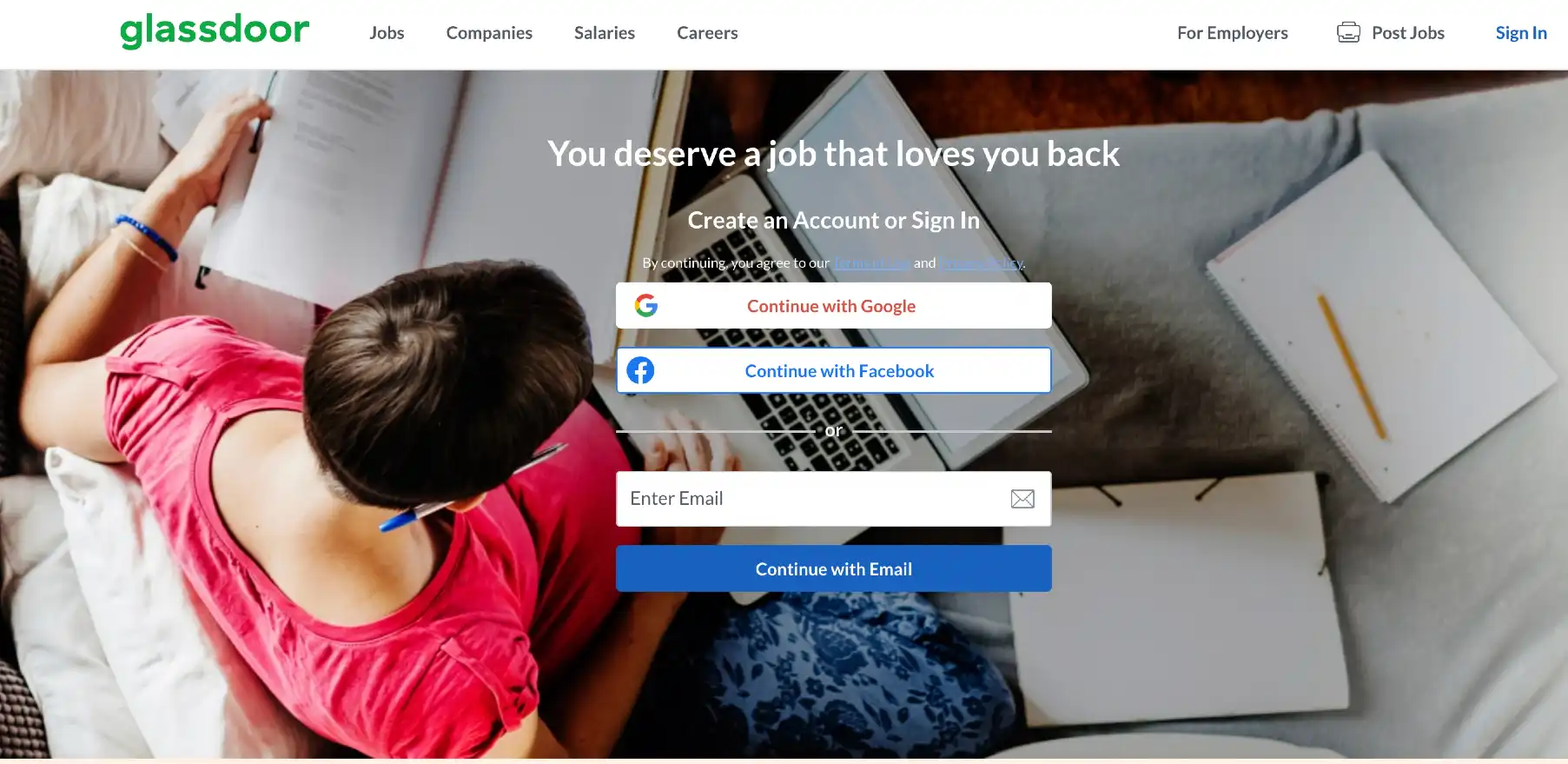 Founded in: 2007
Founded by: Rich Barton & Tim Besse
Free Trial: Not Available
Pros:
The content at this mobile recruiting app is organized, giving you access to information about the company, accolades, employees, culture, diversity, etc. To showcase films, images, testimonials, etc., you can also upload multi-media content

This best recruiting app gives a "behind the curtains" look at many businesses, especially in terms of how management works with staff, the overall company culture, pay, and benefits

It makes it simple to compare various businesses' work cultures and values
Cons:
A lot of fake reviews are put by the company itself to show a good image to the world

Even staff reviews are biased, so they are not always accurate
Pricing: Not disclosed publicly
G2 Rating: 4/5 (91 reviews)
4. Indeed Job Search

Founded in: Paul Foster & Rony Kahan
Founded by: 2004
Free Trial: Available
Pros:
By boosting the sourcing of quality applicants for essential jobs, this mobile recruiting apps contributes to increasing productivity

Indeed representatives train you on the dashboard, upcoming webinars, etc.

The user interface is swift and has a tonne of useful features that make using it simple
Cons:
Indeed Job Search is one of the most expensive recruiting applications

Its analytical dashboard is not easy to understand and customize

The software does not have any feature to auto-fetch the downloaded resumes directly to the ATS
Pricing: $150/user
G2 Rating: 4.2/5 (495 reviews)
5. Freshteam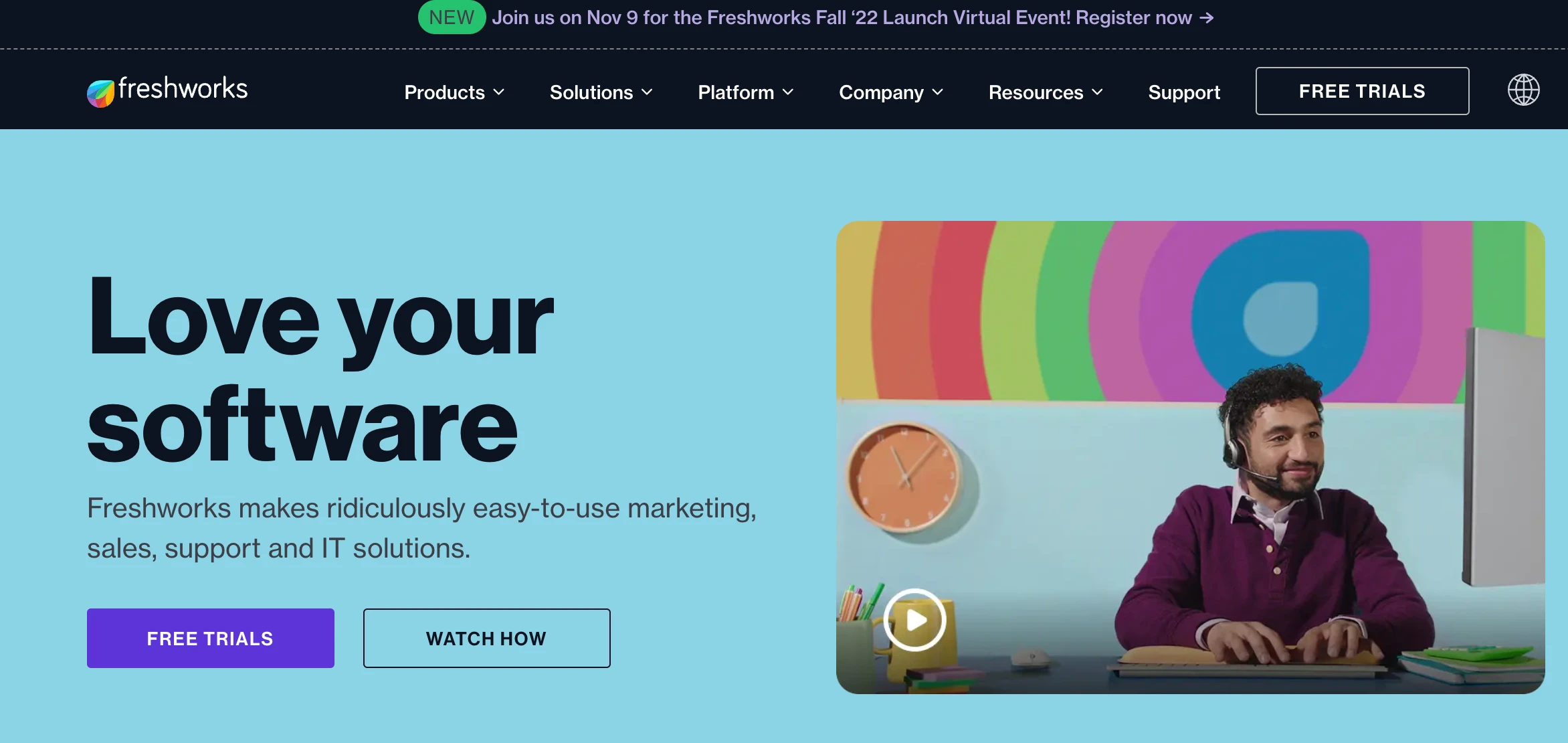 Founded in: 2011
Founded by: Girish Mathrubootham
Free Trial: Yes
Pros:
The talent management process of this is one of the top recruiting apps is based entirely on analytics

All recruitment phases can be automated with this top recruiting app

It allows you to manage basic tasks like tracking personal time off, even with the free version.
Cons:
The customer support team is unresponsive.

Posting a job and tracking applications are complicated at Freshteam

The UX/UI of this recruiting tool is unintuitive.
Clients: Travix, Pearson, VICE media group, Fiverr., exabytes, multichoice
Pricing: $0/month
6. Calendly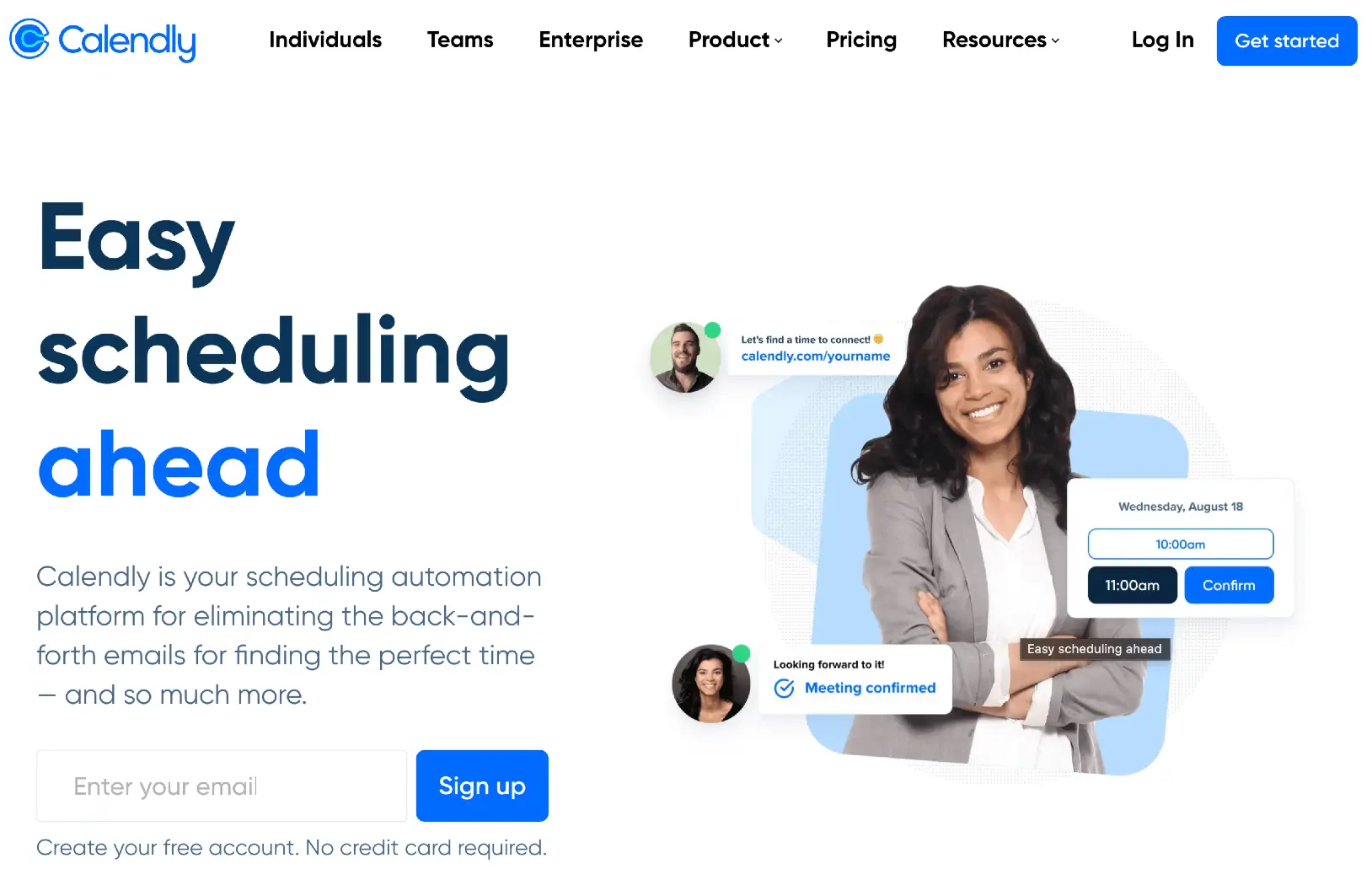 Founded in: 2013
Founded by: Tope Owatonna
Free Trial: Available
Pros:
It enables users to create multiple event categories with various goals so that customers are aware of what they are signing up for

Calendly is the best recruitment app that automatically notifies users of upcoming events

It immediately synchronizes with Google Calendar, Outlook, and Zoom to discover open meeting times, and then schedules meetings following those times
Cons:
Customer support does not respond

It does not integrate with the team messaging app

No Indian payment getaway is available
Clients: Dropbox, Twilio, eBay, compass, benefits
Pricing: $ 0/month
G2 Rating: 4.75 (1455 reviews)
7. iCIMS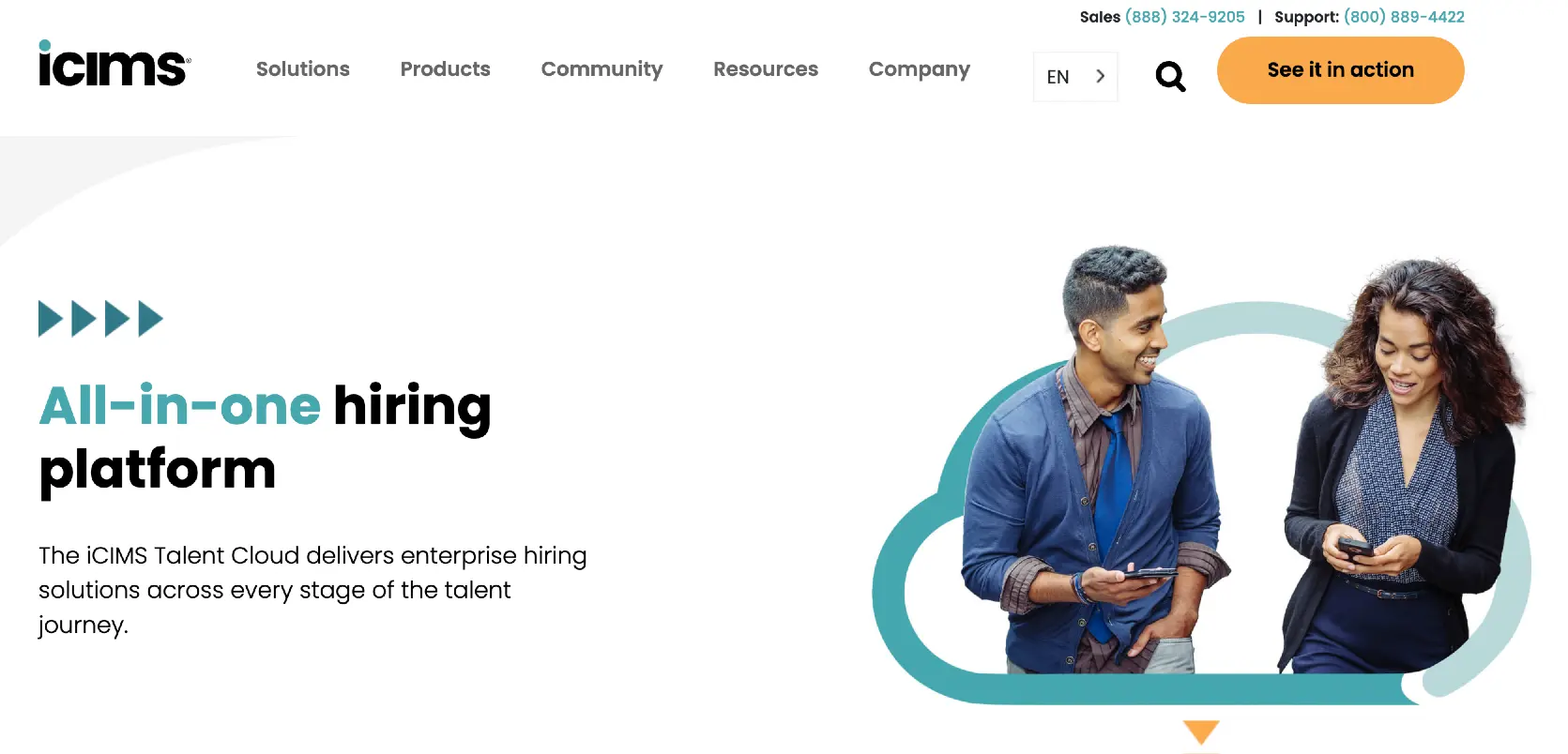 Founded in: 2000
Founded by: Colin Day
Free Trial: No
Pros:
A number of insightful features are available in this recruitment app, including text engagement, Teams integration, job postings, and social distribution, which streamline the recruitment process for recruiters and candidates alike

With iCIMS, you can store and retrieve the information of both active and passive job seekers

This one of the best recruitment apps lets you analyze the progress of a candidate profile from beginning to end and identify any significant drops offs
Cons:
There are limited self-service options, so most things cannot be customized from the user's end, but must be dealt with by customer service.

It is prone to glitches and slowdowns due to its large amount of data

ICIMS's UI/UX is outdated and overwhelming at times
Clients: intel, Amdocs, Intuitive, Pepsico, Sun Life
Pricing: $1700/month
G2 Rating: 4.0/5 (479 reviews)
8. Smart Recruiters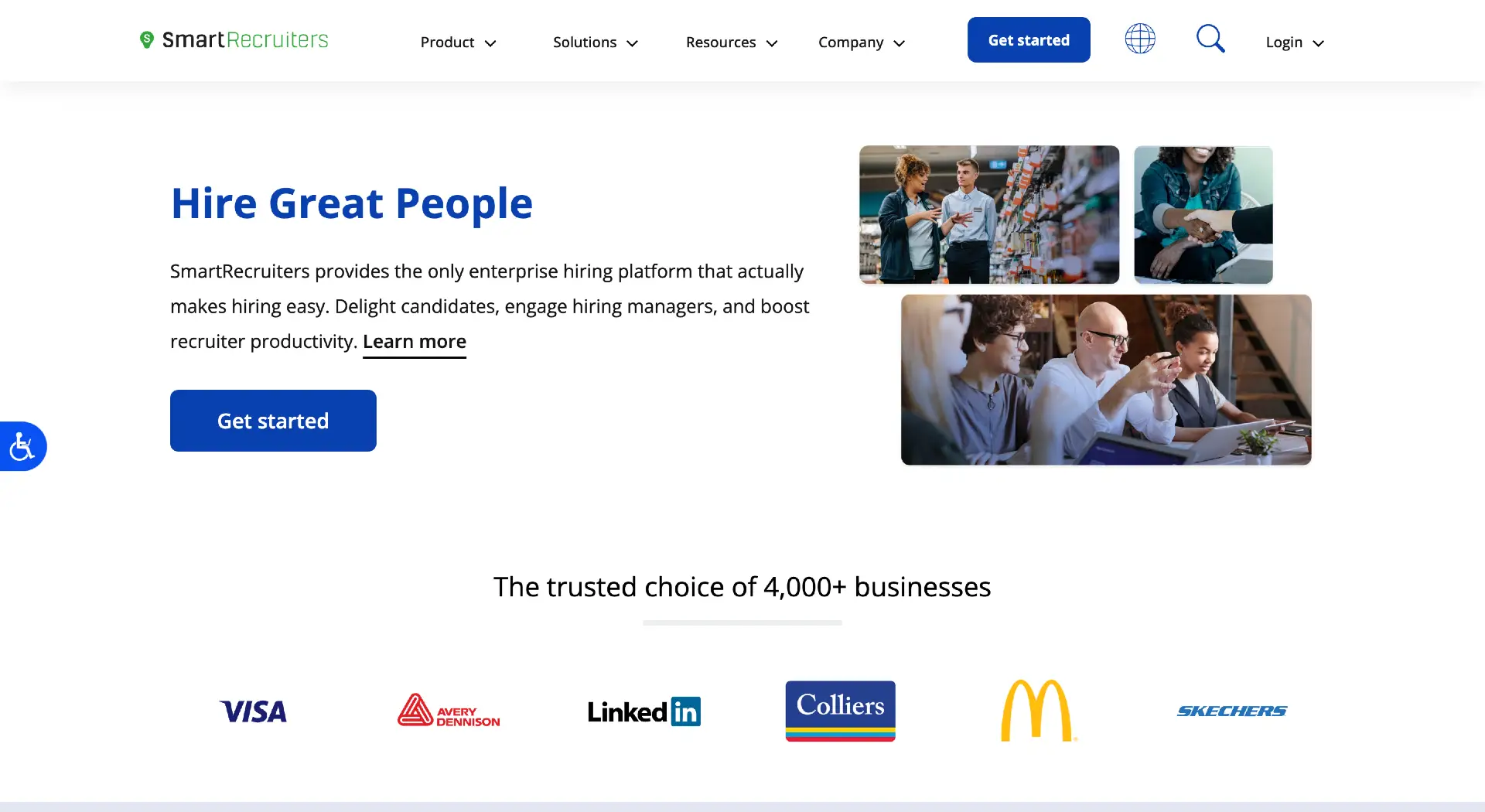 Founded in: 2010
Founded by: Jerome Ternynck
Free Trial: Yes
Pros:
It allows the recruiter to review candidates, add grades or ratings, pass the review to another reviewer, or return the review to the H.R. team

It enables hiring teams to communicate and have complete access to the candidate pool during the hiring process

This top recruiting app provides the functionality of creating email correspondence templates
Cons:
It is not well integrated with other platforms

SmartRecruiters does not have any feature for self-scheduling interviews

It does not automatically contact candidates after a job application
Clients: Equinox, Avery Dennison, VISA, LinkedIn, Skechers
Pricing: On request
G2 Rating: 4.3/5 (439 reviews)
9. Breezy H.R.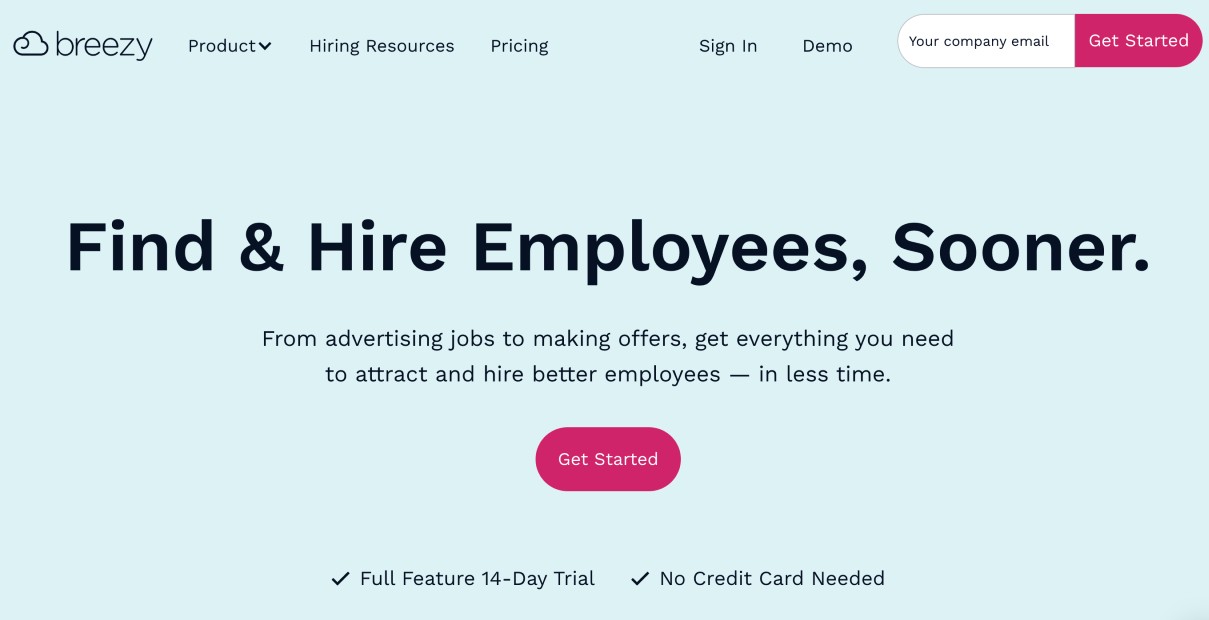 Founded in: 2014
Founded by: Darren Bounds
Free Trial: Yes
Pros:
For a new HR manager, the user interface is very intuitive and easy to use

It gives access to additional services like Facebook Ads and LinkedIn postings.

Breezy H.R. lets managers quickly build new pools to keep the database organized
Cons:
Breezy H.R. sends notifications to hiring managers only and not the other stakeholders

It does not have video conferencing embedded in it
Clients: Booster, Docebo, dodge data & analytics, dollar eight clubs, elevation church
Pricing: Starting from $0
G2 Rating: 4.4/5 (526 reviews)
10. Recruitee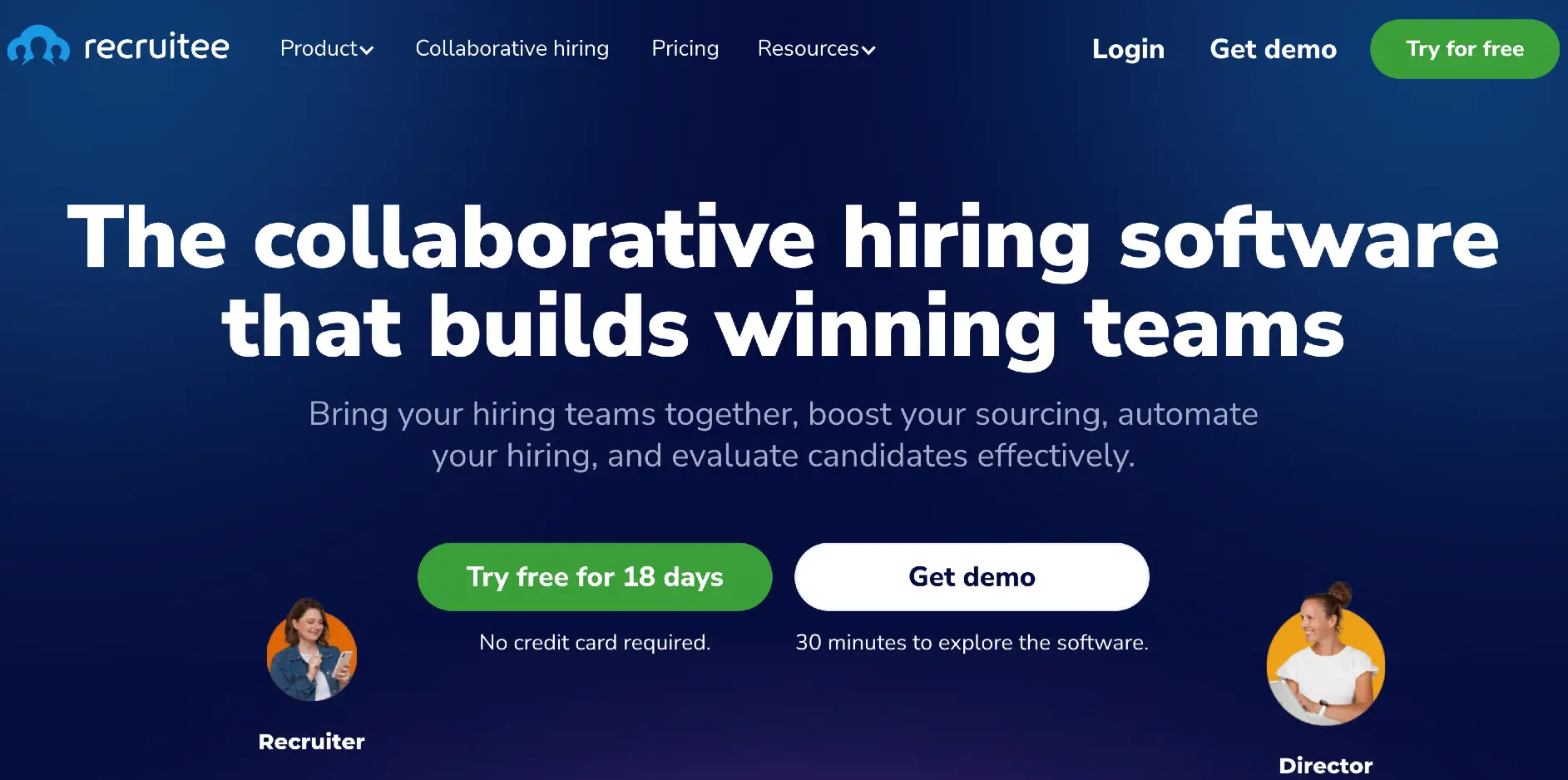 Founded in: 2015
Founded by: Pawel Smoczyk and Perry Oostdam
Free Trial: Available
Pros:
Recruitee is one of the best recruitment apps that improve your workplace's overall functionality and workflow. It allows you to add comments in a candidate profile candidate's or even pass them over to someone else in the ream for review or discussion

It allows the easiest cataloguing and filtering of candidates among vast talent pools

It is easy to create custom pipelines for your positions with Recruitee
Cons:
You can only invite them via; does not have links

Recruitee is one of the most expensive recruiting applications

Job posting takes a lot of time here
Clients: hotjar, TaskHuman, M&S, Staples, Framestore, Transcom
Pricing: $109/month
G2 Rating: 4.5/5 (337 reviews)
11. Workable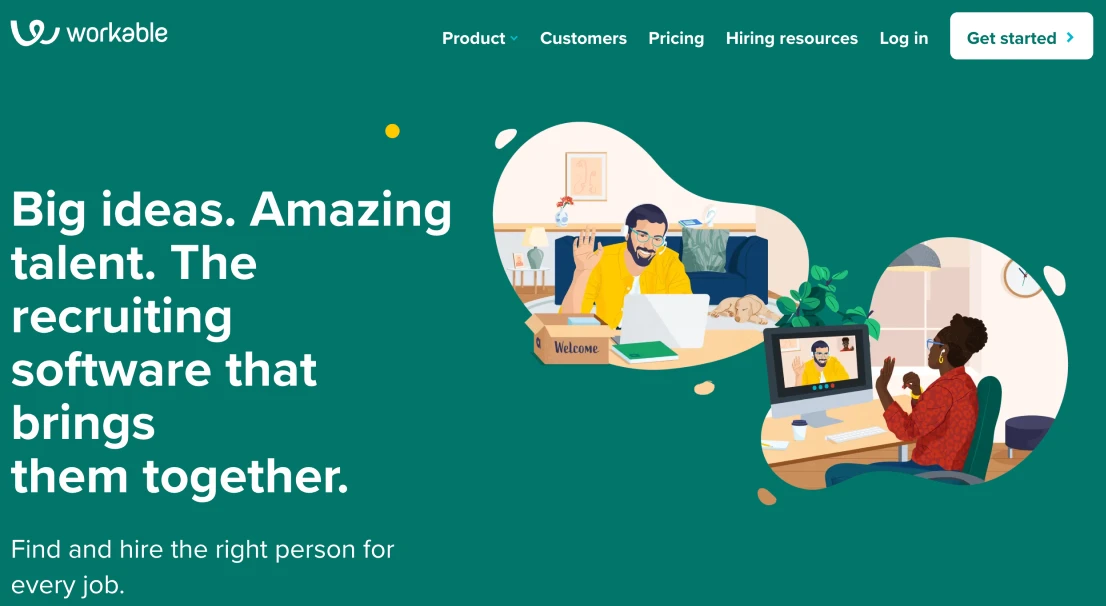 Founded in: 2012
Founded by: Nikos Moraitakis and Spyros Magiatis
Free Trial: Yes
Pros:
The platform automatically branches out a single post to several different companies making it one of the best recruitment apps

Workable provides a shared space for hiring managers and team members to collaborate in an efficient manner

The software has effective integration with Outlook, Zoom, and Teams for accessible communication and interview scheduling
Cons:
It does not allow the recruiter to add a title while setting up an invite email template

Customer support is hardly available over call; you have to contact them via mail

Reports/analytics functionalities are not customizable
Clients: dribble, moodle, LYST, bevi, bulb, Deposit Solutions
Pricing: Varies from $129 - $559/month
G2 Rating: 4.6/ 5 (365 reviews)
12. Vincere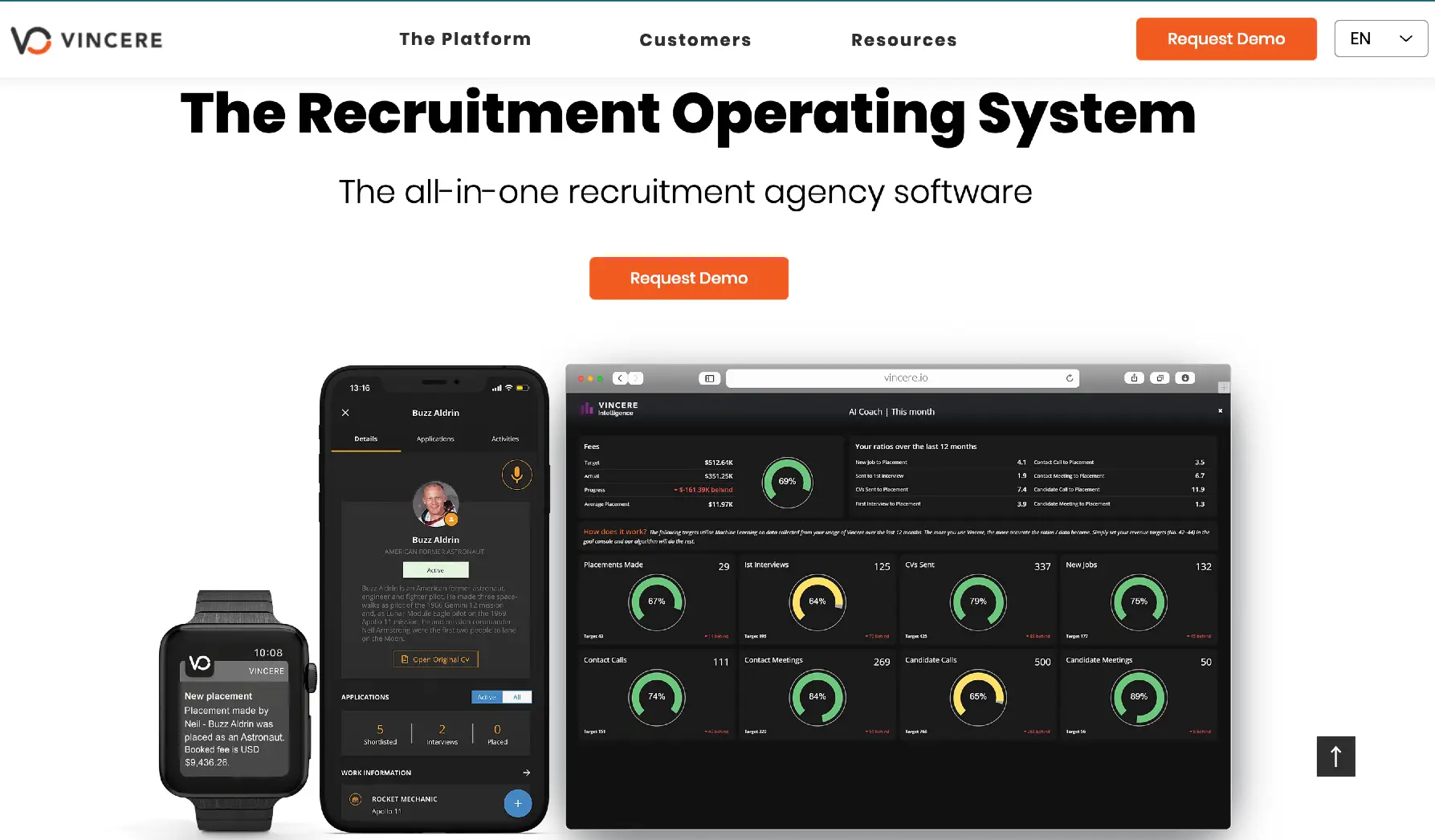 Founded in: 2015
Founded by: Bernie Schiemer
Free Trial: Not Available Pros:
This best recruiting app has some refined automation capabilities that make it easier for recruiters to contact candidates, perform procedures, and interact with LinkedIn

The software is affordable to all

Vincere allows you to run a free text search from any page and get accurate results
Cons:
The system is click-intensive and prone to bugs and problems

The software is not customizable enough

It does not integrate with job boards properly
Clients: Tempting ventures, zitko, prime., Halcyon Knights, the pond
Pricing: $39/month
G2 Rating: 4.6/5 (375 reviews)
13. Bamboo H.R.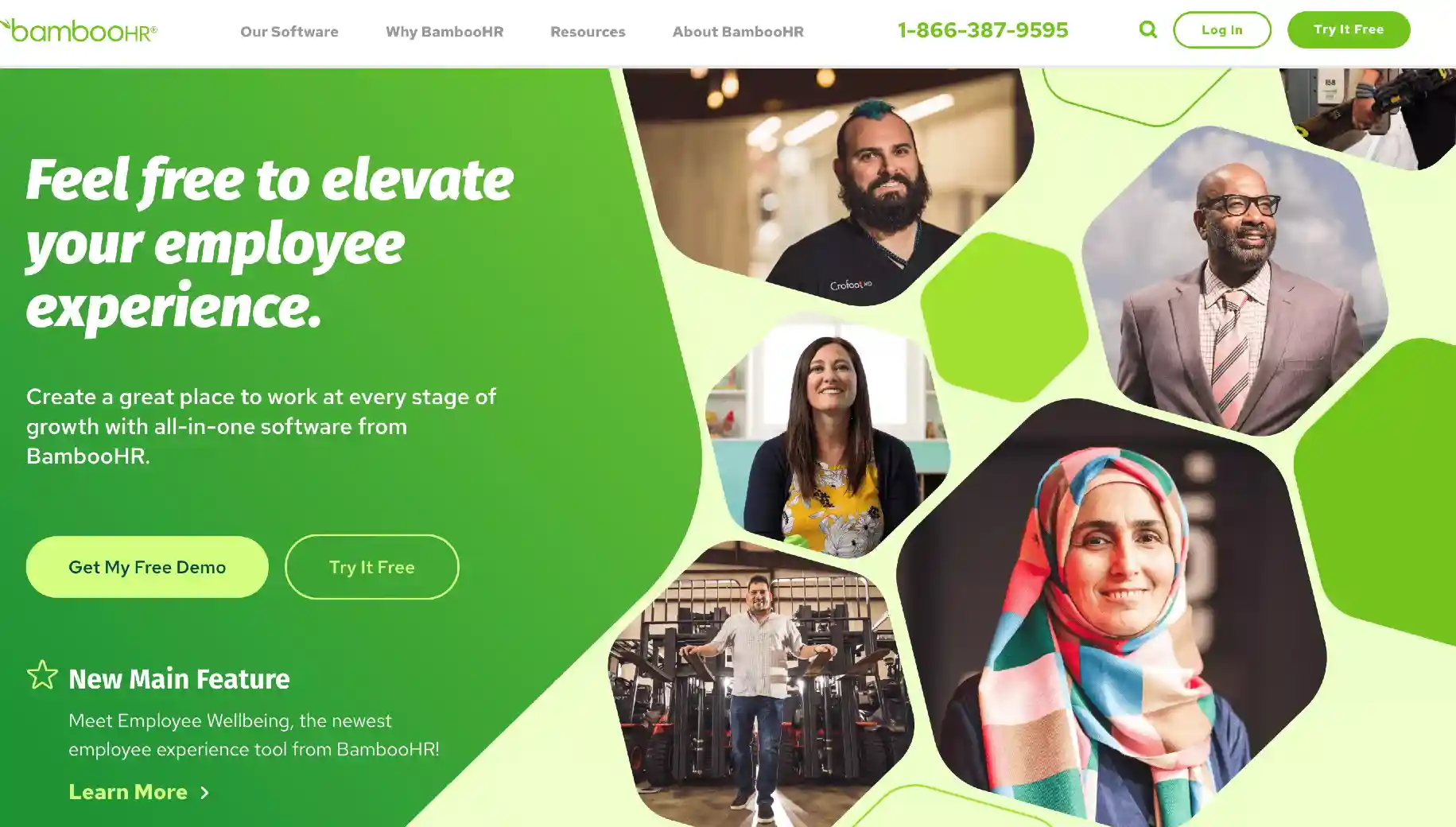 Founded in: 2008
Founded by: Ben Peterson & Ryan Sanders
Free Trial: Available
Pros:
This mobile recruiting app is easy to use for both candidates and H.R. managers

The software provides easy access to crucial information and on-point reporting

It allows users to access their r-learning platform to understand the application
Cons:
Setting up leave management policies is complicated

Bamboo H.R.'s customization is tedious and time-consuming

It does not allow the users to edit titles like job titles, locations, etc.
Clients: Wistia, Community Counselling, Gravy Analytics, Civtec, Haiti
Pricing: $ 8.75/month
G2 Rating: 4.5/5 (1239 reviews)
14. ZipRecruiter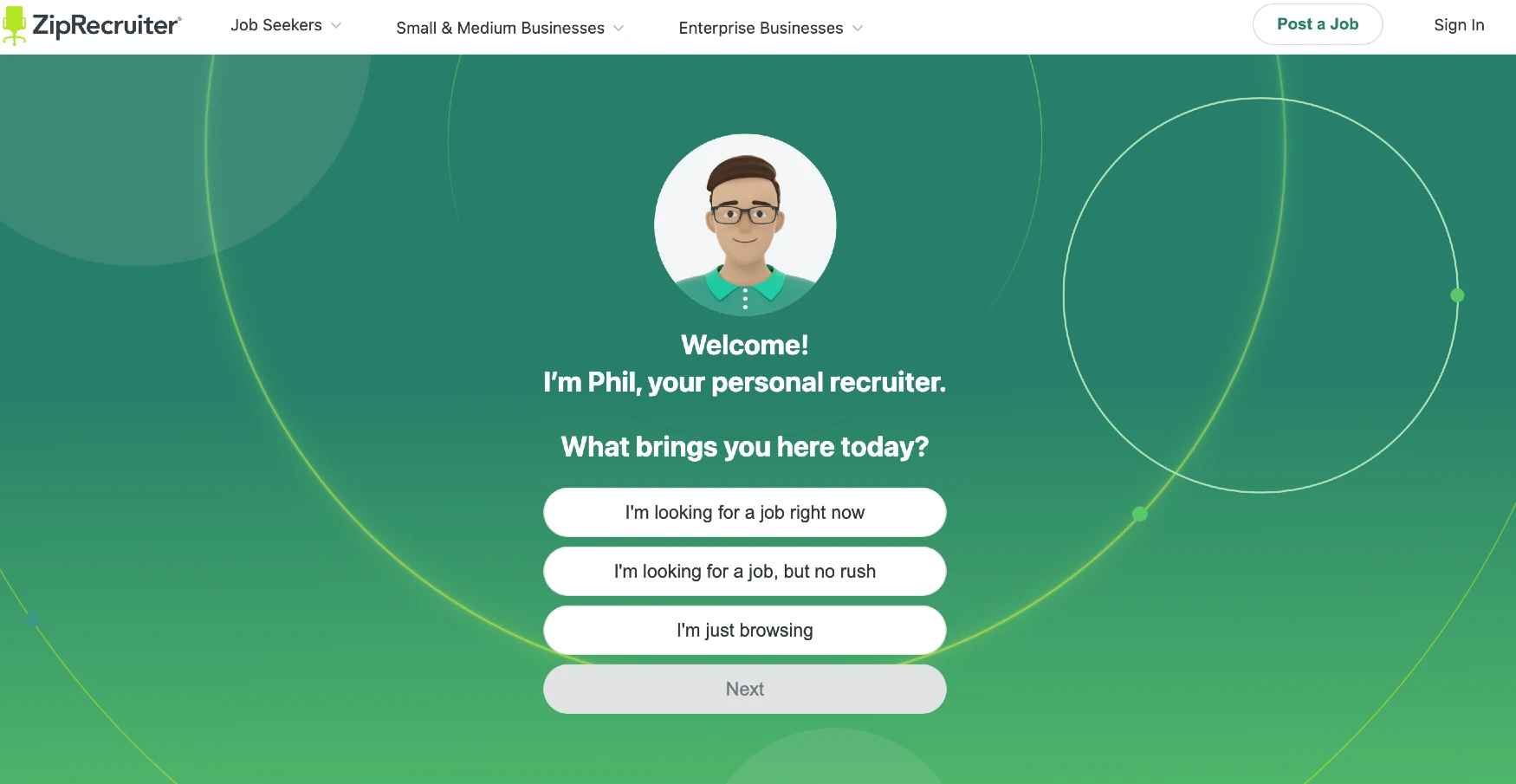 Founded in: 2010
Founded by: Ian Siegal & Santa Monica
Free Trial: Available
Pros:
Zip Recruiter offers a great 1-click application that makes it easy and quick to move through the application process

The search filters probably makes ZipRecruiter one of the best recruitment apps; they are efficient and require no efforts

Zip Recruiter is one of the most effective mobile recruiting apps. It's job posting tool offers quality and most accurate results within no time
Cons:
ZipRecruiter is an expensive tool

It does not have integration with large job boards such as Indeed

They sent too many spams mails
Clients: SPB, Lids, Mercy, MVT, Hobby Lobby
Pricing: Not disclosed publicly
G2 Rating: 4.7/5 (848 reviews)
FAQs
What is a recruiting app?
A recruiting app is a mobile platform to establish communication between employers and job seekers on an accessible platform. It covers all stages of the hiring process—for example, iMocha, CareerBuilder, Monster Jobs, etc.
Why do companies need recruiting apps?
The best recruitment apps are effective in streamlining operations and procedures and boosting hiring quality. Hence, companies use recruiting apps to advertise job openings, find qualified applicants, and hunt for employment.