On average, recruiters take 40 days to fill a single position. They swift through thousands of applications, screen relevant candidates, send assessments, schedule async and live interviews, conduct background checks, and finally onboard them. The process is time-consuming, repetitive, and in dire need of automation.
That's where HR tech comes in; various software platforms are available now that can help you automate the process, reduce the effort required to hire a single candidate, and save time to hire per role. They also help you identify the most relevant and skill-fit candidates to avoid bad hires.
But how do you choose the right recruiting tool for you amid so many options? To make your decision a little easy, we have compiled a list of the best recruiting toolsthat would streamline your hiring process efficiently.
Best Recruiting Tools
Hiring the best talents is not a one-person job but a collective effort. To streamline this multi-layered process, expert recruiters rely on efficient digital tools. To better understand the dynamic, we have updated this listicle from top 10 recruiting tools to top 20 by categorizing it into five different types.
#1 Recruitment Assessment Tools



1. iMocha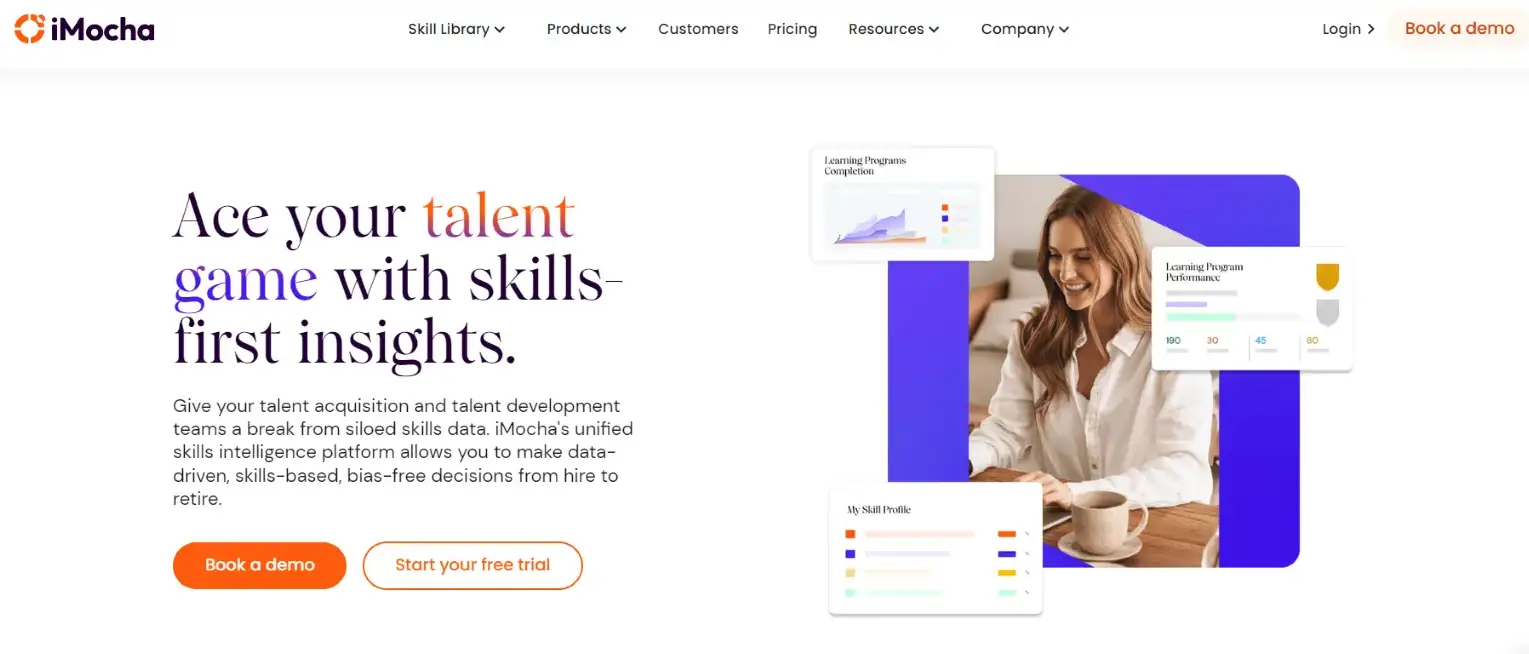 Even among the best recruiting tools, iMocha provides a rare range and efficiency. Notable clients of this platform include Capgemini, PayPal, Deloitte, and many more. It has the world's most extensive skill assessment library with 2500+ skills assessments, which include 690+ IT skills, 66+ Next-Gen skills, 25+ Coding languages, 77+ Domain skills, 20+ Cognitive tests, and much more.
The "live interview" feature allows recruiters to eliminate multiple screenings and test the candidate on the spot. The patented AI-LogicBox helps you evaluate the coding competencies for languages online compilers are not available.
Candidates, too, enjoy taking assessments on iMocha platform because of the various innovative question types and friendly interface. iMocha helps reduce time-to-hire, cost-to-hire, and reduce dependency on hiring managers.
Pros:
Patented tools and question types to engage candidates

Outstanding customer service

World's largest skills assessment library

Accurate analytic reports with information on candidate and organizational level
G2 Crowd Rating: 4.4 (157 reviews)
Pricing: Provides customizable pricing features for companies of all sizes
2. GoodHire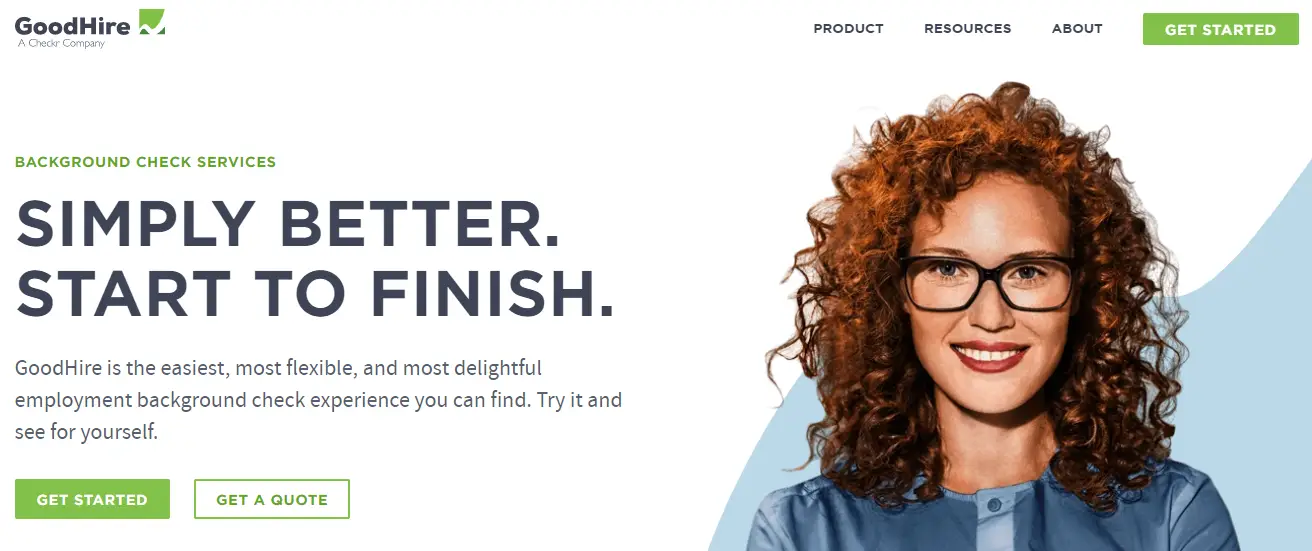 Trusted by more than 100,000 employers, GoodHire provides a flexible and smooth way of candidate background checking and candidate assessments. The setup process is quick and simple. The platform automates many common and repetitive workflows, saving you time and energy.
The comprehensive dashboard provides at-a-glance results, progress, and status updates. It also allows your candidates to access and view their results in the same simple, mobile-optimized format available on the platform.
Pros:
Simple and aesthetic user interface.

Excellent customer support

Value for money
Cons:
Report generation may be slow

Emails don't disclose all the information
G2 Crowd Rating: 4.6 (267 reviews)
Pricing: Basic package of GoodHire starts at $29.99 per month.
3. Vervoe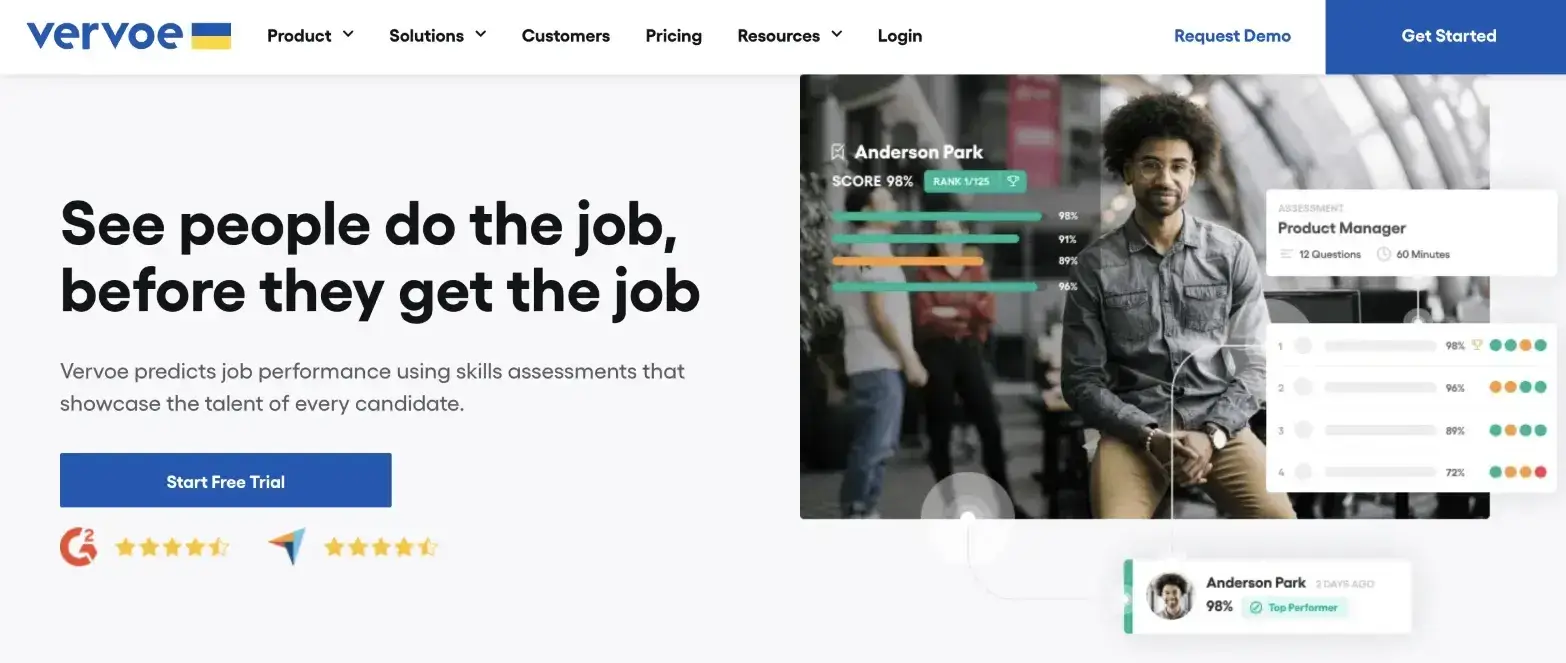 Since its inception in 2016, Vervoe has stood out because it focuses on candidates' competency, not their background. This platform goes beyond skills tests and challenges your candidates with more than ten immersive questions. Vervoe provides technical and soft skills screening and helps you identify top-performing candidates from your pool of applicants.
Pros:
Ease of tracking applicants and moving them from one process to another

User-friendly software

Customizable screening system
Cons:
The user interface slows down at times

The system from the candidate's side often malfunctions

Customer care response is low and unsatisfactory
G2 Crowd rating: 4.6 (48 reviews)
Pricing: Subscription charges are available on request. It also provides a free demo.
4. TestGorilla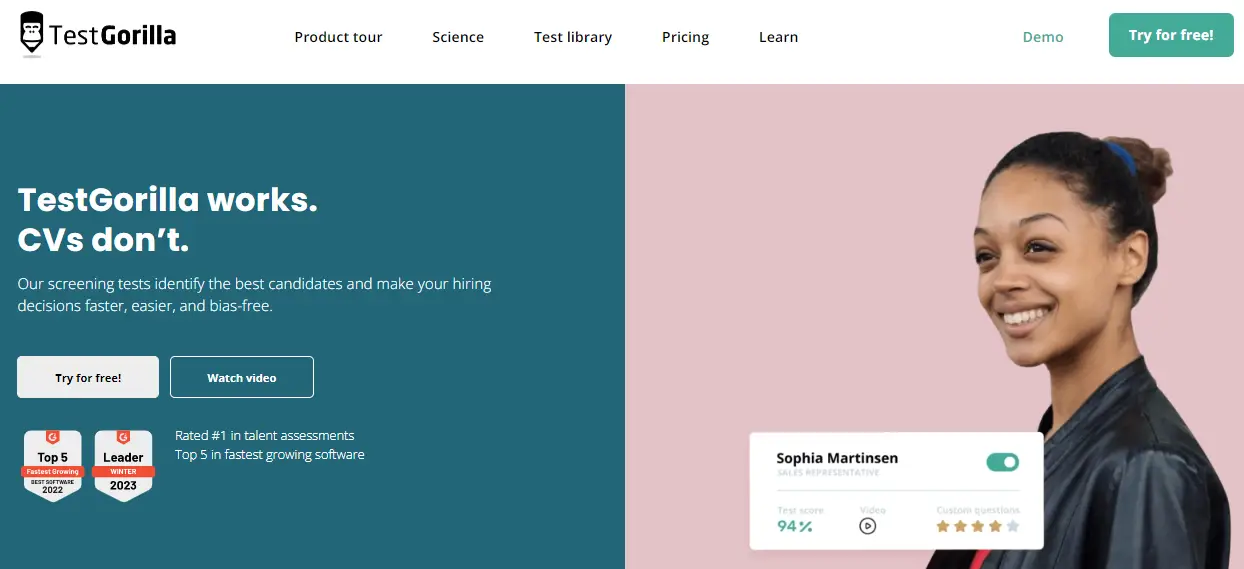 Serving more than 6200 clients worldwide, TestGorilla provides you with tools to screen your candidates and predict on-the-job performance. Their test library includes cognitive ability tests, programming tests, software skill tests, personality tests, culture add tests, language tests, and more.
Pros:
Helps you make objective, unbiased hiring decisions

Suitable for recruitment campaigns and businesses of all sizes

Helps predict real-world job performance
Cons:
Has relatively few integrations with other HR tools

No customization or company-specific test from scratch

No monthly subscription plans
G2 Crowd Rating: 4.5 (814 reviews)
Pricing: The platform has three paid subscriptions – pay as you go, scale, and business, starting at ₹1,600 per month. Apart from paid packages, TestGorilla also has a free version.
#2 Candidate Sourcing Tools
1. Indeed.com

Indeed is the US-based vertical search engine and recruitment advertising network, serving 250 million unique visitors every month. It allows recruiters to post job details and search for candidates per their specific requirements. Currently, Indeed is the #1 Job site with the highest traffic in the USA. The platform includes an activity dashboard, applicant tracking, application management, assessment management, candidate management, invoicing, etc.
Pros:
Easy-to-use interface with separate tools for job listing and candidate scanning

Massive database

Excellent customer service
Cons:
Crowded with similar posts

The considerable lag between the time of application and email notification
G2 Crowd Rating: 4.2 (485 reviews)
Pricing: Indeed.com offers three packages – small business, mid-market, and enterprise. Price is available on request.
2. LinkedIn

Probably the most popular networking site, LinkedIn supports a vast network of more than 560 million members. 90% of the LinkedIn crowd are potential job candidates. The platform acts like a professional social media platform with features like job aggregators. LinkedIn also provides recruiters with several tools to optimize their career page, target candidates with ads, and communicate with prospective candidates.
Pros:
Targeted search that can help you identify the right candidates

A free basic account with a decent set of features

Efficient keyword features
Cons:
Spam connection requests

Privacy concerns

The premium version is costly
G2 Crowd Rating: 4.5 (827 reviews)
Pricing: LinkedIn offers 1 month's free trial. It provides four subscriptions: career, business, sales, and hiring. Packages range from $29.99* per month to $99.99 per month.
3. Entelo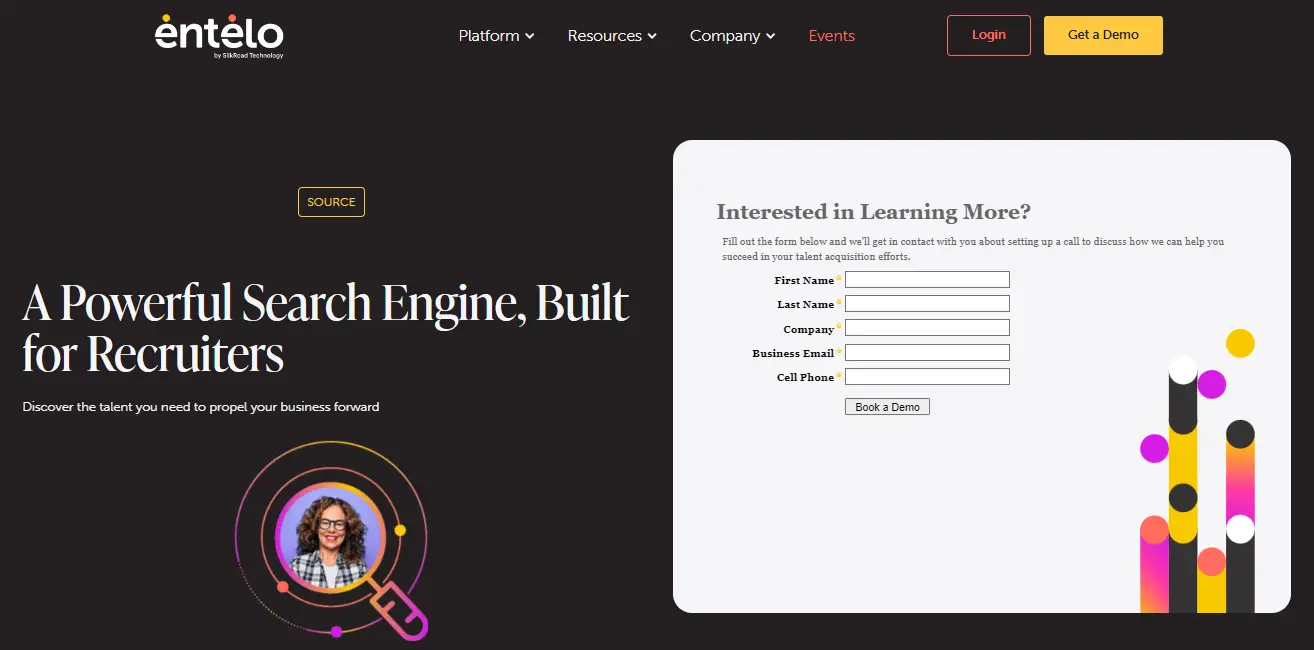 While many candidate sourcing tools are available, Entelo stands out for finding software engineering candidates. Entelo provides accurate, source-to-hire automation technology alongside best-in-class managed services for a platform that focuses on results, not just AI.
This source-to-hire automation technology conducts on-demand talent campaigns such as targeted requisitions, veteran's campaigns, diversity campaigns, etc. Moreover, the algorithm finds you the best matches and emails the candidates automatically with the template you create.
Pros:
Feature of searching candidates by entering skill, position, company name, etc.

Easy to use

Excellent customer support
Cons:
Does not support customization of reports

Does not support Boolean

The envoy feature fails at times

Doesn't have a global repository of candidates
G2 Crowd Rating: 4.3 (113 reviews)
Pricing: Rates for different packages are available on request. The platform provides free demos as well.
4. TalentBin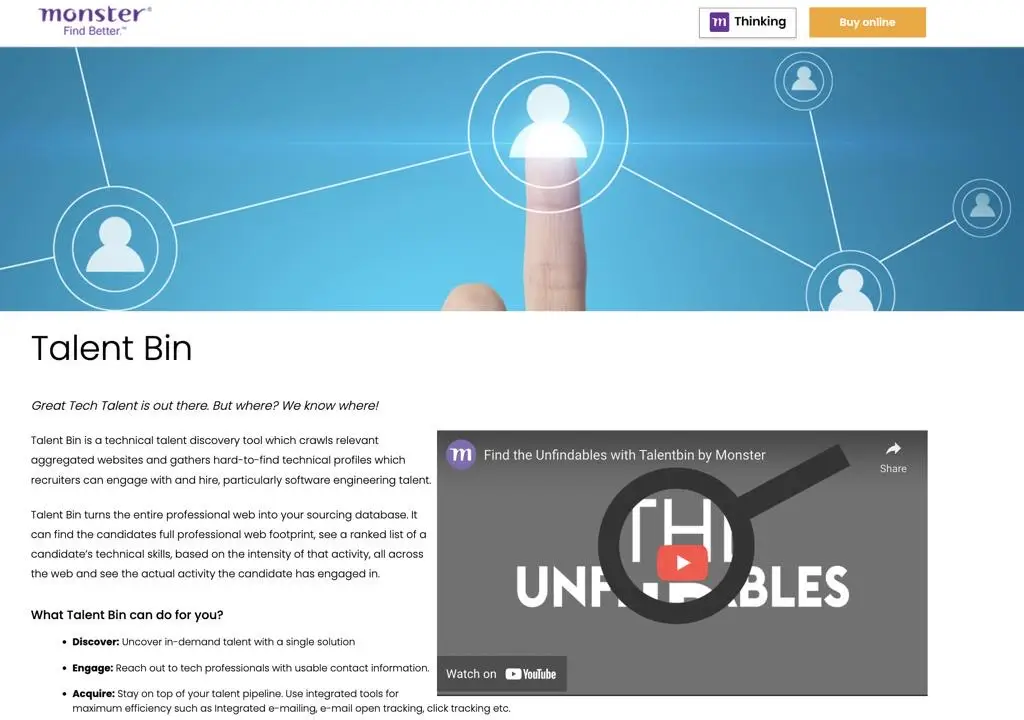 Launched in 2012, Talent Bin by monster.com is one of the best talent discovery tools. It works with the technical talent pool and turns your entire professional web into your sourcing database. It scans through relevant aggregated websites and collects hard-to-find technical profiles from 100+ sources across the open web that drive recruiters to engage with and hire.
Talent Bin will come in handy, especially if you are looking for software engineering talent. It is equipped to find the candidates' complete professional web footprint by leveraging Big Data analysis and helps recruiters organize their hiring process by creating different pipelines for different roles. You can see ranked lists of each candidate's technical skills based on the intensity of that activity across different platforms and see what activities the candidate has engaged in.
Pros:
Composite profiles with maximum information

Integrated Monster database results

Provides handbooks for new recruiters
Cons:
Does not update the database frequently

Generates faulty links at times
G2 Crowd Rating: 3.2 (3 reviews)
Pricing: The paid subscriptions start at $249.00 per year. It also has a free version.
5. Dice.com

Dice is one of the most popular platforms for talent professionals looking for candidates in information and technology industry. The platform eliminates the crowd of generalist sites to help employers connect faster with technologists seeking their next great opportunity.
They have an extensive database collected from some of the biggest IT companies. Dice.com allows access to millions of unique, verified, skilled, and engaged tech candidates. Their tech-leading AI and predictive analytics generate extensive reports to identify the strongest matches for your open positions effortlessly. It's a trusted place for both recruiters and candidates to search easily, match, and communicate in real time.
Pros:
Excellent user interface

Email alerts

Has a mobile app
Cons:
Limited listings

Doesn't allow job promotion to ensure impressions

Often suggests duplicate candidates
G2 Crowd Rating: 4.1 (70 reviews)
Pricing: Prices are available on request.
#3 Applicant Tracking System (ATS) Tools
1. iCIMS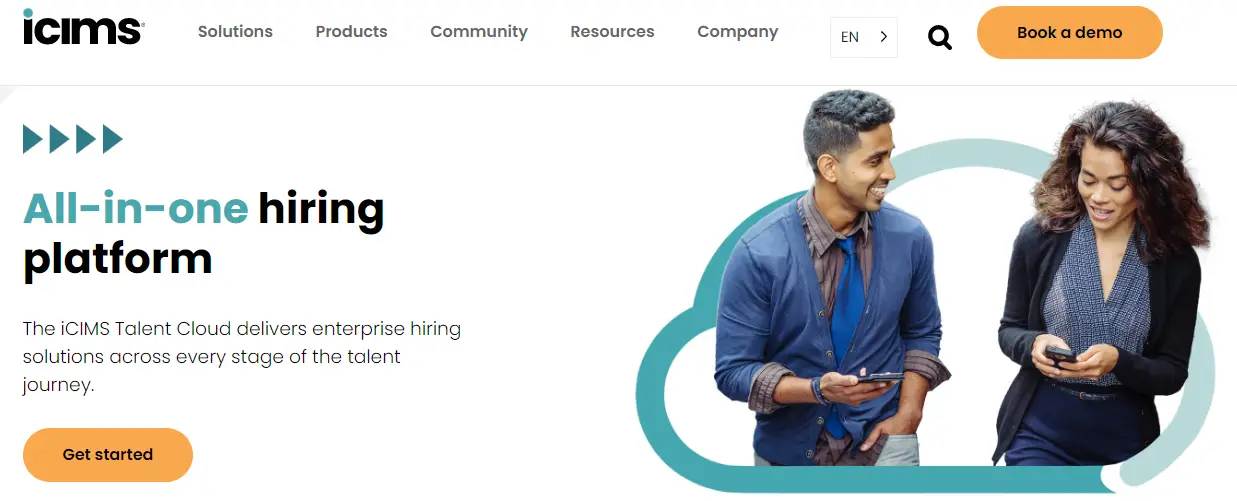 iCMIS provides recruiting solutions with a robust suite of HR tools that help users build an effective candidate pipeline. One of the best recruiting tools, this feature-rich platform has 2.4 million users worldwide.
The platform lets you feature your notable employees to attract a wider talent pool. You can use different career sites through iCIMS to market different job opportunities to suitable candidates. This AI-powered software also makes it easier to apply from anywhere with just a text or virtual career fairs. iCIMS offers automation, personalization, and configuration to ensure candidates are fully engaged at every stage of the process.
Pros:
Tracks applicant status in accordance with current applications and previous applications

Easy to use

Offers good integration and premium consulting
Cons:
Exporting data in Excel or other formats is challenging

Reporting functions are limited to standard reports

No free trial or freemium version
G2 Crowd Rating: 4.1 (470 reviews)
Pricing: iCIMS subscription fee starts at $1700 per month. It does not offer free trials or free versions.
2. JobScore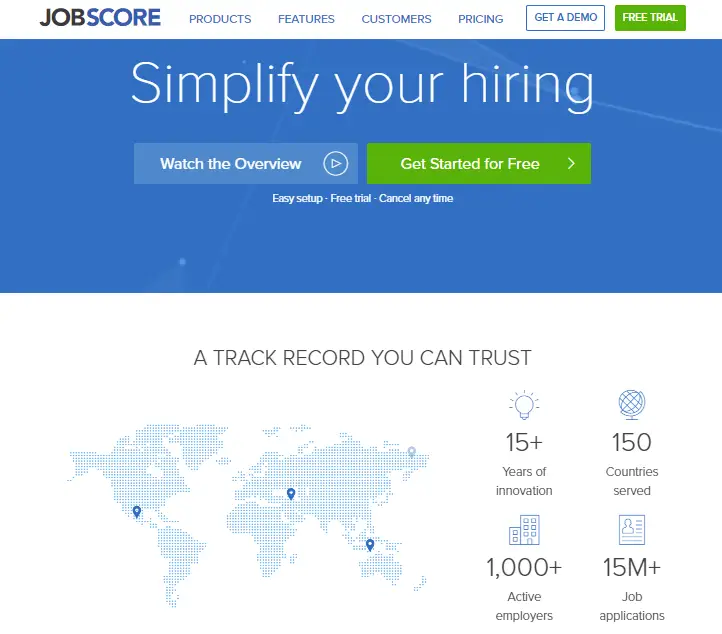 With over 1000 active employers, JobScore is the go-to platform for efficient application tracking and processing. It is one of the best-recruiting tools that enables you to use a careers site with your logo and brand. It eliminates the need to screen thousands of resumes by extracting relevant personal details of the candidates like employment history, educational background, etc.
Pros:
Affordable pricing structure

The free version also has a robust set of features

Easy to use
Cons:
No Android or iOS applications

No 24/7 customer support

Difficult navigation as compared to the others
G2 Crowd Rating: 3.2 (12 reviews)
Pricing: Job Score has three different packages. The 'Start' package for small businesses, the 'Scale' package for businesses hiring 5+ people at a time, and the 'Enterprise' package for organizations with high volume recruitments.
3. Greenhouse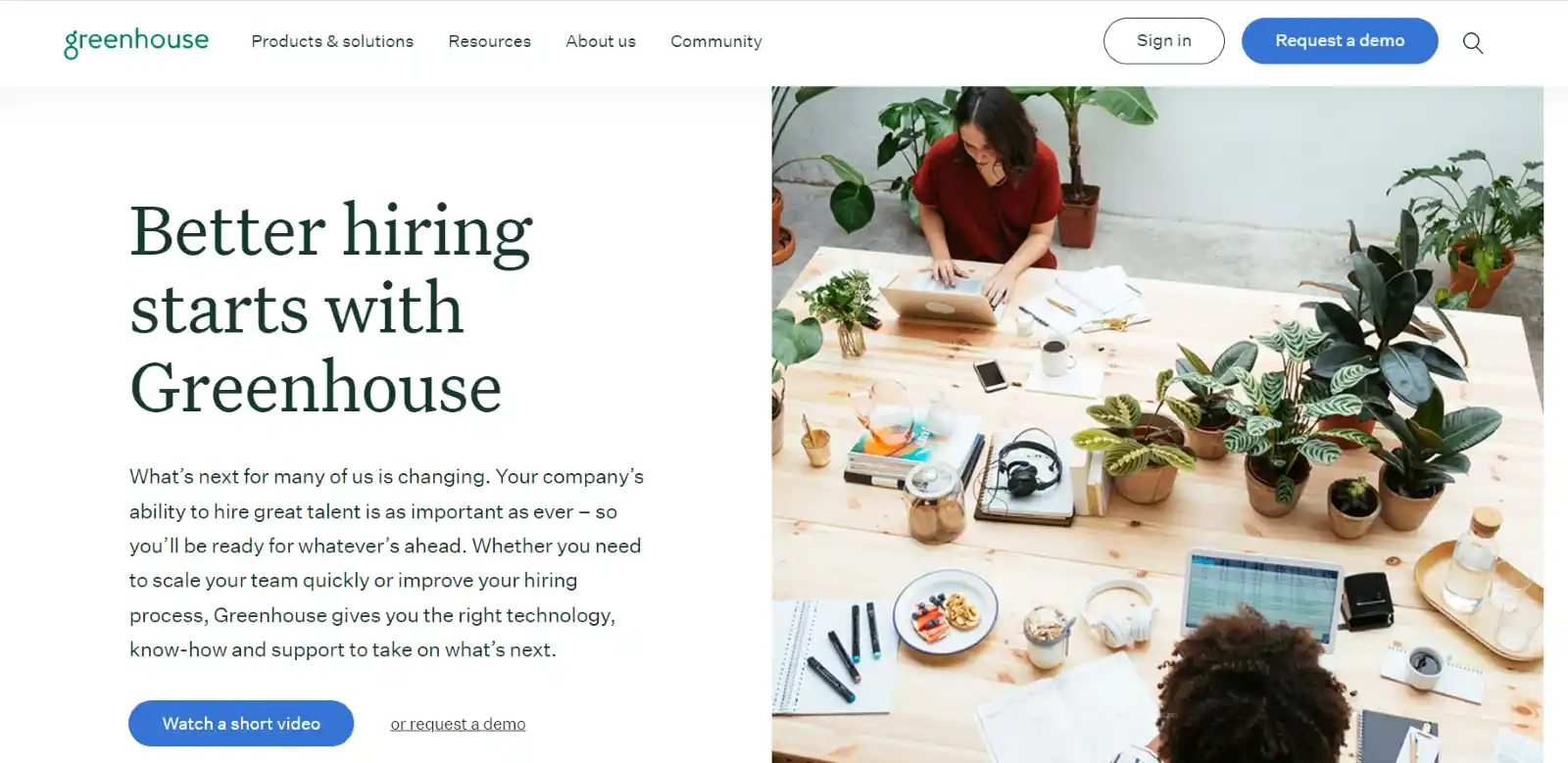 Founded in 2012, Greenhouse is a recruiting software and ATS that has enabled more than 250,000 hires to date. From recruiting and inclusion to onboarding, this application tracking system helps organizations seamlessly manage recruitment cycles.
Greenhouse is equipped with features that let you measure, iterate, and improve your hiring processes. Mainly designed for medium and large-scale companies, it offers automated workflow. Moreover, it allows you to design a personal welcome experience for your new hires.
Pros:
Excellent collaboration features

Value for money

Decent integrations
Cons:
Requires set up fee

No free versions

Referrals don't always show on the dashboard
G2 Crowd Rating: 4.4 (1210 reviews)
Pricing: Greenhouse is available in three plans – essential, advanced, and expert. It also offers a free demo.
4. SmartRecruiters

One of the most popular talent acquisition suites, Smart Recruiters really lives up to its name. While it helps recruiters to hire the finest talent for the job, it does so within the budget. With Smart Recruiters, you save not only time but also cost.
This source-to-hire platform goes beyond usual application tracking and offers effective talent sourcing & engagement with native collaboration, assessment, and AI tools.
Pros:
Easy apply option

Comprehensive user interface

Excellent communication features
Cons:
The automated resume scanning process can be difficult at times

Does not always allow resume viewing
G2 Crowd Rating: 4.3 (439 reviews)
Pricing: The platform offers three paid subscriptions – corporate, global, and smart start.
#4 Background Verification Tools
1. SpringVerify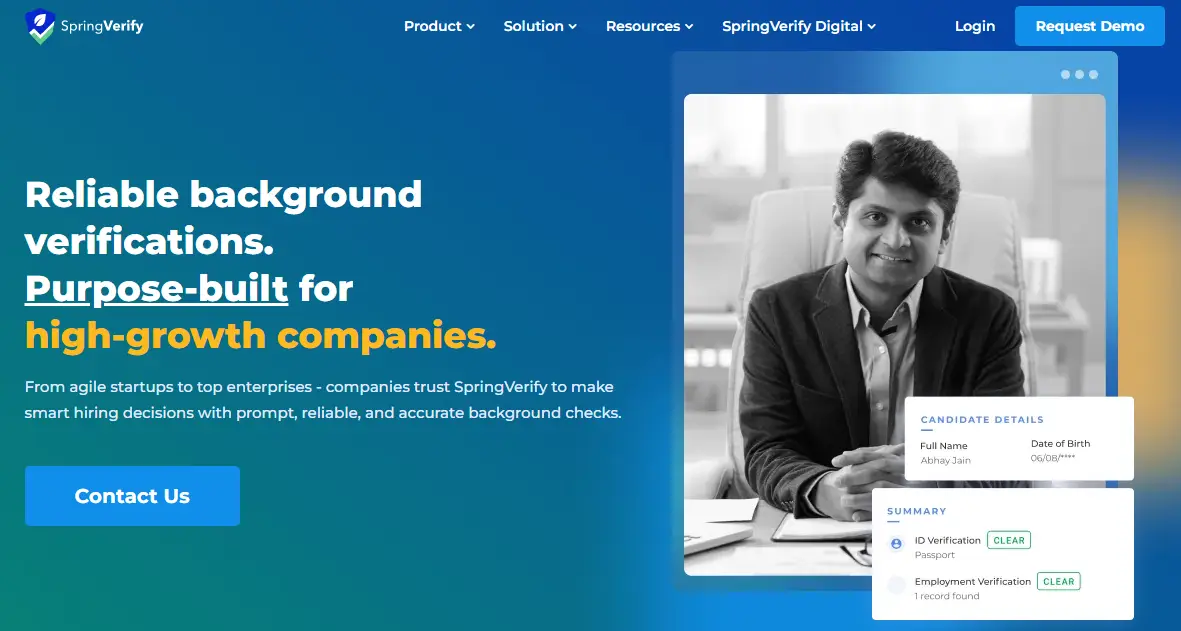 Whether you have a budding start-up or a top enterprise, SpringVerify is equipped to handle background checks for individuals as well as bulk hiring sessions. Their smooth process provides your candidates with a seamless and calm screening experience – from the form submission to status tracking and process completion.
Pros:
No need for human intervention

Newly launched digital address verification feature

All-in-one comprehensive dashboard
Cons:
Automated email reminders can be out of sync at times

Downloading the consolidated report in one go can be difficult
G2 Crowd Rating: 4.7 (31 reviews)
Pricing: Background checks on SpringVerify start at $7.50 for each applicant. It also has four other plans, with prices ranging up to $40 per applicant.
2. CareerBuilder

CareerBuilder is one of the best recruiting tools for degreed positions and companies that hire regularly. Other background verification tools also source candidates who are students and looking for part-time jobs. But CareerBuilder specifically pulls candidates according to their educational qualifications suited for the job.
Pros:
Great platform to find AI and machine learning candidates

Pulls an average of 25 qualified job seekers per day

Customizable job alert emails
Cons:
No free plans

Limited resume views

No live interview feature
G2 Crowd Rating: 3.7 (56 Reviews)
Pricing: Plans range from $219 to $599 for full programs. Free version is not available.
3. Intelifi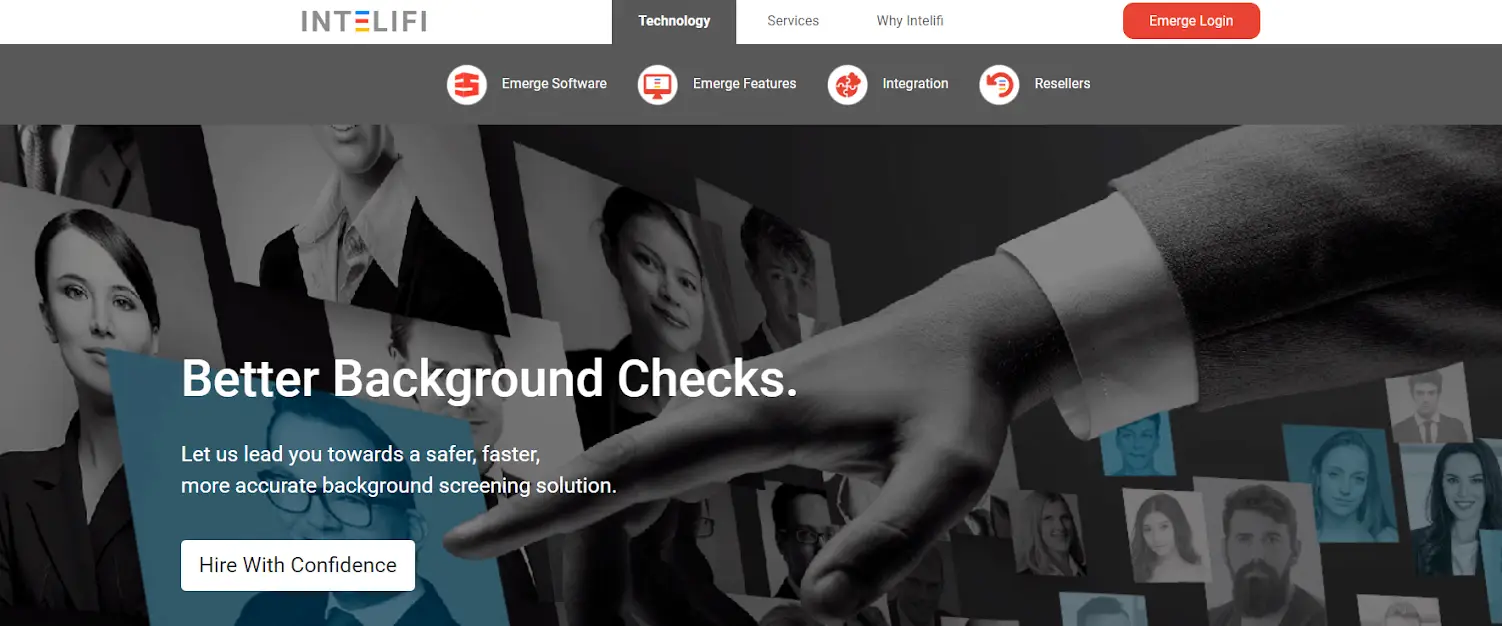 One of the leading recruitment tools, Intellifi aims to deliver a safer and thorough background check for an improved digital recruitment process. The platform is simple, easy to use, and compliant. It provides personalized attention to background checks and aligns them according to the job requirements. With same-day results and direct access to the source, the platform's cutting-edge technology gives your business the much-needed competitive edge. From educational background to drug testing, Intelifi reports are polished and accurate, eliminating any chances of doubt or confusion.
Pros:
Same day results

Universal integrations

Licensed experts to upkeep compliances
G2 Crowd Rating: 4.7 (12 reviews)
Pricing: Charges are available on request.
#5 Onboarding Tools
1. Paychex

When it comes to onboarding tools, Paychex spectacularly handles payroll, employee benefits, business insurance, and other different HR functions for small and medium-sized businesses. Since its inception in 1971, the platform has served more than 680,000 organizations in the U.S and Europe. It has recently earned various industry awards for its ethical practices, innovation, service, and cloud-based technology.
Pros:
Excellent customer service

User friendly

Offers integrations with various HR tools for accounting, hiring, and managing workforce
Cons:
Log-in process glitches at times
G2 Crowd Rating: 4.2 (1388 reviews)
Pricing: The basic service, Paychex Go, comes at $59/month and $4 per employee.
2. Workday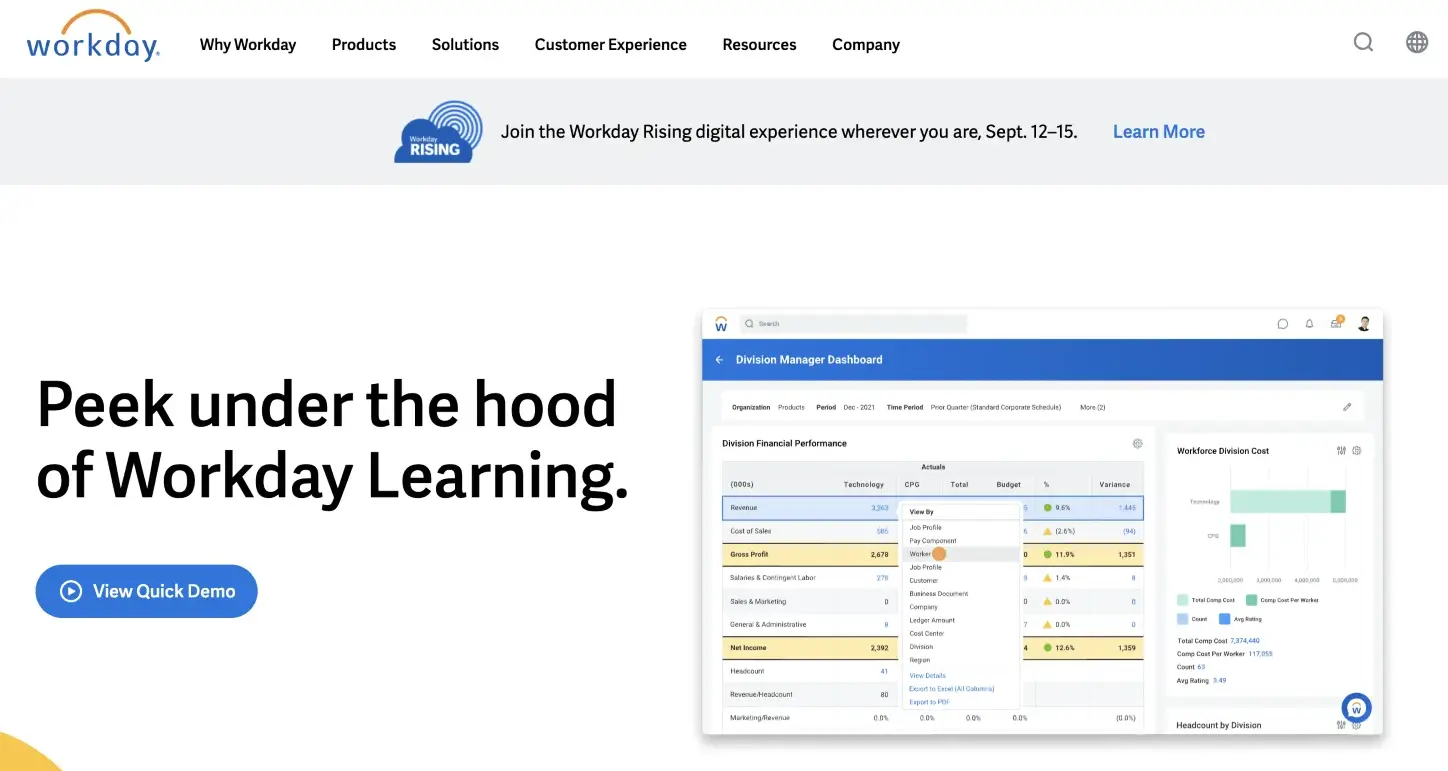 Workday is a human capital management platform that provides tools to collect and organize data. Workday offers a cloud-based system equipped to keep up with changing business needs. It is a unified system that includes products such as Workday Financial Management, Workday Payroll (for the U.S., Canada, France, and the UK), Workday Recruiting, Workday Learning, Workday Planning, etc.
Pros:
Low cost

Available both on browsers and as a mobile application

Excellent data security
Cons:
Finding some documents may prove to be tricky at times

The interface is not user friendly
G2 Crowd Rating: 4.0 (1156 reviews)
Pricing: Workday has two packages – Mid-Market, and Enterprise. Prices are available on request.
3. BambooHR
From hiring to onboarding, BambooHR presents an all-in-one HR software for small and medium businesses. One of the most comprehensive recruiting tools, this platform helps you with everything you need to manage the talent pipeline efficiently.
With e-signatures, seamless meet and greet, and a centralized data storage system, BambooHR packs everything you desire in the best recruiting tools. It adds a personal touch while making quick work of necessary forms and formalities. The platform tracks time, manages payroll, and sorts out benefit packages.
Pros:
Clean and simple interface

One-click integrations with various HR tech platforms

Excellent customer support
Cons:
Not the best option for large enterprises

Implementation of each feature is confusing

Lacks in providing robust features
G2 Crowd Rating: 4.4 (1184 reviews)
Pricing: Bamboo HR offers two packages. The essential one starts at $5.25 per month, and the advanced package begins at $8.75 per month. The platform also offers a free trial.
#6 Candidate Feedback Form Tools
1. SurveyMonkey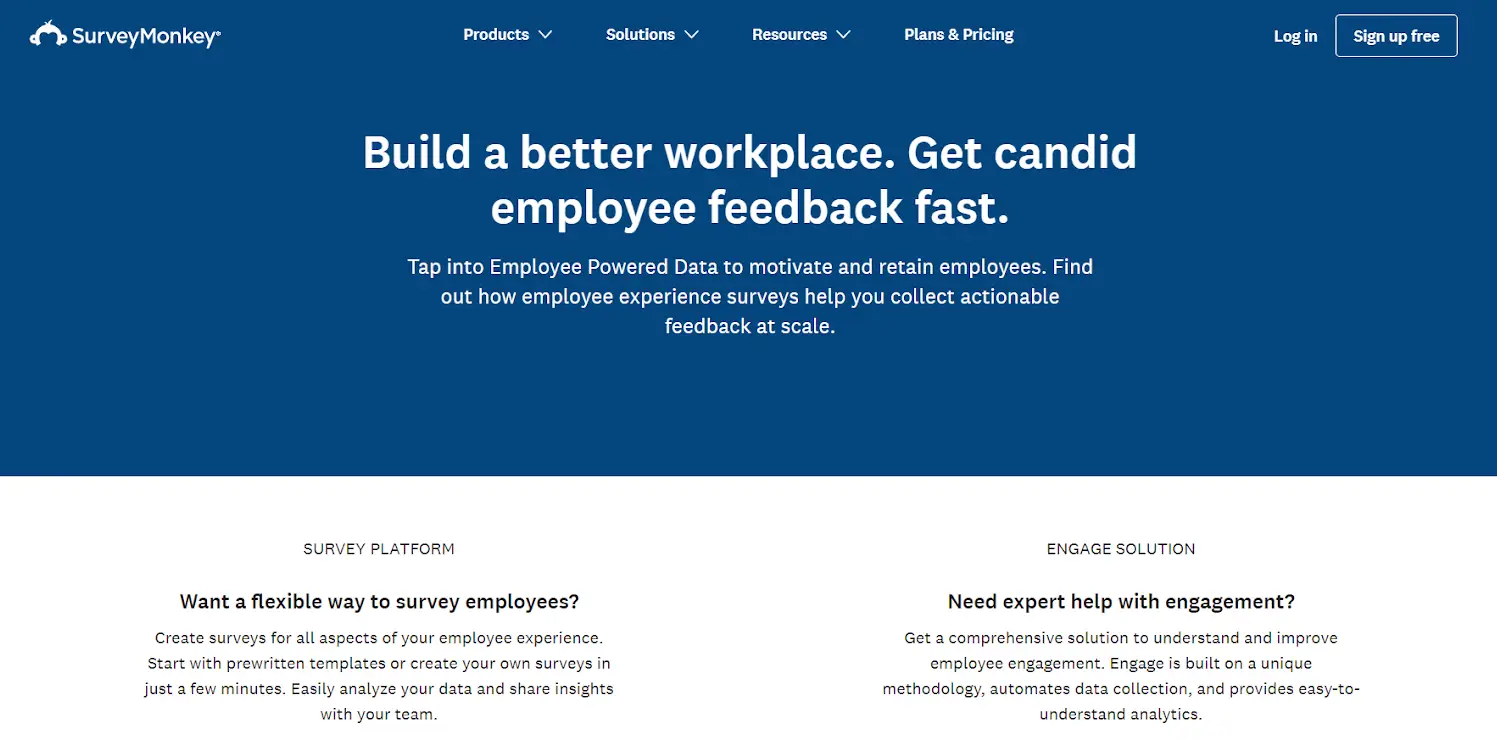 Survey monkey offers job-specific surveys and provides actionable insights on candidate and employee satisfaction, career training and development, as well as self-assessments. It also helps companies improve their candidate experience by providing various customization tools capable of curating candidate-specific surveys.
With SurveyMonkey's 'engage solutions' feature, you can optimize automated data collection and access easy-to-understand analytics on candidate satisfaction.
Pros:
Robust design features for various surveys

Freemium version

Various candidate-specific customization
Cons:
Does not provide integration with ATS

No free trial

No premium consulting
G2 Crowd Rating: 4.0 (2 reviews)
Pricing: Survey Monkey offers six packages ranging from $27 to $119 (billed annually). The packages include an option for large enterprises, the cost of which is available on request.
FAQs
What are recruitment strategies?
A recruitment strategy is a well-mapped out hiring plan that identifies the job roles your company seeks to recruit for and when and where those job opportunities should be posted. It also handles the screening and evaluation guidelines to identify candidates best suited for the role.
What tools do recruiters use to find candidates?
Modern-day recruiters rely on technology for accuracy and thus use various recruiting tools for different stages of the pipeline. Usually, the most used recruitment tools include – ATS, Job description evaluation, candidate sourcing, background checking software, etc.
Which tool is best for candidate assessment?
There are a plethora of options available as the best recruiting tools. But you should always go for those platforms that provide seamless integration, live interview features, and customization assessments, such as iMocha.
iMocha has helped 1000+ organizations worldwide hire skills-fit candidates and build winning teams.
Conclusion
Finding the best candidate and retaining them is tricky in this cutthroat market, and to stay relevant in the chaotic changes, recruitment tools are the best available option.
Be it a seamless payroll management software or a secure background check platform; every business should choose the ones that align with their evolving recruitment needs. All the above-mentioned platforms are among the best recruiting tools and equipped to provide you with features to help you manage your candidate and employee experience perfectly.