Coderbyte is a coding assessment platform that helps organizations conduct coding assessments, interviews, and take-home projects. This platform's features come with an activity dashboard, which enables recruiters to configure system settings, monitor activity logs, send invitation links to potential candidates, and view completion status on a centralized platform.
Founded: 2012
G2 Rating: 4.4 out of 5 stars (213 reviews)
Coderbyte Features:
Coder byte offers 1,000+ challenges and questions for every role. You can leverage real-world queries and challenges, along with the ability to create your own

The insight reports enable a deeper understanding of how candidates think, troubleshoot, and code

Recruiters can watch candidates' code using the 'Code Playback' feature session

You can select allow video response for 2-3 questions. This will enable candidates to answer the questions with text or a video for up to 2 minutes

The 'Take-Home Projects' feature enables top candidates to code or work in their environments so you can generate more profound insight, often as a final step in the interview process

The IntelliSense editor on Coderbyte provides a better, more comfortable experience for candidates when solving challenges
Ideal for small to large organizations, Coderbyte's pricing starts at $199.00 per user per month. It also offers a free trial. Most organizations use Coderbyte for aptitude testing, automatic grading, and candidate comparison, but there might be better alternatives to coderbyte for all your needs. Whether affordability, ease of use, user rating, or value for your money is your priority, there are multiple Coderbyte alternatives out there that could be an excellent match for your organization.
We have compiled essential factors to consider when researching Coderbyte alternatives, including G2 ratings, reviews, pros, and founding year. Filter by these if you want to narrow the list of other Coderbyte alternatives or look for specific functionality of Coderbyte.
Top 15 Coderbyte alternatives to Consider in 2023
1. iMocha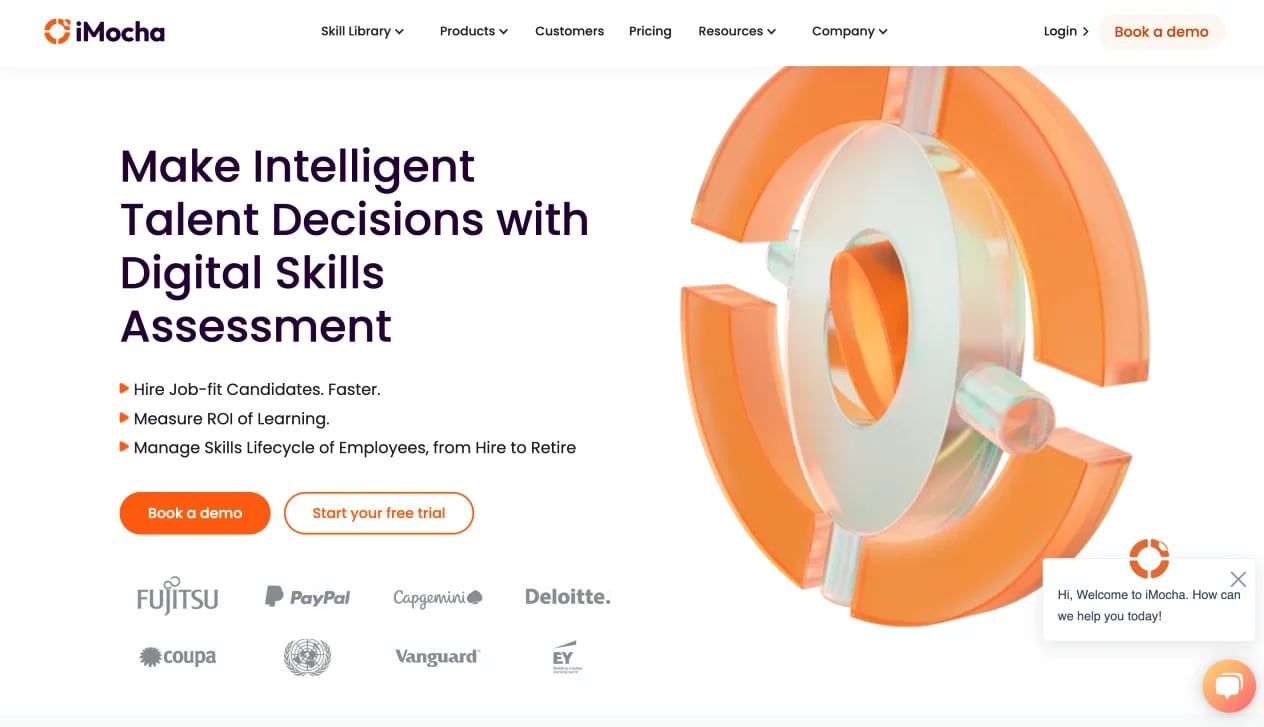 Founding year: 2015
G2 Rating: 4.4 out of 5 stars (185 reviews)
| | | |
| --- | --- | --- |
| Feature | Coderbyte | iMocha |
| Skills Library | 100+ | World's largest skill library, with over 2500+ skill assessment |
| One-Way Video Interviews | Available | Available |
| Video Questions | Not Available | Available |
| Project Based Assessments | Not Available | Available |
Tasks and tests customization
| | | |
| --- | --- | --- |
| Feature | Coderbyte | iMocha |
| Assessment builder | Available | Available |
| Content library | Available | Available |
| AI grading | Not available | Available |
| Create Custom Tests | Available | |
| Question randomisation | Not available | Available |
| Customized branding available | Not available | Available |
Technical skills assessments
| | | |
| --- | --- | --- |
| Feature | Coderbyte | iMocha |
| Coding Simulators | Available | |
| AI-LogicBox | Not available | |
| Live Coding Interviews | Not available | |
Reporting and Analytics
| | | |
| --- | --- | --- |
| Feature | Coderbyte | iMocha |
| Report comprehensiveness | Available | |
| Download report | Available | Available |
| Automated skill ratings and benchmarking | Available | Available |
| Candidate Feedback | Not available | Available |
| Candidate Pipeline | Not available | Available |
Security Features
| | | |
| --- | --- | --- |
| Feature | Coderbyte | iMocha |
| Plagiarism detection | Available | |
| IP restriction and window lock | Available | Available |
| Real-time Image Proctoring | Available | |
| Window Violation | Available | Available |
Other Features
| | | |
| --- | --- | --- |
| Feature | Coderbyte | iMocha |
| Audio/Video Questions | Available | Available |
| One way Video Interviews | Available | Available |
| ATS integration | Available | Available |
| Virtual career fairs or campus hiring drives | Not Available | |
| Advanced employer branding | Available | Available |
2. CodeSubmit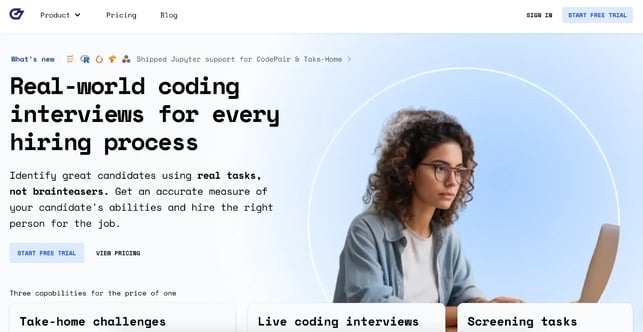 Founded: 2019
G2 Rating: 4.9 out of 5 stars (11 reviews)
Pros:
CodeSubmit's library consists of 70+ supported languages and frameworks with real-world tasks that accurately measure every candidate's coding skill while providing them with a positive and fair experience

The Code replay containers let you run and evaluate your candidate's submission from your browser

You can receive updates in real-time on the candidate's progress through the CodeSubmit assessment journey with seamless integrations, including Slack, Lever, Greenhouse, Zapier, and more

The live coding sessions allow you to measure what matters with a pair-programming environment optimized for real-world use cases

CodePair allows you to follow up on interviews and import your candidate's take-home submission into a CodePair instance
3. Codility
Founded: 2009
G2 Ratings: 4.6 out of 5 stars (332 reviews)
Pros:
You can design role-specific remote skills assessments for candidate screening before moving them to the next interview stage.

With CodeLive, you can host technical interviews online or onsite through the shared editor using various templates and whiteboarding tools.

Codility enables you to host your coding challenges with ease.

Organizations can accelerate time-to-hire and build more intelligent workflows by integrating their existing applicant tracking system and communication tools with Codility.

The fraud prevention and plagiarism detection feature give you confidence without compromising candidate experience.
4. Qualified
Founded: 2016
G2 Ratings: 4.8 out of 5 stars (267 reviews)
Pros:
The project-based coding assessments provide evidence that developers have the skills required to be successful on the job

You can use Qualified's standardized assessments to better understand the developers' strengths and weaknesses. All the assessments are professionally built and designed to assess real-world skills that map to your job descriptions

The detailed benchmarking statistics allow you to break down the performance of candidates to see how they compare to your team or all other developers on the Qualified platform. Hiring managers can understand how effective each coding and Q&A challenge is at each stage in the assessment process

With the Pair-programming interview feature, quickly turn any coding assessment into a pair-programming session so developers can talk to your team through the code they've written

Qualified offers integrations with our API, Webhooks, or Zapier
5. Sapia.ai

Founded: 2018
G2 Ratings: 4.5 out of 5 stars (6 reviews)
Pros:
With Sapia, every applicant is invited automatically to a structured interview over an AI chat

The top candidates are automatically progressed to Video Interviews: a chat-based environment in which they can record responses to simple questions in their own time. This removes wasted time on scheduling and no-shows so hiring managers can focus on picking the best people

With the AI Smart Interviewer, get insights that matter. Sapia gives detailed metrics and insights into every applicant's personality, behavioral competencies, and communication skills

The intelligent touch experience enables recruiters to return to each candidate with a personalized insights profile without lifting a finger
6. Woven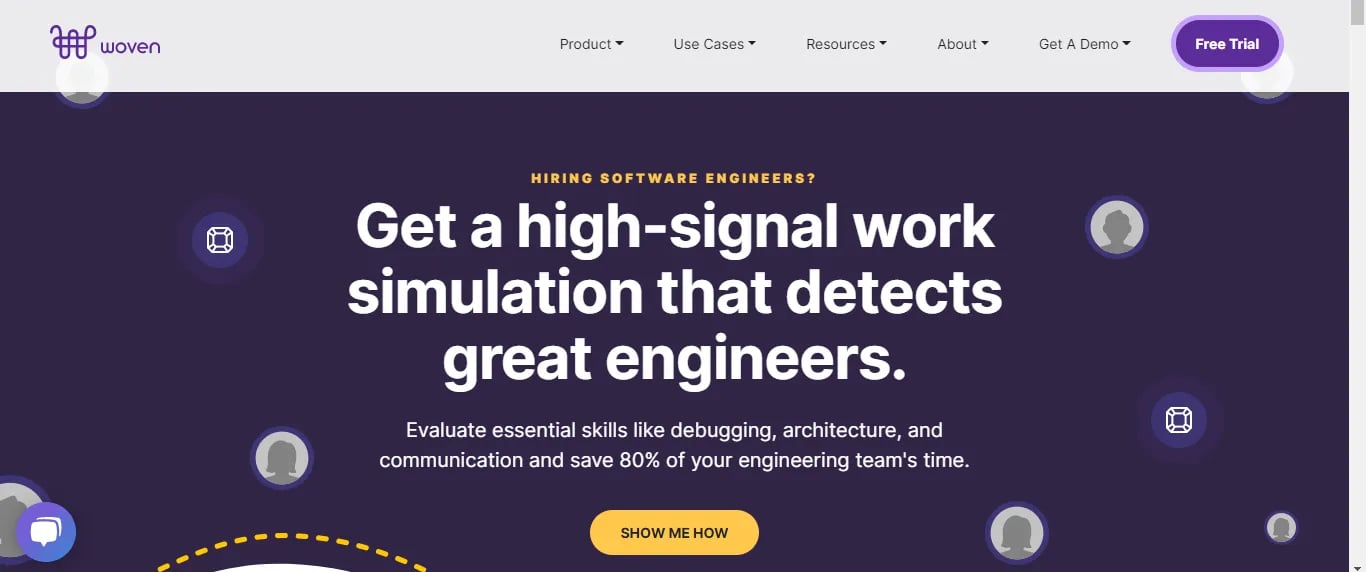 Founding year: 2017
G2 Ratings: 4.8 out of 5 stars (264 reviews)
Pros:
Another Coderbyte alternatives from our list is Woven. The work simulator reveals top candidates, saves you time, and engineers enjoy. Plus, the assessments are on scenarios that predict actual work performance because they're on real engineering work

Candidates get to take a 10-hour take-home test. Woven also gives engineers same-day results and feedback on how they performed and what they could improve

Woven uses an obsessively detailed rubric live-scored by real engineers with a 360° view of every candidate.

It offers async work sims that take less than 90 minutes to schedule interviews which lets you hire quickly

Woven is designed to assess software engineers' skills in remote environments. The work simulation assessments are async, time-boxed, and reflect the actual work
7. HackerEarth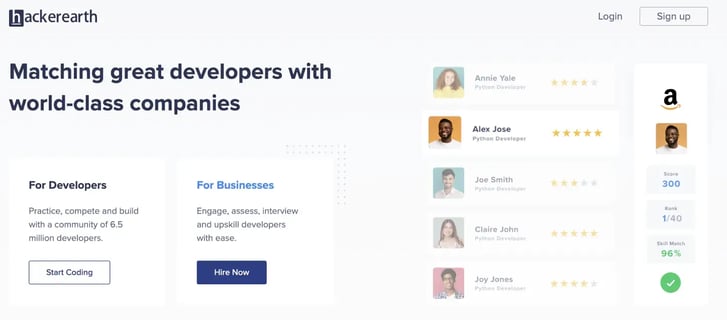 Founding year: 2012
G2 Ratings: 4.4 out of 5 stars (115 reviews)
Pros:
HackerEarth saves more time and money because it lets you easily create coding tests and screen candidates at scale for over 12 roles and 80 skills.

HackerEarth makes it easy for hiring managers and tech recruiters to evaluate candidates and collectively make collaborative decisions.

Streamline the hiring process with seamless ATS integrations. This candidate screening tool lets you set up assessments for candidates and collect feedback from the hiring team all in one go.

With an extensive skills library, you can quickly assess developers by job role or skill. It consists of a massive database of 13,000+ questions of varying difficulty, spanning 12+ job roles and 80+ skills, and the ability to create custom questions.
8. Mettl

Founded: 2010
G2 Ratings: 4.4 out of 5 stars (387 reviews)
Pros:
Mettl offers holistic pre-employment tools to measure core traits and each candidate's acquired skills scientifically. This suite of tools consists of personality assessments, technical assessments, coding assessments, behavioral assessments, cognitive assessments, and communication skills assessments

Recruiters can curate customized assessments, schedule and invite multiple candidates, and get real-time results within one platform

It offers a Remote Proctoring Suite with best-in-class proctoring technology to ensure cheating-free candidate pre-employment tests

You can conduct seamless assessments on all significant ATSs, including Greenhouse, through integration with Mercer Mettl
9. Criteria Corp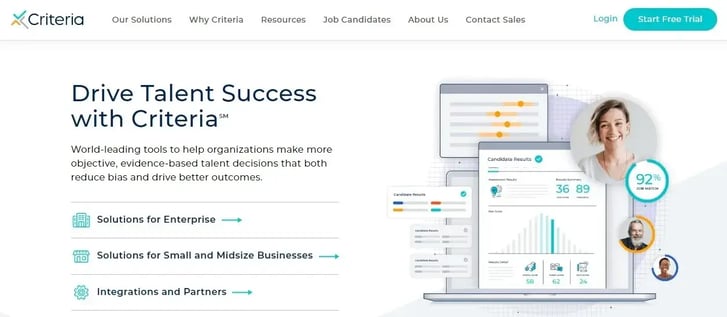 Founded: 2006
G2 Ratings: 4.2 out of 5 stars (38 reviews)
Pros:
It offers the most comprehensive pre-hire assessments to help organizations make better talent decisions. These assessments heighten the talent signal and help recruiters identify job-fit candidates who will drive tangible results.

With Criteria Corp, recruiters can identify top talent fast with one-way interviews. You can create structured interview processes that are objective, fair, and minimizes bias with an on-demand video interview platform.

You can transform candidate experience with game-based assessments. Criteria's game-based assessments provide the level of insights to drive better hiring decisions while simultaneously elevating candidate experience with rich and immersive gameplay.

Talent Insights helps organizations improve engagement and performance by empowering teams with insights designed to drive self-awareness, communication, and collaboration.
10. Codesignal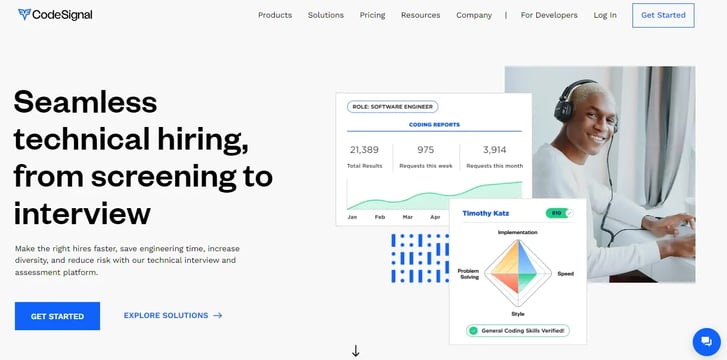 Founded: 2014
G2 Ratings: 4.5 out of 5 stars (570 reviews)
Pros:
It offers Full-Service Technical Screens, where Codesignal's experts handle the tech screen process from start to finish.

Organizations receive tech screen results and insights within hours after the interview. This means qualified candidates can advance to the next stage faster.

A friendly, actual human trained to deliver a better candidate experience greets candidates, provides consistent guidance, and offers support for the platform questions.

Unlike other technical screening solutions, CodeSignal's assessment questions are developed by tech experts. These questions are proven to identify top candidates and minimize bias reliably.
11. TestGorilla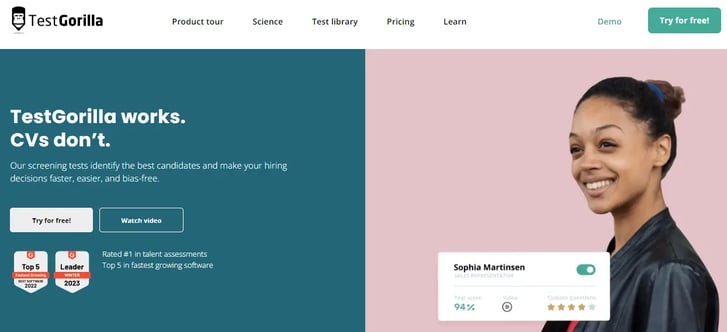 Founded: 2019
G2 Ratings: 4.5 out of 5 stars (711 reviews)
Pros:
You can organize and optimize your assessment by choosing the right name and job role. By doing this, you can easily keep track of assessments.

With TestGorilla's test library, you can find the best tests for any job role or view test recommendations.

Video responses give you a unique insight into the candidate's personality. Candidates can also answer custom questions using file upload, text, or multiple choice.

TestGorilla lets you share email invites with candidates directly from the platform or your ATS. You can easily send bulk invites with a single click or have candidates can sign up by sharing a direct link.

Hiring managers can review every single Real-time assessment result at a glance. You can see stats for each assessment, including how many candidates have started or finished and when the latest activity took place.
12. Testdome


Founded: 2013
G2 Ratings: 4.5 out of 5 stars (84 reviews)
Pros:
The Test library includes 150+ pre-made tests for 90+ skills, 1000+ premium questions, and Custom multi-skill tests with automated scoring.

Recruiters can invite candidates via email one by one or in bulk.

This platform integrates with popular applicant tracking systems or makes custom integrations with Zapier or TestDome API.

The Cheating protection feature prevents candidates from cheating with copy/paste protection, webcam proctoring, and duplicate IP detection.

Candidates get feedback on their scores and are more likely to take the test if they know they will get feedback.

The reports provide a statistical comparison; recruiters can know where each candidate stands compared to other candidates.
13. eSkill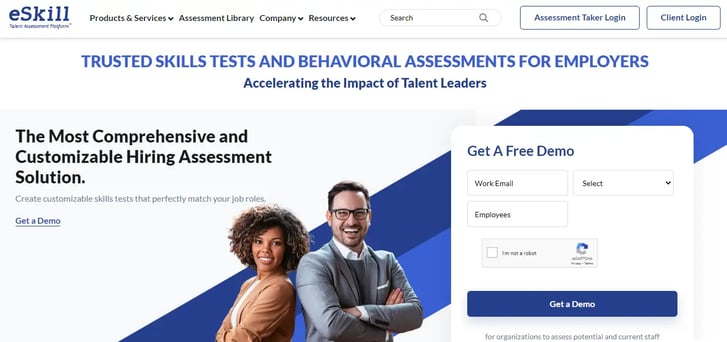 Founded: 2000
G2 Ratings: 4.5 out of 5 stars (312 reviews)
Pros:
eSkill lets you choose from over 800+ jobs and subject-based tests or build your tests using questions from multiple tests and your content.

This platform provides 24/7 support to ensure your tests are helping you improve hiring outcomes and positive experiences for test takers.

eSkill offers advanced simulations such as MS Office, Chat, and Multitasking in assessments to help to replicate on-the-job tasks.

You can export candidates and test score data into popular ATS and LMS systems. You can add your company logo and customize looks to match your branding.

Including video response questions in assessments enables you to evaluate candidates completely and not just based on skills and experience.

Hiring managers and entire hiring teams can rate applicants' responses from one to 10 stars based on the criteria you establish.
14. Coderpad


Founded: 2013
G2 Ratings: 4.4 out of 5 stars (19 reviews)
Pros:
With CoderPad's collaborative coding environment, you can quickly evaluate candidates and understand their thought processes. Tech recruiters can easily tailor each interview assessment to fit your team's needs so you can find the right person faster.

Take-home projects are independent coding exercises with optional automated test case scoring. This feature enables recruiters to set up a technical question in a coding environment and send links to candidates to complete on their own time.

CoderPad supports a comprehensive library of programming languages. You can test your candidates' using languages, frameworks, and tools, including Java, JavaScript, Python, PHP, C++, React, Ruby, Swift, and many more.

It integrates with popular recruiting tools such as Greenhouse, Lever, and GoodTime, so recruiters and hiring managers can spend less time switching tabs and more time meeting candidates.
15. Devskiller


Founded: 2013
G2 Ratings: 4.7 out of 5 stars (55 reviews)
Pros:
With Devskiller, you can define and select skills for testing with more than 5000 ready-to-use recruitment tasks.

Recruiters can send test invites and easily integrate with ATS.

The test results are automated, and recruiters can share reports with candidates.

Tech candidates' screening and interviews are 100% remote with online coding tests, pair programming, and virtual tech interviews.

Organizations can build diverse tech teams with objective tests as candidate data is anonymous, taking bias out of your decisions.
Conclusion
iMocha is a skills assessment platform that enables organizations to make intelligent decisions and create winning teams. It has the most extensive skill assessment library of over 2500+ skills. This empowers organizations with candidate assessments that help filter out good and bad candidates. HR managers and recruiters can eliminate repetitive tasks and gather intelligent data on every candidate screened with iMocha's remote skills assessments.
This platform summarizes the strengths and weaknesses with comparative reports and identifies the top talent in remote, campus, and lateral hiring. Furthermore, the hiring solution offers complete peace of mind for recruiters with proctoring measures that ensure integrity while still providing a smooth candidate experience.
Finding suitable Coderbyte alternatives that fit all your needs takes time and effort. Implementing a platform like iMocha gives enterprises the complete Pre-Employment Skill Testing Solution.
Coderbyte and iMocha are pre-employment screening services that allow enterprises to improve their hiring process. While some features are similar such as the ability to create your custom tests, audio/video questions feature video interviews, code playback, etc. But there are significant differences that make iMocha stand out like:
FAQ Reference
What are the best Coderbyte alternatives?
Here's a list of the best Coderbyte alternatives:
iMocha

CodeSubmit

Codility
These skills platform is an easier way to identify candidates ready to take their careers to the next level. It helps discover better ways to challenge developers on their coding and interviewing skills. Reviewers found iMocha, CodeSubmit, and Codility Skills Platform easier to use when comparing other platforms.
However, organizations preferred the ease of setup for iMocha and the ease of managing business growth overall. Overall, these platforms work for large corporations that need some of the industry's most compliance-friendly tools. These assessment tools also work well for less tech-savvy recruitment teams.