The CodeSignal platform offers Tech Screen, Pre-Screen, and Interview tools used by technical hiring managers and recruiters to source and qualify candidates for software engineering jobs.
CodeSignal is a cloud-based software as a service (SaaS) platform that integrates with applicant tracking systems (ATS) such as Greenhouse and Lever.
Although it is one of the largest on the market, it's not perfect. Many recruiters claim that they are not satisfied with the features that CodeSignal offers. Also, they find the user interface confusing or difficult to use.
Some recruiters are simply searching for a different technical skill development platform altogether. With that in mind, here are 10 CodeSignal alternatives to consider in 2022.
Top CodeSignal Alternatives
1. iMocha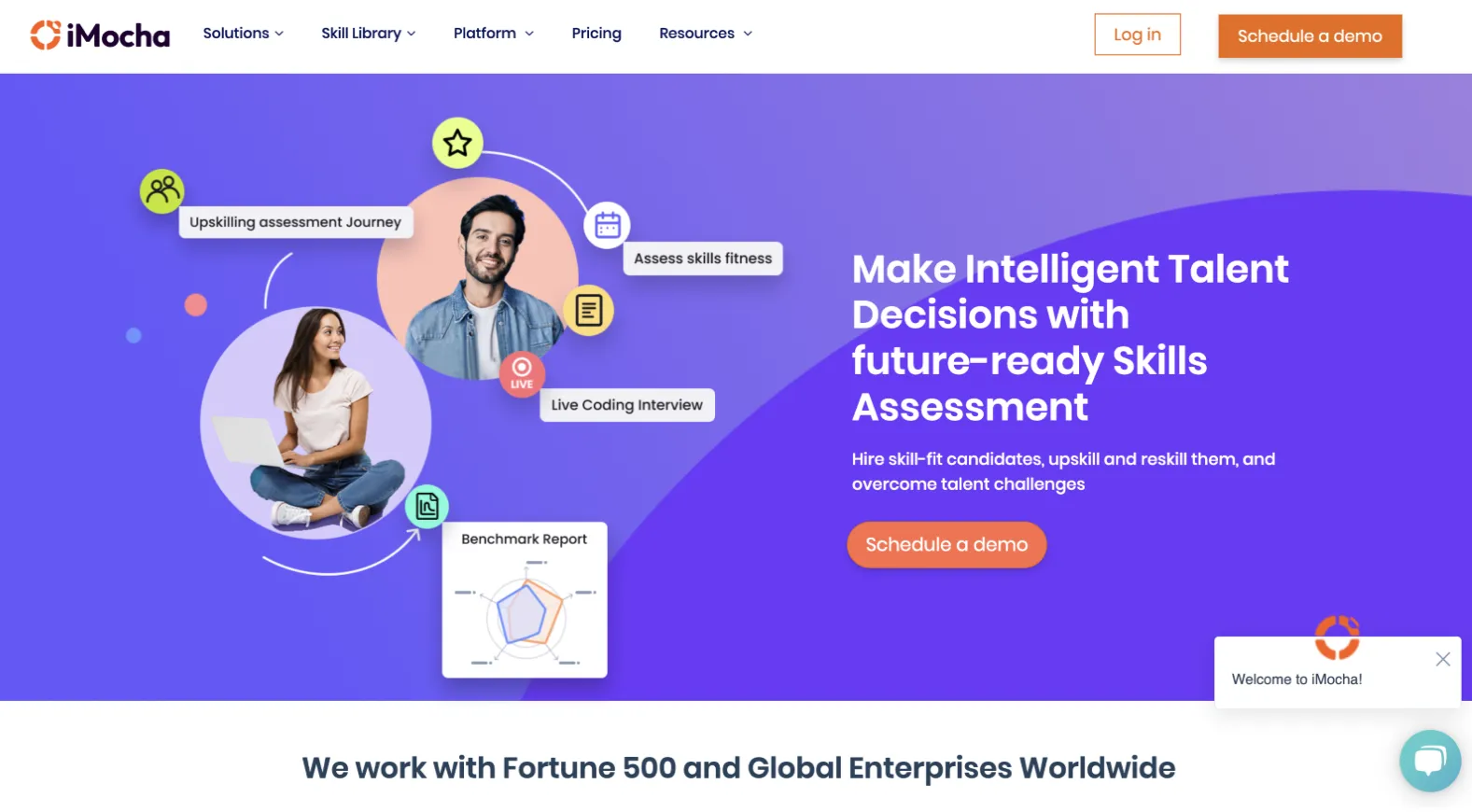 G2 Rating: 4.4/5 (185 reviews)
iMocha is the top CodeSignal alternative on our list. It is one of the most advanced AI-based technical interview and assessment tools available. It also features the most comprehensive testing library of over 2500 skills, AI-based analytics, unique coding simulators, AI-LogicBox, and proctoring suite.
It provides organizations with skill-based talent analytics and assists them in making informed talent decisions. In addition, it has a comprehensive suite of assessments for Backend Technologies, Frontend Technologies, Next-Gen Technologies, and Database Technologies; all backed up by analytics to assist you in identifying exceptional developers and programmers.
iMocha seeks to assist firms in hiring job-ready candidates quickly, as well as in conducting precise training requirements analysis and identification for L&D.
Perks:
Comparison of iMocha and CodeSignal Features
| | | |
| --- | --- | --- |
| Features | CodeSignal | iMocha |
| Live Coding Interview | ✖ | ✓ |
| AI-Logic box to evaluate coding skill language | ✖ | ✓ |
| Advanced Plagiarism | ✓ | ✓ |
| AI-powered proctoring | ✖ | ✓ |
| ATS integration | ✓ | ✓ |
| In-depth Results | ✓ | ✓ |
| GDPR & CCPA compliant | ✓ | ✓ |
| On-demand customized tests by experts | ✖ | ✓ |
Free trial: Available
2. Codility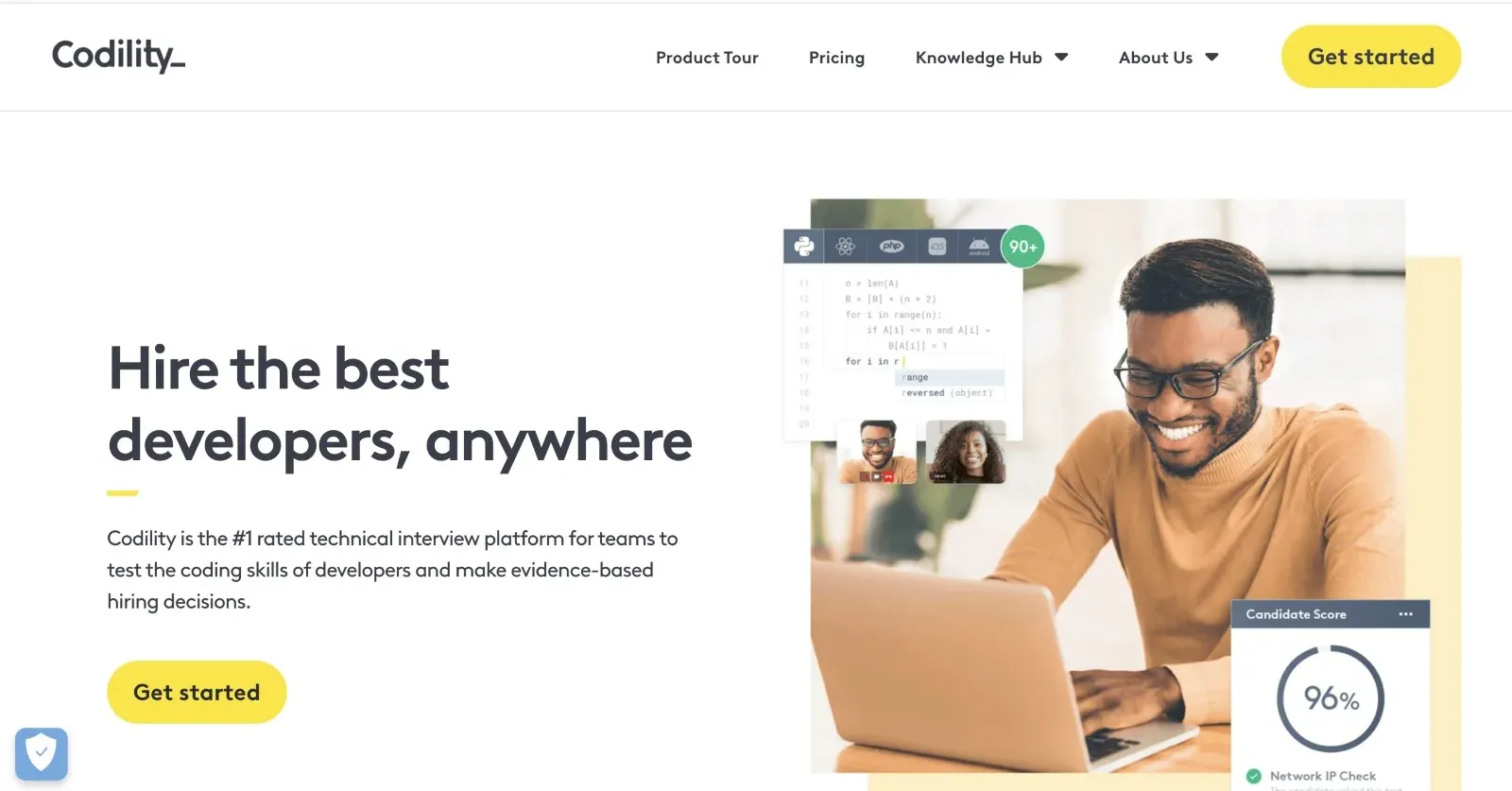 G2 Rating: 4.6/5 (333 reviews)
Codility is a technical interview and assessment tool that assists organizations in evaluating and hiring technical talent. This software offers an online exam system through which you can access applicants in real time by examining their code online. It makes it simpler to make excellent hiring selections without wasting time or frustrating recruiters.
Engineer leaders can create high-performing, diverse teams by assessing individuals based on their technical talents. It also provides a rating and ranking system to assist businesses in identifying the best applicants.
Perks
The plagiarism check is handy for double-checking results and ensuring fairness among all applicants.

Codility allows hiring managers to organize remote live coding sessions with their prospects, which are all recorded and shareable immediately by API or direct interaction with your applicant tracking system.

The Customer Developer Manager and Customer Success Manager are both accommodating and responsive.
Free trial: Available
3. Hackerrank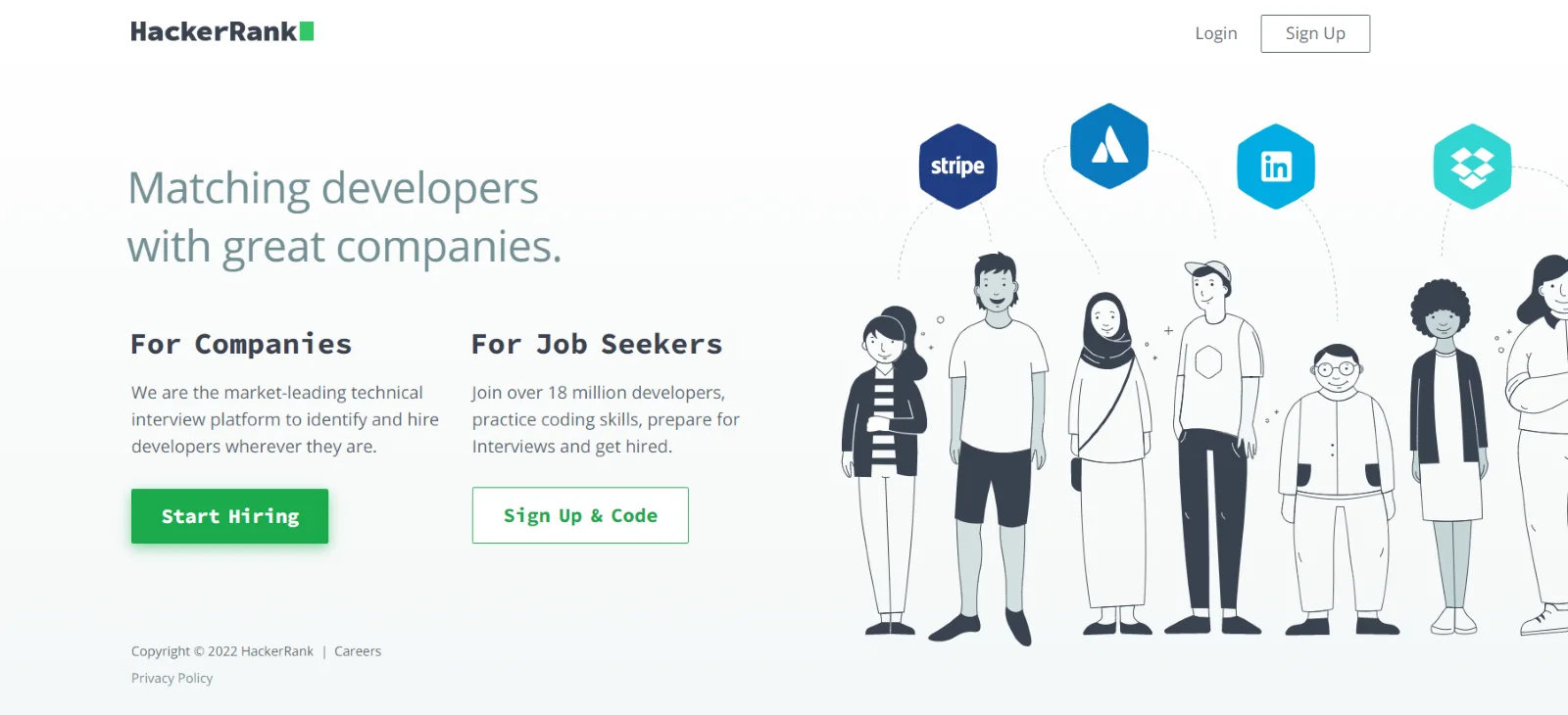 G2 Rating: 4.5/5 (272 reviews)
Hackerrank is another CodeSignal alternative to consider. It is a tech hiring platform that numerous firms use to evaluate developer abilities. HackerRank enables tech recruiters and hiring managers to objectively assess talent at every level of the recruitment process, allowing firms to assess qualified and creative candidates quicker.
Perks
HackerRank's UI is simple and easy to use.

It features a comprehensive question bank.

Hackerrank provides broad-based multi-skill assistance and information on applicant response and quality scores to aid in recruiting decisions.
Free trial: Available
4. TestGorilla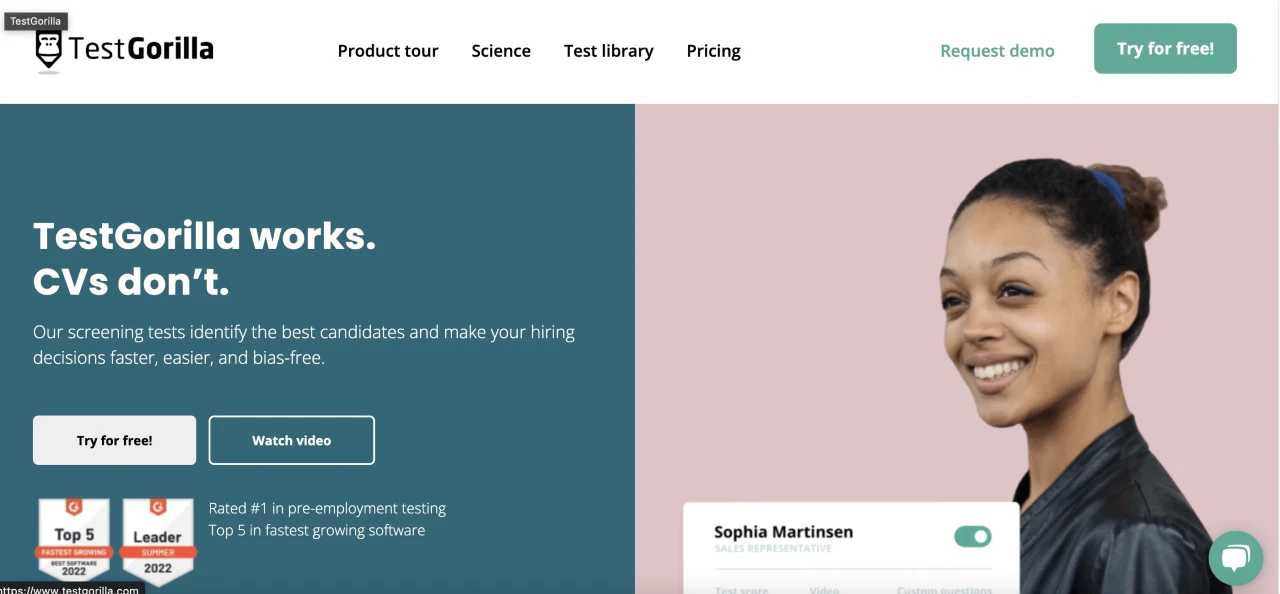 G2 Rating: 4.5/5 (712 reviews)
TestGorilla provides the finest pre-employment testing solutions for screening prospects, allowing you to make better recruiting decisions faster. It offers a detailed test database of 150+ tests, including cognitive ability tests, programming tests, software skill tests, personality tests, cultural fit tests, language tests, and much more.
Perks
It helps you organize and enhance your evaluation by providing a unique name and work position.

It is a thorough evaluation instrument that quickly assesses job-fit candidates.

It is an excellent codeSignal alternative since its user interface is considerably superior to codeSignal.
Free trial: Available
5. HackerEarth Assessments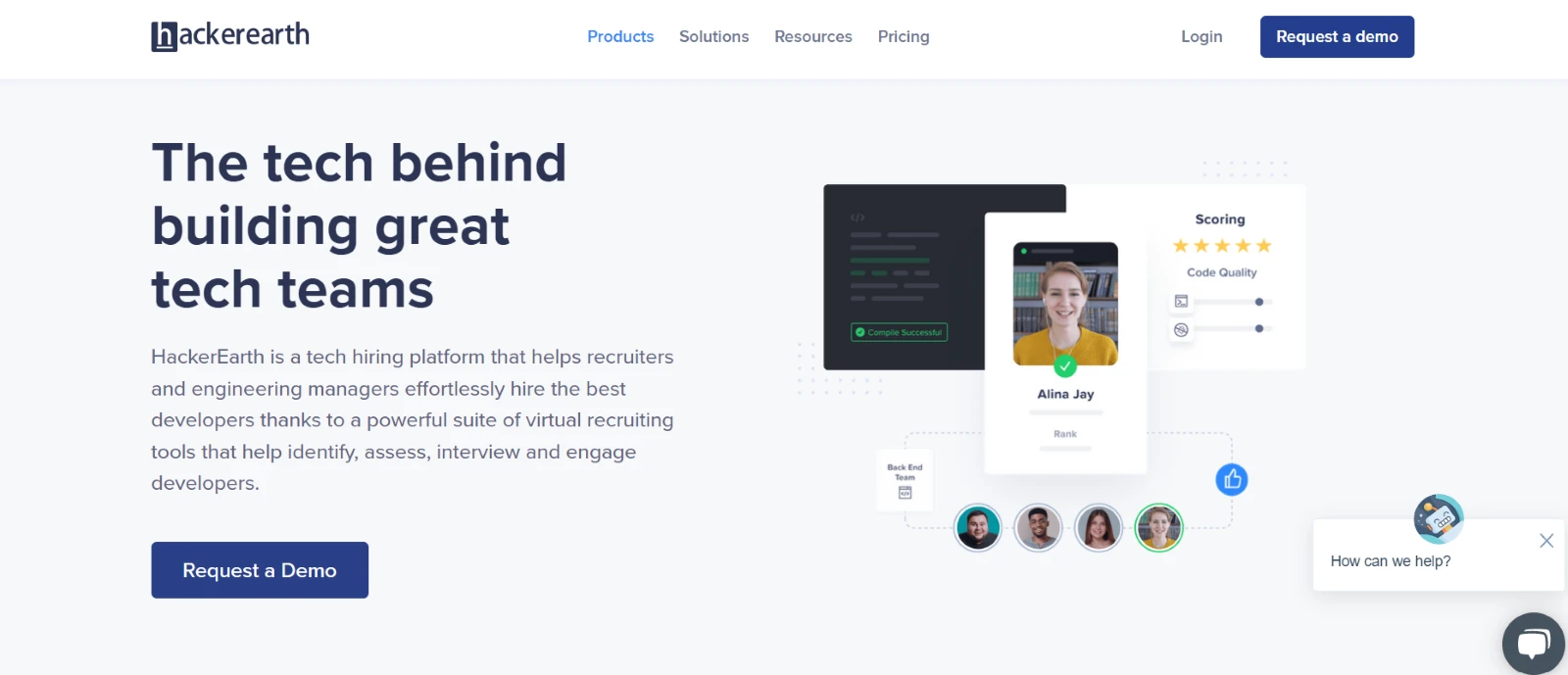 G2 Rating: 4.5/5 (121 reviews)
HackerEarth Assessments is the market's most advanced coding assessment software. HackerEarth Assessments provides tech recruiters and hiring managers with the flexibility to create the most accurate coding assessments, with a coding question collection of over 13,000 questions split across 80+ skills and 63+ programming languages. It also generates a scoreboard for each coding exam, allowing you to select top applicants easily.
Perks
It is one of the best CodeSignal alternatives since it allows you to customize and add your own questions.

It includes powerful and straightforward reporting and tracking features.

It also has automatic invigilation and strong proctoring capabilities.
Free trial: Available
6. Coderbyte for Employers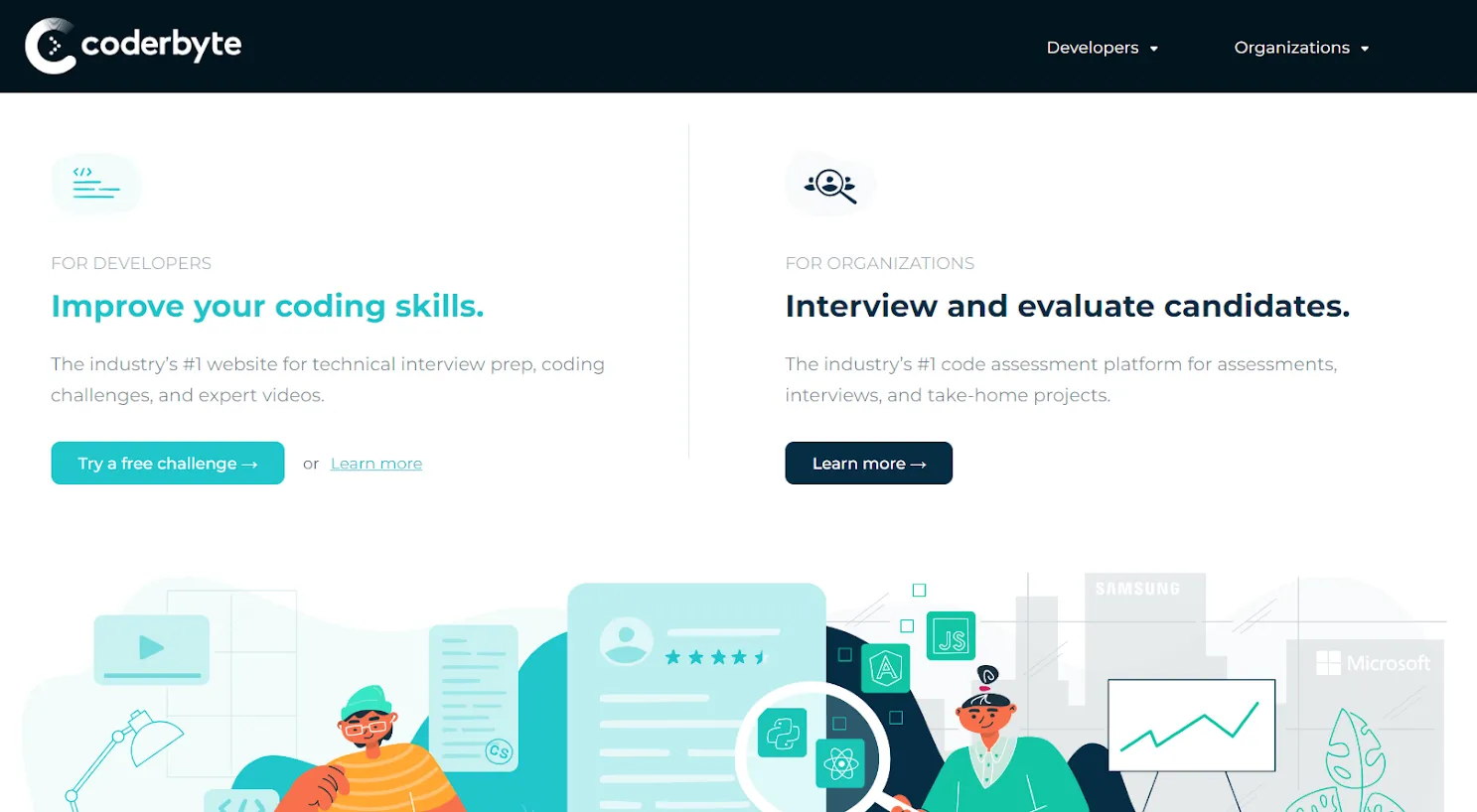 G2 Rating: 4.4/5 (213 reviews)
Coderbyte for Employers is a candidate evaluation tool for assessments, interviews, and take-home assignments. This technical skill development tool assists recruiters in evaluating candidates' coding skills. It includes a collection of challenges covering a variety of programming languages and topics, as well as a configurable evaluation platform.
Perks:
Coderbyte is the top CodeSignal alternative in our list because it offers an online community where users can share code snippets, ask questions, and collaborate on projects.

It enables you to choose and configure templates for every position to qualify people in your pipeline effectively.

It also offers live coding and cheating detection functionalities.
Free trial: Available

G2 Rating: 4.4/5 (387 reviews)
Mercer Mettl is a powerful assessment tool that assists recruiters in screening and selecting top applicants for open positions. The platform provides a wide range of evaluations, ranging from cognitive ability to personality qualities. This makes it simple to find the appropriate assessment for each position and compare applicants side by side.
Perks
The tests are designed to assess various skills and aptitudes, and you can customize them to target specific skills that are important for the role you are recruiting for.

The reports generated by Mercer Mettl assessments are comprehensive and easy to interpret. It makes it easier to identify the top performers and make informed hiring decisions.

The platform provides detailed reports for each assessment, helping recruiters understand each candidate's strengths and weaknesses, which is why it is considered the best CodeSignal alternative.
Free trial: Available
8. Coderpad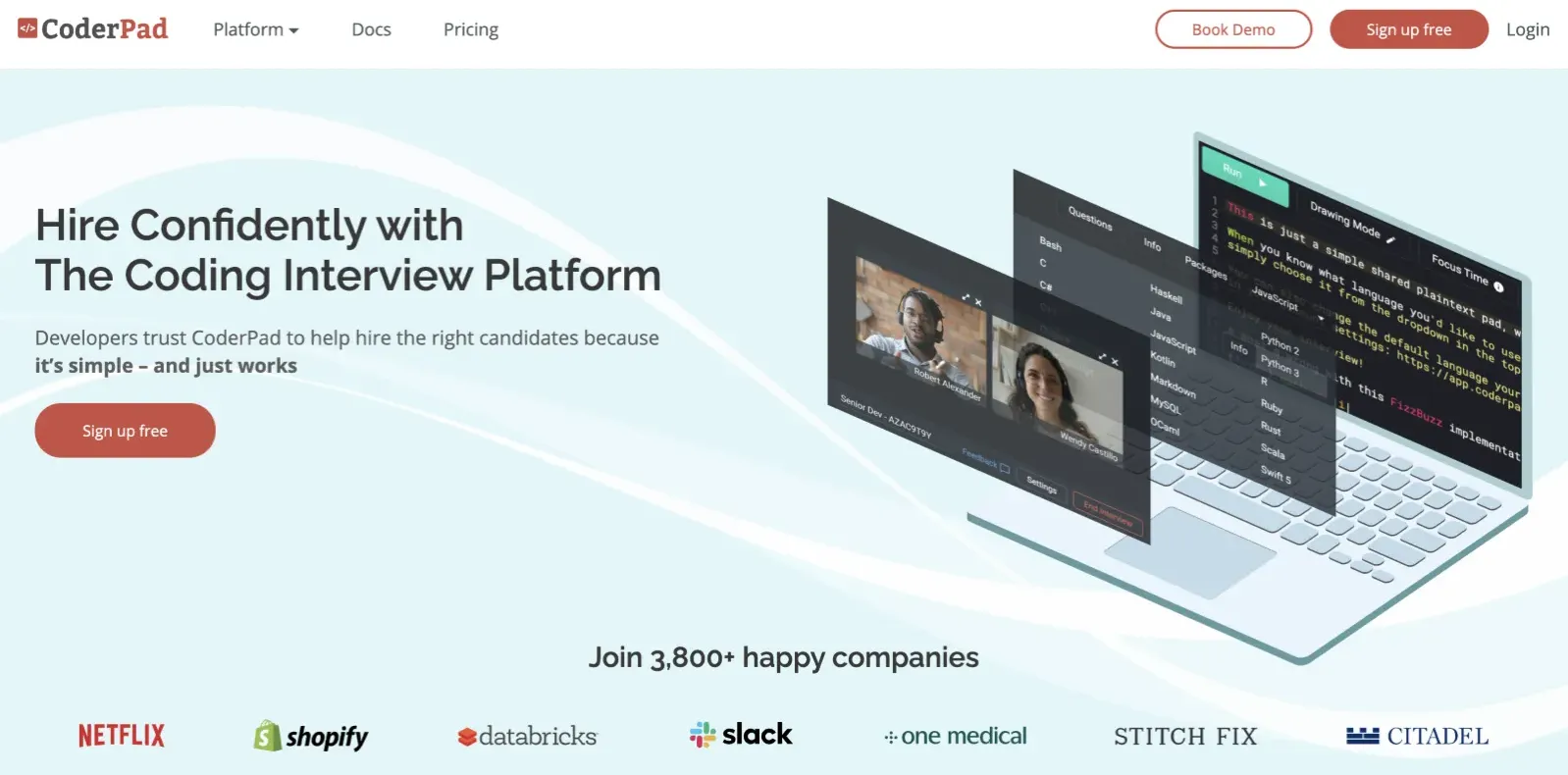 G2 Rating: 4.4/5 (19 reviews)
CoderPad is an advanced digital technical recruiting platform that makes it simpler to conduct interviews in the candidate's preferred language, allowing hiring managers to assess an engineer's abilities promptly. This software aids in evaluating applicants by facilitating live, collaborative coding sessions using an online IDE that supports 30+ languages.
Perks
This technology allows you to screen applicants using asynchronous take-home assignments and the online whiteboard tool to discuss system design issues.

This platform has a simple and straightforward UI.

The assessment reports automatically rate and benchmark applicants based on their performance, resulting in secure and ready-to-go shortlist data.
Free trial: Available
9. Devskiller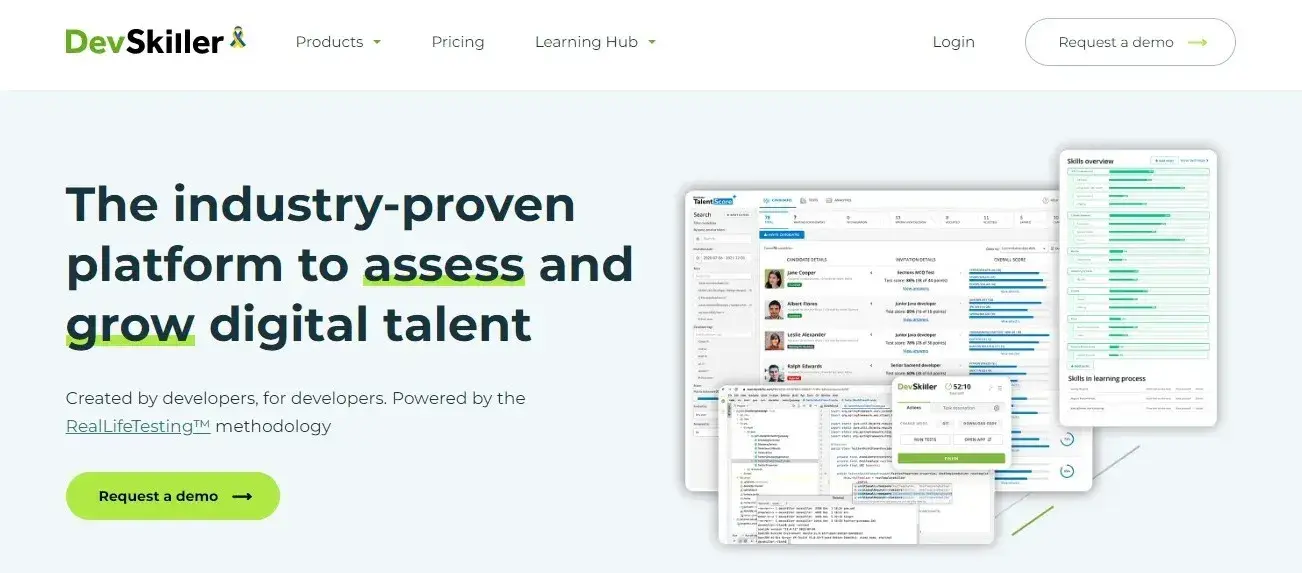 G2 Rating: 4.7/5 (55 reviews)
Devskiller is another CodeSignal alternative to explore. It is a global provider of technical screening and remote interview solutions for information technology organizations. Its objective is to assist businesses in hiring the finest technical talent by improving the screening and interviewing of applicants. Devskiller's automated testing and grading save time while ensuring a fair and impartial evaluation of all candidates.
Perks
With Devskiller, you can screen candidates for specific technologies, roles, and levels of seniority.

Its library covers a wide range of topics, including data structures, algorithms, design patterns, and more.

It also offers a live interview solution to assess a candidate's skills in real time.
Free trial: Available
10. eSkill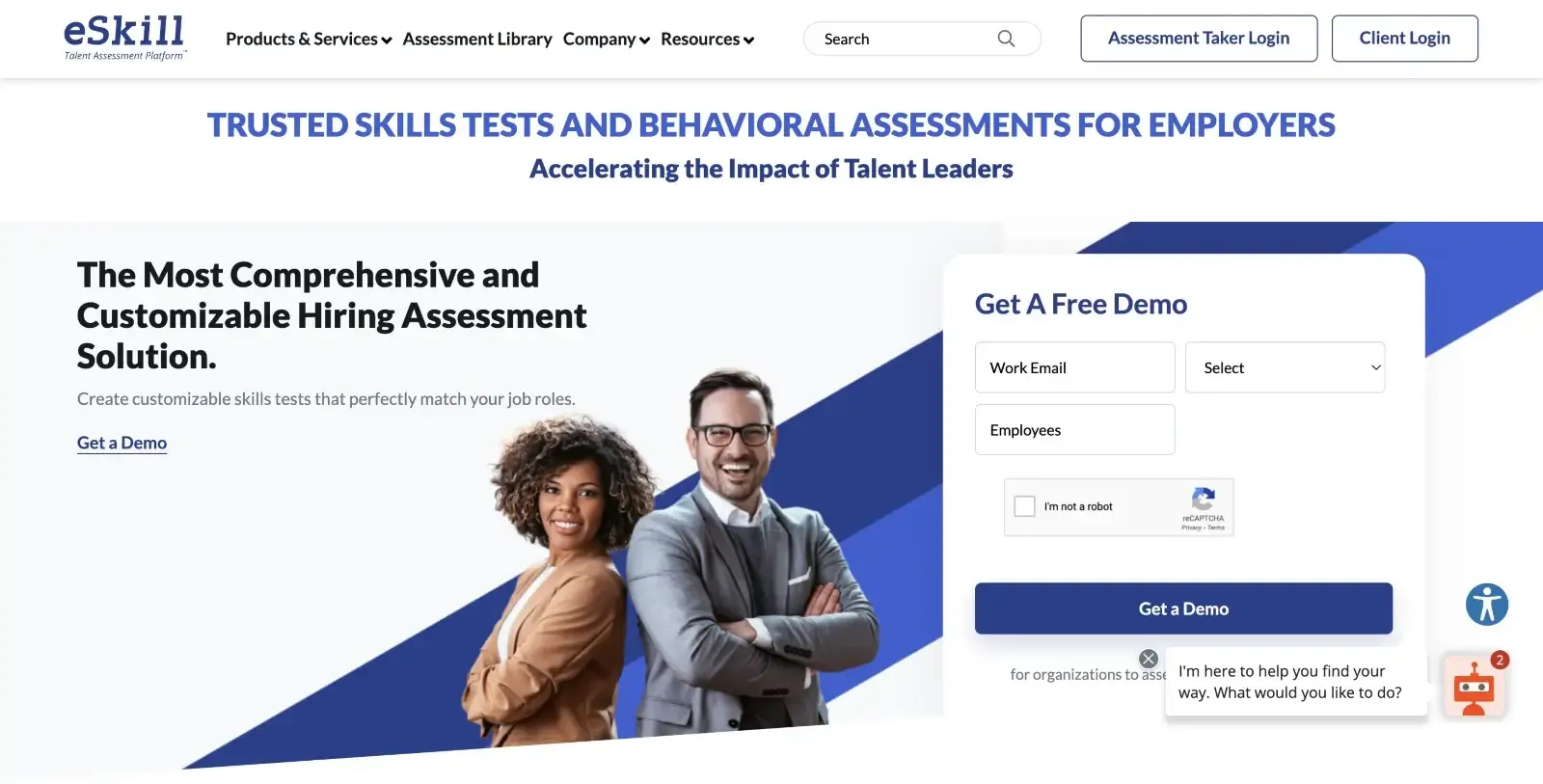 G2 Rating: 4.5/5 (312 reviews)
eSkill provides solutions for talent and behavioral assessments to assist firms in hiring and retaining top individuals. It contains simulation questions that simulate real-world employment settings. Using this application, you can create pre-prepared skills tests or build your own by combining questions from the eSkill Test Library.
Perks
With eSkill, you can accurately identify candidates' capabilities by combining skills and behavioral assessments and voice & video interview questions.

The library is rich with all sorts of tests based on the industry and categories.

It enables hiring managers and entire recruiting teams to grade candidates' responses on a scale of one to ten stars, depending on the parameters you specify.
Free trial: Available
FAQs
Which is the best CodeSignal alternative?
iMocha is the best CodeSignal alternative. It is a valued partner in solving talent and recruitment challengesfor some of the world's leading Fortune 500 companies. It provides skill-based talent analytics to help businesses make quick and accurate talent decisions.