If Elon Musk decided to enter the open job market for CEO, how long do you think it will take for companies to hire him?
Think of all your candidates as Elon Musk and your dream to create a better candidate experience will already come true.
According to a candidate experience survey by different reliable companies here are a few metrics-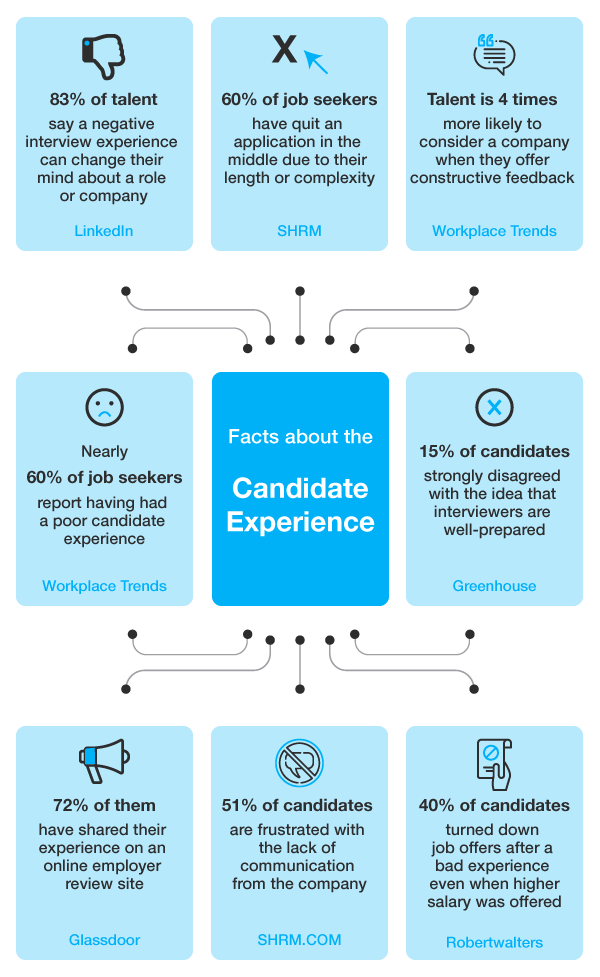 If you will ask candidates, they will tell you not one but many different problems in your recruiting process which eventually leads to candidate experience. Every candidate has different beliefs, so sticking to your own is crucial. That will also help your company to be different and unique.
What is the candidate experience?
Candidate experience is an assumption formed by candidates about a company when they observe the way they are handled during the hiring process. Companies can only take precautionary measures to create a positive mindset as candidate experience isn't controllable.
To create a good candidate experience you may need to change your sourcing, recruiting, interviewing, hiring, and on-boarding process. You need to be in the candidate's shoes, take feedback, be empathetic and respectful and create a smooth and faster-hiring process if you really want to improve the candidate experience.
Also Read: Why Should Recruiters Care About Candidate Experience
Why is candidate experience important?
Catering to the needs of candidates is not just important but should be your top priority.
When candidates visit you and are left all alone without any guidance or when you don't call back your candidates after the interview, that's when candidates have a negative experience.
It's very easy to assume things and that assumption can become a review in different review sites like Glassdoor.
If you don't want that then ask yourself how are you supposed to make things better?
Many thought leaders believe that candidate experience can lead to brand building.
Did you know Assessing skills is one of the hardest challenges when filling roles??
Candidate experience is important, so is hiring skilled candidates faster. Why not choose a pre-employment testing software that can do both?
Creating fun & quick assessments with your own company's branding will help boost the candidate experience as you will have more time to spend with the candidates trying to understand them rather than assessing their skills.
Remember: Following candidate experience, best practices will help in increasing candidate experience in a positive way to fetch top talent. Keep that in mind when you read the below points.
Also Read: 11 Steps Towards Transforming Assessment And Candidate Experience
---
How to Improve Candidate Experience?
1. Fast and right hiring decisions will fetch top candidates —
Top talent is gone from the market within 10 days. A faster process means your chances of getting top candidates in higher than other companies. Top talent usually has their own opinion about the hiring process and if you ask silly questions or take not-so-required interview rounds, they will notice, will be frustrated, and won't even bother to continue in your recruitment process.
So, having the right and a faster hiring process should be your main priority because this is the first step where candidates will create an assumption about you.
2. Start with the right job description -
If attracting the top talent is your priority you must give some time to write a beautiful job description. Yes, that's right. The job description should not be just about the requirements and responsibilities the candidate will have to perform rather details should be more about what candidates can achieve with your company, why they should join you, which manager they will work under.
3. Let your candidates know in detail about the hiring process -
Do you know why referrals work? They already know a lot about your company and the interviewee. Sometimes they even know the questions that will be asked. Why not give some information about the interviewee to boost the confidence of candidates and give equal opportunity to all.
Create a page where all the hiring process information is available at one place that will work as a guide for candidates and you won't have to bother explaining small things like interview rounds.
4. Be more human -
Believe me, the whole candidate journey will change if you keep this step in mind.
Candidates are already under a lot of pressure when they are being interviewed (it's a psychological thing).
So, your work pressure or professionalism doesn't really need to be formal. We are all humans after all and a happy, easy to go company can become a candidate's dream company in no time.
5. Keep open communication -
Many projects fail, many relations fail, your candidate experience can fail too. Why? Just because you didn't communicate when required.
Always let your candidates know what's happening. Give small details, doesn't matter how small or stupid you think it is. Your company culture matters a lot to candidates. Make use of it. Give them stories they can discuss with their colleagues. Even if the story is about your pantry boy.
6. Keep in touch with good candidates who didn't make it -
People change and so will candidates who are rejected for their current skills. How often does this happen that 2 or 3 candidates are shortlisted but you only have 1 opening?
These are the candidates you want to keep a tab on. They will appreciate it and most probably say yes to your next job offer. So, keep a check to know how they are performing in the current company.
Do tag candidates in ATS you are using with skills they are good in and you will soon have a list of candidates who are already assessed and interviewed when you have a job opening.
7. Give rejected candidates genuine feedback -
Yes, it means you will have to spend some extra time on rejected candidates. But these are the people who will talk about you, will send you free candidates. Giving a few information as to why they didn't make it will help them to land a job in some other company and they will always be thankful to you.
8. Keep your candidates engaged -
What do you tell your candidates to do when the interviewee is late; in a meeting or is interviewing a fellow candidate?
Asking them to have water or coffee or free lunch is old news.
Get a PlayStation, ask somebody from the same team to stay with candidates. This way they can get to know more about your culture and can further help them gain confidence.
Give them some challenging tasks to work on, don't give them actual work but some fun challenges, this way you will also be able to assess the candidate's culture fit.
Period:
The above points can only help you to make changes in your recruitment process but it still won't be enough to create a great wow experience till you actually care about the candidates. So, be empathetic, do what's right, sometimes it's okay to not follow the rules and be more human.
Credits to Metrics -
Linkedin | WorkplaceTrends | SHRM | Glassdoor | RobertWalters | Greenhouse